Slow Cooker Chicken Taco Soup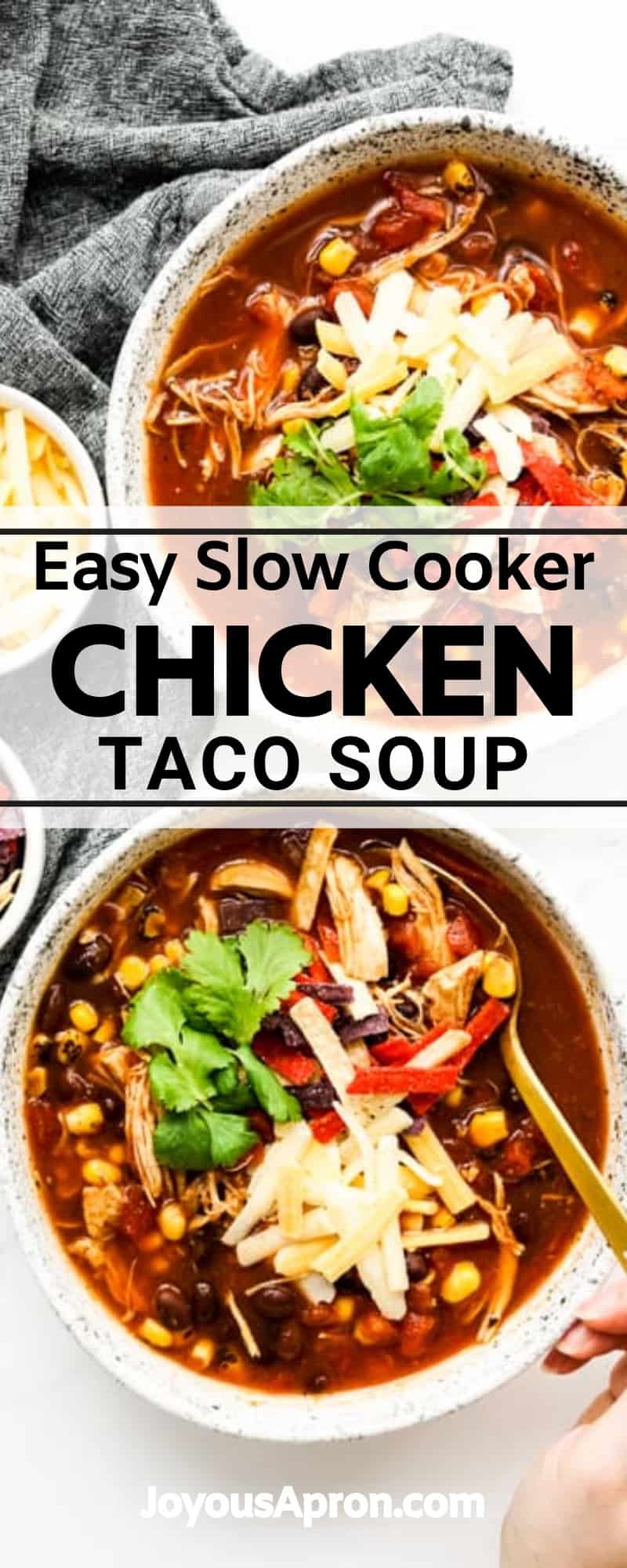 I've got the perfect easy weeknight dinner recipe for you! This Slow Cooker Chicken Taco Soup combines shredded chicken, tomatoes, black beans, corn, cheese and tortilla strips in a light and flavorful broth. It's basically a chicken taco in soup form, made in the crockpot!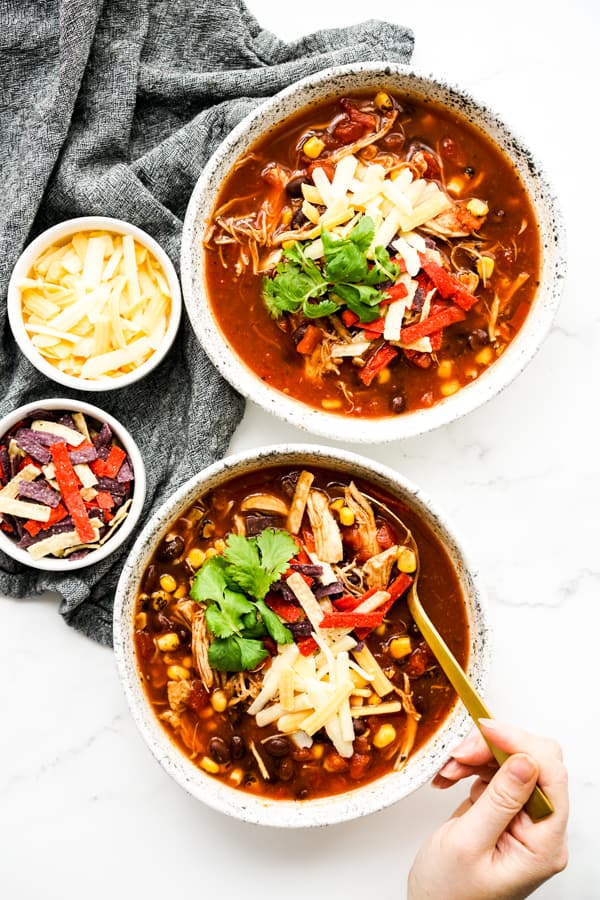 It takes 10 minutes to bring everything into the slow cooker, and then you sit back, relax, and let the crockpot do all the hard work and make this crockpot Chicken Taco Soup come alive!
In a way, this slow cooker chicken taco soup reminds me a lot of my Slow Cooker Chicken Burrito Bowl recipe. It has lots of Mexican inspired flavors, and is an easy one-bowl meal that reminds us of our favorite Mexican dishes.
Chicken Taco Soup in the Slow Cooker
We love make this easy and yummy slow cooker chicken taco soup recipe for busy evenings, and then we get to have leftovers for the next day…and the next day….
In fact, I love it even more the next day because the chicken, black beans, and corn would have had more time to soak in the delicious seasonings from the broth, taking the already flavorful soup to an even more flavorful level.
I assure you – you want this crockpot chicken taco soup recipe in your hip pockets for quick dinners.
I always feel like a super woman whenever I make this because it's a well rounded delicious meal that barely took any efforts to make.
And I get the other five thousand things I need to get done around the house!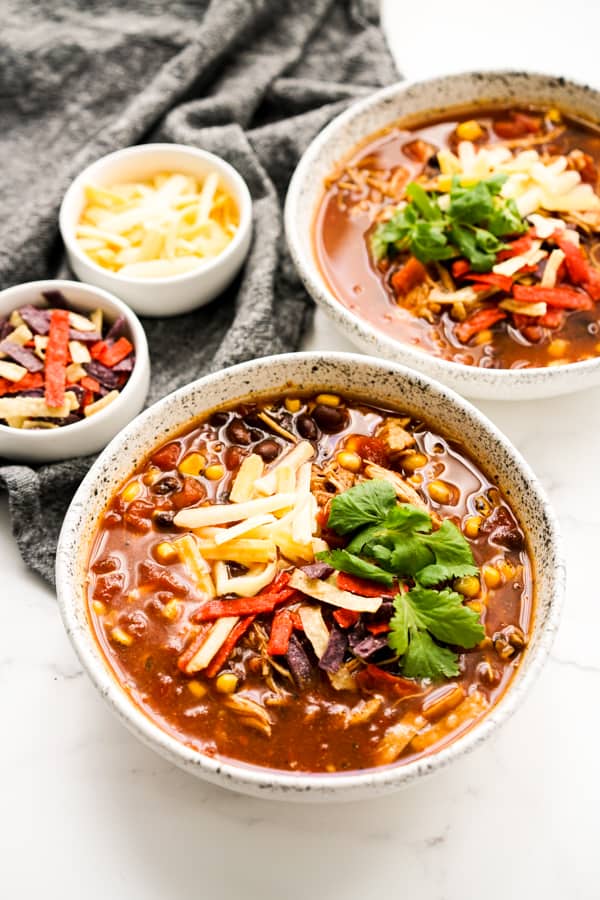 Ingredient Notes
Made with pantry-friendly ingredients, you probably already have most or all of the ingredients this slow cooker chicken taco soup calls for!
Chicken breast – for ease, use boneless and skinless chicken breast
Rotel – Rotel is technically a brand, but it is basically tomatoes and green chilies in a can. It usually comes in mild, medium or hot, so use mild if you don't like spicy and use hot if you do!
Canned tomato sauce – it's basically tomato pureed into sauce form. Found in the canned tomato aisle.
Chicken broth – I find that the free range ones always taste the best
Black beans – use the canned ones and make sure to drain it so get rid of access liquid
Corn – use frozen or canned. If using canned, be sure to drain access liquid in the can
Garlic cloves – fresh garlic provide a better flavors. Minced or simple crush them and break them up a little bit.
Chili powder
Ground cumin
Paprika – smoked paprika can be used instead as well
Mexican oregano – regular oregano is fine too if you don't have Mexican oregano
Onion powder
Garnishes – tortilla strips, cheese, cilantro, sour cream, lime etc. Use all or some of these to add some additional flavor and texture to the slow cooker chicken taco soup after it is cooked! Pro tip: don't skip the garnishes, it's one of my favorite parts of this soup!
Equipment
Slow cooker chicken taco soup is obviously, a slow cooker recipe. 🙂 You will need a crockpot or slow cooker of at least 4 quarts or larger.
If you haven't cooked with a crockpot or slow cooker, you are going to LOVE this kitchen equipment. You can dump everything into it, and the crockpot will do all the hard work. You can go do whatever you need to do or even leave the house while your chicken taco soup cooks!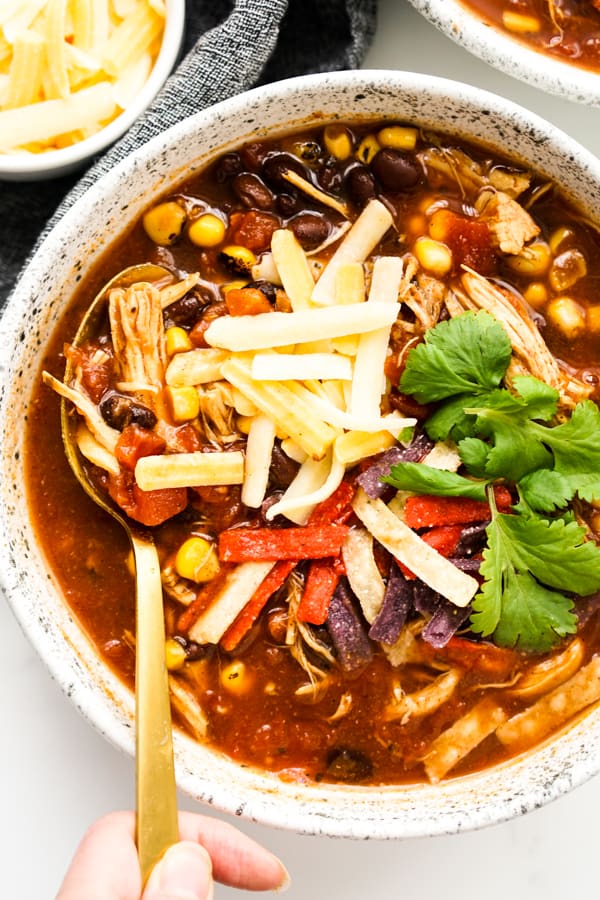 Making Chicken Taco Soup in the Slow Cooker
When I say making chicken taco soup in the crockpot is easy, I truly meant it.
Gather up all the ingredients and prepare to throw it all into the slow cooker.
And then let the slow cooker do all the work!
Start with bringing large pieces of chicken breast to the crockpot.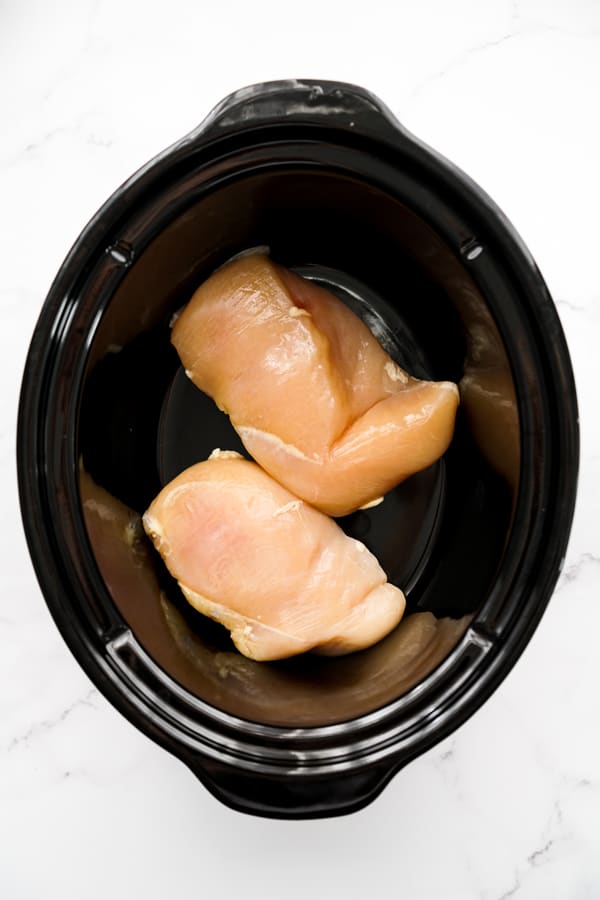 Then add the rest of the broth, seasoning and produce: Rotel (tomatoes and green chilies), tomato sauce, chicken broth, black beans, corn, garlic, chili powder, cumin, paprika, Mexican oregano, and onion powder.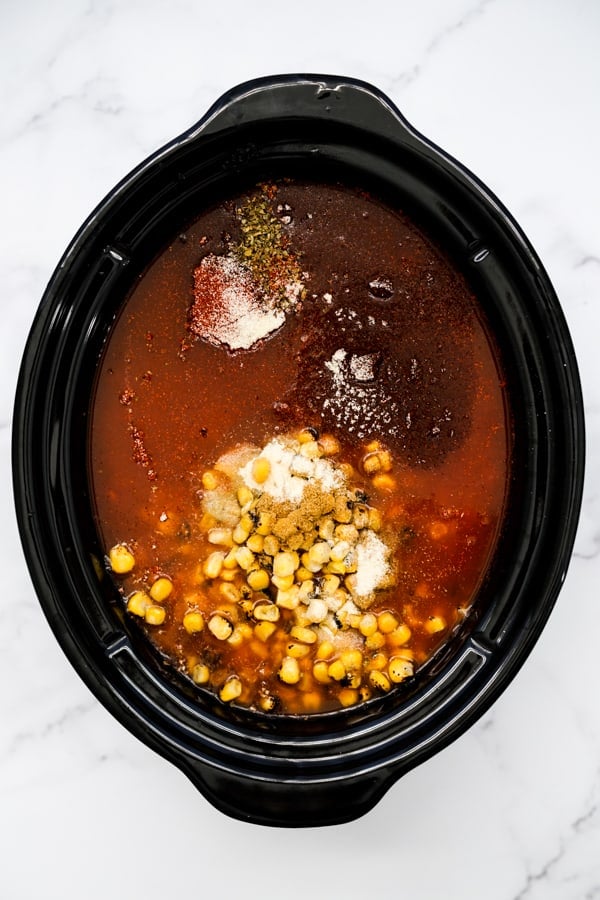 Once everything is in the slow cooker, cover and cook on high for 4-5 hours.
When it is done cooking, chicken should be tender and falls apart very easily.
Bring the two pieces of chicken breast onto a bowl and shred them using two forks.
Then bring shredded chicken back into the crockpot.
Give it a good stir to combine everything, add some salt and black pepper, and then there you go – Slow Cooker Chicken Taco Soup in all its glory…waiting for you to eat it!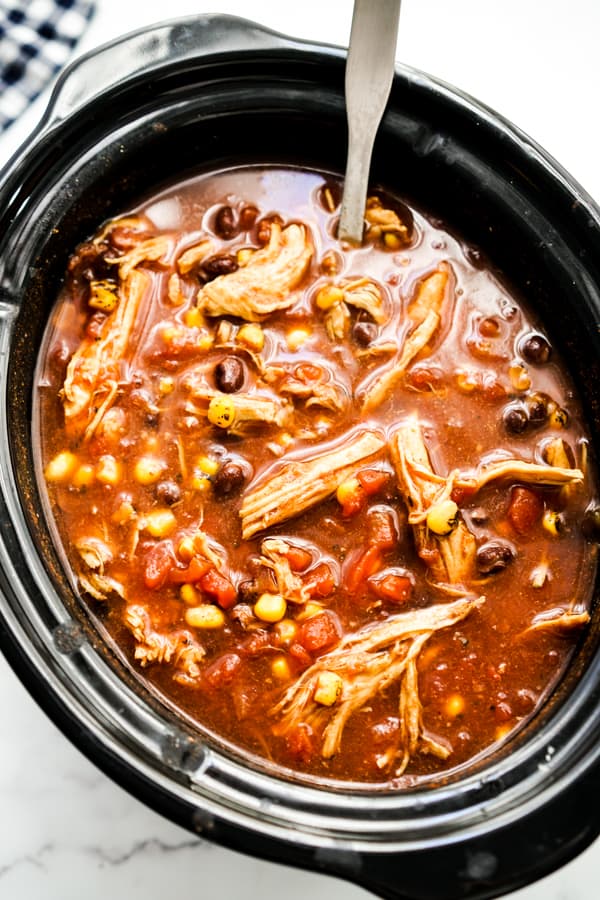 But hold up one second!
Garnishes are the icing on the cake in this slow cooker Chicken Taco Soup recipe.
Please do me a favor and don't forget to garnish it with one, or two, or all of the below!
Tortilla strips
Shredded cheese
Cilantro
Avocado
Lime
Sour cream
Jalapeños
Okay. my job is done here…
Ladies and gentlemen, Crockpot Chicken Taco Soup! You don't want to miss this one!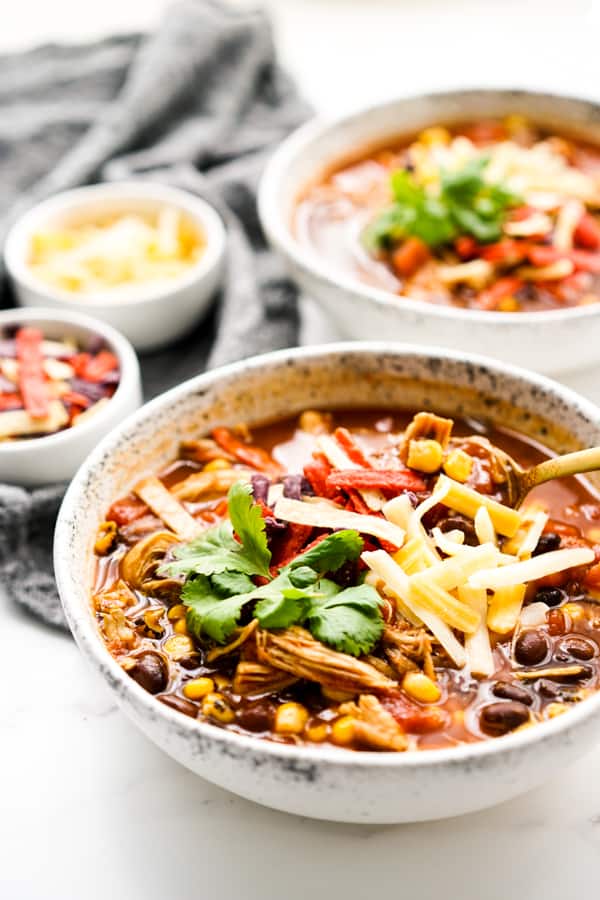 Slow cooker chicken taco soup is the kind of soup you make when you want something yummy and quick, and you also want leftovers, and you also don't want to put in a lot of work.
Give it a try! And then you can thank me later! 😉
Frequently Asked Questions
Can you make this on the stovetop?
Yes! Add all the ingredients into a large pot, stir and bring to a boil. Once it is boiled, cook on low for 30-40 minutes, or until chicken if fully cooked and can be shredded easily. Check on it and stir occasionally.
Can I freeze this soup?
Yes! Freeze the soup without the garnish. Freeze in an airtight container. When ready to eat, let it defrost in the refrigerator the night before, then microwave soup to heat it up. Garnish and serve. This is an excellent soup to make ahead and freeze.
How can I make this spicer?
Add cayenne pepper or jalapeños pepper. Or use hot Rotel instead of mild Rotel.
Other Slow Cooker Recipes
DID YOU ENJOY THIS RECIPE? Please comment below and give us a 5-star rating! This will help others find this recipe on Google and Pinterest. We very much appreciate your help! 🤍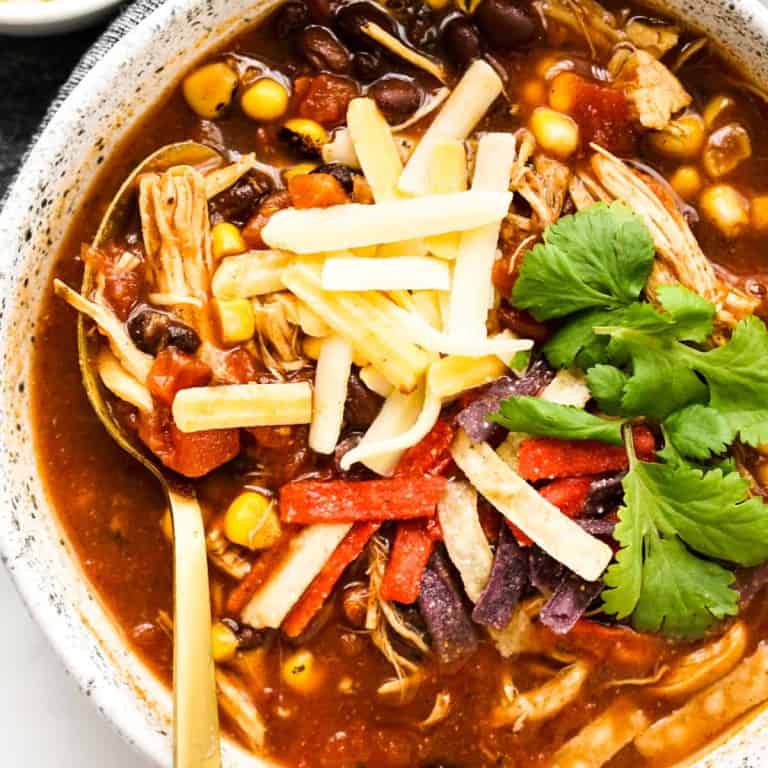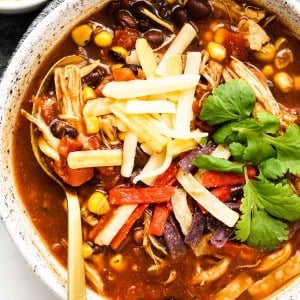 Slow Cooker Chicken Taco Soup
Easy Chicken Taco Soup recipe made in the slow cooker! Chunky tomato based soup loaded with shredded chicken, corn, black beans, cilantro, cheese and tortilla strips, flavored with yummy seasonings and spices.
Print
Pin
Ingredients
1 1/2

lbs

chicken breast

boneless, skinless

10

oz

Rotel

15

oz

tomato sauce

3

cups

chicken broth

30

oz

black beans

drained

2

cups

frozen corn

3-4

cloves

garlic

smashed

1 1/2

tsp

chili powder

1

tsp

ground cumin

1

tsp

smoked paprika

1

tsp

Mexican oregano

1 1/2

tsp

onion powder

salt

to taste

black pepper

to taste
Garnish
1

cup

tortilla strips

1

cup

cheese

shredded

1/4

cup

cilantro
Instructions
In a slow cooker, add chicken breast, Rotel, tomato sauce, chicken broth, black beans, corn and garlic.

Then add seasonings – chili powder, cumin, smoked paprika, and Mexican oregano.

Cook on high for 4-5 hours.

Remove chicken and shred using two forks. Bring chicken back into the soup.

Stir and let it sit for 5 minutes. Add salt and black pepper to taste.

Garnish with cheese, tortilla strips and cilantro. Serve and enjoy!
Nutrition
Calories:
505
kcal
|
Carbohydrates:
57
g
|
Protein:
45
g
|
Fat:
12
g
|
Saturated Fat:
5
g
|
Polyunsaturated Fat:
1
g
|
Monounsaturated Fat:
3
g
|
Trans Fat:
1
g
|
Cholesterol:
92
mg
|
Sodium:
1085
mg
|
Potassium:
1560
mg
|
Fiber:
16
g
|
Sugar:
4
g
|
Vitamin A:
961
IU
|
Vitamin C:
24
mg
|
Calcium:
224
mg
|
Iron:
6
mg