This post may contain Amazon or other affiliate links. As an Amazon Associate I earn from qualifying purchases at no additional cost to you.
There's something pretty darn awesome about these BBQ Baked Chicken Wings. First of all, they are baked. Not fried. BAKED. Yet as crispy and delicious as fried. I will be sharing all that juicy secret on how to do so in a minute.
Second of all, they are downright delicious. Perfectly seasoned, then smothered with a classic BBQ sauce. To say I love these things is an understatement.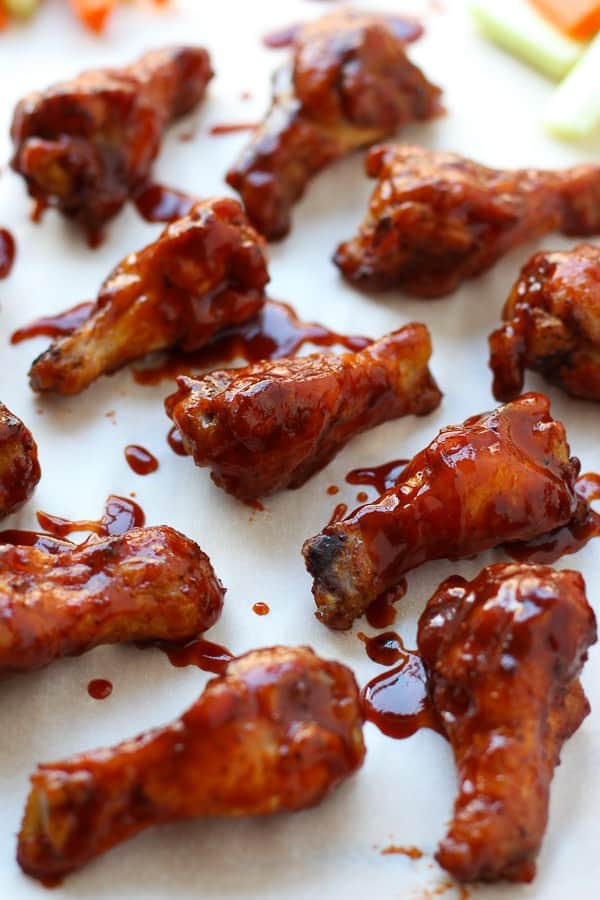 After a long week, chicken wings seem like the perfect thing to sink your teeth into, in front of the television, maybe with a side of fries and a bottle of Miller Lite.
It is also the perfect game day food. The go-to appetizer for watching football with a bunch of friends this Fall. With the beer too, of course.
How to make Crispy Baked Wings
When I say these things are baked AND crispy earlier, I kinda mean it, people. And here is why.
We coat the winglettes and/or drumlettes (which is what is used here) with baking powder (note: NOT baking soda!!) and bake it at 250 degrees F for 30 minutes on a baking rack stacked on top of a baking sheet.
Then we bump the temperature up to 425 degrees and bake on each side for 25 minutes . The science behind this enable these wings to be crispy on the outside, just like fried.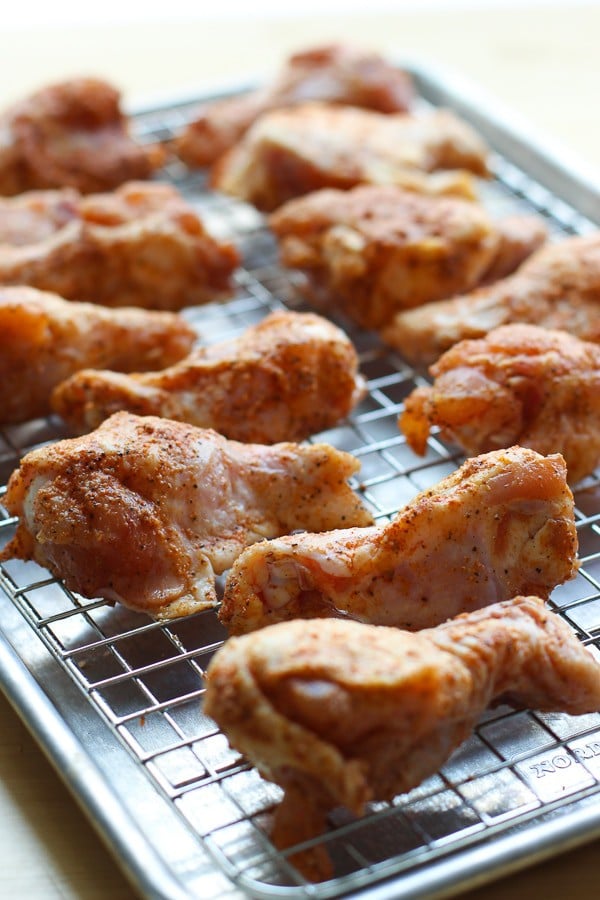 This secret to making these baked drumettes crispy is inspired by Cook's Country. They are the genius behind coming up with this technique, and I must say, it has gifted me with lots of baked AND crispy chicken wings in my life, and it is hard to go back to greasy fried ones.
I incorporated the same technique for my Spicy Baked Korean Chicken Wings and Garlic Parmesan Baked Chicken Wings recipe. Except that for this BBQ Baked Chicken Wings recipe, I rub other seasoning (salt, pepper, paprika and garlic powder) onto the chicken instead of just baking powder.
BBQ Sauce
Then, of course, there's the sauce.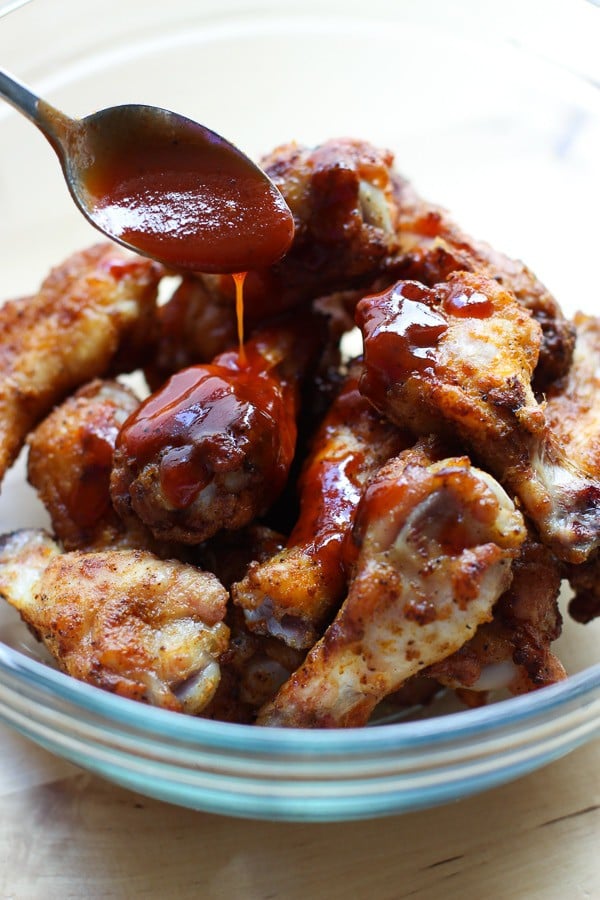 Holy Guacamole YUM. Except it's not guacamole, but BBQ Baked Chicken Wings.
We are keeping this sauce simple.
Pick your favorite BBQ sauce. Add 1-2 tablespoon (or more) honey to it, depending on how sweet you like your BBQ sauce. Mix well and taste to see if it is to your liking. Whenever you are ready, pour sauce over wings and toss to mix well.
Let's face it, a legit sauce makes everything better.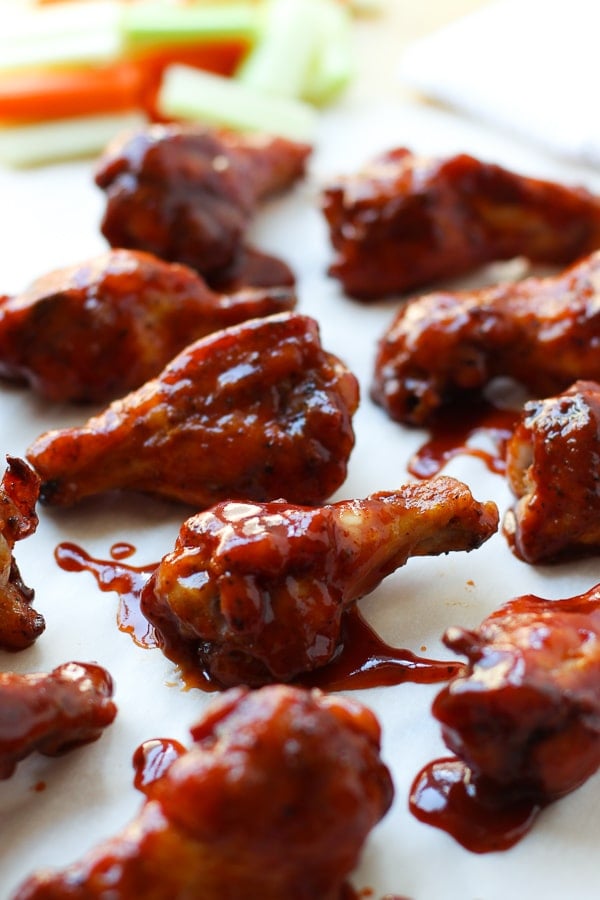 There you go. The sticky, sticky goodness of a BBQ Baked Chicken Wings.
Chicken wings are always the perfect weekend food for me. The stuff you eat when you are trying to escape from life. Except that this version is not crazy greasy and all that bad for you. And you still escape from life.
WOWZA.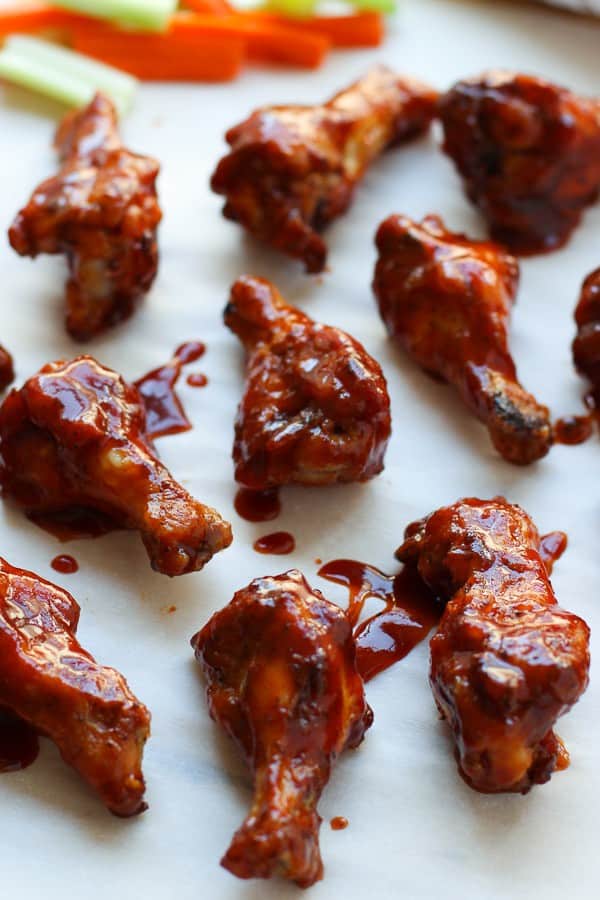 So what are you waiting for? Rediscover chicken wings by baking them. Because seriously, why mess with hot oil and consume more grease than necessary?
Also don't forget to check out my Spicy Baked Korean Chicken Wings recipe. Same method. Different sauce. SAME YUM.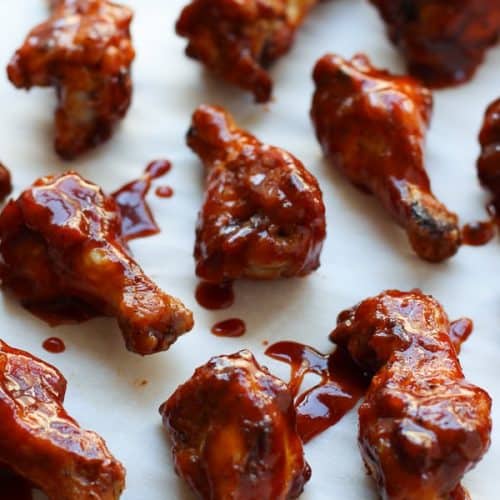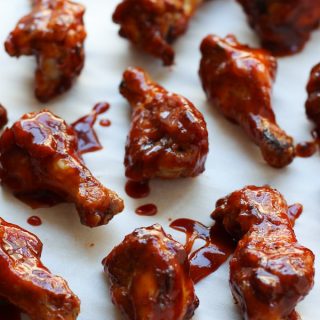 BBQ Baked Chicken Wings
These chicken wings are baked AND crispy! Then smothered with BBQ sauce. The perfect appetizer or main course for parties, game day, any day!
Print
Pin
Ingredients
2 – 2.5

lbs

chicken drumettes and/or winglets

1

tbsp

baking powder

1

tsp

salt

1/2

tsp

black pepper

1

tsp

garlic powder

1

tsp

smoked paprika

1/2

cup

barbecue sauce

~1-2

tbsp

honey

or more!

vegetable oil
Instructions
Pre heat oven to 250 degrees F.

In a small bowl mix together baking powder, salt, black pepper, garlic powder, and smoked paprika.

Toss defrosted drumettes and/or winglets with the baking powder mixture. Use your fingers to rub the spices onto the meat and spread them evenly all over.

Grease baking rack with vegetable oil (use the spray if you have them) and stack baking rack on top of a baking sheet. Place drumettes or winglets on baking rack, do not overlap.

Bake in the lower middle rack of the oven for 30 minutes.

Bump the temperature up to 425 degrees, and move drumettes and/or winglets to the upper middle rack and bake for 25 minutes.

Flip drumettes and/or winglets over and bake for another 20-25 minutes. Remove from oven.

Mix together barbecue sauce with honey to taste.

Toss drumettes and/or winglets in barbecue sauce mixture.