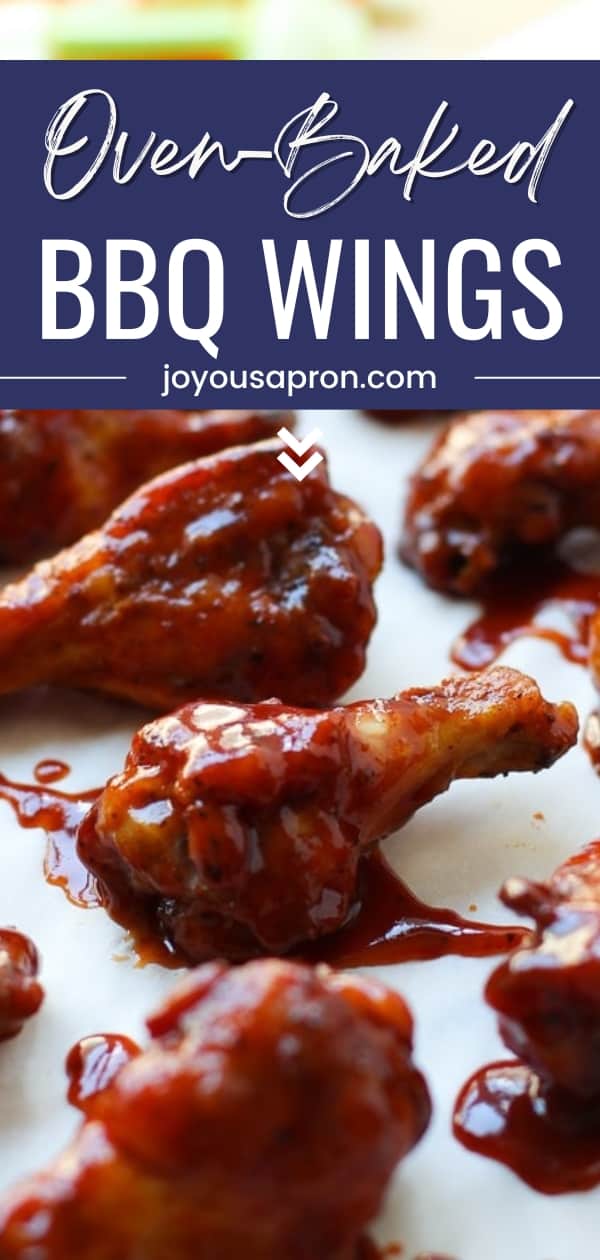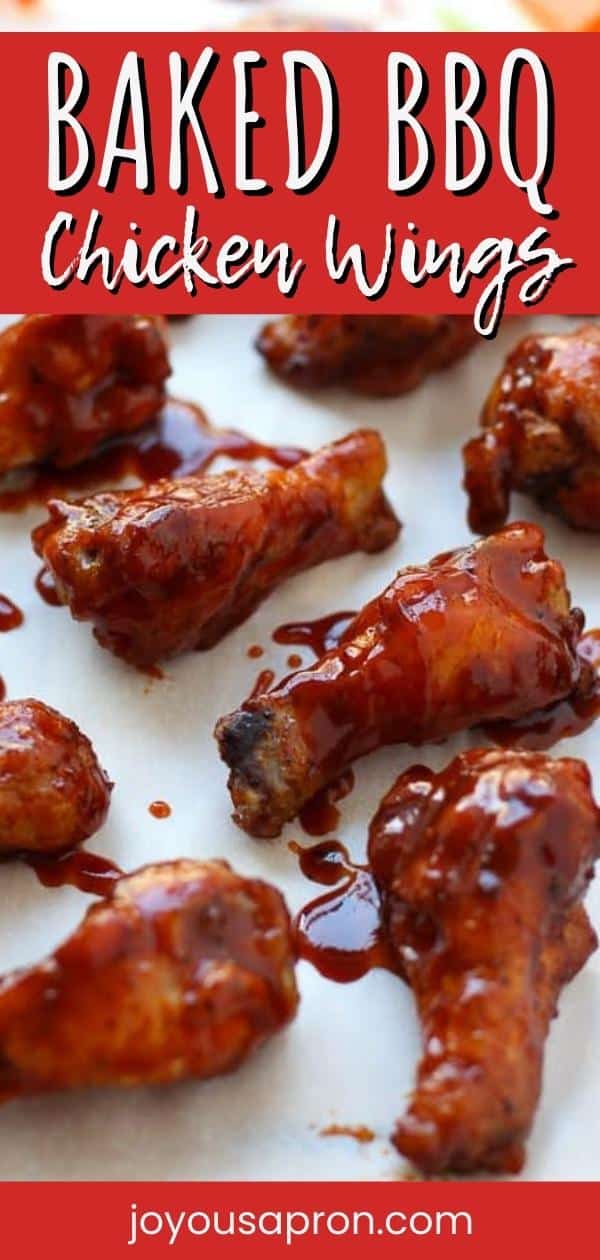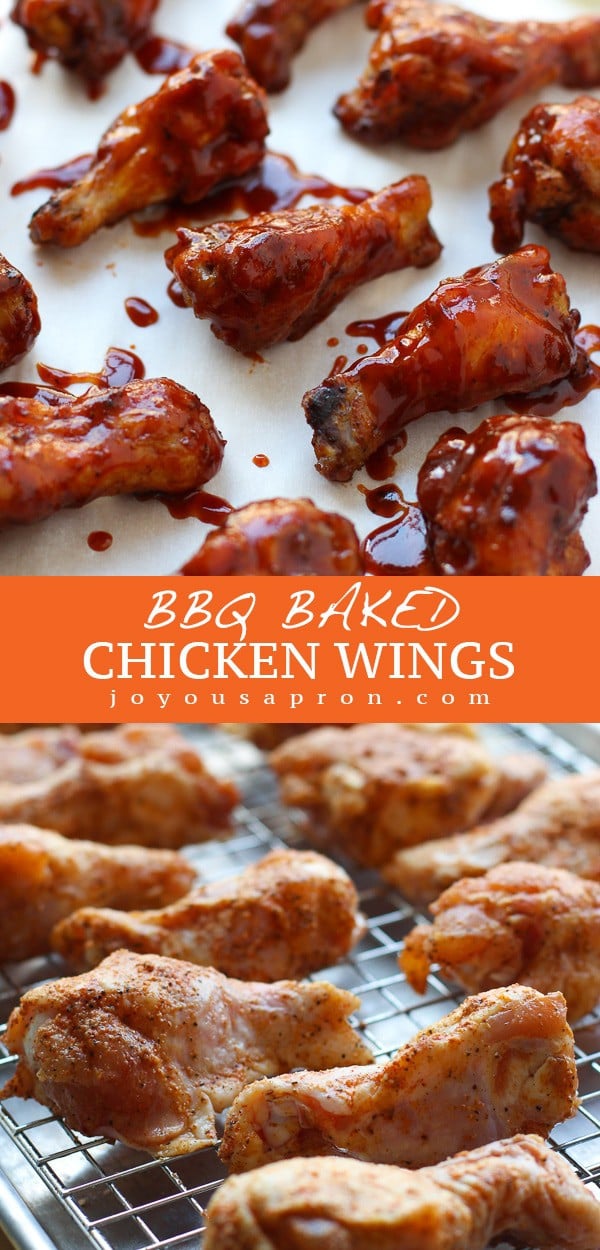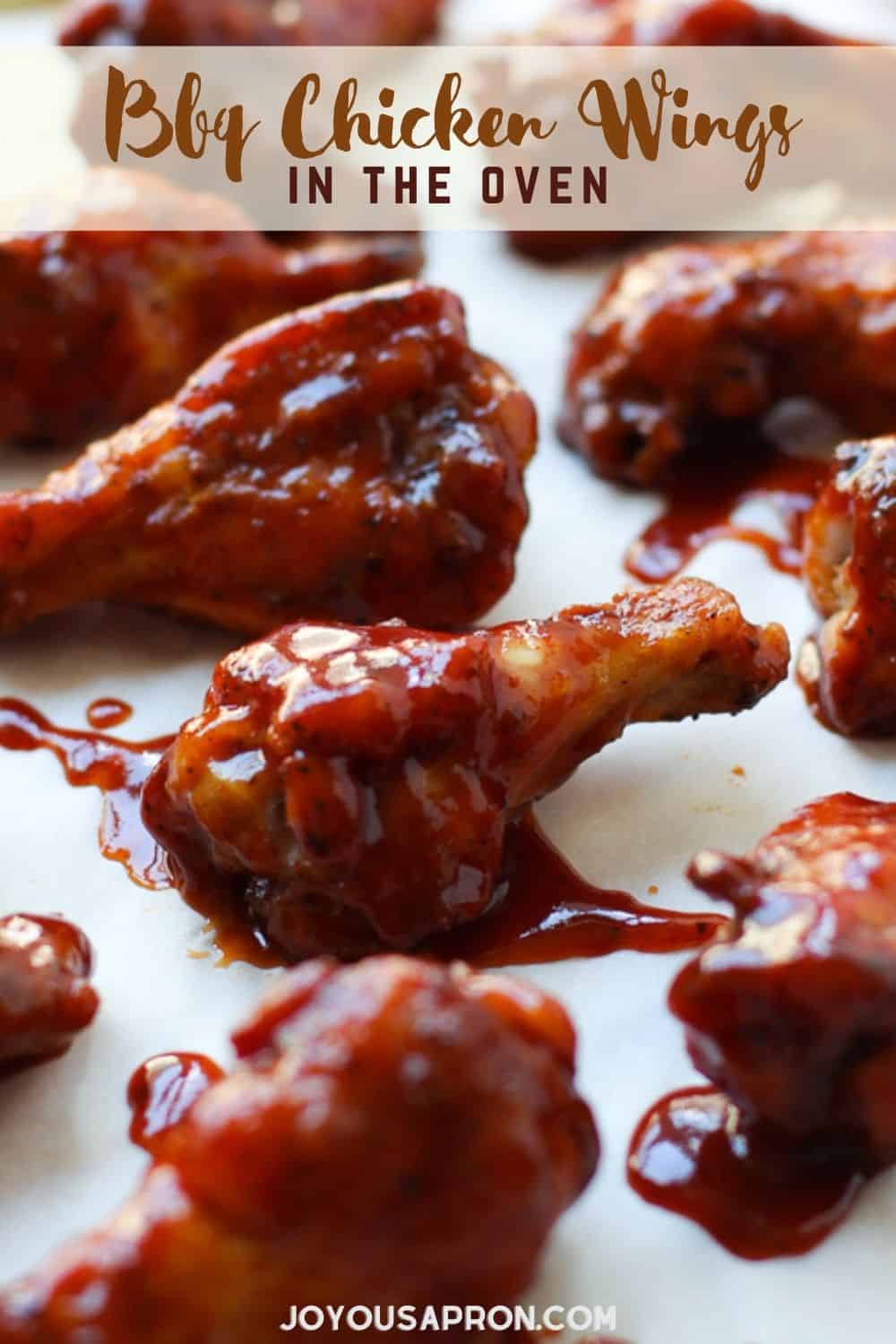 Oven Baked BBQ Chicken Wings…the classic chicken wings dish that are baked in the oven. Not fried. BAKED. Yet as crispy and delicious as fried. Juicy on the inside, crunchy on the outside….yum!
In addition, these Oven Baked BBQ Chicken Wings are also perfectly seasoned, smothered with a sticky, finger-licking barbecue sauce. It really doesn't get better than this!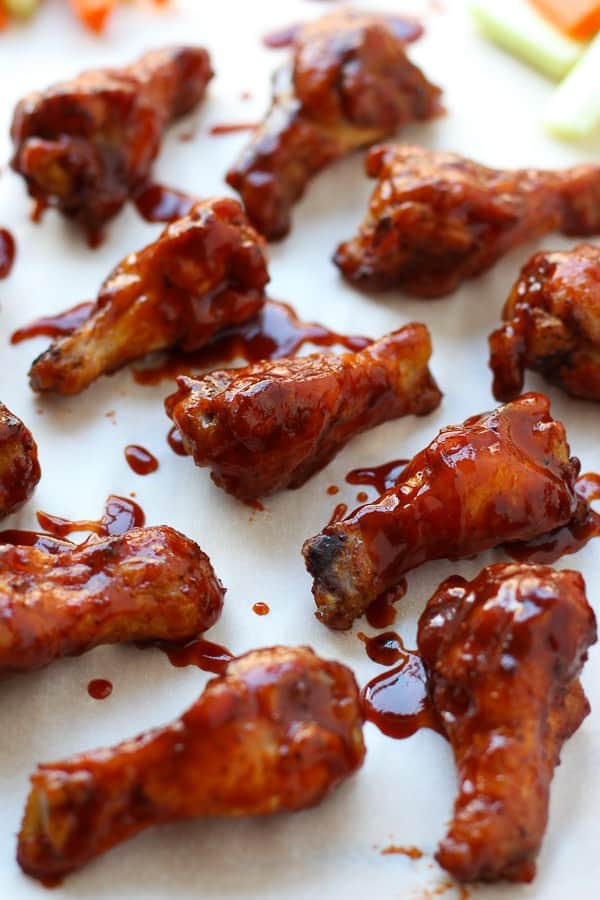 BBQ Chicken Wings in the oven…and crispy!
After a long week, these Baked BBQ Chicken Wings seem like the perfect thing to sink your teeth into, in front of the television, maybe with a side of fries and a bottle of Miller Lite.
Ahh Friday, beer and chicken wings may be one of my favorite combination in life.
I know these BBQ wings are baked in the oven but know that they are also incredibly crispy… so crunchy and with great textures you won't even know they are baked.
There is a technique to make them crispy in the oven, and I show you all that juicy secret on how to do so. It's the same technique I use to make these Spicy Baked Korean Chicken Wings and Baked Garlic Parmesan Chicken Wings. As you can see, I am a big fan of said technique.
No more deep firing in hot oil and trying to juggle a big pot of oil, make this healthier and much easier Baked version of BBQ Chicken Wings instead!
Trust me, you will not want to go back after this.
Ingredients
To make these Oven Baked BBQ Chicken Wings, here's what you need:
Chicken drumettes and/or winglets – bone-in, skin-on. Don't use whole chicken wings on this because they can be harder to bake evenly. Drumettes and/or winglets are definitely the preferred way to go.
Baking powder – secret ingredient to make these chicken wings super crispy in the oven! DO NOT SKIP THIS!
Garlic powder – no need to minced fresh garlic, this is sufficient for this recipe
Smoked paprika – this gives it an additional smoky flavor which I love. Regular paprika would be fine if that is what you have.
Barbecue sauce – use your favorite bbq sauce!
Salt and black pepper
Honey
Vegetable oil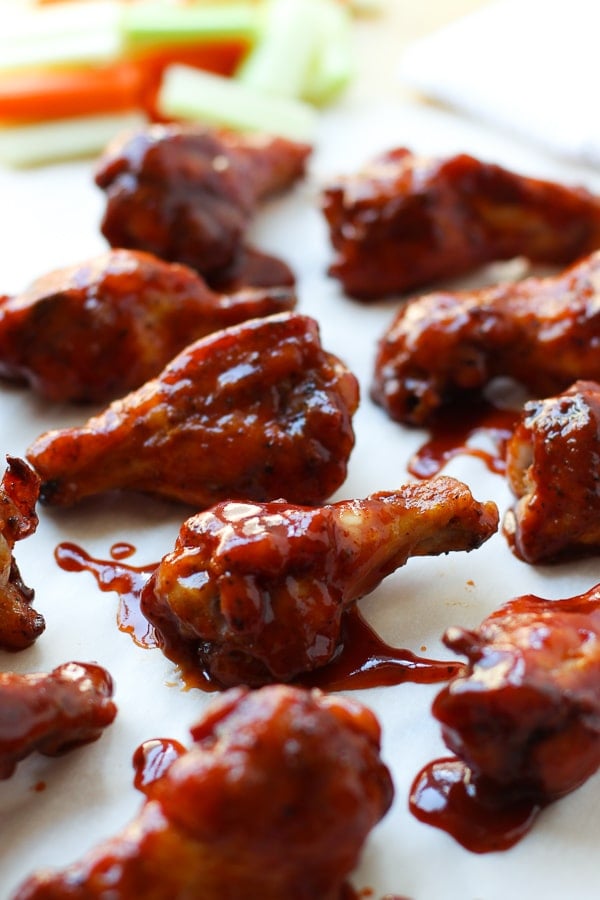 How to make Baked BBQ Chicken Wings
Step 1: Prepare and bake chicken wings in the oven
When I say these things are baked AND crispy earlier, I kinda mean it, people. And here is how.
We coat the winglets and/or drumettes (which is what is used here) with baking powder (note: NOT baking soda!!). Coating chicken wings in baking powder will enable it to be crispy on the outside, just like fried.
Next, place each drumette and winglet and on place a greased baking rack stacked on top of a baking sheet.
Avoid overlapping or overcrowding them on the baking rack.
If you are doubling the Baked BBQ Chicken Wings recipe, you may want to cook in two batches so that they will cook well and crisp up evenly.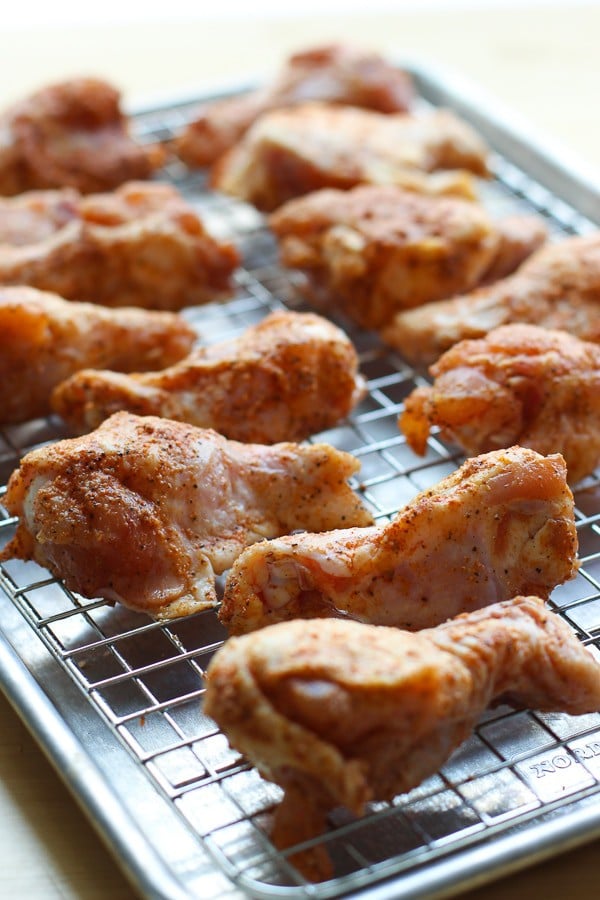 This baking rack technique will also help crisp up your chicken wings because access moisture will drip to the baking sheet instead of surrounding the chicken.
For easier cleanup, line a parchment paper or aluminum foil between baking rack and baking sheet.
To cook these Baked BBQ Chicken Wings, oven bake it at 250℉ for 30 minutes, then bump the oven temperature up to 425℉ and bake on each side for 25 minutes.
This secret to making these baked drumettes crispy is inspired by Cook's Country. They are the genius behind coming up with this technique, and I've been exclusively using them to make these Baked BBQ Chicken Wing and more since then.
And I don't think I've deep fried chicken wings since!
Step 2: Make BBQ Sauce Mixture
Then, of course, there's the barbecue sauce.
Thick, sticky, tangy, sweet and delicious BBQ sauce…yum!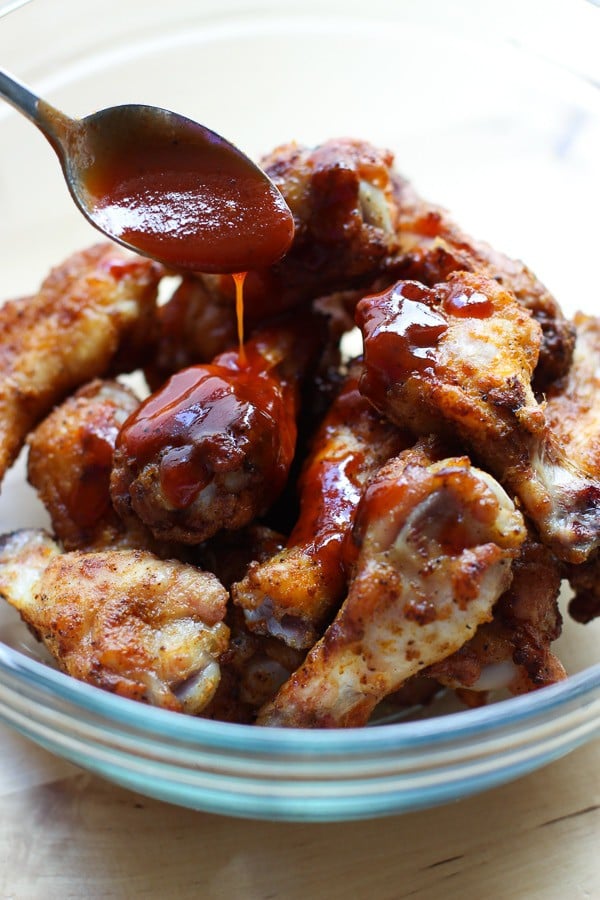 Taking our crispy baked Chicken Wings to an even yummier level!
We are keeping our barbecue sauce simple.
Simply pick your favorite BBQ sauce. Add 1-2 tablespoon (or more) honey to it, depending on how sweet you like your BBQ sauce.
If you don't like it sweet, then no need to add honey.
Step 3: Toss Crispy Baked Chicken Wings in BBQ Suace
When chicken wings are done baking, bring to a large bowl and pour sauce over wings.
Use a pair of tongs to toss wings in BBQ sauce.
Make sure these Baked BBQ Chicken Wings are evenly coated with that yummy sauce.
These wings are sticky, tangy, crispy, juicy, sweet, savory, and ALL THE THINGS.
SO delicious!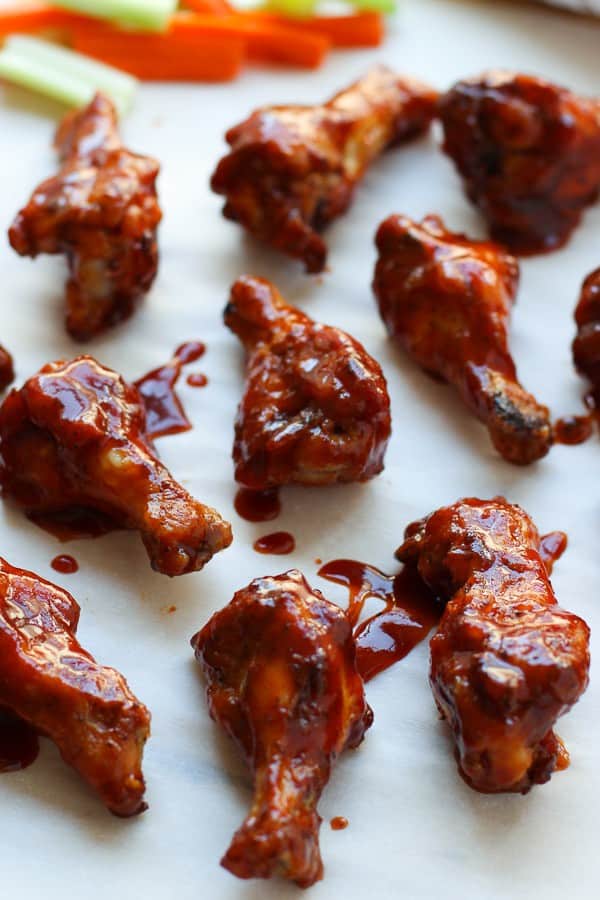 These Baked BBQ Chicken Wings are always the perfect weekend food for me.
It's the kinda stuff you eat when you are trying to escape from life.
Except that this version is not crazy greasy and all that bad for you…and you still escape from life!
So what are you waiting for? Rediscover barbecue chicken wings by baking them in the oven!
Because seriously, why mess with hot oil and consume more grease than necessary? Baking is totally the way to do this!
Watch out world, Baked BBQ Chicken Wings is the new chicken wings in town!
Frequently Asked Questions
How do I know when my chicken wings are done?
Best way to know is to use a meat thermometer. Check at multiple point of the chicken, and all points should be above 165℉.
Do these wings reheat well?
They will still taste great the next day but they won't be as crispy. You can oven baked them (covered) to reheat them – they will crisp up some but it won't be the same as fresh.
What to serve with BBQ Baked Chicken Wings
These Baked BBQ Chicken Wings makes the best appetizer, game day food, or even as a chicken main dish. Here are some of my favorites to serve with these delicious crispy wings:
DID YOU ENJOY THIS RECIPE? Please comment below and give us a 5-star rating! This will help others find this recipe on Google and Pinterest. We very much appreciate your help! 🤍
More Chicken Recipes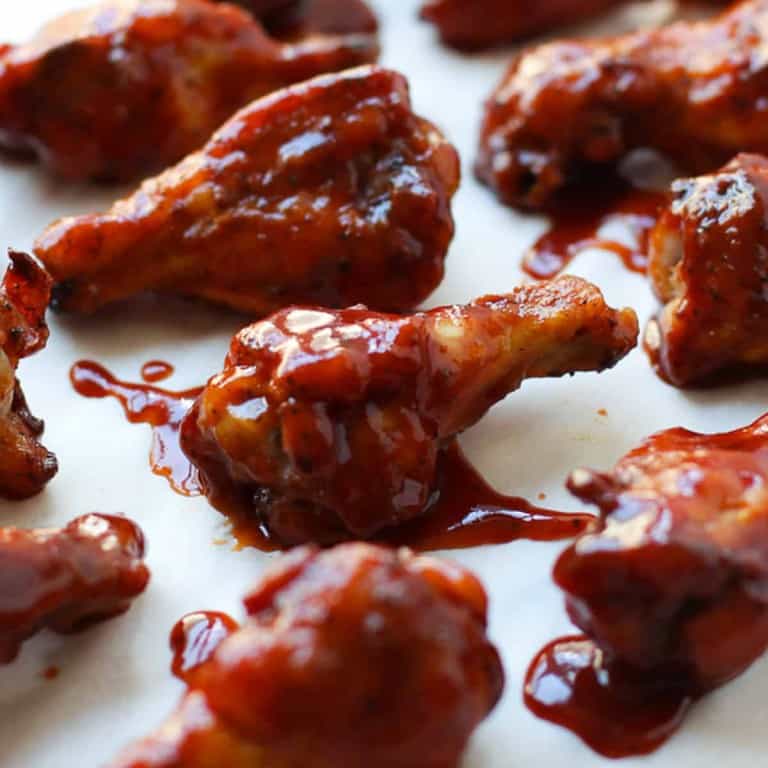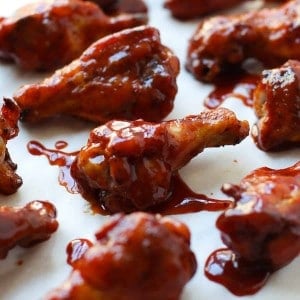 Oven Baked BBQ Chicken Wings
These chicken wings are oven baked AND crispy! Then smothered with BBQ sauce. The perfect appetizer or main course for parties, game day, any day!
Print
Pin
Ingredients
2.5

lbs

chicken drumettes and/or winglets

1

tbsp

baking powder

1

tsp

salt

1/2

tsp

black pepper

1

tsp

garlic powder

1

tsp

smoked paprika

1/2

cup

barbecue sauce

~1-2

tbsp

honey

or more!

vegetable oil
Instructions
In a small bowl mix together baking powder, salt, black pepper, garlic powder, and smoked paprika.

Toss defrosted drumettes and/or winglets with the baking powder mixture. Use your fingers to rub the spices onto the meat and spread them evenly all over.

Grease baking rack with vegetable oil (use the spray if you have them) and stack baking rack on top of a baking sheet. Place drumettes or winglets on baking rack, do not overlap.

Bake in the lower middle rack of the oven for 30 minutes.

Bump the temperature up to 425°F, and move drumettes and/or winglets to the upper middle rack and bake for 25 minutes.

Flip drumettes and/or winglets over and bake for another 20-25 minutes. Remove from oven. Chicken wings should be at least 165°F when checked with a meat thermometer.

Mix together barbecue sauce with honey to taste.

Toss drumettes and/or winglets in barbecue sauce mixture.
Nutrition
Calories:
423
kcal
|
Carbohydrates:
21
g
|
Protein:
29
g
|
Fat:
25
g
|
Saturated Fat:
7
g
|
Polyunsaturated Fat:
5
g
|
Monounsaturated Fat:
10
g
|
Trans Fat:
1
g
|
Cholesterol:
118
mg
|
Sodium:
1379
mg
|
Potassium:
349
mg
|
Fiber:
1
g
|
Sugar:
16
g
|
Vitamin A:
553
IU
|
Vitamin C:
1
mg
|
Calcium:
210
mg
|
Iron:
2
mg