Shrimp Stir Fry with Snow Peas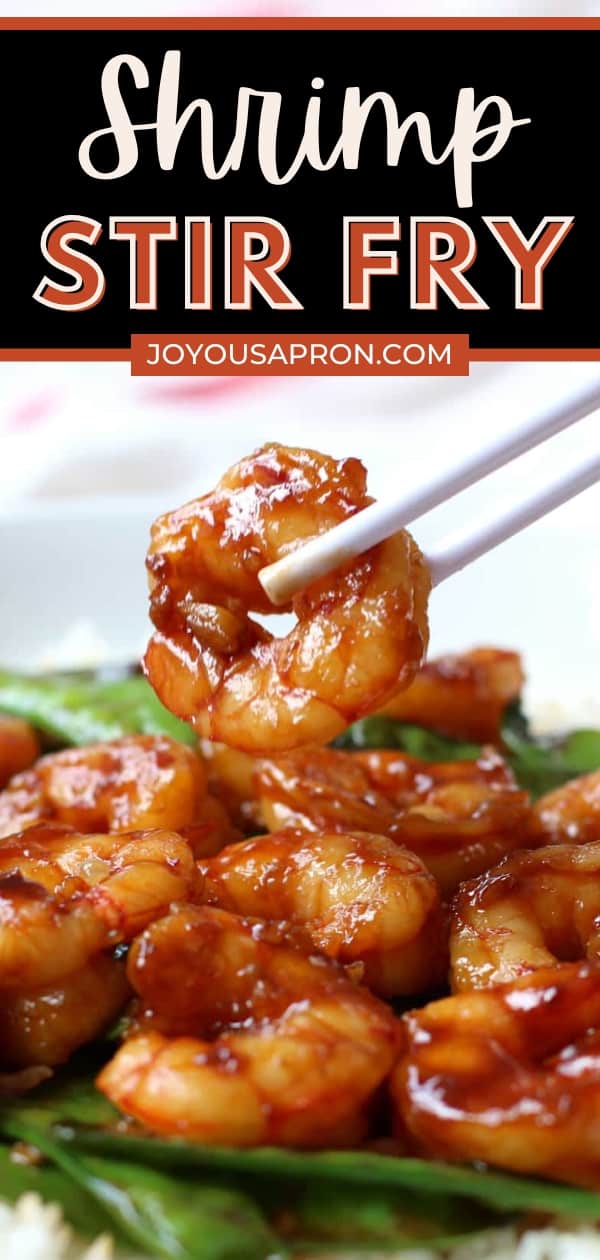 I'm giddy excited to share this easy basic Shrimp Stir Fry recipe with you, because shrimp is one of the quickest protein to stir fry, and also because I am IN LOVE with this gorgeous stir fry sauce.
For this shrimp stir fry, we are combining juicy shrimp with crunchy snow peas, and tossed in a simple, yet crazy flavorful sticky stir fry sauce that is savory, sweet and has an umami flavor to it. I don't want to brag, but the sauce is pretty AMAZING.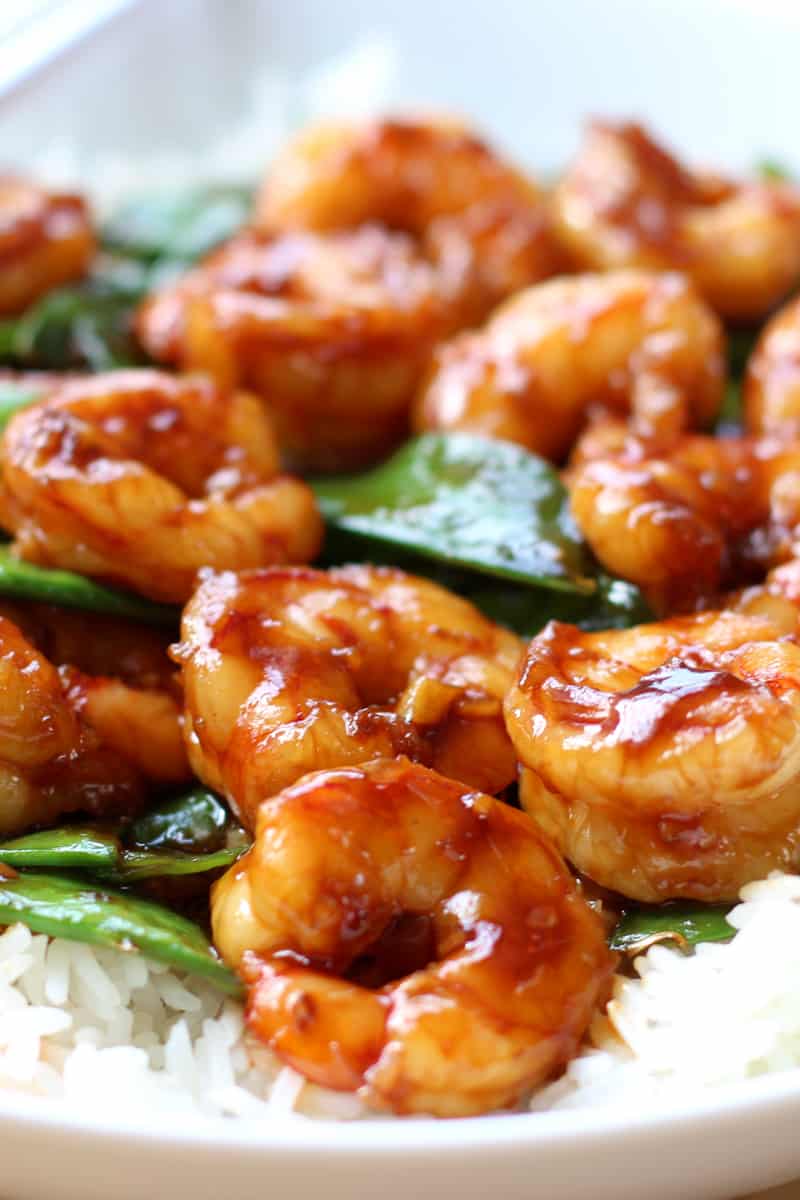 Easy Shrimp Stir Fry Recipe
I wanted to create a shrimp stir fry recipe that will serve as a guide line and pathway to many shrimp stir fry recipes of your own.
I want to give you the basics of how to stir fry shrimp, along with a vegetable or two, and then let you run with it and make it your own if you choose to do so.
This is my tried and true shrimp stir fry recipe. I love the sauce as it is truly flavorful and also simple to make.
This sauce is my prized creation, concoction, AND obsession. We cannot get enough of it, and currently, I have this urge to pour it on every single protein/veggie combination I can think of. I'm resisting hard.
I am making a shrimp stir fry with snow peas but you can use other vegetables – broccoli, green beans, bell peppers, carrots…or even a mixture of a few veggies!
The only thing I would recommend is to keep it to about the same amount as the snow peas called for in this recipe. If not you may want to add more sauce and more shrimp so that your shrimps stir fry won't be too veggie heavy.
One of my favorite things about shrimp stir fry recipe is that it typically comes together pretty quickly. Simply because raw shrimp takes only a few minutes to cook, and cooking it for too long will make it rubbery and not appetizing.
That makes this shrimp stir fry recipe perfect for busy evenings. For those of you looking for a 15-minute meal that taste so good no one will believe you breeze through it in the kitchen…this is it, and it is the REAL DEAL.
Ingredients
To make this yummy shrimp stir fry, you will to gather these ingredients: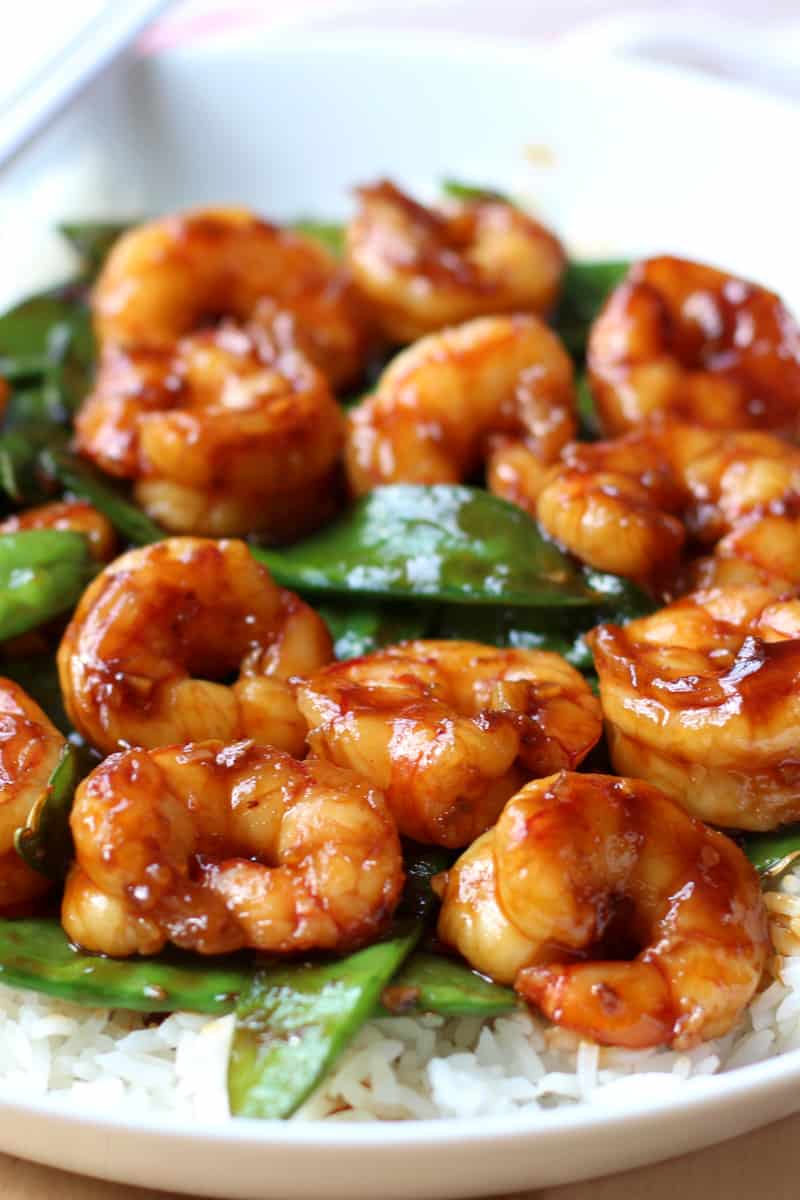 fresh uncooked peeled shrimp – do not use cooked shrimp for this. I prefer shrimp that is already peeled so that it's easy eat.
snow peas – this is my veggie of choice but you can also use broccoli, carrots, onions, green beans, etc.
fresh garlic – an important stir fry ingredient! Avoid substituting with garlic powder as it will not taste as flavorful
ginger – my preference is to slice ginger root into thin slices, but if you are in a pinch, ginger powder works as well
vegetable oil – or another neutral oil, such as canola oil works as well. You will need a good amount of oil to stir fry.
Since I bragged about the sauce so much, I want to give it a separate section and spend some time talking about each of the ingredients that make up the sauce:
oyster (flavored) sauce – this is a fairly common sauce use in Chinese cooking and can be found in most regular grocery stores these days. It has a lovely umami flavor, and is widely used in many Chinese recipes, especially stir fry's and marinates. Even if you haven't cooked with it, if you had Chinese food, you probably had it before but just didn't know it!
sweet soy sauce (kicap manis) – kicap manis is a Malaysian/Indonesian name of the sauce that translates into 'sweet soy sauce'. It is widely used in Malaysian and Indonesian dishes. I had a lot of it growing up, and is probably one of my favorite sauces. This is typically found in Asian grocery stores or online.
rice cooking wine – I typically use Chinese Shaohsing rice wine for this. This is also another super common ingredient in Chinese cooking.
All these ingredients combine create the most gorgeous and flavorful sauce for our shrimp stir fry.
THIS IS NOT ORDINARY SAUCE. It is a complex and delicious concoction of flavors, and I highly recommend not skipping any of the sauce ingredients.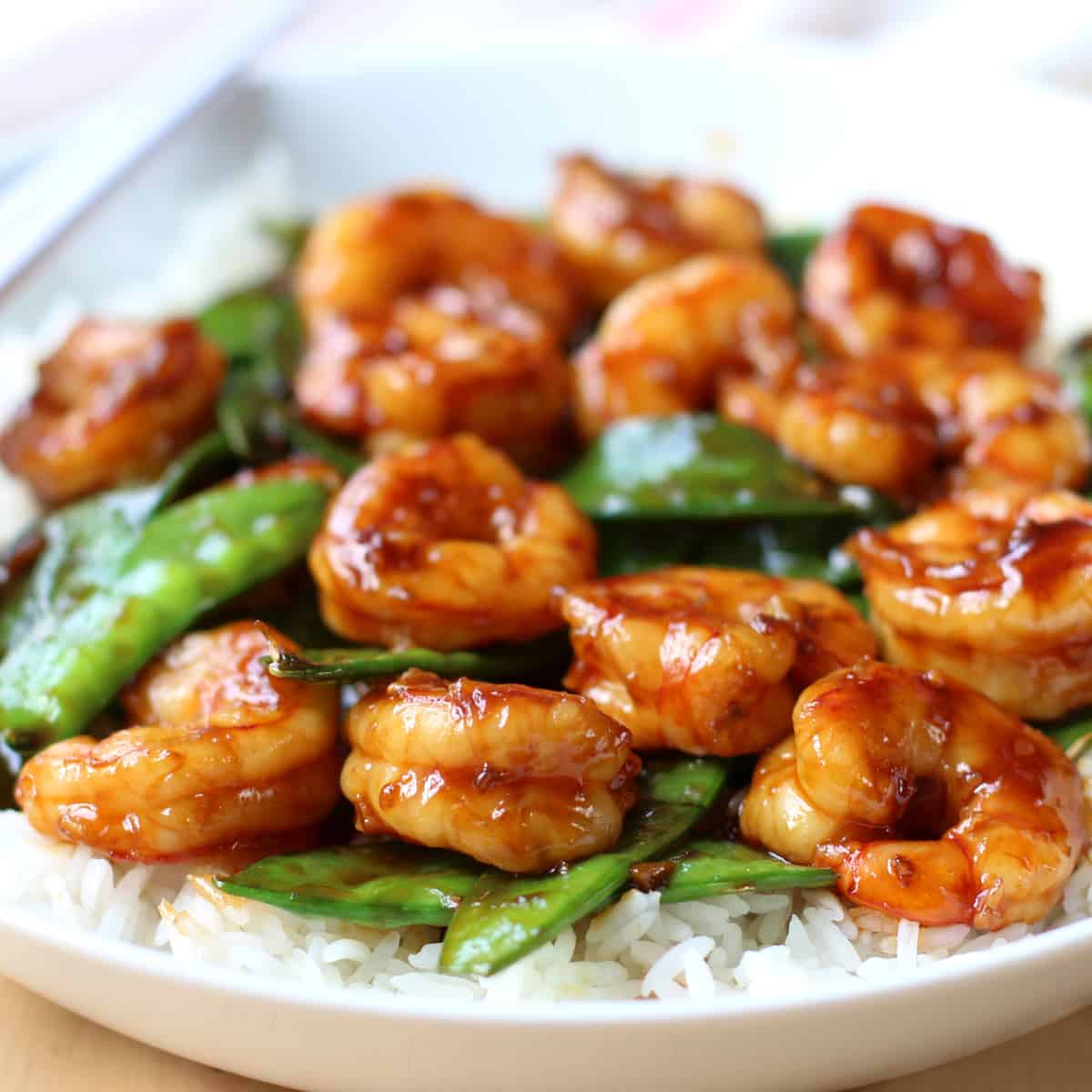 How to make Shrimp Stir Fry
Let's get cooking and make some yummy shrimp stir fry with snow peas!
Step 1: Prepare Ingredients
It is so important to prepare all the ingredients before heating the wok/skillet and stir frying because once you start adding things to your skillet, the process goes fast! You won't have time to chop things up or run to find things in your pantry.
To prepare the ingredients, start by chopping up fresh garlic and ginger, and rinsing the snow peas.
Next, pat dry the defrosted raw shrimp to remove the moisture. This is important because if the shrimp is too wet it will create a pool of water in your wok/skillet, and you end up boiling the shrimp in water, instead of frying it in oil.
For the shrimp stir fry sauce, mix to combine oyster sauce, sweet soy sauce (kicap manis), and rice cooking wine in a small ramekin.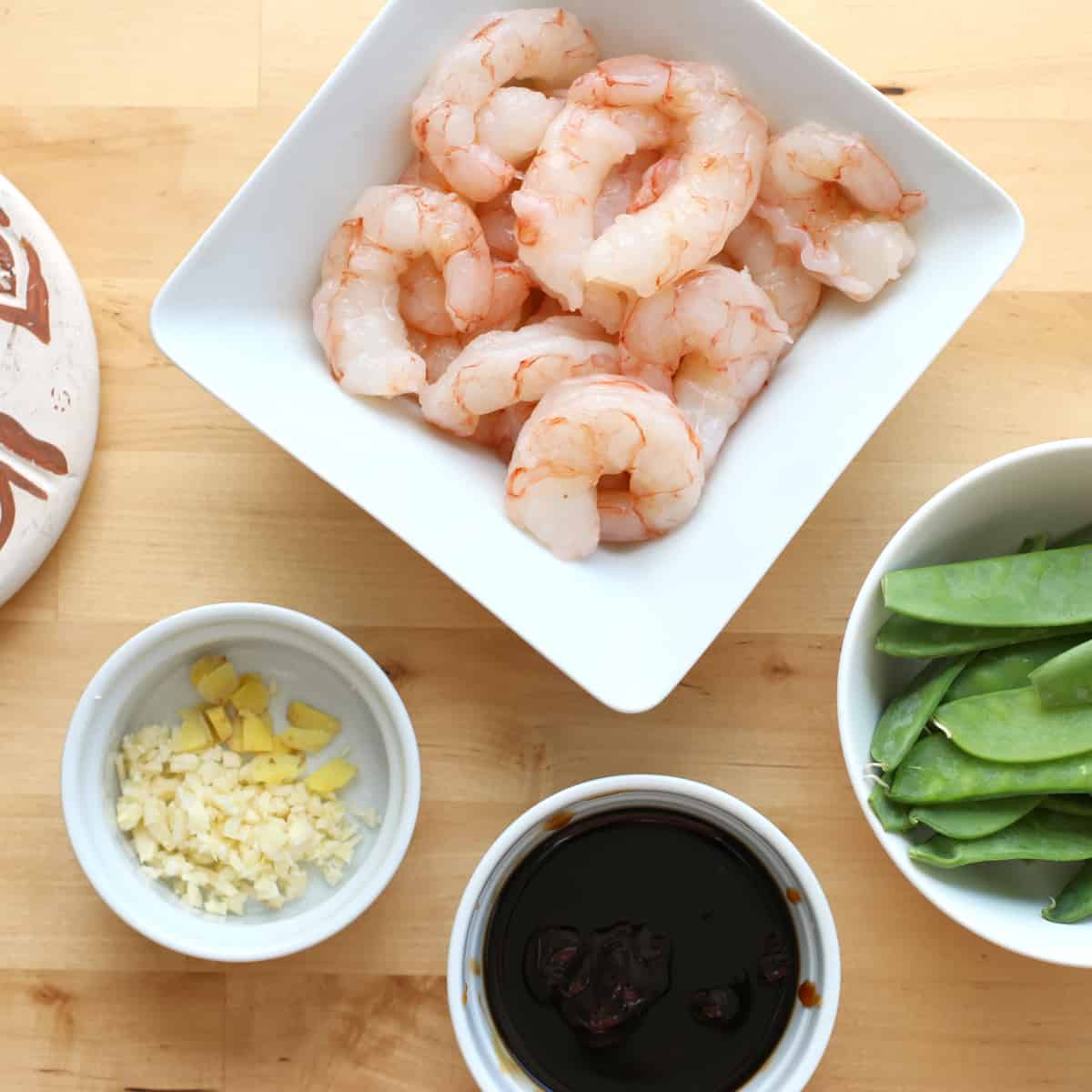 Step 2: Stir fry shrimp and vegetables
Once you finished prepping the ingredients, heat up wok or skillet and add vegetable oil on high heat (yes, turn it up all the way).
Use a wok (or skillet) that can withstand and maintain heat very well. This is the wok I use (and love).
If you don't have a wok, a non-stick skillet works just fine. Use a large skillet so that it's easy to move the items around when stir frying so that shrimp and snow peas will cook evenly.
Wait until the wok is hot, then add shrimp into the wok. Stir fry shrimp for 2-4 minutes minutes (time needed will depend on size of shrimp), or until it is cooked.
Try to avoid overcooking shrimp. Shrimp, and most seafood, cooks fairly quickly. Cooked shrimp will curl up slightly and turn light red/orange.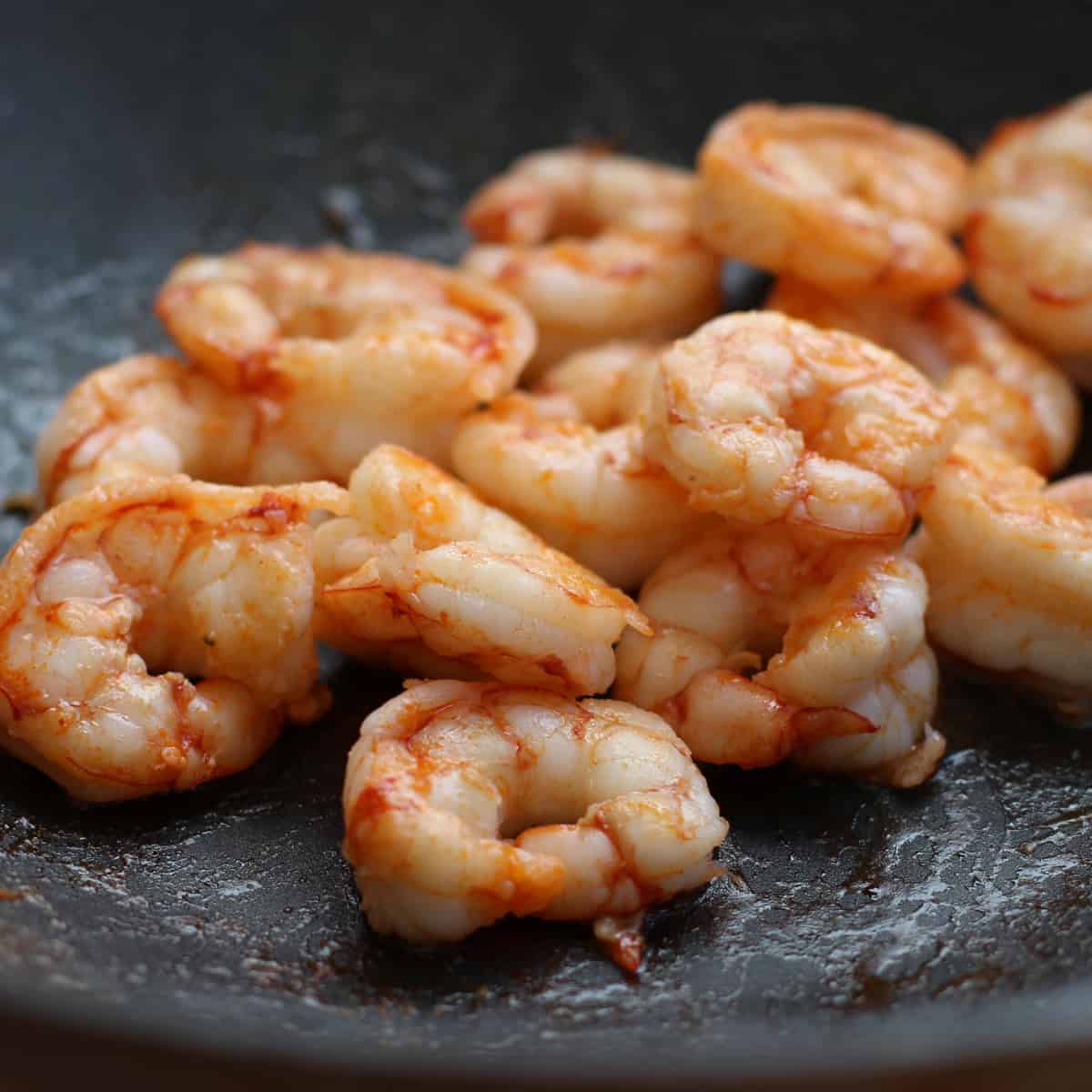 Once shrimp is cooked, remove from the wok.
Add additional vegetable oil into the wok again. Once the wok is hot, add garlic and ginger into the wok, stir fry for a few seconds, then add snow peas into the wok, and stir fry for another minute.
Snow peas doesn't take long to cook as well, and will turn a vibrant green when it is done.
Add shrimp back into the woke, along with the stir fry sauce. Then continue stirring.
Remember, high heat is used for cooking this whole time!
Give it about a minute, or once you see the sauce boiling, remove from heat promptly. Make sure everything is cooked before removing, but also, avoid overcooking.
This whole stir frying process should happen very quickly. Probably about 5-8 minutes from start to finish.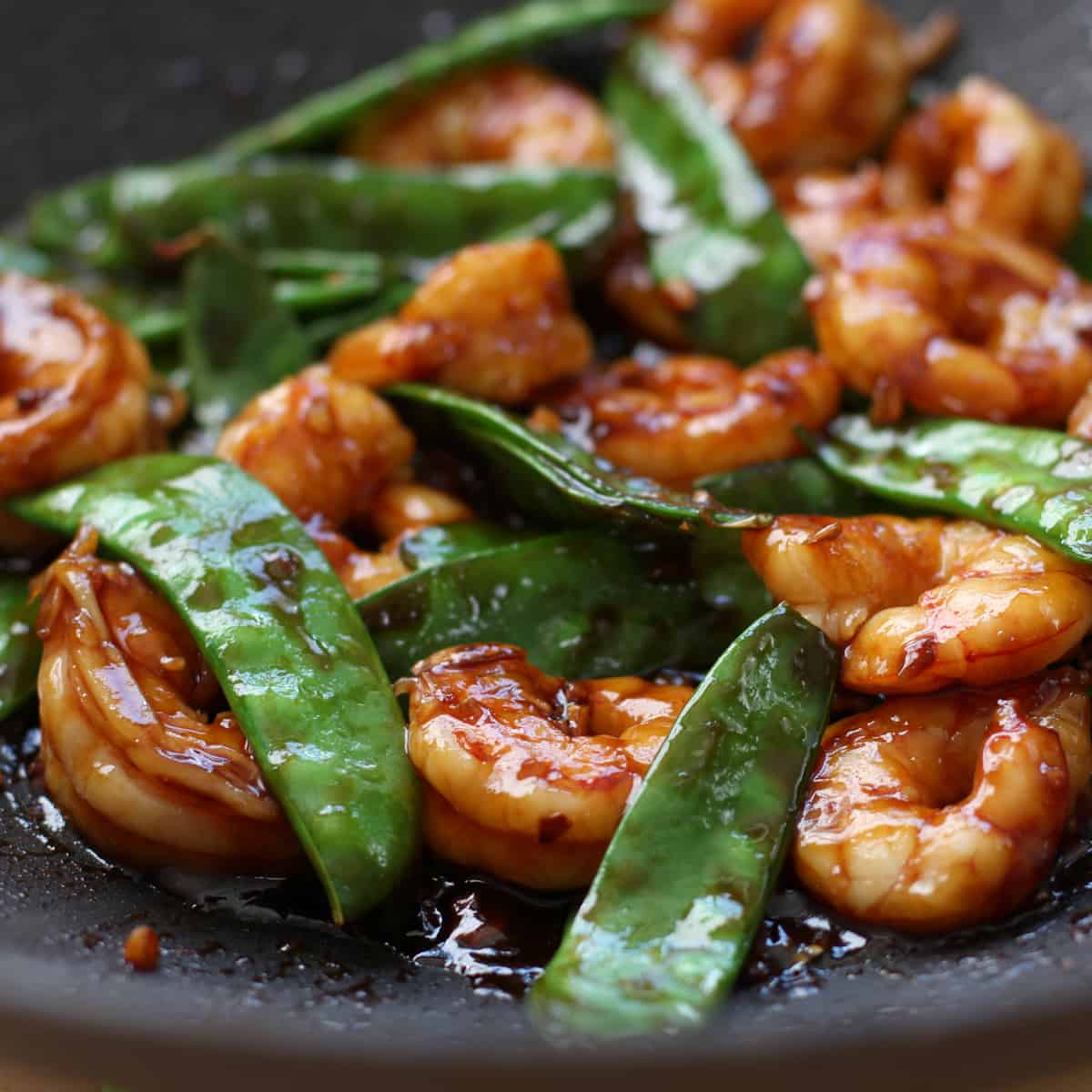 Stir Fry Tips and Tricks
Stir fry is really an art. If you make a stir fry for the first time and it doesn't go well, keep going and keep practicing. It gets easier and better with time!
There are a few tips to making this Shrimp Stir Fry:
Use a large wok (or skillet) so that you can move/stir the items around and cook the items more evenly.
Use a wok or skillet that retains heat well
Cook on high heat and wait for your wok or skillet to turn hot (it should be radiating heat) before you add items to it.
The stir fry process goes fast…get the ingredients ready and in arm's reach before heating wok and stir frying
Pat dry defrosted shrimp to avoid water puddles and diluting the sauce
Avoid overcooking shrimp! Shrimp takes only a few minutes to cook.
Keep stirring through the whole stir fry process so that everything cooks evenly.
If you are interested in learning more tips and tricks to take this stir fry from good to AH-MA-ZING, check out my article on stir fry – 8 Tips to a Great Stir Fry.
And there you go! The EPIC Shrimp Stir Fry with crunchy snow peas, with the yummy savory sweet sauce that I cannot get enough of!
Best served over white or brown rice. Your dinner in 15 minutes!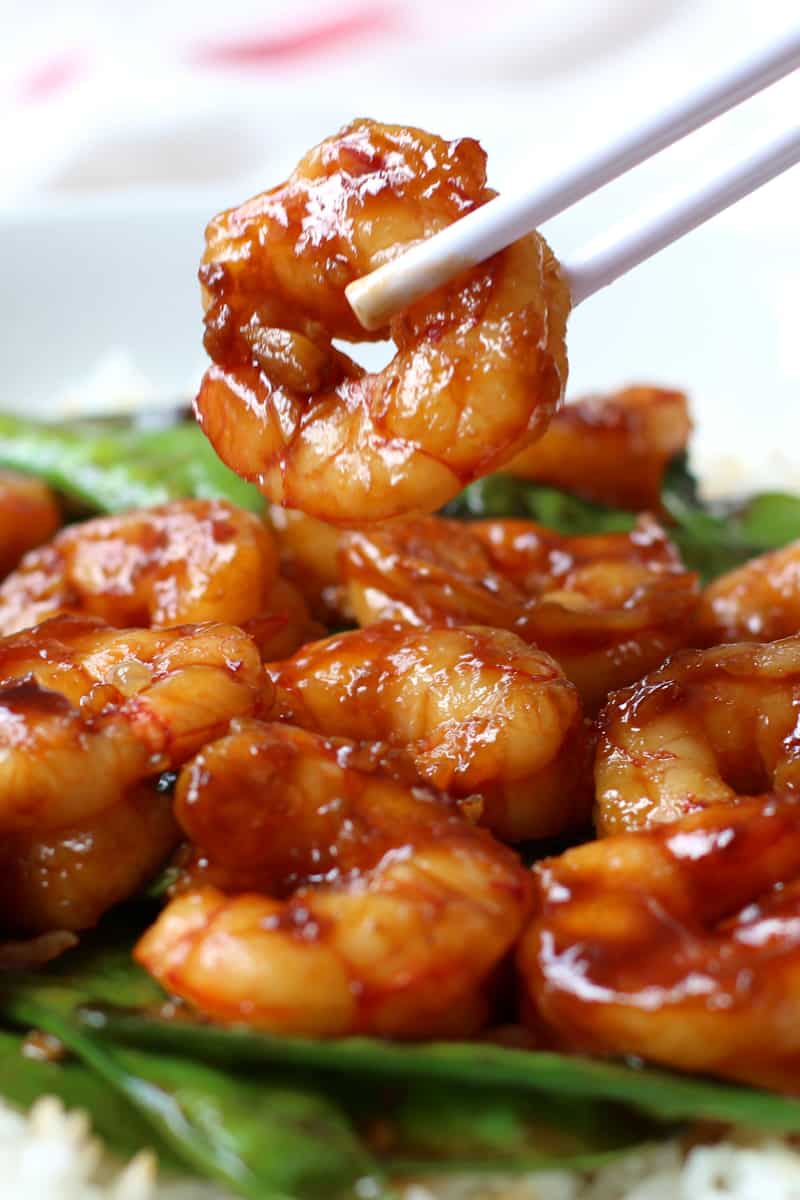 Ah sticky, sticky sauce, clinging just so slightly, to the juicy shrimp and crunchy snow peas. I want to stuff my face with this. Like RIGHT NOW.
After you make this, you will wonder why you even bother with Chinese take-outs when you can make your own in no time and it tastes so. darn. good.
So…what are you waiting for? 😉 I vote that you make this shrimp stir fry today!
DID YOU ENJOY THIS RECIPE? Please comment below and give us a 5-star rating! This will help others find this recipe on Google and Pinterest. We very much appreciate your help! 🤍
More delicious Asian Recipes
If you love stir fry's or Asian recipes, check out some of our other favorites from the blog!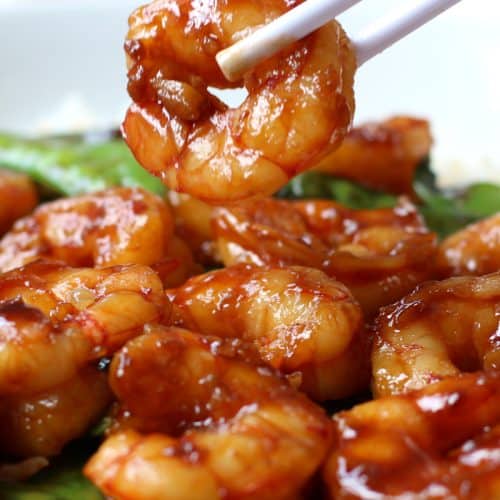 Shrimp Stir Fry with Snow Peas
Delicious shrimp stir fry with snow peas, smothered with a savory and sweet sauce with an umami quality. Dinner in 15 minutes! So good, you will never look at takeout the same way again!
Print
Pin
Ingredients
10

oz

raw shrimp

4

oz

snow peas

2 1/2

tbsp

oyster (flavored) sauce

1 1/2

tbsp

sweet soy sauce (kicap manis)

1/2

tbsp

rice cooking wine

2-4

cloves

garlic (minced or thinly sliced)

1

tsp

ginger (minced or thinly sliced)

1

tbsp

vegetable oil
Instructions
Mince or thinly slice garlic and ginger. In a ramekin, combine oyster sauce, sweet soy sauce and rice cooking wine to make the stir fry sauce. Pat dry defrosted shrimp.

Add 1-2 tsp vegetable oil to wok. Heat wok on high heat. Once oil is bubbly and wok is heated up, add shrimp. Stir fry shrimp for 2-4 minutes, or until shrimp is cooked. Remove shrimp from wok. Do not overcook shrimp.

Add 1-2 tsp vegetable oil to wok. Heat wok on high heat. Once oil is bubbly and wok is heated up, add garlic and ginger. Stir for a few seconds, then add snow peas to wok. Stir continuously for 1 minute or until snow peas turn darker green.

Add shrimp back into the wok and add stir fry sauce. Stir for 1 minute or until all items are cooked. Remove promptly, do not overcook.

Serve with brown or white rice. Enjoy!
Nutrition
Calories:
260
kcal
|
Carbohydrates:
22
g
|
Protein:
21
g
|
Fat:
8
g
|
Saturated Fat:
1
g
|
Polyunsaturated Fat:
4
g
|
Monounsaturated Fat:
2
g
|
Trans Fat:
1
g
|
Cholesterol:
179
mg
|
Sodium:
1663
mg
|
Potassium:
303
mg
|
Fiber:
2
g
|
Sugar:
12
g
|
Vitamin A:
872
IU
|
Vitamin C:
35
mg
|
Calcium:
114
mg
|
Iron:
2
mg