Homemade Chunky Guacamole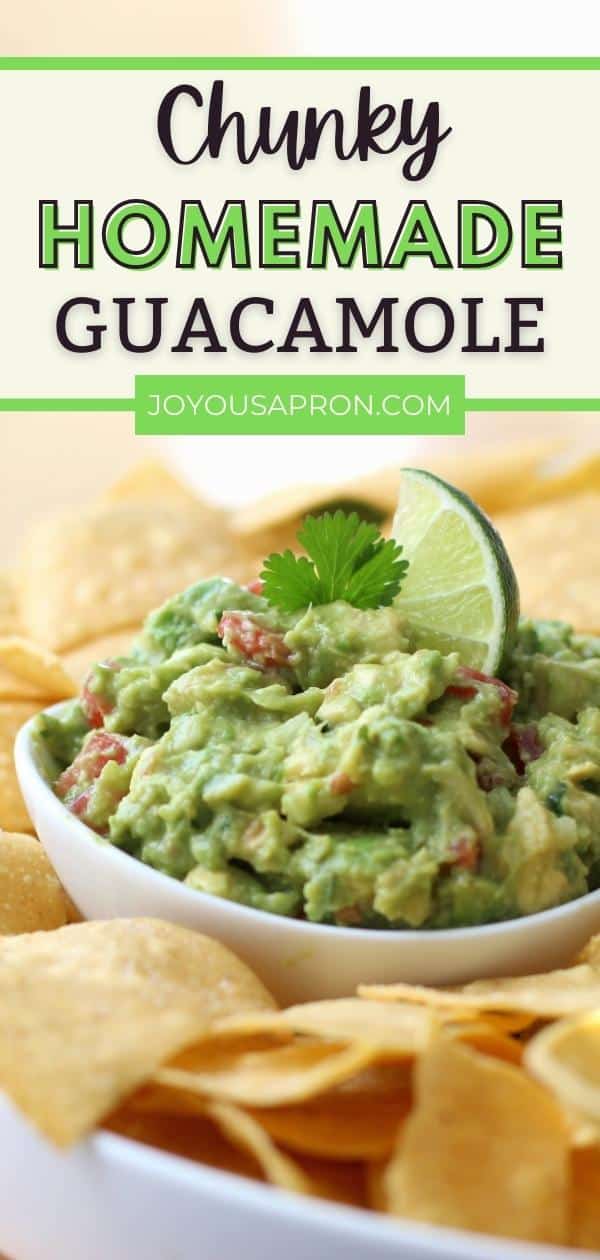 I love myself some guacamole. Fresh, homemade guacamole loaded with chunky avocados, diced tomatoes, cilantro and lots of fresh lime flavors..
And the world is right again. 💚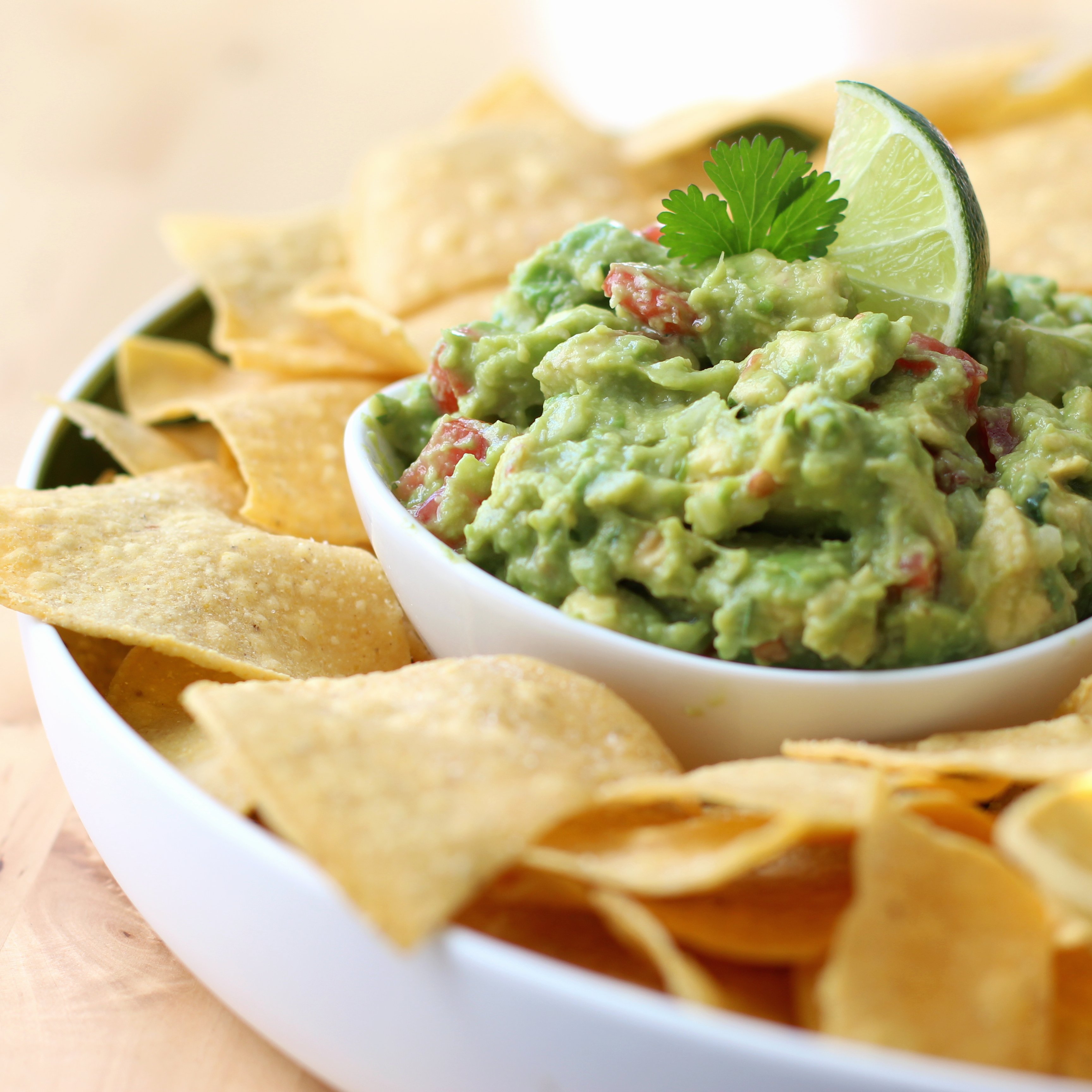 My love affair with guacamole had a rocky start.
I encountered my first guacamole at a ripe, old age of nineteen. Always curious about something new, I dipped my chip into this bowl of bright green, meshed up gooeyness, and was simply…whelmed.
I didn't get it. But that's ok, I don't think it got me either.
Fast forward years later, I sat across from this bowl filled with chunks (yes, chunks. Not meshed up gooeyness) of avocados and tomatoes, infused with lime and my favorite herb in the whole wide world – cilantro.
Let's just say there was no turning back. That completely sealed the deal for me.
I've been a guac girl ever since.
The truth is, that gooey avocado I stumbled upon when I was nineteen just wasn't the best guacamole around town. It was not fresh, and it was bought from a store with lots of preservatives in it.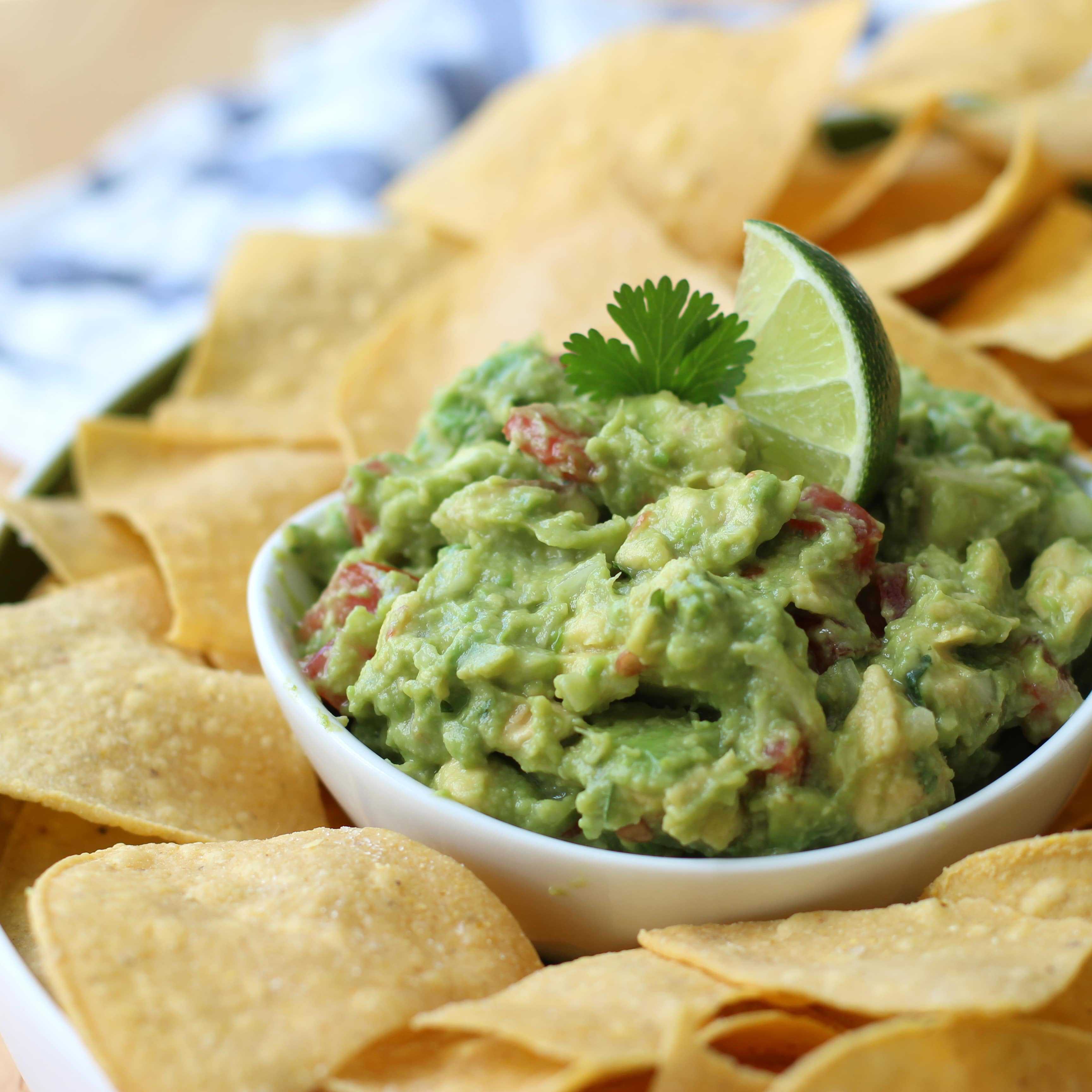 Guacamole done right will give you a whole new perspective of what guacamole should be.
So fasten your seat belts, ladies and gentlemen, and get ready for some yummy chunky guacamole!
Ingredients and how to make it
Best part about guacamole? It is so easy to make. Like chop-it-all-up, mix-it-all-together easy.
It is also made with fresh, delicious AND healthy ingredients:
Avocados
Tomatoes
Lime juice – use fresh!
Cilantro
Onions – chopped finely, okay to omit if you don't like onions
Salt to taste
Chop up tomatoes, onions, cilantro into fine little itty bitty pieces. Throw them, along with avocados, into a bowl, and sprinkle lime juice all over.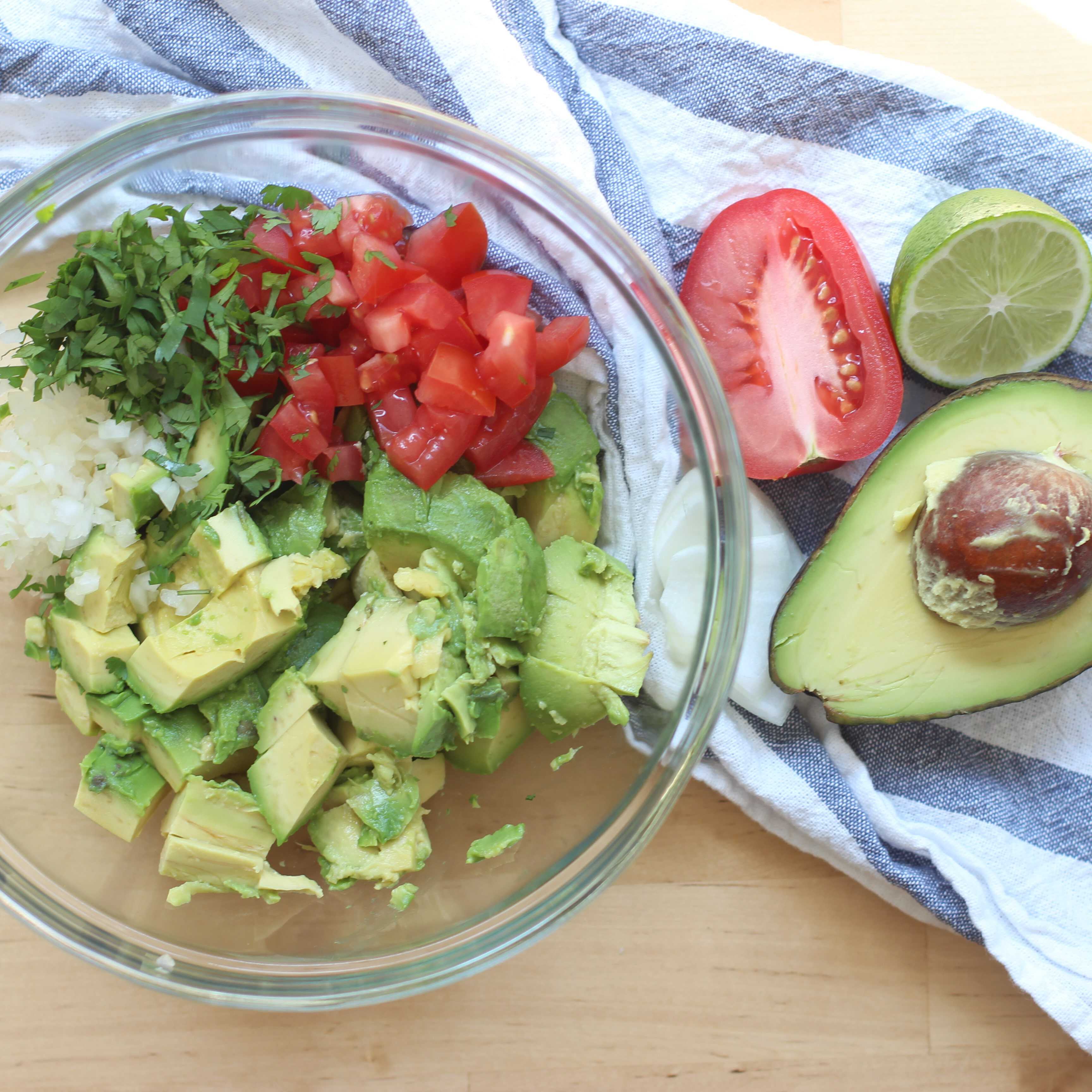 Use a fork or a potato masher to break avocados into smaller pieces, and then mix everything up!
I like to break the avocado up but not over-mesh it, so that it is nice and chunky.
If you are not a chunky guac kinda person, feel free to mesh it up to your heart's content!
And then, a simple but important final step: add salt to taste and also to open up the flavors.
And really, that is it!
No cooking, takes less than 10 minutes, and very, very yummy! A must when making your favorite Mexican dishes!
How to prevent guacamole from turning brown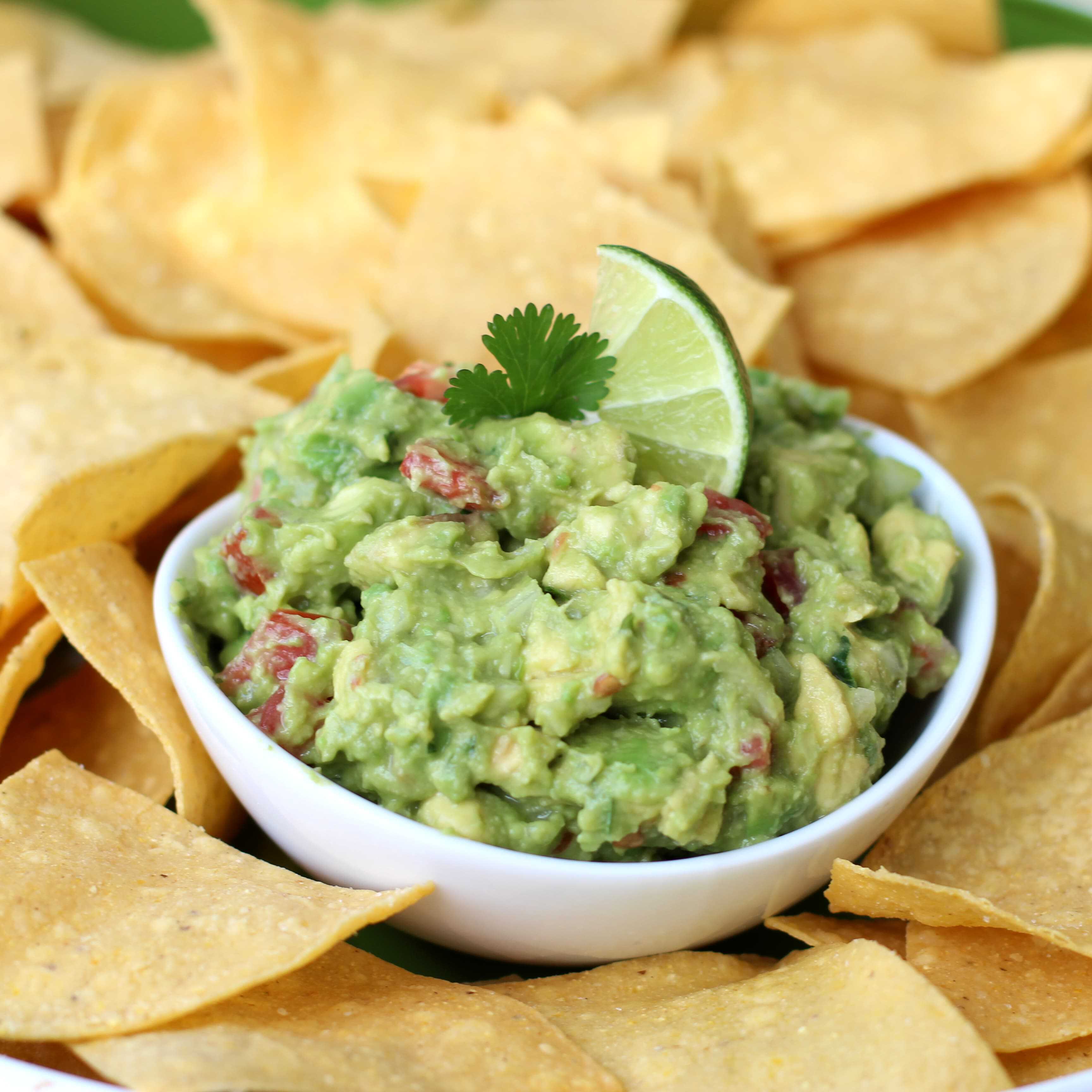 Don't you hate it when guacamole turn brown so quickly?
It makes it hard to make ahead of time, leave it out for hours, and storing leftovers can be an issue as well.
I don't have a magical solution for preventing guacamole/avocados from not turning brown forever, but I do have one to slow down the process.
Here's what you need to do: Don't toss avocado seeds away when cutting up the avocados, and nestle them into the guacamole. Something about the avocado seed will help slow the browning process.
This avocado seed trick slows the process down and in my experience, especially if it is also sealed properly, it takes a couple of hours before avocado shows signs of browning.
How to store leftover guacamole
We almost always finish guacamole whenever we make them…
But if we do have leftovers, in addition to nestling the avocado seeds into the guacamole when storing guac away in the fridge, I also use a container that seals tightly to slow the browning process.
Sure it may brown a little after a few hours, but the avocado seed does preserve it a little bit longer so at least you can enjoy your guac again the next day.
So if you have leftover guacamole, don't throw it away immediately…
I used to do that and boy I was wasting good guac.
And no one should be wasting good guac. Right right? 😄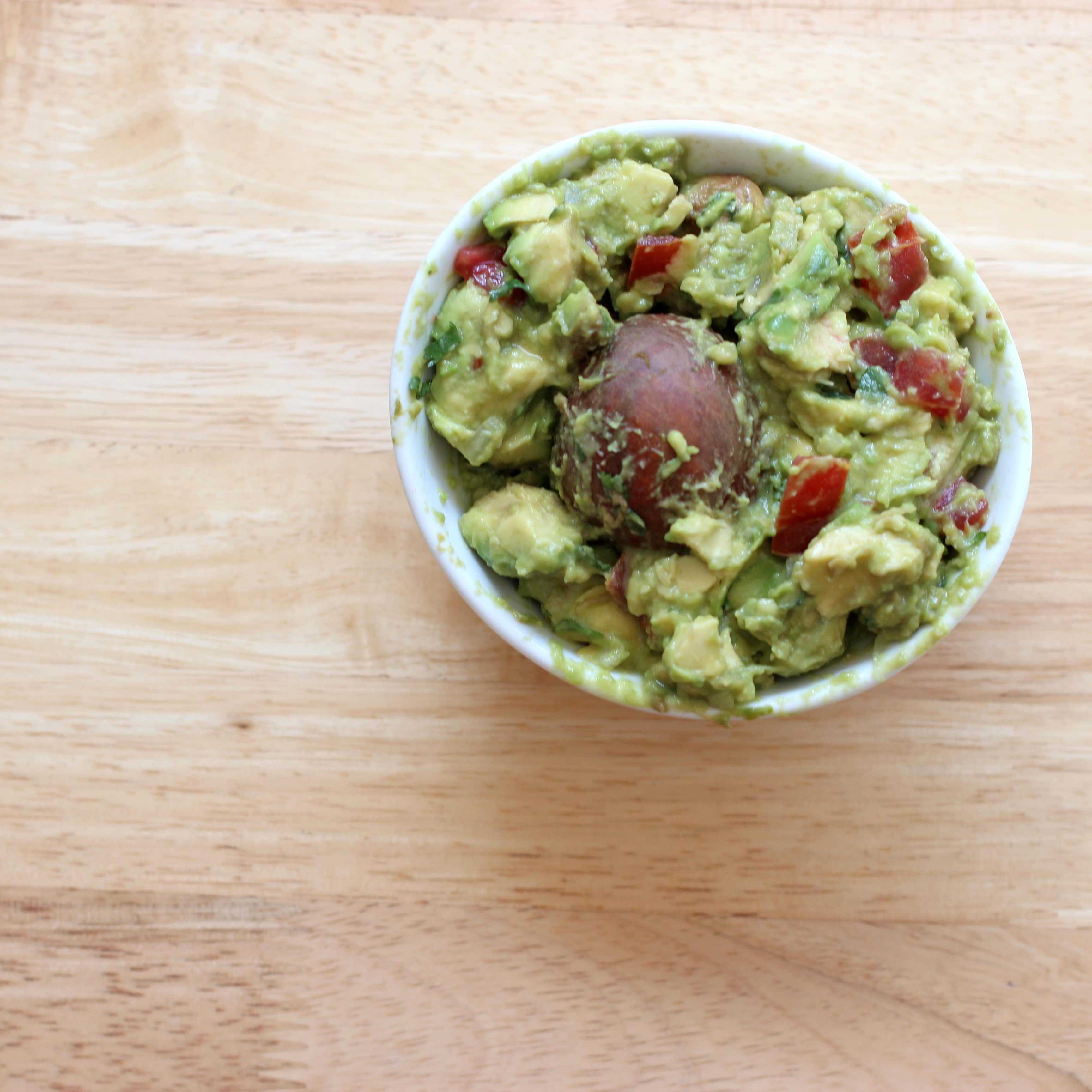 There you go. Easy, fresh, homemade, chunky, super tasty, tantalizing, delicious guacamole. Need I say more?
Grab a chip (or multiple), and dig in!
Other yummy Mexican/ Tex Mex Recipes
You might be interested in these as well!
DID YOU ENJOY THIS RECIPE? Please comment below and give us a 5-star rating! This will help others find this recipe on Google and Pinterest. We very much appreciate your help! 🤍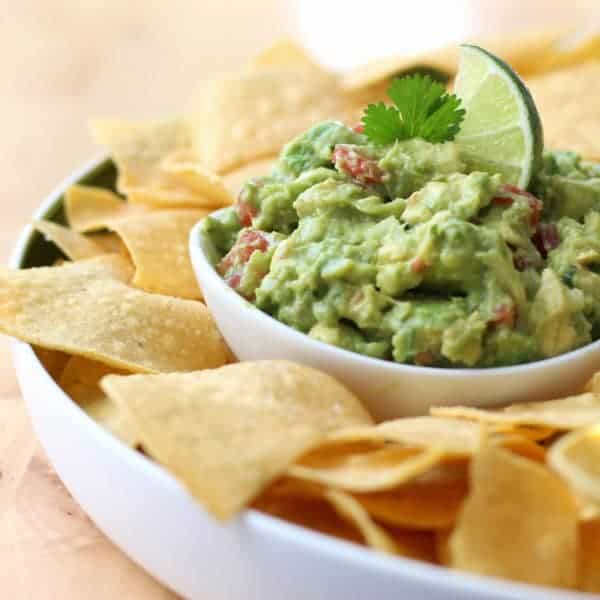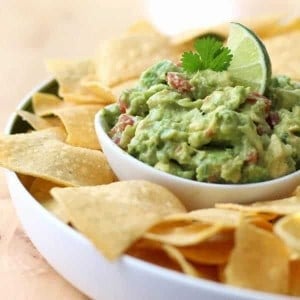 Homemade Chunky Guacamole
Chunky avocados mixed with chopped plum tomatoes and onions, infused with fresh lime juice and cilantro. Serve with warm, crispy tortilla chips.
Print
Pin
Ingredients
2

medium avocados

1/2

medium tomato

chopped

2

tbsp

cilantro

chopped finely

2

tbsp

onion

chopped finely, optional

1

large lime

juice

salt

to taste
Instructions
Chop finely onion, tomato, and cilantro. Juice 1 large lime.

Combine avocados, onion, tomato, cilantro and 1-2 tbsp lime juice (See Note 1) from lime into a bowl

Use spoon to break avocados into smaller pieces. Mix all ingredients together

Season with salt to taste

Serve with tortilla chips. Enjoy!
Notes
Note 1: Start with 1 tbsp of lime juice, mix, taste, and add more as you see fit.
Note 2: To store guacamole, place avocado seeds into guacamole and store in fridge. This will help slow the browning process. Consume within 1 day of storage.
Nutrition
Calories:
171
kcal
|
Carbohydrates:
11
g
|
Protein:
2
g
|
Fat:
15
g
|
Saturated Fat:
2
g
|
Sodium:
299
mg
|
Potassium:
549
mg
|
Fiber:
7
g
|
Sugar:
2
g
|
Vitamin A:
297
IU
|
Vitamin C:
17
mg
|
Calcium:
21
mg
|
Iron:
1
mg