This post may contain Amazon or other affiliate links. As an Amazon Associate I earn from qualifying purchases at no additional cost to you.
When I started my food blog, Homemade Chunky Guacamole was one of the first recipes I shared because it is one of my favorite foods. Now looking back, being one of the first posts, it is a bit lacking in the photography department 😉 , so I decided it is time to update the photos and do justice to this fantastic guac recipe. For example, here's an old guac photo versus the new one I just took.
I'm telling you, a good photograph (camera, lens, etc)  makes such a big difference!
Check out the rest of the updated photos below (along with the original text). Enjoy this fabulous recipe! 
******
I love myself some guacamole. Fresh, homemade chunky guacamole. And the world is right again.
My love affair with guacamole had a rocky start. I encountered my first guacamole at a ripe, old age of nineteen. Always curious about something new, I dipped my chip into this bowl of bright green, meshed up gooeyness, and was simply…whelmed. I didn't get it. But that's ok, I don't think it got me either.
Fast forward years later, I sat across from this bowl filled with chunks (yes, chunks. Not meshed up gooeyness) of avocados and tomatoes, infused with lime and my favorite herb in the whole wide world – cilantro. Let's just say there was no turning back. That completely sealed the deal for me. I've been a guac girl ever since.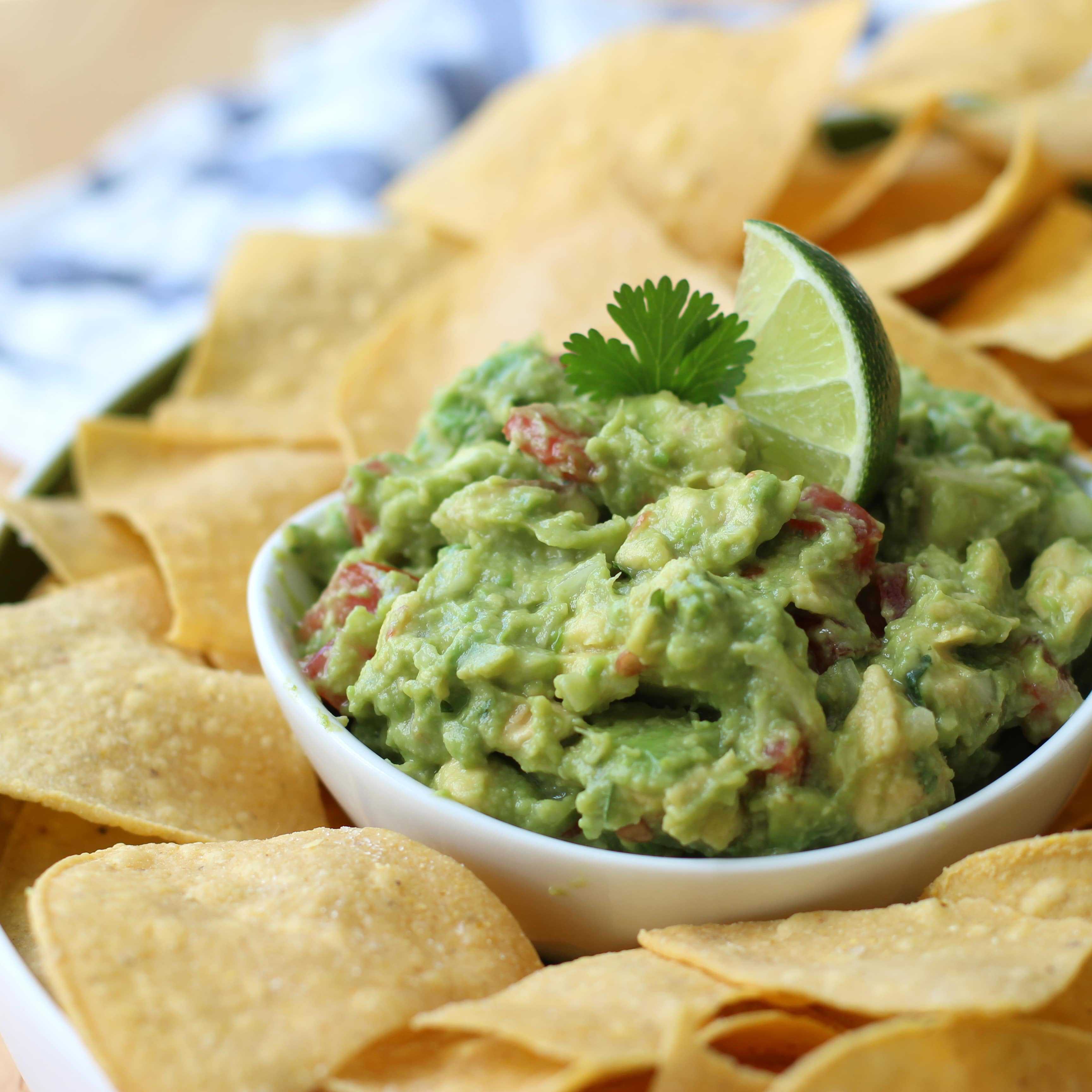 Best part about guacamole? It is made out of lots of delicious AND healthy ingredients. Chop up tomatoes, onions, cilantro into fine little itty bitty pieces. Throw them, along with avocados, into a bowl, and sprinkle lime juice all over. If you are planning to store your leftover guacamole, don't throw the avocado seeds away. More on that later.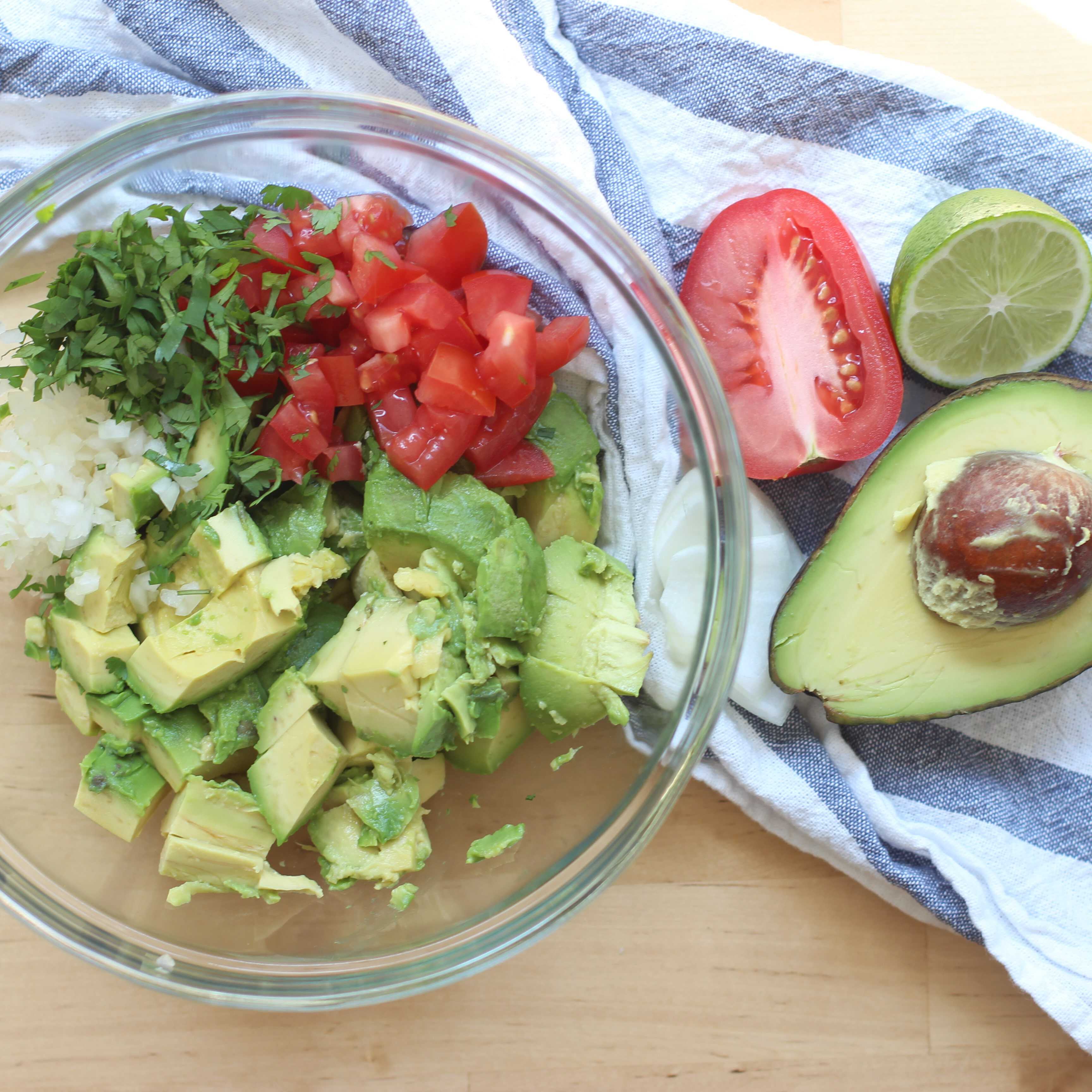 Use a spoon to break avocados into smaller pieces, and then mix everything up.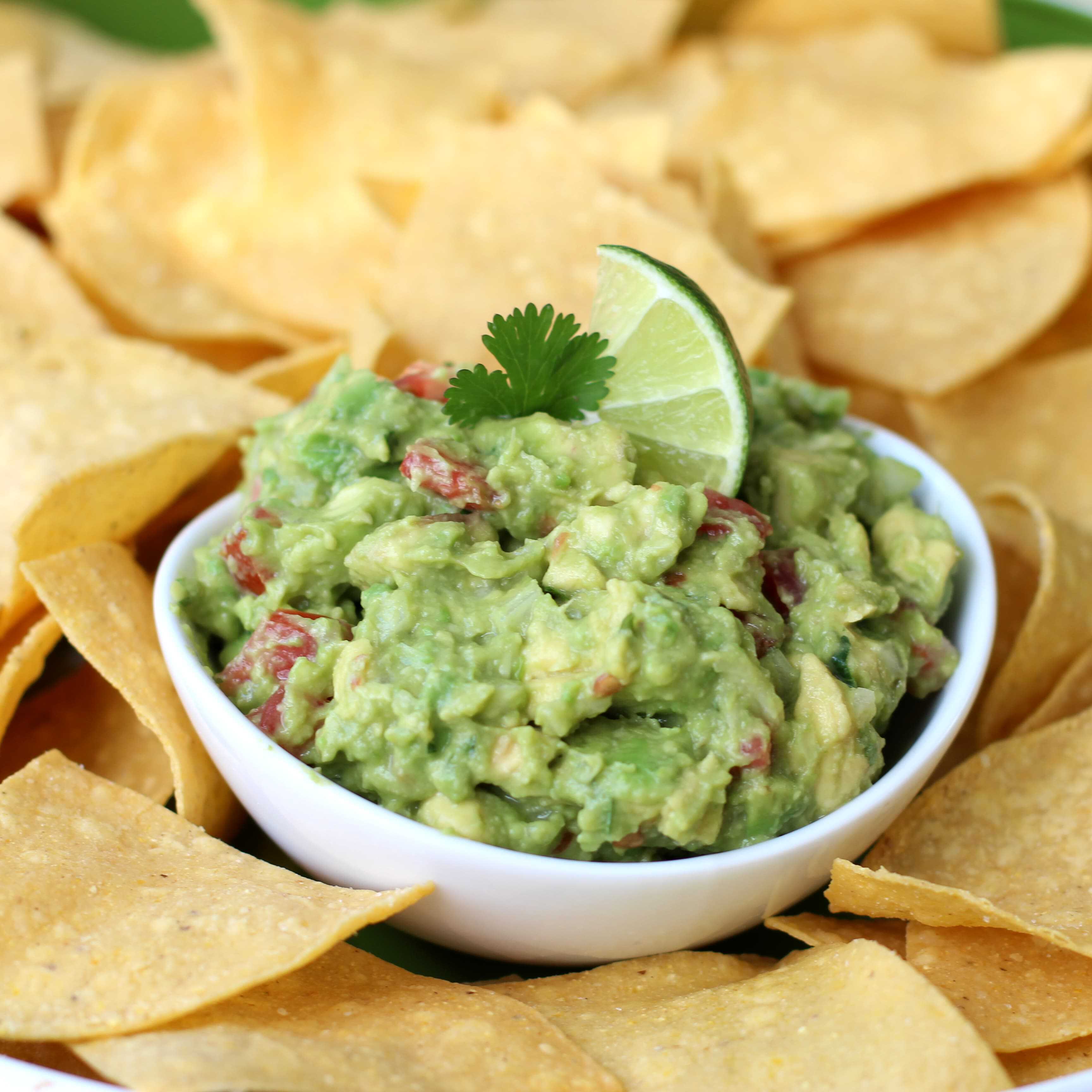 If you have leftovers, don't throw it away with the fear that avocados may brown. I used to do that and boy I was wasting good guac. No one should be wasting good guac. No one…
Nest the avocado seeds into your guacamole when storing away in the fridge. This will allow avocados to stay green for an additional day or so.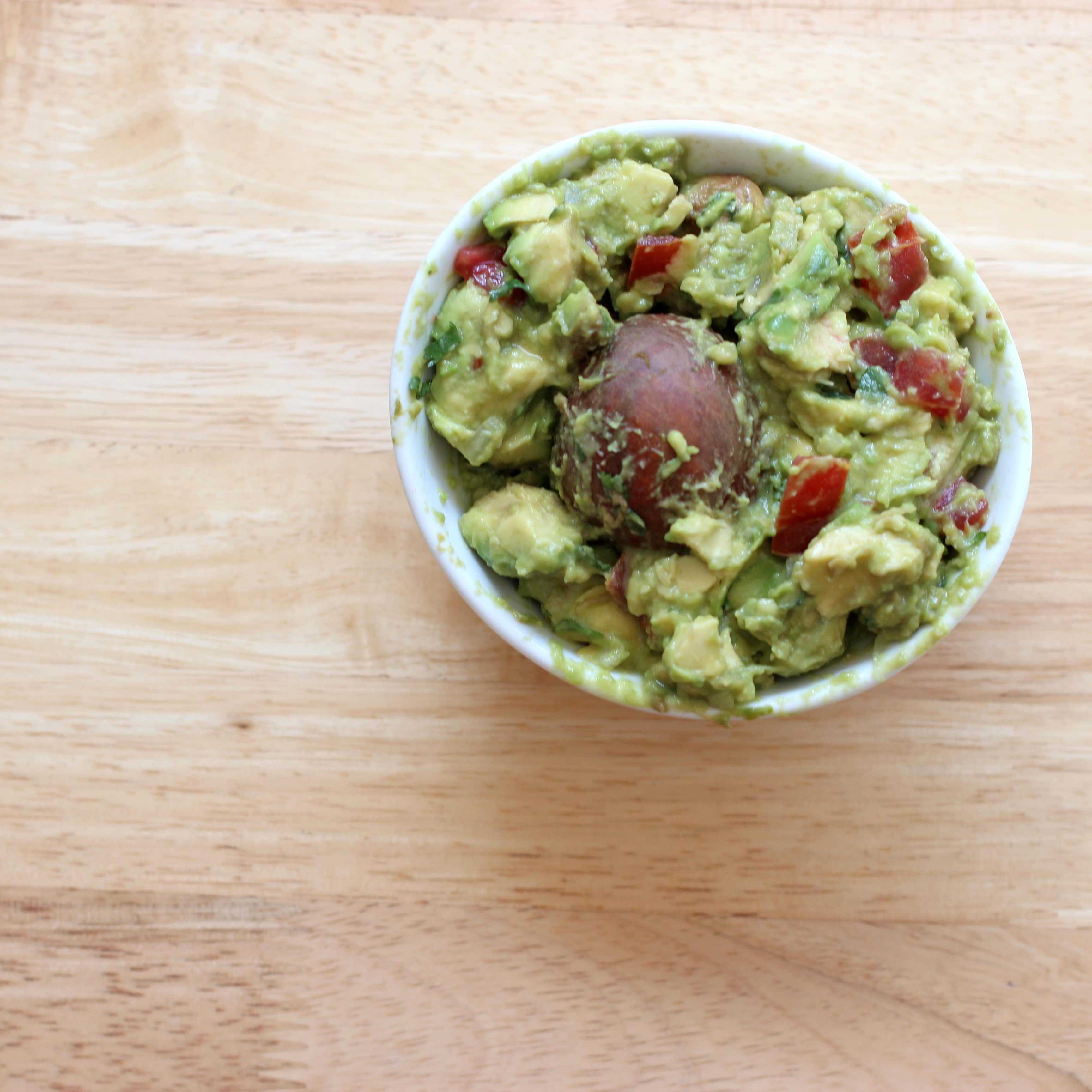 There you go. Fresh, homemade, chunky, super tasty, tantalizing, delicious guacamole. Need I say more?
Try it, friends! And tell me all about it!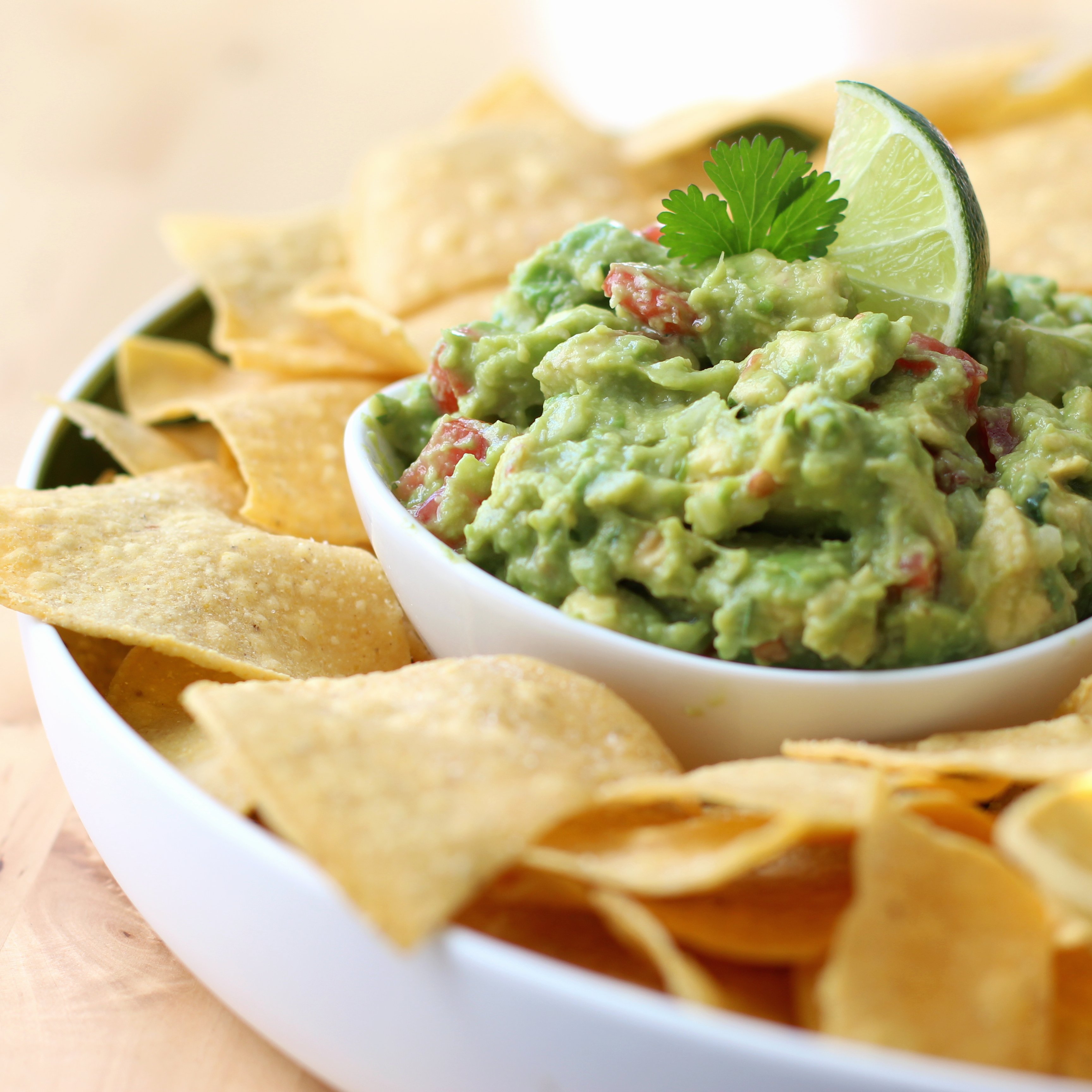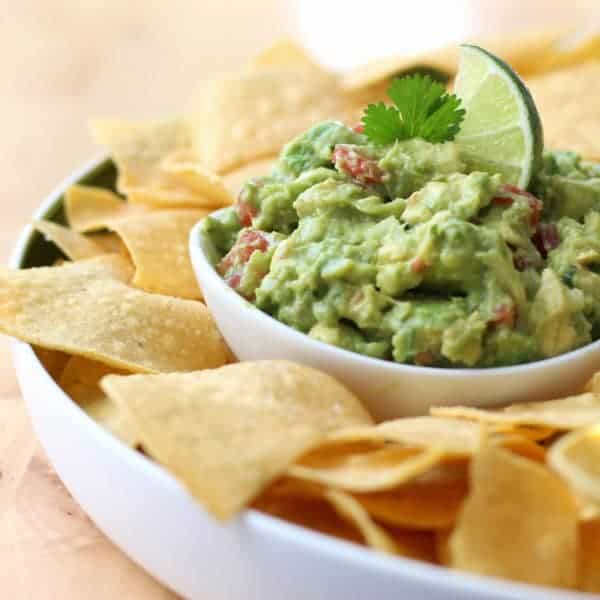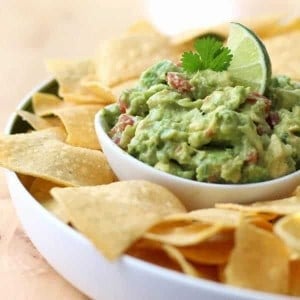 Homemade Chunky Guacamole
Chunky avocados mixed with chopped plum tomatoes and onions, infused with fresh lime juice and cilantro. Serve with warm, crispy tortilla chips.
Print
Pin
Rate
Ingredients
2

medium avocados

1/2

medium tomato

chopped

2

tbsp

cilantro

chopped finely

2

tbsp

onion

chopped finely

1

large lime

salt

to taste
Instructions
Chop finely onion, tomato, and cilantro. Juice 1 large lime.

Combine avocados, onion, tomato, cilantro and 1-2 tbsp lime juice (See Note 1) from lime into a bowl

Use spoon to break avocados into smaller pieces. Mix all ingredients together

Season with salt to taste

Serve with tortilla chips. Enjoy!
Notes
Note 1: Start with 1 tbsp of lime juice, mix, taste, and add more as you see fit. 
Note 2: To store guacamole, place avocado seeds into guacamole and store in fridge. This will help slow the browning process. Consume within 1-2 days of storage.