Bacon Spinach Cheddar Quiche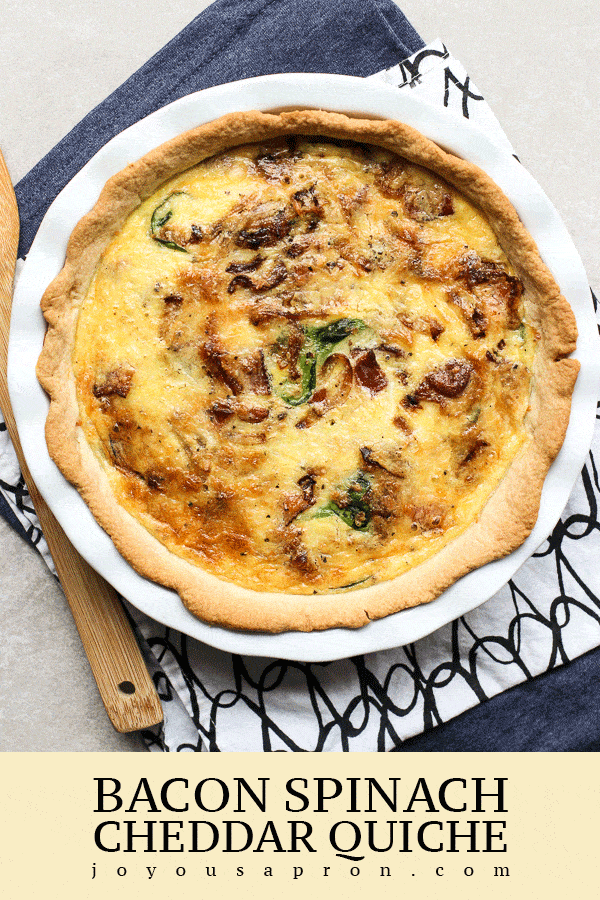 This delicious Bacon Spinach Cheddar Quiche is easy, delicious and can be enjoyed for breakfast, brunch, lunch, dinner…anytime is a good time for quiche!
Crumbly, buttery pie crust filled with eggs, bacon, spinach, cheddar, and caramelized onions (arguably my favorite part of this dish!).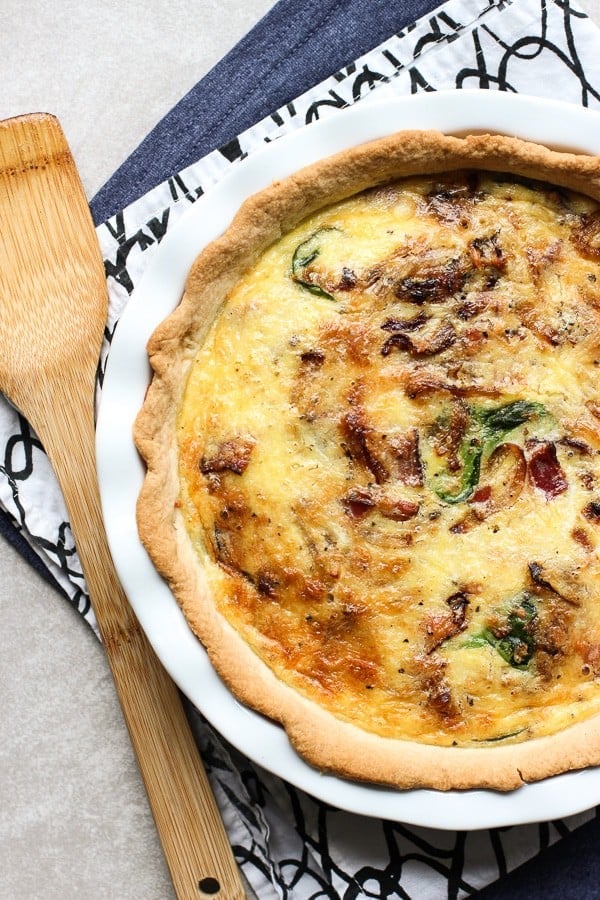 Happy almost-Friday! Getting so close to the long-awaited weekend. If the week was long and hard for you, I just want to say two things: I feel you, and hang in there.
Besides getting close to the end of a week, there are two exciting things that are about to go down:
We are quiche-ing it up
BACON ('nuff said)
I love Quiche!
Quiche has always been a food item of choice for me at cafes or bakeries (whenever they have them). It is so elegant, delicious, and come on, breakfast items on a pie crust? Yes please! I like to eat it with with lots of fruits on the side and a warm cup of coffee.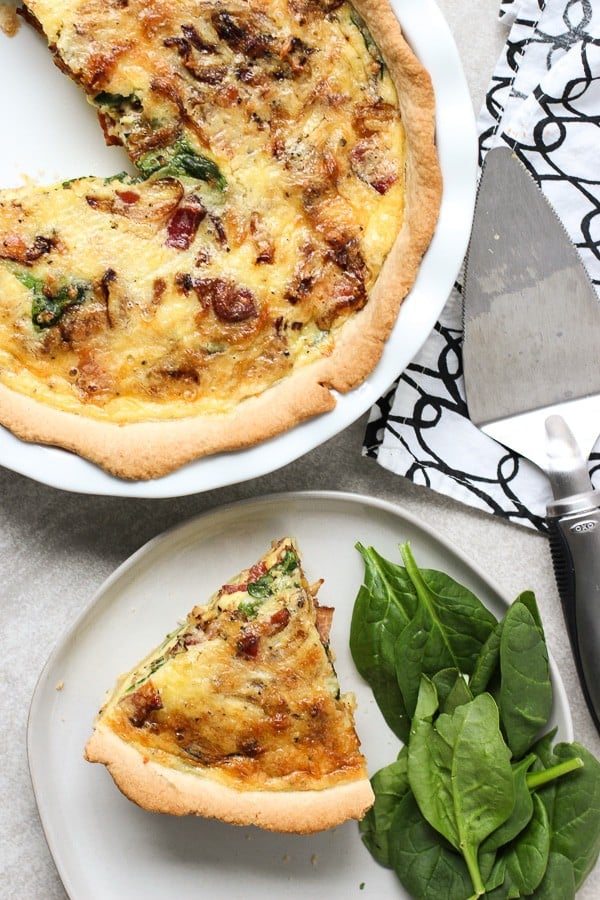 Quiche is a dish in French cuisine, and you can find it at many places in the world today. It is also very versatile, easy to make, and can be served for breakfast, brunch, lunch or dinner.
I have put some serious thought into this…If I can add bacon in everything, I probably would.
Bacon ice cream, bacon cookies, bacon in potato chips, bacon jam.
JUST KIDDING.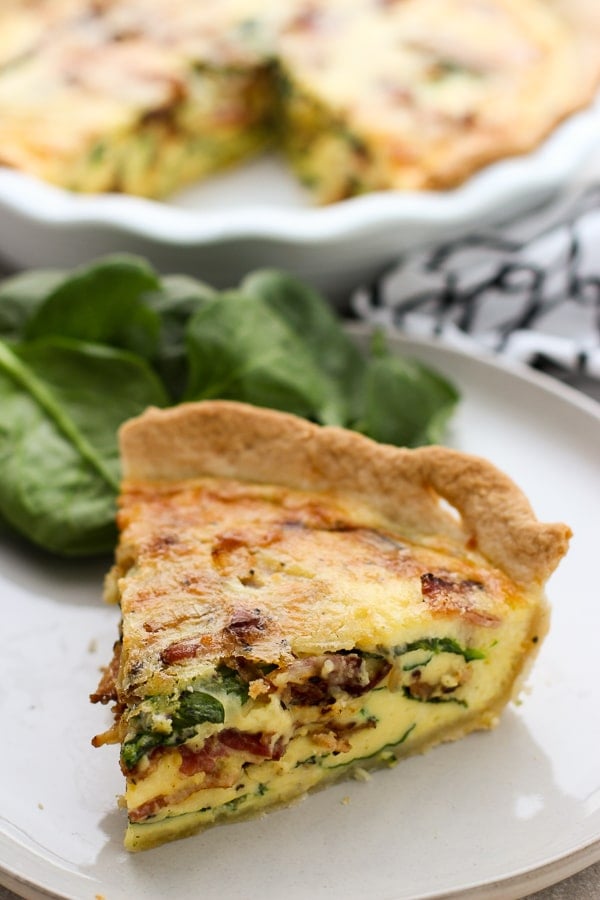 But bacon in quiche is HAPPENING, I tell you.
Because sometimes, especially after a long week, bacon is the answer.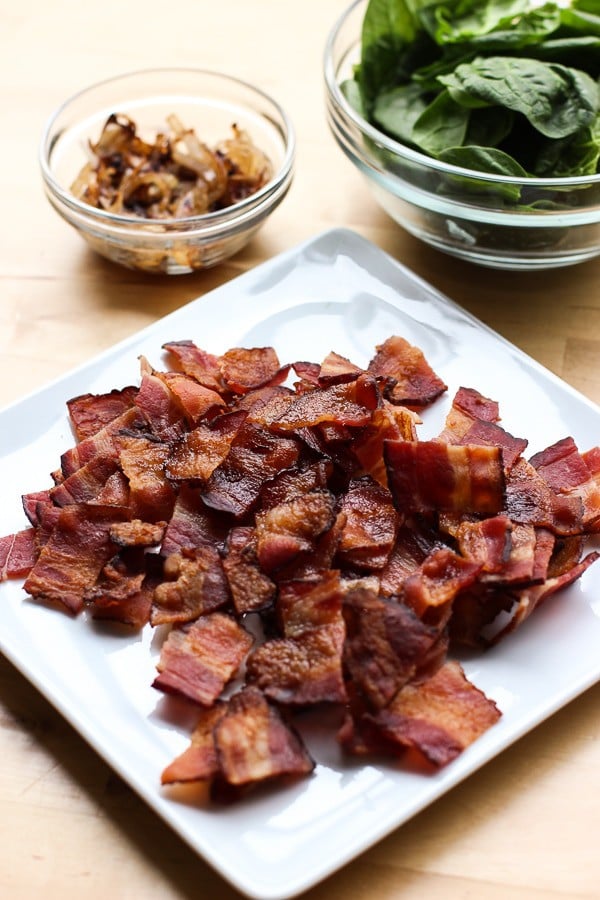 Caramelize Onions in Quiches
Something else I absolutely love about this quiche – the incorporation of caramelized onions.
Caramelized onions gives this quiche so much flavor. It acts as the spice, providing that sweet, savory, smoky flavor. Onions are fascinating (to me. Yes, slightly weird. I know. But I embrace it) because when it cooks it tastes completely different. It produces a sweetnesss and tastes drastically different from the uncooked version.
It also provide great textures.
Combine caramelized onions, bacon, spinach, cheese, egg mixture…and then bake it on that flaky, buttery pie crust.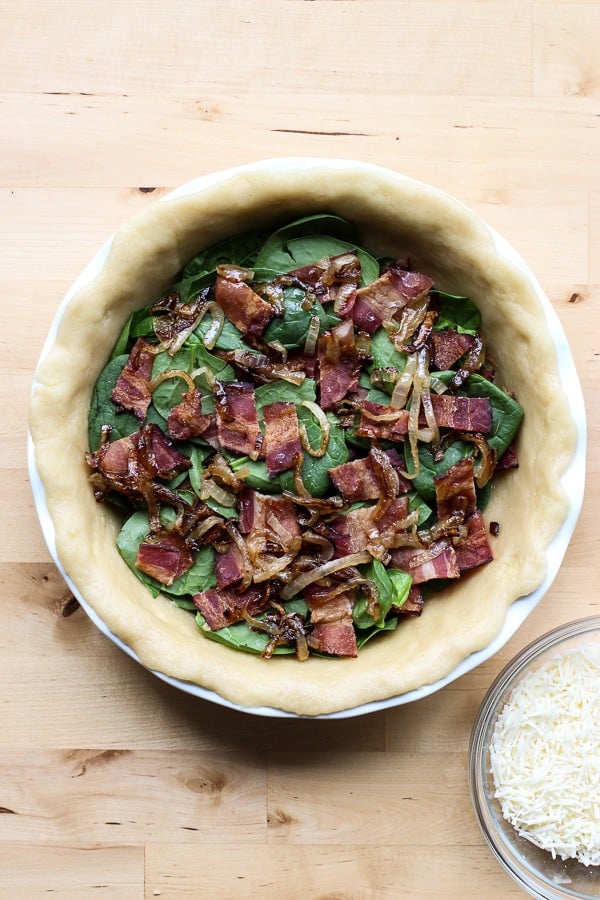 And because life is busy and there are so many awesome ready-made frozen pie crusts out here, we are using a ready made, but uncooked, pie crust. I am totally about making pie crusts from scratch, but something's got give, and for the Bacon Spinach Cheddar Quiche, the pie crust's gotta give.
Remember to bring the frozen pie crust to the refrigerate a couple of hours prior to baking, or the night before, to thaw it out.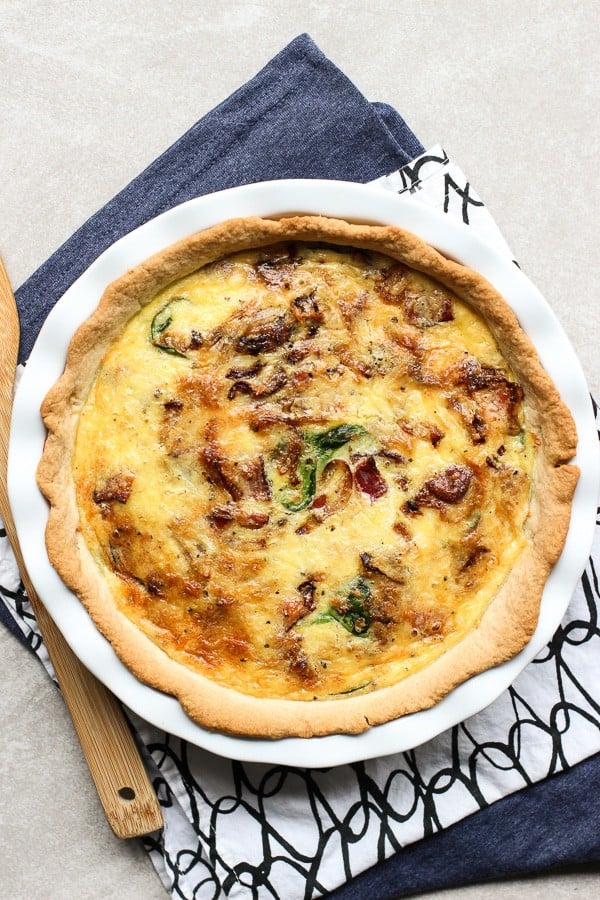 Make it for yourself (and your fam), and just consume it over days if you don't finish it all. It keeps so well as leftovers.
May you quiche to your heart's content.
An easy but goodie recipe. A must share. Enjoy!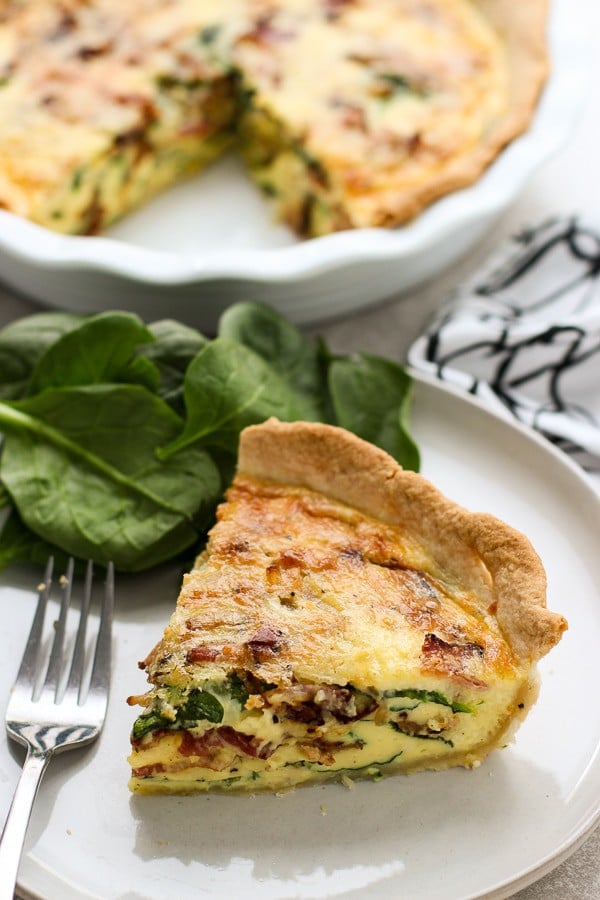 DID YOU ENJOY THIS RECIPE? Please comment below and give us a 5-star rating! This will help others find this recipe on Google and Pinterest. We very much appreciate your help! 🤍
Other brunch favorites!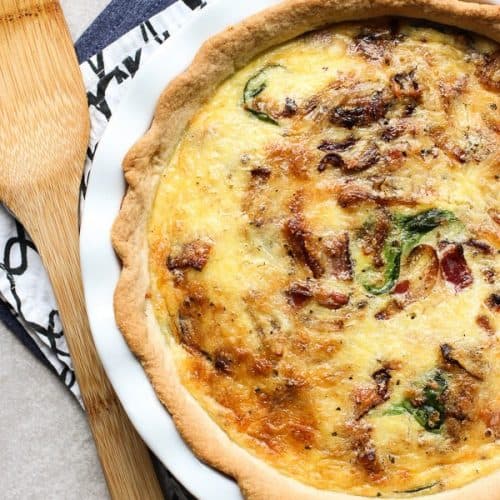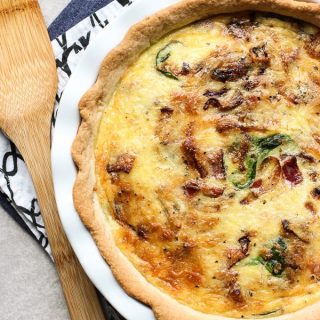 Bacon Spinach Cheddar Quiche
Buttery pie crust baked with savory ingredients such as eggs, bacon, spinach, white cheddar and caramelized onions, baked to perfection. Great for any meal and save well as leftovers!
Print
Pin
Ingredients
1

frozen pie crust

10-12

oz

bacon

chopped

1/4

large onion

1

tbsp

butter

a

pinch

of salt

6

large eggs

1

cup

heavy cream

1 1/2

cup

fresh spinach

packed

3/4

cup

shredded white cheddar

1/4

tsp

salt

1/4

tsp

pepper
Instructions
Make sure pie crust is completely defrosted. Bring frozen crust to the refrigerator the night before, or hours prior.

Pre-heat oven to 425 degrees F. Place bacon on a baking sheet lined with aluminum foil and bake bacon for 12-20 minutes. Check at 12 minute mark, and bake for longer if needed. When done, drain grease. Cut bacon into 1 inch pieces.

While waiting for bacon to be done in the oven, slice onions. Heat up skillet. Add butter and once butter is melted, saute onions until it is soft and slightly brown. Add a pinch of salt to onions and stir. Remove and set aside.

Pre-heat oven to 375 degrees F.

In a large bowl, whisk together eggs, heavy cream, salt and pepper.

Place pie crust into a pie pan (9" x 2"). Add bacon, spinach, white cheddar and caramelized onions. Pour egg mixture into pie pan.

Bake for 30-35 minutes or until done. Check for doneness by inserting a toothpick into the filling, and if it comes out clean the pie should be done.
Nutrition
Calories:
627
kcal
|
Carbohydrates:
19
g
|
Protein:
18
g
|
Fat:
53
g
|
Saturated Fat:
24
g
|
Trans Fat:
1
g
|
Cholesterol:
269
mg
|
Sodium:
741
mg
|
Potassium:
280
mg
|
Fiber:
1
g
|
Sugar:
1
g
|
Vitamin A:
1743
IU
|
Vitamin C:
3
mg
|
Calcium:
170
mg
|
Iron:
2
mg