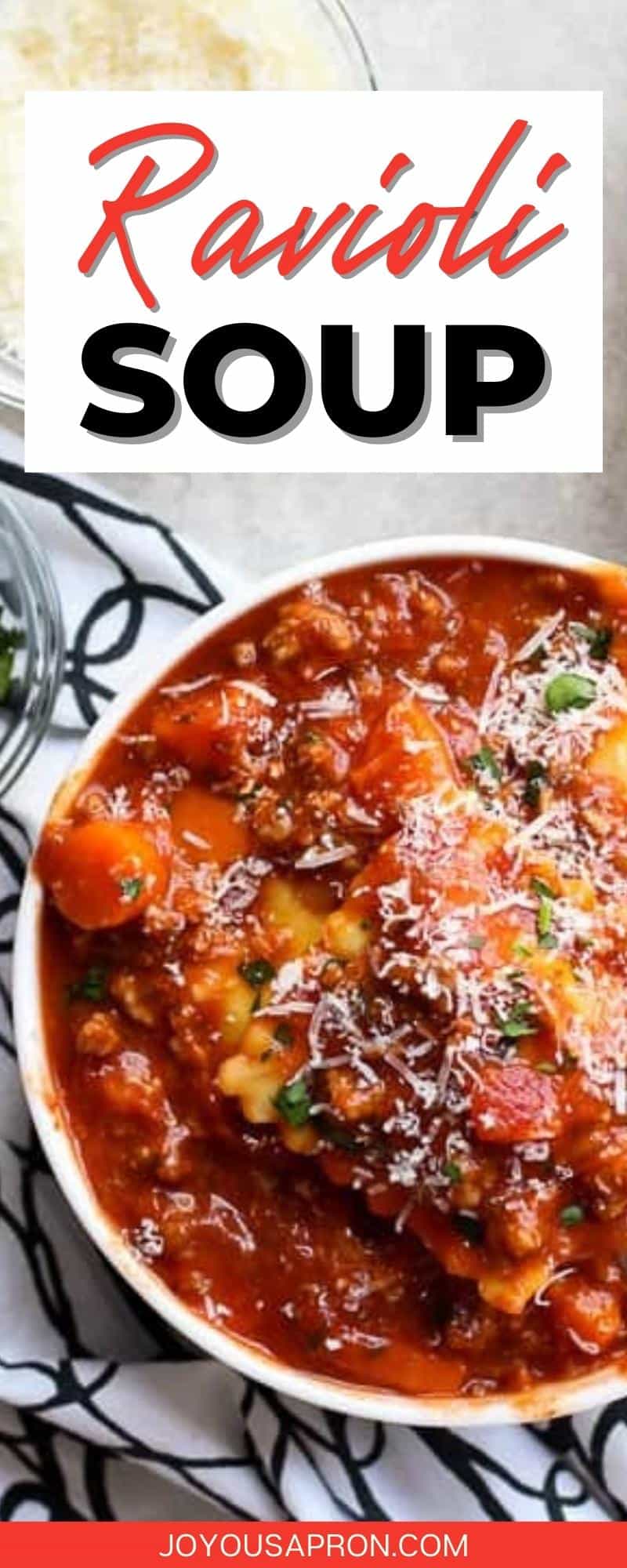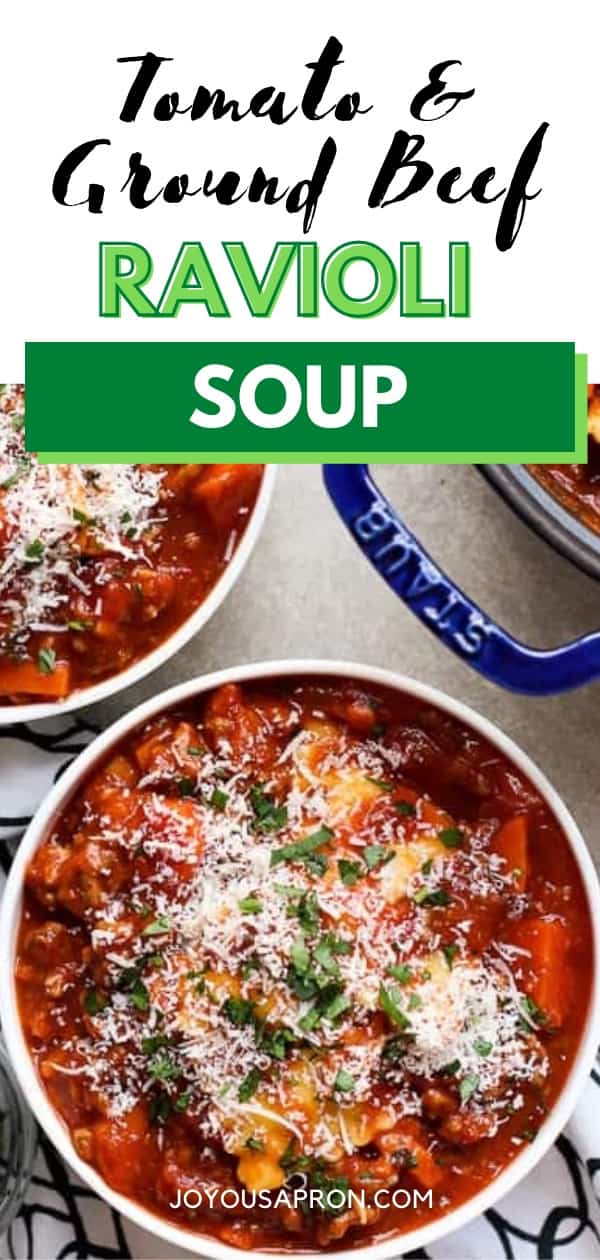 Lovely and comforting, this Ravioli Soup is filled with tomatoes, ground beef, carrots, parmesan cheese, and flavorful herbs and spices. This simple one pot dinner is perfect for those cool Fall and Winter days…or truly any day!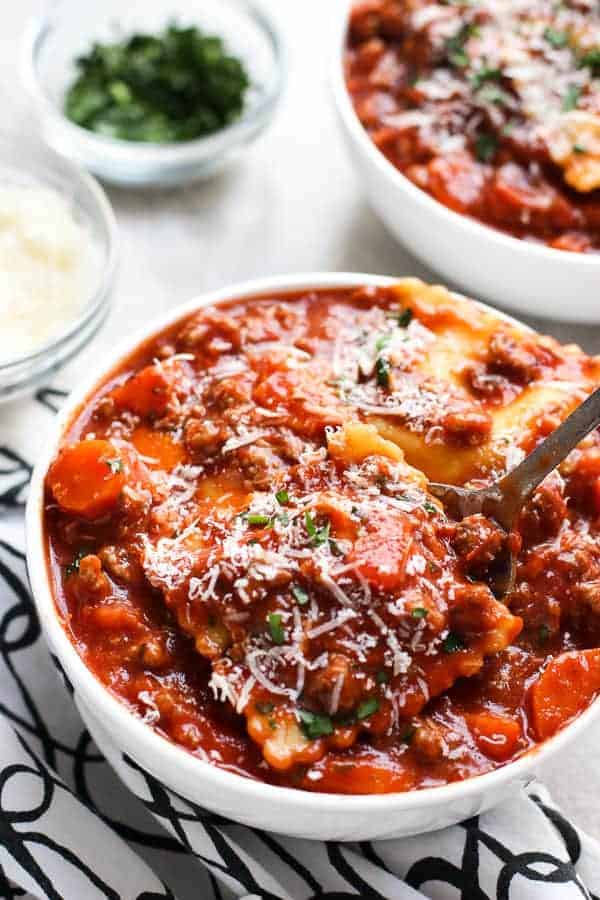 If you love ravioli and pasta, this Ravioli Soup is for you!
This is basically your favorite pasta dishes (here's a few of mine: Creamy Lemon Chicken Pasta, Creamy Tomato Pasta with Italian Sausage) and turning it into soup form.
It's a dinner so cozy you can almost feel it give you a big ole, warm hug.
Ravioli Soup…with tomatoes and ground beef
A lazy way to make this ravioli soup happen on busy weeknights is to throw that cheesy, pillowy pasta into a tomato and beef based soup, combine with ground beef, carrots (because balance), parmesan cheese (because duh) and lots of fragrant herbs.
All this goes into one big pot. Which makes it:
Easy to make
Easy to store (hello leftovers, in one container!)
Great for meal prep
This one-pot meal is here to please you, and you and you.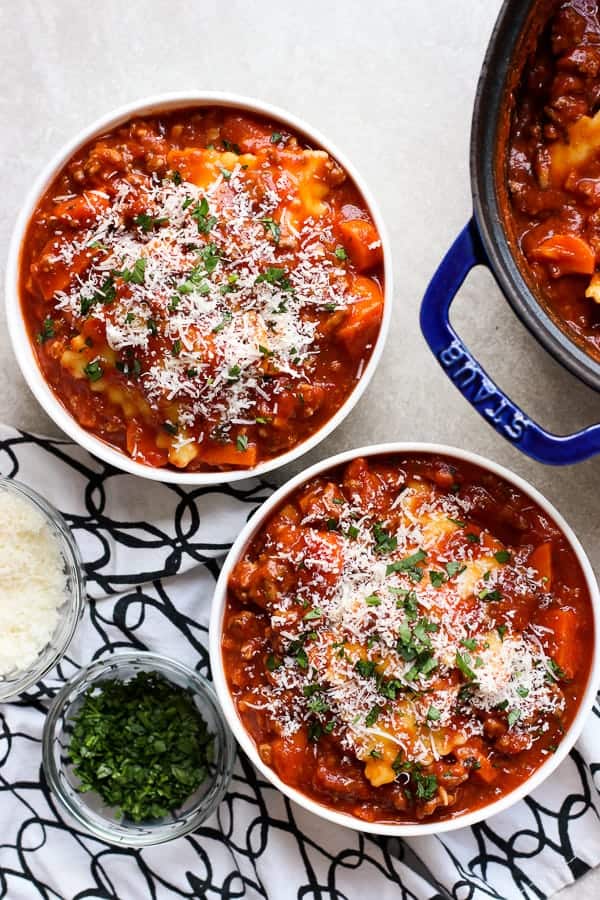 Did I mention this Ravioli Soup is crazy delicious? There is so much flavor from combining tomatoes and beef. And then there's the herbs we all know and love – oregano, basil and parley.
I love that soft crunchy from the carrots. And of course, the star of the dish – that chewy ravioli filled with creamy cheese in the middle.
Ahh Ravioli Soup…my carb-loving heart just skipped a beat.
How to make Ravioli Soup with Ground Beef
One-pot meals are seriously the best.
You literally need one pot to pull this off. Just one. Throw everything in that one pot. Cook it. And BAM. It's done before you know it.
In fact, you can even eat it straight off that pot if you want.
HA. No not really, but yes kinda.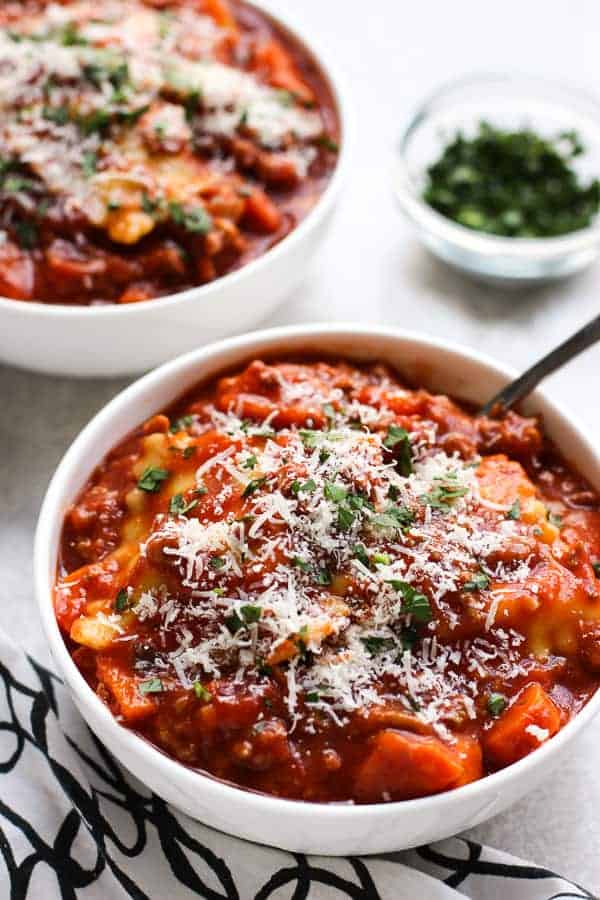 Here's the deeds to make thus chunky, comforting, and cozy Ravioli Soup.
Add vegetable oil and saute minced garlic, onions and beef. Then add the liquid – crushed tomatoes, tomato sauce, and beef broth.
Next, bring on the aromatics – basil, oregano and some fresh parsley. Along with carrots, parmesan cheese and a little bit of sugar.
I like to add salt and pepper at the end so you can adjust accordingly after tasting it. Remember salt helps open up the flavors in the Ravioli Soup, not just adding saltiness.
Bring everything to a boil and garnish with parsley and more grated parmesan cheese (because why not)!
That's it, folks. It's that simple.
Type of ravioli to use
You can use either frozen and refrigerated raviolis. I have used both and they both work very well.
Follow the package instruction for cook time, although you might need to cook it slightly longer than what it is called for because the broth is thick and there are a lot of items in it (thus it takes longer to cook the ravioli).
And of course, ravioli from scratch is totally allowed. If you are a ravioli-from-scratch kinda person, I salute you and want to be you when I grow up!
But if you are not, fear not, use that bag of frozen or refrigerated ravioli and you will still get seriously yummy-tasting Ravioli Soup.
Those things are meant to make our lives easier and I say let's take full advantage of it!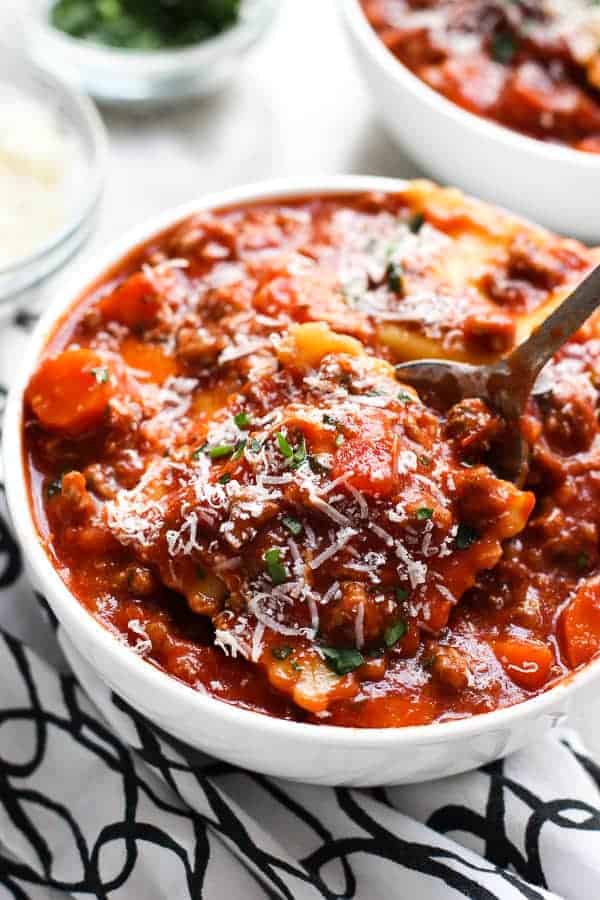 Storing and Reheating leftover Ravioli Soup
My husband will testify to this. When I make Ravioli Soup, I expect leftovers.
So much so I'm a little shock when he is hungrier than usual and gets seconds and thirds. It kinda throws off my plan. 😉
I want enough Ravioli Soup for a few more meals because this recipe stores so well, has meal prep written all over it, and tastes just as amazing (or arguably, even better because the flavors have sat and permeated the meat and veggies) after a few days.
Simply store Ravioli Soup in an airtight container in the refrigerator (up to 5 days) or freezer (for a month or so).
If frozen, defrost Ravioli Soup completely before heating them in the microwave.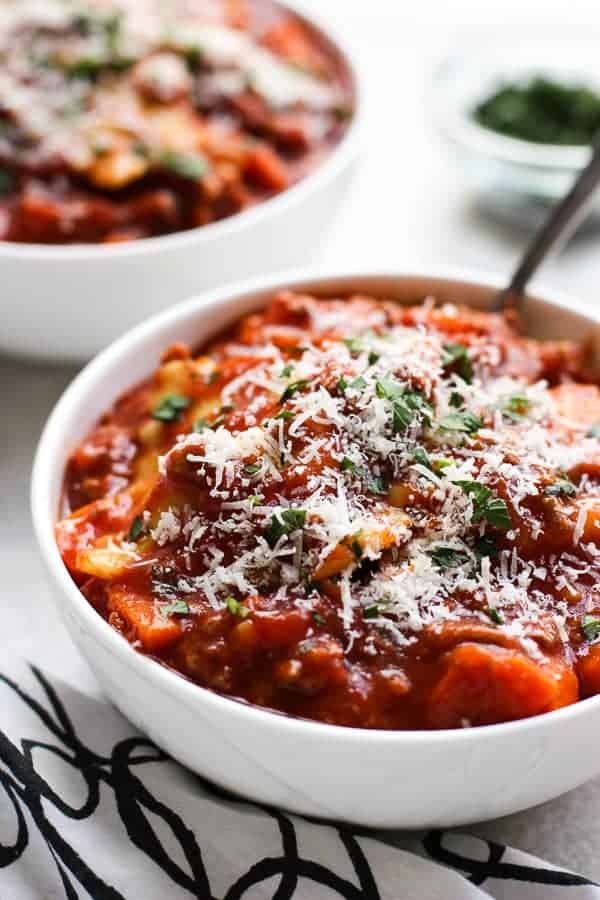 Speaking of storage, I am loving glass containers lately (vs. old plastic ones I used to own) because:
They do not stain and are so much easier to wash – especially when it comes to tomato based soup because they do tend to leave red stains on plastic
No leaking
Last so much longer!
They make food storage so much more fun. (A sentence I never thought I would say).
Tips and Tricks
A few tips and tricks:
You may have to cook ravioli slightly longer than the cook time listed on the package. The soup is filled with lots of ingredients when ravioli is added, so it takes a little longer to completely cook it.
If you like your Ravioli Soup thinner, add more beef broth at the end to thin it out. If you prefer it thicker, boil it a little longer so that the broth thickens.
Salt is added at the end to open up the flavors of the soup. Don't forget to taste soup and then add salt accordingly! You will be amaze how much more flavorful the soups get when you add a pinch or two of salt!
Optional: add beef bouillon to make the broth even more flavorful! I actually do this a lot, because I love strong flavors, and I like to use Better than Bouillon Roasted Beef Base.
Use good quality ingredients, especially when it comes to parmesan cheese. Using good quality parmesan cheese (avoid the non-refrigerated kind) will significantly improve the taste of your soup!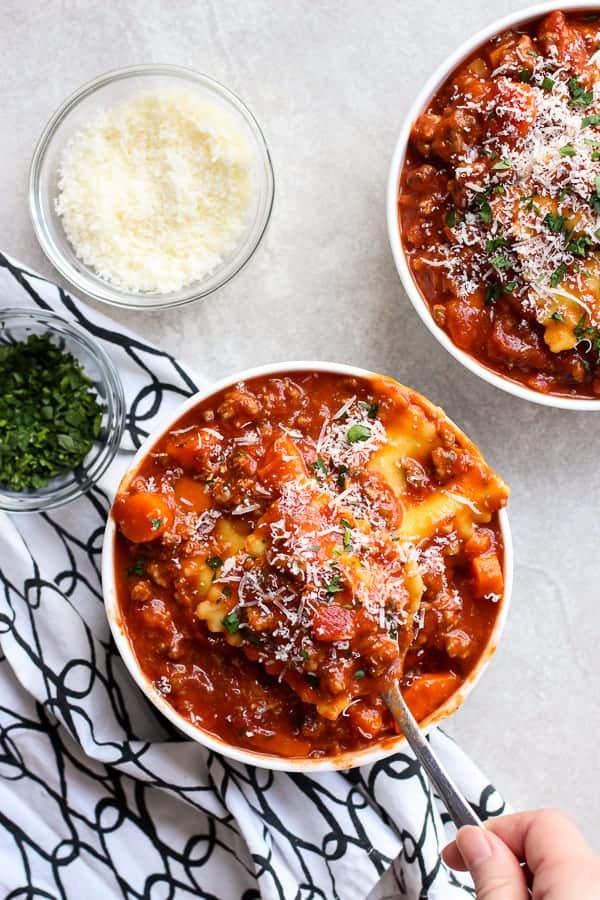 I will leave you with this: you need this in your life! 🙂
Grab a spoon and dig in, folks!
We all need some Ravioli Soup into our lives. It's worth it, I promise.
DID YOU ENJOY THIS RECIPE? Please comment below and give us a 5-star rating! This will help others find this recipe on Google and Pinterest. We very much appreciate your help! 🤍
Other Soup Recipes!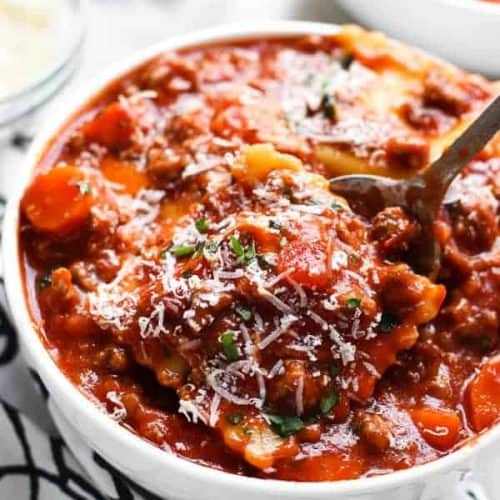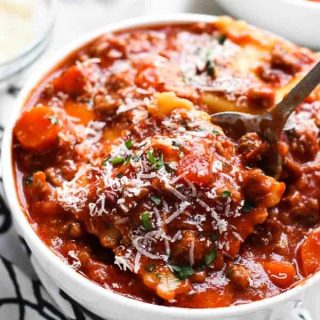 Ravioli Soup with Ground Beef and Tomatoes
An easy one pot meal ravioli soup recipe! A tomato and beef broth based soup filled with cheese ravioli, ground beef, carrots, and lot of herbs and spices. So flavorful and perfect for busy weeknights! Save well as leftovers!
Print
Pin
Ingredients
1

lbs

lean ground beef

4-6

cloves

fresh garlic

1/2

large white onion

30

oz

crushed tomatoes

8

oz

tomato sauce

1 1/2

cup

beef broth

more if needed

1

tsp

dried basil

1

tsp

dried oregano

1

tbsp

chopped fresh Italian parsley

plus more for garnish

2

tbsp

shredded parmesan cheese

plus more for garnish

1

cup

diced carrots

1/2

lbs

cheese ravioli

beef bouillon

optional

salt

to taste

black pepper

to taste
Instructions
Prep ingredients – mince garlic, dice onions and carrots. Grate parmesan cheese (if needed).

Heat a large pot under medium heat, add vegetable oil, minced garlic and diced onions. Once garlic and onions are fragrant (do not brown or burn), add ground beef and cook until it is no longer pink in color.

Add beef broth, crushed tomatoes and tomato sauce. Then add carrots, basil, oregano, fresh parsley and 2 tbsp of fresh parmesan cheese. Turn up heat and bring to a boil.

Add more beef broth if you desire a thinner soup. Taste and add beef bouillon if desire. Bring it to boil again.

Add ravioli and cook ravioli based on package instructions. You may need to cook ravioli a minute or two longer than instructed on the package. (See Note 1)

Add salt and pepper to taste. If soup is already salty (especially if you added beef bouillon), you might want to omit salt. Remove from heat.

Garnish with parsley and parmesan cheese. Serve and enjoy!
Notes
Note 1: Package instruction for cooking ravioli assume boiling the ravioli in water. Since this soup is thicker than water and has other items in it, it will take longer to fully cook the ravioli.
Nutrition
Calories:
467
kcal
|
Carbohydrates:
48
g
|
Protein:
40
g
|
Fat:
14
g
|
Saturated Fat:
5
g
|
Polyunsaturated Fat:
1
g
|
Monounsaturated Fat:
3
g
|
Trans Fat:
1
g
|
Cholesterol:
103
mg
|
Sodium:
1406
mg
|
Potassium:
1404
mg
|
Fiber:
8
g
|
Sugar:
15
g
|
Vitamin A:
6159
IU
|
Vitamin C:
29
mg
|
Calcium:
166
mg
|
Iron:
13
mg