This post may contain Amazon or other affiliate links. As an Amazon Associate I earn from qualifying purchases at no additional cost to you.
Queso, a.k.a. best cheese dip ever, is a very special gift to mankind.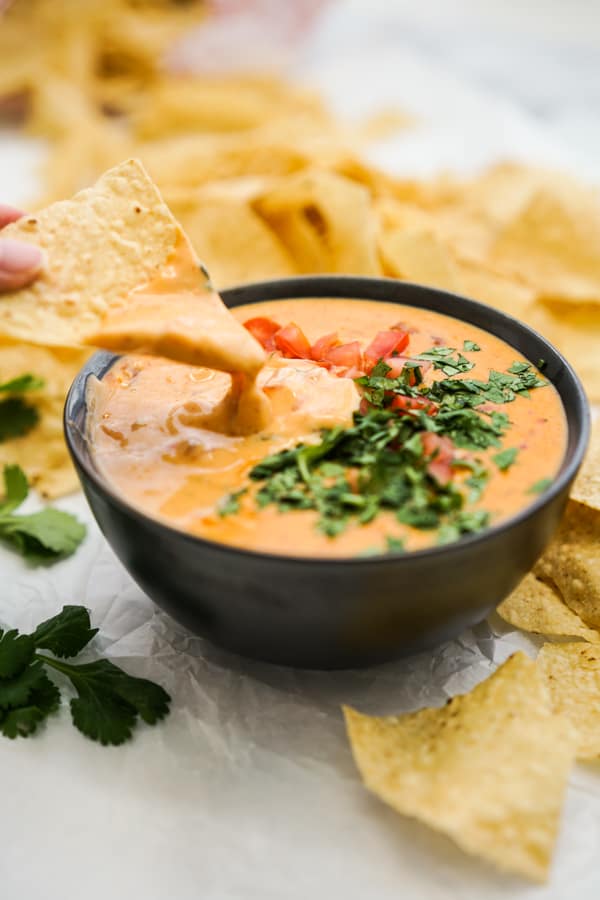 To the first person who said 'hey, let's melt some cheese!' – the world has benefited from your ingenuity, so thank you thank you thank you. Because life certainly got yummier since then.
The bet part is…queso is stupid easy to make. Like, 15-minute, pantry-friendly kinda easy.
What is queso
Technically short for chili con queso, queso is a common appetizer in Tex-Mex cuisine (fusion of Texan and Mexican cuisine).
It is a bowl of warm, melted cheese with seasonings and ingredients such as tomatoes and chili peppers, served with warm tortilla chips.
But you know what's even better than queso with chips? Queso with guacamole and salsa.
Those three are the holy trip of Mexican food…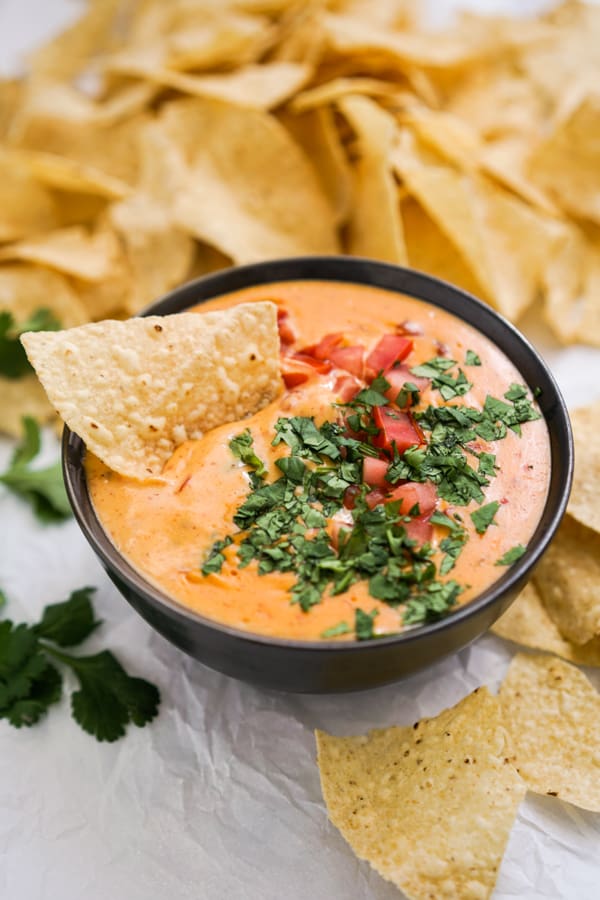 My husband is a lover of all quesos. Queso is always present when we have Mexican food.
We are always trying out new quesos. We make our own queso. You get the picture. We are avid queso eaters…and creators 🙂
You need to thank my husband for this recipe. He came up with this recipe and has been making it since high school. We have tweaked it slightly since then, but this is a tried and true recipe from my hubs.
It is such a good (and easy) one I knew I had to include it in the blog.
Good things are meant to be shared. 🧡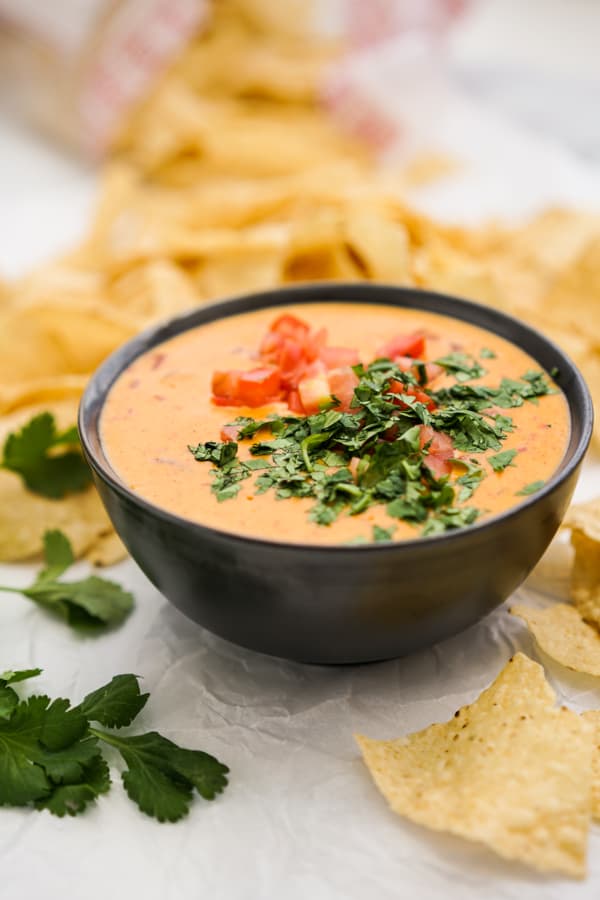 How to make queso
It is super easy, only six ingredients (yes, SIX!) and takes less than 15 minutes to make.
Here's what you need:
Velveeta cheese
Rotel tomatoes – tomatoes and chili peppers
Chicken broth
Garlic powder
Chili powder
Smoked paprika
Bring chicken bone broth and Rotel to a boil in a pot, then add Velveeta cheese (cubed into smaller pieces so it is easier to melt), garlic powder, chili powder and paprika.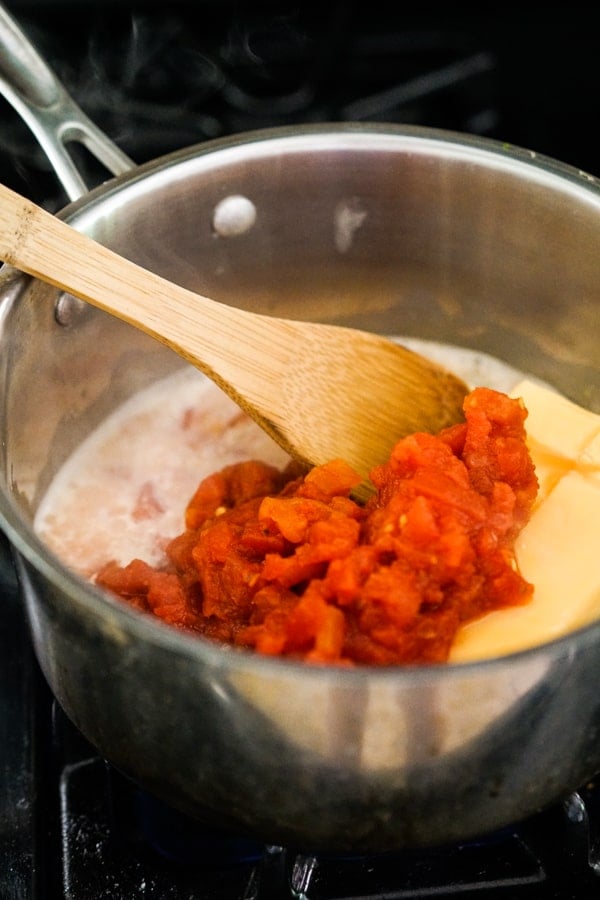 Cook until queso is smooth, and at your desired consistency. Feel free to add more chicken broth at anytime if you want to make queso less thick.
Variations
If you would like to add more ingredients to make a more complex version of a queso, here are some other yummy ingredients to add:
Tabasco  – this will provide a spicier and more sour spin. A little goes a long way.
Cayenne – if you like spicy, this is a good add! Be warned that a little bit does go a long way as well!
Garnish with cilantro! Cilantro gives it a fresh burst of flavor when you bite into it.
Other garnishes – cubed tomatoes, more smoked paprika etc.
Grab some chips and DIP IN.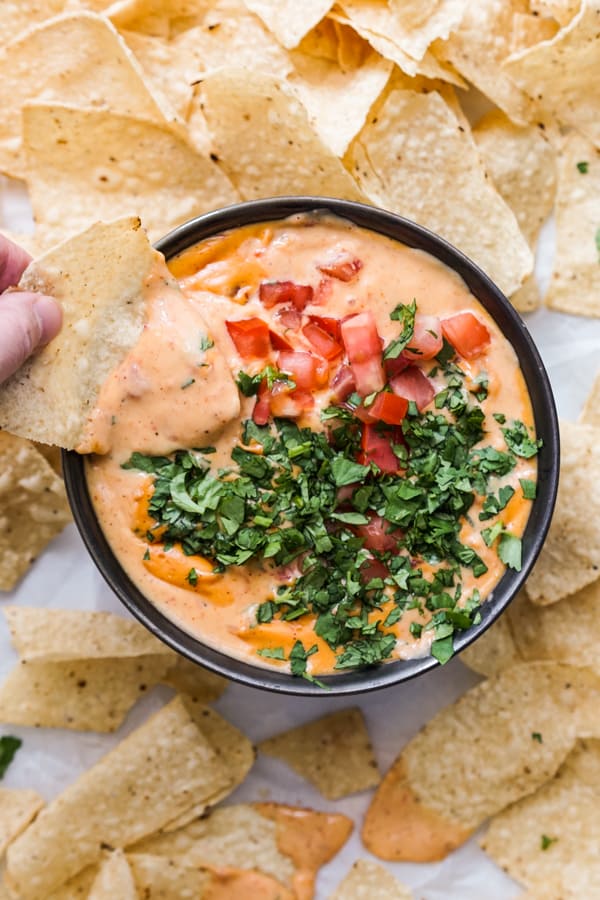 Tips and Tricks
Cook under medium low heat and stir continuously when cooking queso in the pot to avoid it sticking to the bottom of the pot.
Add more chicken broth at any time during cooking to dilute the queso if needed.
How to reheat queso
To reheat queso, add a teaspoon or two of chicken broth or water, then microwave at 30 seconds increment.
Every 30 seconds, remove from microwave and stir queso.
Keeping doing that until queso is warm and smooth.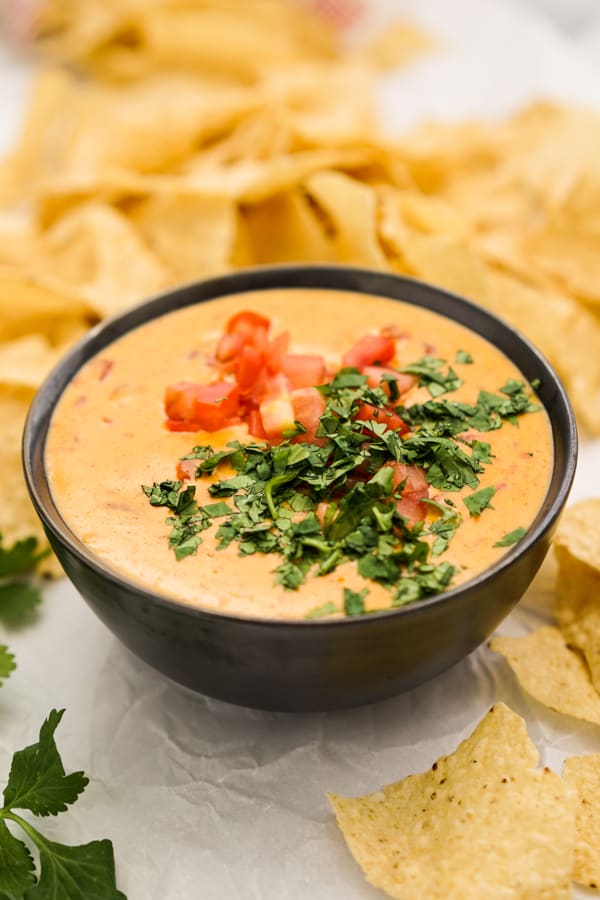 Perfect for game day, Cinco de Mayo, parties, gatherings, or as a side for your favorite Mexican meal any day!
Warning: it is very, very hard to stop at one bite.
Proceed with caution. ❤️
More Mexican Recipes
Love this recipe? Comment below and give us a 5-star rating! Also, take a picture of your creation and tag me on Instagram, because I WANNA SEE!!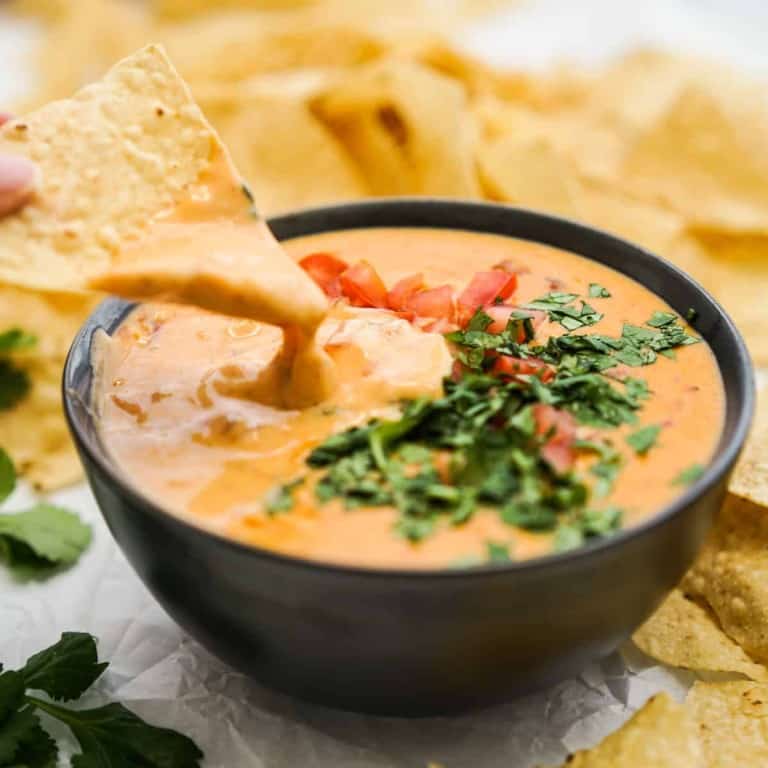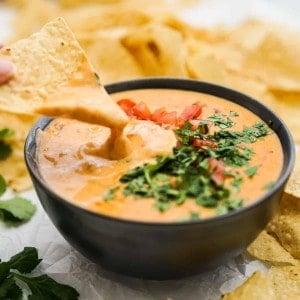 Quick 15-Minute Queso (Cheese Dip)
Melted cheese seasoned with chili and garlic powder, peppers and tomatoes. Served with warm tortilla chips. Perfect appetizer or side to your favorite Mexican meal!
Print
Pin
Ingredients
1/2

cup

Chicken broth

more if needed

10

oz

Rotel tomatoes

1

lbs

Velveeta cheese

cubed

1/2

tsp

garlic powder

1/2

tsp

chili powder

1/4

tsp

smoked paprika

cilantro

chopped, optional
Instructions
Add chicken broth, Rotel tomatoes to a pot. Bring to a boil. Then add cubed Velveeta cheese, garlic powder, chili powder, and smoked paprika. Lower to medium low heat and stir continuously.

Add more chicken broth at anytime to dilute it if it becomes too thick.

Once queso is smooth, cheese is dissolved, and queso reaches desired consistency, remove from heat.

Serve immediately with chips. Optional: Garnish with cilantro. Enjoy!
Notes
Other optional ingredients: tabasco and cayenne for spicier queso.
Other garnishes: cubed tomatoes, more smoked paprika.
Nutrition
Calories:
134
kcal
|
Carbohydrates:
8
g
|
Protein:
12
g
|
Fat:
6
g
|
Saturated Fat:
4
g
|
Cholesterol:
24
mg
|
Sodium:
959
mg
|
Potassium:
280
mg
|
Fiber:
1
g
|
Sugar:
6
g
|
Vitamin A:
670
IU
|
Vitamin C:
4
mg
|
Calcium:
338
mg
|
Iron:
1
mg