Hello, Crispy Sesame Chicken! A classic American Chinese takeout dish that is crunchy, juicy, flavorful, and yes, coated in that irresistible sticky Honey Sesame Sauce.
This recipe is inspired by the popular Panda Express Honey Sesame Chicken and (dare I say it) I think it's even better! And definitely much healthier! 😉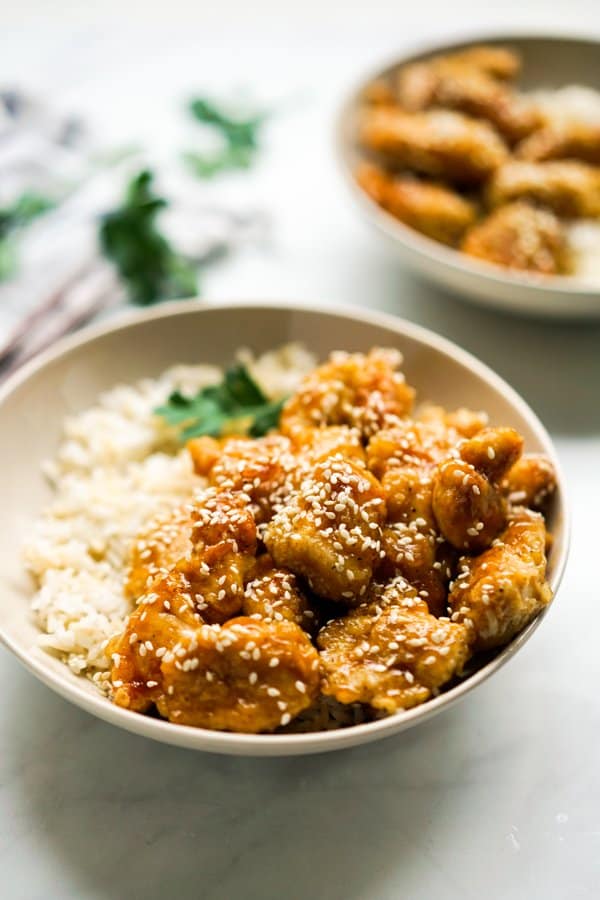 Sesame Chicken is such a common takeout dish, you've seen it all over Chinese restaurants. Just like Kung Pao Chicken, Orange Chicken, Beef and Broccoli, Egg Drop Soup, it is definitely a staple at Asian restaurants in America.
It's basically crispy, crunchy breaded chicken coated in sticky honey sesame sauce that is sweet, savory and a tad bit tangy, and sprinkled with white sesame seeds all over.
The textures. The flavors. OMG please give me all the Crispy Sesame Chicken!
Served with brown or white rice (or both combined – which is how we typically do it), it is such a satisfying dinner meal.
I have to admit when I first tried Honey Sesame Chicken I was a tad bit skeptical. You see, we didn't have Crispy Sesame Chicken growing up. It is one of those Chinese dishes that got popular in America.
But I have come to learn that little can go wrong when you combine perfectly breaded chicken with sticky honey sauce.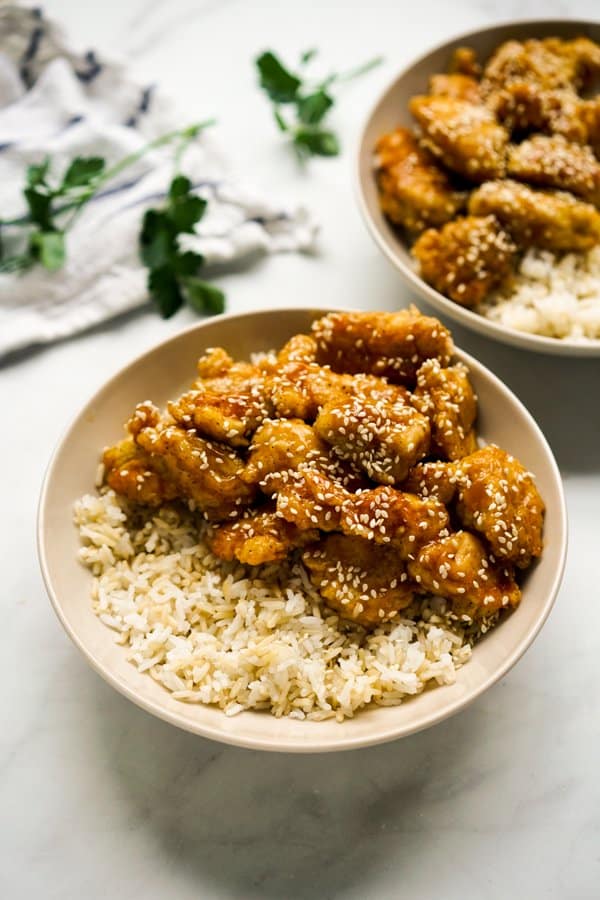 In fact, a lot of things actually go right. Like, really, really right. Deliciously right.
One bite and I totally get why why Honey Sesame Chicken is such a favorite among many.
Let's Make it!
There are two parts to making this Crispy Sesame Chicken recipe:
Crispy breaded chicken
Sticky honey sesame sauce
Crispy Breaded Chicken
The batter for the breading is a simple flour mixture, and this is what you need to make the breaded chicken:
Chicken (duh)
All-purpose flour
Corn flour
Salt
Pepper
Eggs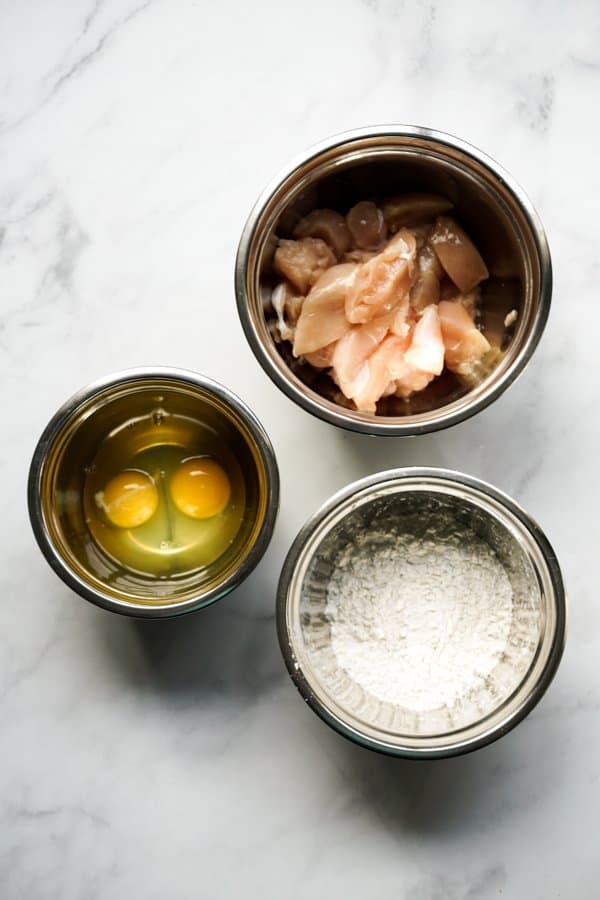 All-purpose flour, corn flour, salt and pepper come together to make this flour mixture for the breading.
Chicken is cut into bite-size pieces and dipped into the egg mixture and then the flour mixture. Shake off the excess flour on the chicken.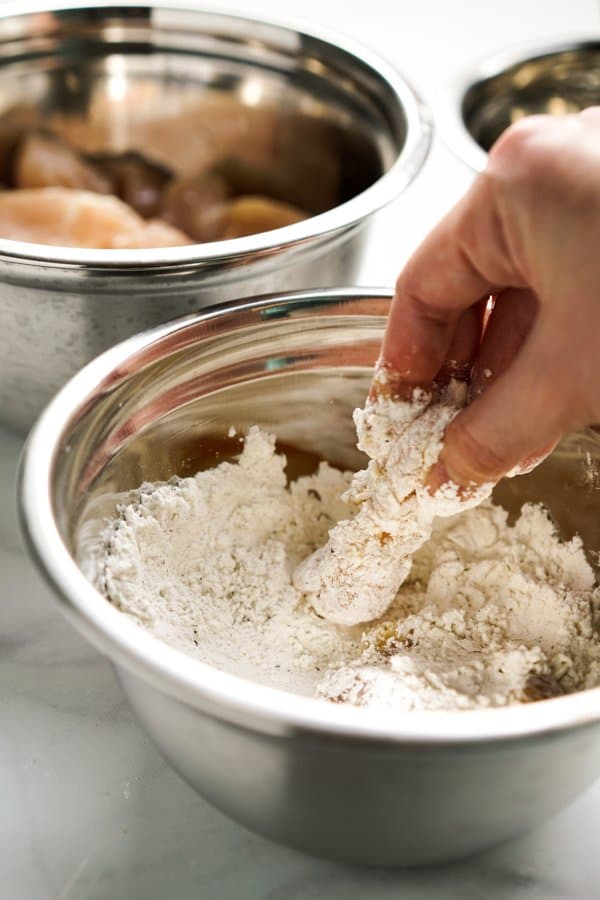 Then pan fry until crispy!
(Or deep fry)
Here's the thing: I'm pan frying because I am trying to make this Crispy Sesame Chicken slightly healthier than takeout (you betcha they deep fried them!), but the reality is deep frying will yield crispier chicken.
Yep. The sad truth, but alas, still the truth.
I am personally very satisfied with the still-crispy texture from panfrying. Yes, it is still crispy, and very very good.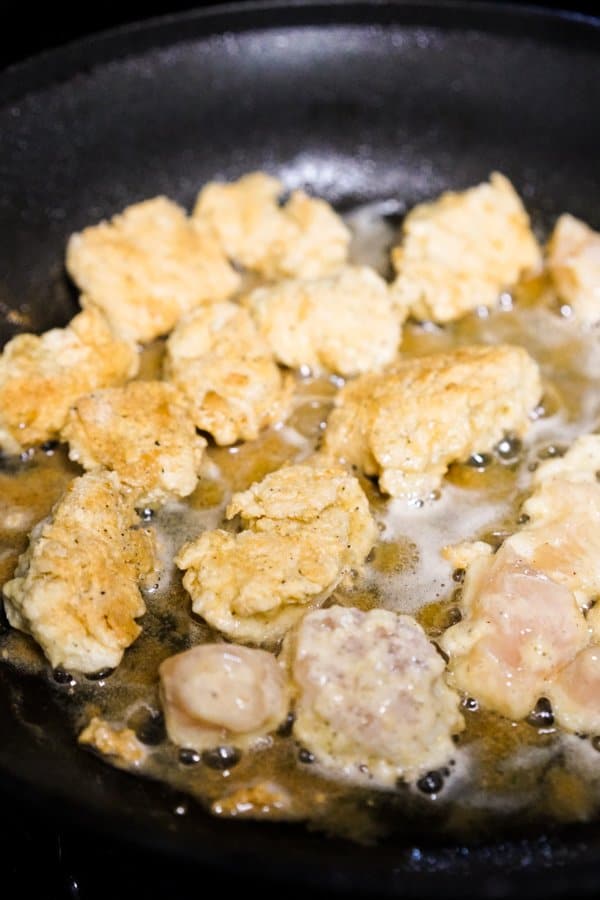 I say all that to say if you want the breading even crispier, you can always add more cooking oil to the pan. But know that it is much healthier with less oil.
So just like everything in life, it really is a balancing act here. 🙂
Sesame Sauce
Next, onto my favorite part! The SAUCE!
This sticky sesame sauce is simply irresistible! It is made with pantry-friendly, easy-to-find ingredients. In fact, you would not even need a trip to the Asian grocery store!
Honey – brings about that sticky texture!
Soy sauce – I use regular but you can use low sodium if you prefer.
Rice vinegar – or substitute with white vinegar or apple cider vinegar.
Brown sugar
Sesame oil – brings a distinct nutty flavor!
Corn starch – to thicken the sauce further
Water
Red pepper flakes – optional, only add if you want it slightly spicy!
All the sauce ingredients will need to be cooked on the stove top until it thickens slightly.
Then coat chicken in sauce!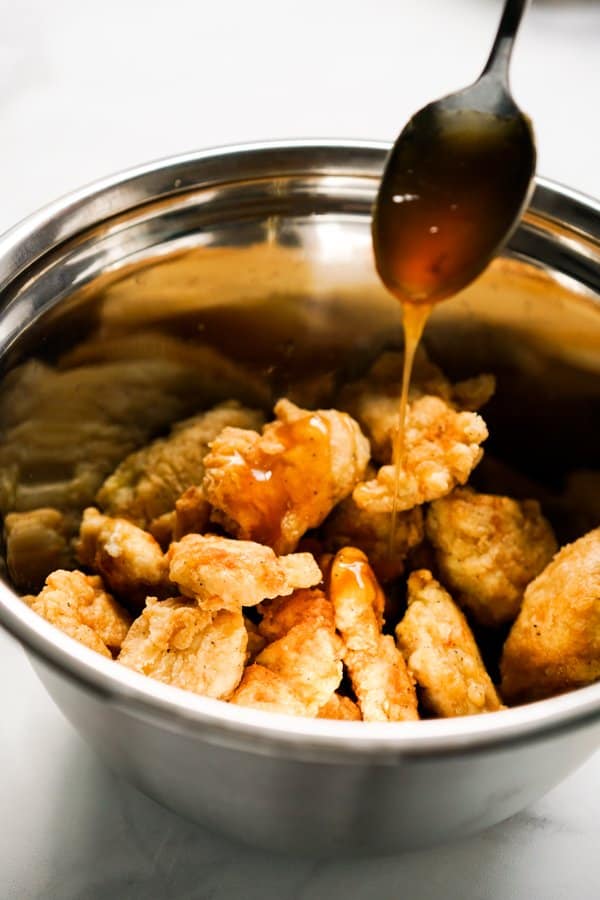 Oh hey, Crispy Sesame Chicken!
The product is a combination of crunchy, sticky, juicy, sweet, tangy and savory. If you like a myriad of flavors and textures, this is for you!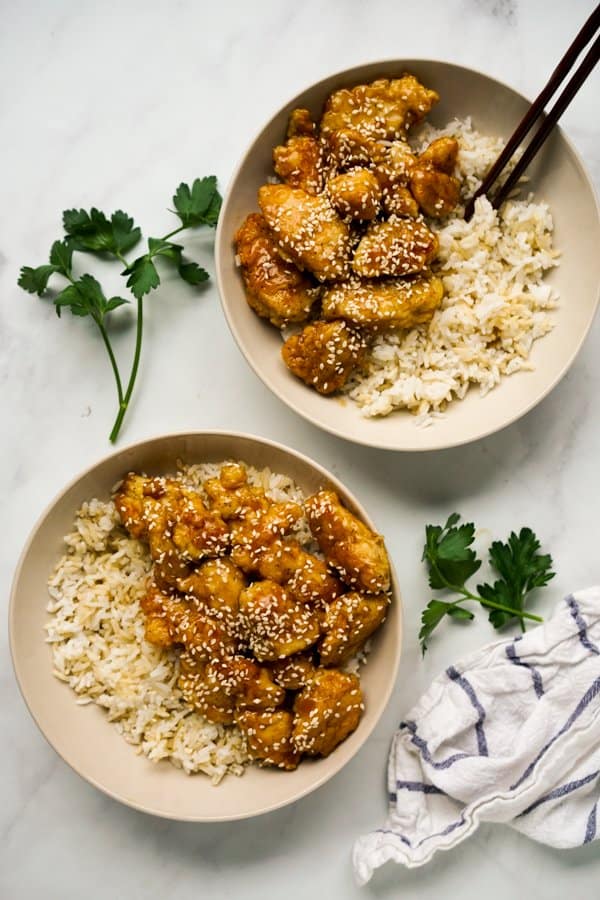 And don't forget to sprinkle with sesame seeds!
It's called Crispy Sesame Chicken for a reason! 🧡
Tips and Tricks
Pat dry chicken before coating it in mixture and pan frying. You don't want a pool of water in your skillet!
Make sure oil is hot before adding breaded chicken into it to pan fry.
Deep frying will make the chicken even more crispy. And yes, it is less healthy.
Only coat Sesame Chicken with honey sauce when ready to eat if not chicken will become soggy and no longer crispy after sitting in the sauce for a while.
If you have a hard telling when the chicken is fully cooked, use a meat thermometer! (a great investment for the kitchen, by the way). Internal temperature should be ~165℉.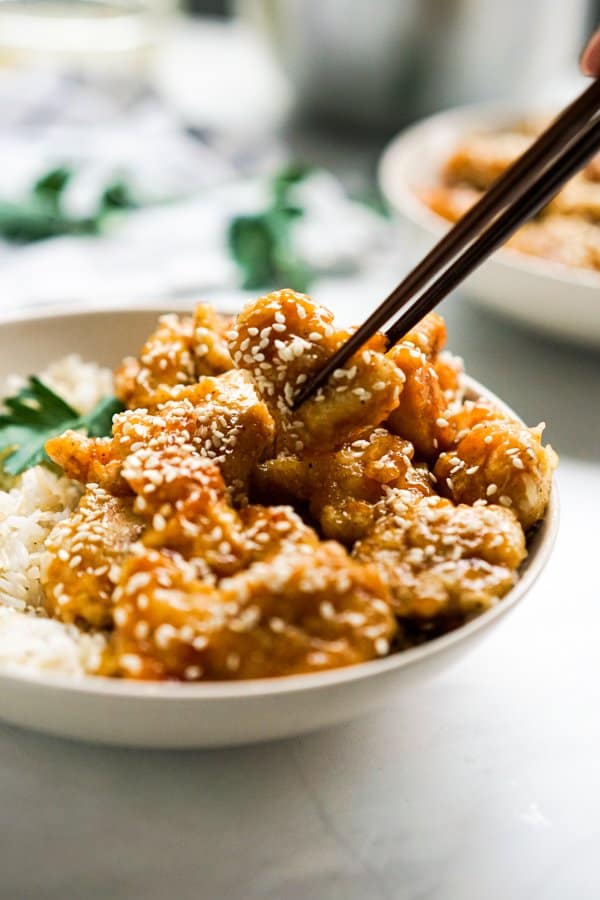 Common Questions
How do you store leftovers?
Store chicken separately from the sauce. For the best results, only coat chicken in sauce when ready to eat!
How to heat leftovers?
To maintain the crispy texture of the chicken, heat chicken in the oven (covered). You can heat the Honey Sesame Sauce in the microwave.
How to serve Honey Sesame Chicken?
Steamed white or brown rice is my favorite way to serve this! You can also serve with fried rice! If you would like some veggies with this meal, I highly recommend Asian Style Green Beans, Sautéed Garlic Brussels Sprouts and Carrots or Steamed Garlic Bok Choy (by my friend Christie) to go with it!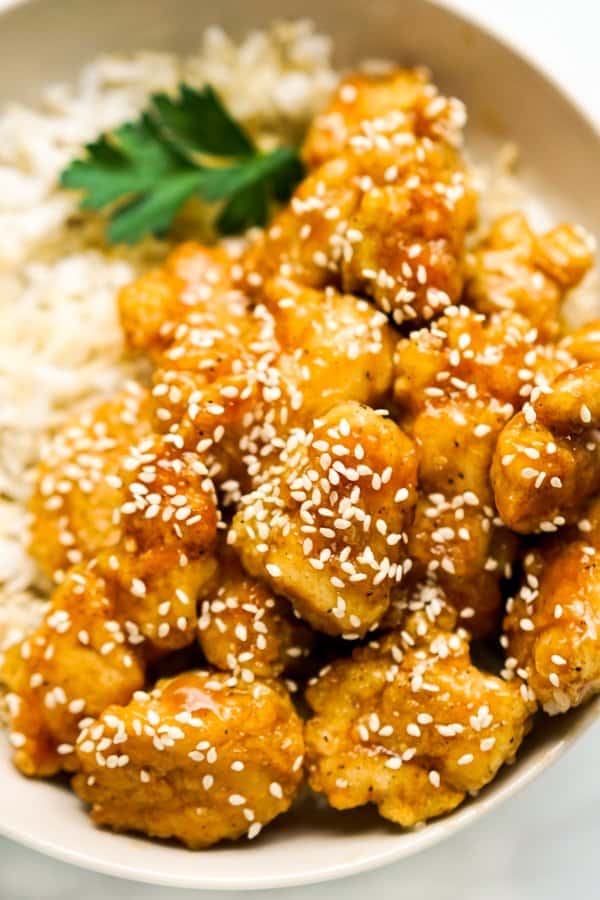 DID YOU ENJOY THIS RECIPE? Please comment below and give us a 5-star rating! This will help others find this recipe on Google and Pinterest. We very much appreciate your help! 🤍
More Asian Recipes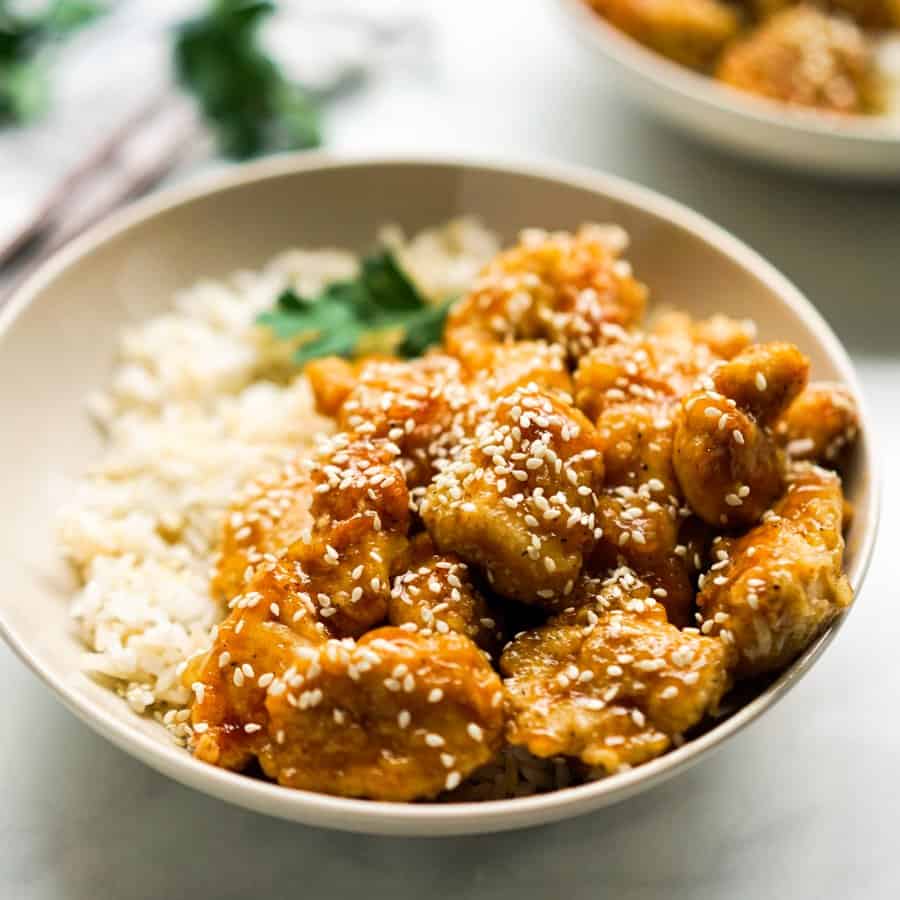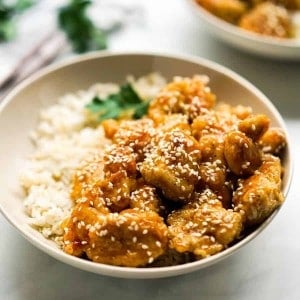 Crispy Sesame Chicken
Crispy breaded chicken coated in a sticky sweet Asian inspired Honey Sesame Sauce. This recipe is easy, delicious, and much healthier than takeout!
Print
Pin
Ingredients
Honey Sesame Sauce
3

tbsp

honey

1

tbsp

soy sauce

1

tbsp

rice vinegar

2

tbsp

brown sugar

1

tsp

sesame oil

2

tsp

corn starch

1/4

cup

water

1

tsp

red pepper flakes

optional
Crispy Breaded Chicken
1

lbs

chicken tenderloins

cut into bite size

1/2

cup

all purpose flour

1/8

cup

corn starch

1/2

tsp

salt

1/2

tsp

black pepper

2

large eggs

cooking oil

sesame seeds
Instructions
Honey Sesame Sauce
Add all the sauce ingredients into a small pot. Whisk to combine. Turn up heat, bring to a boil. Continue stirring until corn starch is dissolved and sauce is thickened.

Remove from heat and set aside.
Crispy Chicken
Pat dry chicken, then slice into bite size pieces.

Prepare breading by combining flour, corn starch, salt and pepper in a bowl.

In a separate bowl, whisk two eggs.

Heat skillet under medium high heat with a generous amount of oil. Make sure oil coated at least 1/2 inch of the skillet.

Dip chicken pieces into the egg mixture and then coat with flour mixture. Shake to remove excess flour mixture.

Gently submerge chicken pieces into hot oil (make sure it is hot!). Chicken pieces should not touch or overlap each other. Once the bottom side is golden brown, flip to cook the other side. Cover to speed up cooking process if needed.

Once chicken is cooked (internal temperature should be 165℉), remove chicken pieces from skillet.
Combine
Bring crispy chicken to a large bowl and drizzle with Honey Sesame Sauce. Toss to combine

Sprinkle with sesame seeds. Serve and enjoy!
Notes
Pat dry chicken before coating it in mixture and pan frying. You don't want a pool of water in your skillet!
Make sure oil is hot before adding breaded chicken into it to pan fry.
Feel free to add more oil to fry chicken. Frying with more oil will make the chicken even crispier. If deep frying, you will not need to flip the chicken because chicken will be completely submerged in the hot oil.
Only coat chicken with honey sesame sauce when ready to eat if not chicken will become soggy and no longer crispy after sitting in the sauce for a while.
Nutrition
Calories:
442
kcal
|
Carbohydrates:
48
g
|
Protein:
39
g
|
Fat:
10
g
|
Saturated Fat:
2
g
|
Polyunsaturated Fat:
2
g
|
Monounsaturated Fat:
4
g
|
Trans Fat:
1
g
|
Cholesterol:
206
mg
|
Sodium:
956
mg
|
Potassium:
674
mg
|
Fiber:
1
g
|
Sugar:
25
g
|
Vitamin A:
403
IU
|
Vitamin C:
2
mg
|
Calcium:
41
mg
|
Iron:
3
mg