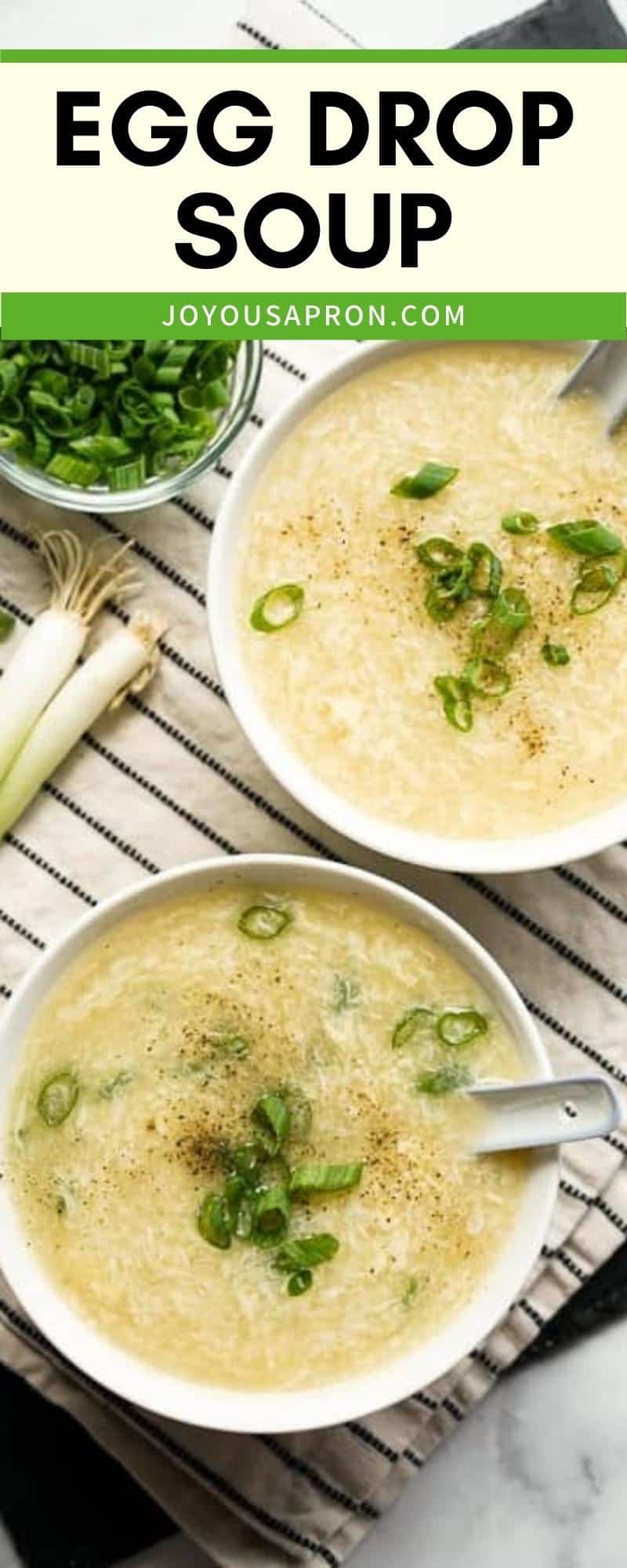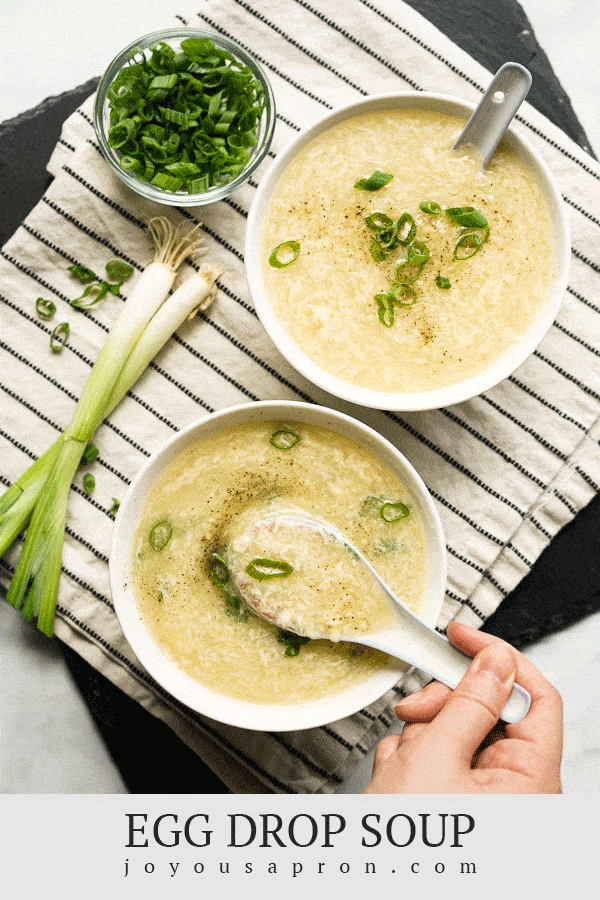 Egg Drop Soup… Oh, how I love thee. You are comfort to my soul!
There you go – an ode to my lovely Egg Drop Soup. I felt the need to write bad poetry today.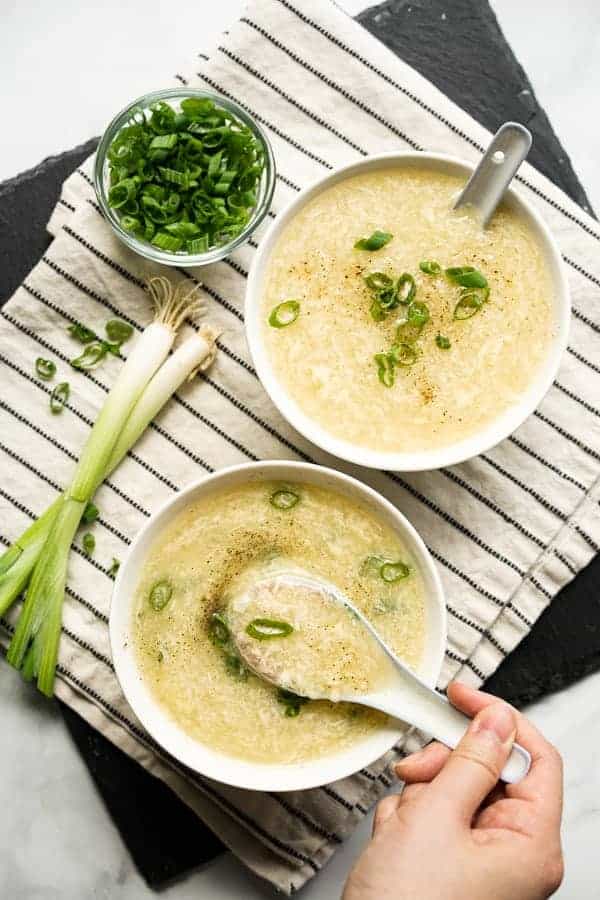 After a large turkey dinner with heavy casserole sides and multiple meals of turkey leftovers, I hereby declare our household a turkey-less one for at least a month.
To switch it up, I have been channeling my Asian roots, cooking up all kinds of Chinese, Malaysian, Indian dishes for dinner. Going along with the Asian theme, I decided to share with you my very own Egg Drop Soup recipe.
Let's face it, Egg Drop Soup will never win the prize for the sexiest dish alive. If that award existed it would probably go to Fish Tacos with Mango Peach Salsa. Yeah…that is one sexy, sexy dish.
But Egg Drop Soup is comforting, simple, reliable, easy to consume and oh-so delicious.
I don't know about you, but that sounds better than sexy to me right now!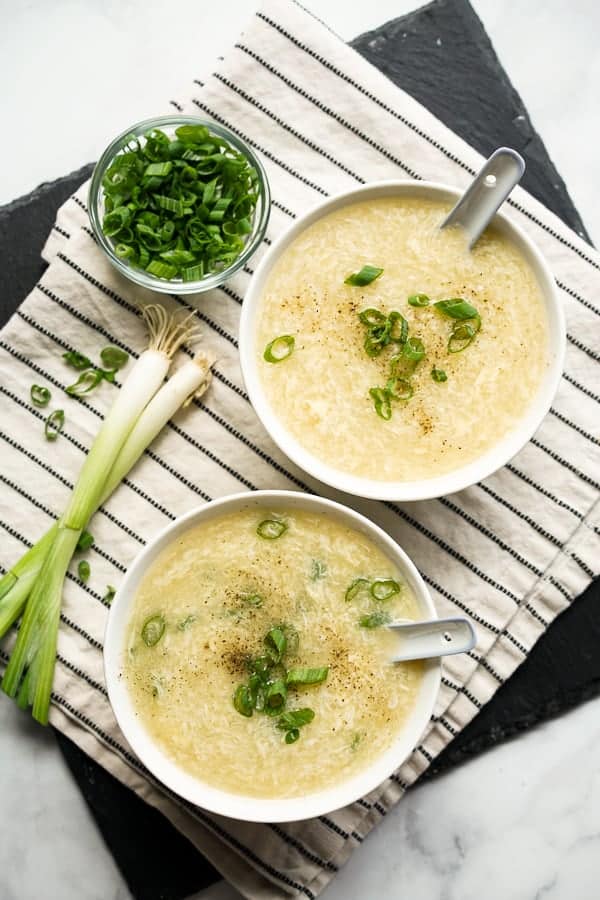 Growing up in Malaysia, I had soups that resembled Egg Drop Soup, where an egg is beaten into a chicken or pork based broth. However, it is not called "Egg Drop", has other ingredients added to it – tofu, seaweed etc, and the consistency is typically thinner.
Today, I am sharing with you my version of the classic American Chinese Egg Drop Soup that you can find at pretty much any Chinese restaurant in this country. Only this one is so much better.
I am a soup person. Soup person = one who loves soup and would love it if every meal comes with a side of a warm, tasty bowl of soup.
It's my Asian roots showing again.
The Secret to an amazing Egg Drop Soup
I especially like clear soups, and I like a deep and flavorful soup base. For that reason, I highly recommend using a good quality chicken stock for this Egg Drop Soup recipe.
Homemade is of course the best, but most of us probably don't have that at hand. Chicken bone broth is also a good option.
A good quality base is so important in making good soups. Regular chicken stock can work as well if that is all you have.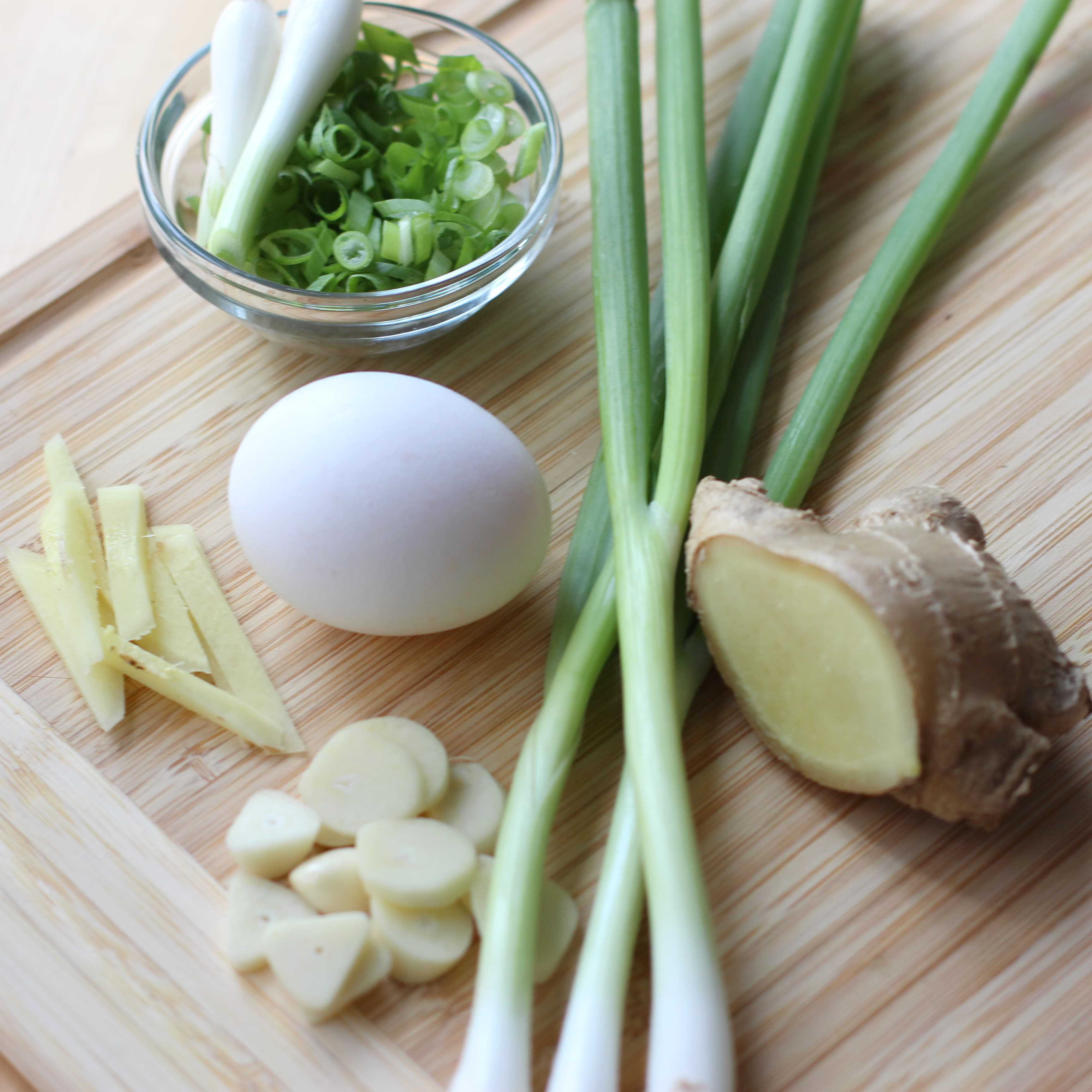 How to make Egg Drop Soup
This recipe calls for simple ingredients, but each ingredient subtly enhances the flavor and texture of the broth.
Start by frying a few chopped up cloves of garlic in your pot for about 30 seconds (do not burn garlic), and then add in stock. Stand back when adding stock as oil is hot and you will hear a quick loud splash 🙂
Follow by adding ginger, corn starch dissolved in stock (make sure there are no clumps), white pepper and sesame oil. Use black pepper if you do not have white pepper.
White pepper is widely used in Chinese cooking, has a little bit of a different flavor, but not enough to make or break the soup if you don't have it.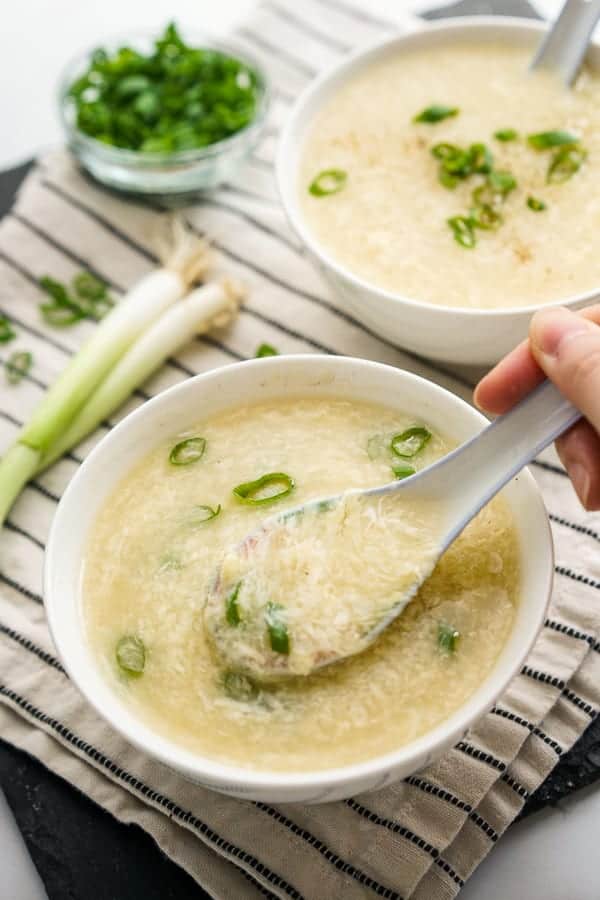 Bring to a boil and let it continue cooking for at least 5 minutes. Feel free to boil longer if you have time. The goal is to release the flavors of the ginger and garlic.
While the broth is cooking, beat up one egg. I do this in a measuring cup with a spout to enable even and slower pouring of the beaten egg into the broth.
Turn off heat on the stove, and then gently and slowly pour egg mixture into soup. At the same time, use a table knife, fork or chopstick, and stir the pot by making large circles while pouring in the egg mixture.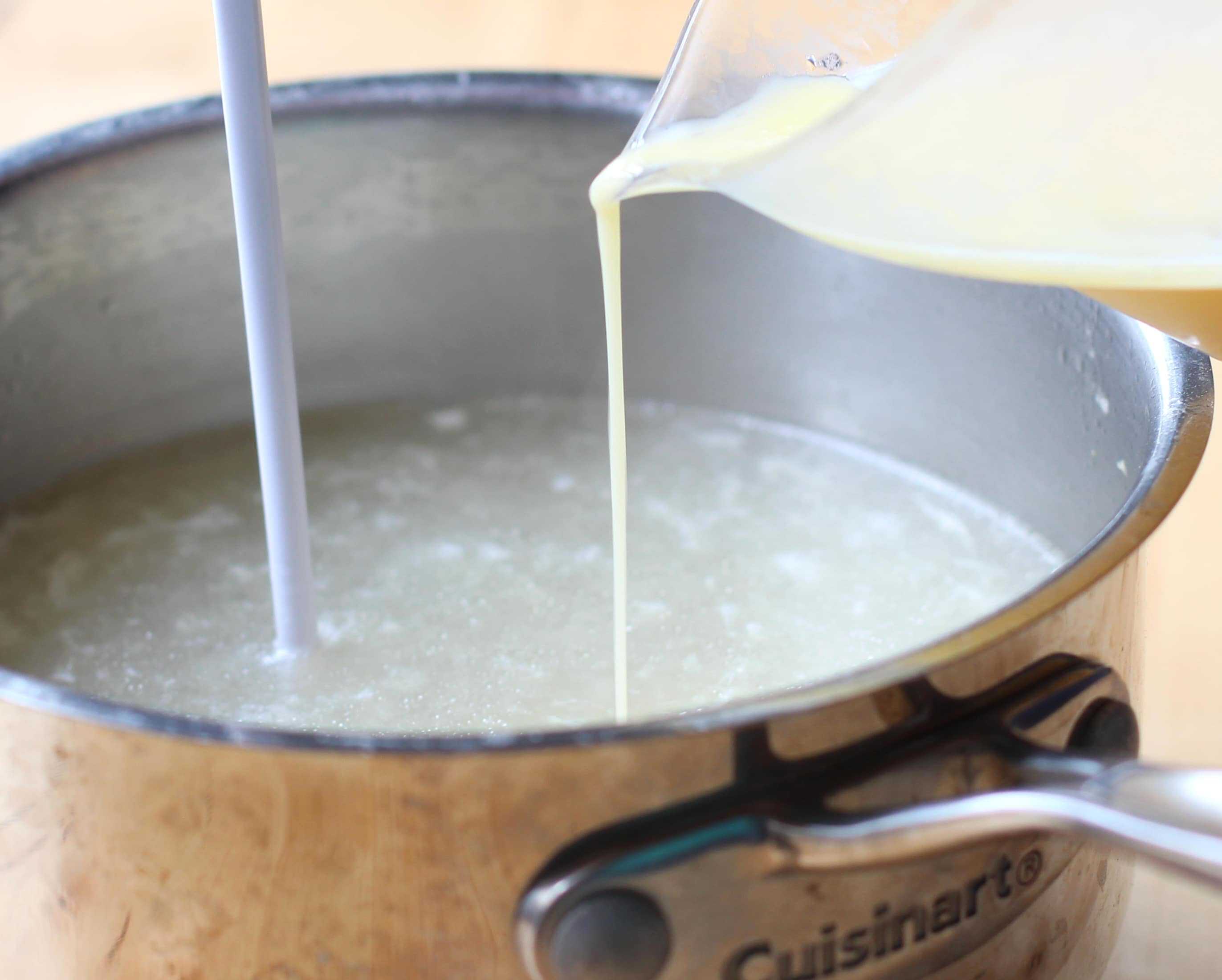 This method helps create thin, silky egg strands in the broth, and is a good way to avoid egg clumps. Add salt to taste (may not be necessary if your stock is already salty).
Some Egg Drop Soup have a bright yellow tint to it – all that is is yellow coloring. I omitted that in this recipe. MSG is also typically added in restaurants, but we are staying away from chemicals here. 🙂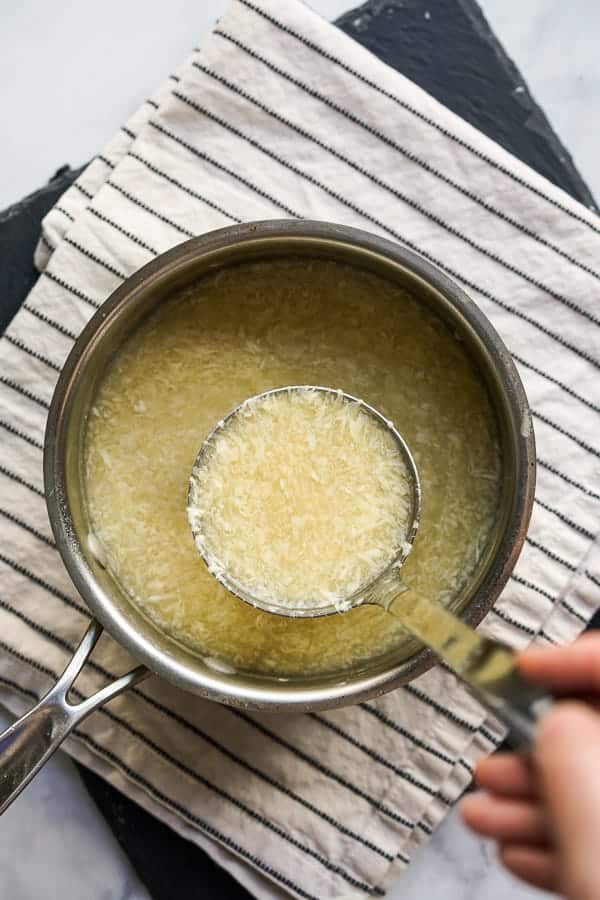 If you like your soup thicker, you can increase the amount of corn starch used.
Discard the the garlic and ginger pieces, and garnish soup with scallions and more white pepper if desire.
And that's it. Voila! Gimme gimme gimme some Egg Drop Soup…
This is super easy to make at home, as well as delicious, comforting, light and healthy. It's even better on a cold, wintery day. Give it a try, and let me know what you think!
DID YOU ENJOY THIS RECIPE? Please comment below and give us a 5-star rating! This will help others find this recipe on Google and Pinterest. We very much appreciate your help! 🤍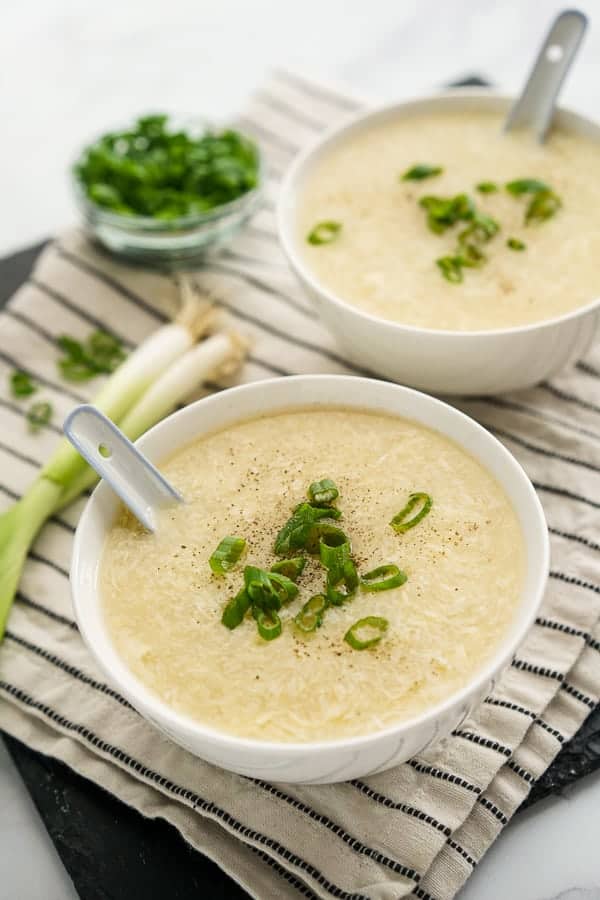 Other Soup Recipes
Other Asian Inspired Recipes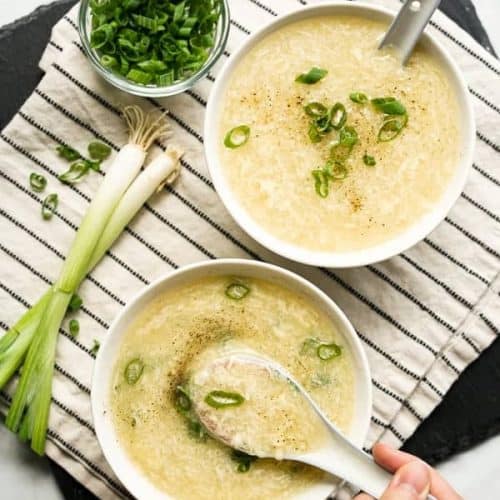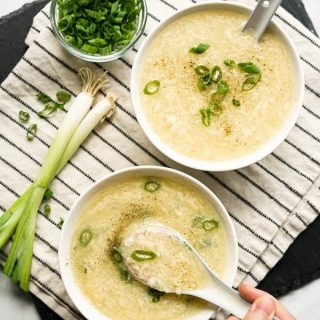 Egg Drop Soup
A classic Asian soup and side! Warm chicken based broth infused with flavors of ginger, garlic and white pepper, finished with soft, silky strands of eggs
Print
Pin
Ingredients
3

cups

chicken bone broth or chicken broth

1

tbsp

ginger thinly sliced

or 1/2 tsp ginger powder

2

garlic cloves

chopped

1

stalk

scallions

thinly sliced

1

tsp

sesame oil

1/2

tsp

soy sauce

1 1/2

tbsp

cornstarch

1/2-1

tsp

white pepper

or black pepper

salt

1/2

tsp

vegetable oil

1

egg
Instructions
In a small pot, add vegetable oil and chopped garlic and fry for 30 seconds (do not burn garlic).

Dissolve corn starch in 2 tablespoon of chicken broth (See Note 1). Add the rest of the chicken broth to pot, then add ginger, dissolved corn starch in chicken broth, 1/2 tsp white pepper, soy sauce, and sesame oil. Bring to boil, and continue boiling for at least 5 minutes.

In a small measuring cup with a spout, beat 1 egg.

Switch off heat. Slowly pour egg mixture into pot, while stirring pot in continuous circular motion with a table knife/fork/chopstick.

Remove garlic and ginger pieces from soup (optional).

Taste soup, and if needed, add salt to taste.

Garnish with sliced scallions and more white pepper if desire
Notes
Note 1: Add more corn starch if you like your soup thicker
Nutrition
Calories:
111
kcal
|
Carbohydrates:
10
g
|
Protein:
5
g
|
Fat:
6
g
|
Saturated Fat:
1
g
|
Polyunsaturated Fat:
2
g
|
Monounsaturated Fat:
2
g
|
Trans Fat:
1
g
|
Cholesterol:
82
mg
|
Sodium:
1427
mg
|
Potassium:
359
mg
|
Fiber:
1
g
|
Sugar:
1
g
|
Vitamin A:
186
IU
|
Vitamin C:
27
mg
|
Calcium:
46
mg
|
Iron:
1
mg