This simple and delicious one-pan Creamy Mushroom Chicken recipe takes under 20 minutes to make! Pan-seared seasoned chicken cutlets are coated in a rich and creamy garlicky mushroom cream sauce.
If you love mushrooms and chicken, this is the perfect recipe for you!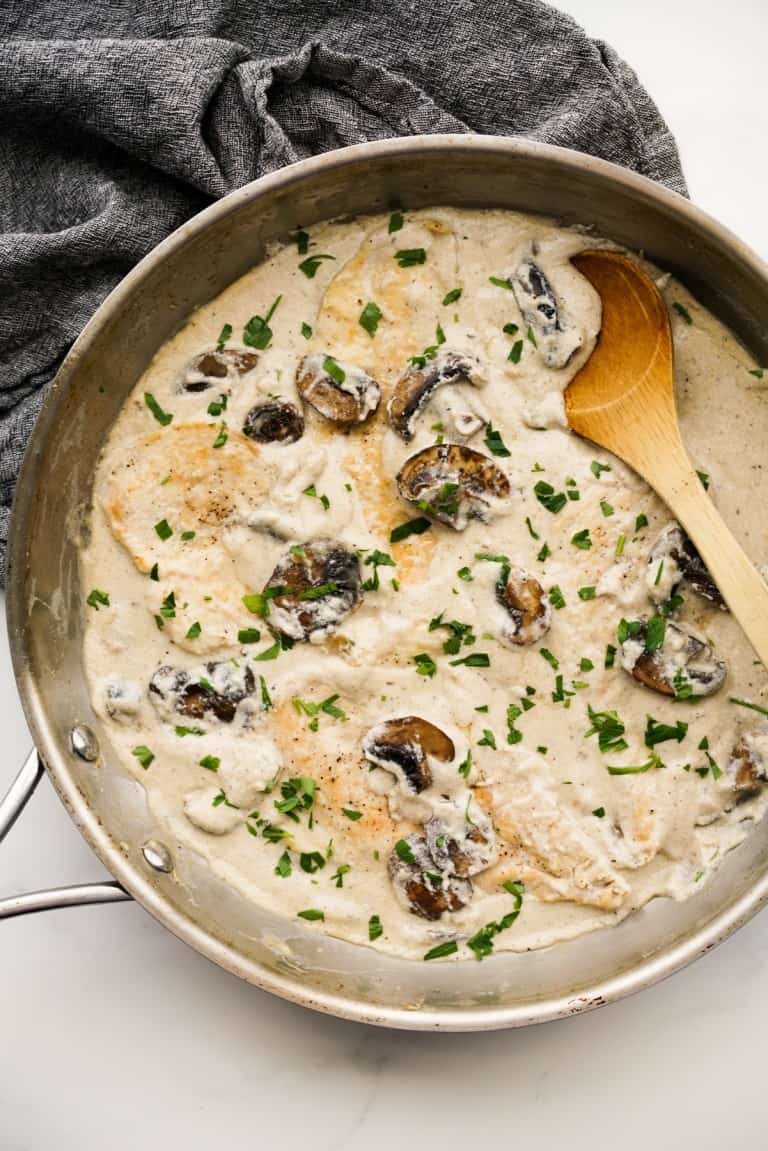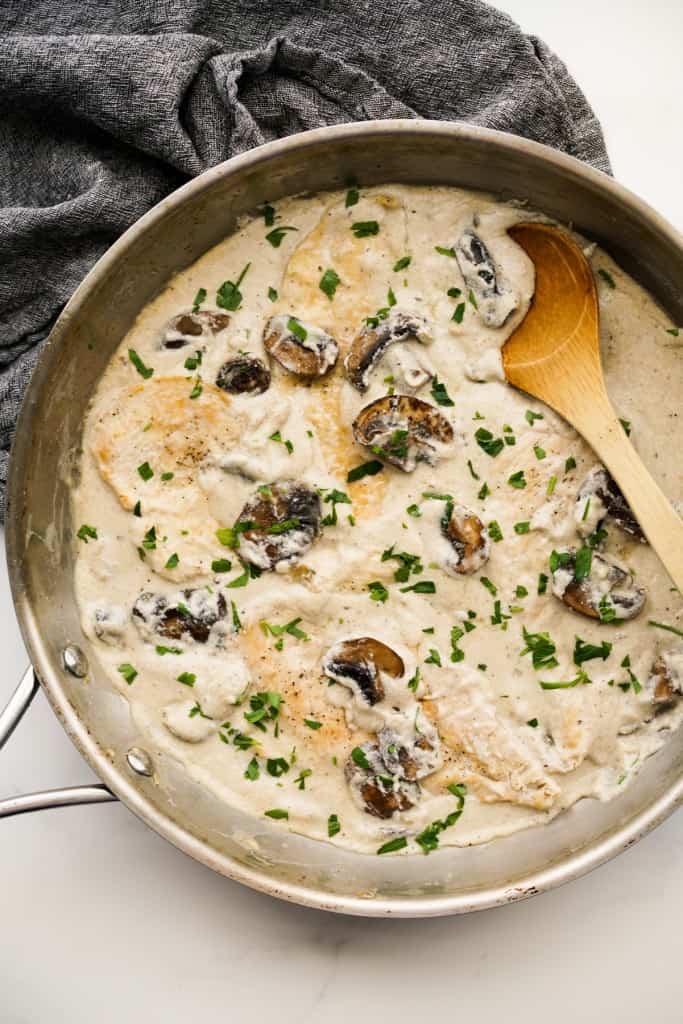 Looking for more skillet chicken recipes? Check out reader favorites such as Creamy Spinach Chicken, Skillet Chicken Parmesan, Spinach Artichoke Stuffed Chicken, and Garlic Rosemary Chicken.
A Mushroom Chicken Recipe
This creamy mushroom chicken recipe is dedicated to:
Busy people who wants to make a yummy meal under 20 minutes, and make it all in one pan!
Fans of mushrooms and chicken, especially when they are paired together.
Cream sauce lovers – a.k.a. those who cannot resists a luxurious creamy sauce.
This one-pan skillet creamy mushroom chicken recipe brings together perfectly seasoned chicken cutlets, and coats them in a luscious and creamy mushroom sauce flavored with garlic and white wine.
The end product is a lot of amazing flavors, coming from both the tender juicy chicken and that yummy white sauce.
Some of my favorite ways to serve creamy mushroom chicken is with pasta where you toss pasta in that yummy creamy sauce, or with a potato or veggie side.
This creamy mushroom chicken dish is super versatile and makes for a quick and easy weeknight dinner.
Ingredients
One of the things I love about this creamy mushroom chicken recipe is the short-list of pantry-friendly ingredients it requires: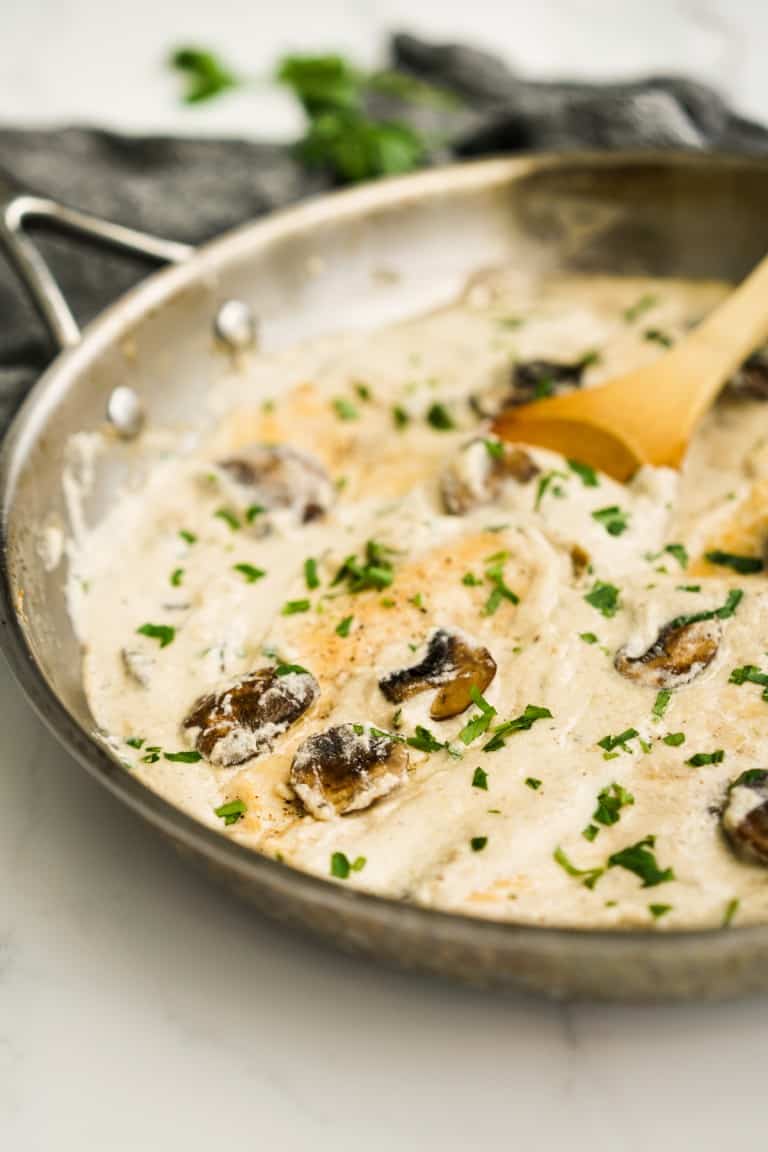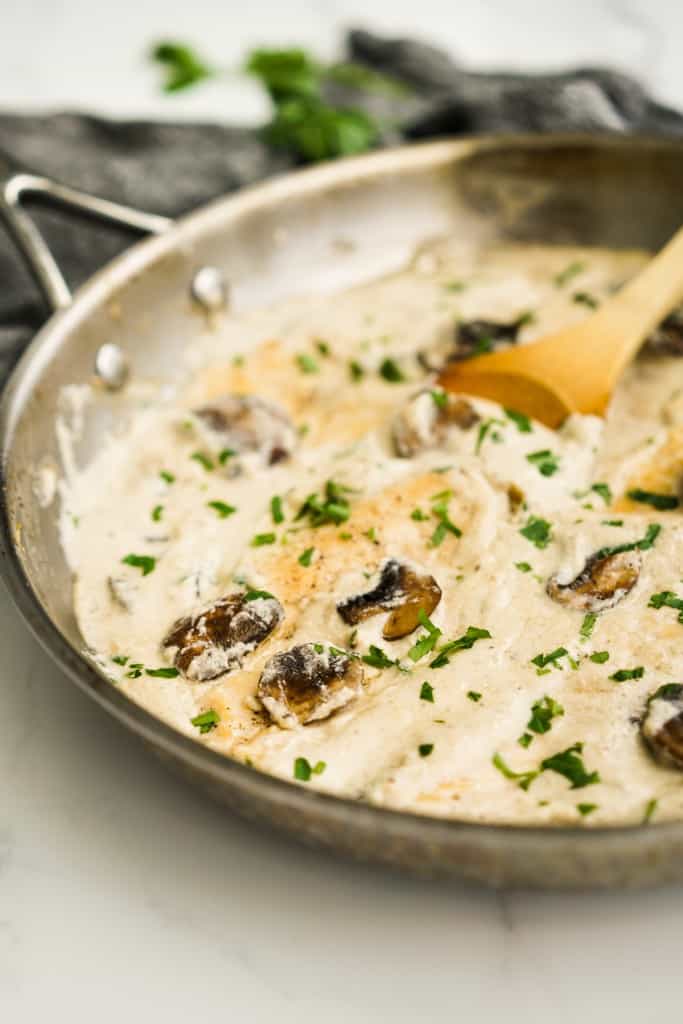 chicken cutlets – these are thinly sliced chicken breast, which will cook a lot faster and also gives a better sauce to chicken ratio (a.k.a. more flavorful!). You can slice a regular piece of chicken breast lengthwise so it is thinner, or get thinly sliced chicken breast/ chicken cutlet from the store.
vegetable oil – or another neutral oil such as olive oil, avocado oil etc.
mushrooms – baby Bella mushrooms, white mushrooms, Portabella mushrooms…any type works!
all-purpose flour – this is used to thicken the sauce for creamy mushroom chicken. Use a whisk to dissolve flour in the cream sauce.
butter
garlic cloves – minced them into smaller pieces. Use fresh garlic for best flavor.
white wine – if you don't like wine, chicken broth can be used. Best white wine to use are Pinot Grigio, Sauvignon Blanc and Chardonnay.
half and half – this is basically a half cream and half whole milk dairy product. To make a creamier creamy mushroom chicken sauce, use heavy cream. To make it less creamy, use whole milk (you may want to cook it longer to avoid a diluted cream sauce if using milk)
How to make creamy mushroom chicken
The only appliance you will need to make this mushroom chicken recipe is a large skillet, one that can hold 4-5 pieces of chicken cutlets comfortably without overlapping.
Start by seasoning chicken with salt and black pepper on both sides.
Next, heat skillet with vegetable oil under medium heat. Once skillet is hot, place chicken cutlets on skillet – do not overlap chicken. Once one side is cooked (a few minutes), flip and cook the other side.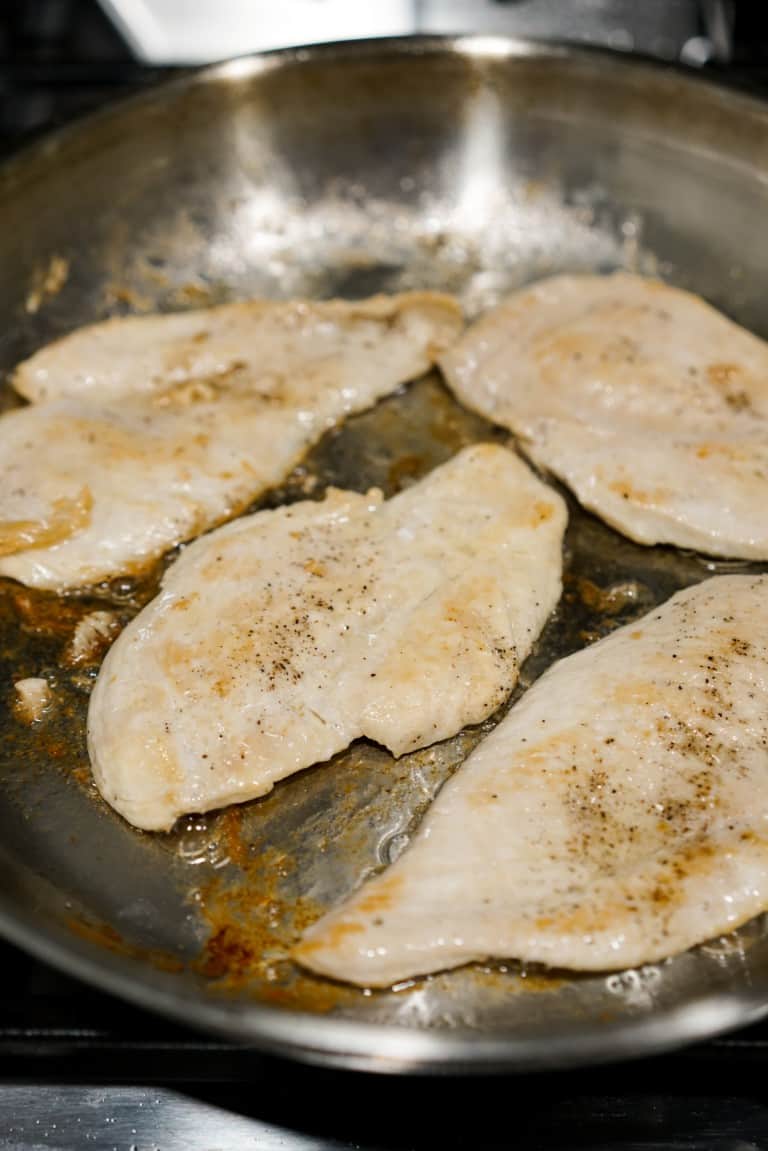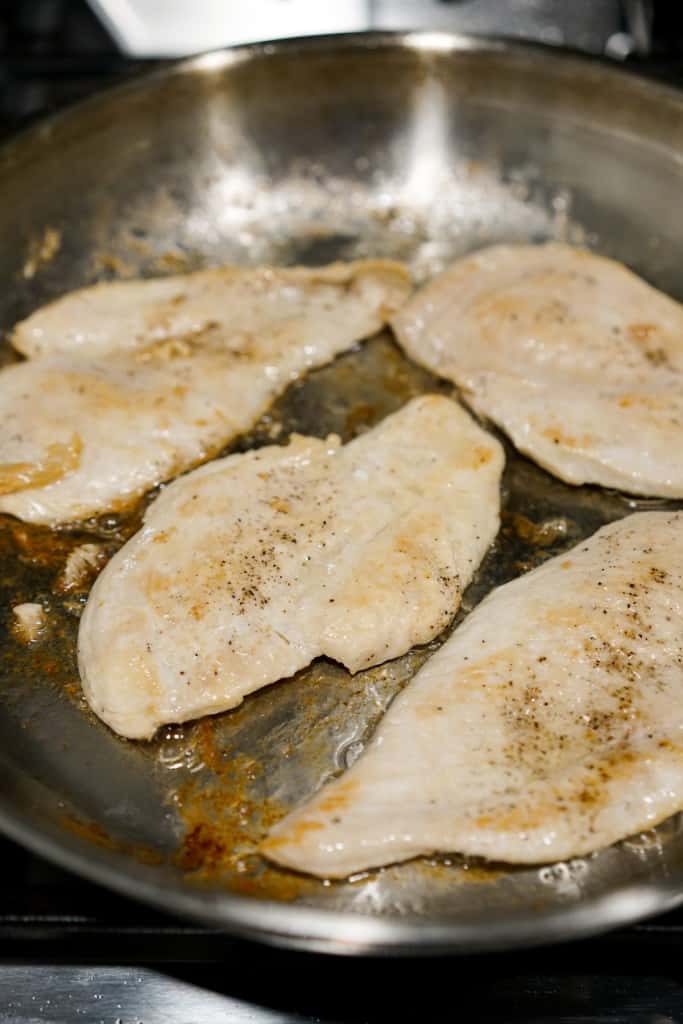 Chicken should have a nice golden brown sear and completely cooked before they are removed to be set aside.
Next we are going to make the creamy mushroom sauce.
Melt butter in skillet, then sear garlic and mushrooms in butter for 1-2 minutes, or until mushrooms are soft.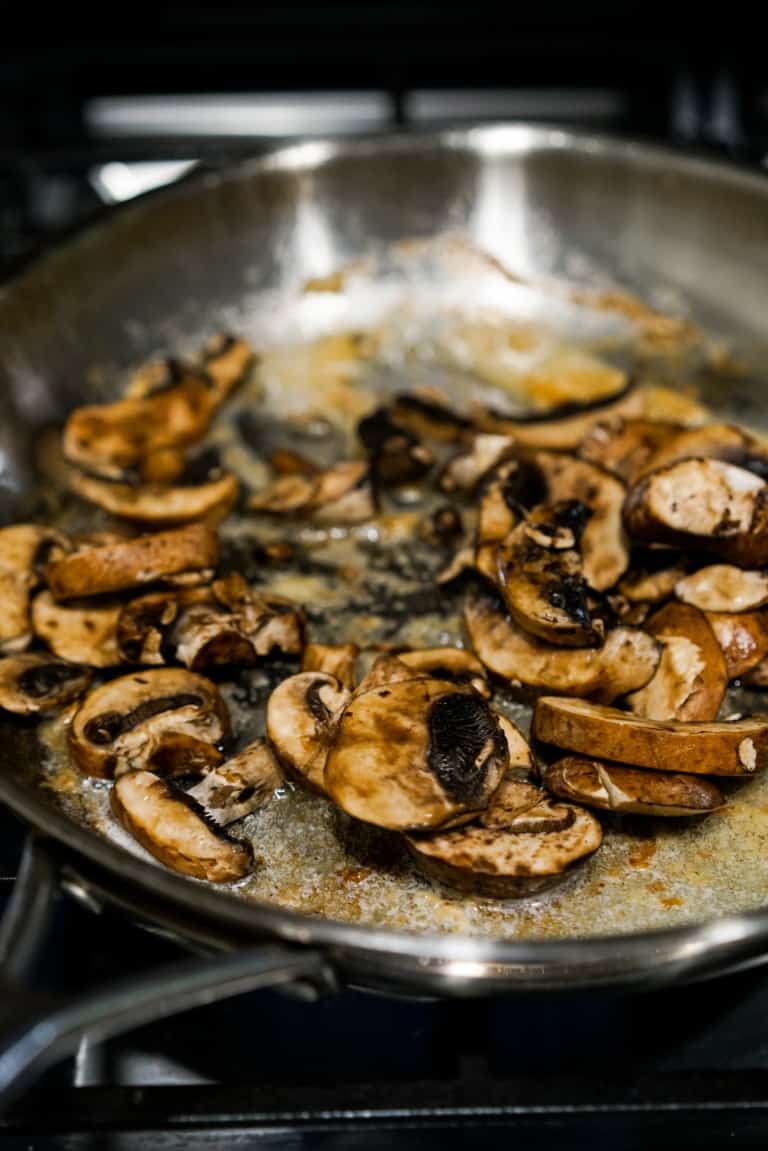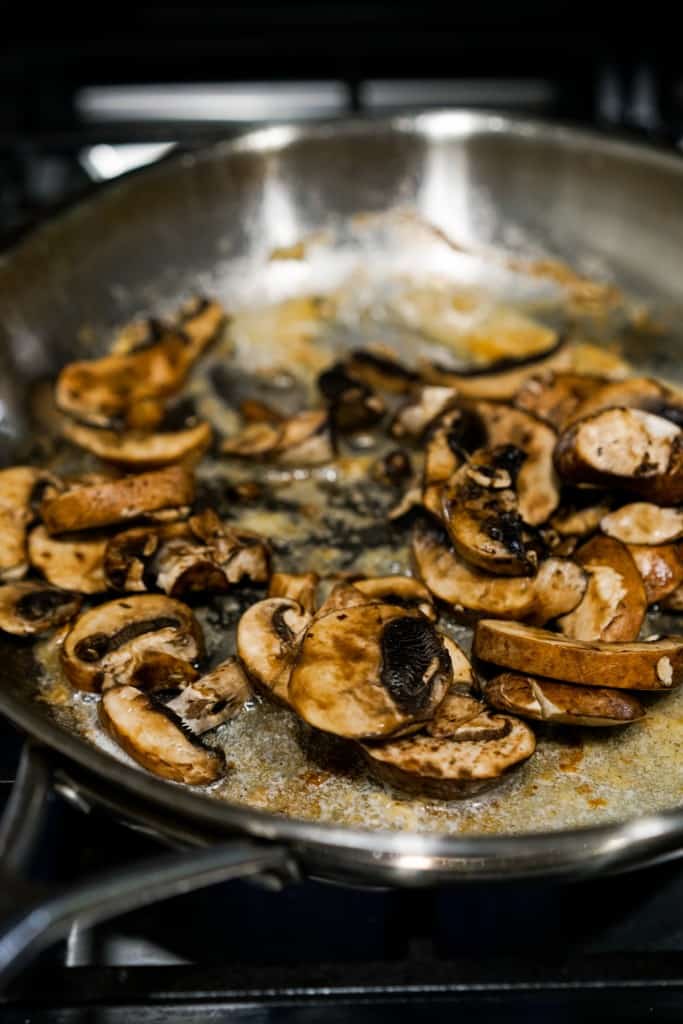 Add flour to skillet, give it a quick stir, then add white wine.
When white wine is added into the skillet, some of the wine should immediately evaporate, which is good because we want to boil off all if not most of the alcoholic taste.
Give it a good stir, or use a whisk if needed, to mix everything up and dissolve the flour. Do this for ~30 seconds.
Add half and half and continue stirring and whisking.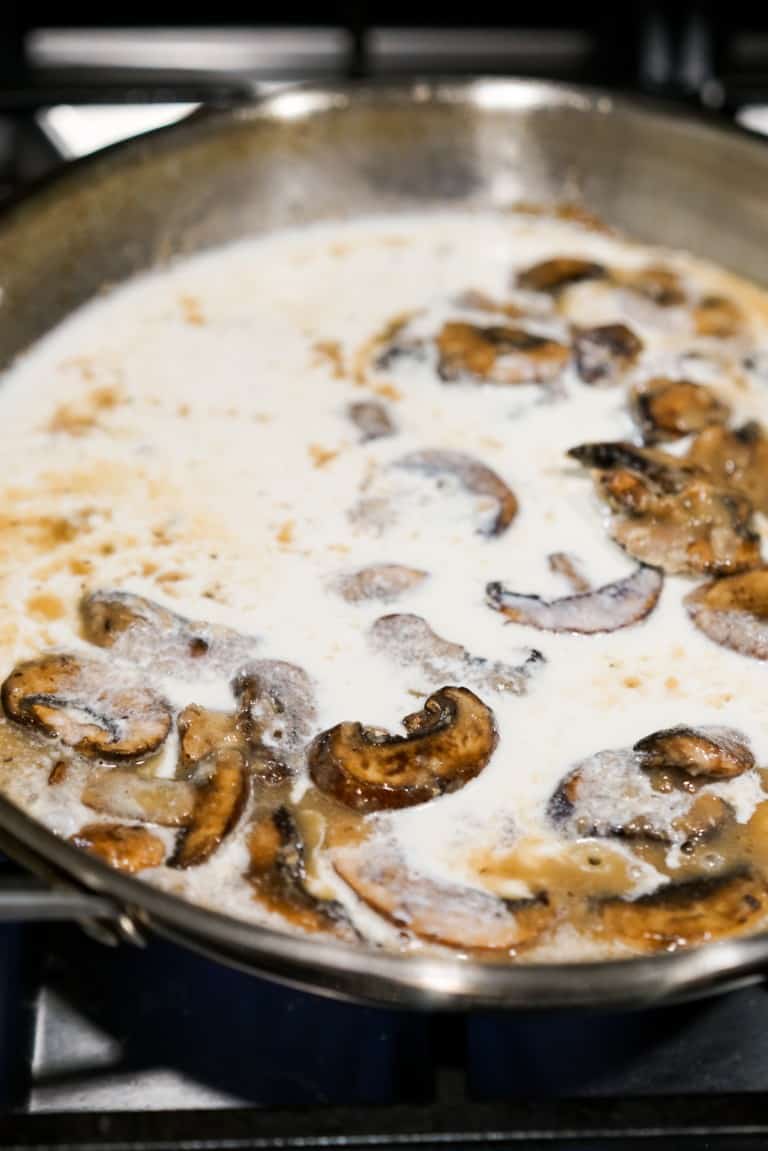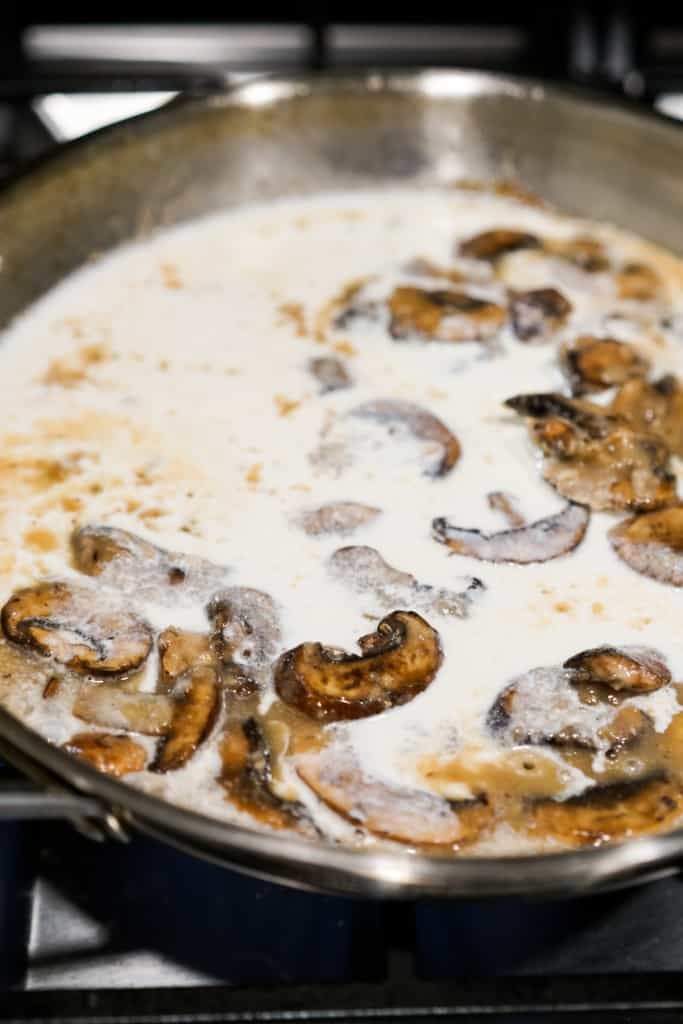 Bring sauce to a boil, lower heat to a simmer, then add salt and pepper.
At this point, taste the sauce to see if you need to add more salt and pepper. Remember, salt is use to open up the flavors. If using chicken broth instead of white wine, you may need to add more salt than what is called for.
Cook for a few minutes until sauce thickens to your liking, then add the chicken back in.
Spoon sauce over chicken pieces, garnish with parsley…and proudly serve that creamy mushroom chicken like a pro!
Check out that juicy piece of chicken swimming in that luscious cream sauce filled with chunks of mushroom slices. And every now and then, you'll bite into fresh burst of parsley, which gives a nice break to the rich creamy sauce.
SO YUMMY!!!
This creamy mushroom chicken recipe will prove once and for all that easy chicken recipes doesn't have to be boring!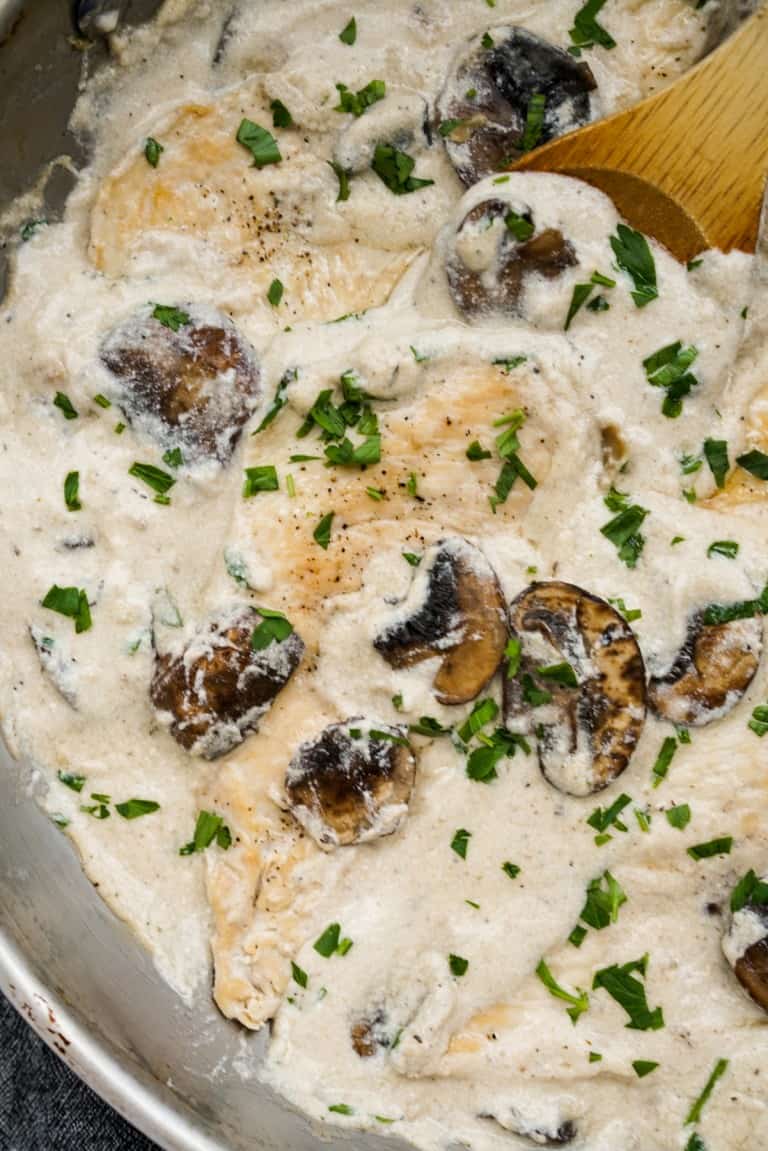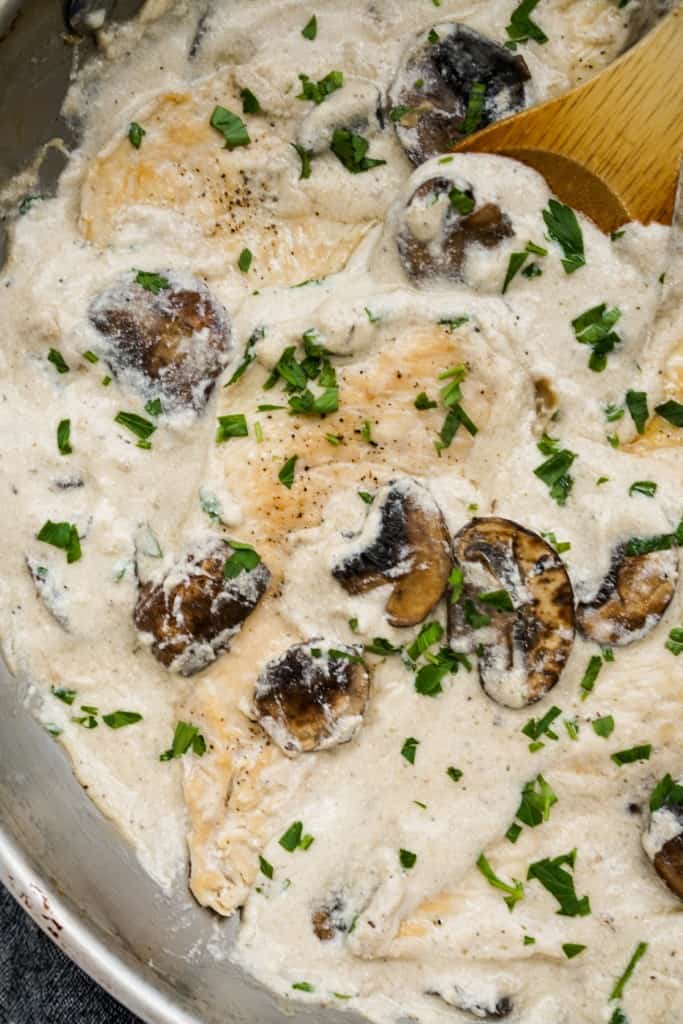 Ways to Serve This
Here are some of my favorite ways to serve this creamy mushroom chicken dish:
add pasta to the creamy mushroom sauce
with a veggie side dish, such as Garlic Sautéed Spinach, Garlic Honey Roasted Carrots, Honey Roasted Brussels Sprouts with Bacon.
with a salad, pasta salad or slaw, such as Kale and Brussels Sprouts Salad, Italian Bow Tie Pasta Salad, Broccoli Kale Slaw, Fall Harvest Salad.
with homemade sourdough – don't forget to dip that bread in creamy mushroom sauce as well! Yum…
with potato sides, such as Roasted Baby Potatoes, Creamy Mashed Potatoes, and Garlic Parmesan Hasselback Potatoes.
Frequently Asked Questions
Can I use milk or heavy cream instead of half and half?
Yes! The consistency of the cream sauce using heavy cream would be thicker and using milk would be thinner, but it should work just fine!
Why is my sauce so thick? How can I fix this?
It was probably cooked longer or on higher heat, or there wasn't enough liquid, or there was too much flour. Add milk, chicken broth or water to dilute the sauce, keep boiling and stirring until it reaches desired consistency.
Can I add pasta to this? How do I do that?
Boil your pasta in a separate pot until al dente, drain it, and add pasta to sauce before adding chicken back to the skillet.
What's the best white wine to use to make creamy mushroom chicken?
Crisp white wine such as Pinot Grigio, Sauvignon Blanc and Chardonnay. Avoid using sweet white wine.
What can I substitute with white wine?
Chicken stock works great as well. You may need to add a bit more salt at the end to open up the flavors more if using chicken stock.
DID YOU ENJOY THIS RECIPE? Please comment below and give us a 5-star rating! This will help others find this recipe on Google and Pinterest. We very much appreciate your help! 🤍
More Chicken Recipes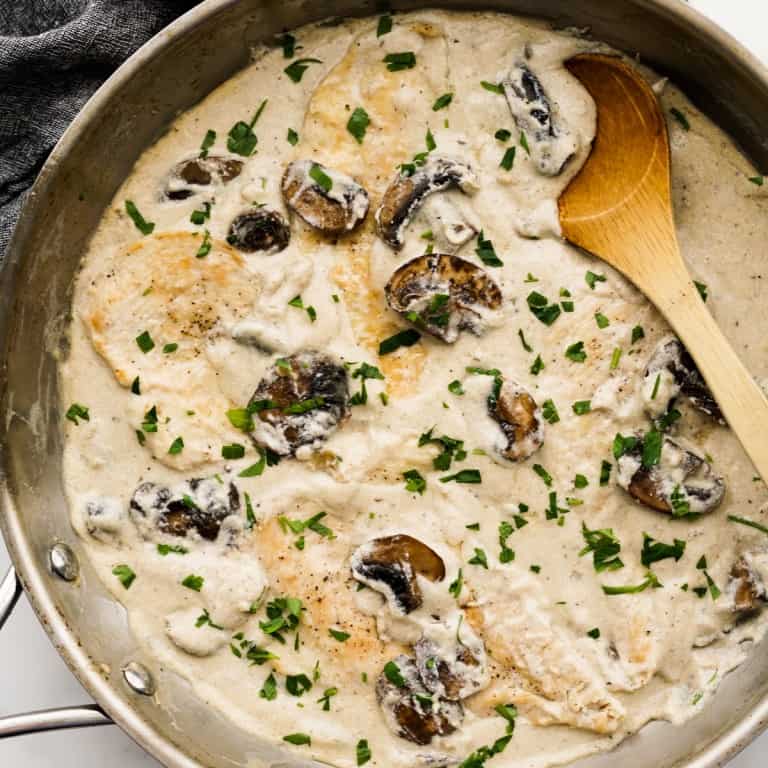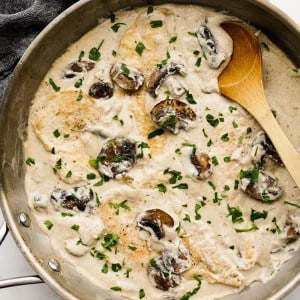 Creamy Mushroom Chicken
Seasoned pan-seared chicken cutlets cooked in a creamy garlic mushroom sauce on the stovetop. A delicious easy one-pan dinner recipe ready under 20 minutes!
Print
Pin
Ingredients
4-5

pieces

chicken cutlets

thinly sliced chicken (~1.25 – 1.5 lbs)

1

tsp

salt

for chicken

1/2

tsp

black pepper

for chicken

1

tbsp

vegetable oil

2

tbsp

butter

4

cloves

garlic

minced

2

cups

mushrooms

sliced

2

tbsp

all-purpose flour

1/2

cup

white wine

1 1/4

cup

half & half

1/2

tsp

salt

or to taste, for sauce at the end

1/4

tsp

black pepper

or to taste, for sauce at the end

1

tbsp

parsley

chopped
Instructions
Season chicken cutlets with salt and black pepper on both sides.

Heat large skillet over medium heat. Add vegetable oil. Once oil is heated, bring chicken cutlets to skillet, avoid overlapping. Once one side of the chicken cutlet is cooked and slightly golden brown, flip to cook the other side.

Once chicken is fully cooked, remove from heat and set aside.

Keep skillet on medium heat, add butter, then add garlic and mushrooms. Sear for 1 minute or until mushrooms soften.

Add flour, stir to combine, about ~30 seconds.

Add white wine. Some of the wine would evaporate when it touches the skillet. Stir to combine, about 1 minute.

Add half and half. Stir/whisk to combine and dissolve flour completely. Bring to a boil.

Lower heat and let sauce simmer for 2-3 minutes, or until sauce thickens to desired consistency and alcohol evaporates (there shouldn't be a strong alcoholic taste in the sauce after alcohol evaporates). (See Note 2)

Add 1/2 tsp salt and 1/4 tsp pepper to the sauce, or to taste. Stir to combine.

Add chicken back into the sauce. Spoon sauces over the chicken. Switch off heat. Garnish with parsley.
Notes
Note 1: Chicken broth can be used as a substitute to white wine
Note 2: If sauce is too thick, add more chicken broth, water or milk to thin it out.
Nutrition
Calories:
235
kcal
|
Carbohydrates:
10
g
|
Protein:
5
g
|
Fat:
18
g
|
Saturated Fat:
9
g
|
Polyunsaturated Fat:
3
g
|
Monounsaturated Fat:
5
g
|
Trans Fat:
0.3
g
|
Cholesterol:
42
mg
|
Sodium:
969
mg
|
Potassium:
306
mg
|
Fiber:
1
g
|
Sugar:
4
g
|
Vitamin A:
530
IU
|
Vitamin C:
4
mg
|
Calcium:
96
mg
|
Iron:
1
mg