Thai Red Curry with Chicken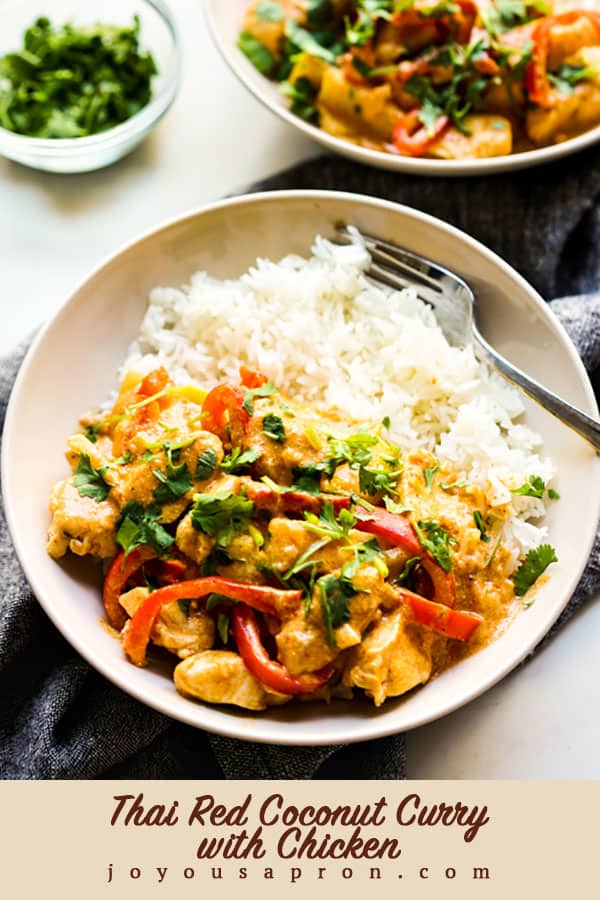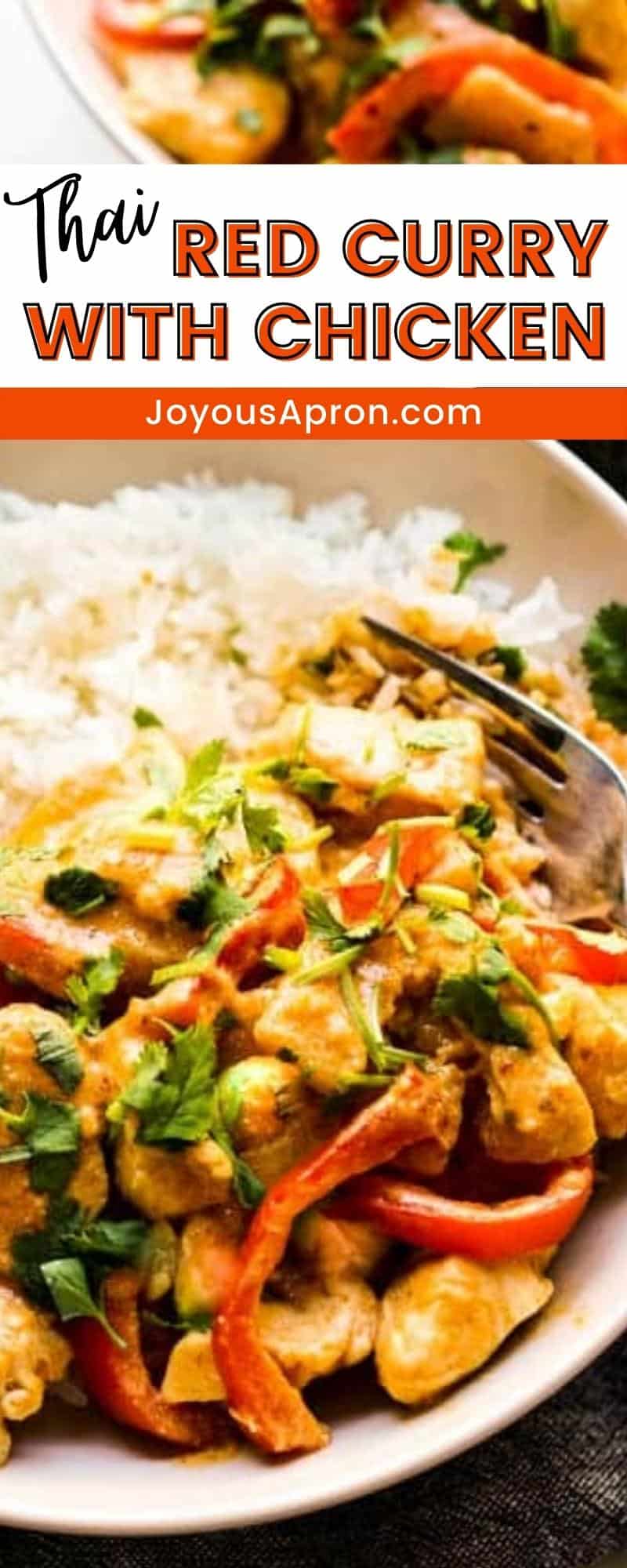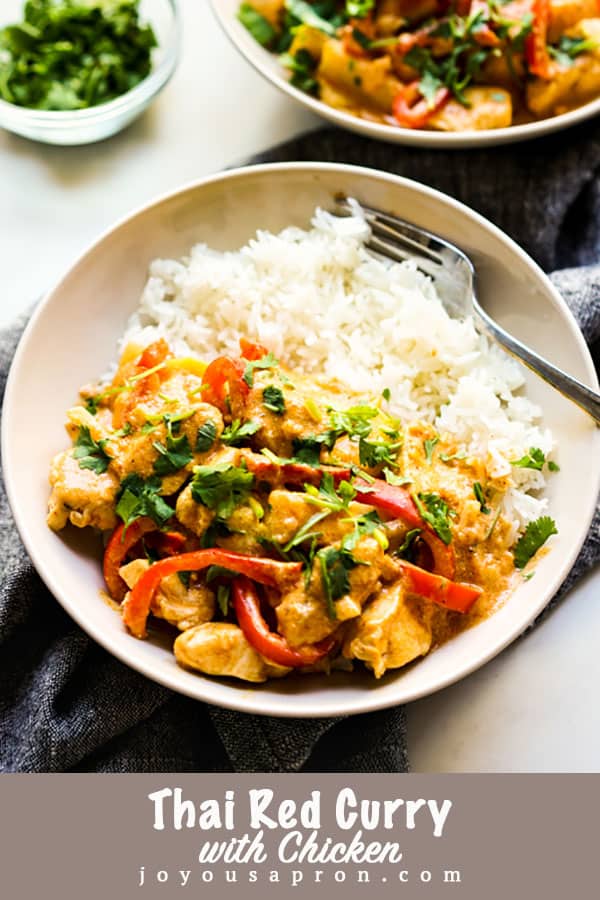 Pick up that fork and let's go to town!
A little spicy, a little sweet, a hint of zesty, and a whole lots of savory and creamy. This Thai Red Curry is cooked in fragrant coconut milk, filled with pieces of juicy chicken and crunchy veggies, and delivers big and bright flavors that will knock your socks off!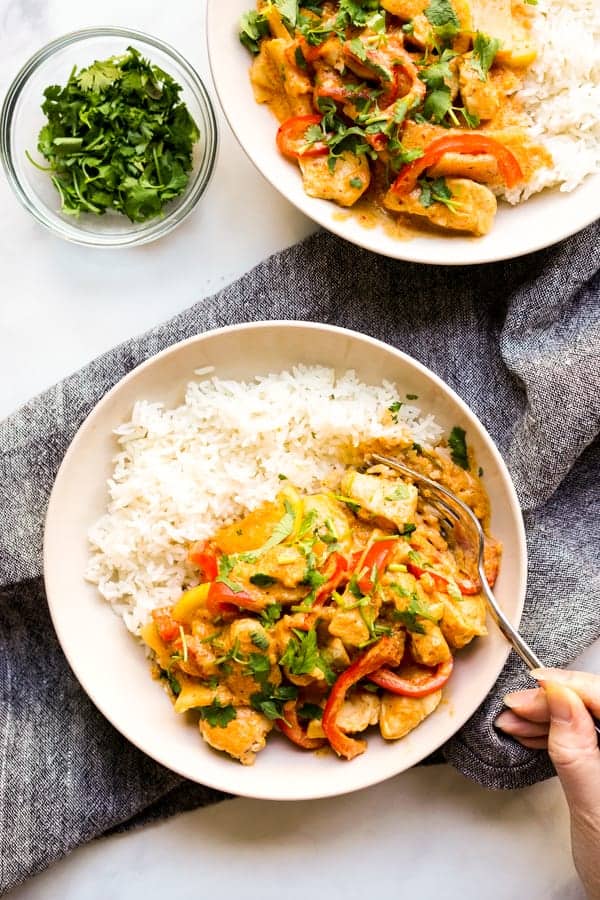 Here's all the reasons why it is the awesome dish that it is:
30 minutes only! Oh heck yes.
Meal prep extraordinaire. It makes the best leftovers and heats up perfectly. In fact, it tastes even better after the chicken sits in the yummy curry sauce for a few days.
Flavor explosion. It covers a myriad of flavors from sweet, sour, savory, spicy (totally adjustable if needed). If you like complex flavors this is your dish.
So versatile. Tired of eating it the same way over and over again? Wipe it up with some crusty French bread, or add noodles to it, or substitute with another protein or go protein-less and add more veggies. The options are endless (and so tasty).
We love Thai Red Curry, or any Thai food really…
Evidence of my love for Thai food is pretty much all over this little corner of the internet: Pad Thai Noodles, Pad See Ew, Thai Pineapple Fried Rice, Thai Grilled Chicken, Thai Mango Sweet Sticky Rice…and much more!
Growing up in Malaysia and having lived in the United States for the past 16 years, I sure miss foods from Southeast Asia.
While Thai food isn't exactly Malaysian food, its flavors are actually really similar to foods I grew up with, and it's definitely more widely available here.
I love its complex flavors, the textures, its fresh and familiar ingredients, its gorgeous seasoning and spices.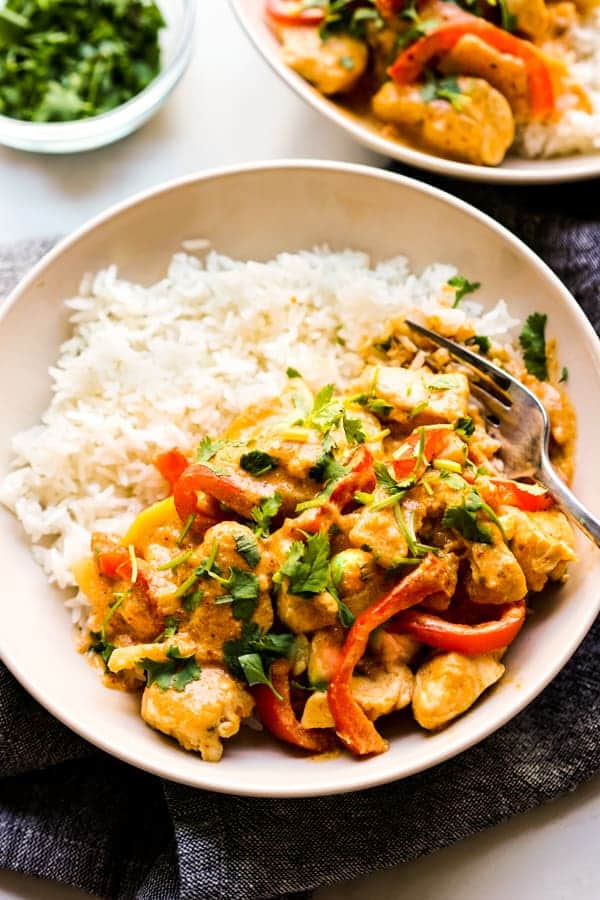 With all that is going on, it has been an unusual year of a lot of cooking at home and trying to replicate some of my favorite dishes from restaurants.
And this is one of our new favorites that we learned how to make in the last few months, thanks to readily available seasoning like this Thai Red Curry Paste.
The Thai Red Curry paste by itself is actually a complex concoction of spices, we then add signature Thai spices and seasonings such as fish sauce, garlic, ginger, lime juice, lime zest, coconut milk etc to it and the result is a lovely, flavor-bursting creamy curry sauce.
A quick note on fish sauce. If you are new to making Thai food, this might sound a little intimidating. Here's what I will say: Don't be! Fish sauce is one of the most commonly used seasoning in Thai cooking. So if you have had Thai food, you probably have had this.
It smells a little 'different' prior to cooking, but trusts me when I say it brings incredible umami flavors to your dishes and delivers that distinct Thai flavor we all know and love.
Let's Make it!
This is a throw-everything-into-the-skillet kinda coconut curry, and I am totally here for that!
Prepare a large skillet and get all the ingredients chopped, sliced etc and ready to go!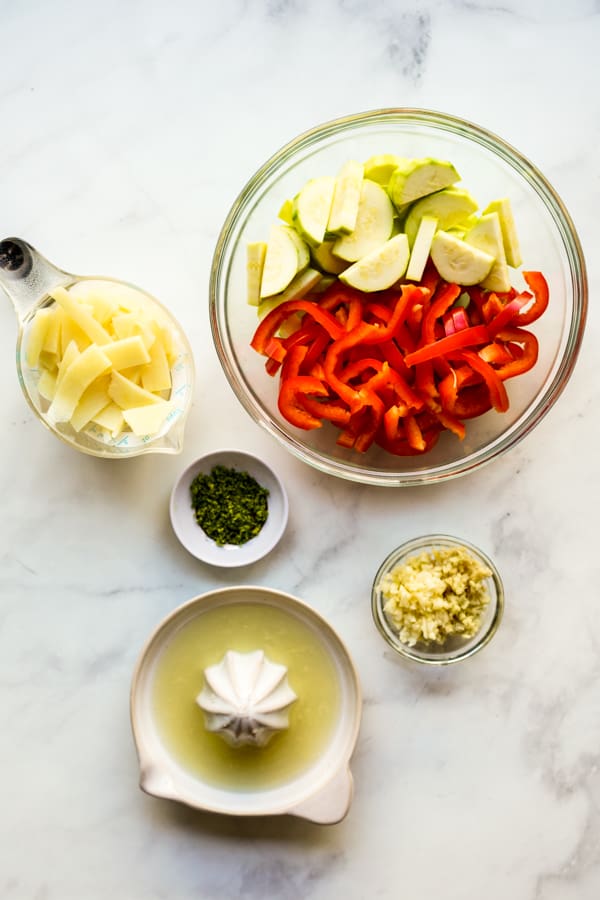 Once ingredients are ready, heat skillet and cook chicken, then bring the ingredients below to skillet make the Thai Red Curry:
Thai red curry paste
Coconut milk (unsweetened)
Garlic
Ginger
Fish sauce
Lime Zest
Lime juice
Sugar
Cornstarch (for thickening, optional)
Then add veggies!
These are the veggies I like to add because they are commonly added to red curries at Thai restaurants:
Red bell peppers
Zucchini
Bamboo Shoots
But the truth is, you can pretty much add any of your favorite veggies to it. Here are a few other good options:
Spinach
Kale
Carrots
Potatoes
Onions
Pineapples
Broccoli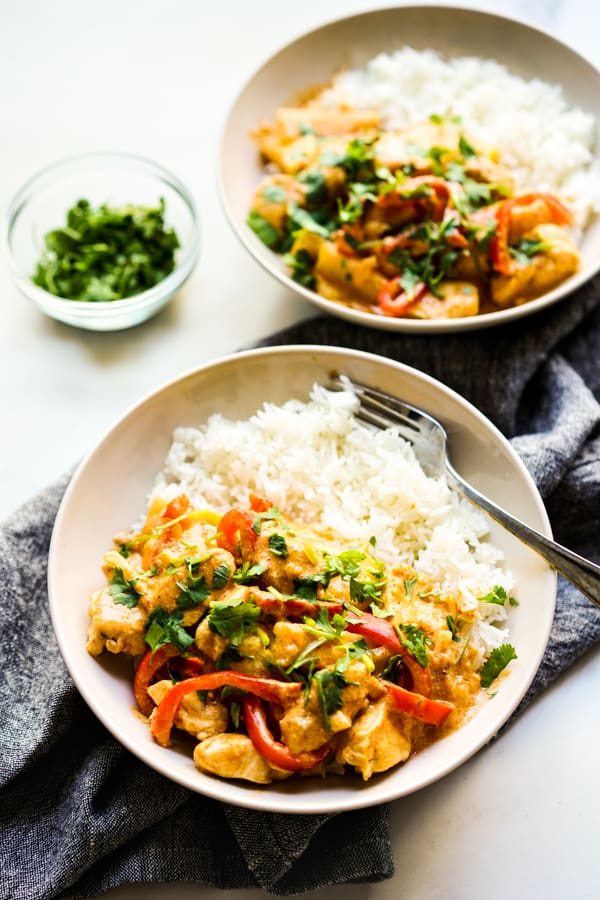 Once it is done, remove from heat, garnish generously with lots of chopped cilantro because cilantro in that curry sauce gives it a new, super delicious layer of flavor.
My motto in life is "the more cilantro the better", but I totally get that cilantro isn't for everybody. So if you don't like cilantro, feel free to omit it. 🙂
Tips and Tricks
Prep all ingredients beforehand, because once you get started on the stove, the process goes quick!
Thai Red Curry Paste is what controls the spice level. Add more if you like your curry spicer and less if you don't. Two tablespoon of this brand of red curry paste will produce medium spicy flavors.
Different brands of curry paste will yield slightly different flavors and also different level of spiciness. If you are not familiar with a paste, always start with less and you can always add more as you go. Remember, once added you can't remove the curry paste! 😉
Zucchini adds moisture to the curry sauce. If you aren't using zucchini, your curry sauce might be slightly thicker and spicer using the measurements I provided. Add more water to thin out the sauce if needed.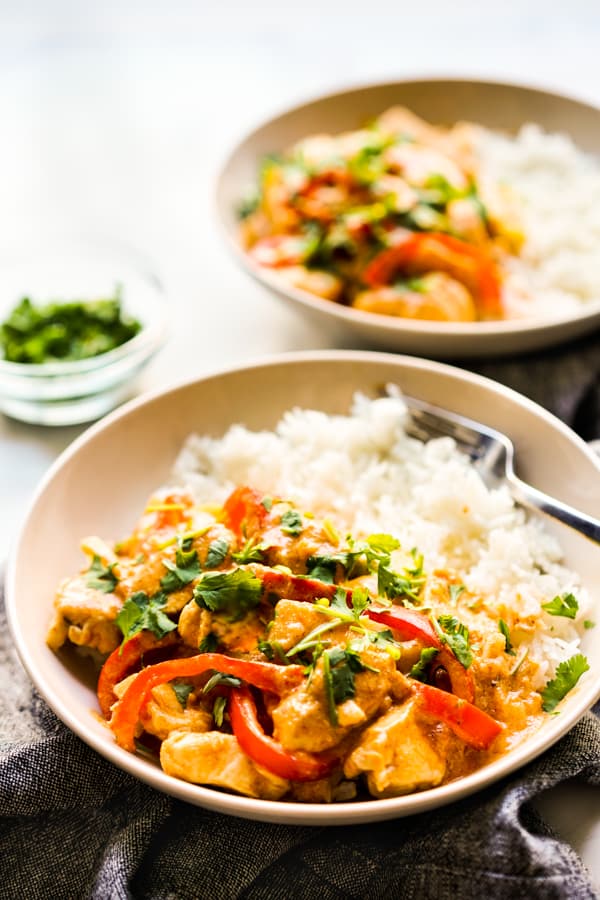 Serve it with some warm fragrant Jasmine rice for that ultimate Thai cuisine experience right in the comforts of your own home.
You don't have to tell anybody it's actually 30-minute easy.
Some secrets are okay to keep. ❤️
DID YOU ENJOY THIS RECIPE? Please comment below and give us a 5-star rating! This will help others find this recipe on Google and Pinterest. We very much appreciate your help! 🤍
Other Thai/ Southeast Asian Recipes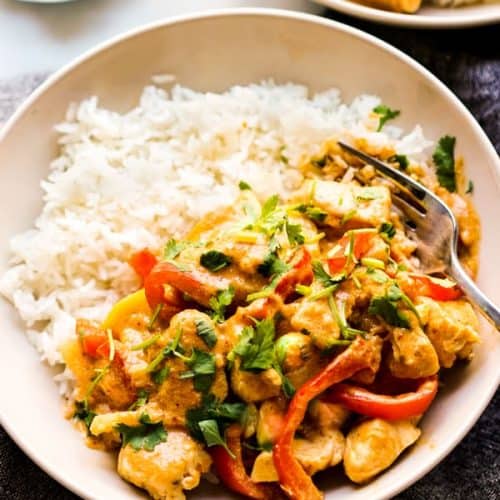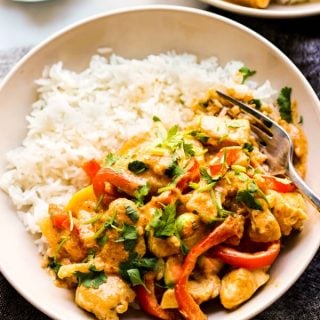 Thai Red Curry with Chicken
This Thai creamy red coconut curry recipe is combined with chicken, bell peppers, bamboo shoots, and zucchini, and garnished with cilantro. Takes only 30 minutes to make and is incredibly flavorful and tasty!
Print
Pin
Ingredients
2

tsp

cooking oil

1.5

lbs

chicken tenderloins

cubed

2

tbsp

Thai red curry paste

5-6

cloves

garlic

2

tsp

ginger root

chopped

13.5

oz

canned unsweetened coconut milk

2

tbsp

fish sauce

1

tbsp

brown sugar

1

tsp

lime zest

1

tbsp

lime juice

1

zucchini

cubed

1

red bell pepper

sliced

5

oz

canned bamboo shoots

drained

1

tsp

corn starch

optional

1/4

cup

cilantro

garnish

salt

to taste, optional
Instructions
Heat cooking oil in a large skillet under medium high heat.

Once oil is bubbling, add chicken to skillet. Once chicken is almost cooked, add Thai red curry paste (see Note 1), garlic, and ginger. Stir continuously for a minute until fragrant.

Add coconut milk, fish sauce, brown sugar, lime zest, and lime juice to skillet. Bring to a boil and cook for few minutes. Stirring continuously.

Add zucchini, bell peppers, and bamboo shoots. Cook for a few more minutes until zucchini is soft. Stir continuously.

Optional: To thicken curry sauce, bring a few tablespoon of curry sauce to a cup and add cornstarch to cup. Stir until cornstarch dissolve then pour cornstarch + water liquid back to skillet. Bring to a boil.

Optional: add salt to taste to open up flavors.

Remove from heat. Garnish with chopped cilantro.
Notes
Note 1: 2 tbsp of Thai Red Curry paste will yield spice level of medium spicy. Use more or less curry paste to taste. Start with 1 tbsp of curry paste and add more to taste.
Nutrition
Calories:
491
kcal
|
Carbohydrates:
16
g
|
Protein:
41
g
|
Fat:
30
g
|
Saturated Fat:
22
g
|
Cholesterol:
109
mg
|
Sodium:
928
mg
|
Potassium:
1141
mg
|
Fiber:
4
g
|
Sugar:
10
g
|
Vitamin A:
2329
IU
|
Vitamin C:
55
mg
|
Calcium:
56
mg
|
Iron:
3
mg