Chicken and Brussels Sprouts Stir Fry
The rumors are true. This Thai-inspired Chicken and Brussels Sprouts Stir Fry dish combines crunchy, flavorful and lots of amazing textures, all in one simple-to-make bowl. And since then, dinner has never been this delicious…and easy.
Prepare to eat your hearts out on this one.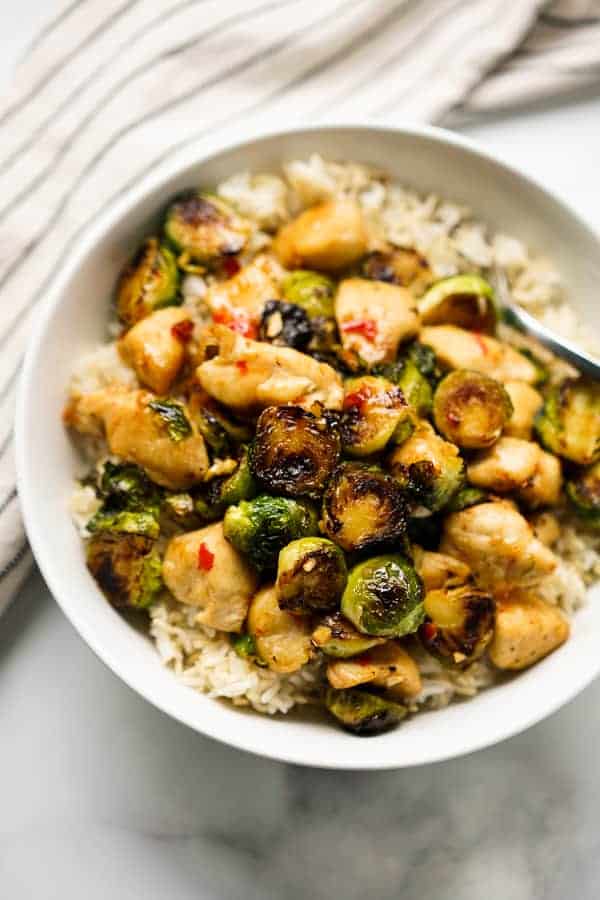 Happy 2020, friends! As we kick off the new year, I wanted to bring you one of our favorite go-to meals.
I make some variation of this dish all the time, especially during busy weeknights when I need to quickly whip something together. It takes about 25 minutes to put together and requires only 6 ingredients.
And yes. That includes the chicken and the Brussels sprouts. 😉
In fact, I make this so often, and it is so simple that I have overlooked it when it comes to sharing the recipe on here.
Sometime last year, my husband and I were at a Thai restaurant in town and we ordered some Thai-crispy Brussels sprouts and we love it so much I was determine to recreate it in my kitchen. You know, instead of paying $9 for a tiny plate of Brussels sprouts side dish. 😉
The dish was savory, sweet, with a slight (very slight) kick. I will be honest, I am not sure if I made it exactly the way it was at that lovely Thai restaurant. But oh my gosh what I made tasted so good I just stopped trying.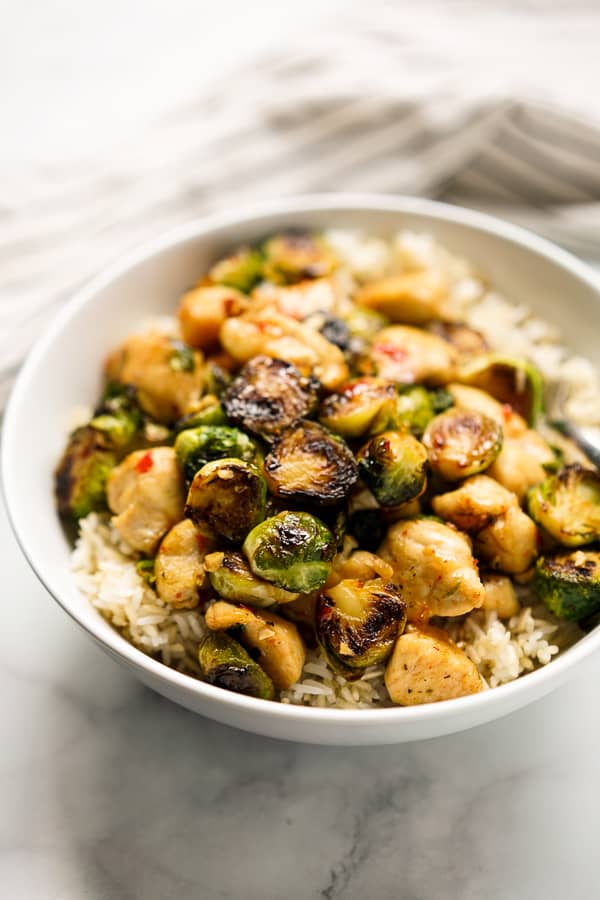 This was more than enough for me, people. MORE THAN ENOUGH.
Over time, we incorporated protein into this dish and turned it into a complete meal in one bowl. Sometimes we substitute Brussels sprouts with whatever we had in the fridge, and that have been carrots, broccoli, broccolini, asparagus, etc.
Which brings about another wonderful thing about this dish, and that is it is super versatile. Mix and match and make it your own.
If you aren't the "make it your own" kinda person, stay true to the course I am about to lay out and I promise you you cannot go wrong that way either. 😉
Key Ingredients
I need to spend some time talking about the key ingredients for this dish. First off, note the very small number of ingredients this recipe is calling for.
A whooping six ingredients. OH YES SIX.
Probably the most tasty six-ingredient dish you will ever put into your mouth.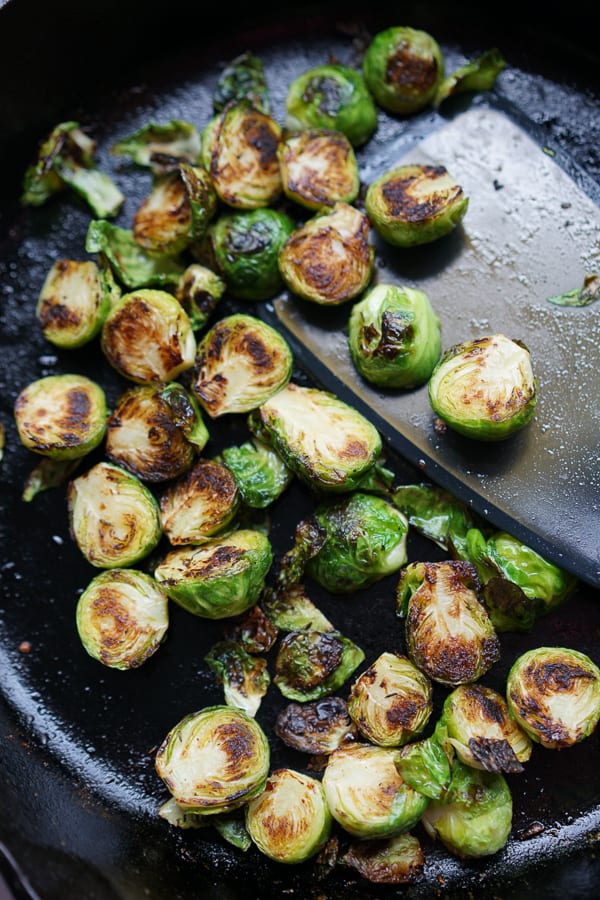 And these four key ingredients are the reason behind the amazing flavors:
Thai Sweet Chili Sauce – this sauce is primarily sweet with a very slight hint of spicy. It is the amazing sauce that made my Baked Cream Cheese Wontons as yummy as it is. And the affiliate link attached is the link to my favorite brand!
Fish Sauce – please do not be intimidated by the sound of this. It has a strong scent prior to cooking, but after it is cooked the scent changes and it truly brings life to the dish. It is also a key ingredient in many Thai dishes such as Pad Thai and Pad See Ew. If you had Thai food you most likely have had this!
Oyster (Flavored) Sauce – also a common sauce used a lot in Asian cooking! The key to transforming a simple dish!
Fresh Garlic – do not substitute for garlic powder. The fresh ones make a big difference!
You will need these four ingredients and I highly recommend to not substitute any of them.
The Thai Sweet Chili Sauce, Fish Sauce and Oyster (Flavored) Sauce have complex flavors by themselves and when combined bring much depth and dimensions to the dish.
What appliances to use?
Appliances are an important part of a stir fry, especially one like this where you want to brown (slightly char) the Brussels Sprouts.
A wok or a cast iron skillet would work very well because both typically retains heat very well and can withstand high heat.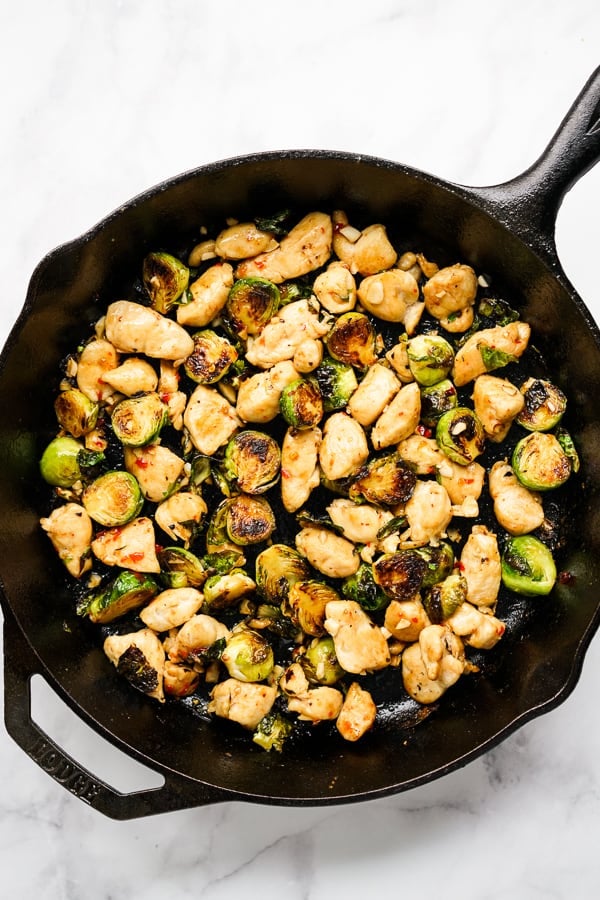 If you don't have a wok or a cast iron skillet, you can definitely use a regular skillet but pick one that can withstand the high heat.
A solid turner is also very helpful. This one that I have used for many years can withstand up to 600 degrees F!
Chicken and Brussels Sprouts Tips and Tricks
A couple more things to note! 🙂
Use a skillet or wok that can withstand high heat and retain high heat to make this dish.
When cooking the Brussels sprouts, make sure you use enough vegetable oil as the hot oil will help create a nice brown char on the outside of the Brussels sprouts.
The stir frying process goes fairly quickly! Be sure to continuously stir the skillet or wok when cooking!
This is a fairly dry dish but rest assure, still full of flavor! If you want it with a bit of a sauce, add one tablespoon of water to dish close to the end of the stir frying process. But be careful not to dilute the flavors!
A little bit of fish sauce goes a long way – that thing is salty!
Don't be turned off by the smell of fish sauce. It seriously tastes very different from the way it smells. If you've had Thai dishes, you've had fish sauce. It is in Pad Thai, Pad See Ew, and lots of Thai dishes!
Highly recommend serving this with white or brown rice. But equally as good to be enjoyed by itself if you want a low carb meal.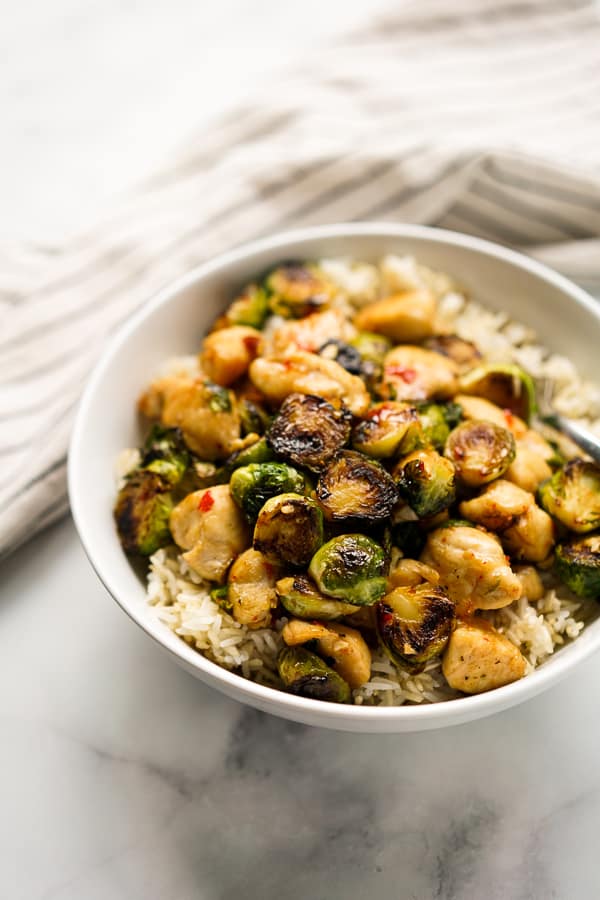 Last, and definitely not the least, sit back and enjoy this beautifully easy, exceptionally dreamy Chicken and Brussels Sprouts dish. 🙂
Disclaimer: this is not an authentic Thai dish but it is inspired by Thai flavors and uses Thai ingredients such as fish sauce and Thai sweet chili sauce.
But most importantly, it is exceptionally delicious. 🙂
For more authentic Thai dishes, check out some of my favorites here: Thai Mango Sweet Sticky Rice, Pad Thai, Pad See Ew.
Other Brussel Sprouts Dishes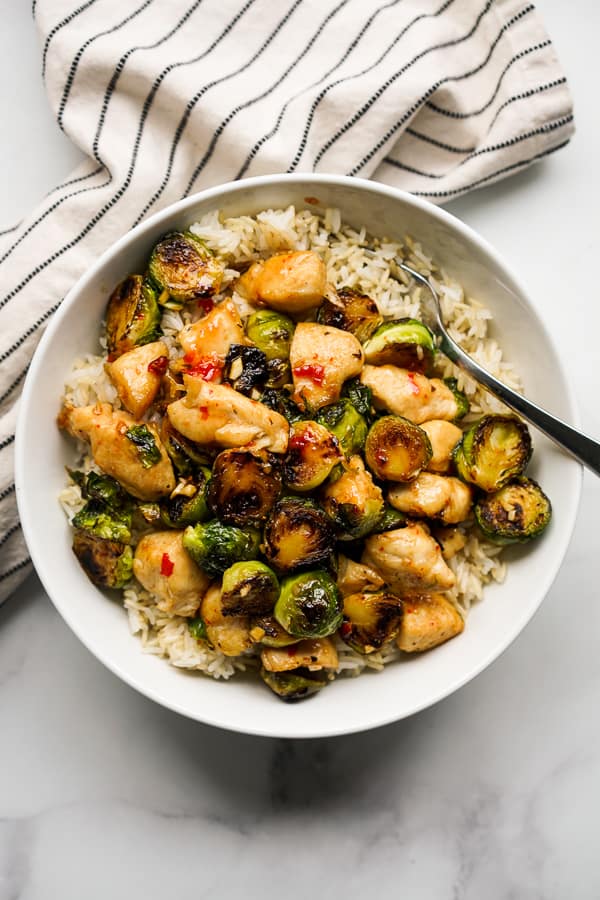 Other Asian Inspired Dishes
That's all for today! A.k.a. my first post of 2020! If you make it this far, YOU DA BEST. 🙂 Have a great day and happy cooking!
DID YOU ENJOY THIS RECIPE? Please comment below and give us a 5-star rating! This will help others find this recipe on Google and Pinterest. We very much appreciate your help! 🤍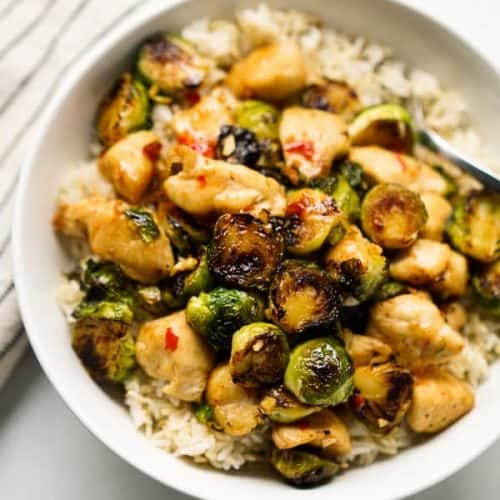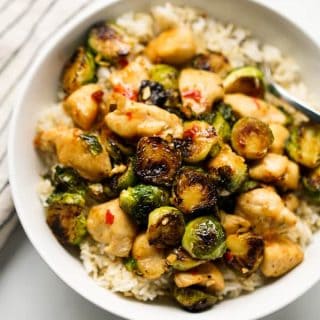 Brussels Sprouts and Chicken Stir Fry
An Asian-inspired stir fry dish that is healthy and easy to make. Flavorful and filled with great textures, this dish combines crunchy Brussels with juicy chicken in an amazing Thai-inspired sauce.
Print
Pin
Ingredients
1/2

lbs

brussels sprouts

1

lbs

chicken tenderloin

3-5

cloves

fresh garlic

vegetable/canola oil
Sauce
1/2

tbsp

fish sauce

1/2

tbsp

oyster (flavored) sauce

1 1/2

tbsp

Thai sweet chili sauce

more if needed
Instructions
Prep ingredients: wash and cut brussels sprouts into halves, slice chicken tenderloin into 1-2 inch pieces, and mince garlic.

Heat a large cast iron skillet or wok, then add ~ 1 tbsp vegetable oil (more if needed). Add Brussels sprouts and cook until they are browned. Stirring continuously. If the skillet looks dry throughout the process (no more oil on the bottom), add more vegetable oil.

Once Brussels sprouts are brown on the outside and soft on the inside (do not overcook), remove from skillet and set aside.

Add more vegetable oil if needed. Then add garlic and chicken. Cook chicken, stiring continuously, until it is very close to being done, then add Brussels sprouts back into the skillet.

Add all three ingredients under "sauce" to the skillet. Stir to combine.

Once chicken is cooked, remove everything promtly.

Serve and enjoy! Optional: add more Thai Chili Sauce to the dish when serving.
Nutrition
Calories:
249
kcal
|
Carbohydrates:
12
g
|
Protein:
35
g
|
Fat:
6
g
|
Saturated Fat:
3
g
|
Cholesterol:
97
mg
|
Sodium:
597
mg
|
Potassium:
866
mg
|
Fiber:
3
g
|
Sugar:
6
g
|
Vitamin A:
615
IU
|
Vitamin C:
67
mg
|
Calcium:
45
mg
|
Iron:
2
mg