This post may contain Amazon or other affiliate links. As an Amazon Associate I earn from qualifying purchases at no additional cost to you.
Cozy and comforting Instant Pot Wonton Soup recipe, featuring a flavorful Wonton Soup Broth made easy using the Instant Pot! This recipe is for anyone looking to make an easy wonton soup dish at home!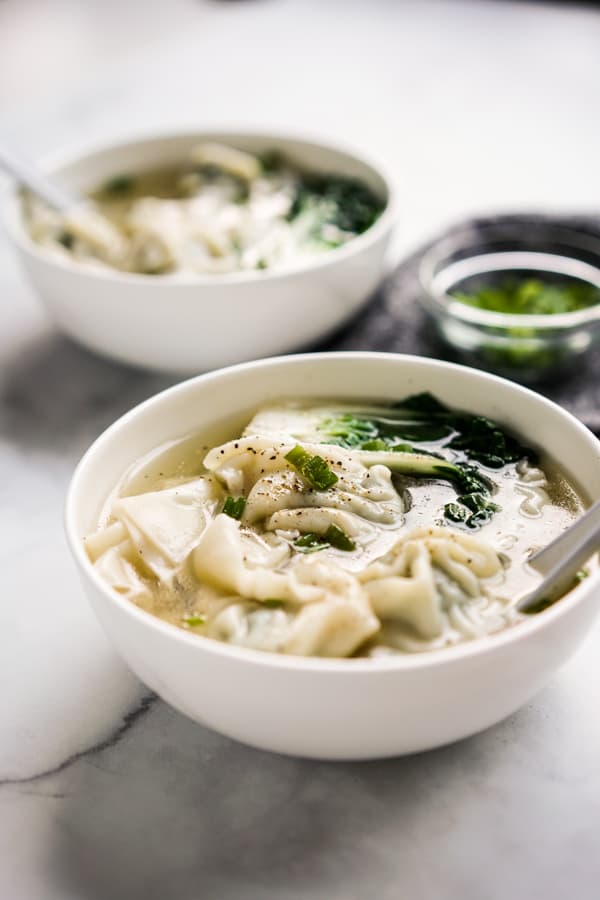 I grew up eating wonton soup. Either as a side dish to my meal, or sometimes by itself as a light lunch or dinner. It is comfort food for me.
The secret behind a good wonton soup (or any soup, really…) is the broth. And I am going to show you how to make the easiest, best Wonton Soup Broth using the Instant Pot!
While this is an Instant Pot Wonton Soup recipe, it is probably fair to say it is also very much an Instant Pot Wonton Soup broth recipe since we are using frozen wontons and making the broth from scratch.
I am using frozen wontons because that's the easiest way to get fairly good quality wontons without all the work. Wonton-making is truly an ordeal. A yummy one, but not one I embark on a normal, busy day.
Besides, you can get lots of delicious frozen wontons or potstickers from Asian or regular grocery stores!
If you have time and want the full experience of making wonton from scratch, check out these homemade pork wontons from Two Sleevers.
And if you want crispy wontons, this Baked Cream Cheese Wontons recipe is one of the most popular recipes on my blog and is kinda wontons from scratch as well. Just with cream cheese inside. 🙂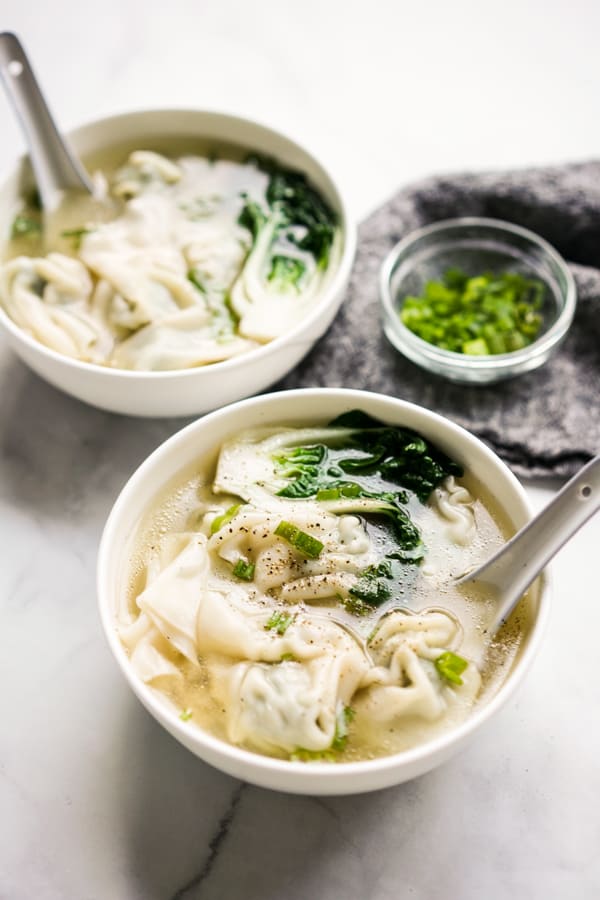 What is in Wonton Soup?
Okay back to our Instant Pot Wonton Soup recipe.
Wonton Soup is a popular soup recipe that you can find at Chinese restaurants. There are many different variations of it, but it typically consist of wontons in a clear seasoned pork or chicken broth.
Wontons can be made with pork, chicken, shrimp, or other meats or seafood. However, pork wontons are the most common in wonton soups.
Sometimes, you will also find leafy vegetables such as bak choy, Chinese barbecue pork, or other ingredients in the soup as well.
Wonton Soup Broth
I love my broth, and let me just say, this Instant Pot Wonton Soup Broth is the only way I make my wonton soup broths.
Here is why: the Instant Pot can pressure cook bone-in chicken and create deep, gorgeous flavors in broths in a way cooking on the stovetop cannot.
It is crazy delicious.
And also kinda life-change.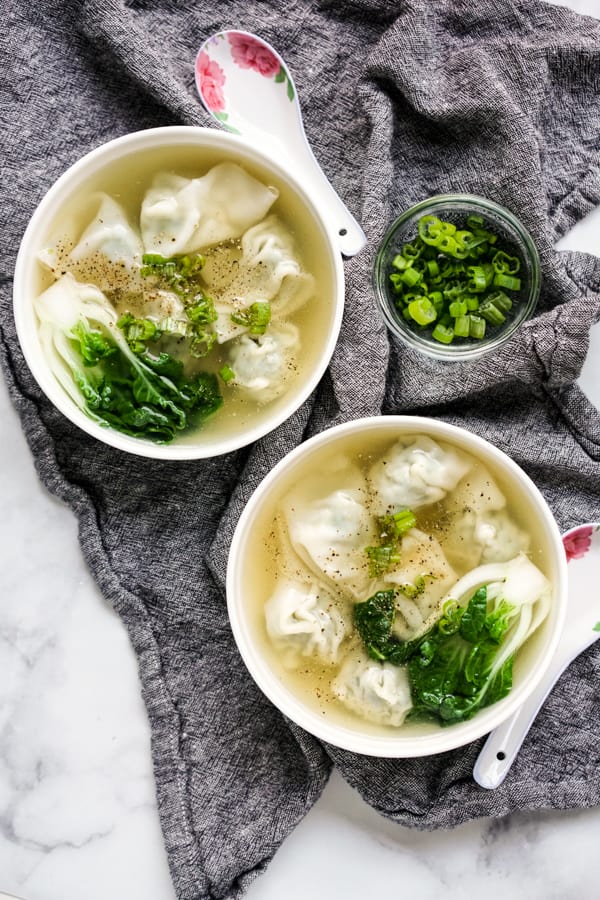 You can cook this on a stove top, but I highly recommend cooking the broth with the Instant Pot, as it will bring about a much more flavorful broth.
How to make it
Time to get cooking!
First, we will be making the broth. Cook all the ingredients below to the Instant Pot on high pressure for 18 minutes:
Bone-in, skin on chicken breast – the bones and skin provide more flavor to the broth.
Chicken broth
Ginger root
Shallots
Green onion – just the white part, save the green part for garnish
Garlic cloves – avoid using garlic powder
Salt
Once it is done, let the Instant Pot release pressure naturally for 10 minutes then move valve to venting position.
Open the lid and remove the chicken, garlic pieces, ginger pieces and green onion pieces using a small strainer, then bring the soup back to boil by using the 'sear' setting. Taste soup and add water to dilute it. Add salt to taste if needed.
This is also when you bring frozen wontons into the broth to cook. At the end of cook time, I also blanche (submerge in boiling water for 15-30 seconds) the bok choy.
Add sesame oil to soup to give it that extra flavor.
Serve soup in bowls, and garnish with chopped green onions and black pepper.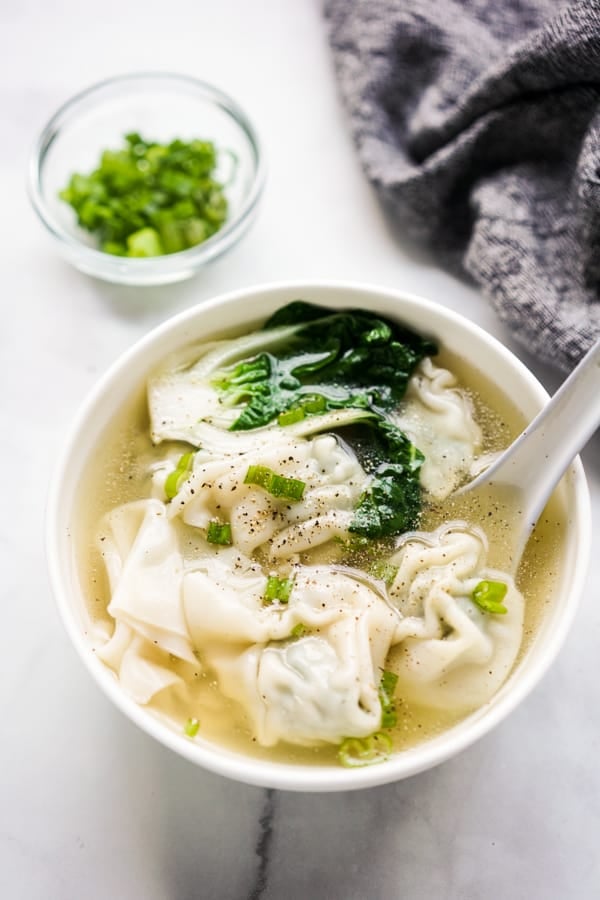 Side note: remember the chicken that you removed from the broth? You can shred it up and add to the soup, or use it for other dishes, salads or soups. We primarily use it to contribute delicious flavors to the broth.
Tips and Tricks
Make sure valve on Instant Pot is set to sealing position when cooking. When pressure cooking is complete, let it sit and release pressure naturally for 10 minutes and then move valve to venting position to continue to release pressure.
Do not overcook the vegetables or it will become soggy!
If soup doesn't taste flavorful, add more salt to open up the flavors. Salt does great in opening up flavors, not just to add saltiness to the soup.
On the other hand, if soup is tasting too salty, add water to it to dilute it. Different chicken broth will yield different level of saltiness so adjust accordingly.
When cooking with an Instant Pot, build it time for Instant Pot to build and release pressure (in addition to cook time).
Variations and substitutions
There are many versions of wonton soups, so feel free to add these ingredients to it if you'd like!
Carrots, another leafy veggie or other veggies – cook it with the bok choy
Chinese barbecue pork – if you happen to have this at hand this is a great addition. You see this serve in wonton soups in some Chinese restaurants.
Shredded chicken (chicken used earlier to cook the soup)
If you cannot find frozen wontons, use frozen potstickers or frozen dumplings instead!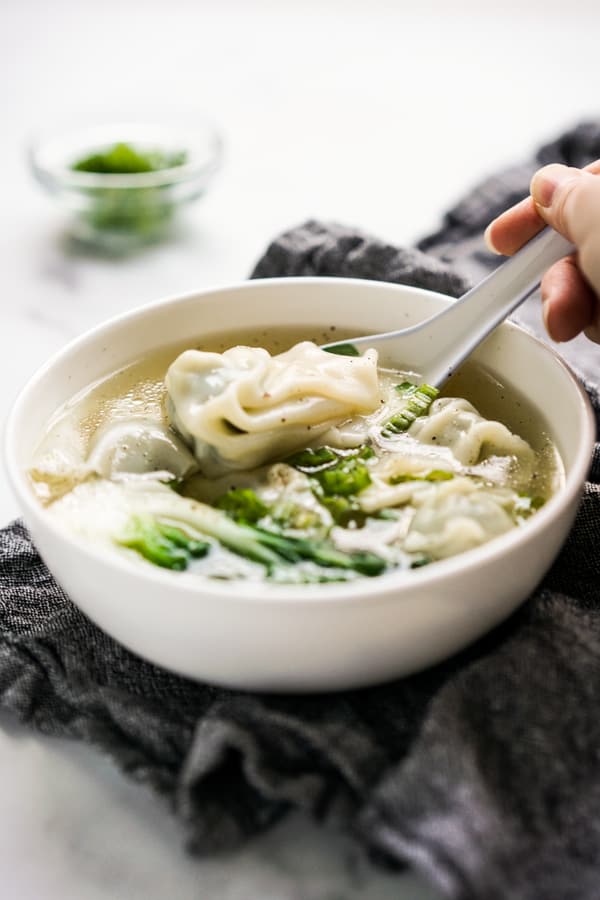 Warm, cozy, and oh so comforting.
Some people crave chicken noodle soups, I crave wonton soups. 🤍
If you make this recipe, comment below and let me know what you think! Also, don't forget to take a picture and tag me on Instagram, because I WANNA SEE!!
More Instant Pot Recipes
More Cozy Soup Recipes