This post may contain Amazon or other affiliate links. As an Amazon Associate I earn from qualifying purchases at no additional cost to you.
My Fall days will not be complete without this delicious Apple Cinnamon Bread. This cinnamon flavored moist quick bread is filled with apple pieces, topped with lots cinnamon crumbles, and drizzled with delicious condensed milk topping.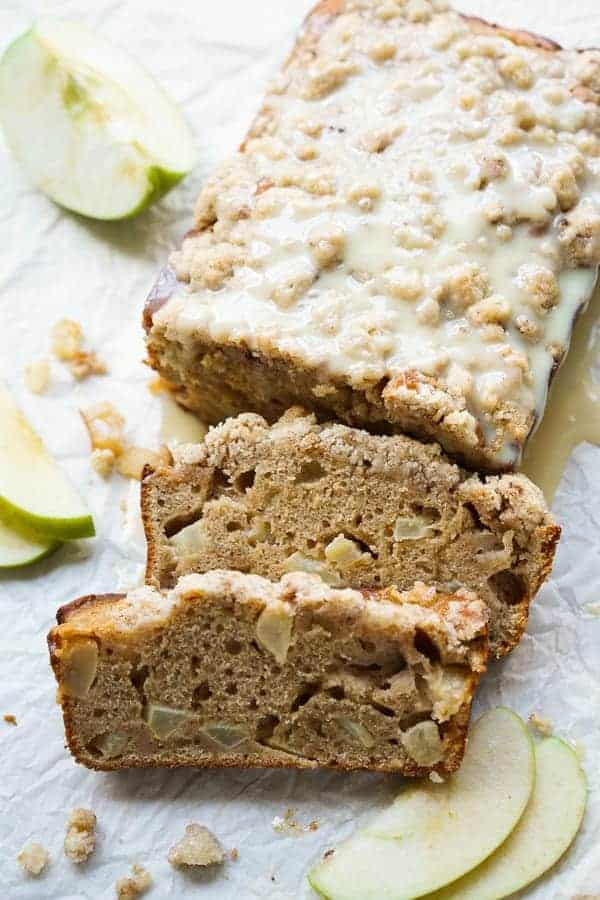 As a food blogger, some recipes come together in a snap. But for this one, that wasn't the case. I worked real hard on this bread. I made it almost a dozen times to get it to the right consistency and taste, make sure it's simplified enough to put together, but yet tasty enough to blow your socks off.
My sweet husband ate every single loaf like a champ.
I have been dreaming of a delish Apple Cinnamon Bread recipe and I'm proud to say, I did it. This is a keeper.
And a lot of sweat and blood throughout the process. 😉
Why you need this Apple Cinnamon Bread
Fall equals all things apples.
I'm starting to feel that Fall loveliness in the air, my friends, and I'm excited to start making all my favorite Fall foods, from my Easy Apple Crisp to Brown Sugar Pecan Roasted Sweet Potatoes to Beef Stew. Or my friend Tania's Apple Cinnamon Pancakes. YUM.
Adding to the list of Fall favorites is of course this lovely Apple Cinnamon Bread.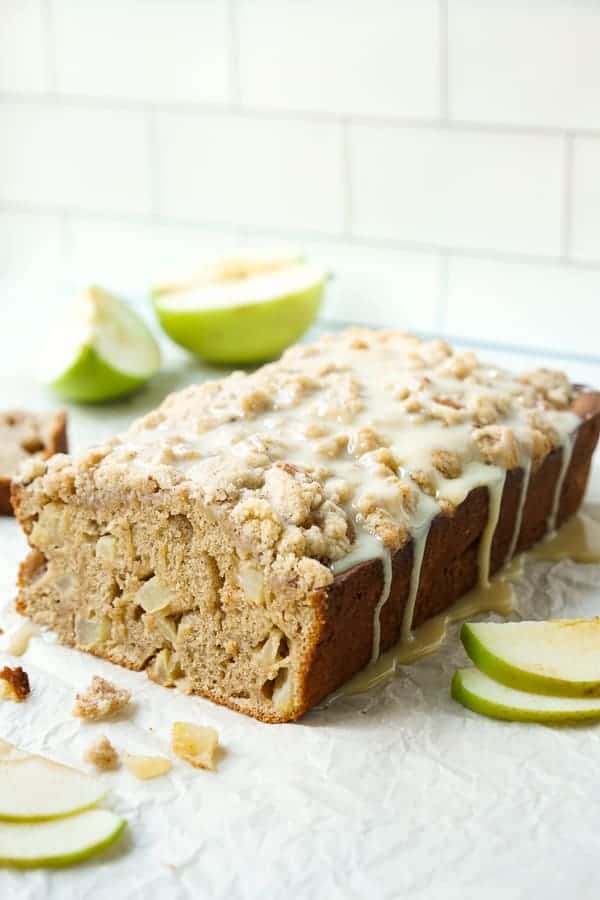 And here's what I like about it:
Oh so tasty!
Easy to make
When it bakes, it fills your home with the heavenly scents of baked cinnamon and apples
It is not too sweet, but sweet enough
We are generous with the apples so you betcha every bite will be apple-filled
I can't call it crazy healthy, but I made this with Greek yogurt and minimal amount of butter, which I'm both proud of and happy about.
It makes breakfast so so easy (grab and go! or, grab and eat!)
It's a celebration of Fall 🙂
How to make Apple Cinnamon Bread
There are really four parts to this recipe:
Apples
Wet ingredients
Dry ingredients
Crumble
Okay now. Let's get baking!
Dice apples into small pieces. You can cut the apples up any way you like, however, I find that if the slices are too large or too thick, it will not soften completely when baked.
As for the wet ingredients and dry ingredients, mix them up separately and then combine them.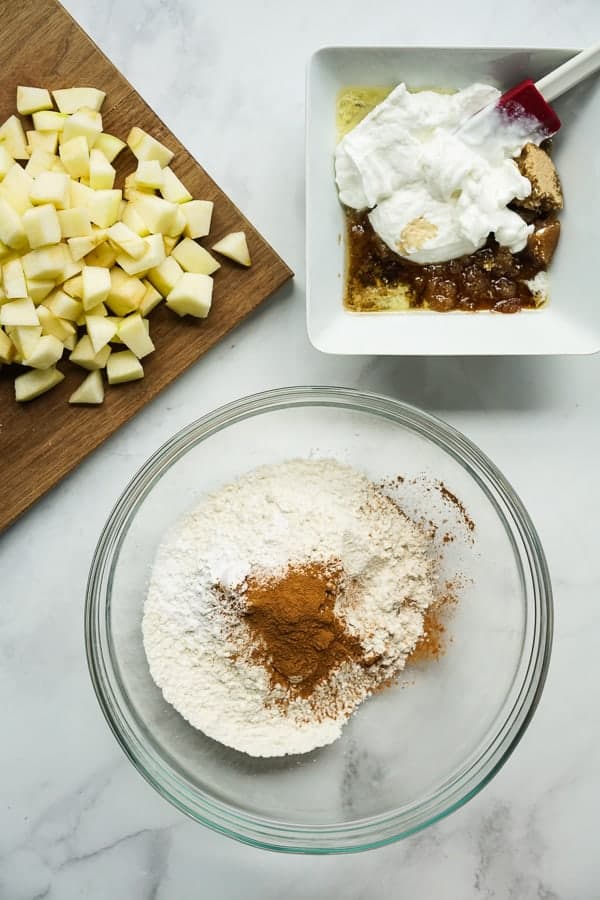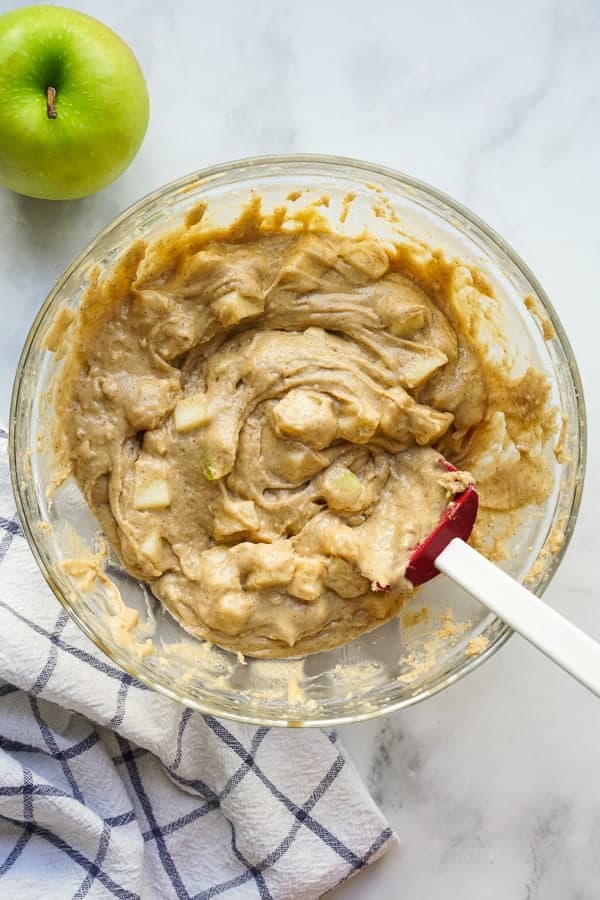 As for the crumbles, after combining the ingredients, I highly recommend refrigerating them for 5-10 minutes, and stirring them after that the butter hardens slightly and pieces of crumbles formed.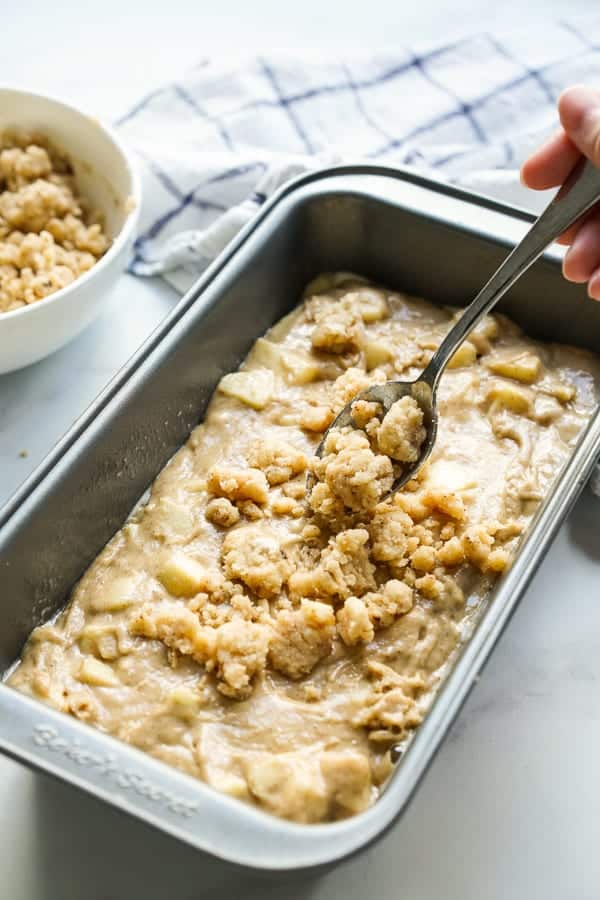 Send the Apple Cinnamon Bread into the oven to bake, and let it cool.
And last, but obviously not the lease, I like to drizzle it with luscious condensed milk. This gives it that extra sweetness, along with creamy milky taste.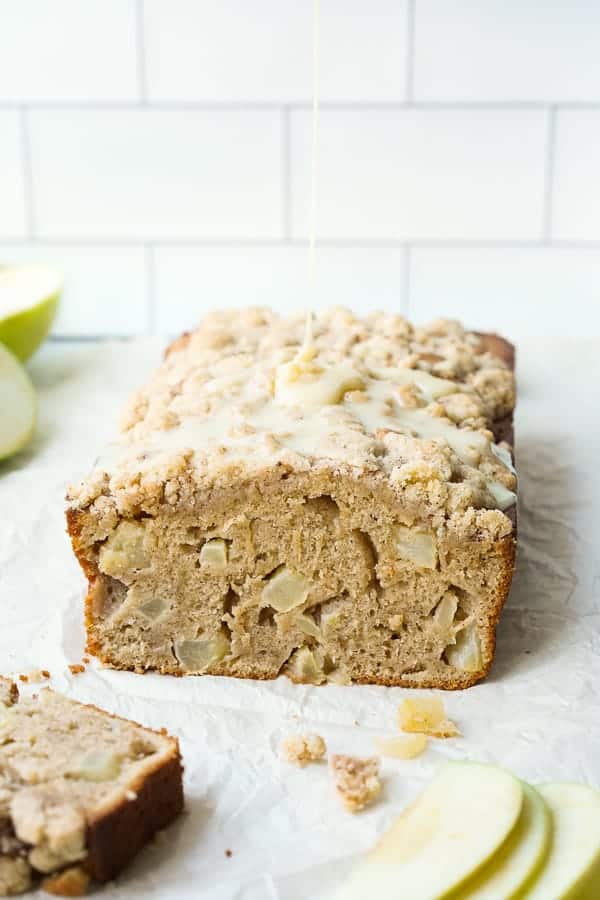 Also, feel free to add extra condensed milk after cutting the bread into slices.
Or use it as a dip. Dip that Apple Bread in there like you mean it. Yes yes yes.
In short, feel free to add more condensed milk in addition to just dripping them on the top of the bread.
What type of apples to use
I used Granny Smith, and that tends to be a popular baking apple in general. However, feel free to use Golden Delicious, Jonagold, Honey Crisp etc.
Tips and Tricks
We are not quite done yet! Here are a few other tips and tricks that will help you make this Cinnamon Apple Bread recipe a success!
Line bread pan with parchment paper for easy cleanup! Parchment paper is a baker's best friend
Refrigerate crumble for 5-10 minute to harden butter and get a nice crumbly texture
Be generous with that condensed milk.
Highly recommend serving with some butter melted on the warm bread.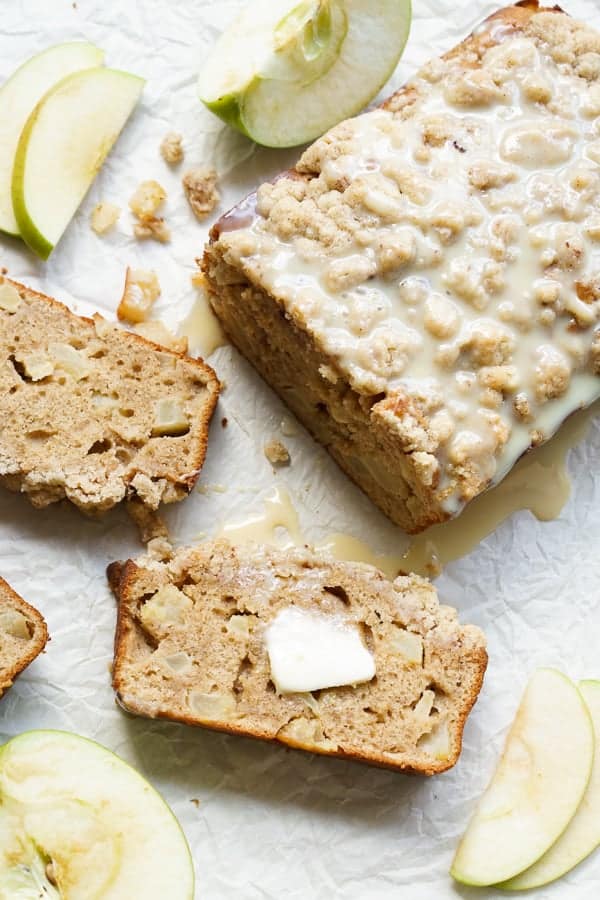 Fall is here. Apple season is here. October is (almost) here.
Make this delicious bread for yourself and welcome Fall with an open arms.
Happy happy baking!
P/S: If you have been following my blog, you might notice this recipe is very similar to my ever popular Blueberry Bread with Crumb Topping. I like to think of it as the Fall counterpart to the summer-y Blueberry Bread. 😉
Other Breakfast Baked Goods!
If you make this recipe, comment below and let me know what you think! Also, don't forget to take a picture and tag me on Instagram, because I WANNA SEE!!