This post may contain Amazon or other affiliate links. As an Amazon Associate I earn from qualifying purchases at no additional cost to you.
Make THIS for your weekend brunch! Prepare the night before, pop into the oven when you wake up in the morning, and you'll get yourself a moist on the inside, slightly crispy on the top Berry French Toast Casserole with loads of fresh strawberries and blueberries.
Then you drizzle that maple syrup all over it, because truly, YOU MUST.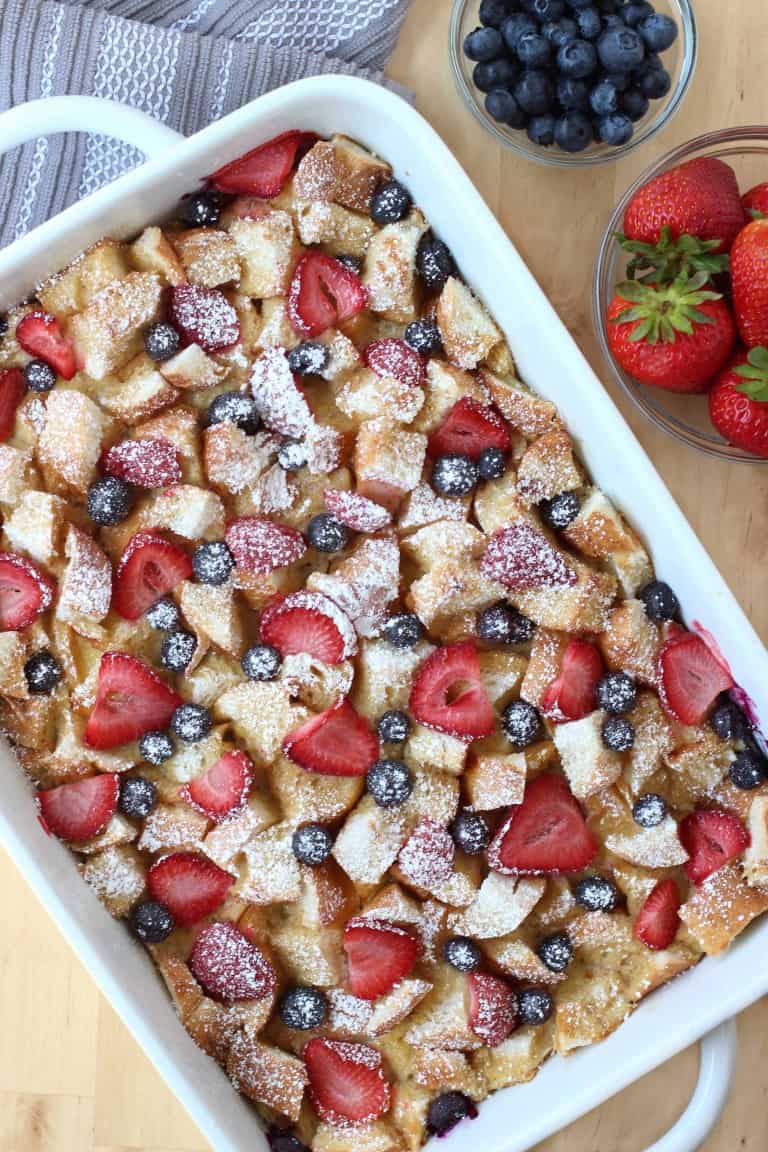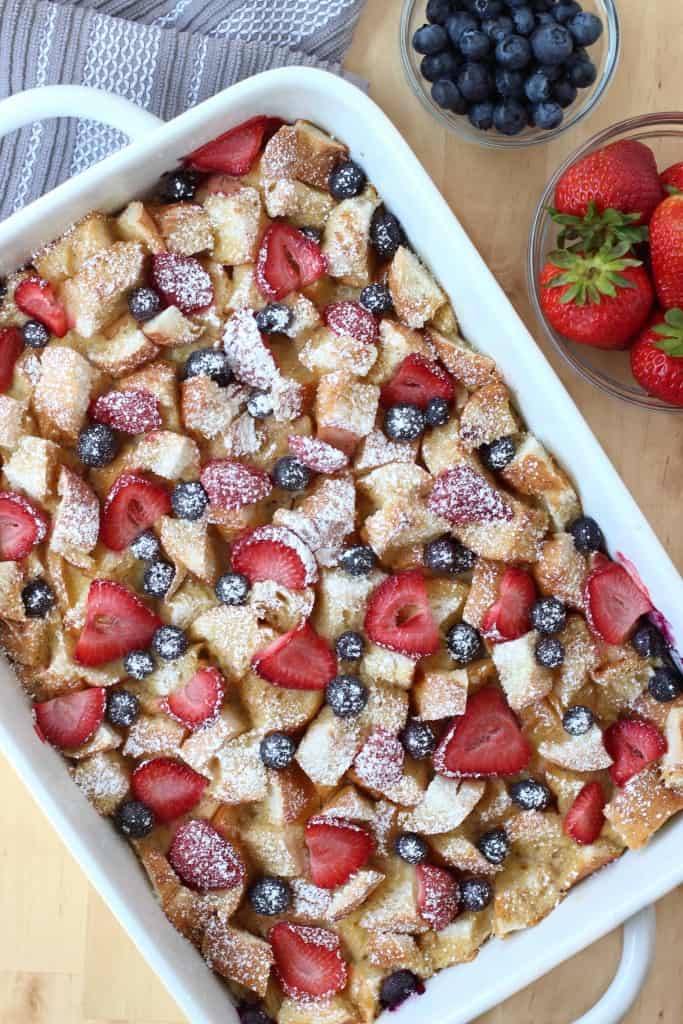 Why Berry French Toast Casserole?
Friends, are you a brunch person? Well, I am. I love waking up slowly on Saturday morning and indulge in some hearty brunch food while I sip coffee, all in my pajamas… Ah, gotta love a nice and slow weekend.
Every now and then, on the menu for weekend brunch is french toast. I would wake up in the morning and cut up bread and dip them into the egg mixture and pan fry these bread.
That is, until I was introduced to the concept of french toast casserole. Then it all happened – my weekend brunch changed for the better…
See, with French Toast Casserole you make everything ahead the night before, let the bread soak in that egg mixture combined with cinnamon, brown sugar and vanilla extract, then the next morning you pop in the oven and viola. BREAKFAST IS SERVE.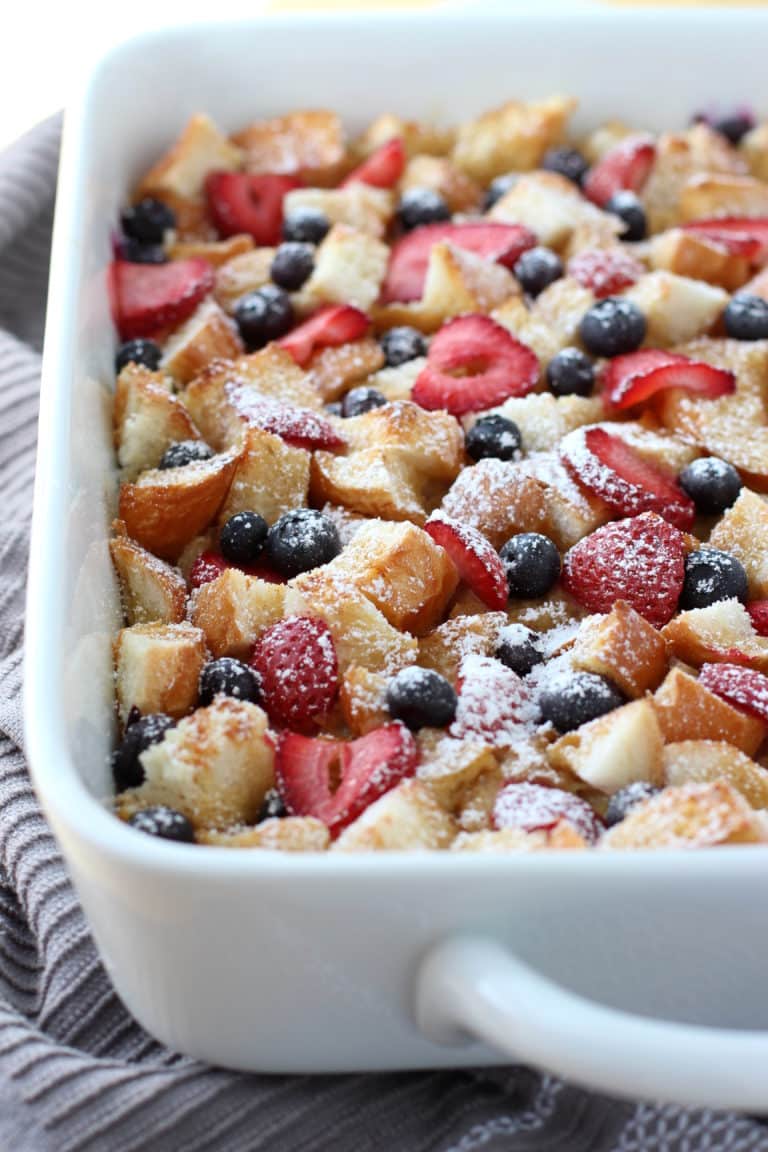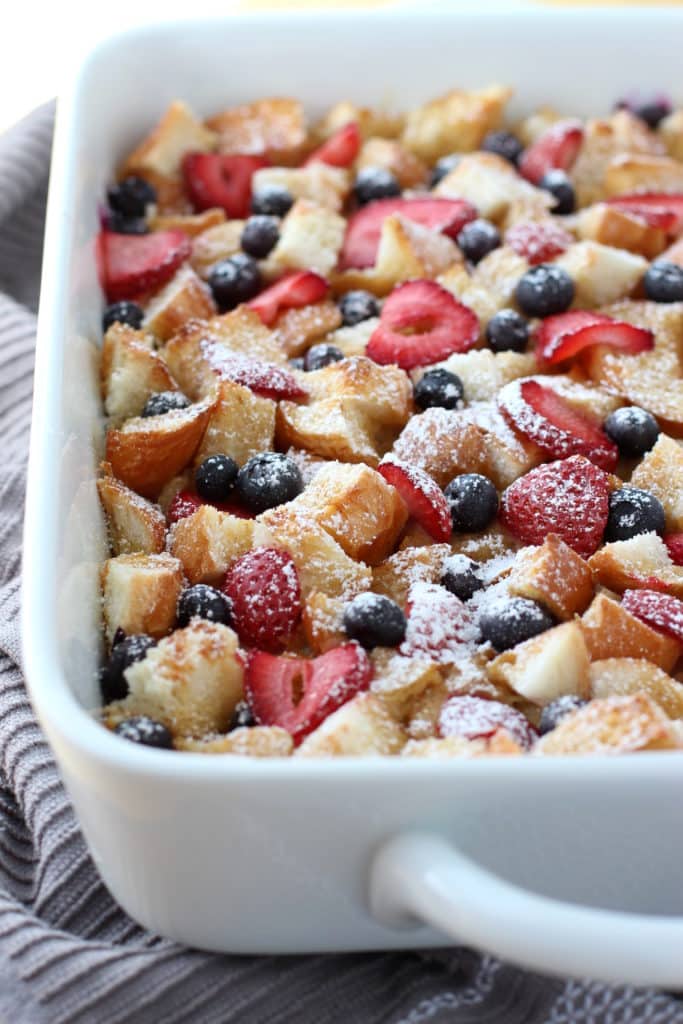 With all the fresh berry action going on during the summer, it will be a shame to not top this custard-y bread with loads of fresh, sweet-as-candy berries. The fruity goodness pairs so well with it.
So there you go – Berry French Toast Casserole. The berry best kind of french toast casserole. Pun absolutely intended.
How to make Berry French Toast Casserole?
As mentioned, a lot of the real work happen the night before. Cut french bread into cubes and fill ~3/4 of a 9″ x 13″ casserole with the bread. You can use other breads such as regular white bread, brioche, croissant, etc.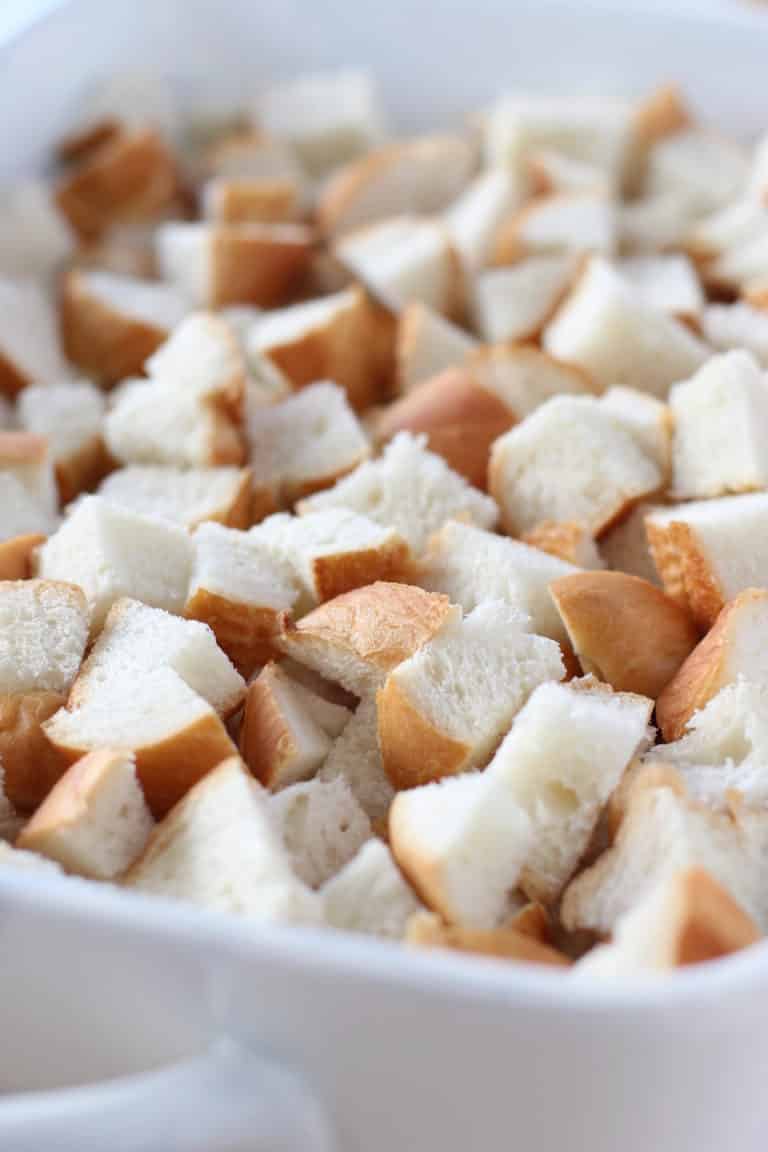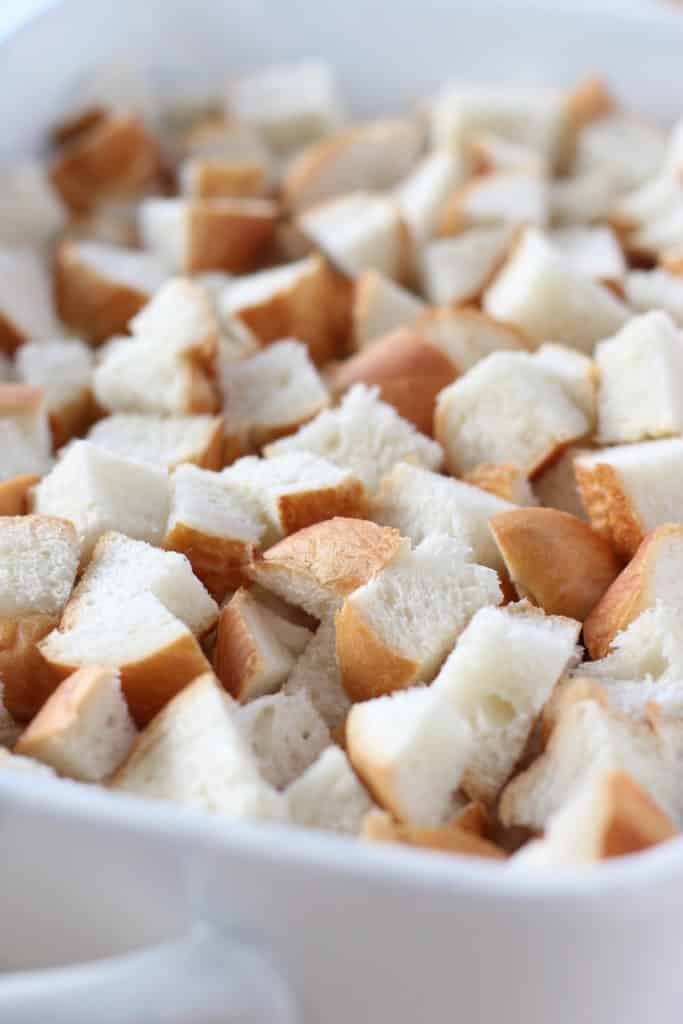 Next, in a large mixing bowl, mix together 8 large eggs (yes, lots of eggs!), 2% milk, cinnamon, vanilla extract, and brown sugar. Then pour the mixture onto the casserole.
Top with sliced strawberries, blueberries, or other berries you like!
Cover casserole with a saran wrap, then refrigerate for at least 4 hours or up to overnight. We are letting the bread soak up the egg mixture during this time.
Then (typically this is the next morning for me in my pajamas) bake at 350 for 35-40 minutes. I check at the 35 minute mark, and bake for longer if needed.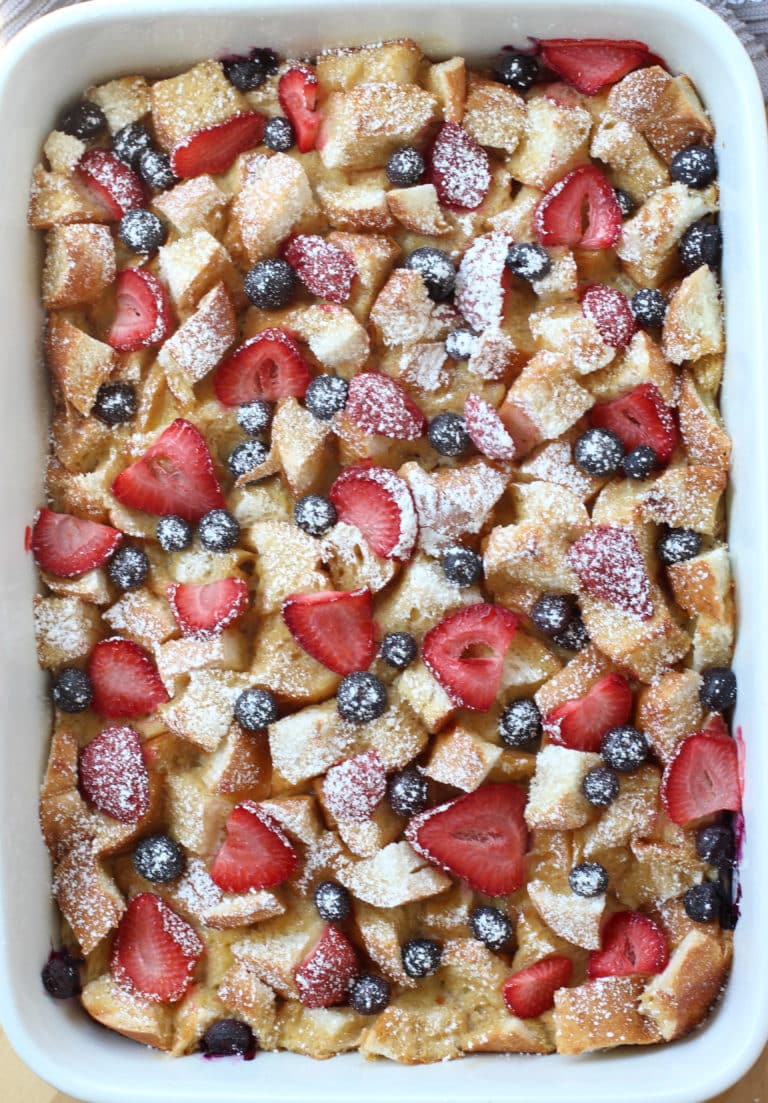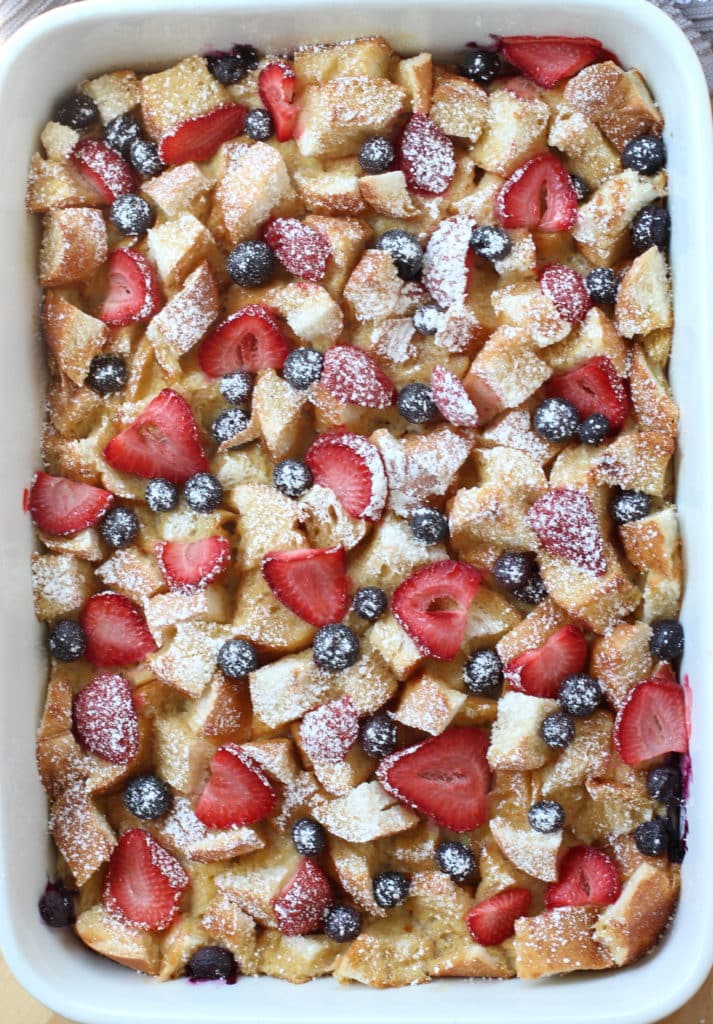 Sprinkle with powdered sugar, because, come on, it's powdered sugar. Life's necessary pleasure.
I MEAN. Talk about kicking off your day RIGHT.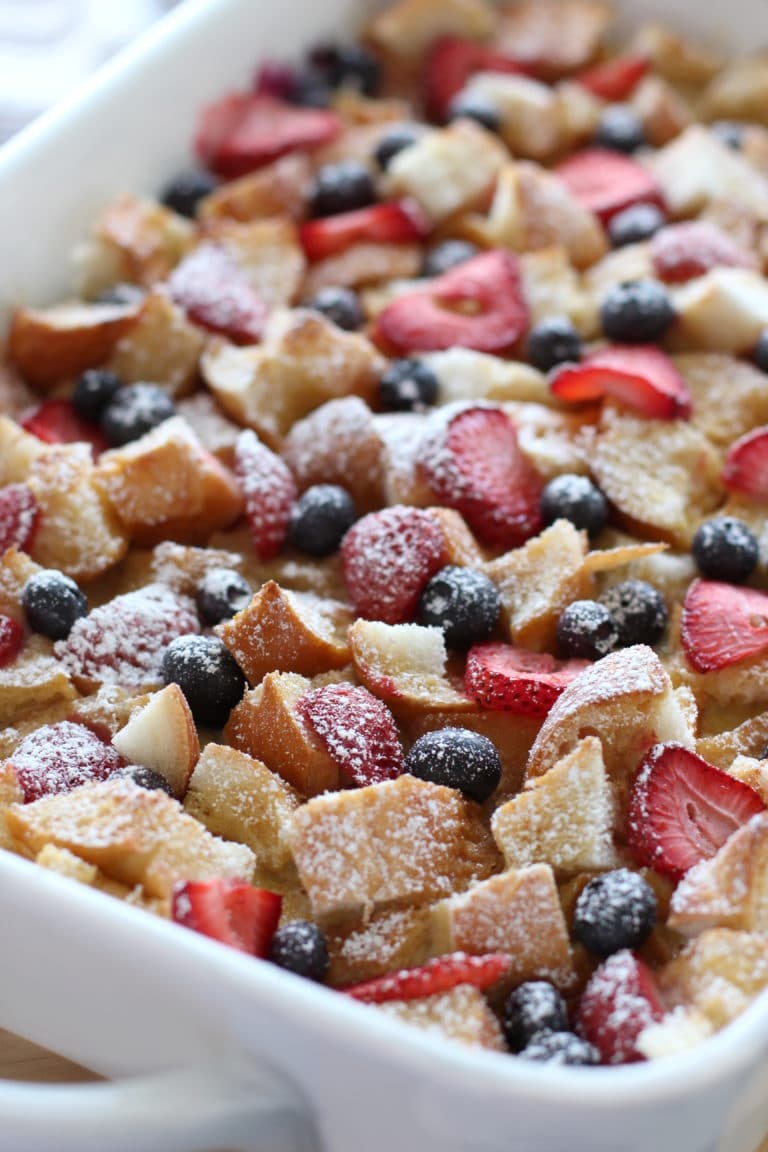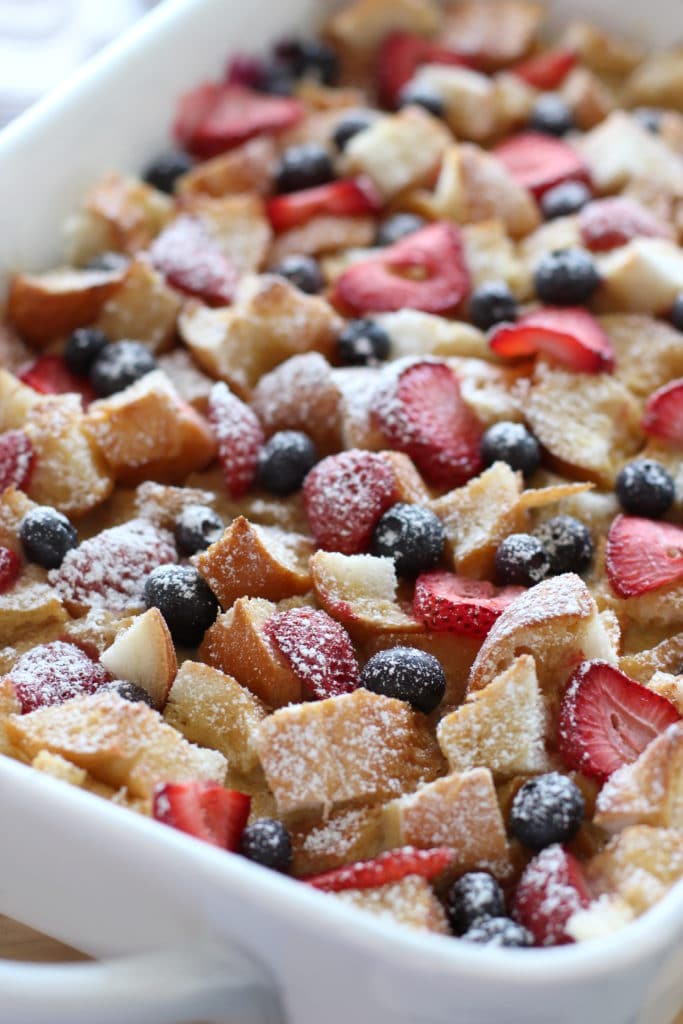 The bread is flavorful and moist after being soaked in the egg mixture. The edges and the top is slightly crispy. The juicy, sweet berries is a great compliment to the custardy dish. SO DELISH.
This thing will feed a crowd or you'll have plenty of leftovers. NOT A BAD DEAL AT ALL.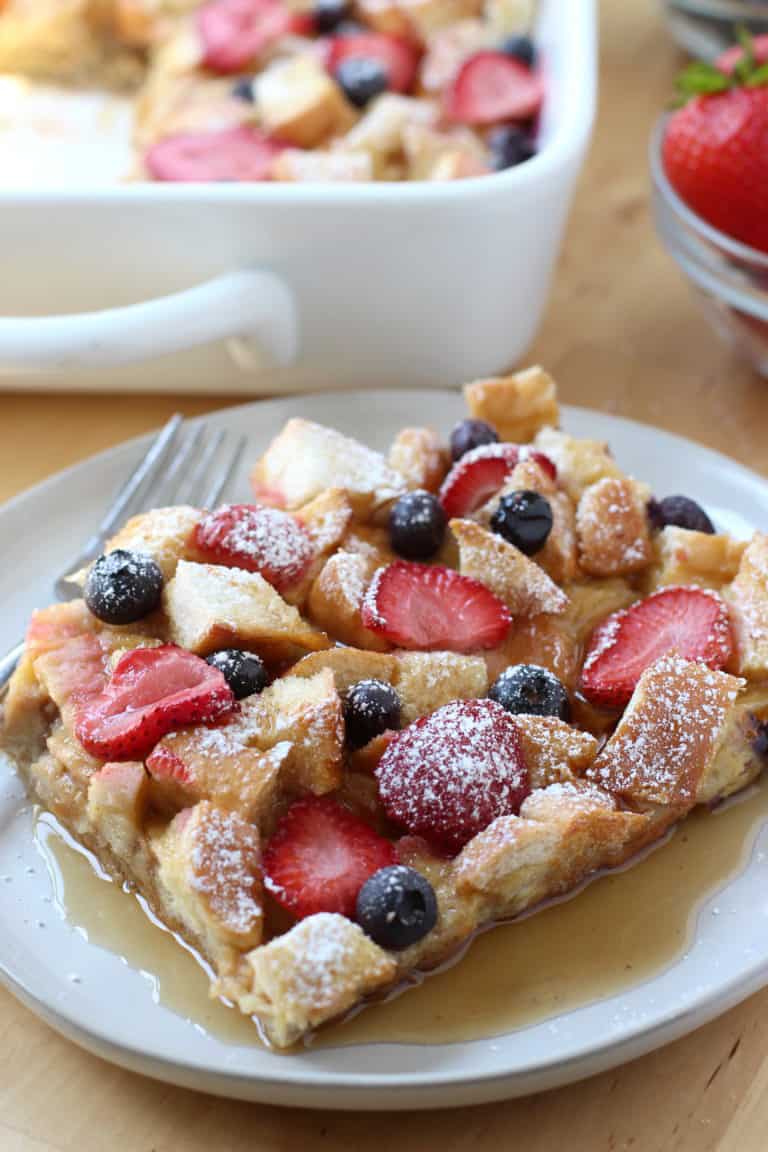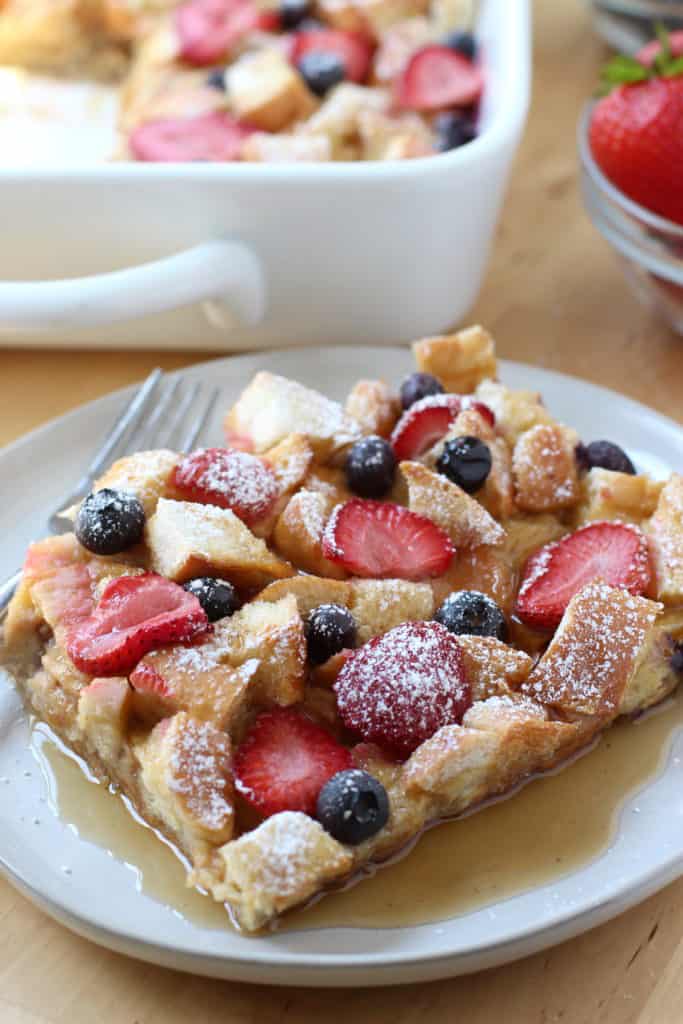 In my most humble opinion, the best way to serve this yummy goodness is to drizzle maple syrup (especially the good kind!) on it. And maybe pair it with a few slices of bacon.
BREAKFAST DREAMS DO COME TRUE.
Can I use frozen berries
Yes! Substitute fresh berries with frozen berries if fresh berries are not available.
How to store Berry French Toast Casserole
Keep in the refrigerator in an airtight container for a few days. Store maple syrup separately. When ready to serve, heat in microwave and serve with maple syrup.
If you make this recipe, comment below and let me know what you think! Also, don't forget to take a picture and tag me on Instagram, because I WANNA SEE!!
Other breakfast dreams…