Ham and Cheese Croissant Casserole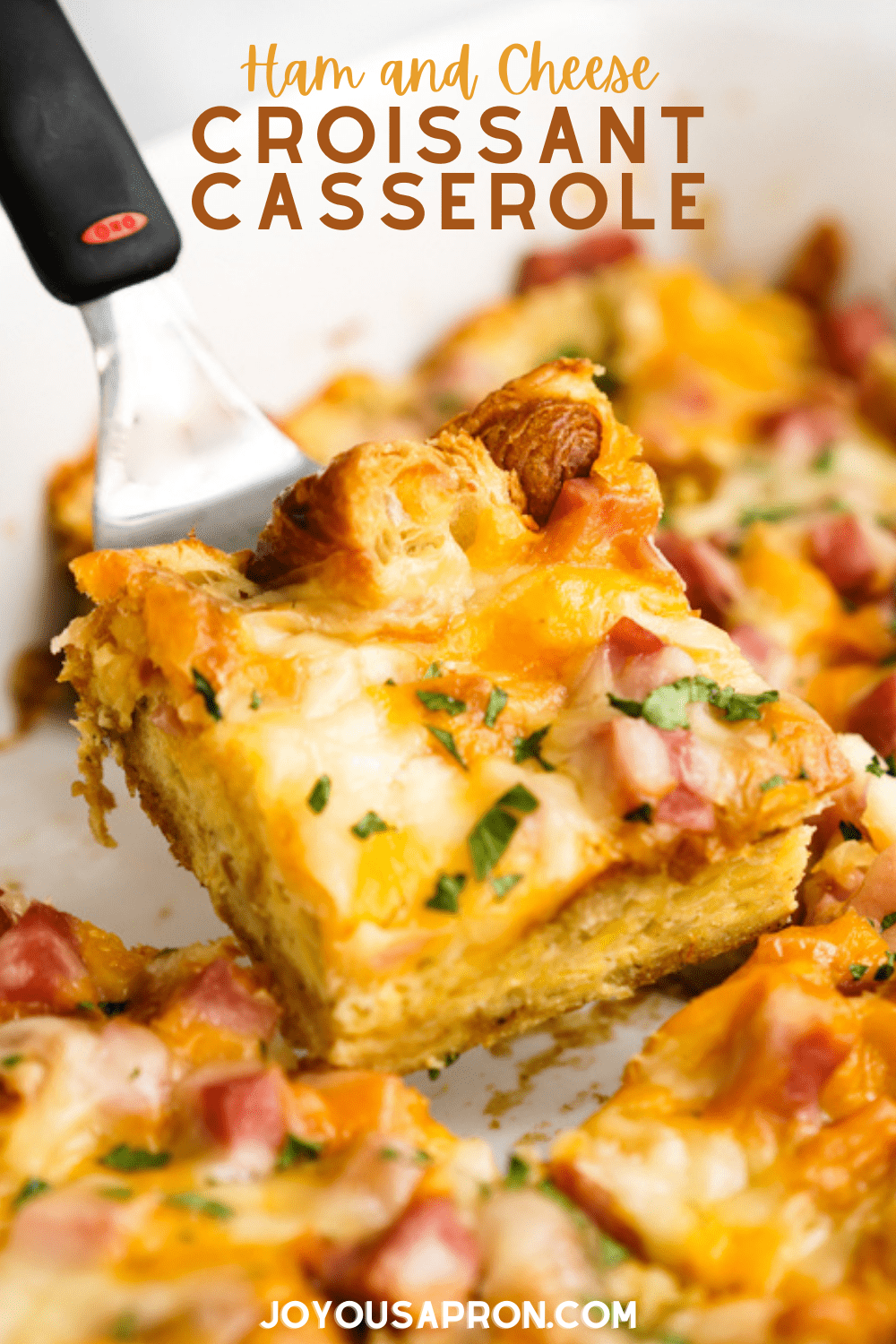 Breakfast dreams do come true…in the form of this Ham and Cheese Croissant Casserole. Flaky, buttery croissants soaked in flavorful egg mixture, combined with cheese and ham. Baked to perfection and served warm.
It is a Croissant Breakfast Bake recipe that satisfies and feed a dozen! With Easter coming up, this is your ticket to an easy and delicious Easter brunch!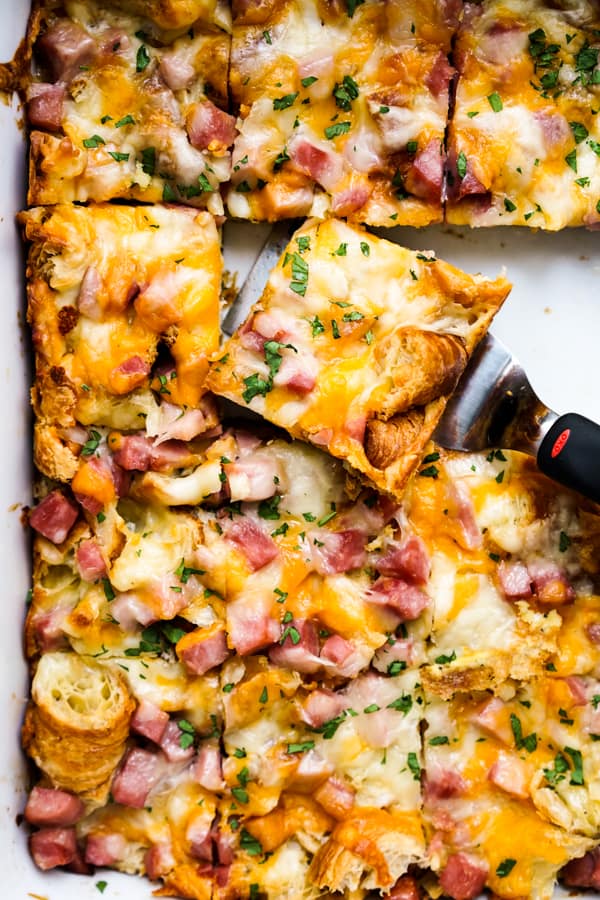 Introducing Ham and Cheese Croissant Casserole
My ideal way to start the day is to sit in a cafe on a sunny and cool morning having croissants with fresh fruit preserve and a cup of hot coffee. The coffee shop music is playing in the background. I have a book in my hand, and not a care in the world.
I have a deep love for croissants. It is not just a food item. It is an experience.
Croissants are so versatile you can enjoy them in some many ways. I like to top them with tuna salad, ham, cheese, or just eating them plain. Every now and then, I spread Nutella onto them and turn them into the best dessert ever. No words can properly describe how amazing that taste.
When I started pondering about Easter brunch this year, I decided that I wanted to make a casserole dish that has croissants in it. It's my thing lately. I just want croissants everywhere.
Nonetheless, I wanted to make something that includes the goodness that is croissants, can feed a ton of people, is fairly easy to put together, and of course…super delicious.
So here we go. Ham and Cheese Croissant Bake.
It may not completely replace my dreamy coffee-shop experience but nonetheless, I am deeply in love.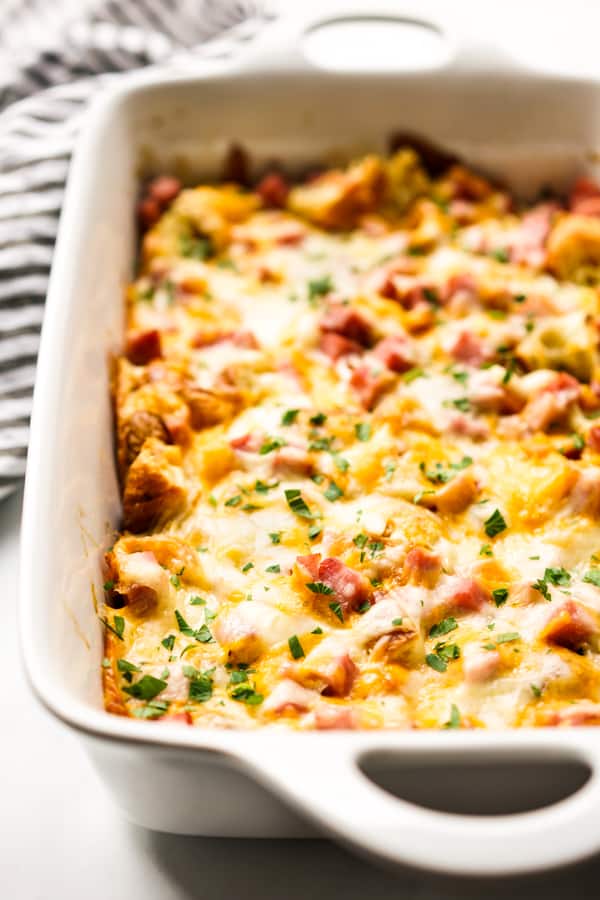 Ingredients for this Croissant Breakfast Bake
One of the best part about this recipe is that it calls for simple, pantry-friendly ingredients!
Croissant – diced into small pieces
Ham – also diced into small pieces. Great way to use up leftover ham! For a ham recipe, check out Pineapple Baked Ham.
Shredded cheese – I use cheddar and mozzarella but feel free to use whatever you have at hand. It's a great way to use up leftover cheeses sitting in your refrigerator. Swiss and Colby jack works especially well in this too.
Eggs
Milk – I use 2% but any milk above 2% would work. Avoid fat free because you want your casserole to be creamy and rich.
Garlic powder
Ground mustard – this is one ingredient you can skip if you really don't have it or can't find it.
Salt and black pepper
Parsley – for garnish, and also optional! Other garnish option include green onions or your favorite dried herbs (oregano, thyme etc)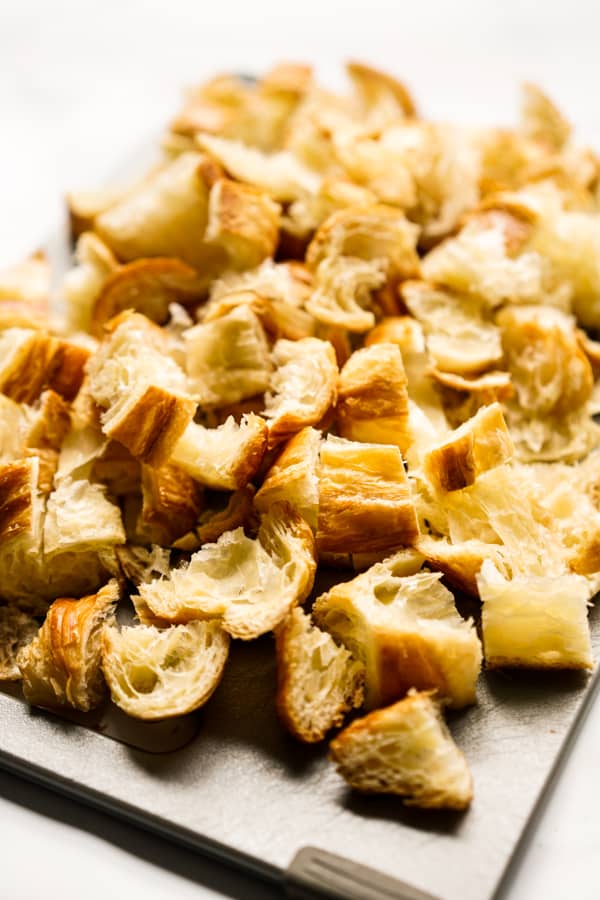 How to make Ham and Cheese Croissant Casserole?
Not only does this require easy-to-find, minimal ingredients, it takes only 10 minutes to prep and the oven takes care of the rest. Simple is truly an understatement.
I sometimes still marvel at how simple a dish can yield such big, delicious flavors.
I blame it entirely on the croissant. That buttery, flaky pastry truly makes this dish what it is.
I use about 5-6 large croissants for this recipe. Cut them up into 1-2 inch cubes and add them to a greased rectangular 9×13 inch casserole dish.
On a separate bowl, whisk together 7 large eggs, milk, garlic powder, ground mustard, salt and pepper. Then add mixture to casserole, and top with cubed ham, shredded cheddar and shredded mozzarella cheese.
If there are leftover ham in your fridge, this dish is beyond perfect to use up those leftovers!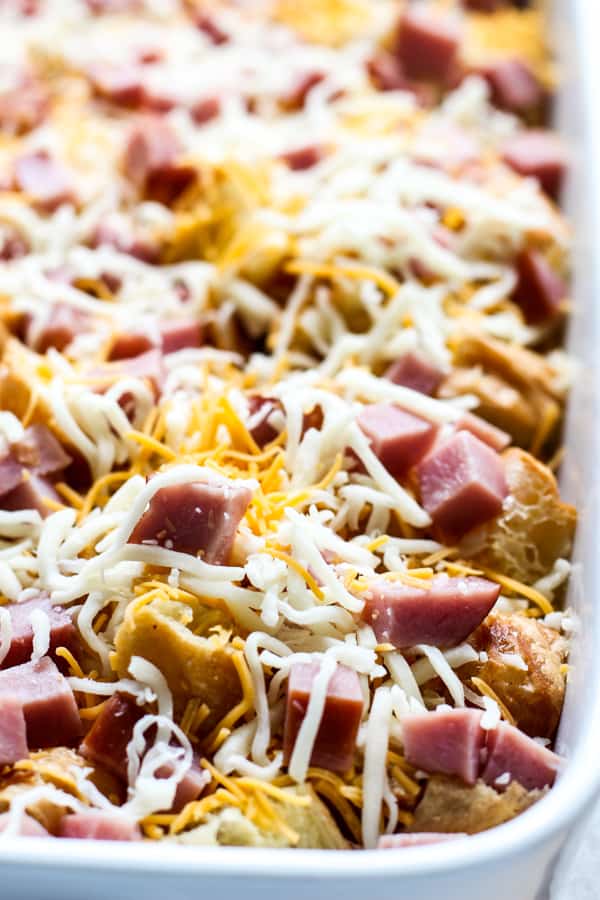 Bake covered with aluminum foil for 20 minutes at 350℉, then uncover casserole and bake for another 20 minutes.
I have tried baking it uncovered and the cheese is a tad bit too brown and crusty for my liking. I wanted the cheese to be all ooey-gooey and you know, cheesy (duh), and it just doesn't come out that way if you don't cover the casserole for the first 20 minutes of baking.
When it is done, remove and garnish with chopped parsley!
And that's it! It's EATING TIME.
Highly recommend savoring the cheesy, buttery croissant goodness slowly and with much pleasure.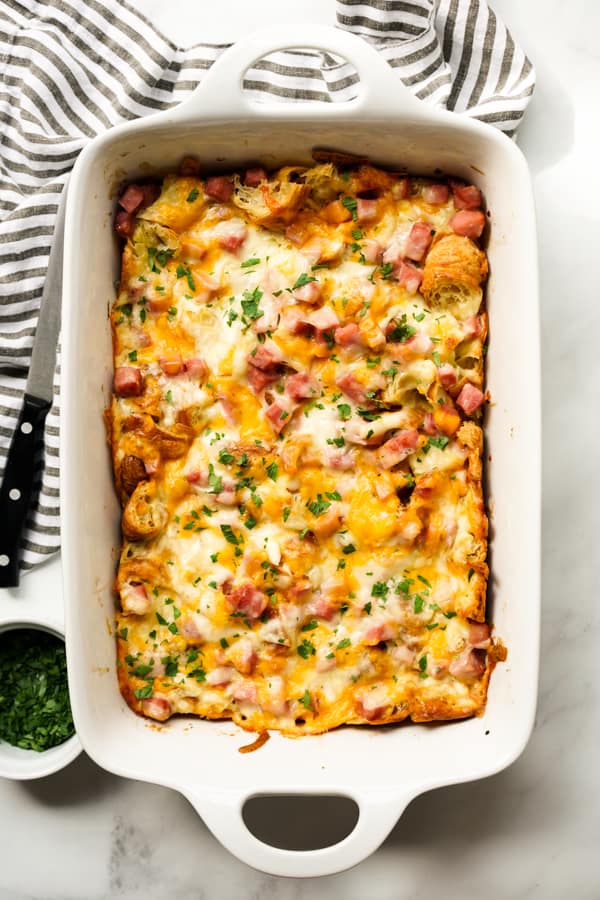 Tip and Tricks
Told ya it was super straight forward!
While it is all simple, note the few things below and you are all set for this Ham and Cheese Croissant Bake goodness:
Use dry old croissants as they will soak up more of the egg mixture. I typically leave the croissants out to dry for a day or so before cutting them up.
I would avoid non-fat milk for this recipe. If you want to substitute 2% milk with whole milk, that is just fine!
Grease casserole before adding the ingredients! I have forgotten in the past to grease the casserole dish, and some croissants are oily enough to prevent sticking, but some does not, so to be on the safe side – grease away!
This recipe is super versatile so feel free to use up leftovers or add other ingredients to it! Bell peppers, spinach, bacon, Canadian bacon, mushrooms, or other leftover meat and veggies will work great with this. Just dump it all in there and bake!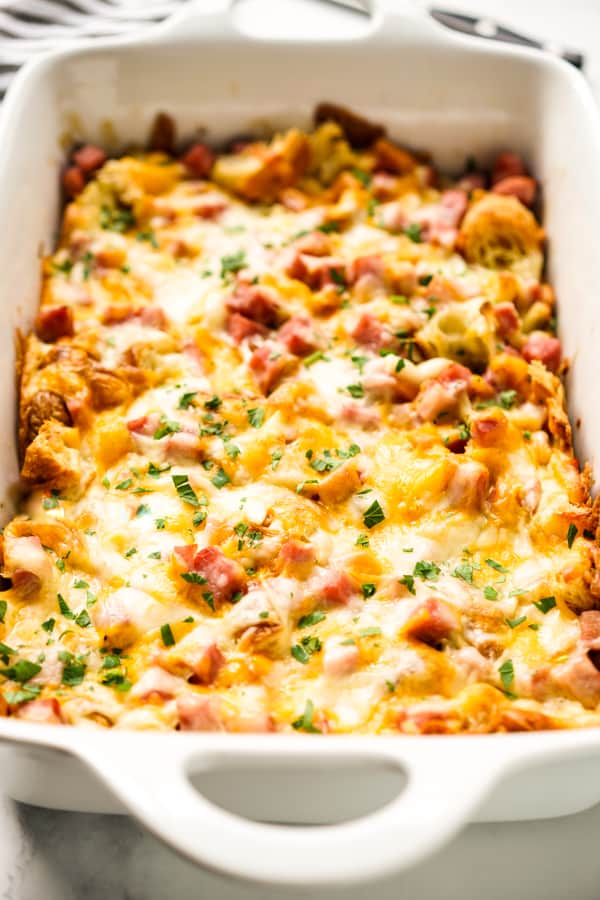 Frequently Asked Questions
Can I this make ahead?
Yes! You can prepare it ahead and refrigerate it for up to 1-2 days. When ready to eat, remove from refrigerator and heat in the oven covered under low heat (325℉) for 20 minutes or until it is heated through.
Can I heat this in the microwave?
Yes you can! If I'm heating one or two leftover slices, I usually heat it in the microwave and it tastes almost like fresh! It heats beautifully in the microwave and makes a good prep-ahead meal.
Can I prepare the casserole ahead of time and bake it when I am ready to serve?
Yes, you can prepare the casserole and refrigerate it covered for up to 24 hours before baking it. You may need to bake it slightly longer if the casserole if fresh from the fridge and colder.
Soft on the inside, slightly crunchy on top, lots of yummy flavors from the ham, cheese, croissants and spices…it is truly a delight!
Grab a slice, or two, or three (it is quite hard to stop at one, I must say…) and enjoy!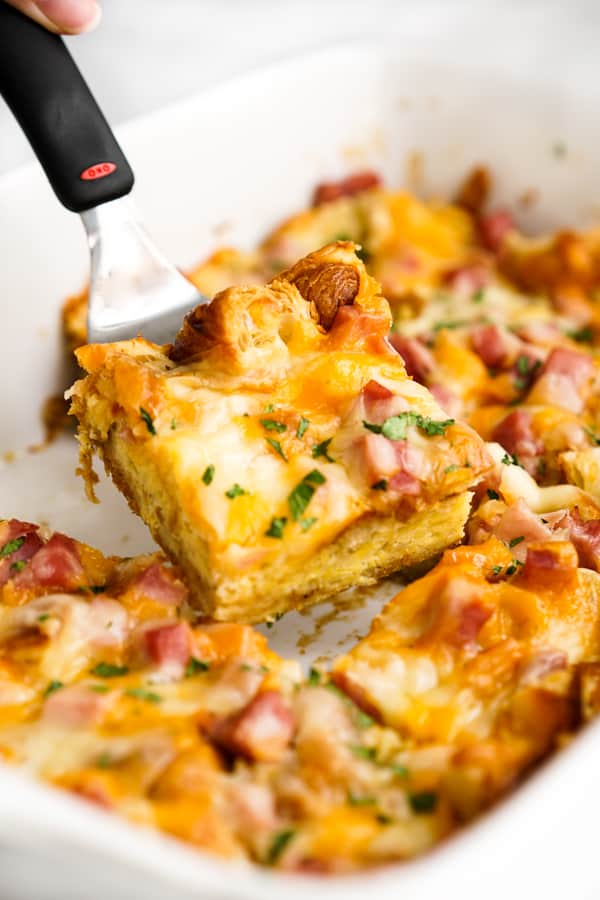 DID YOU ENJOY THIS RECIPE? Please comment below and give us a 5-star rating! This will help others find this recipe on Google and Pinterest. We very much appreciate your help! 🤍
Other Yummy Breakfast Recipes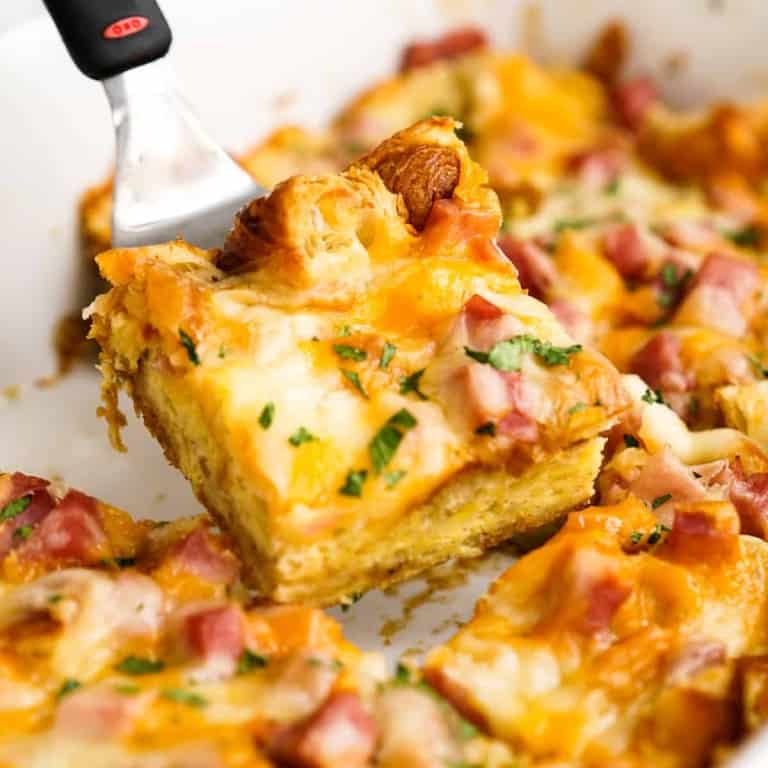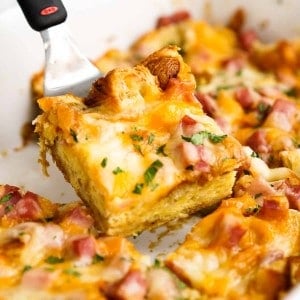 Ham and Cheese Croissant Casserole
Yummy and easy breakfast or brunch recipe! Soft on the inside and slightly crunchy on the outside, this casserole combines croissants, ham, spices with lots of cheesy goodness. Makes amazing leftovers as well!
Print
Pin
Ingredients
5-6

large

croissants

slightly dry

1/2

lbs

ham

cubed

7

large

eggs

1/2

cup

2% milk

1

tsp

garlic powder

1/4

tsp

ground mustard

1/2

tsp

salt

1/2

tsp

black pepper

1

cup

shredded cheddar

1

cup

shredded mozzerella

1-2

tbsp

parsley

chopped
Instructions
Pre-heat oven to 350 degrees F.

Prep all ingredients: Cut croissants into ~1 inch cubes. Cube ham. Chop parsley.

Grease a 9 x 13 inch rectangular casserole dish. Add cubed croissants to dish.

In a large bowl, combine and whisk eggs, milk, garlic powder, ground mustard, salt and pepper.

Add egg mixture to casserole dish filled with croissants. When pouring, making sure to pour all over and onto as much of the croissants as possible. This is to make sure we get most of the croissants moist.

Add ham, shredded cheddar and shredded mozzarella and spread them evenly.

Bake in the oven covered for 20 minutes. Uncover, and bake for another 20 minutes.

Remove from oven. Garnish with parsley. Serve and enjoy!
Notes
This post was originally published in March 2019 and updated on November 2021.
Nutrition
Calories:
368
kcal
|
Carbohydrates:
21
g
|
Protein:
19
g
|
Fat:
23
g
|
Saturated Fat:
11
g
|
Cholesterol:
224
mg
|
Sodium:
835
mg
|
Potassium:
230
mg
|
Fiber:
1
g
|
Sugar:
6
g
|
Vitamin A:
712
IU
|
Vitamin C:
1
mg
|
Calcium:
162
mg
|
Iron:
2
mg