Texas Sausage Kolache (Sausage Rolls)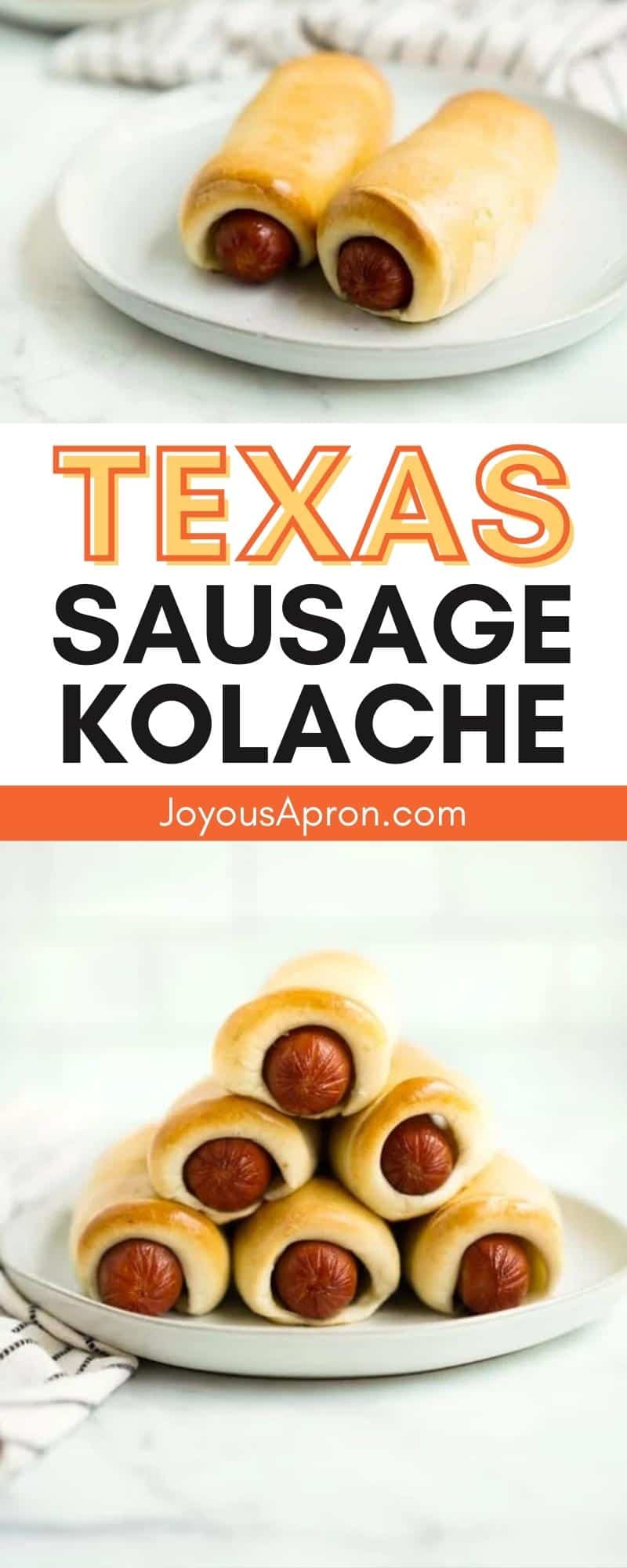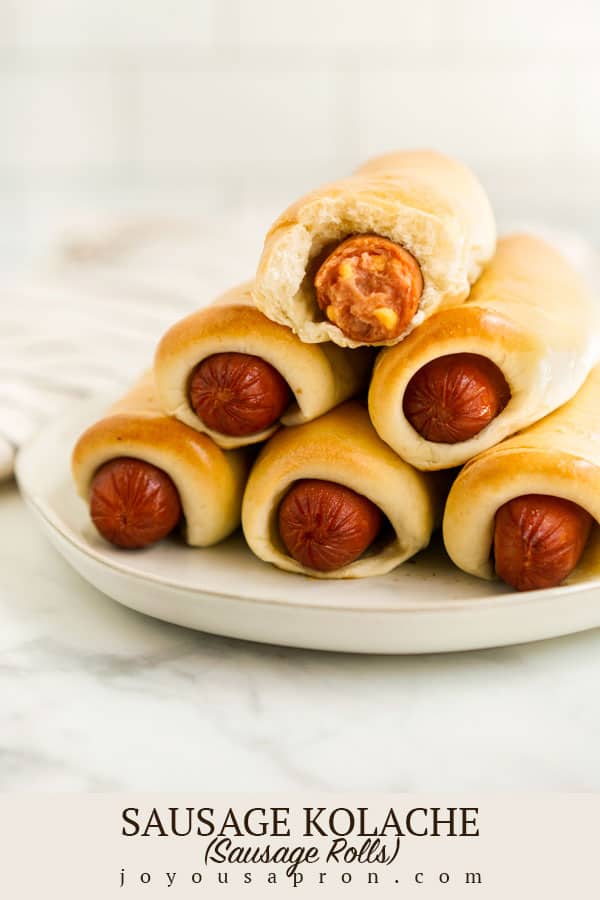 You know those delicious sausage kolache filled with cheese that you find in the donut shops all over Texas? Well…I've been obsessed with these yummy breakfast pastries since I moved to Texas, and now I've found the EASIEST and yummiest way to make it right in your own home!
Hint: No kneading needed…and still maintaining that delicious yeast bread quality!
This is a sponsored post written by me on behalf of Rhodes Bake-N-Serv. All opinions and texts are mine.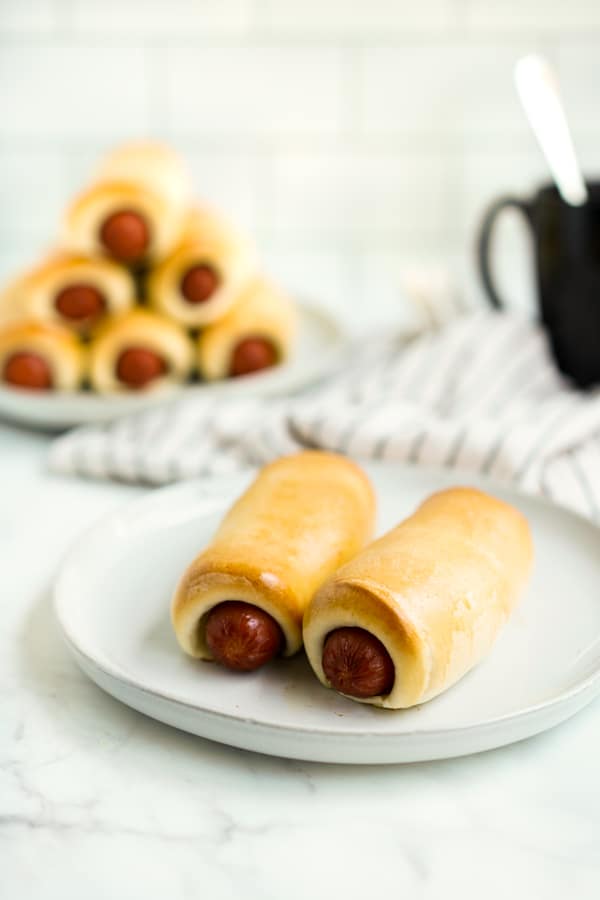 Looking for classic well loved Texas foods? Don't forget to also check out my authentic Texas Chili, Queso, and Breakfast Tacos!
What is Sausage Kolache?
Sausage Kolache is a delicious yeast bread pastry wrapped around a cheesy sausage (or Jalapeño sausage for spice lovers out there). It is originally a Czech Republic pastry brought by Czech immigrants to Texas.
Over time it has evolved into this sausage roll pastry that is sold in pretty much every donut shop across the state, and is one of the most popular breakfast food.
Fun fact: what is widely know as Sausage Kolache today was once upon a time more accurately known as Klobasnek. "Kolache" is the name given to a similar pastry but with fruit filling. Over time, these sausage Klobasnek became conveniently known as "Sausage Kolache".
So I'm running with the Sausage Kolache name for now because you know…when in Rome (or in this case…Texas), do what the Romans (Texans) do. 🙂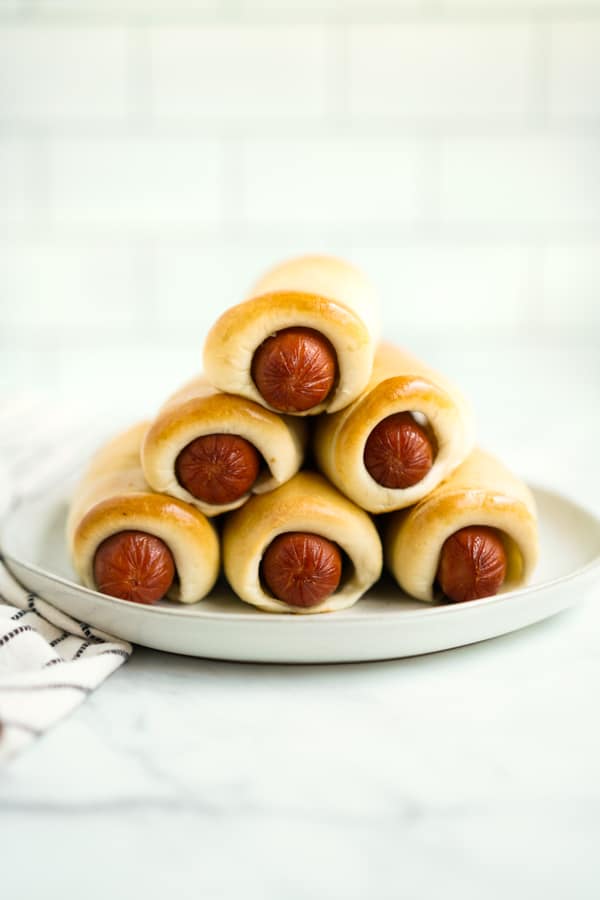 The Easiest Sausage Kolache Recipe!
I have tried making sausage kolache from scratch, where I knead the dough and wait for it to rise, and I think they are wonderful
However, when I want "from-scratch" quality without all the hard work, Rhodes make this possible. AND even more delicious than when I made it from scratch!
Rhodes Yeast Dinner Rolls are seriously perfect for this. These rolls come frozen in dough form. Let them defrost/rise and use them as the the pastry for these sausage kolache.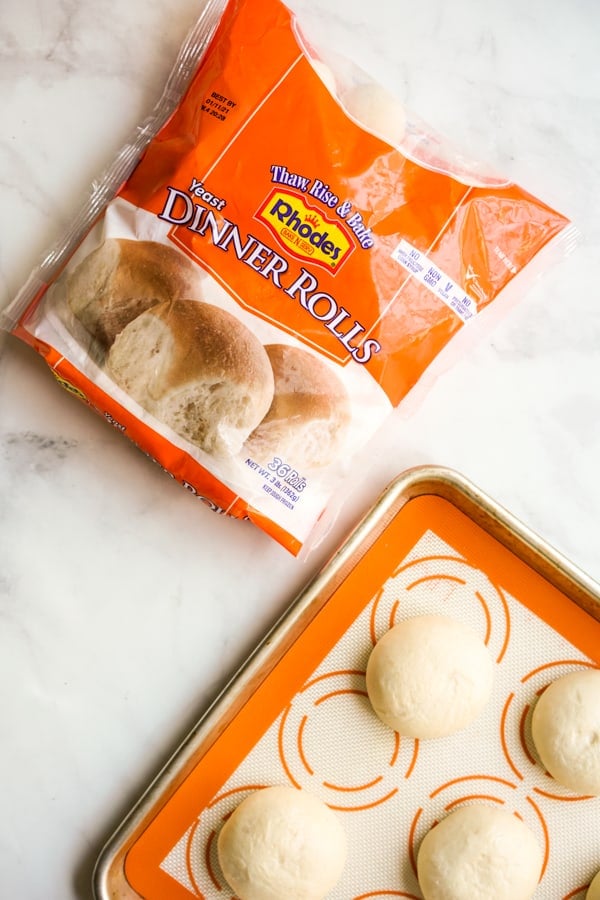 They are called dinner rolls, but they are seriously so versatile and they are made for Texas Sausage Kolache!
We have been using Rhodes for years (check out these Cheesy Garlic Rolls using the same Rhodes dough!) and recently discover that it makes the best Sausage Kolaches as well…and the rest as they say, is history.
Sausage Kolache the Rhodes way is how we do sausage kolache is our household these days!
Why it's awesome:
so convenient – no kneading required!
the fluffiest, freshest, best tasting dough EVER! It taste like homemade dough without all the efforts of homemade. WIN-WIN-WIN!
makes as good as store-bought kolaches. Yes you heard it. Just like the ones sold in donut shops. Now you can make it at home and eat it in your pajamas!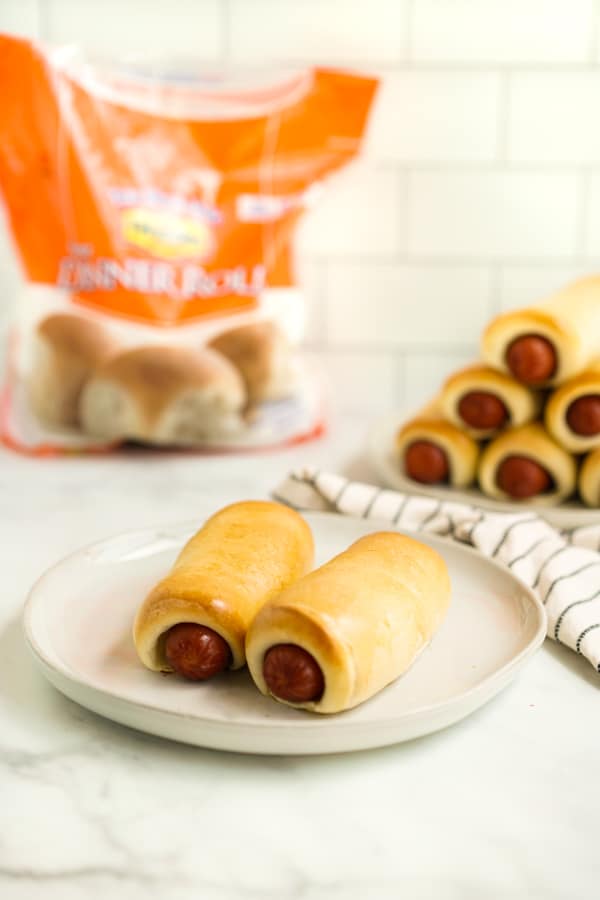 How to make Texas Sausage Kolache
To make sausage kolache, first grab the frozen dough and let it rise for 3.5 – 4 hours.
If your room is colder (especially during winter months), it might take a bit longer. The temperature of your room really makes a difference to the rise time.
Once it rises, use a rolling pin and roll dough into oval/rectangular shape, with its length about the same as the length of the sausage.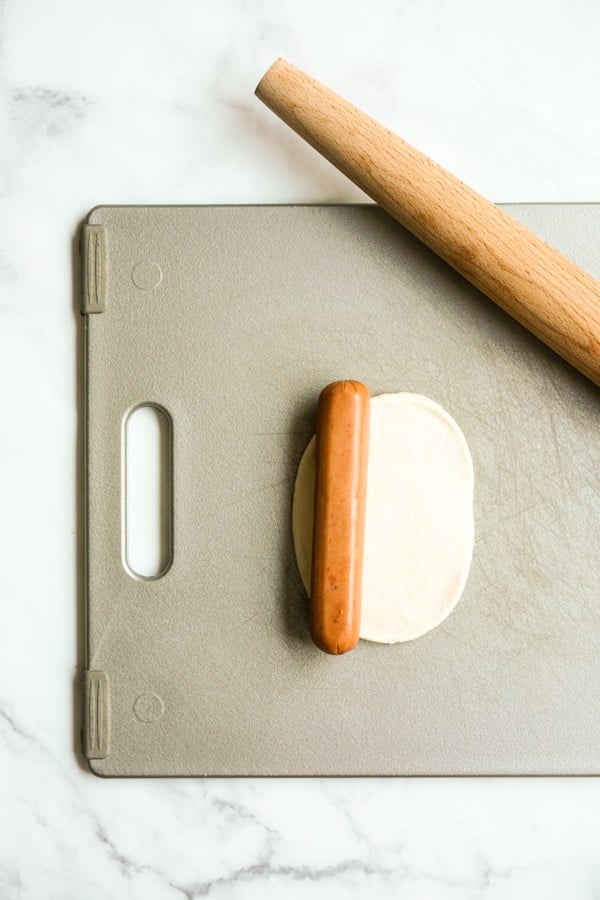 Then wrap the dough around the sausage and seal. Apply pressure well to seal tightly.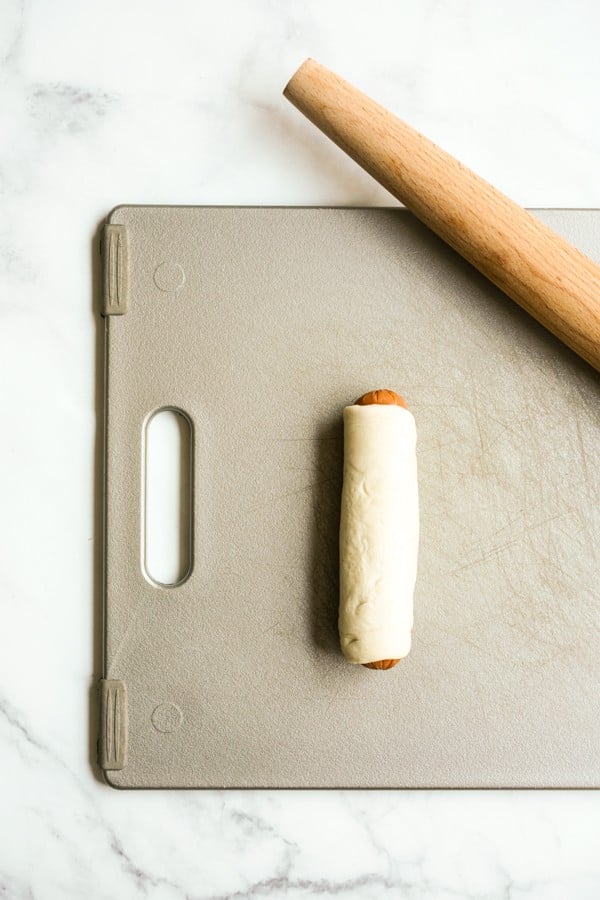 Place dough + sausage seam side down on a baking sheet line with parchment paper or baking mat.
And then let it rise a little longer.
Patience, my friends. Patience. 😉
Brush with egg wash then bake Sausage Kolache at 375ºF for 15-17 minutes, or until the top is golden brown.
Dough should rise and become this soft, fluffy bread with a golden brown crust.
And that's it! You just made yourself a homemade sausage kolache!
Cheesy savory sausage and that soft pillow-y bread with a hint of sweetness all in one delicious bite. Yum!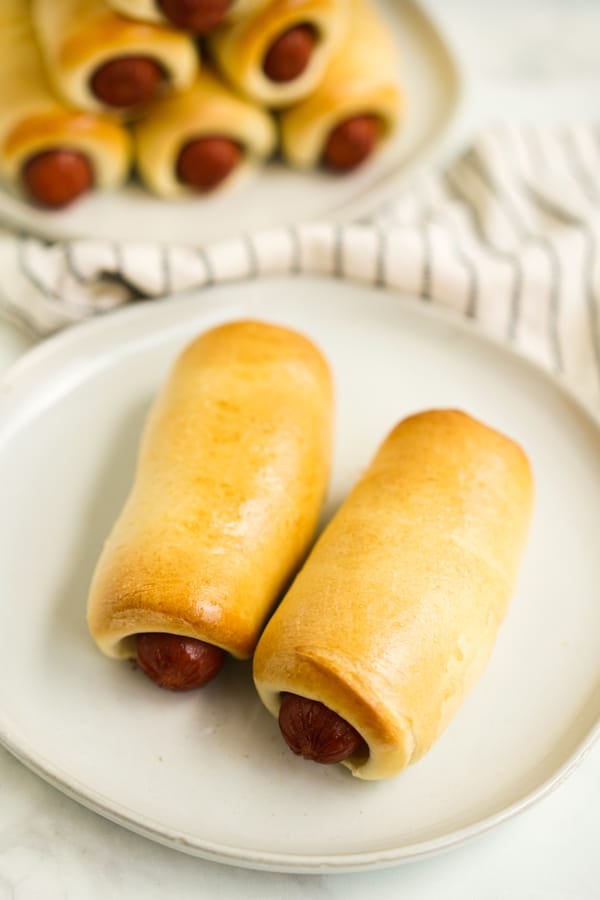 I highly recommend pairing these sausage kolaches with some iced or hot coffee. I'm feeling the iced coffee thing lately because it's about 100ºF outside as we speak…
Do they keep well as leftovers?
Yes! Store sausage kolache in the fridge for up to 5 days and pop them into the microwave for 20-30 seconds to heat them up.
Not only are sausage kolaches great grab-and-go breakfast for busy mornings, they make great snacks for kids' lunch boxes as well.
Tips and Tricks
Pat dry sausage before wrapping it with dough.
Make sure to let the dough rise well and not short cut the process. Rising the dough well will ensure a nice fluffy soft bread texture.
Remember to cover the dough during the first rise to prevent it from drying out.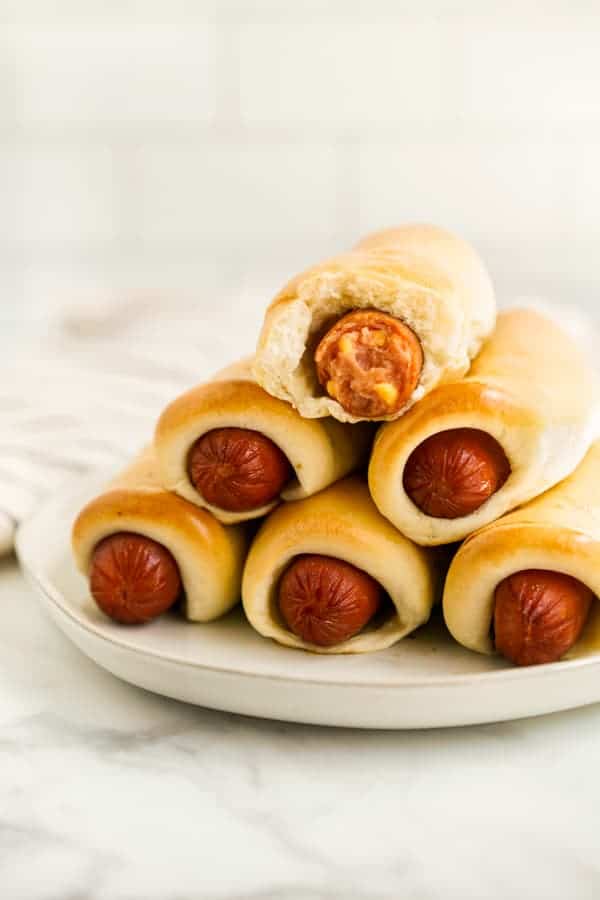 I often tell my husband that if we ever move away from Texas, Texas Sausage Kolache and Breakfast Tacos are two things that I will miss so dang much. And I have only lived here for four years .
So if you do not have donut shops down the street that sell these delicious Sausage Kolache, grab some Rhodes bread and sausages and get the party started!
Heck, even if you have a donut shop down the street…do it as well!! It's so worth it! TRUST ME.
DID YOU ENJOY THIS RECIPE? Please comment below and give us a 5-star rating! This will help others find this recipe on Google and Pinterest. We very much appreciate your help! 🤍
Other Breakfast Ideas
Other easy breakfast recipes that can be made ahead!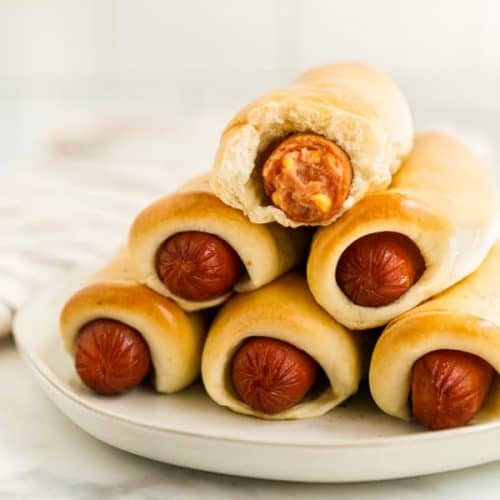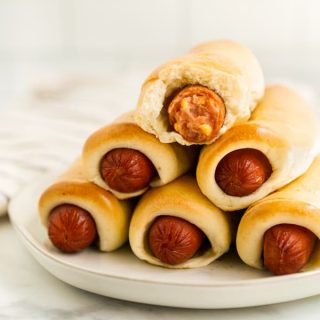 Texas Sausage Kolache
The easiest sausage kolache recipe! Sometimes known as sausage rolls, cheesy sausage is wrapped around a soft pillowy bread. A popular breakfast and snack in Texas!
Print
Pin
Ingredients
12

Rhodes yeast dinner rolls

frozen dough

cooking spray

12

cheese sausage links

fully cooked

1

large egg

1

tbsp

2% milk
Instructions
Place 12 frozen dough 2-3 inches apart on a baking sheet lined with parchment paper or baking mat. Spray the top of frozen dough with cooking oil and cover with saran wrap. Let it rise for 3.5-4 hours.

Pat dry sausage links. Using a rolling pin, roll one risen dough into a flat rectangular/oval shape. Place one sausage link on one side of the dough.

Wrap sausage link with dough. Apple pressure to press and seal dough. Place sausage + dough seam side down on a baking sheet line with parchment paper or baking mat.

Repeat Step 3-4 for the rest of the sausage links and dough balls. Make sure to keep them ~2 inchs apart from each other when placing them on baking sheet – you will probably need two baking sheets.

Let rolled sausage+dough sit and rise for 1 hour.

Combine egg and milk. Beat to mix well. Brush egg wash onto the top of each kolache pastry.

Bake for 15-17 minutes (middle rack) or until top is golden brown. Check at 15 minute mark to see if it is done.
Notes
Dough may take longer to rise if room is colder, so adjust accordingly.
Make sure to always place dough on baking sheet lined with parchment paper or baking mat.
Cover dough during the four hour rise to avoid drying out dough.
Nutrition
Calories:
187
kcal
|
Carbohydrates:
20
g
|
Protein:
7
g
|
Fat:
9
g
|
Saturated Fat:
3
g
|
Cholesterol:
28
mg
|
Sodium:
359
mg
|
Potassium:
104
mg
|
Fiber:
2
g
|
Sugar:
1
g
|
Vitamin A:
35
IU
|
Vitamin C:
1
mg
|
Calcium:
81
mg
|
Iron:
2
mg