Sausage Tater Tot Breakfast Casserole
Brunch at its finest and easiest form. A.k.a. Sausage Tator Tot Breakfast Casserole!
This Tater Tot Breakfast Casserole with Sausage combines your favorite breakfast ingredients all in one pan. Crumbly pork sausage, crunchy tater tots, eggs, and cheese baked the oven…making one satisfying meal.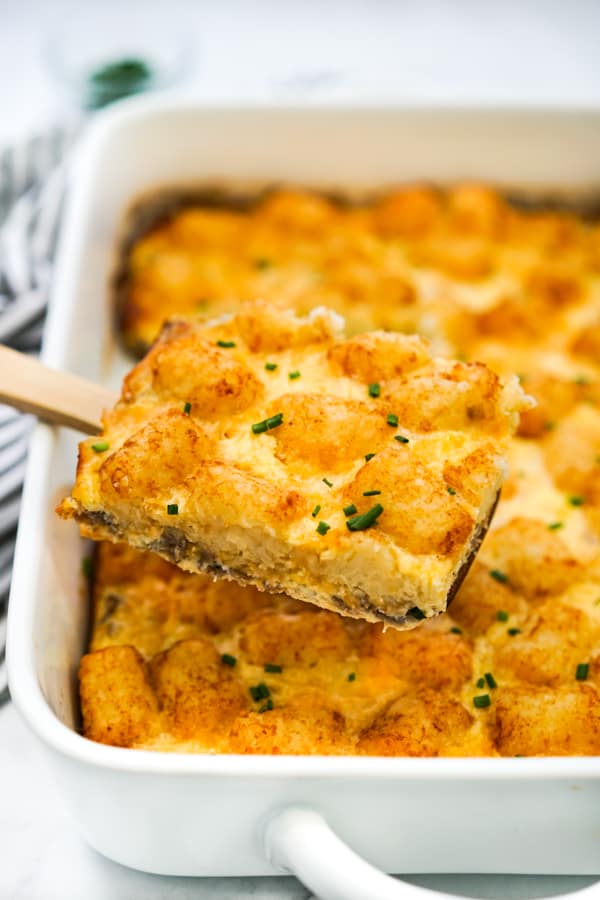 Tater Tot Casserole with Crumbly Sausage…Yum!
I might have a tad bit of an obsession with tater tots. It's potatoes, but potatoes that are crunchy on the outside, soft on the inside, and seasoned with lots of flavor. Oh yum!
And you bet they will maintain their gorgeous crunchy texture. It might be a casserole, but those tater tots will be crunchy.
And just when you think it couldn't get better, we take tater tots, combine them with breakfast sausage and oven bake with eggs and cheese and make it a Tater Tot Sausage Breakfast Casserole extravaganza.
So much great flavor and textures….breakfast and brunch just got a whole lot yummier.
And my heart just burst with excitement.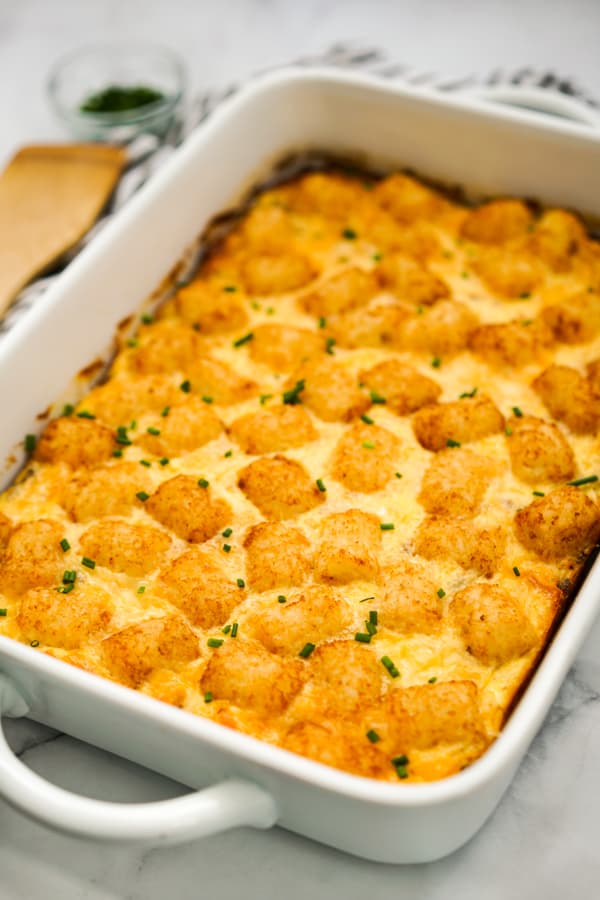 I typically make this Tater Tots Sausage Breakfast Casserole when I'm entertaining a lot of people, or during the holidays when I have family staying over, or when I have to make something super easy for a potluck.
And every time I make it, it gets devoured so quickly I have no leftovers. It's always such a big hit!
Sausage Tater Tots Breakfast Casserole is great for so many reasons:
Great for potlucks, parties, gatherings and holidays because it feeds a lot of people without a lot of work.
One-pan breakfast meal. It has all your favorite breakfast foods in one pan: tater tots, breakfast sausage, eggs, cheese…Now who doesn't like that!
8 ingredients only! And that includes salt and pepper.
10-minute prep, then bring everything to bake in the oven…and oven does the rest of the work!
TATER TOTS!! 🥰 (the obsession is real…)
It really is SO yummy
Ingredients
When it is called 'Sausage Tater Tot Breakfast Casserole', I am aware that I have given away the ingredients in the name of the recipe itself.
But nonetheless, here are the yummy ingredients that make up this (say it again with me) Sausage Tater Tot Breakfast Casserole: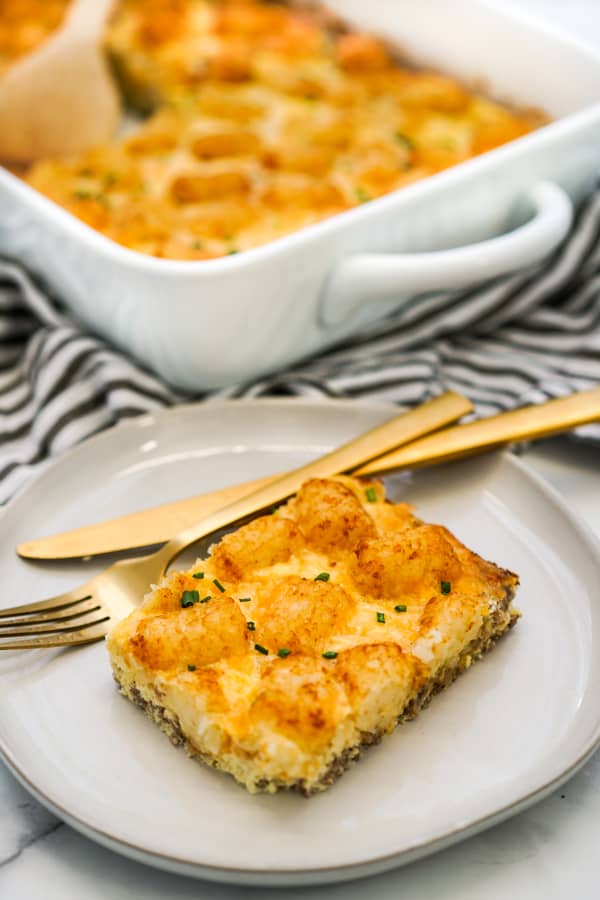 Sausage – I use Jimmy Dean's pre-cooked tube sausage
Frozen tater tots – Get a big bag from the frozen aisle, it's one of those easy potato ingredients that makes everything so much more convenient
Eggs – lots of them! 8 to be exact.
Milk – I always prefer to bake with 2% or higher, but if you want a lower fat meal, feel free to use 1% or even skim.
Cheese – I use mozzarella and cheddar but you can use only one type of cheese, or three type of cheeses, or a totally different type of cheese. Cheese it up however way you want! Monterey jack will make an awesome Sausage Tater Tot Breakfast Casserole as well.
Seasonings: garlic powder, salt and pepper. We want to make sure there's plenty of yummy flavors in the egg mixture as well!
A few simple ingredients come together to make one lovely, cozy, satisfying tater tot egg casserole brunch!
Let's make Sausage Tater Tot Breakfast Casserole!
Let's get to work make this Breakfast Tater Tot Casserole with Sausage happen!
And by work, I really mean, not a lot of work… (translation: easy peasy!)
Step 1: Sear Breakfast Sausage
First, sear the raw sausage. Crumble it into small pieces and cook until it is no longer pink.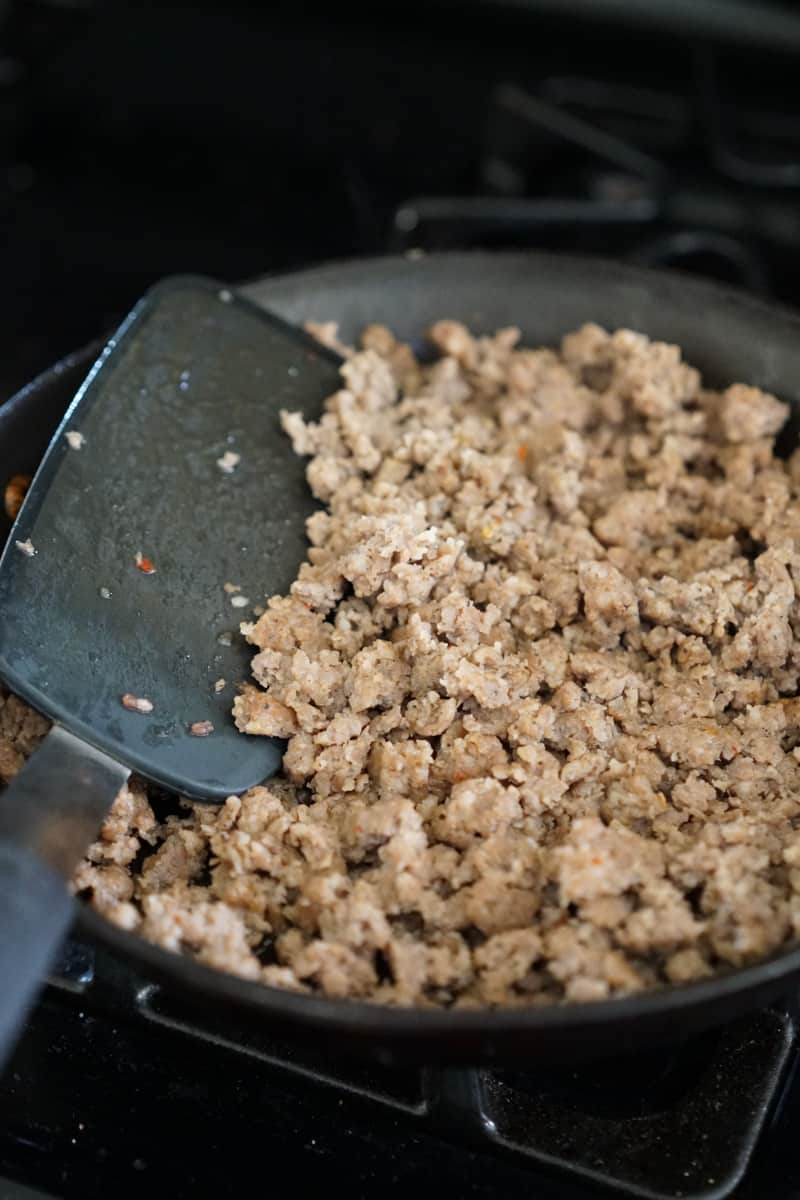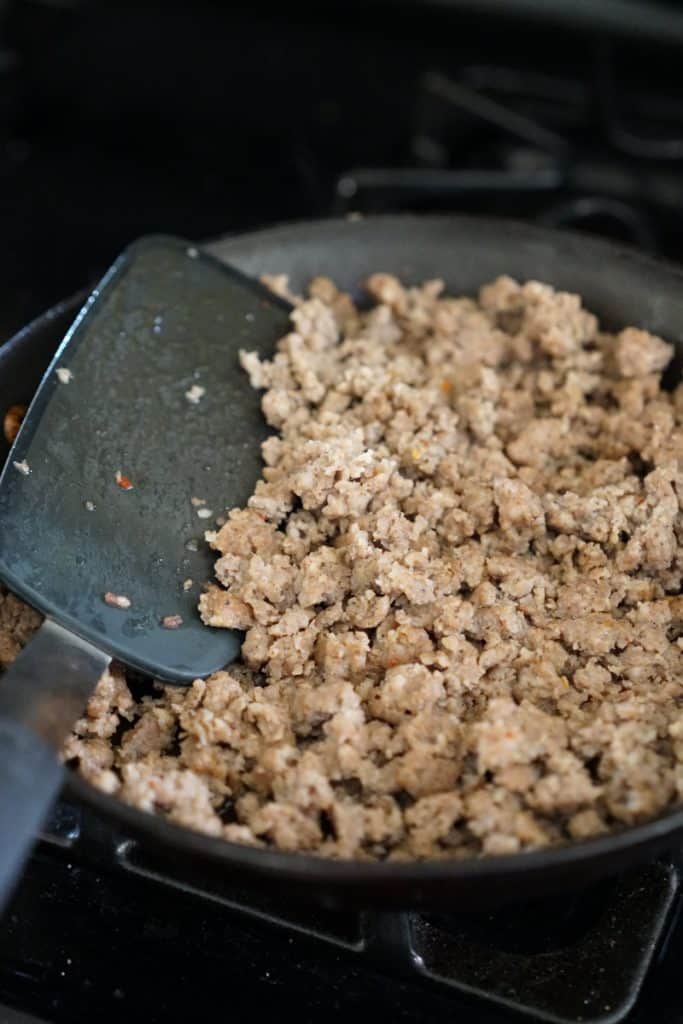 Step 2: Assemble Casserole
Then add crumble sausage to a large greased 9′ x 13′ casserole dish. Spread it out evenly.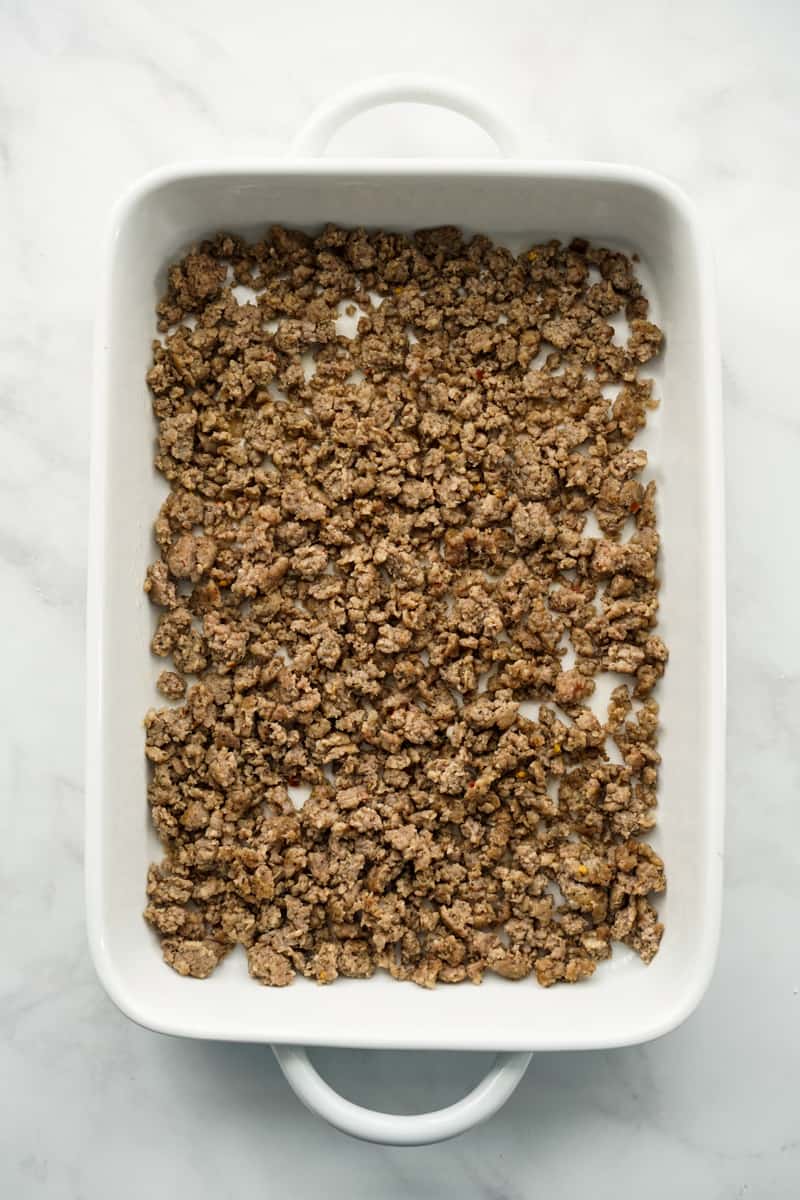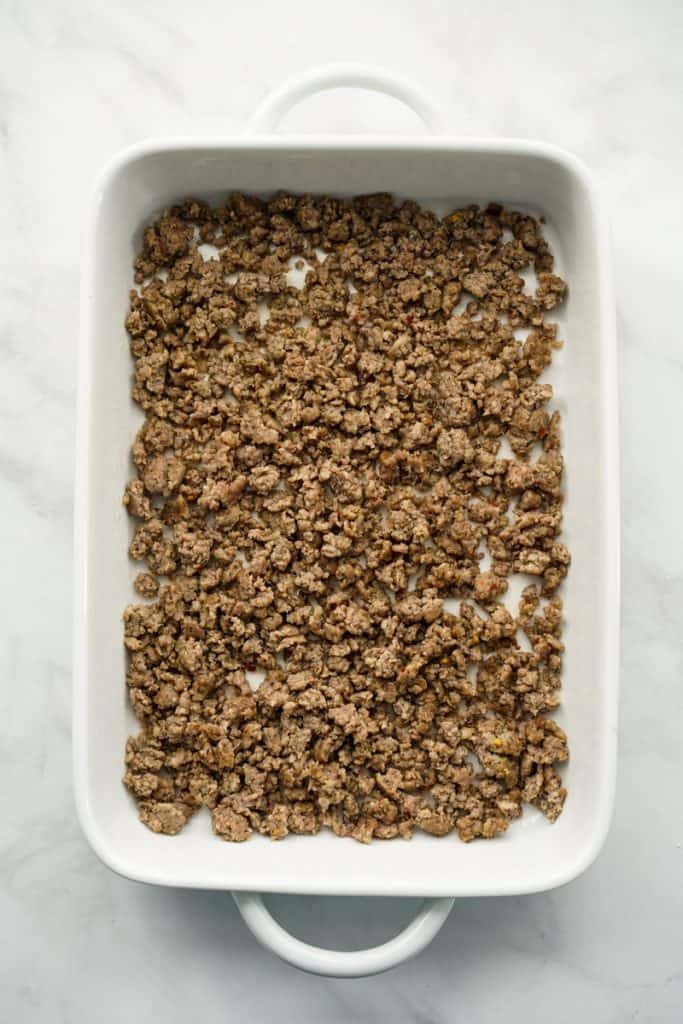 Combine egg mixture by whisking together eggs, milk, garlic powder, salt and black pepper.
Gently pour whisked egg mixture into the casserole dish.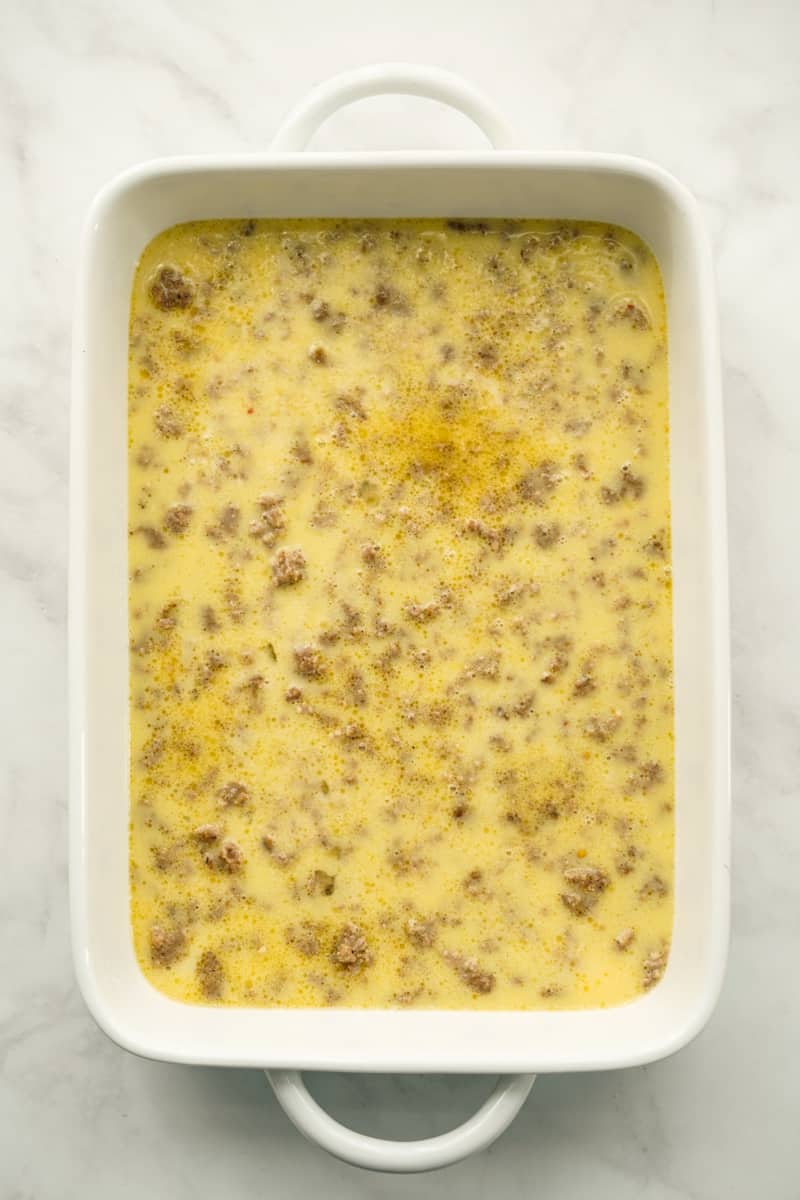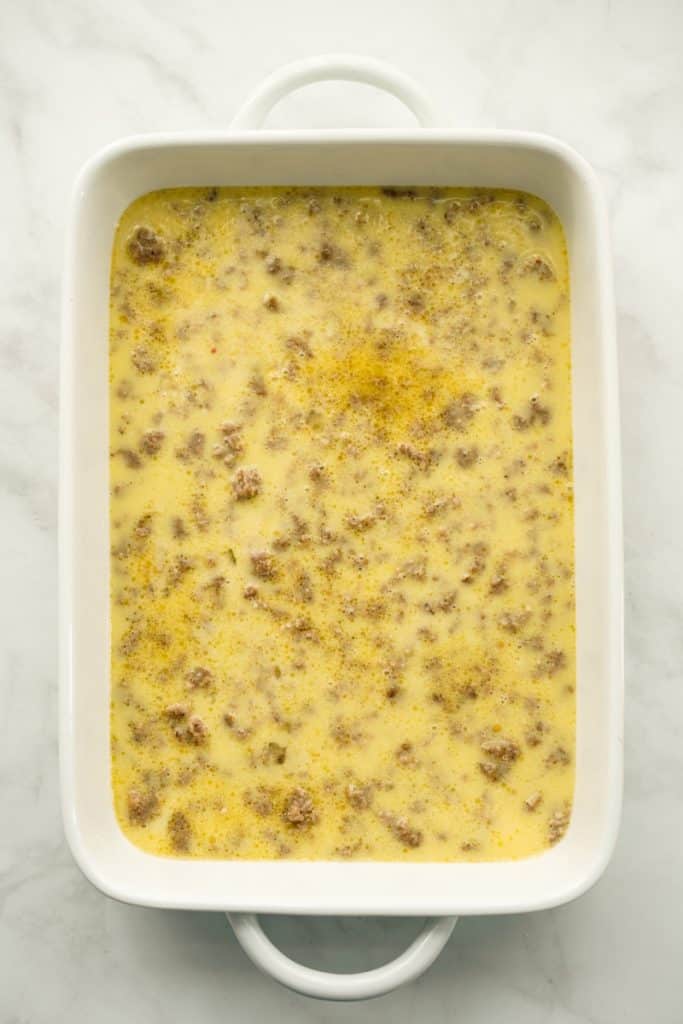 And then a little (or a lot of) cheese!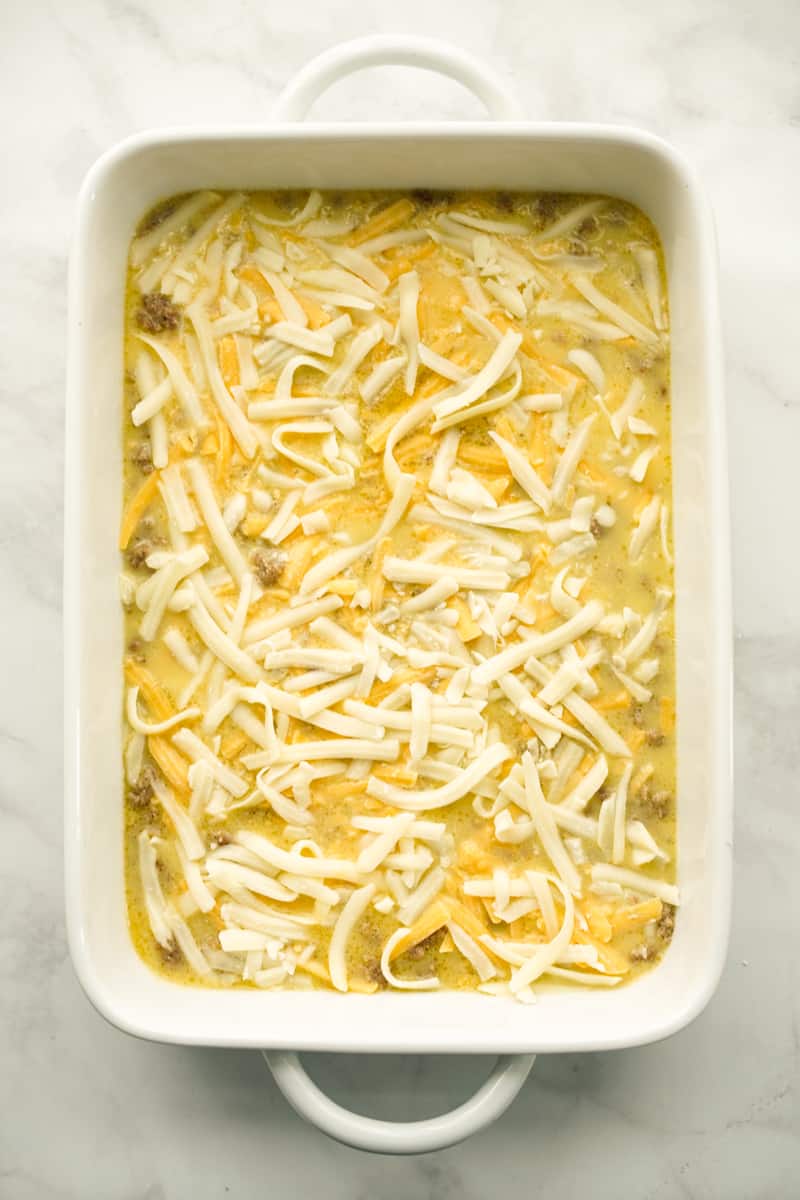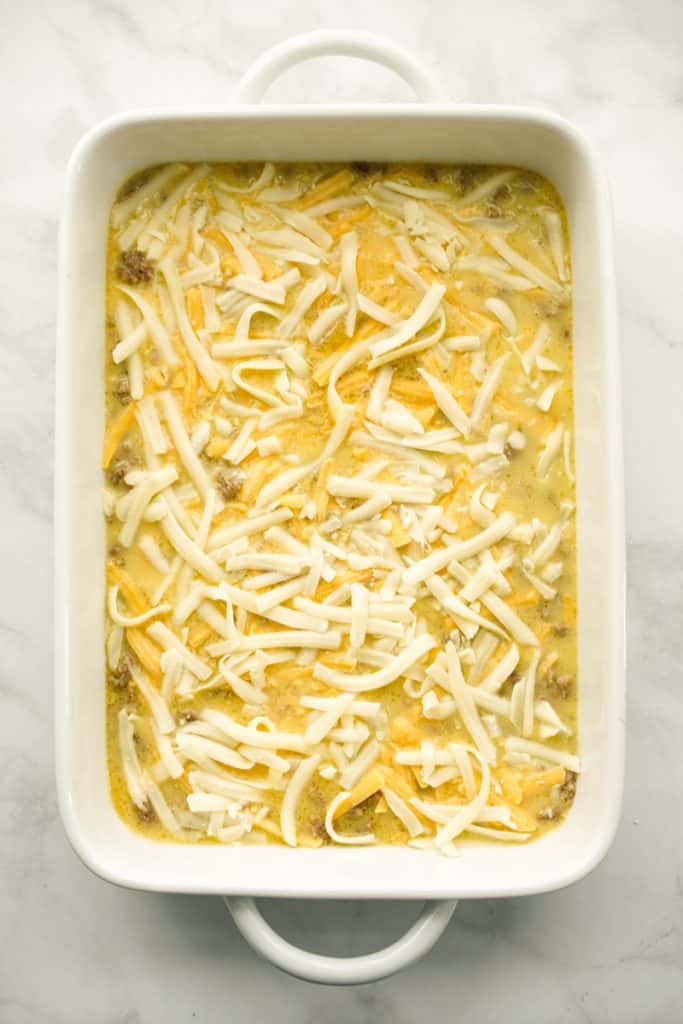 And last, but not least (drumroll please)… TATER TOTS!
Oh yes those tots are finally making their debut.
But there's a reason why they are last. These tater tots should only be partially submerged in mixture so that the top can be browned, and yes, crispy.
Because crispy tots are the REAL DEAL.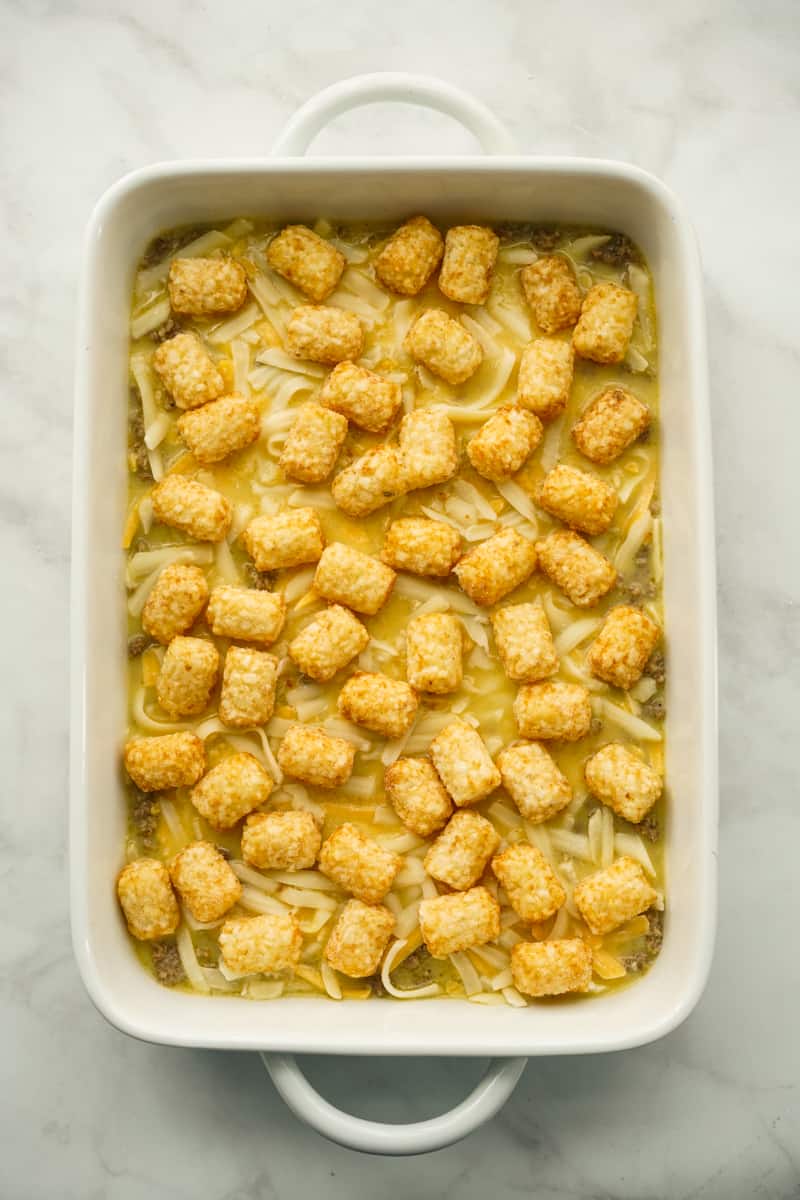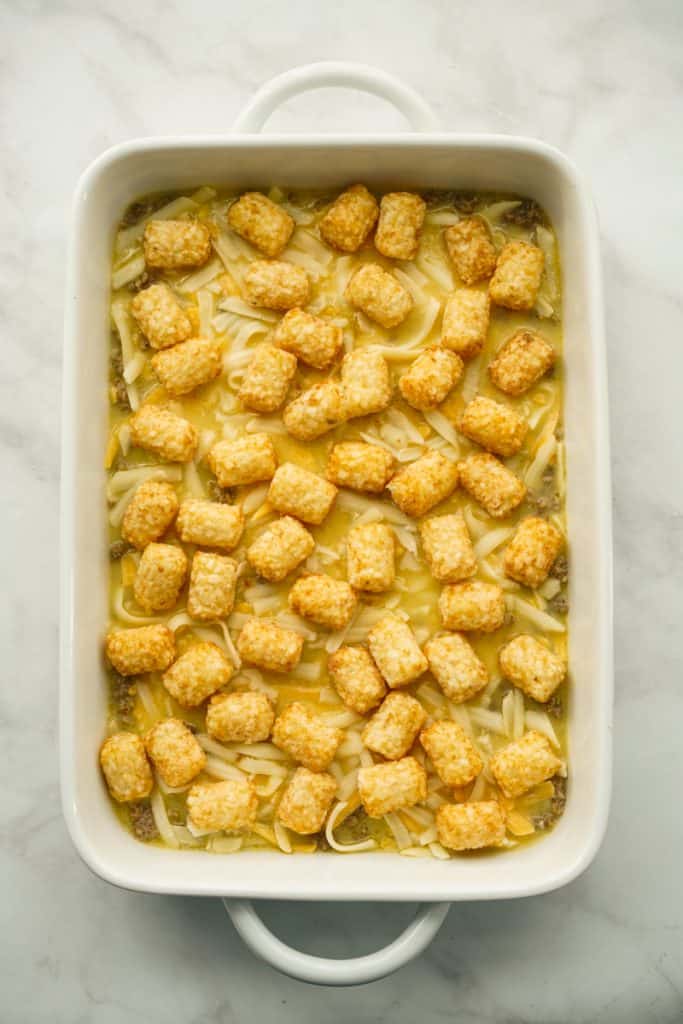 Step 3: Bake
Lastly, send it into the oven to bake!
350℉ for 50 minutes, or until eggs are no longer runny. You can test that by piercing the center of the breakfast casserole with a toothpick.
When it'd done, the tops should be slightly golden brown, egg mixture should have solidify (but still soft) and no longer in liquid form, and tops of the tater tots should be golden brown and crispy.
Behold: Sausage Tater Tot Breakfast Casserole in all its glory. ❤️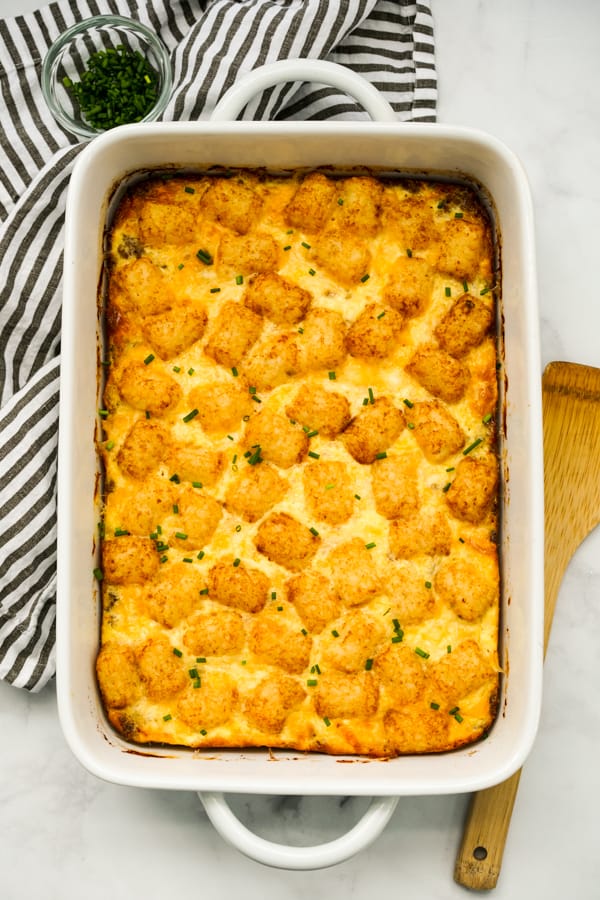 Bite into it, and it should be cheesy, flavorful, crunchy, and SO VERY YUMMY.
Gimme this Sausage Tater Tot Breakfast Casserole for breakfast, lunch and dinner please! 😍
Variation and Substitution
Sausage Tater Tot Breakfast Casserole is supposed to a super easy and versatile dish. Feel free to substitute and make it your own!
Instead of sausage – ham, cooked bacon or Canadian bacon work great as well
Add veggies – I also love adding bell peppers, spinach, onions, or tomatoes to the egg mixture. Add it right before adding cheese and tater tots.
use other cheese – honestly, you should use whatever soft cheeses you have on hand, it's a great way to clean out the fridge. Cheddar, mozzarella, Monterey jack, Colby jack, swiss, etc works great on Tater Tot Sausage Breakfast Casserole.
Ways to serve this
You know I love Tater Tot Breakfast Casserole with Sausage for breakfast and brunch, but it also works great as potluck dish or even the holidays, because it serves a lot of people and still taste great in room temperature. It's also a great candidate as breakfast for dinner.
Here are a few things that you can serve with this Easy Breakfast Sausage Tater Tot Casserole dish: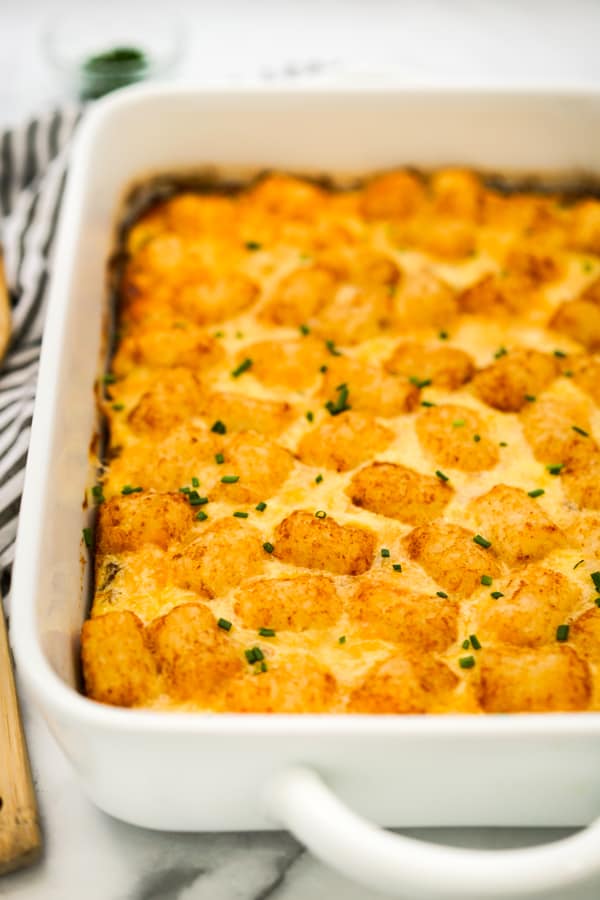 Make Ahead and Storage
I like to make ahead certain dishes when I'm entertaining to cut down on the time I am in the kitchen. If you make ahead Tater Tot Sausage Breakfast Casserole, you can store it covered in the refrigerator for up to 5 days.
When ready to reheat, cover with aluminum foil and reheat in oven at 350℉ for 30 minutes, or until it is heated through.
Note that if you have leftovers and end up reheating Tater Tot Breakfast Casserole in the microwave, tater tots would no longer be as crispy.
Other Yummy Breakfast Casserole Recipes
If you love breakfast casseroles, check these out!
DID YOU ENJOY THIS RECIPE? Please comment below and give us a 5-star rating! This will help others find this recipe on Google and Pinterest. We very much appreciate your help! 🤍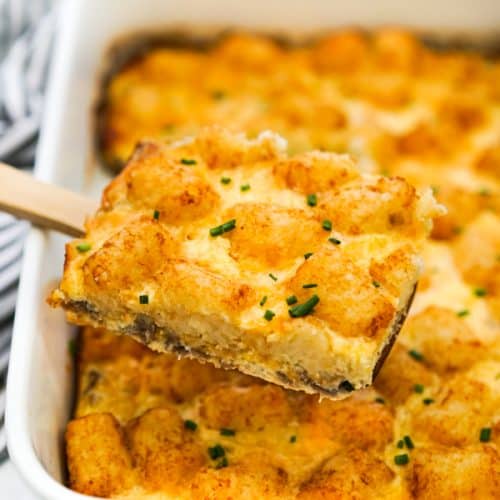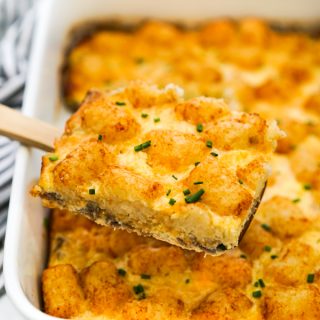 Sausage Tater Tot Breakfast Casserole
Easy and yummy brunch casserole! Ground breakfast sausage, eggs, tater tot potatoes and cheese oven baked until perfection. Great for the holidays!
Print
Pin
Ingredients
1

lbs

sausage rolls

8

large eggs

1

cup

2% milk

1

tsp

garlic powder

1

tsp

salt

1

tsp

black pepper

1

cup

cheese

shredded

1

lbs

frozen tater tots
Instructions
Heat skillet yo medium heat. Add sausage and break it into small pieces. Sear until it is no longer pink. Remove from heat and set aside.

Grease a 9' x 13' baking dish with cooking oil spray. Add crumbled sausage to baking dish and spread it out evenly.

Add eggs, milk, garlic powder, salt and pepper to a large bowl. Whisk to combine.

Gently pour egg mixture into baking dish.

Add shredded cheese and spread it evenly on the top. Then add tater tots and distribute them evenly all over. Do not submerge tater tots completely so the top will brown in the oven.

Bake for 50 minutes or until the center is no longer soggy.

Remove from oven and let it sit for 5 minutes.
Nutrition
Calories:
327
kcal
|
Carbohydrates:
13
g
|
Protein:
16
g
|
Fat:
23
g
|
Saturated Fat:
8
g
|
Cholesterol:
177
mg
|
Sodium:
847
mg
|
Potassium:
329
mg
|
Fiber:
1
g
|
Sugar:
2
g
|
Vitamin A:
361
IU
|
Vitamin C:
4
mg
|
Calcium:
139
mg
|
Iron:
1
mg