This post may contain Amazon or other affiliate links. As an Amazon Associate I earn from qualifying purchases at no additional cost to you.
Just when you thought French Toast couldn't get any better.
May I present to you…Caramelized Banana French Toast. Prepare to take your French toast game to the next level.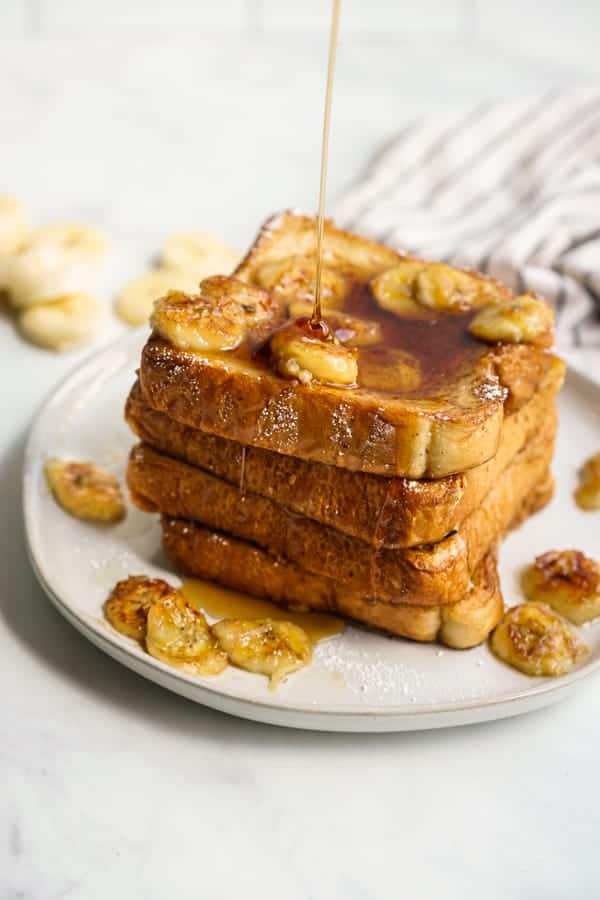 Bread soaked in cinnamon and vanilla flavored egg mixture, then pan fried in butter until it is golden brown and slightly crispy on the edges.
I never eat my French Toast plain because that is just too boring. Once it is done, topped with caramelized sweet bananas and lots of maple syrup.
The homemade brunch meal that is super easy to make yet such a delight!
After sharing my reader favorite Berry French Toast Casserole as well as Apple French Toast Casserole, I figured it's about time the classic French Toast should be getting some love as well.
We especially love to whip this together during the weekends. A satisfying brunch on a lazy Saturday or Sunday gives me so much joy.
Sleep in and stay in your pajamas all morning while the kitchen smells like a coffee shop as the coffee brews.
And slowly feast on a guilty-pleasure brunch. None of those low-carb, egg-white-only type breakfast. But a hearty, comforting, delicious meal that will keep you full for hours, so much so you may be able to skip lunch.
That's my kind of weekend.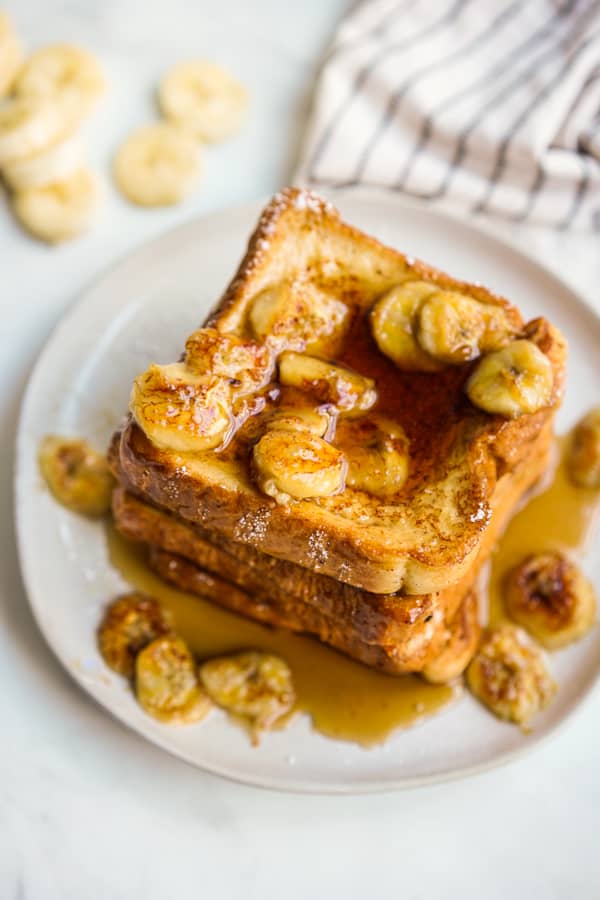 Why we love it
This Caramelized Banana French Toast recipe is always on our weekend brunch menu rotation because:
It is delicious. I mean, it's maple syrup + carbs + caramelized fruit. How can you say no.
Easy peasy. Just a little bit of time standing by the stove and flipping the French toast, but then it is the weekend and you are hanging out in the kitchen taking your time anyway so it's all good. This is especially easy to make with a griddle. This way you can cook a lot of more of it in each round.
Everything in one dish. You got your carbs, your eggs/protein, and your fruit all in one!
How do you make french toast?
Let's get cooking!
Here's what you need:
Eggs
Milk
Vanilla extract
Ground cinnamon
Whisk everything together and dip bread into the mixture to coat it on both sides. Then cook it on a buttered skillet or griddle. Because butter makes everything taste better.
Tips and Tricks for making French Toast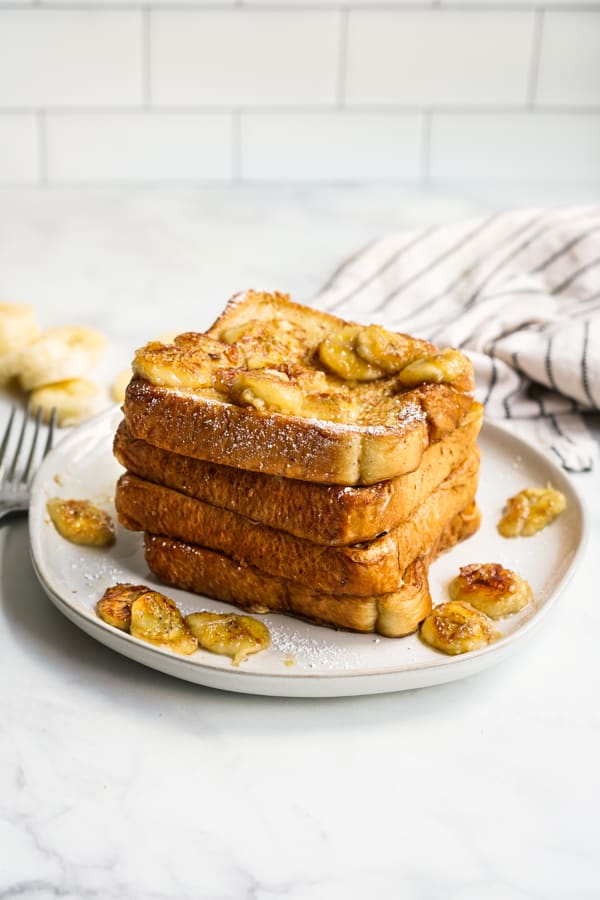 Bread I like to use: Texas toast (what is used here), French bread, challah etc. You can even get fancy and use banana bread, cinnamon raisin bread, etc. Or make it very simple and use plain white bread.
Dryer bread (bread that is a few days old) works the best as it will soak up more egg mixture.
Use a shallow bowl to hold the egg mixture so it is easier to dip the bread into the mixture.
Do not over soak bread as it will become super soggy if it stays in the egg mixture for too long.
Grease skillet or griddle with butter multiple times throughout the process.
Lower the heat if you find the toasts burning quickly.
How to caramelized bananas?
Our goal is to get the bananas to be slightly golden brown and crispy on the outside. When this happens, bananas will also become sweet, soft and slightly gooey.
I absolutely love caramelized bananas, and lucky for me, they are so easy to make.
Simply panfry sliced bananas on a skillet with salted butter, avoid overlapping them, then flip to the other side once the bottom is golden brown.
A wonderful topping to French Toast. It brings sweetness, flavor, and texture.
And lots of banana flavored goodness.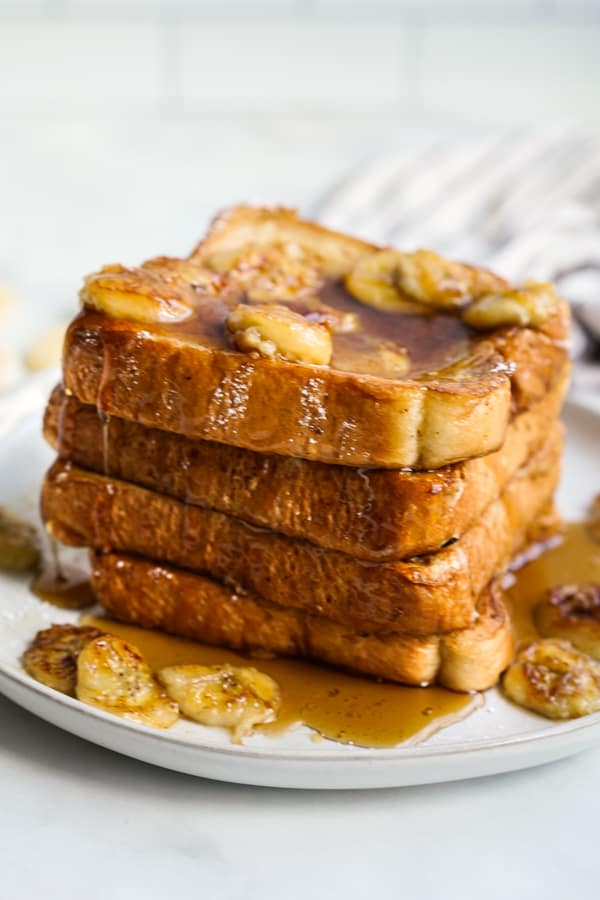 Don't forget to generously drench it with maple syrup. I highly recommend pure maple syrup for the ultimate French Toast indulgence.
Go ahead. Brunch your heart out. You deserve this. ❤️
If you make this recipe, comment below and let me know what you think! Also, don't forget to take a picture and tag me on Instagram, because I WANNA SEE!!
Other Sweet Brunch and Breakfast Recipe