Tomato Soup with Canned Tomatoes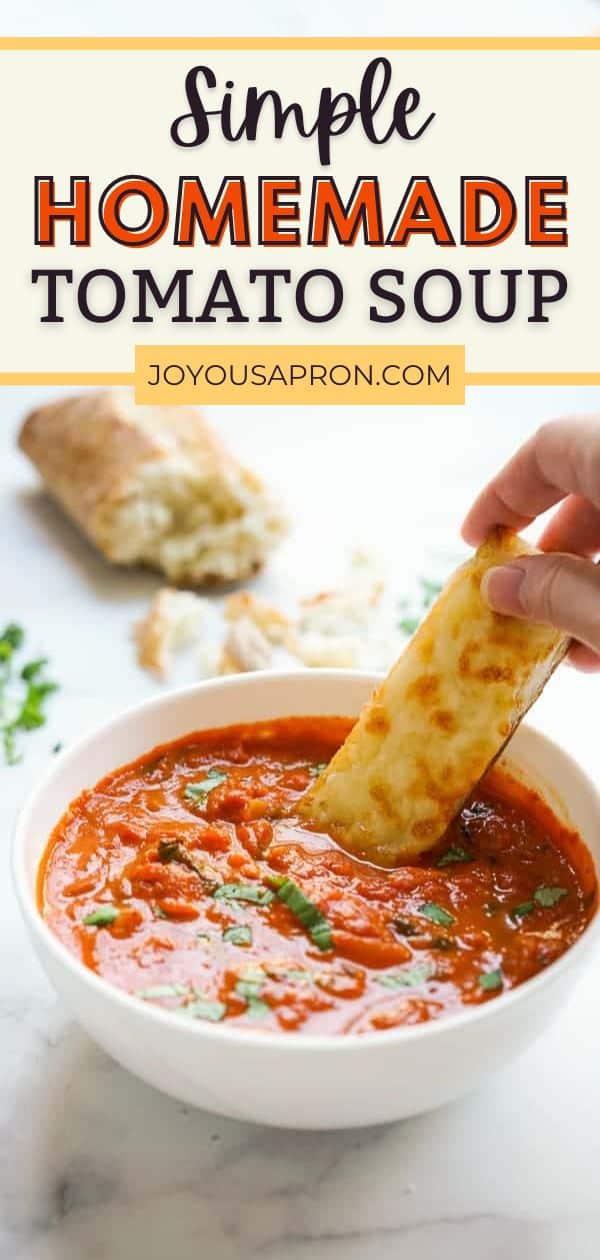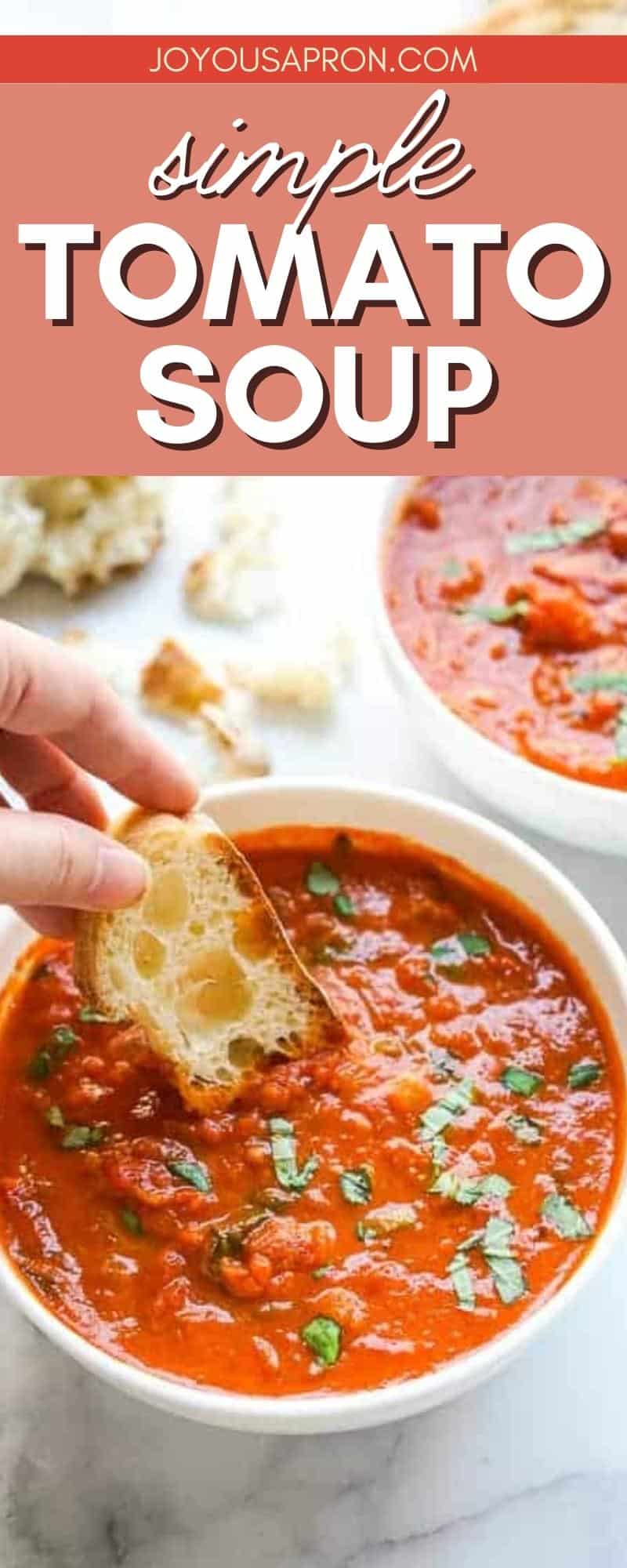 A cozy, luscious and delicious Tomato Soup made with canned tomatoes, red wine, fresh basil, cream and fresh basil. It is so rich in flavor, so comforting, so delicious…prepare to be wowed!
This is a a quick and simple homemade tomato soup recipe using canned tomatoes. Stressing on the word simple. Because who needs difficult in their lives? Simple, but oh no it is NOT simplistic.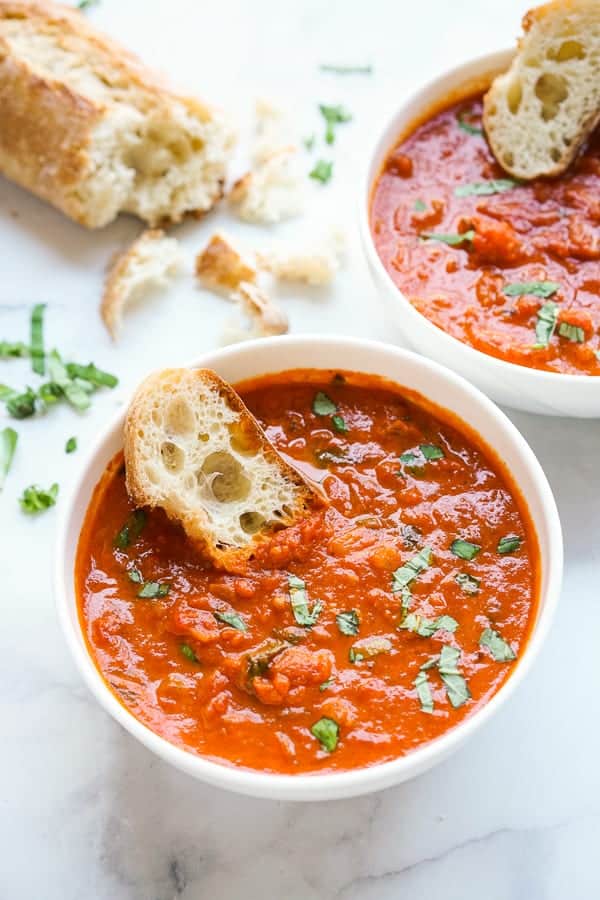 Love a good soup recipe? Don't forget to also check out my Curry Butternut Squash Soup, Beef Noodle Soup, Creamy Chicken Noodle Soup, and Lemon Chicken And Rice Soup.
Tomato Soup with Canned Tomatoes
I love tomato soups. Creamy tomato soup filled with chunks of juicy sweet tomatoes and infused with flavors of fresh basil.
I recently started making my own tomato soups with canned tomatoes and quickly realize it can be pretty easy to do! Without sacrificing flavors, of course.
Here's my trick to making a really EASY tomato soup: canned tomatoes. No need to slice up fresh tomatoes and roast them, but instead use high-quality San Marzano canned tomatoes, which will make all the difference to the flavors of your tomato soup.
To bring on some additional flavors to our tomato soup with canned tomatoes, we are also adding red wine and lots of fresh herbs to give it rich and deep flavors.
Making tomato soups with canned tomatoes makes making homemade tomato basil soup a lot easier. It's already perfectly peeled, and if you use good quality canned tomatoes (we'll talk more about that in a little bit), it's just as good, or even better than fresh tomatoes.
Good ingredients makes a difference in your cooking, folks! And it definitely makes this homemade tomato soup with canned tomatoes so much tastier.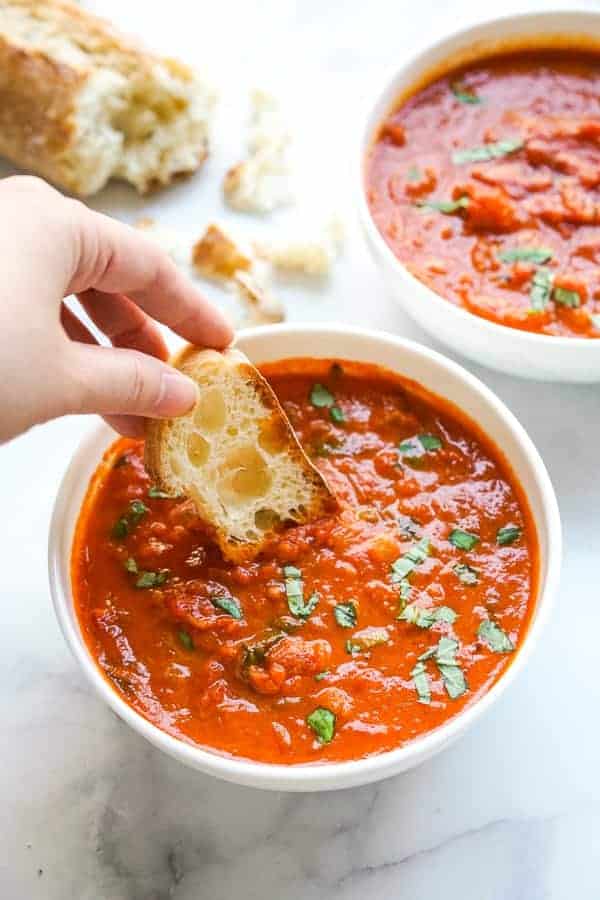 All that to say, don't shaw away from making tomato soup using canned tomatoes. They make yummy soups and I promise it isn't a step done from using fresh or roasted tomatoes.
Ingredient Notes
Making tomato soup with canned tomatoes makes the soup-making process fairly easy…which I love because seriously, who doesn't love easy?!
But we are not just talking about easy here, we are also using good quality, fresh ingredients to really take our simple tomato soup to the next level.
Here are the ingredients used in this tomato basil soup recipe:
San Marzano Canned Peeled Tomatoes – they are rich in flavor, super sweet, simply the BEST kind of canned tomatoes, and it will make a difference in the soup! When making tomato soup with canned tomatoes, this is, hands down, the BEST one to use.
red wine – wine creates depth and complexity in flavors in a way that would typically be achieved only with multiple ingredients. Any non-sweet red wine should work for this. Cook with wine you don't mind drinking. It doesn't have to be super expensive but do not cook with old wine.
fresh basil – you can use dried basil too but fresh is always better and makes your tomato soup way more flavorful
vegetable broth
heaven cream – makes the tomato soup rich and creamy
garlic – use fresh, avoid substituting with garlic powder. The flavors are just not the same
onion – white, sweet or yellow onion. Diced into small pieces.
sugar, salt and pepper – to enhance and open up the flavors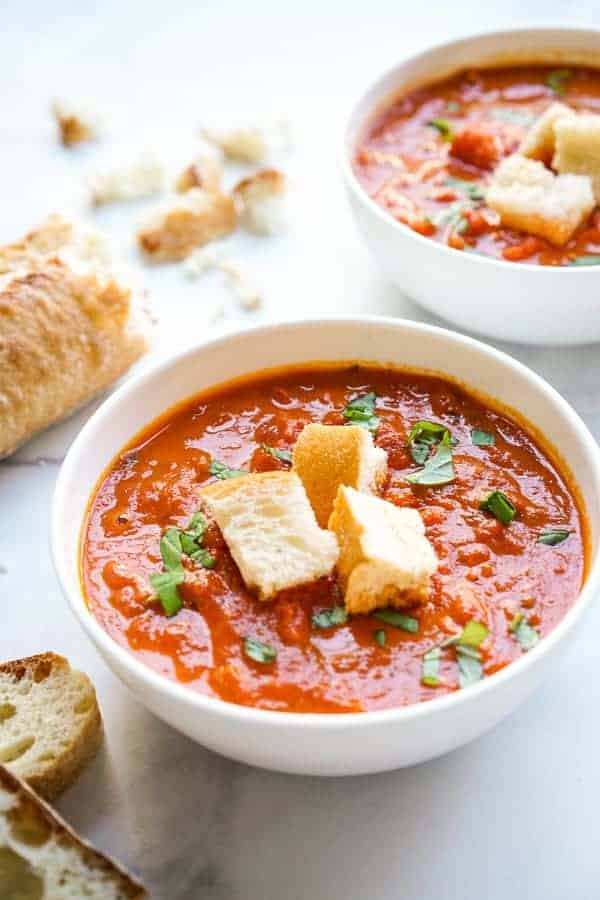 How to make homemade tomato basil soup with canned tomatoes
The beauty of this tomato soup recipe is that is it is both rich in flavor and simple. We also infuse it with herbs, garlic and onion, and cook it just enough to release all those gorgeous flavors.
We are doing all that while not spending a long time in the kitchen. I typically get everything done from start to finish in 30 minutes.
To make this tomato soup with canned tomatoes, start by sautéing garlic and onions with olive oil until they are fragrant and onions are softened.
Then add the rest of the ingredients – canned tomatoes, vegetable broth, red wine, basil, granulated sugar, salt and pepper.
Bring to a boil and let it simmer for about 15 minutes. We are giving it time to thicken and also for the red wine to be cooked down.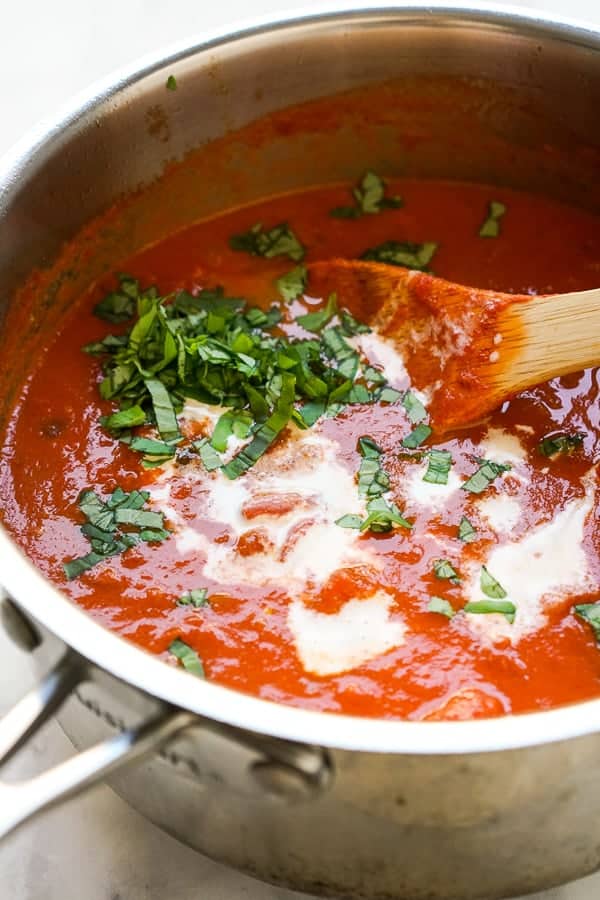 Then we add the heavy cream to make the tomato soup rich and creamy.
Stir to combine, and add more salt to taste if needed to open up the flavors.
Trust me when I say that my homemade tomato soup with canned tomatoes is so simple to make, and yet so flavorful and very satisfying.
I want to show everyone that you don't need to spend all the time cutting up or even roasting tomatoes to make a delicious tomato soup.
Tomato soup with a high quality canned tomatoes will do the trick!
Toppings
Here is my theory: when it comes to tomato soup, what you serve with it is just as important as the soup itself…
So here are some ideas on how to garnish and serve this yummy homemade tomato soup:
Warm toasted baguette – check out this homemade version or grab a loaf from the store.
Croutons – check out my homemade croutons or grab a bag from the store.
Cheesy toast (see photograph below) – to make the cheesy toast, simply toast some bread (any kind!) in the toaster oven. Remove and spread some butter on it, then sprinkle with mozzarella cheese. Bring it back into the toaster oven and toast it for a couple of minutes until the cheese melts.
Grilled cheese
Fresh basil – even more as garnish!
Shaved parmesan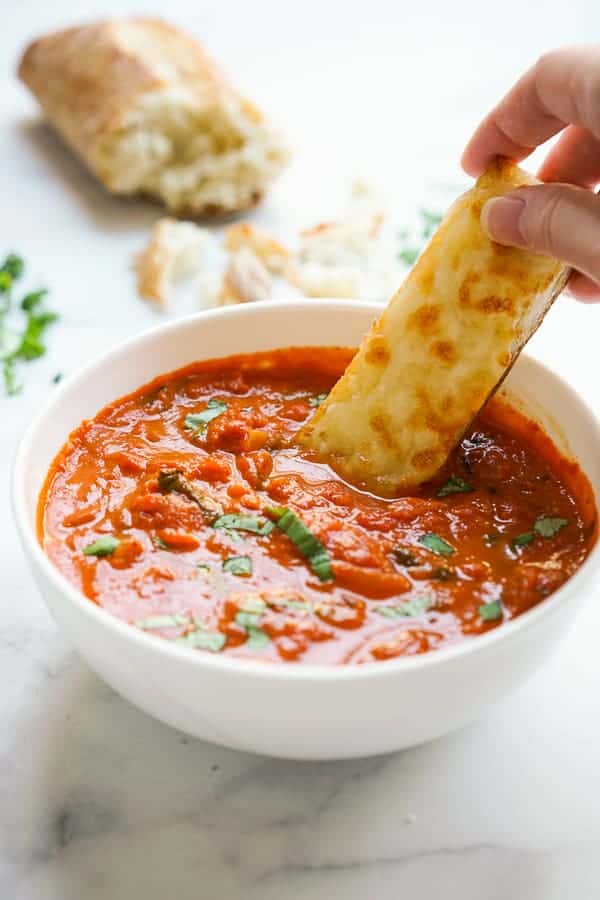 Freezing and Reheating
One of my favorite things about this tomato soup with canned tomatoes recipe is that you can freeze and reheat it easily. It will not change its flavor and texture at all.
I sometimes even double the recipe and freeze some of it for whenever my heart desires tomato soups.
You can freeze the soup in an air tight container for up to 3 months in the freezer.
To reheat, simply bring it to a defrost overnight in the fridge, and then microwave your tomato soup in the oven. It's truly that easy!
Frequently Asked Questions
I prefer a creamier and smoother tomato soup. What should I do?
Use an immersion blender to blend it up at the end, or pour your tomato soup into a blender and blend it up.
If I don't have or want to use red wine, what should I do?
Simply omit it!
Can I freeze this?
Absolutely! Please see freezing and reheating instructions bove.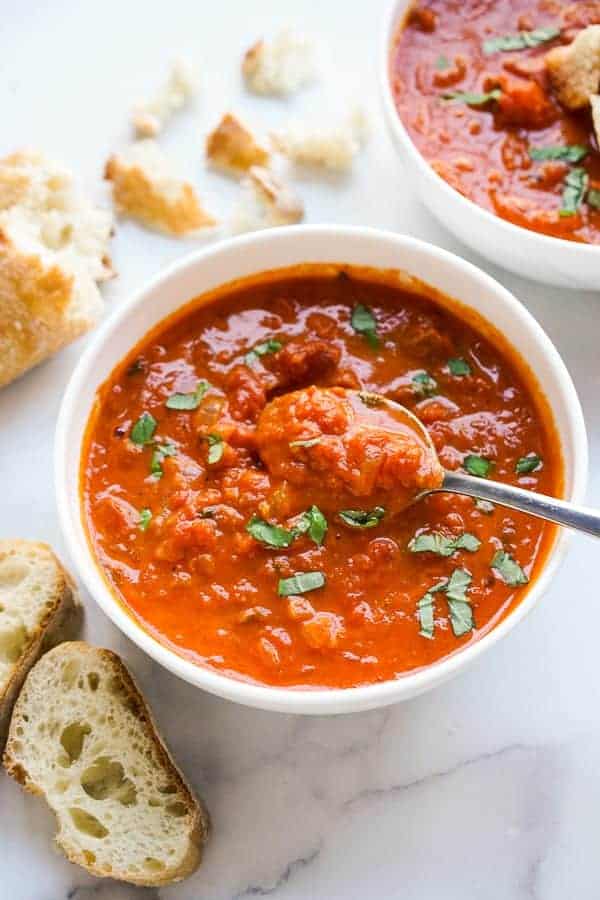 DID YOU ENJOY THIS RECIPE? Please comment below and give us a 5-star rating! This will help others find this recipe on Google and Pinterest. We very much appreciate your help! 🤍
Other Yummy Soup Recipes
Love soups? Check out these other yummy soups recipes!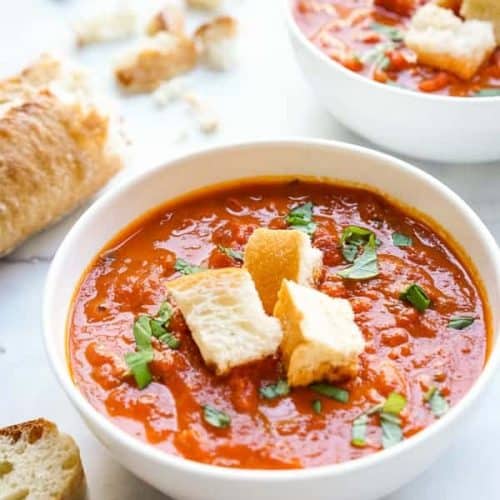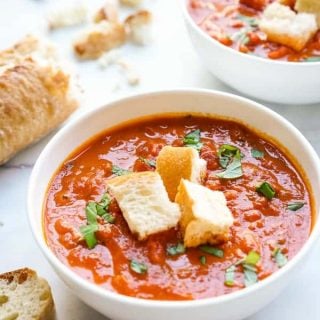 Tomato Soup with Canned Tomatoes
Hearty, healthy and rich in flavor, this Simple Tomato Soup recipe is made with San Marzano canned tomatoes and infused with herbs and spices. Super easy to make (30 minutes only!).
Print
Pin
Ingredients
4-6

cloves

garlic

1/4

cup

diced white or yellow onion

1-2

tsp

olive oil

1

cup

vegetable broth

28

oz

San Marzano canned tomatoes

2

tbsp

red wine

1/4

cup

heavy cream

more if needed

1/4

cup

fresh basil

chopped into small pieces, or 2 tsp dried basil

2

tbsp

granulated sugar

1/2

tsp

salt

1/4

tsp

black pepper

1/4

cup

grated parmesan cheese

more as garnish if needed
Instructions
Dice onion and crush cloves of garlic.

In a medium pot, add olive oil, garlic cloves and diced onions. Sauté for a few minutes until fragrant and onions are softened.

Add San Marzano canned peeled tomatoes, vegetable broth, red wine, basil, granulated sugar, salt and pepper. Bring to a boil.

Once boiled, lower heat to medium low and cook for another 15 minutes, or until wine is completely cooked down and soup has thickened slightly.

Add heavy cream, stir to combine. Boil for another 1-2 minutes.

Remove from heat, then remove all the garlic clove pieces from soup. Add more salt to taste if needed.

Optional: If you like your soup less chunky, using a blender or immersion blender to blend the soup so that it is creamy.

Garnish with shaved parmesan cheese and croutons (optional). Highly recommend serving with cheesy toast or baguette!
Notes
San Marzano Whole Peeled Canned Tomatoes typically comes with basil in them. If you are not using this product, add more dried or fresh basil.
Nutrition
Calories:
161
kcal
|
Carbohydrates:
18
g
|
Protein:
4
g
|
Fat:
8
g
|
Saturated Fat:
5
g
|
Polyunsaturated Fat:
1
g
|
Monounsaturated Fat:
3
g
|
Cholesterol:
22
mg
|
Sodium:
924
mg
|
Potassium:
441
mg
|
Fiber:
2
g
|
Sugar:
12
g
|
Vitamin A:
710
IU
|
Vitamin C:
20
mg
|
Calcium:
138
mg
|
Iron:
2
mg