This post may contain Amazon or other affiliate links. As an Amazon Associate I earn from qualifying purchases at no additional cost to you.
Simple Tomato Soup. Stressing on the word simple. Because who needs difficult in their lives? Simple, but oh no it is NOT simplistic.
It is so rich in flavor, so comforting, so delicious…prepare to be wowed!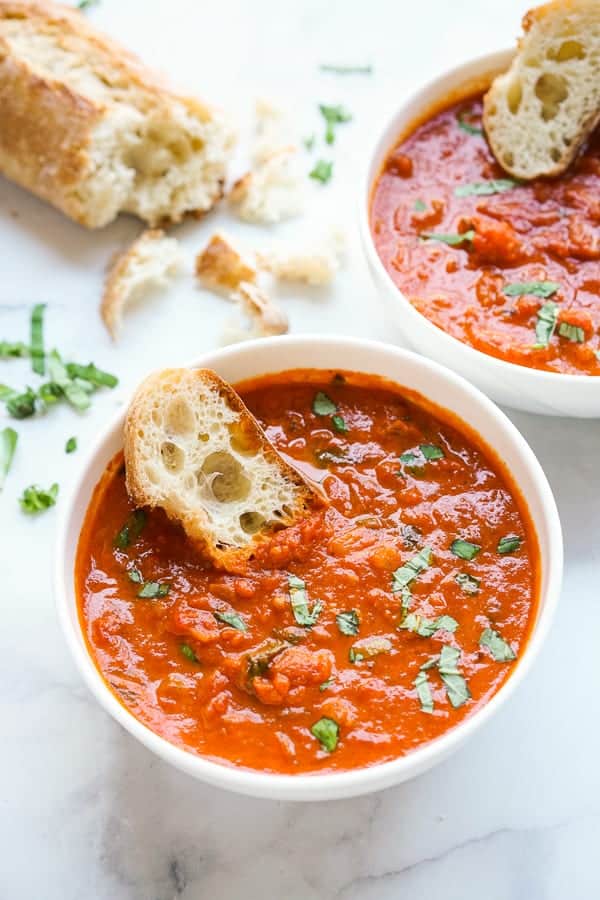 It's cold. It's rainy. It's blanket, leggings and hot soup season. Hallelujah.
Colder days are my kind of days – as long as I'm indoors and snuggled under the comforts of comforters, blankets and sweatshirts.
My current dream lunch during colder days is this – tomato soup and grilled cheese. I toggle between buying canned tomato soups and making them.
The motivation for making my own tomato soups is how high the salt-content is in canned soups, and it is SO MUCH YUMMIER when I make them myself. Some days I bite the bullet and buy them, because let's face it some of them are pretty tasty, and it is convenient.
Other days I make them, but I make them the simple way, and I use good ingredients (KEY!) to make them.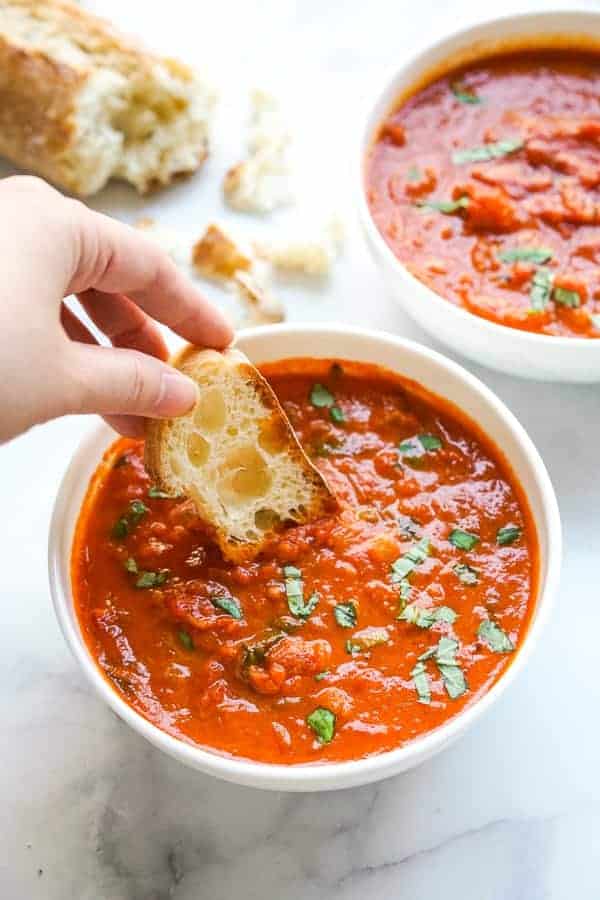 Good ingredients makes a difference in your cooking, folks! It will make this soup so much tastier you will want to ditch all those canned soups and say bye-bye to them forever.
The Secret to this Simple Tomato Soup
When it comes to good ingredients for my Simple Tomato Soup, it is this – San Marzano Canned Peeled Tomatoes.
Friends, this is the BEST canned tomatoes out there. They are rich in flavor, super sweet, simply the BEST kind of tomatoes, and it will make a difference in the soup! In other words, use it. It's life-changing. 😉
Another important ingredient – red wine. I love cooking with wine lately. Evidence: this White Wine Tomato Skillet Chicken and this Beef Stew recipe.
Wine creates depth and complexity in flavors in a way that would typically be achieved only with multiple ingredients.
Splash two tablespoon of red wine into this soup and give it the flavors it deserves. And the best part? Enjoy the rest of the bottle while you cook!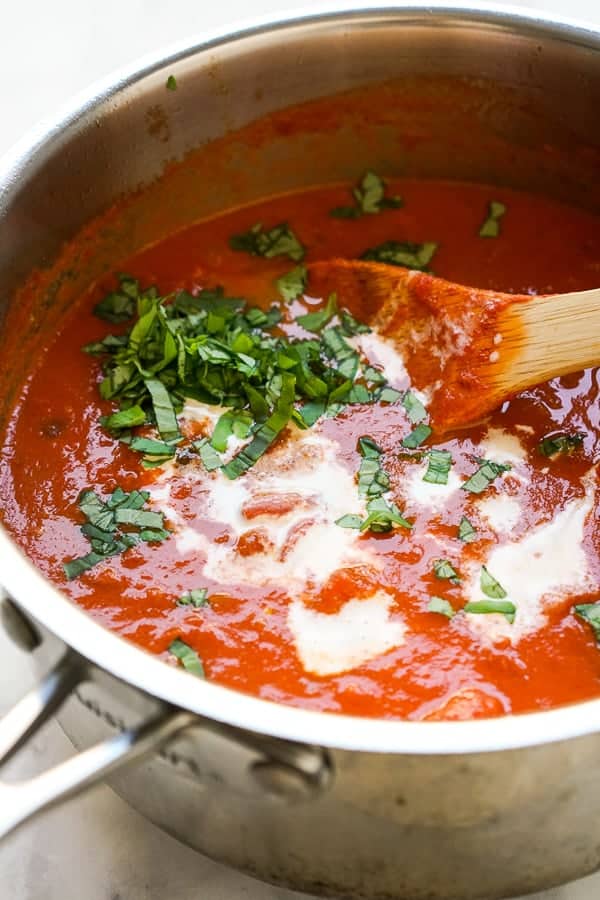 The beauty of this recipe is that is it is both rich in flavor and simple. We also infuse it with herbs, garlic and onion, and cook it just enough to release all those gorgeous flavors.
We are doing all that while not spending a long time in the kitchen. I typically get everything done from start to finish in 30 minutes.
Yes, that includes chopping up the garlic and onions, and the time it takes to let it sit and simmer.
Make ahead pro-tip
One of my favorite things about this recipe is to double the recipe and freeze some of it for whenever my heart desires tomato soups.
This is a good way to avoid canned soups because I now have homemade (yummier, healthier, less-salt) ones in my freezer!
Want it less chunky?
Use an immersion blender to make the soup creamier! Or bring soup to blender and blend it up!
Other Topping ideas!
Here is my theory: when it comes to tomato soup, what you serve with it is just as important as the soup itself…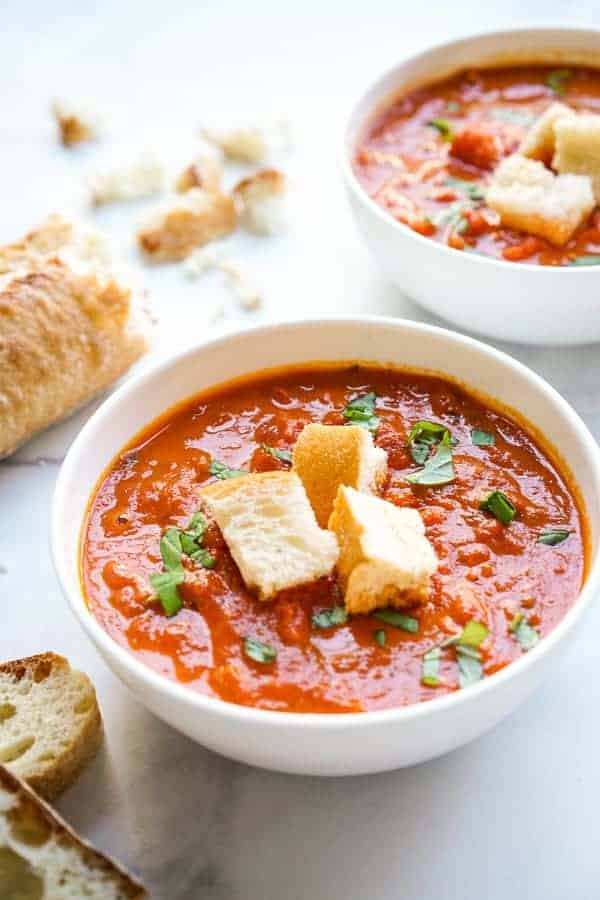 Maybe it's just my love for a variety of textures and tastes, and always needing to pair my food…
But it does make it taste so much yummier!
So here are some ideas on how to garnish and serve this yummy soup:
Warm toasted baguette
Croutons
Cheesy toast
A full-blown grilled cheese!
Fresh basil (garnish)
Shaved parmesan (garnish)
Okay let's take a moment and discuss the beautiful thing called cheesy toast, because when I have the time to make it, it's my favorite way to eat this tomato soup.
It's not as labor intensive as grilled cheese, yet you get all the benefits of grilled cheese. Also, cheesy toast and tomatoes = match made in heaven.
To make the cheesy toast, simply toast some bread (any kind!) in the toaster oven. Remove and spread some butter on it, then sprinkle with mozzarella cheese.
Bring it back into the toaster oven and toast it for a couple of minutes until the cheese melts.
Then DIP AWAY like your life depends on it.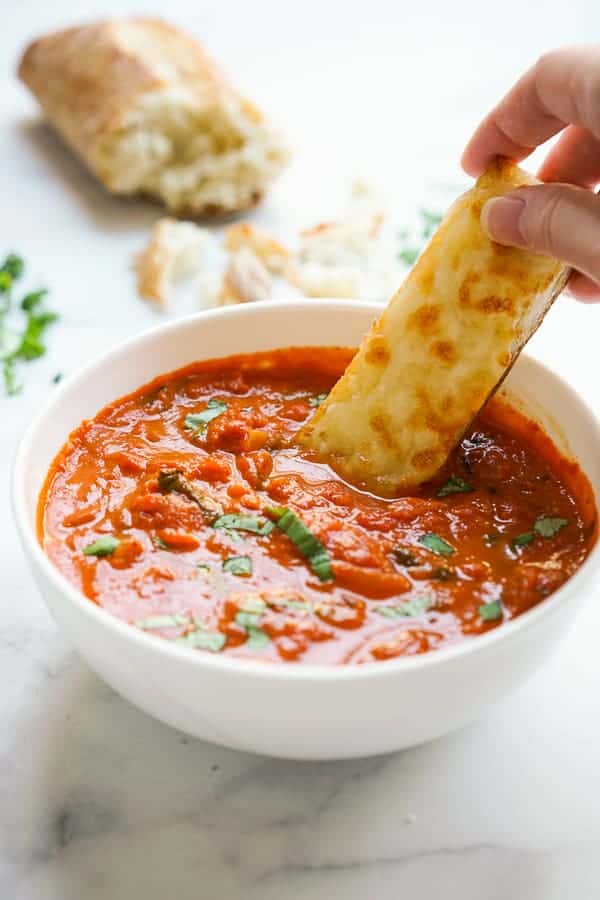 So…what say you?
Are you a cheesy toast, grilled cheese, croutons, or baguette kinda tomato-soup person? 🙂
Whichever way you choose, it's the perfect lunch or light dinner! ENJOY!
Try this today and don't forget to let me know how it goes in the comment box below, and share pictures of your creation on instagram by tagging #joyousapron! And while you are there, don't forget to follow me! 🙂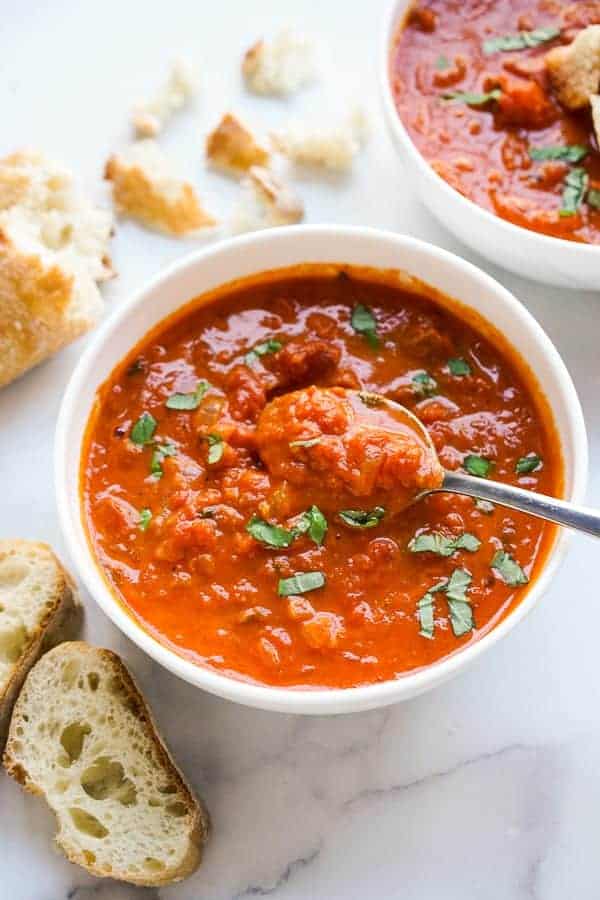 DID YOU ENJOY THIS RECIPE? Please comment below and give us a 5-star rating! This will help others find this recipe on Google and Pinterest! We very much appreciate your help! 🤍
Other Yummy Soup Recipes
Love soups? Check out these other yummy soups recipes!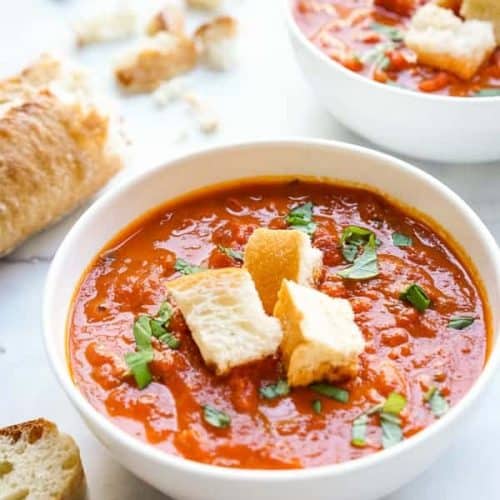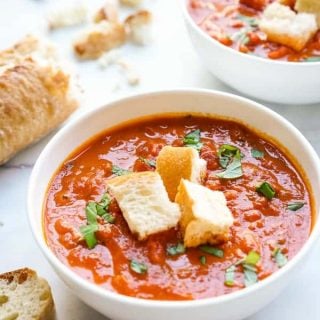 Simple Tomato Soup
Hearty, healthy and rich in flavor, this Simple Tomato Soup recipe is made with San Marzano canned tomatoes and infused with herbs and spices. Super easy to make (30 minutes only!).
Print
Pin
Ingredients
4-6

cloves

garlic

1/4

cup

diced white or yellow onion

1-2

tsp

olive oil

1

cup

vegetable broth

28

oz

San Marzano canned peeled tomatoes

2

tbsp

red wine

1/4

cup

heavy cream

more if needed

2

tsp

dried basil

or 1/4 cup chopped fresh basil

2

tbsp

granulated sugar

1/2

tsp

salt

1/4

tsp

black pepper

1/4

cup

grated parmesan cheese

more as garnish if needed
Instructions
Dice onion and crush cloves of garlic.

In a medium pot, add olive oil, garlic cloves and diced onions. Sauté for a few minutes until fragrant and onions are softened.

Add San Marzano canned peeled tomatoes, vegetable broth, red wine, heavy cream, dried basil or fresh basil, granulated sugar, salt and pepper. Bring to a boil.

Once boiled, lower heat to medium low and cook for another 15 minutes.

Remove from heat, then remove all the garlic clove pieces from soup.

Optional: If you like your soup less chunky, using a blender or immersion blender to blend the soup so that it is creamy.

Garnish with shaved parmesan cheese and croutons (optional). Highly recommend serving with cheesy toast or baguette!
Notes
San Marzano Whole Peeled Canned Tomatoes typically comes with basil in them. If you are not using this product, add more dried or fresh basil.
Nutrition
Calories:
163
kcal
|
Carbohydrates:
18
g
|
Protein:
5
g
|
Fat:
9
g
|
Saturated Fat:
5
g
|
Polyunsaturated Fat:
1
g
|
Monounsaturated Fat:
3
g
|
Cholesterol:
26
mg
|
Sodium:
912
mg
|
Potassium:
443
mg
|
Fiber:
2
g
|
Sugar:
12
g
|
Vitamin A:
635
IU
|
Vitamin C:
20
mg
|
Calcium:
161
mg
|
Iron:
3
mg