This post may contain Amazon or other affiliate links. As an Amazon Associate I earn from qualifying purchases at no additional cost to you.
When it's cold outside and I want comfort food, this easy Instant Pot Chicken Ramen always hits the spot. Ramen noodles combined with shredded chicken, jammy eggs, served in a truly flavorful homemade chicken broth.
Here's the secret: the amazing broth is the star of the dish!
And thanks to the Instant Pot/ pressure cooker, you will have the most delicious dinner on the table in no time…while eating really, really well.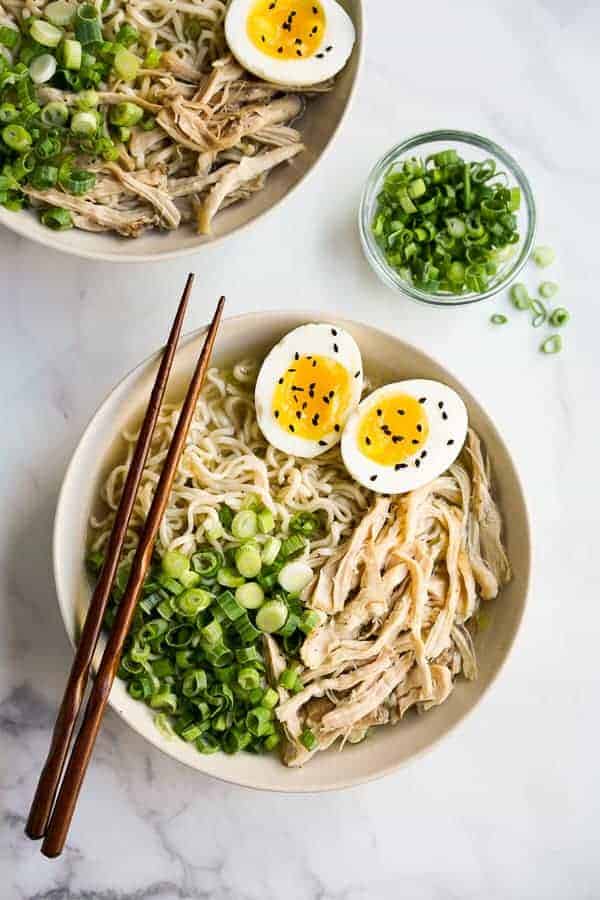 I love Instant Pot Chicken Ramen
I grew up eating soups made from homemade stocks that takes hours (or even a whole day) to cook.
We slowly boil the meat and the bones, and wait very patiently for the most flavorful, amazing tasting broth to grace us with its presence.
And then enter the life-changing concept that is the pressure cooker slash Instant Pot. Where one throws everything in this magical device and BAM, broth that takes a whole day to make are ready in less than an hour.
Yes, it also tastes like it has been cooking for a whole day.
Welcome to the 21st century, where everything is convenient and (almost) instantaneous.
This yummy Instant Pot Chicken Ramen is simply that: convenient, (almost) instantaneous, and so incredibly delicious. We love this meal to pieces, and here are a few things you should know about it:
The broth is crazy flavorful. Don't under estimate this simple-looking bowl of ramen. It pressure cooks the chicken thighs to create the best tasting broth, and you will never look at store-bought chicken stock the same way again.
Using the Instant pot or pressure cooker, it makes this dish so attainable and easy to make!
It stores really well and we love eating this as leftovers.
It also happens to be healthy and good for you! No more store-bought ramen flavor packets with ridiculously high salt content.
So versatile! More on this later…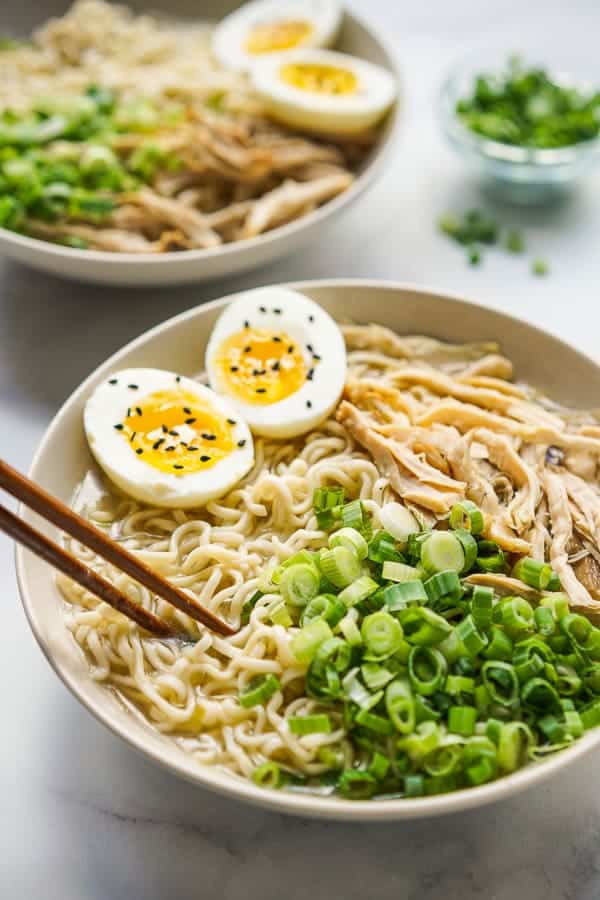 I should also note that this is not a traditional ramen recipe. It tastes kinda like traditional ramen, but it is not a direct replica (or copycat) of it.
Because traditional ramen is super complicated to make, I wanted to create a recipe that is crazy good but still easy enough for everyday people like you and me to make a simple and yummy comfort food meal at home.
Tips for making Instant Pot Chicken Ramen
Here's how we put this noodle bowl together.
I make the broth in the Instant Pot using Asian-inspired spices (soy sauce, Mirin, sesame oil etc). While the broth is cooking, I typically work on boiling the eggs/peeling them, and chopping the green onions to save time.
P/S: Mirin (Japanese rice seasoning wine) and sesame oil can easily be found in most main stream grocery store today. Try not to skip Mirin as it gives the broth a distinct and delicious flavor.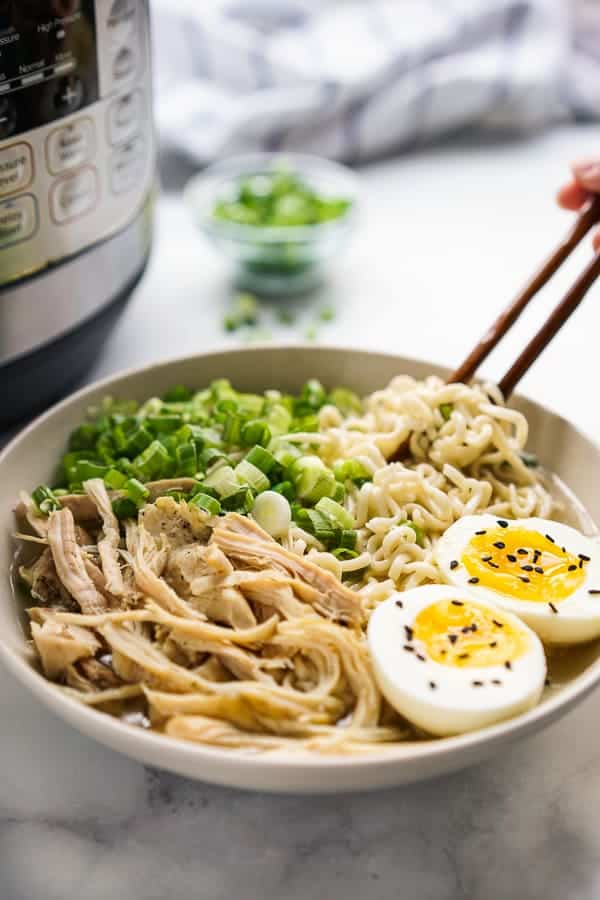 Remove chicken from the broth and shred it, then cook ramen noodles briefly in the Instant Pot (in the broth) under the sauté setting after the broth is completely cooked.
Then assemble everything in the bowl: noodles, broth, shredded chicken, egg, and green onions.
A couple of things to keep in mind when making this dish:
Even though the Instant Pot is set to cook for 20 minutes, give it extra time to build up and release pressure. It takes longer than 20 minutes from start to finish, but the good news is this is all passive time. Feel free to walk away and do something else!
After the broth is cooked, taste the broth and add hot water if the broth taste too salty. I like it slightly thicker/strongly flavored so I typically do not add water, but you may prefer the broth to be more diluted.
If you are using a different pressure cooker, you may or may not have more/less diluted broth. I tested it on a different pressure cooker and noticed it varies slightly using different equipment.
How to store leftovers
The trick to storing leftovers is to store the stock, eggs, noodles and green onions separately. Only combined them when you are ready to eat!
Don't store noodles submerged in soup because noodles will get soggy. You can even freeze the broth for much later if needed.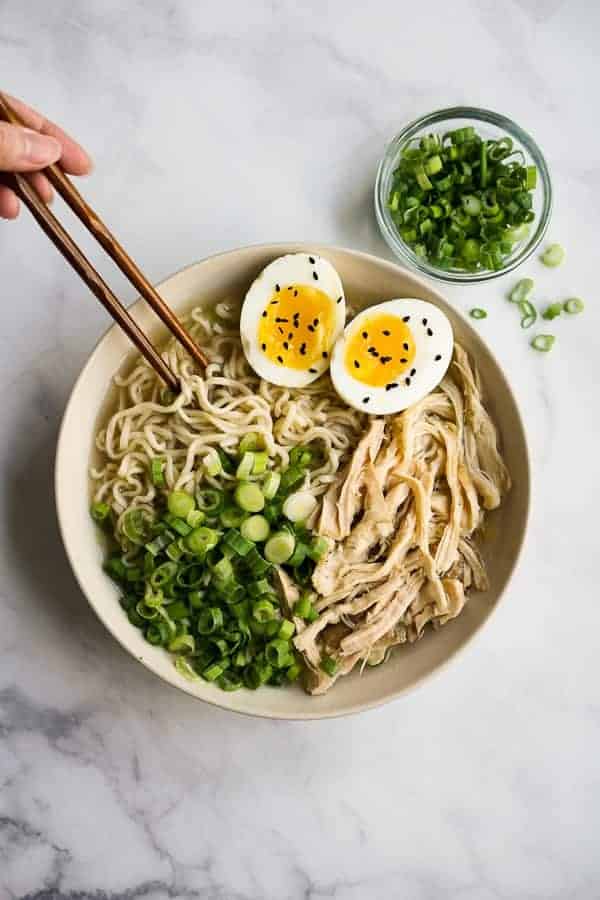 Oh so versatile!
One of the beauty of this dish is that there are lots of ways you can make this!
Here are a few variations:
Use different noodles: Use rice stick noodles (used in Pad Thai, Pho etc), udon, lo mein noodles, or even spaghetti!
Add more veggies: Add other vegetables such as carrots, edamame, bok choy, spinach or other leafy greens.
Add other garnishes: Dried seaweed, sesame seeds, crispy/fried onions or garlic will be delicious as well!
How to make this if I don't have an Instant Pot
Yes! You can use a different pressure cooker to make this.
This dish tastes the best using a pressure cooker, but if you don't have one, you can also use a slow cooker and cook the broth on high for 7-8 hours. You will need to boil the noodles separately instead of cooking them in the broth after the broth is done if you use this method!
I still highly recommend the pressure cooker method because it tastes the best cooking it this way!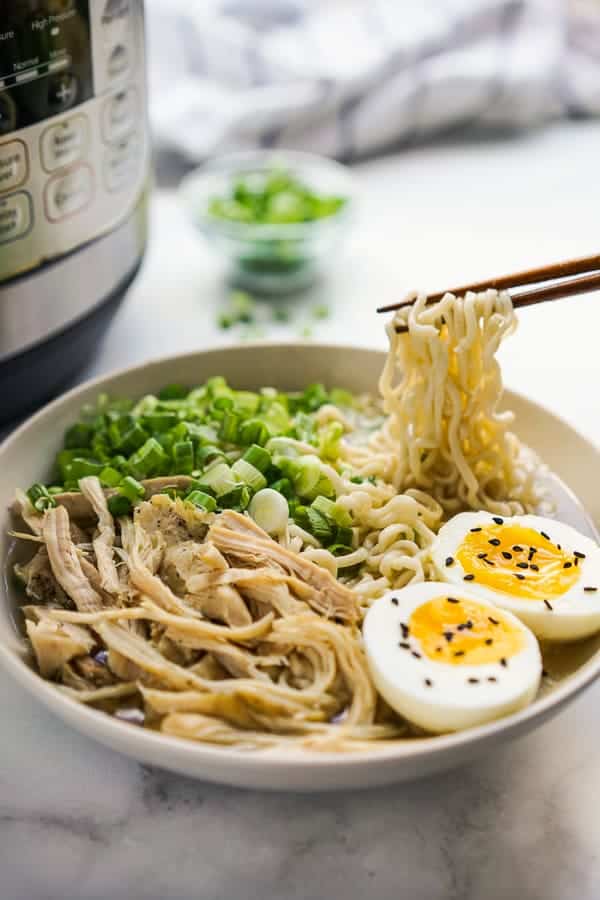 We have been eating this non stop because we love it so much. It is the comfort food you need this Fall/winter!
Give it a try! You won't regret it!
If you make this recipe, comment below and let me know what you think! Also, don't forget to take a picture and tag me on Instagram, because I WANNA SEE!!
Other Noodle Dishes!
Calling all noodle fans! More noodle recipes…just for you! 🙂