Sticky, savory sweet, slightly spice General Tso Shrimp…ready in 15 minutes! Served over rice, it packs lots of yummy flavors and textures. We love to make this easy dish for a quick weeknight dinner!
This is an American Chinese dish that can easily be found at Chinese restaurants all over North America. But prepare to be wowed by this yummier and healthier homemade version!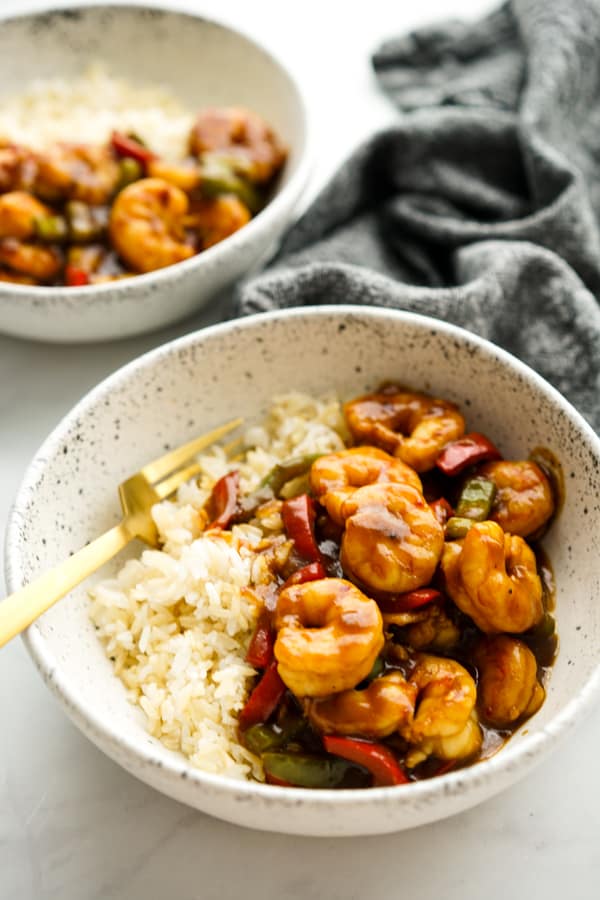 If you like delicious Chinese takeout copycats, don't forget to also check out my Teriyaki Salmon, Mongolian Beef Noodles, Sweet and Sour Chicken, Steak Fried Rice and Kung Pao Shrimp recipe!
What is General Tso Shrimp
What is General Tso Shrimp?
Like me, that might be your first question upon hearing the words 'General Tso Shrimp'.
There is a general from history whose name is in fact, General Tso, but there is no connection between the dude and the popular Chinese American dish.
General Tso Shrimp, or chicken/tofu/cauliflower, is actually invented in North America by a Chinese restaurant chef. He named the dish General Tso, and here we are many decades later, enjoying the dish almost everywhere in the country.
I wish I could tell you it was authentic, invented in China, and enjoyed by kings and queens for centuries. Sure sounds like a cool story…
But I can tell you it is delicious.
Like lip-smacking, tastebuds-dancing, eyes-wide-open delicious.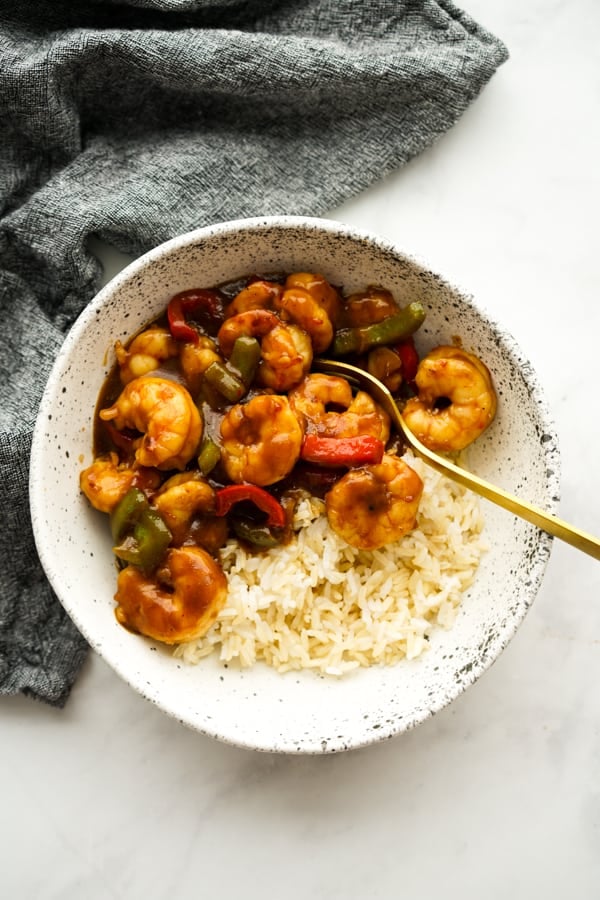 While a lot of Chinese restaurants would bread the protein for General Tso dishes, deep fry it and toss it in sauce, I opted to not do that for this recipe and made a quicker, healthier, and easier version.
Whenever we make General Tso Shrimp at home, we do it this way because not breading and deep frying makes the dish 1) healthier, and also 2) way easier and quicker.
We are simply searing some fresh shrimp in a little bit of vegetable oil with fresh garlic and ginger, combine them with crunchy bell peppers, and then toss everything in the irresistible signature General Tso stir fry sauce.
Ingredients
General Tso Shrimp is made with simple ingredients that are easy to find, even in regular grocery stores. You don't have to go to the Asian store to get the ingredients for this recipe.
You will need fresh raw shrimp, bell peppers, fresh garlic and fresh ginger.
As for the stir fry sauce, bring together these ingredients:
soy sauce – any soy sauce would work!
hoisin sauce – popular in a lot of Chinese cooking. Salty thick sauce with a sour tint
rice vinegar – can be substitute with white vinegar
sesame oil – has a distinct nutty aroma
brown sugar
corn starch
water
red chili flakes – add more of this if you like it spicy!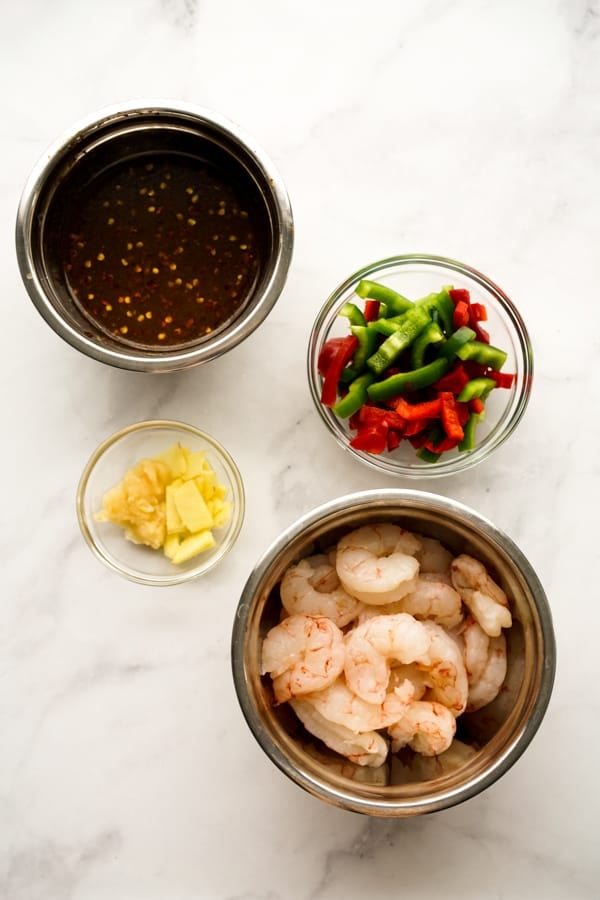 How to make General Tso Shrimp
We will be implementing the stir fry method on this General Tso Shrimp recipe. Which basically means frying it on a wok or skillet over a stove, preferably on a super hot stove.
Stir fry's are great because they retain the flavors and textures of the ingredients by cooking it in a short time and under high heat.
It also means dinner will be done in no time!
The process is takes less than 10 minutes, and step-by-step details are in the recipe card below.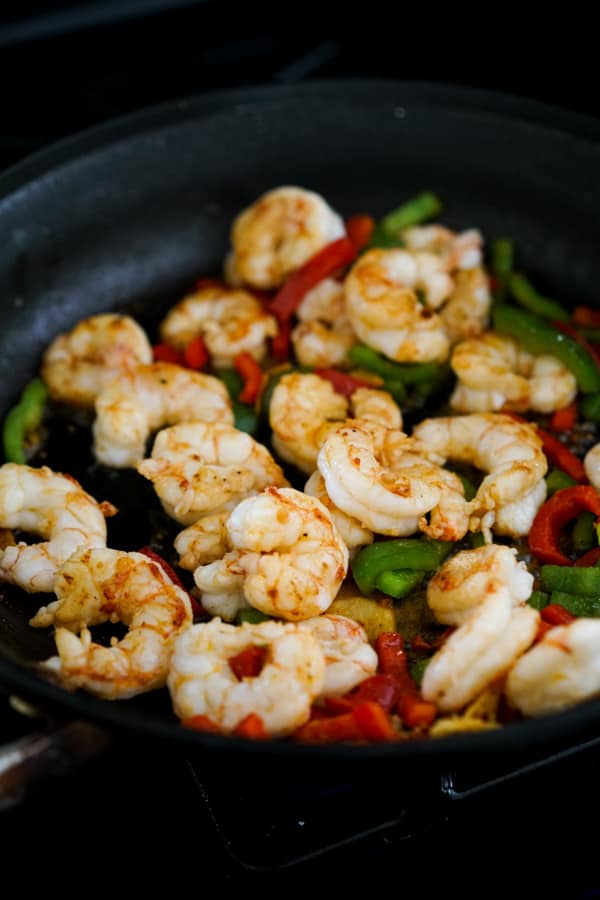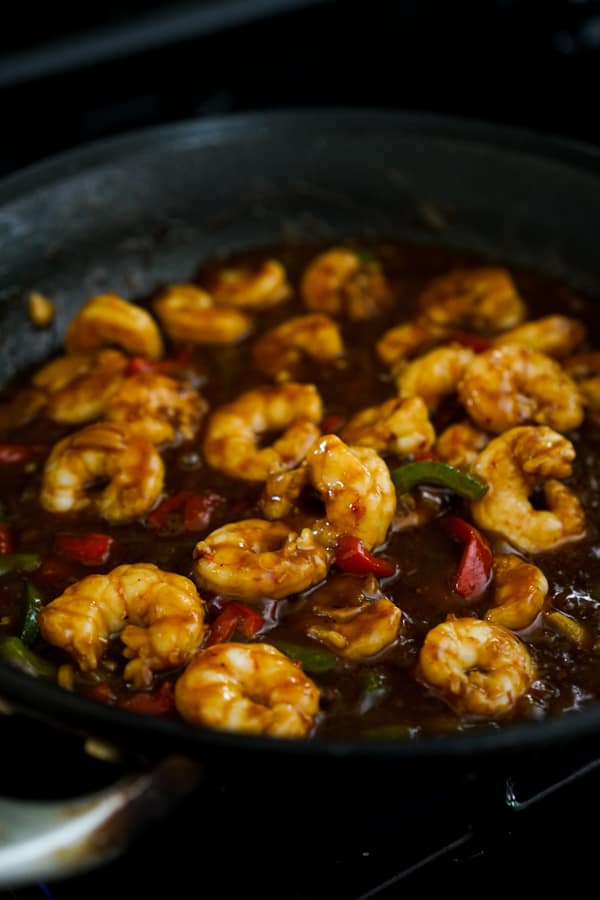 Stir Frying Tips
A few tips and tricks that may be helpful to know when stir frying General Tso Shrimp, or really any stir fry in general:
Prepare all the ingredients beforehand and line them up by the stove before beginning the stir frying process.
Cook under high or medium high heat.
Start by adding the oil, wait for oil to heat up before adding any ingredients to it. This way you will get a nice 'sear' on the shrimp.
Do not overcook shrimp! Once shrimp turns pink, curl up, and are no longer translucent, it is done. It should only take a few minutes to cook shrimp.
Do not overcrowd the skillet/wok. Use a big skillet/wok to cook this, and if you are doubling recipe, consider cooking it in two batches.
Stir continuously throughout the whole stir fry process
I wrote a whole post on stir frying, so if you want even more tips and tricks on that, check out 8 Tips to a Great Stir Fry!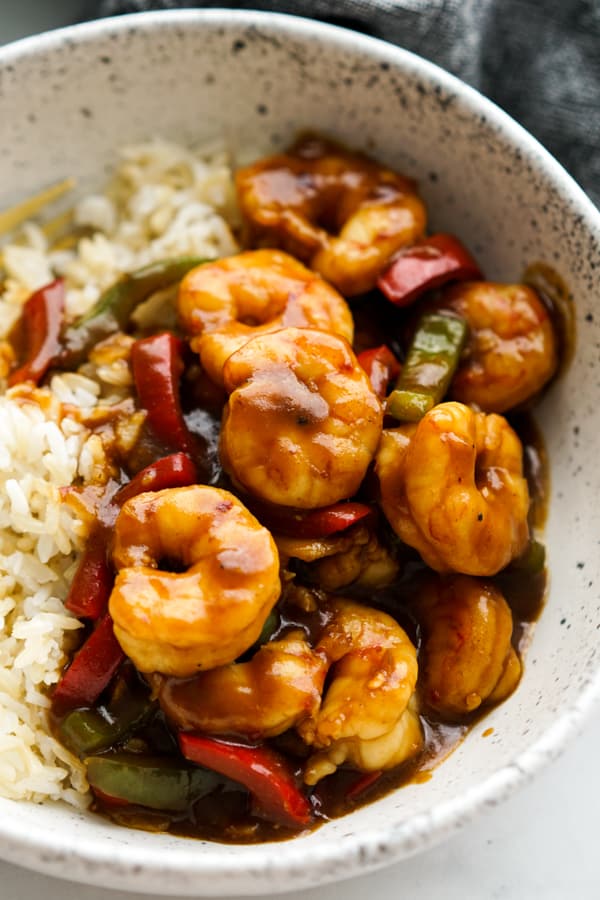 More tips and notes!
A couple more things:
Use raw shrimp for General Tso Shrimp, avoid using cooked shrimp. They taste better, are juicy and fresher.
If shrimp is frozen, bring to a defrost completely and pat dry before cooking it.
I was generous in the sauce portion because a constant feedback I get from my readers is they like sauce! Feel free to drizzle it over rice, noodles, other dishes…you are welcome! ❤️
Variations and Substitution
This is a highly versatile recipe so here are some substitution suggestions:
Swap out shrimp for chicken, beef, pork, tofu…or make it vegetarian!
Swap out bell peppers for other vegetables – carrots, snow peas, broccoli, cauliflower, bak choy etc.
However, when it comes to ingredients for the stir fry sauce for General Tso Shrimp, I highly recommend following the recipe and avoid substitutions.
You should be able to find all the sauces in the Asian aisle of most regular grocery store.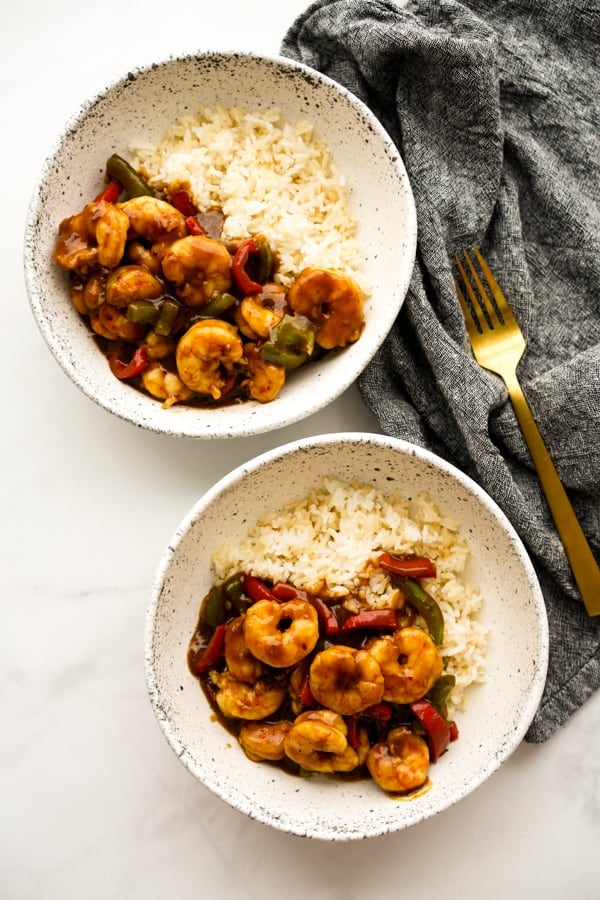 Frequently Asked Questions
What to serve with General Tso Shrimp?
Serve it with rice, fried rice, or noodles! Or try it with my Easy Chicken Fried Rice. If you want more veggies, serve with this easy Garlic Sautéed Spinach that takes only 5 minutes to make!
How do I store leftovers? What is the best way to reheat?
Refrigerate General Tso Shrimp in an airtight container for up to 4 days. It reheats well (and quickly!) in the microwave.
What other veggies can I use for this?
Broccoli, carrots, onions, green beans, baby corn will work well!
Better Than Chinese Takeout
Are you ready to make this happen?
This sticky, flavorful homemade General Tso Shrimp is so much better than takeout!
Control the amount of grease and sodium, know exactly what kind of ingredients are in your meal, and be able to incorporate fresh ingredients into the dish.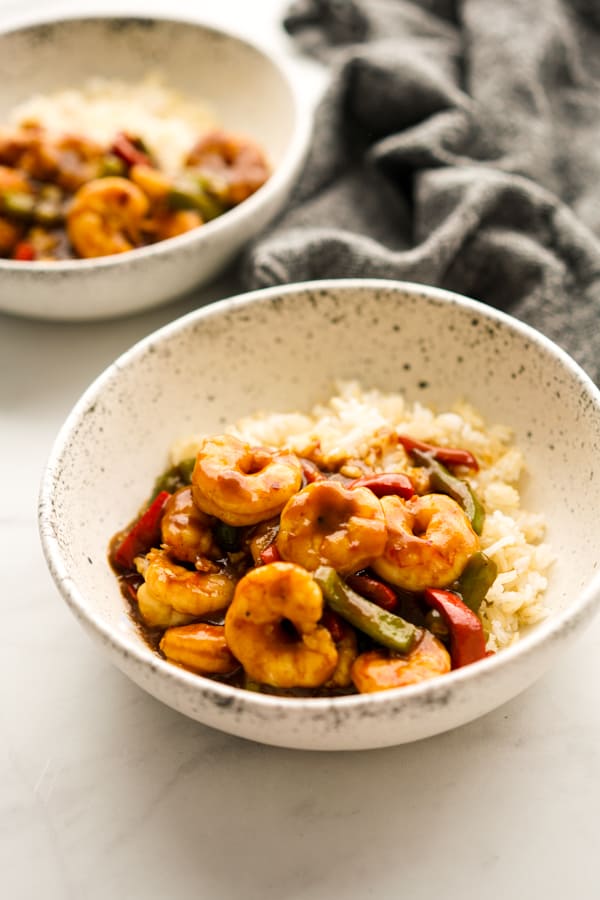 More Chinese/ Asian Inspired Recipes
You might be interested in some of these other reader favorites as well!
DID YOU ENJOY THIS RECIPE? Please comment below and give us a 5-star rating! This will help others find this recipe on Google and Pinterest. We very much appreciate your help! 🤍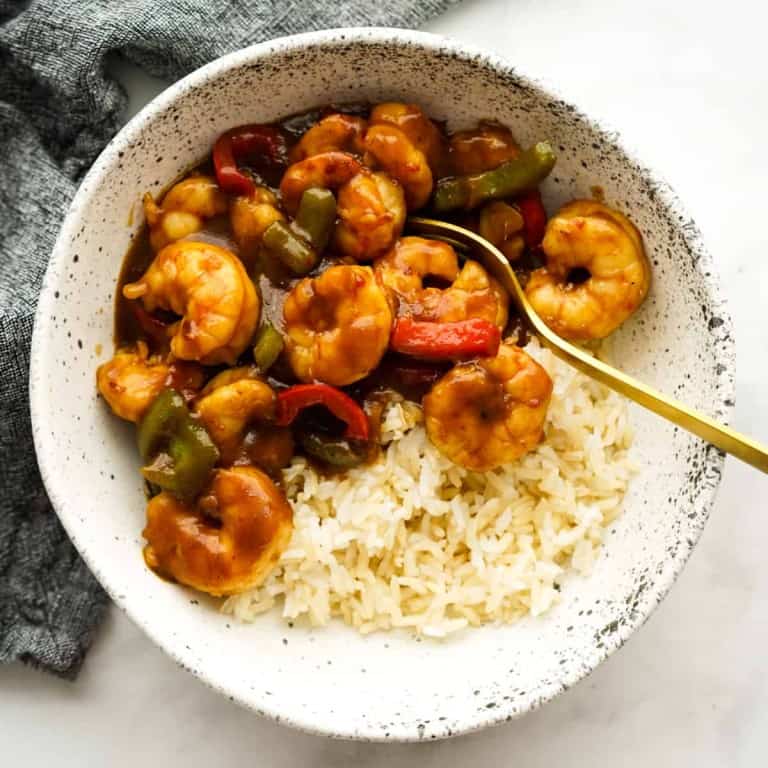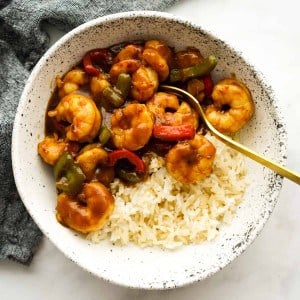 General Tso Shrimp
Juicy shrimp stir fried with crunchy bell peppers, tossed in a savory sweet tangy homemade General Tso stir fry sauce. Skip Chinese takeout and make this yummier and healthier version at home!
Print
Pin
Ingredients
1

tbsp

vegetable oil

5

cloves

garlic

minced

1-2

inches

ginger root

sliced

1 1/2

lbs

raw shrimp

1

cup

red or green bell peppers

sliced
General Tso Sauce
3

tbsp

soy sauce

1 1/2

tbsp

hoisin sauce

3

tbsp

rice vinegar

1

tbsp

sesame oil

4

tbsp

brown sugar

1/3

cup

water

1

tbsp

cornstarch

1/2

tsp

red pepper flakes

more for spicer taste
Instructions
Bring together all General Tso Sauce ingredients. Whisk to combine.

Add vegetable oil to wok or skillet, and heat under high heat. Once oil is heated, add garlic, ginger and shrimp. Stir continuously for 1 minute.

Add bell peppers to wok. Stir continuously for a few minutes. Once shrimp is curled and turns slightly pink (but doesn't have to be completely cooked at this point), add the sauce mixture.

Stir continuously. Once sauce is thickened and shrimp is completely cooked, remove everything from heat promptly.

Serve over rice, and enjoy!
Nutrition
Calories:
327
kcal
|
Carbohydrates:
21
g
|
Protein:
37
g
|
Fat:
10
g
|
Saturated Fat:
4
g
|
Cholesterol:
429
mg
|
Sodium:
2184
mg
|
Potassium:
294
mg
|
Fiber:
1
g
|
Sugar:
15
g
|
Vitamin A:
1241
IU
|
Vitamin C:
56
mg
|
Calcium:
273
mg
|
Iron:
4
mg