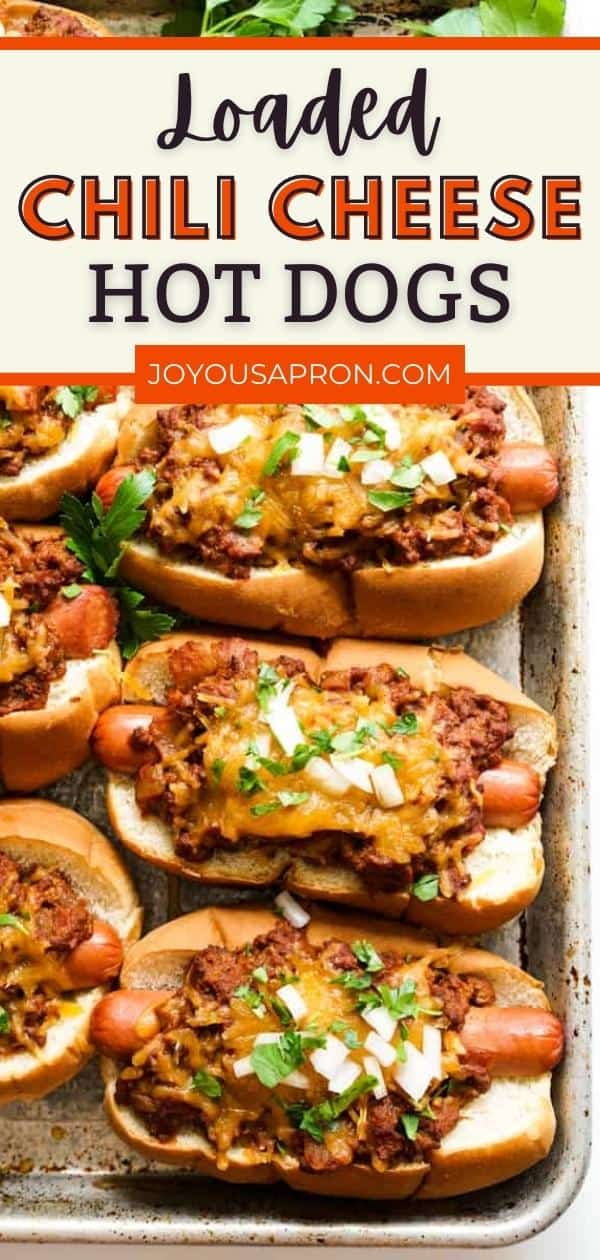 There's nothing quite as hearty and delicious as a solid, loaded Chili Cheese Dog, where a hot dog bun is piled with hot dog, chunky and flavorful chili, and gooey cheese.
It's the classic American sandwich, or shall I say, experience, that you can find at lots of diners across the country, ball parks, and food stalls.
And I'm going to show you how you can recreate this delicious recipe at home, and serve lots of happy tummies by doing so!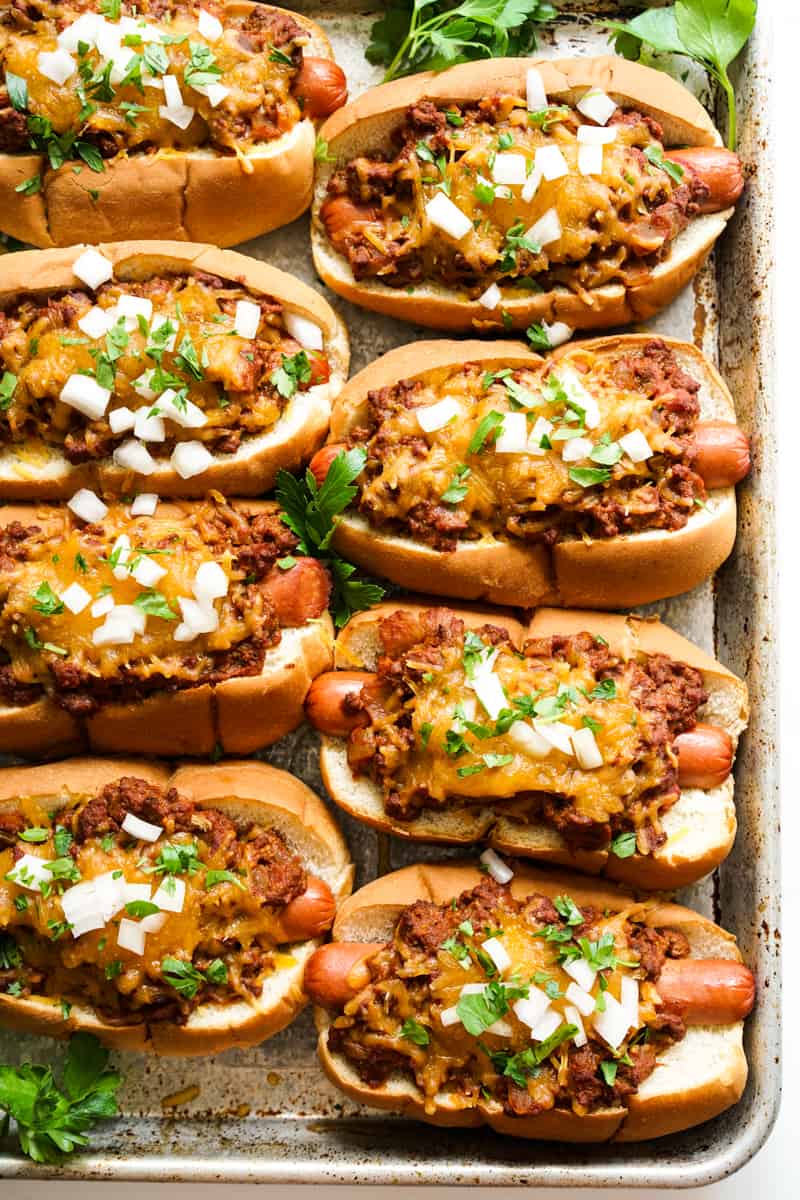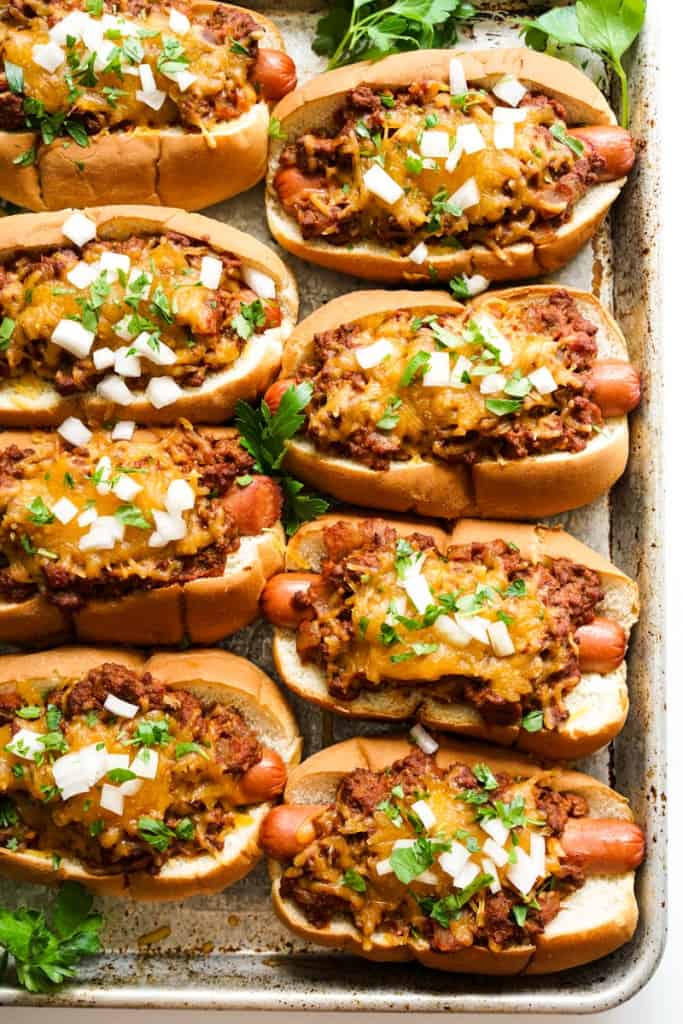 If you love this chili cheese dog recipe, be sure to also check out our Bacon Cheeseburger Sliders, Shredded Chicken Nachos, Cheesy Potato Wedges and Homemade Burger recipes!
Oven Baked Chili Cheese Dog
In our version of chili cheese dog, we are loading up a large baking sheet with all the chili cheese dogs and oven bake them until the cheese are melted and buns are slightly crispy on the edges.
In my experience, when you are trying to serve a larger crowd, baked chili cheese dog on a sheet pan the easiest way to heat and cook a whole lot of chili dogs to feed a whole lot of people.
I make my chili cheese dogs this way for game days, family get togethers and dinners…it's super easy, very tasty, and everyone always love it!
The combination of soft bread with chunky ground beef chili, hot dog, and bites of onions and parsley is hearty and satisfying.
Chili cheese dog is the quintessential American food that will please both kids and adults alike. One bite into it and it transports me to fun summer days cookouts by the pool and watching baseball games in the ballpark.
Ingredients
To make this delicious chili cheese dog recipe, you will need:
For the hot dogs:
hot dog buns
hot dogs – use good quality hot dog such as Hebrew National for the best taste!
cheese – I like to use shredded cheddar cheese for my chili cheese dog. Other shredded cheese works as well.
onions – white, yellow or sweet onions. I typically reserve 1/4 cup of diced onions from the onion I use for the chili to top on my chili dog. Garnish is completely optional.
parsley – as garnish, and is also completely optional.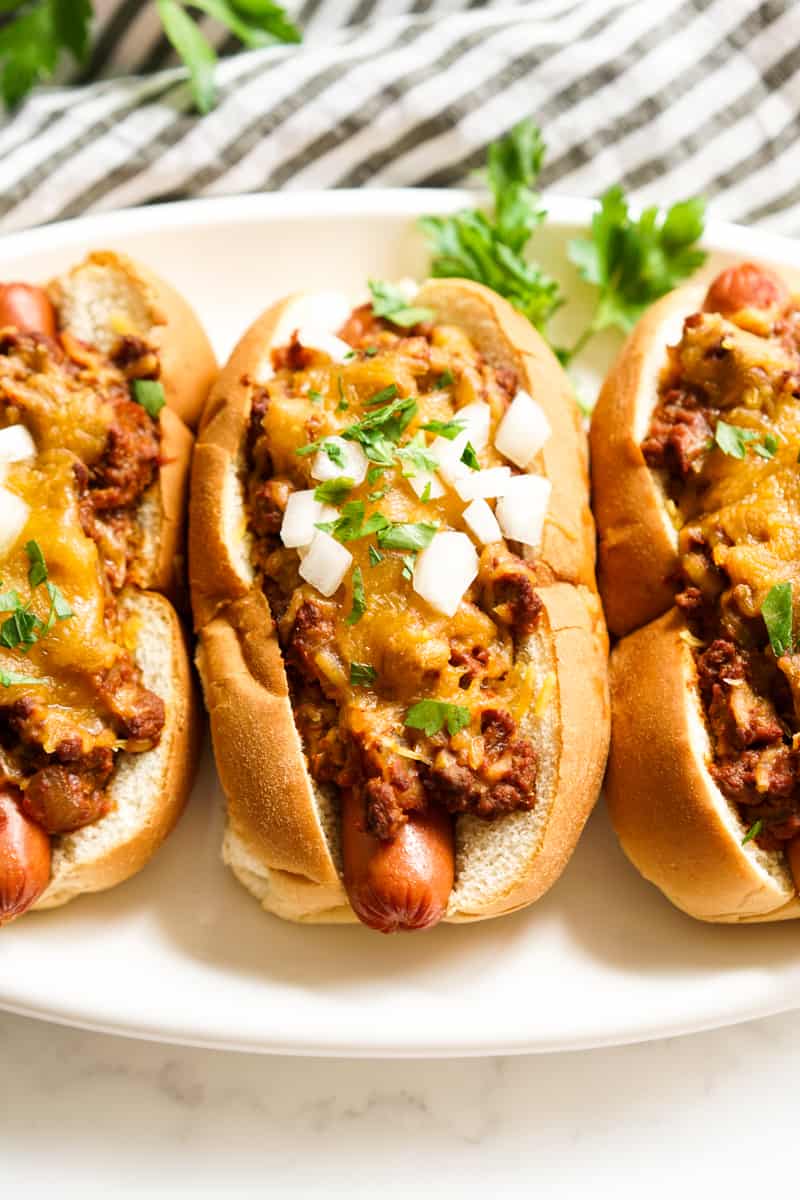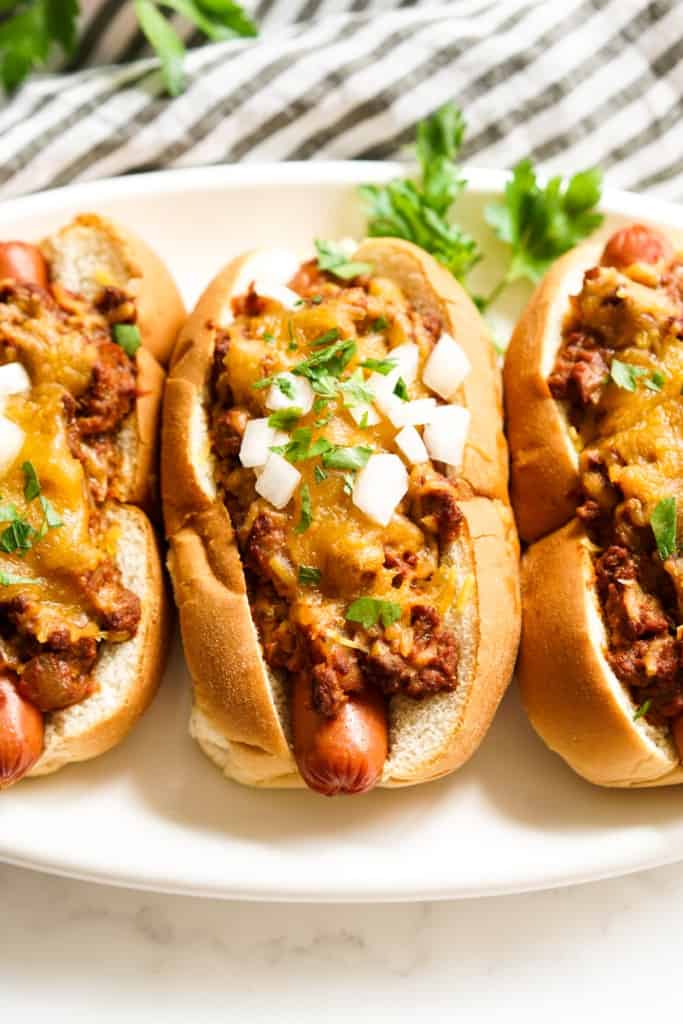 For the chili:
You can use canned chili if you are looking for a quick way to whip this together, but I always prefer homemade chili if I have the time to make it (and it's really not hard or time consuming!)
lean ground beef – I typically use 90% lean meat or higher. Opt for ground turkey or chicken for a lighter, healthier twist.
white onion – or yellow or sweet onion. Diced into small pieces. You can reserve 1/4 cup to be used as garnish.
crushed tomatoes – comes in a can. In a pinch, diced tomatoes work as well.
tomato paste – also comes in a can
chili powder
smoked paprika – or paprika
ground cumin
garlic cloves – can substitute with garlic powder if you don't have fresh garlic at hand
salt – make sure to adjust accordingly to taste. Salt helps open up the flavors of the chili, so if chili taste blend, add more salt to make it more flavorful. Taste at the end and adjust accordingly.
black pepper
Alternatively, make this other version of chili – Texas Chili, and pile it onto the hot dogs. It's a bit more effort and time consuming but the flavors are out of this world delicious!
How to make chili cheese dog
To make chili cheese dog, I typically make the chili first.
Canned chili can be used if you are in a rush and want something quicker, but there's nothing quite like homemade chili, and I promise it's easy and quick to make…ready under 15 minutes!
Note that chili for your chili cheese dogs are a lot thicker than most regular chili recipes. You want to make sure you got a nice and thick chili to layer on top of your hot dogs so that it doesn't over-soak the bread.
Most chili recipes online are thinner, so when I have a choice, I like to make chili specifically for my chili dogs because I like it thick and chunky, with not a lot of liquid in it.
To make the chili, use a medium size pot or Dutch oven and load all the chili ingredients on there – ground beef, diced onions, tomatoes, spices, salt and black pepper.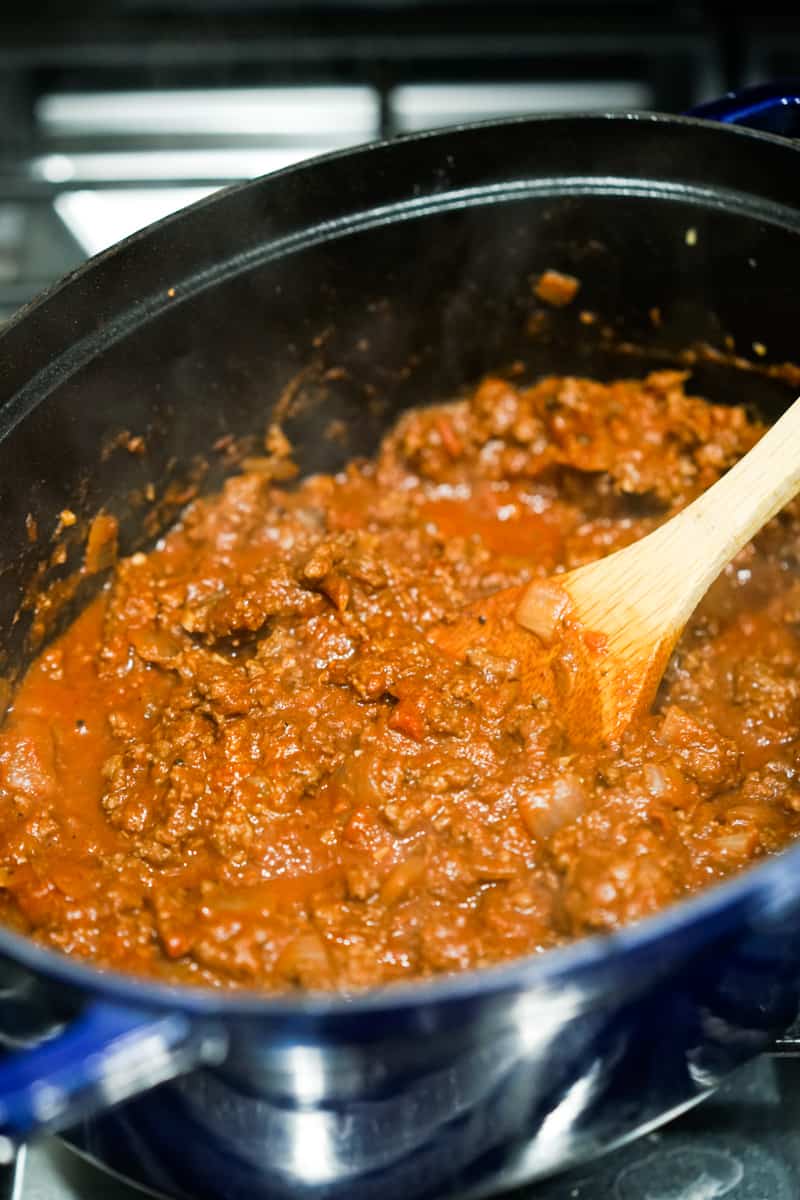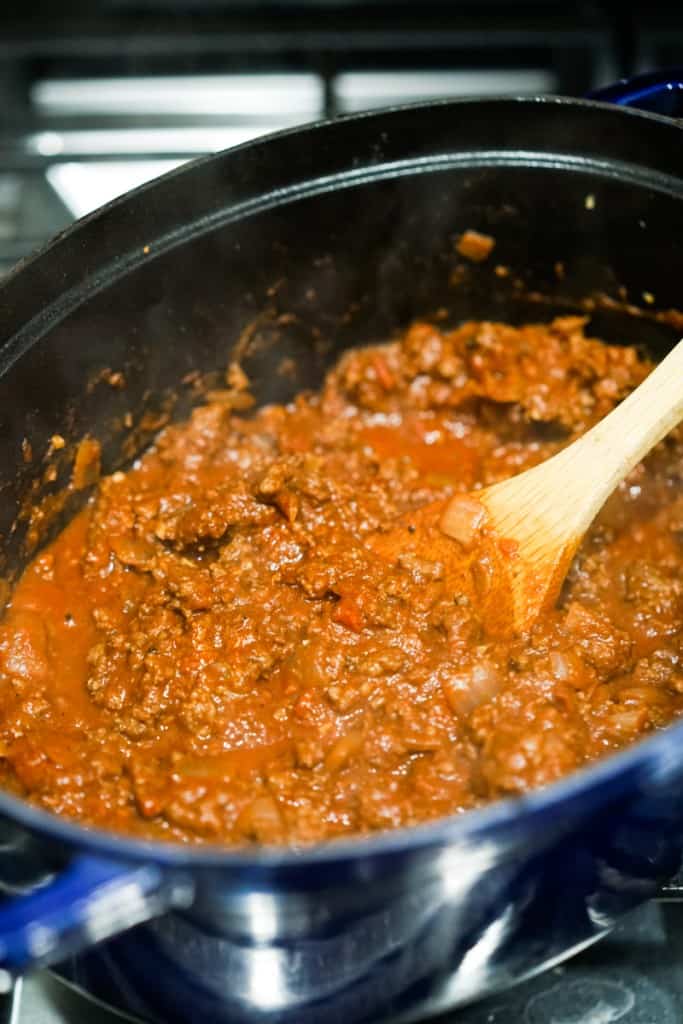 See recipe card below for further details on how to cook the chili, but be sure to cook it until it is thick and chunky.
If you have time and want to make a fancier (and VERY tasty) chili, give my Texas Chili a try! We love making it and using leftovers to make Chili Cheese Dog. It is thick, chunky, flavorful and perfect for this recipe.
Once chili is done, set it aside and let's start piling on the hot dog buns and make some deliciously loaded chili cheese dogs.
Use a large baking sheet and bring hot dog buns onto baking sheet. Open up the buns and place a hot dog onto each bun.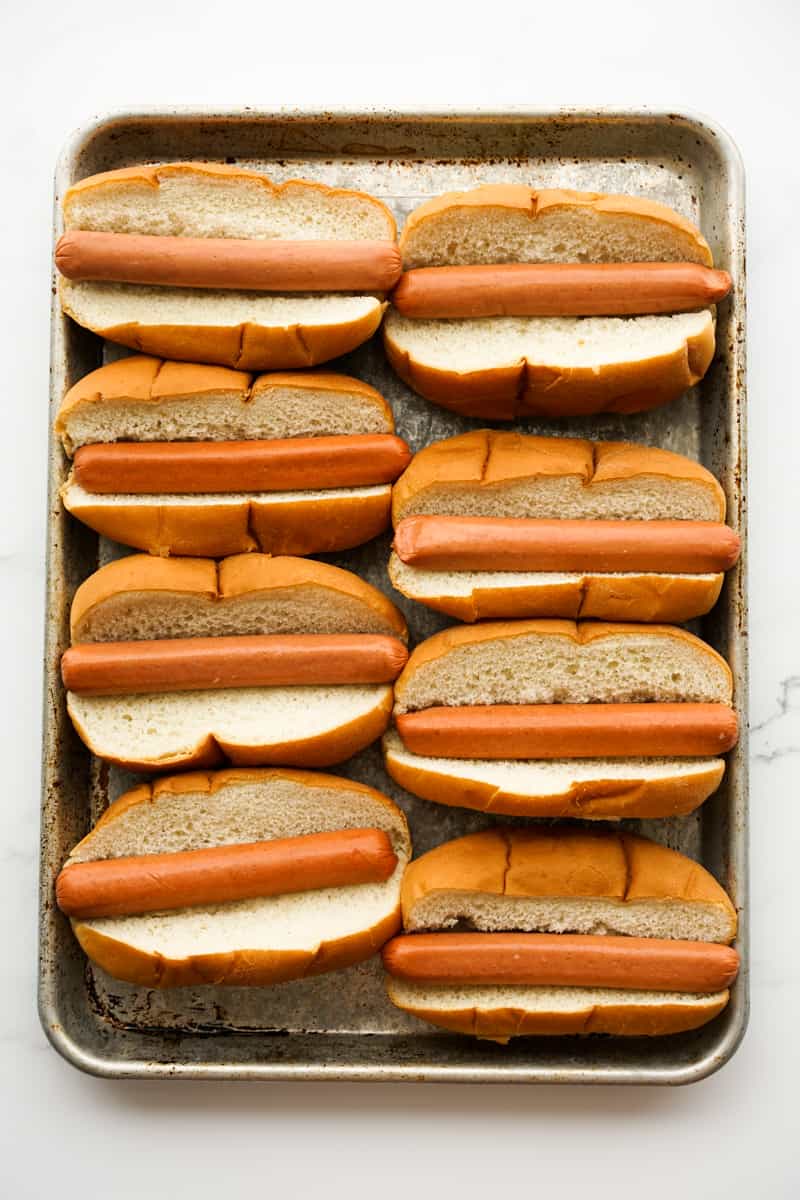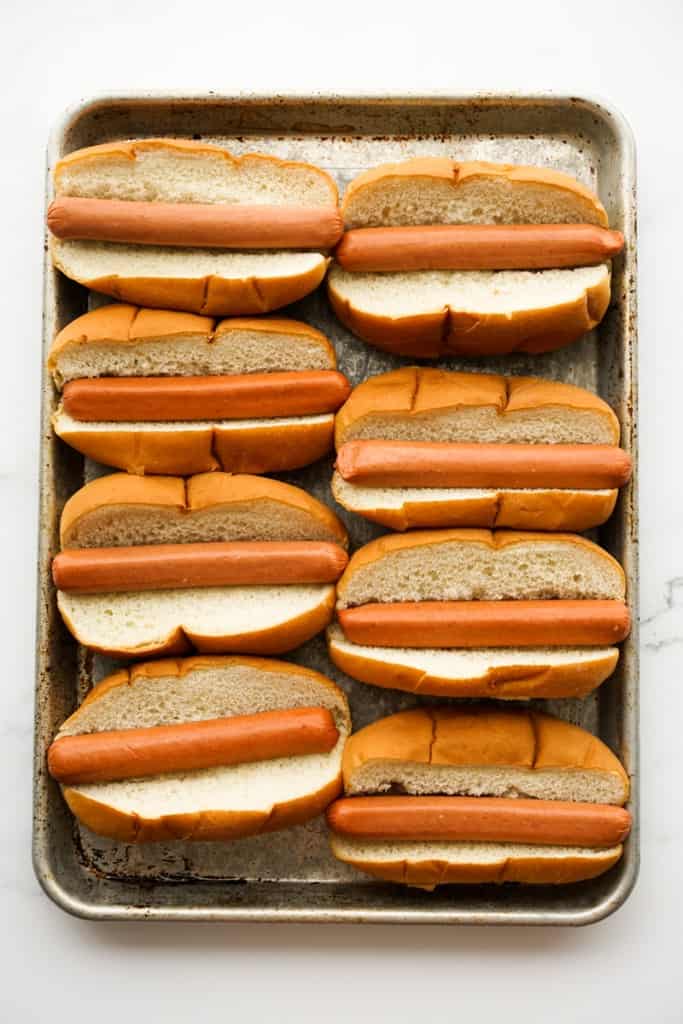 Next, top hot dog with chili and then shredded cheese.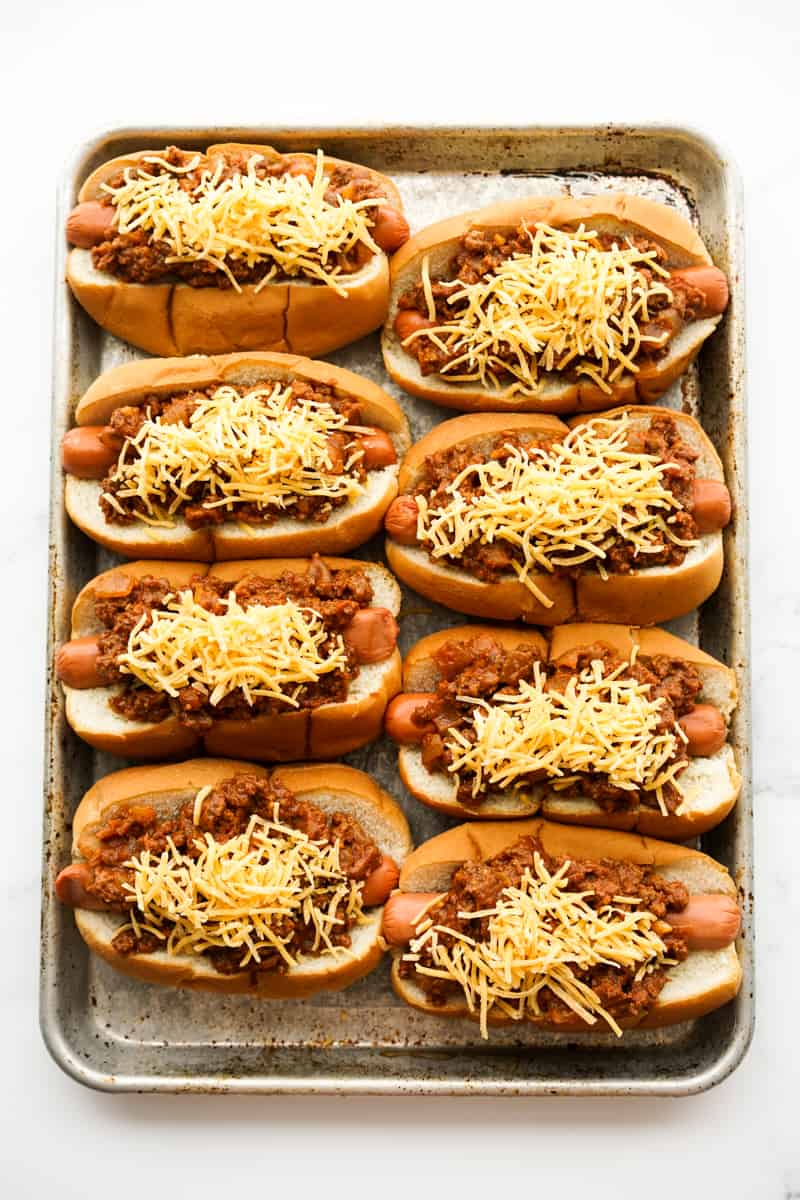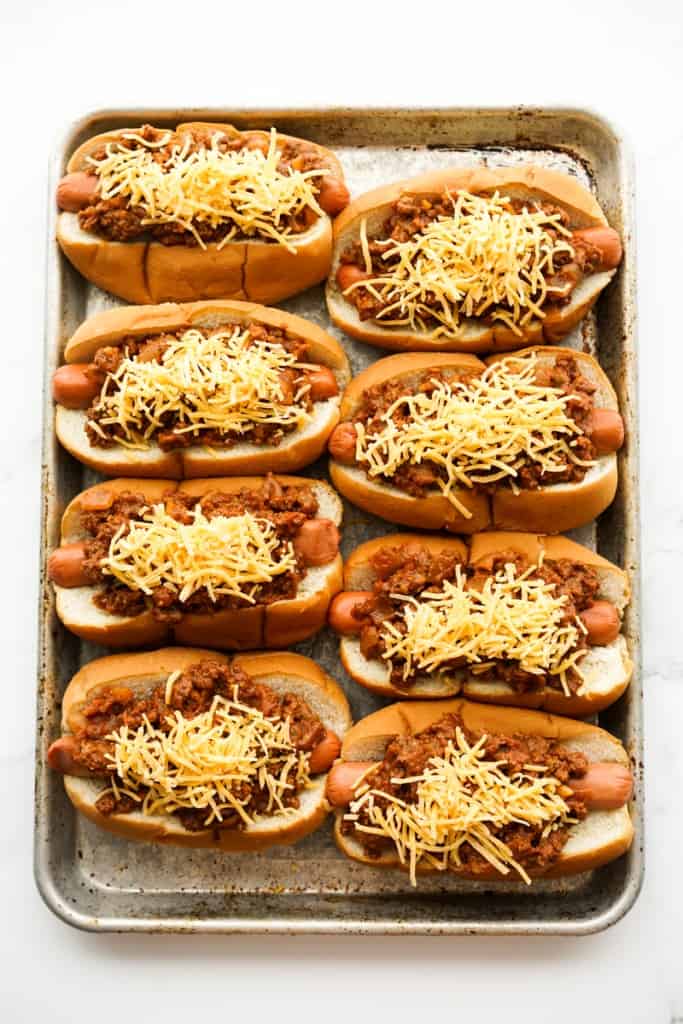 Send dogs on baking sheet to the oven and bake at 350℉ for 15-20 minutes until cheese are melted.
When chili cheese dog is done, the buns and hot dogs should be warmed, cheese should be melted, and the edges of the buns should be slightly crispy.
Note: hot dogs are already pre-cooked so we are merely warming them in the oven.
Optional: garnish with parsley and diced onions to give it an extra bite of flavor and freshness.
Chili cheese dog is best served warm right out of the oven. And it is seriously as decadently delicious as it looks.
P/S: Eating a chili cheese dog might be a bit messy, but every bit as tasty and worth it.
I hope you love it as much as we have been loving it.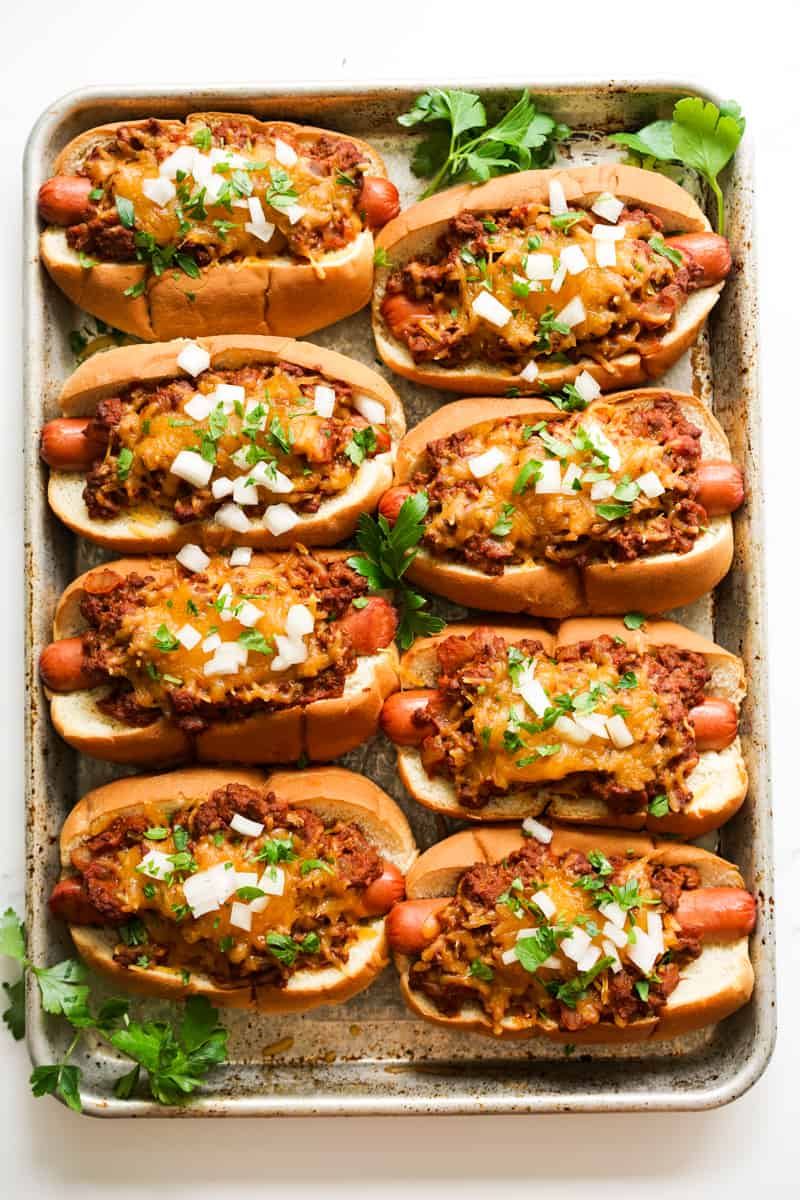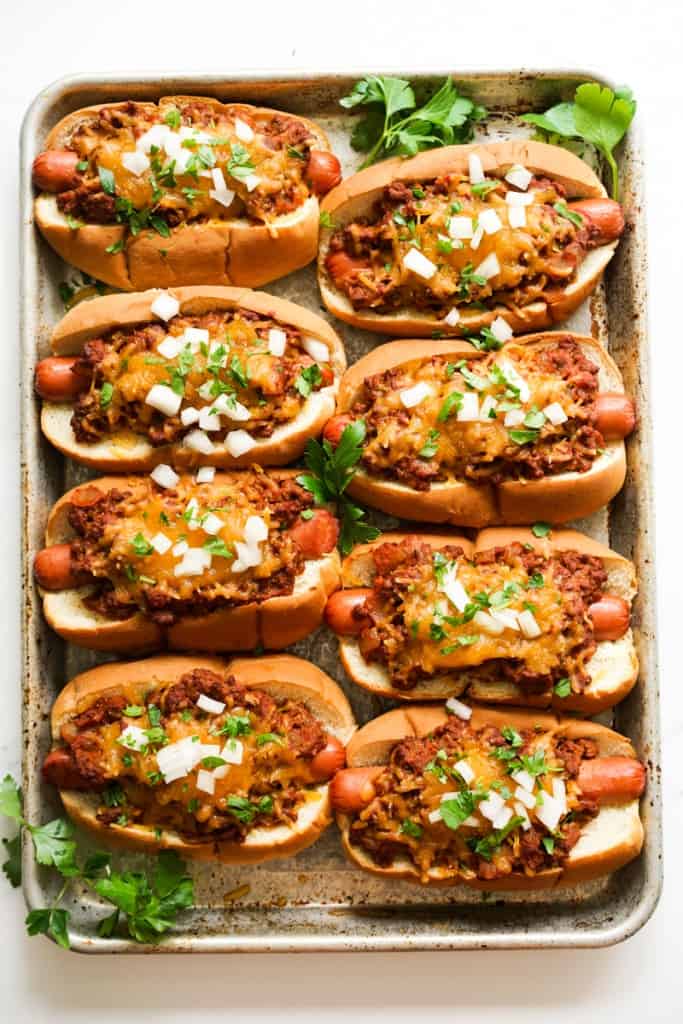 Ways to Serve It
Here are some of my favorite ways to serve chili cheese dogs:
Frequently Asked Questions
How do I cook the chili in a crockpot (instead of stovetop)?
Sear the ground beef and onions first on the stovetop, then bring everything to the crockpot and cook on high for 3 hours.
Can I use canned chili? Or any other chili?
Yes! Using canned chili is a quick and easy way to make chili cheese dog. The chili recipe I created is thick and chunky and designed for topping chili dogs. You can use other stand alone chili recipes but if the chili is too runny it can make your hot dog buns super soggy, so you might want to cook those longer or reduce the amount of liquid used (usually beef broth, chicken broth etc).
What is the best way to store and reheat chili cheese dog?
Store each component separately in the refrigerator – chili, hot dog, hot dog buns, toppings. Reheat chili in microwave, then assemble chili cheese dog and follow recipe instructions and bake in the oven when ready to eat.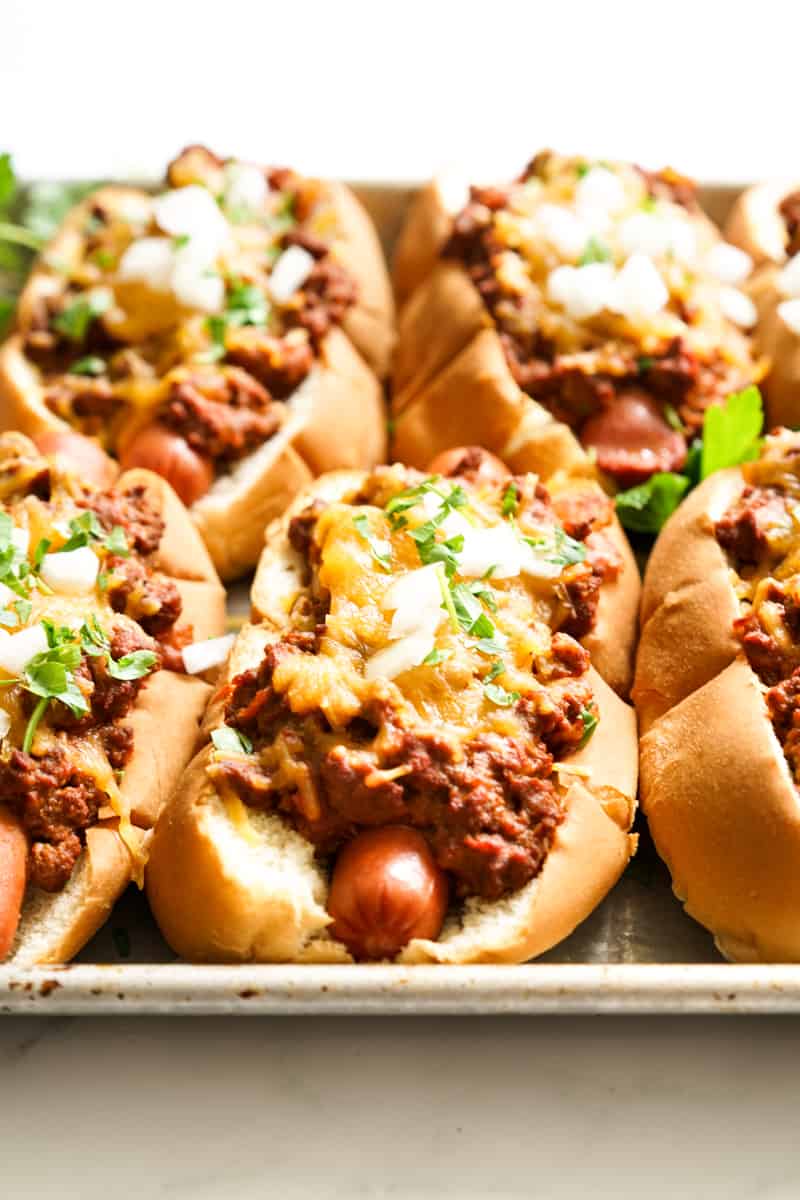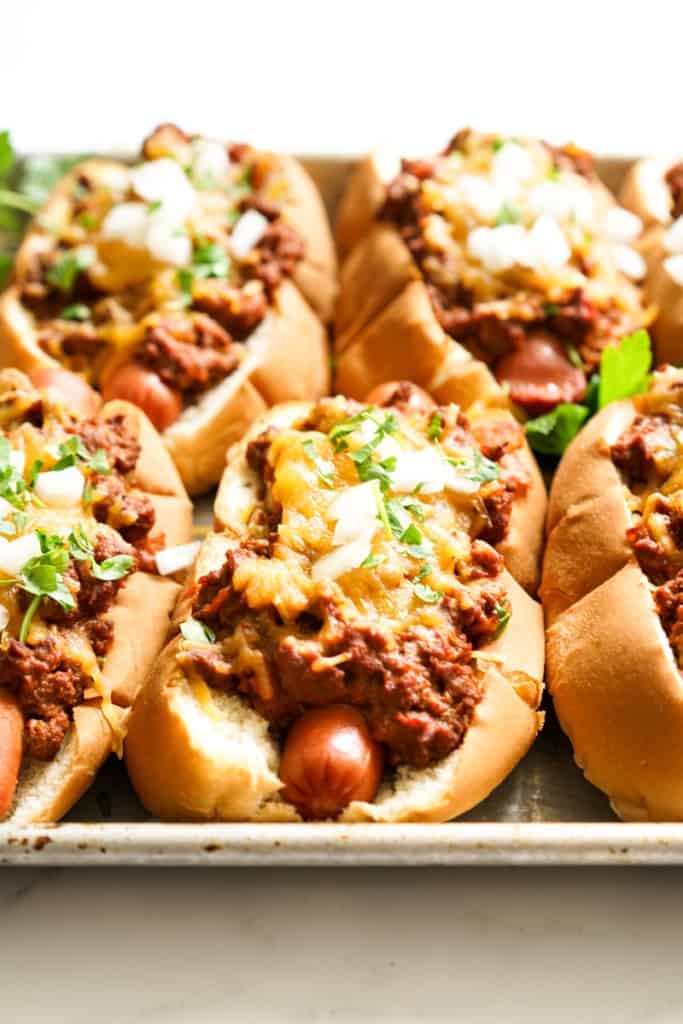 DID YOU ENJOY THIS RECIPE? Please comment below and give us a 5-star rating! This will help others find this recipe on Google and Pinterest. We very much appreciate your help! 🤍
More sandwich recipes
Some of out other favorite sandwiches of all shapes and forms!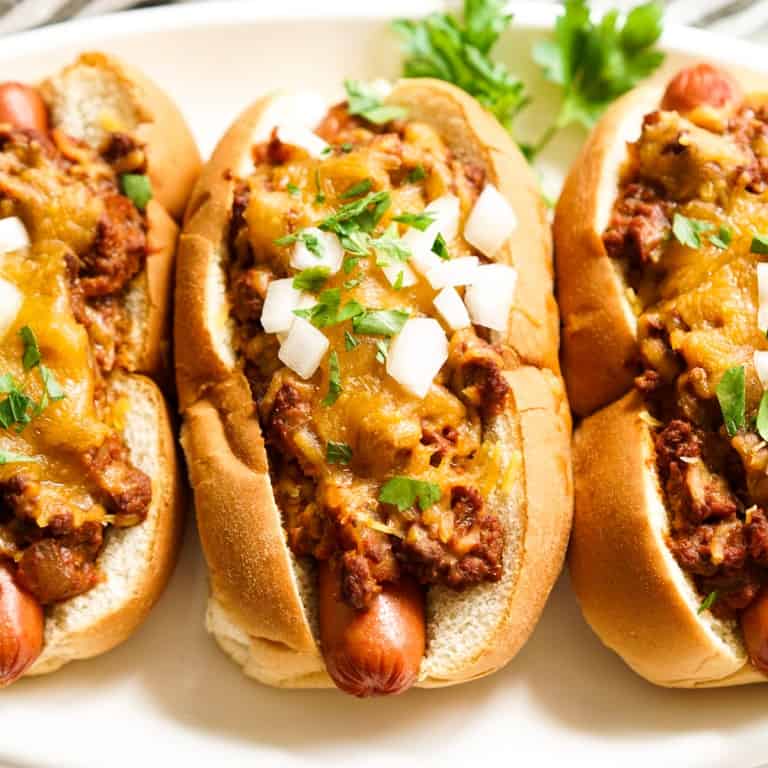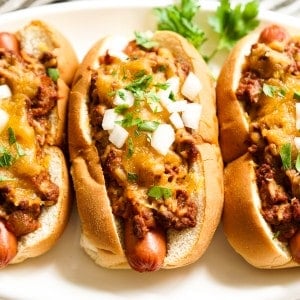 Chili Cheese Dog
These delicious oven baked Chili Cheese Dogs are loaded with a flavorful chunky homemade chili, cheddar cheese and diced white onions. A classic American dish perfect for game day, cookouts and dinners.
Print
Pin
Ingredients
8

hot dog buns

8

hot dogs

1

cup

cheddar cheese

shredded

1

tbsp

parsley

chopped, optional
Chili
1/2

tbsp

cooking oil

1

white onion

diced

4

cloves

garlic

minced

1

lbs

lean ground beef

14

oz

crushed tomatoes

2

tbsp

tomato paste

1

tbsp

chili powder

2

tsp

smoked paprika

1

tsp

ground cumin

1/2

tsp

salt

+ more to taste

1/2

tsp

black pepper
Instructions
In a medium pot or Dutch oven, heat cooking oil under medium heat. Once oil is heated, add diced onion (optional: save 1/4 cup for later as garnish). Stir and cook for 20 seconds.

Add ground beef. Break into smaller pieces. Cook until beef is no longer pink-ish.

Add crushed tomatoes, tomato paste, chili powder, smoked paprika and ground cumin, and garlic. Stir to combine, cook for 2-3 minutes, or until sauce thickens.

Add salt and pepper. Stir to combine. Remove from heat and set aside.

Line hot dog buns on a large baking sheet. Open up the buns, then place a hot dog on each hot dog bun.

Top each hot dog with 1/4-1/2 cup of chili, and 1/8 cup of shredded cheese.

Bake chili cheese dog in the oven for 15-20 minutes, or until cheese melts.

Remove from oven. Optional: garnish with diced onions (from earlier) and chopped parsley. Serve and enjoy!
Nutrition
Calories:
405
kcal
|
Carbohydrates:
37
g
|
Protein:
26
g
|
Fat:
17
g
|
Saturated Fat:
7
g
|
Polyunsaturated Fat:
2
g
|
Monounsaturated Fat:
6
g
|
Trans Fat:
0.2
g
|
Cholesterol:
70
mg
|
Sodium:
908
mg
|
Potassium:
576
mg
|
Fiber:
3
g
|
Sugar:
7
g
|
Vitamin A:
899
IU
|
Vitamin C:
8
mg
|
Calcium:
209
mg
|
Iron:
5
mg