On the menu today is Grape Walnut Salad that is sweet, juicy, made with a cream cheese and sour cream dressing and taste as much like dessert as it is a side dish…
BRING IT ON.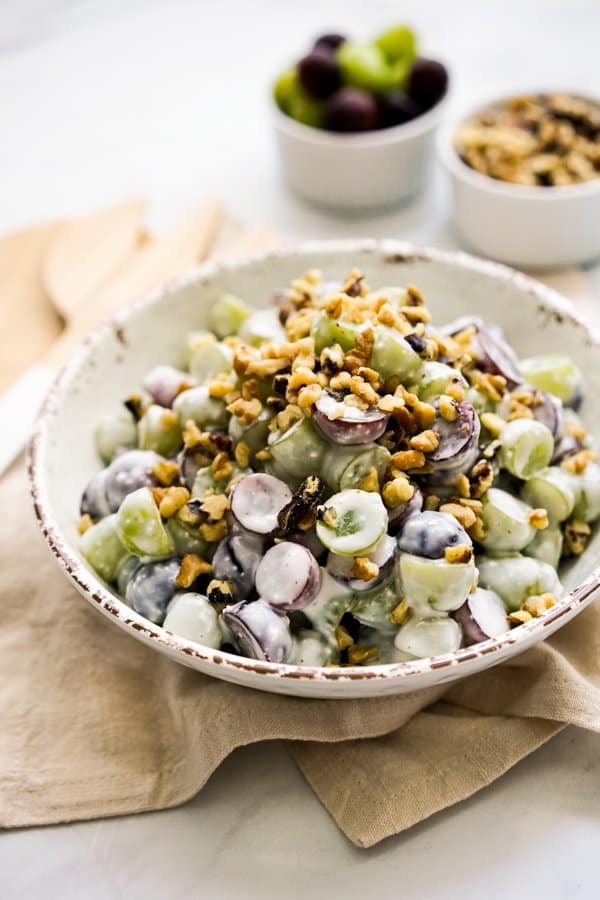 It is getting so close to summer I can smell it. I'm all set for campfires, firing up the grill, and having people over for summer cookouts…
My favorite summer salads such as Fruit Salad with Honey Lime Dressing, Light Raisin Coleslaw, Greek Cucumber Salad start making their appearance way to often in our lives again.
And then there Grape Walnut Salad…
I love grapes and always thought that they don't really need anything to make them taste any better. Well, I was pretty darn wrong.
Something about the cream cheese, sour cream and sugar mixture actually takes it to a whole new (highly addictive, may I add) level.
It is light, fairly airy, yet has a slight creamy texture to it. But not overly creamy. Topped with walnuts to give it an added layer of crunchy to contrast the juiciness from the grapes.
Because it can be made ahead, served in room temperature or cold, and taste refreshing and light, it makes the perfect side dish for your summer bbq and cookout needs.
Which, let's be honest here, after an unprecedented year and a half, I'm just so excited to have summer get-togethers again.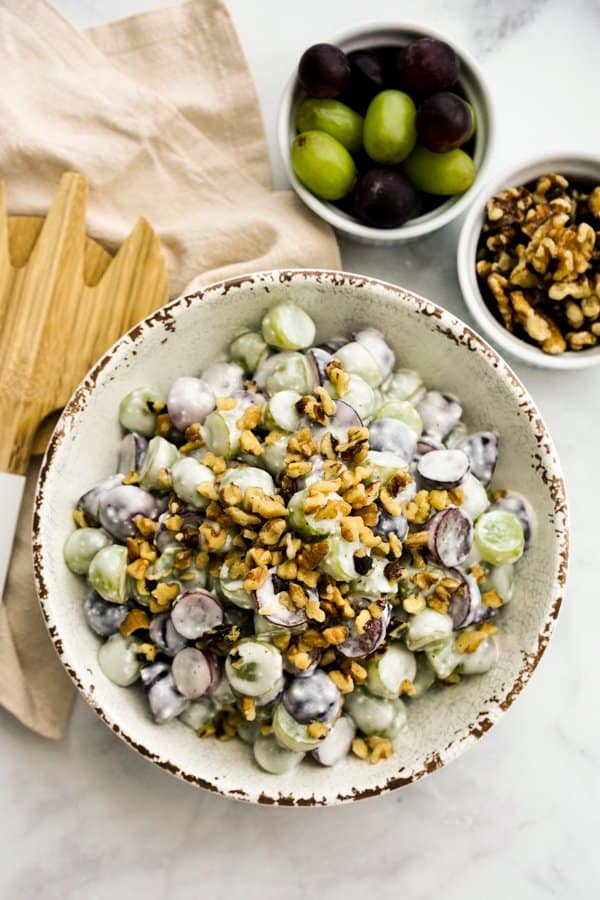 Let's Make It
Oh, did I mention tis Grape Walnut Salad takes about 15 minutes to bring it all together?
OH YES INDEED.
No cooking, no heating up the kitchen on a hot summer day, fresh and light texture….If this recipe isn't summer without saying it's summer I don't know what is.
I like to use a mixture of green and purple grapes to get two variety of flavors, and I also love the colors both types of grape bring to the dish.
As for the dressing, bring together these ingredients in a bowl and mix using a whisk to remove all the clumps:
Sour cream
Cream cheese
Granulated sugar – responsible for making this taste a bit like dessert…
A small splash of vanilla – also partially responsible for making this taste a bit like dessert…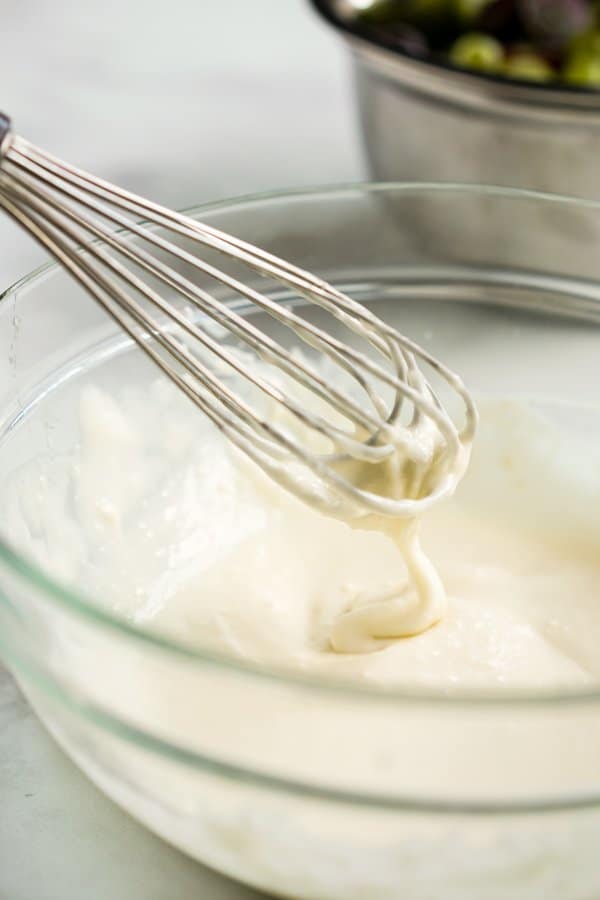 Once it is done, bring all the grapes (halved) into the bowl and use a spatula to toss the grapes in the dressing. Be careful not to squish the grapes.
The dressing is not overly heavy, and only lightly coats the grapes. So you are not stuck with a lot of cream and not a lot of fruits. I carefully adjusted the grape to dressing ratio so it would still be fairly light and airy.
Now if you love it super creamy (no shame in that!), reduce the amount of grapes so that you'll get yourself a heavier, creamier Grape Salad.
Tips and Tricks
A few tips and tricks to make this easy Grape Walnut Salad recipe even yummier/easier!
Wash and pat dry grapes before slicing in halves. Nothing worse than watery grapes which will subsequently make the dressing watery.
Use softened cream cheese for the dressing. Bring cream cheese out from the refrigerator and let it sit in room temperature for an hour or two before mixing it.
Combine dressing mixture with a whisk to remove all the clumps. Make sure it is smooth before adding grapes to dressing.
Top with chopped walnuts only when ready to eat so they don't get soggy and remains crunchy.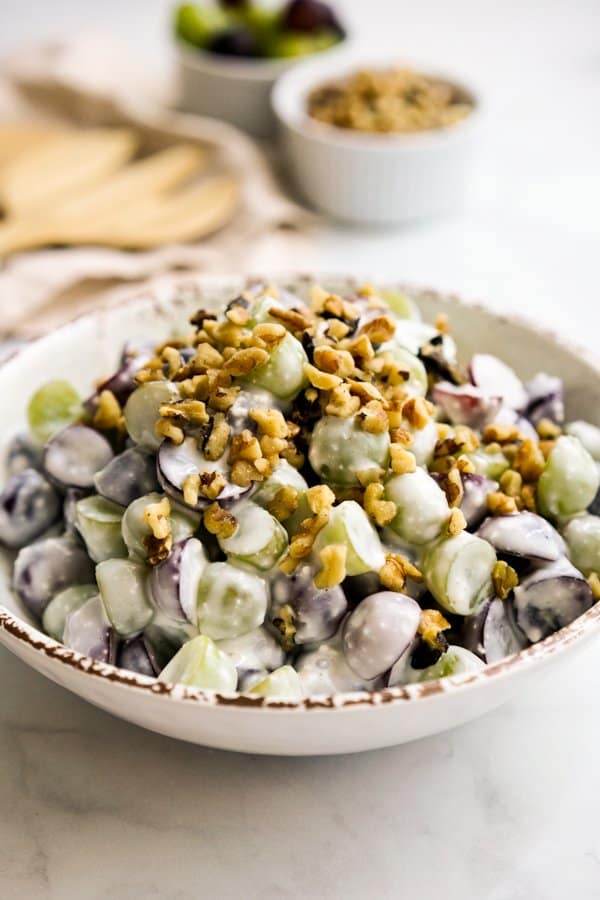 Frequently Asked Questions
Does it save well as leftovers? How to store it?
Yes! I was pleasantly surprised that it saved very well in an airtight container in the refrigerator. That being said, I would consume it in 2-3 days because after that, the dressing becomes less creamy and liquid forms. I highly recommend only adding walnuts when ready to serve because walnuts will no longer be crunchy after being tossed in the Grape Salad and stored in the fridge.
Can you make this ahead of time?
Absolutely! I would make ahead up to 24 hours prior to serving, but don't make it farther ahead than that so that Grape Walnut Salad will still be nice and fresh when you serve it.
How to serve this?
It makes a great bbq and cookout side dish! Goes well with burgers, fries, and anything on the grill. Think of this as a fruit salad that can be served whenever coleslaw, salads or other fruits salads are served. I personally eat it as a snack by itself too because they are so good! Since they are on the sweet side, I also eat it as an alternative to chocolates and candies when I have the munchies and can't afford the calories.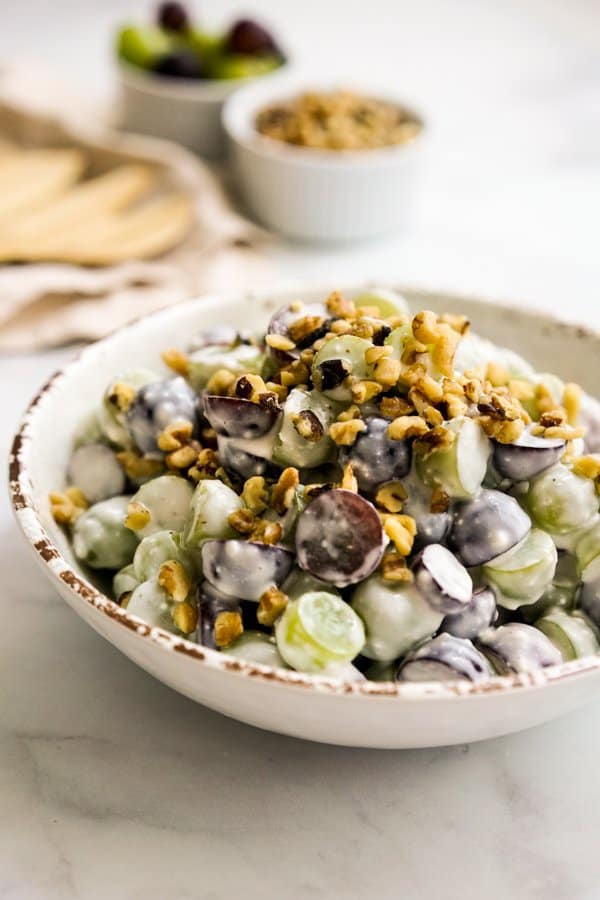 Ready to make yourself some Grape Walnut Salad this summer? ❤️
Other Fun BBQ/Cookout Side Dish Recipes
DID YOU ENJOY THIS RECIPE? Please comment below and give us a 5-star rating! This will help others find this recipe on Google and Pinterest. We very much appreciate your help! 🤍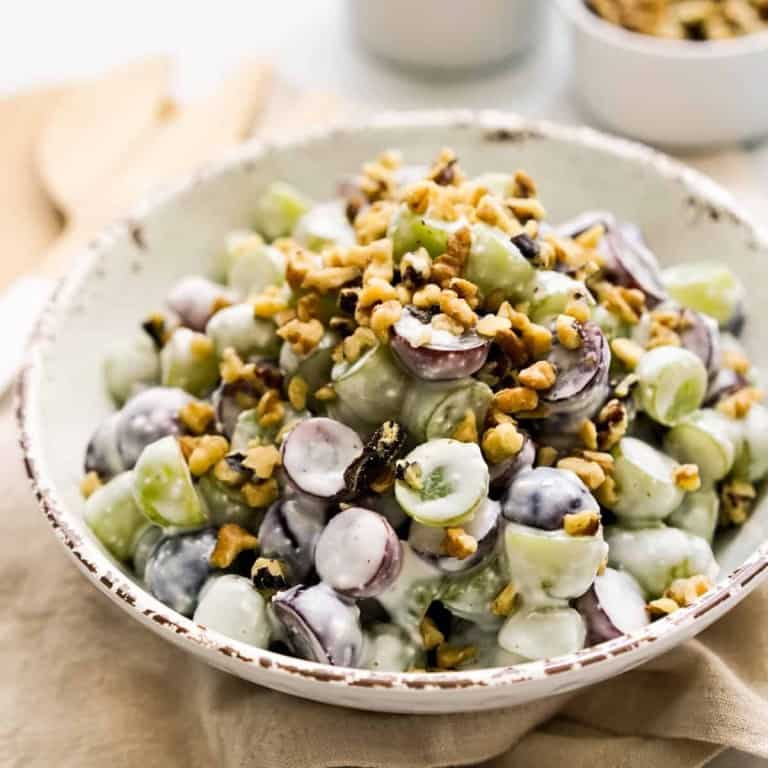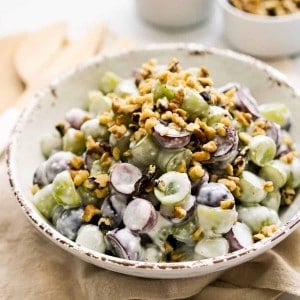 Grape Walnut Salad
Grape salad tossed in a sweet creamy cream cheese dressing and topped with chopped walnuts. The perfect easy fruit salad side dish for cookout, bbq and dinners.
Print
Pin
Ingredients
1.5

lbs

green grapes

halved

1.5

lbs

red grapes

halved

2

oz

cream cheese

softened

1/3

cup

sour cream

1/4

cup

granulated sugar

1/2

tsp

vanilla extract

1/2

cup

walnuts

chopped
Instructions
In a large bowl, whisk to combine cream cheese, sour cream, sugar, and vanilla extract until mixture is smooth.

Wash, pat dry and half green and red grapes. Then add them to the bowl of cream cheese mixture.

Gently toss with a spatula to combine so that grapes are evenly coated in dressing.

Top with walnuts. Serve and enjoy!
Nutrition
Calories:
233
kcal
|
Carbohydrates:
39
g
|
Protein:
3
g
|
Fat:
9
g
|
Saturated Fat:
3
g
|
Cholesterol:
13
mg
|
Sodium:
34
mg
|
Potassium:
381
mg
|
Fiber:
2
g
|
Sugar:
33
g
|
Vitamin A:
269
IU
|
Vitamin C:
6
mg
|
Calcium:
42
mg
|
Iron:
1
mg