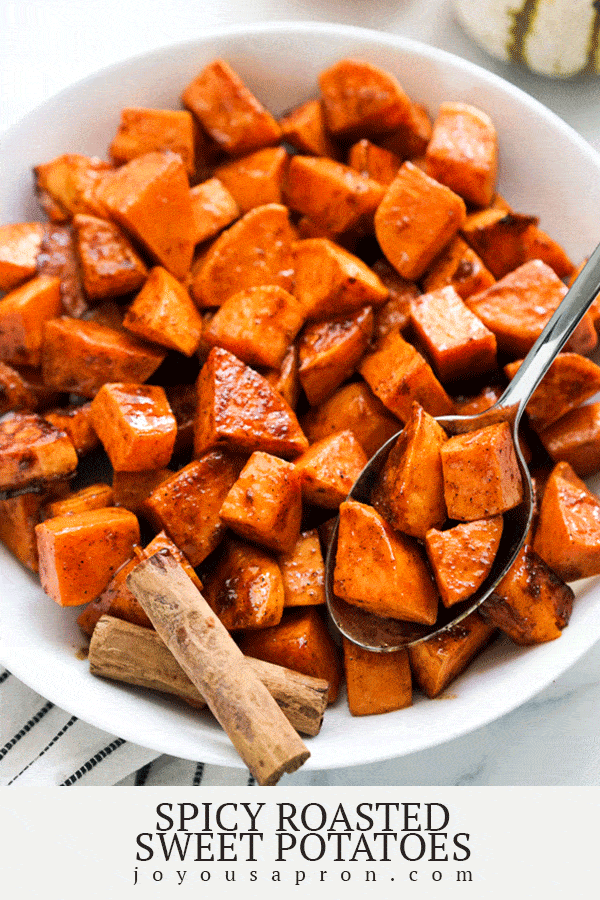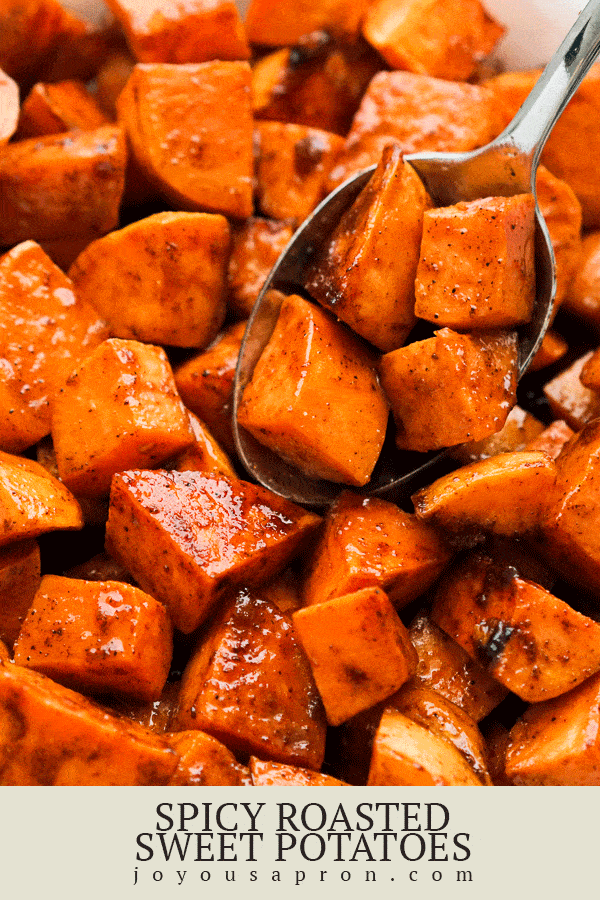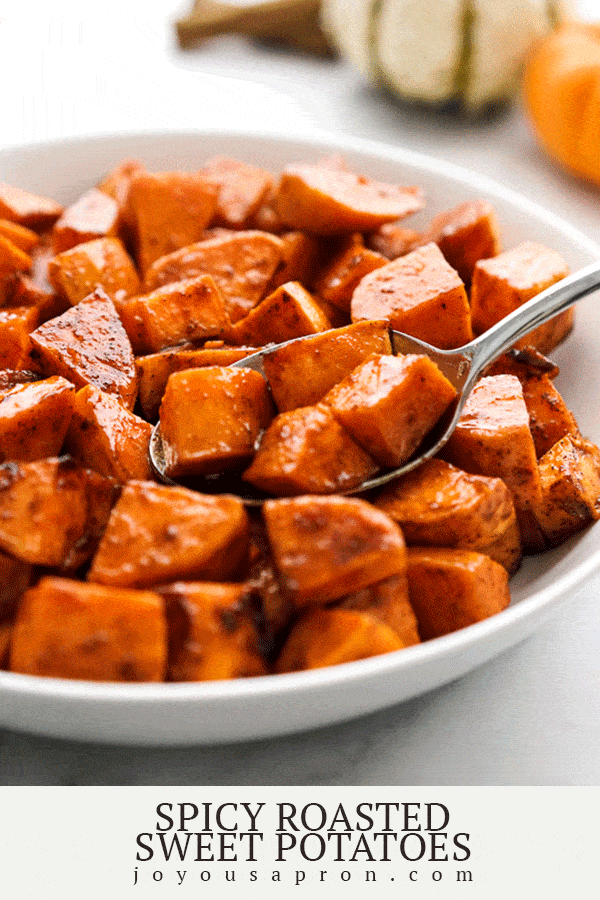 This post may contain Amazon or other affiliate links. As an Amazon Associate I earn from qualifying purchases at no additional cost to you.
Introducing Spicy Roasted Sweet Potatoes…the sweet potato recipe with a kick that we all need in our lives! Smoky, with a hint of spicy and sweet, this recipe requires only five ingredients and is so flavorful and yummy!
So good it will BLOW YOUR MIND!
This is a sponsored post written by me on behalf of Tony Chachere's. All opinions and text are mine.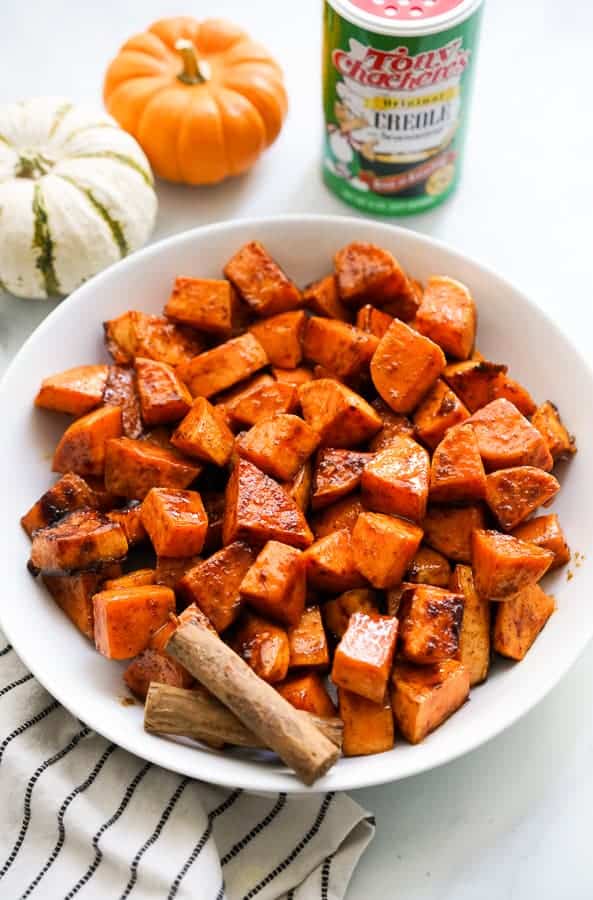 November is here! Thanksgiving is around the corner! Anybody else besides me who is completely caught off guard by this?
Side note: I get caught off guard every year. You would think I would be prepared to be caught off guard by now. But no…
As I think about Thanksgiving, I am feeling a little adventurous and want to incorporate some not-so-traditional sides to complement the classic mashed potatoes, gravy and stuffing.
I love dishes with a twist, and right now I am loving this sweet potato dish with a twist.
My husband started this trend of adding Tony Chachere's Original Creole Seasoning to plain baked sweet potatoes. And of course, shortly after that, I got hooked on that crazy yummy Creole Seasoning + sweet potato combo. Because I love spicy with all my heart. Always have and always will.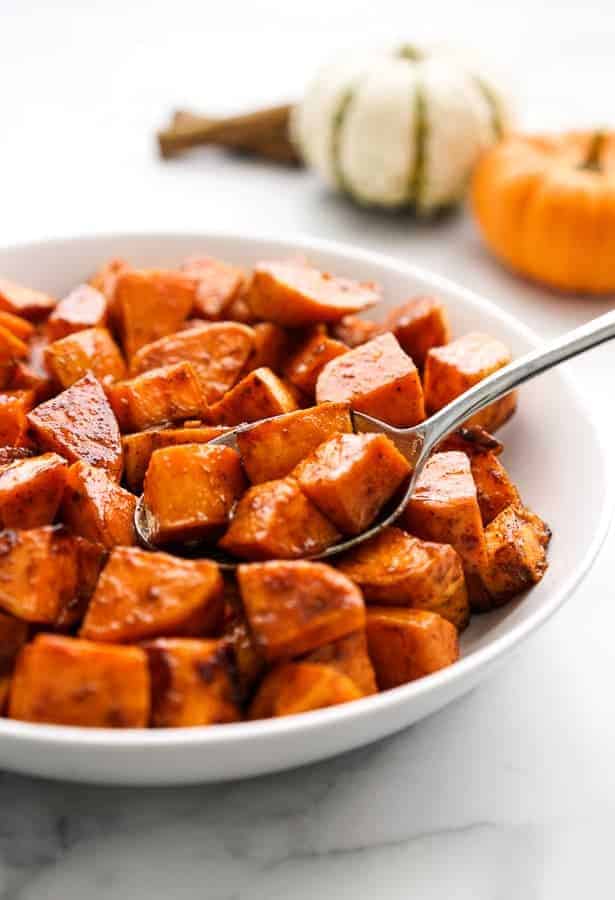 I like to think of this recipe as a slightly fancier, more sophisticated take to the Creole Seasoning + sweet potato combo my husband makes. It also incorporates a little sweetness and some holiday-inspired flavors, making it perfect for the upcoming Thanksgiving and Christmas season.
Why I love this
Ahhh! This Spicy Roasted Sweet Potatoes is our new favorite side for so many reasons! It is:
The perfect combination of spicy, sweet, smoky, with a hint of cinnamon that reminds us of the holidays.
Slightly crispy on the outside, and soft on the inside. Texture is everything!
Made out of only 5 ingredients! Yes FIVE. Which makes it easy peasy!
Healthy-ish! A lighter alternative to sweet potato casseroles and other creamier sweet potato side dishes. So if you are in the mood for something lighter, here you go!
Great as leftovers
Did I say it tastes AMAZING?? Well, it tastes AMAZING. 🙂
How to make Spicy Roasted Sweet Potatoes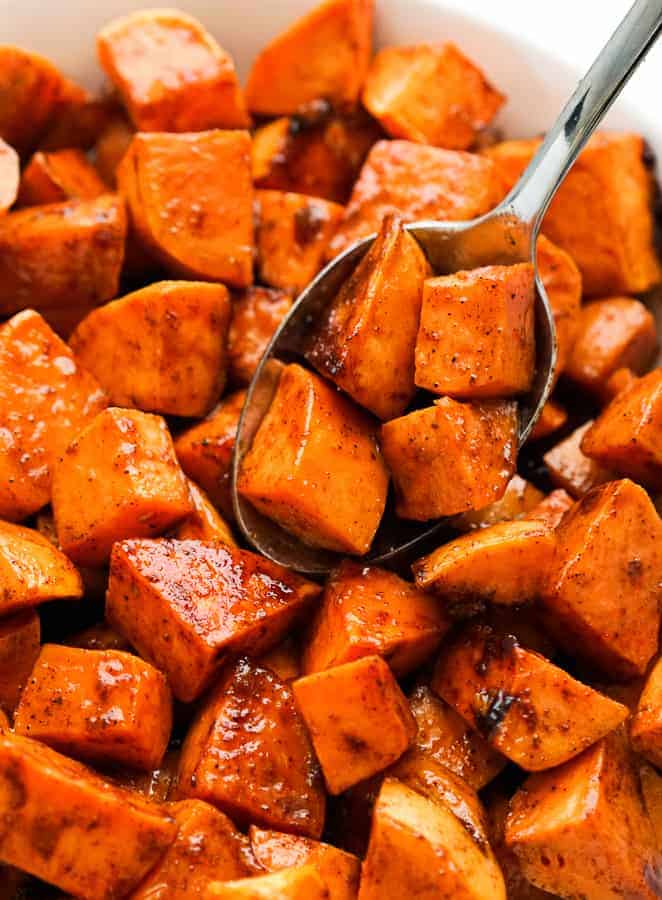 Okay. Here's where I get giddy excited.
Five ingredients. 35 minutes. From start to finish.
YES YES YES.
Peel and dice those sweet potatoes. Make sure to give them a rinse before peeling if they look kinda dirty.
Place sweet potatoes on a baking sheet (or two), then we coat them in flavor! Toss them in all the yummies – olive oil, brown sugar, ground cinnamon, and of course, the magical spice that makes this dish come alive, Tony Chachere's Original Creole Seasoning.
Another magical thing about Tony Chachere's Original Creole Seasoning – it already has salt in it! That is also why this recipe is not requiring salt.
Make sure sweet potatoes are spread out on the baking sheet, then send it to bake in the oven! I highly recommend tossing/flipping them halfway through baking to avoid burning one side of the potatoes and cook them more evenly.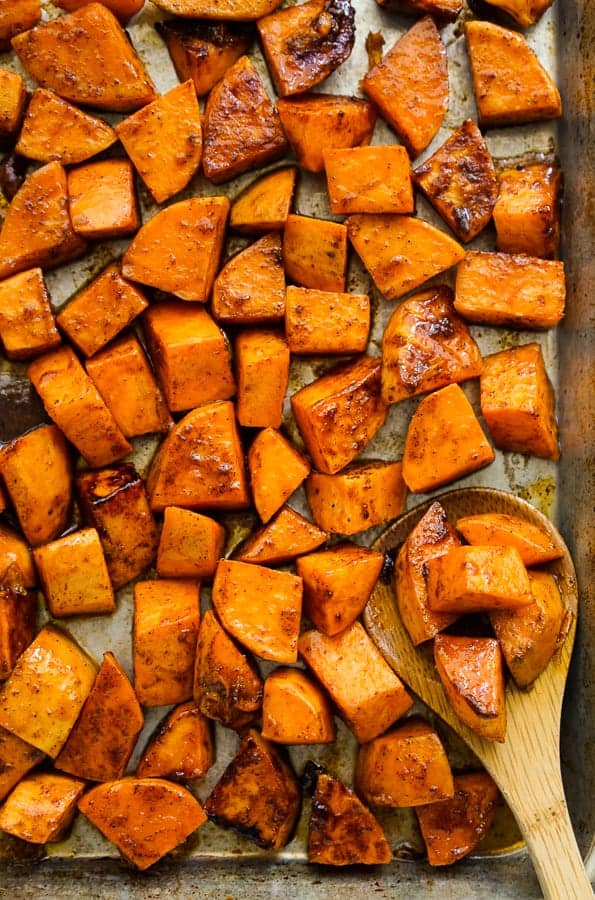 Tips and Tricks
This is an easy easy recipe, but here are a few tips and tricks to make the cooking process even easier and smoother!
When placing potatoes on baking sheet, spread them out and do not overlap or overcrowd them! I use two half-sheet baking sheets for this.
Different oven/baking sheet will cook the potatoes quickly/slower, therefore remember to toss/flip them at the 15 minute mark to avoid one side from being burned. At the end of the baking time, cook for longer if potatoes are not soft enough!
Use less Tony Chachere's Original Creole Seasoning if you like your potatoes less spicy and more if you like them spicer. Adjust accordingly!
How to make ahead Spicy Roasted Sweet Potatoes
To make ahead for the holidays, toss potatoes in seasoning and olive oil and refrigerate them until it is ready to roast.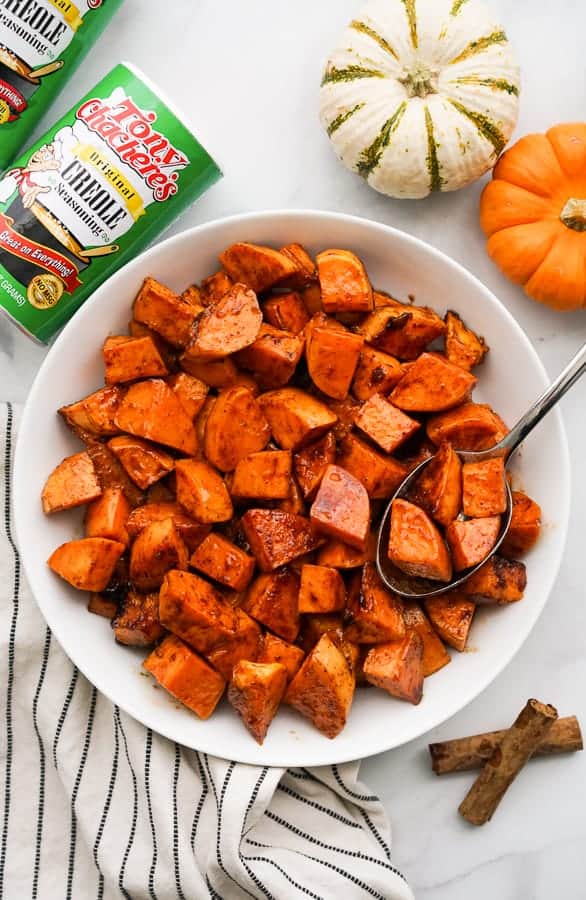 These Spicy Roasted Sweet Potatoes tastes the best when they are fresh out of the oven because they are slightly crispy on the outside. For the holidays, I highly recommend roasting them only when you are ready to serve.
That being said, I often microwave leftovers and they still taste great, but they will loose a bit of the crispy texture.
The Versatility
One of the many things I love about this Spicy Roasted Sweet Potato dish is its versatility! It makes a lovely side dish for the holidays, but it is not limited to the holidays!
Serve these potatoes anyway anytime, with a salad, as a side to sandwiches, a side to dinner any evening, in lunch boxes, as a snack etc.
I love having them in the fridge as an easy, fairly healthy option that I can quickly heat up and eat it for lunch, snack or dinner.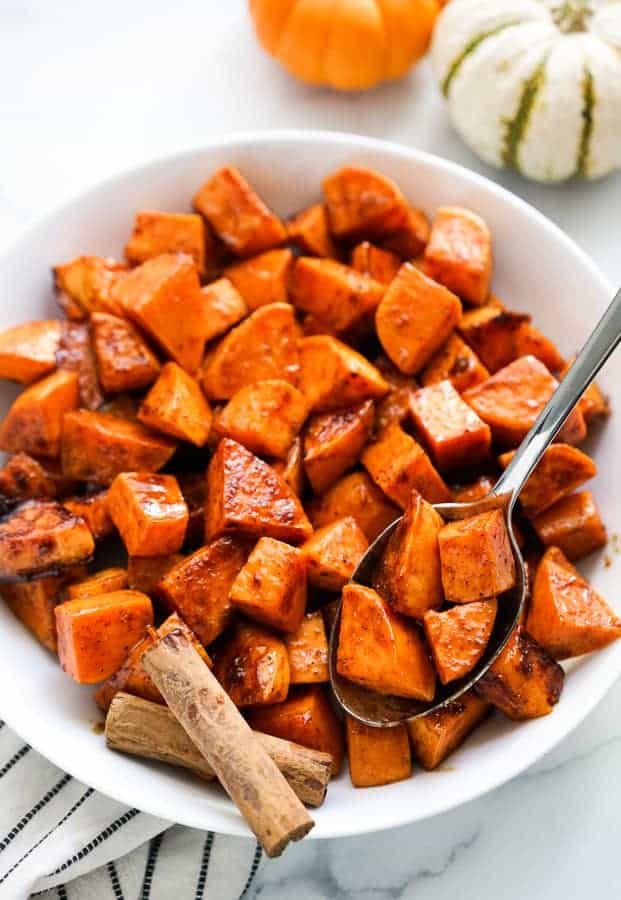 Ready to join in the fun and dive into the yumminess that is these Spicy Roasted Sweet Potatoes?
I hope you enjoy it as much as we do!
DID YOU ENJOY THIS RECIPE? Please comment below and give us a 5-star rating! This will help others find this recipe on Google and Pinterest! We very much your help! 🤍
Other Sweet Potato Recipes
Other Fun Sides for the Holidays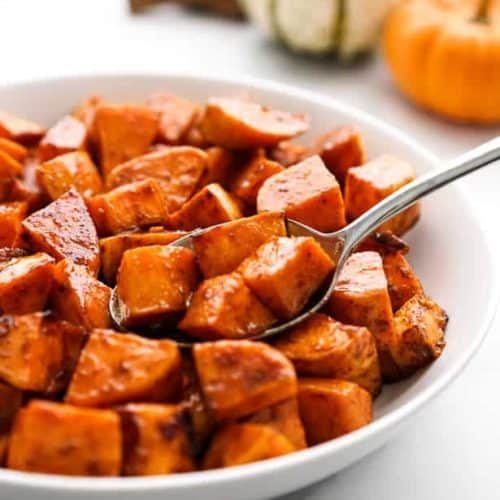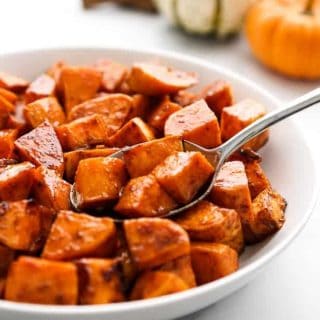 Spicy Roasted Sweet Potatoes
Smoky with a hint of spicy and sweet, these roasted sweet potatoes are so flavorful and slightly crispy on the outside. The perfect light and healthy side dish for the holidays or any day!
Print
Pin
Ingredients
2

lbs

sweet potatoes

1/4

cup

olive oil

1/4

cup

brown sugar

3

tsp

Tony Chachere's Creole Seasoning

1

tsp

ground cinnamon
Instructions
Pre-heat oven to 400 degrees F.

Wash and peel sweet potatoes. Dice sweet potatoes into ~1-inch cubes

Place diced sweet potatoes onto a sheet pan. Do not overcrowd or overlap. Use two or more sheet pans if needed.

Drizzle sweet potatoes with olive oil, brown sugar and Tony Chachere's Creole Seasoning (see Note 1).

Using your hands or spatula, toss diced sweet potatoes until they are evenly coated, then spread them out onto the sheet pan. Do not overcrowd or overlap them.

Bake in oven for 15 minutes. Remove from oven and toss/stir sweet potatoes using a spatula. Spread them out again without overlapping or overcrowding. Then bake for another 5-10 minutes. Check at the 5 minute mark to make sure they are not burned. (See Note 2)
Notes
Note 1 : Use more Tony Chachere's Creole Seasoning if you like your sweet potatoes super spicy and less if you like it less spicy
Note 2: Oven temperature may vary, and you may need to cook the potatoes longer. Check frequently to make sure it is not burned since it is coated with brown sugar.
Nutrition
Calories:
213
kcal
|
Carbohydrates:
34
g
|
Protein:
2
g
|
Fat:
8
g
|
Saturated Fat:
1
g
|
Polyunsaturated Fat:
1
g
|
Monounsaturated Fat:
6
g
|
Sodium:
74
mg
|
Potassium:
466
mg
|
Fiber:
4
g
|
Sugar:
13
g
|
Vitamin A:
18744
IU
|
Vitamin C:
4
mg
|
Calcium:
50
mg
|
Iron:
1
mg