This post may contain Amazon or other affiliate links. As an Amazon Associate I earn from qualifying purchases at no additional cost to you.
Cajun Steak and Potato Foil Packs is the ultimate summer meal! Quick, easy, flavorful, and can be made over the grill, campfire, and even in the oven! Prepare to fall in love with how yummy and simple this is!
This post is sponsored by my friends at Tony Chachere's! We have used their products for years and love them, and I am excited to share this yummy recipe with you! All opinions, as usual, are my own.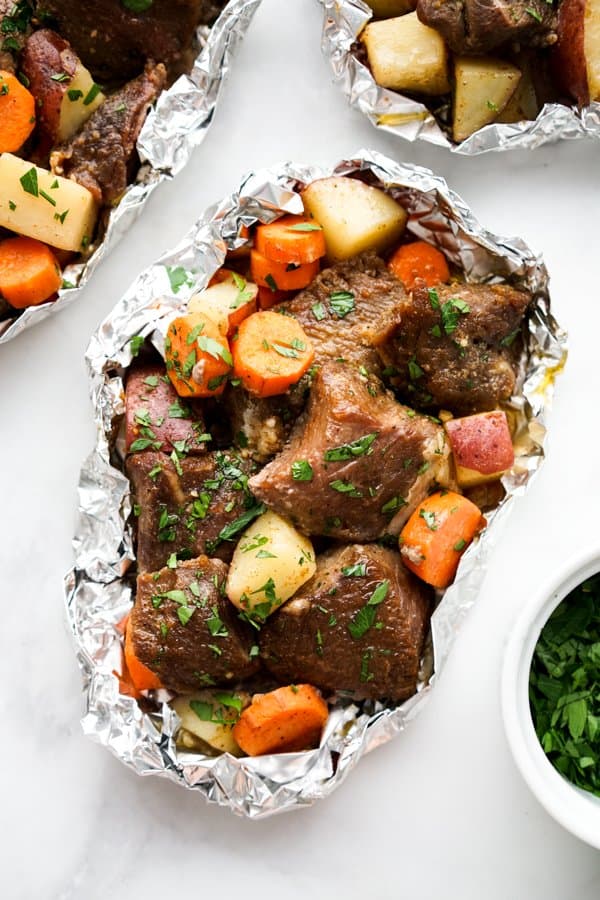 The bright and delicious Cajun flavors in this Steak and Potato Foil Packs come from none other than my favorite Tony Chachere's Original Creole Seasoning. It's a "one-stop-shop" kinda seasoning, packed with yummy herbs and spices, and also salt. It is all you really need to bring incredible flavors to your Cajun dishes.
I use this seasoning almost every time I make Cajun foods, like this Cajun Chicken and this Spicy Roasted Sweet Potatoes recipe.
Sometimes I even add it to my scrambled eggs and popcorn. (Sounds random but so good!)
If in doubt how much to add to your dishes – use it like salt, but know that it has a kick to it.
Okay. Back to these Cajun Steak and Potato Foil Packs…
You guys, I might be eating this all summer long, because I can toss everything in seasoning and give it to my husband to grill (he is the official griller in our household).
And sip on my favorite Coconut Rum Cocktail while I sit on our porch as he grills. 😉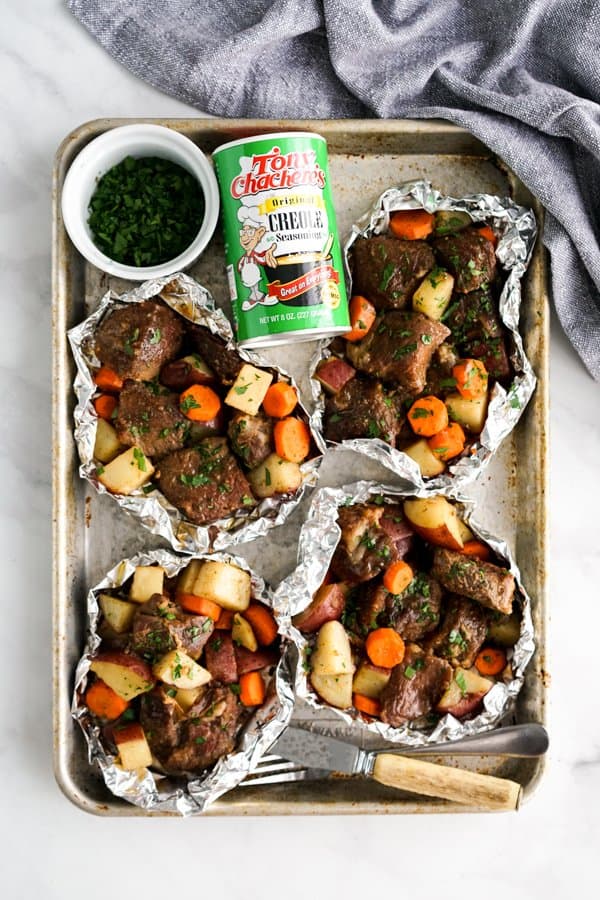 Here's what you can expect in these little packet of goodness:
Bold, savory with a little kick…no lack in flavor here!
One-pack (one-bowl) meal. Everything you need for dinner is in that packet. You can even eat it sitting on your rocking chair outside!
Steak is juicy, carrots are slightly crunchy, and potatoes are nice and soft. I've got all the tips so you can get the perfect texture for each of these ingredients.
Easy cleanup! Eat it straight out from the foil and throw it away! Want to make life even easier? Use plastic utensils! Is that not summer time goals or what!?
Let's Make It!
Start by boiling the potatoes.
We are boiling the potatoes because potatoes will take longer to cook than the steaks on the grill, oven or campfire. We want the potatoes to be soft but also do not want to overcook the steak. I've decided boiling them for a quick 4-5 minutes is the fastest and most efficient way to go about this.
Once the potatoes are boiled, drain water from potatoes and bring them to a big bowl, along with carrots and steaks.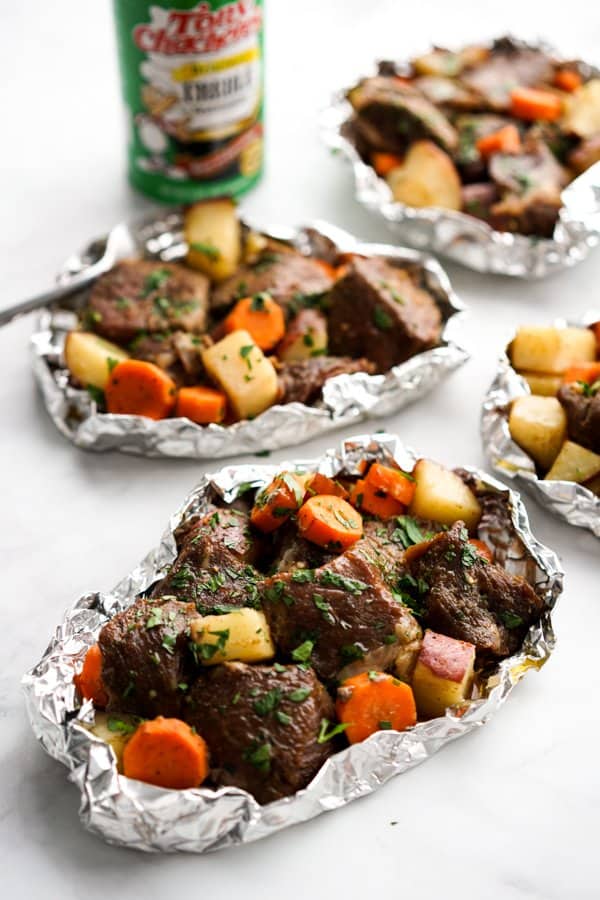 Pay attention to the sizes recommended for each ingredients in the recipe card because it will affect cook time.
Toss boiled potatoes, carrots and steaks in these seasonings:
olive oil
fresh garlic – finely minced
Tony Chachere's Original Creole Seasoning – which contains salt so no additional salt required!
Using aluminum foil, form foil packs about 5-inch wide in diameter, make sure the sides are higher so that juice wouldn't leak out of the foil packs. Then fill each foil pack with seasoned steak pieces, potatoes and carrots.
Right before putting the Cajun Steak and Potato Foil Packs on the grill, drop a few dollop of butter to the top of each foil pack. Butter will give it flavor, and also help brown the tops.
Cover each foil packs loosely with another piece of aluminum foil. Then grill!
Grill directly over the fire under medium heat. We usually grill this for 8-10 minutes to get a medium/medium rare steak, but there are so many factors involved (intensity of heat, the weather outside, how big or small the ingredients are cut, the way the ingredients are placed, the way the foil packs are place etc) so adjust accordingly.
Check frequently, especially if you like steaks rarer. Remember you can always cook it longer but you cannot cook it for less time once you overcook the steaks.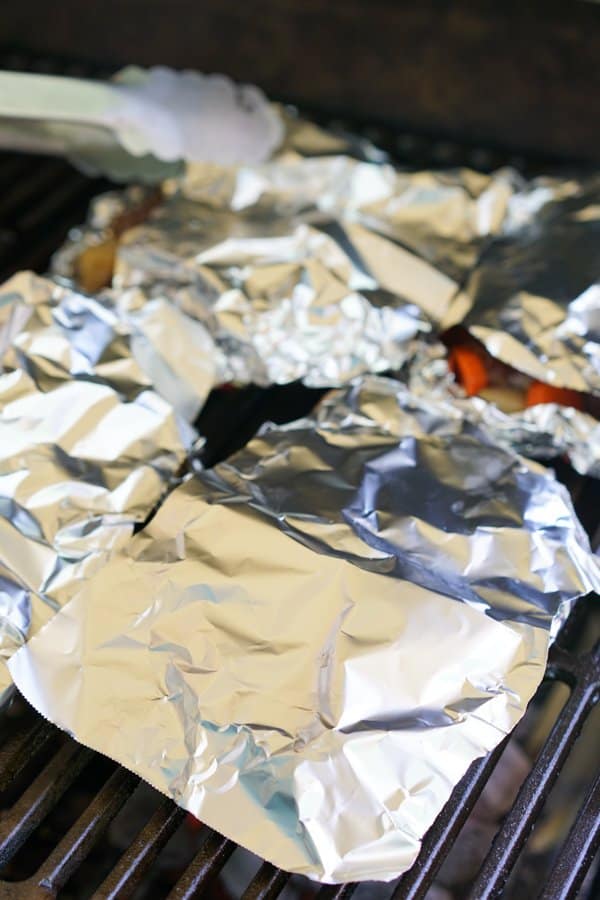 Over Campfire and Oven Baked
In addition to grilling, these foil packs can be oven baked or even cooked over the campfire when you are camping!
If baking in the oven, in my experience, it needs to bake it for a little longer than our charcoal grill and campfire. We usually bake it at 425℉ for 12-15 minutes but check at the 12-minute mark for doneness especially if you like your steaks pink-ish in the middle.
Internal Temperature for Steaks
As always, having a meat thermometer will make cooking steaks much easier because you will be able to tell how cooked the steaks are without cutting into it. Here are the internal temperature needed for each level of doneness:
Rare: 135℉
Medium: 145℉
Medium well: 155℉
Do not overcook steak if not it will be tough and difficult to bite into! Translation: no longer yummy!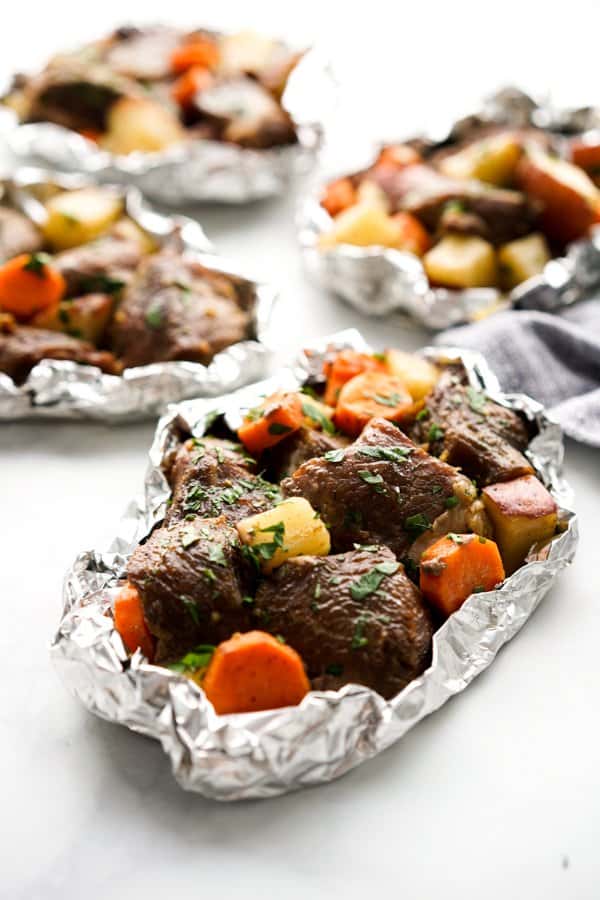 Frequently Asked Questions
Can I use another cut of steak?
Yes you can, but you want to stick to good cuts of steak that don't need to be cooked a long time to break down the fiber. Avoid using beef chuck or tough pieces of beef that are used for stews. Rib eye is another good option. I like to use sirloin because it is affordable yet tender enough.
Can I not pre-boil potatoes?
You can, but if you are not boiling the potatoes first, I would cut them into very small pieces, and also be prepared to remove steak when it is done cooking and let potatoes continue to cook because depending on how big the potatoes are, they may take longer to cook.
Why do you not pre-boil carrots?
I like my carrots slightly crunchy, but if you like your carrots super soft, go ahead and boil them when you are boiling potatoes.
If you make this recipe, comment below and let me know what you think! Also, don't forget to take a picture and tag me on Instagram, because I WANNA SEE!!
More Cajun Recipes!
We love all things cajun food here! Check out some of our other favorites. Many of them uses Tony's incredible seasoning and spices as well: