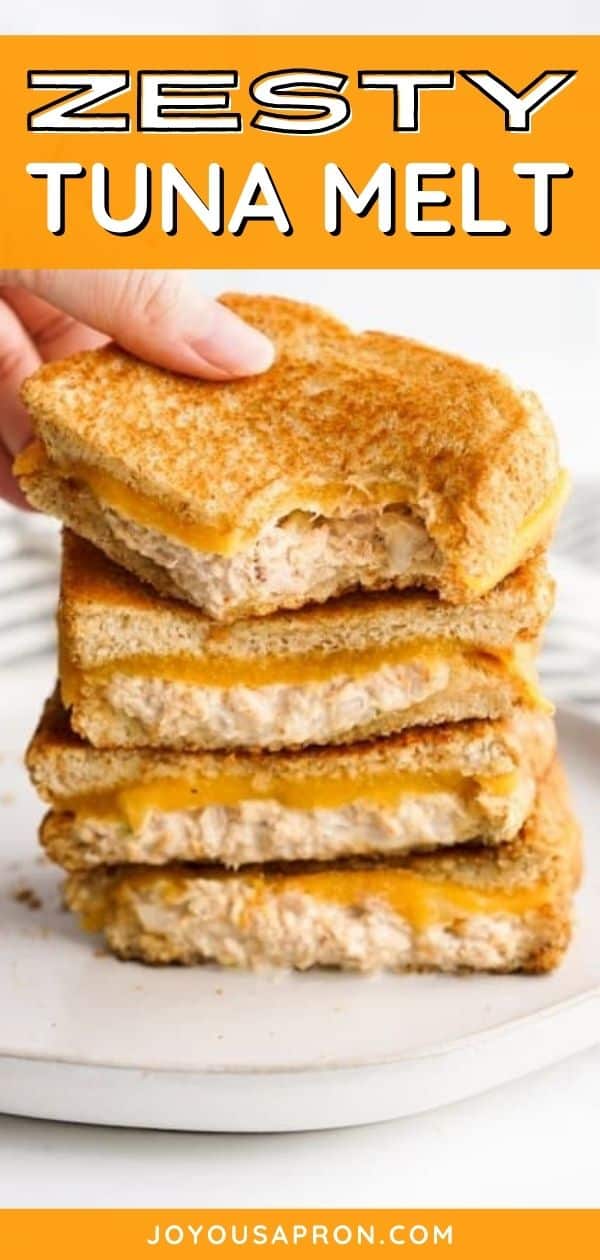 Meet your new favorite lunch companion, Zesty Tuna Melt! Tuna salad and melted cheese sandwiches between two crispy, golden brown, buttery slices of toast.
It is dreamy, melt-in-your-mouth delicious, and will make everyone wishes this was their lunch!
This post is sponsored by my friends at Tony Chachere's! We are celebrating Tony Chachere's 50th Anniversary, and I am excited to share this yummy recipe with you! All opinions, as usual, are my own.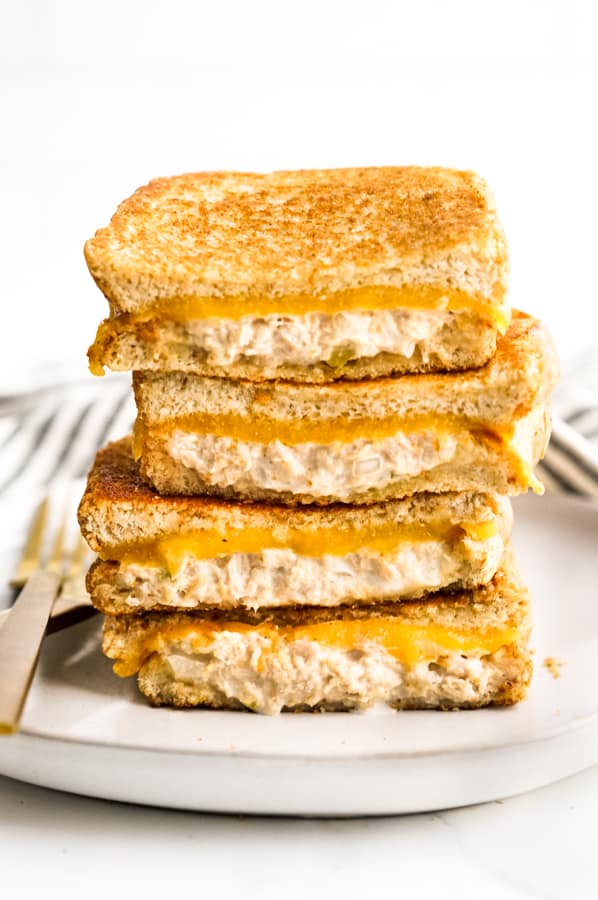 Tuna Melt Grilled Cheese is such a classic sandwich recipe that involves warm crispy toast, creamy tuna salad and a nice thick slice of melted cheese.
Tuna is such a good source of protein that fills you up without being overly heavy.
I've made Tuna Melt for years because it's one of my favorite sandwiches, and I love trying out different seasonings to elevate a normal, everyday Tuna Melt.
It's no secret I love Tony Chachere's Original Creole Seasoning, and I use it on everything…eggs, pizzas, popcorn, grilled chicken…and now Tuna Salad!
Tony's Creole Seasoning already has salt in it and is supposed to take the place of salt and pepper so not only do you no longer need to add salt, you get another level of flavor that will enhance and jazz up a normal everyday tuna salad.
Ingredients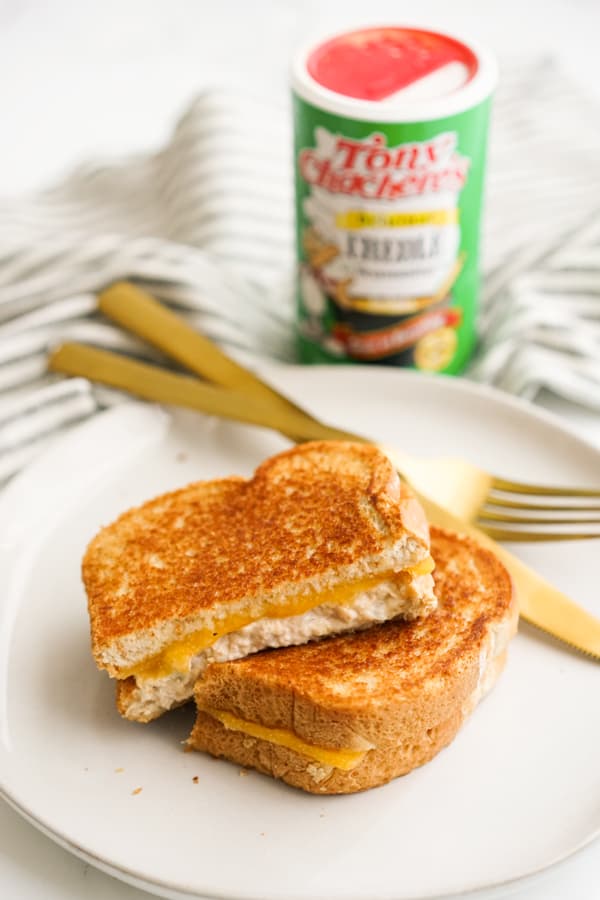 All you need are these ingredients below and about 20 minutes of your time!
Canned tuna – drained
Mayonaise
Onion – diced into small pieces. Any type of onions works – white, yellow, sweet, red
Pickled relish
Lemon juice
Tony Chachere's Original Creole Seasoning – use this in place of salt and pepper! Zesty with los of bold flavors!
Bread – White, wheat, sourdough…any bread works!
Salted butter – use softened butter so it's easier to spread on the bread. Leave it in room temperature for a few hours before using it.
Cheese – I like to use a nice and thick slice of cheddar cheese. You can also use Swiss, American, Provolone etc.
How to make Tuna Melt
Once you gather all the ingredients, let's get started!
Step 1: Make Tuna Salad
Start by combining all the ingredients to make the tuna salad – tuna, mayo, onions, pickled relish, lemon juice and of course, Tony Chachere's Original Creole Seasoning.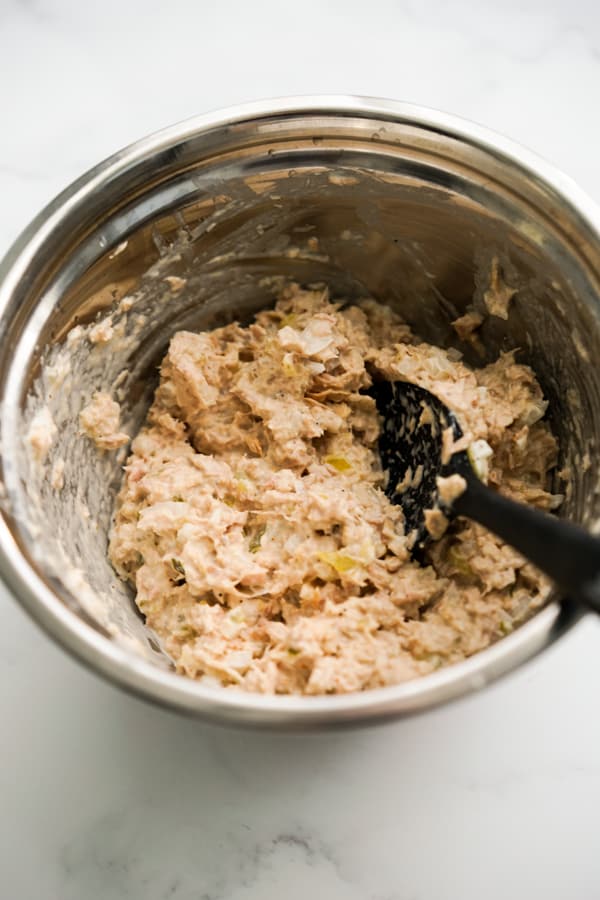 Taste when everything is combined and add more Creole Seasoning if you prefer it saltier or want more of a kick.
Step 2: Assemble Tuna Melt Sandwich
Next, we will assemble the sandwich!
Generously spread softened butter on one side of each slice of bread.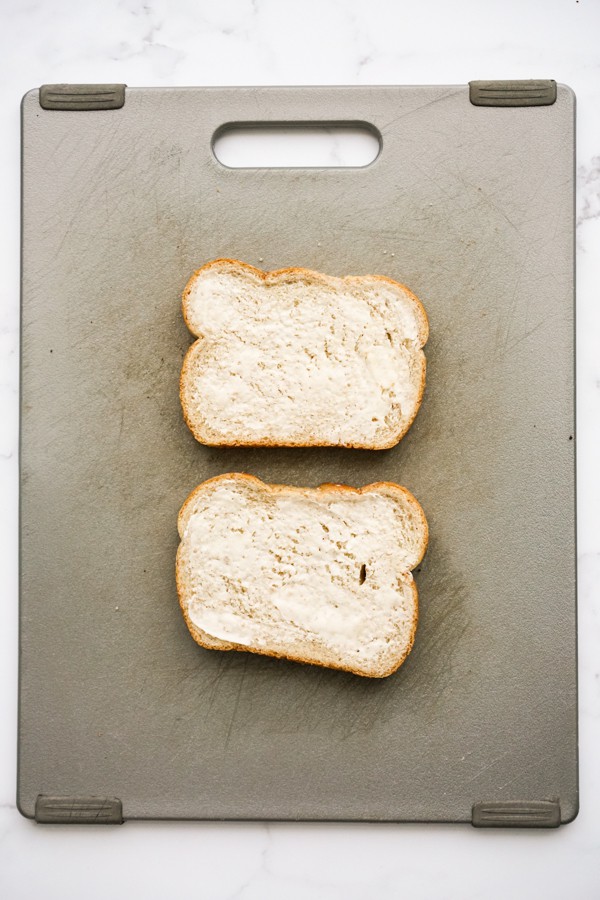 Flip one of the bread over so that buttered side is at the bottom, then spread it with a layer of tuna salad. Avoid overstuffing it.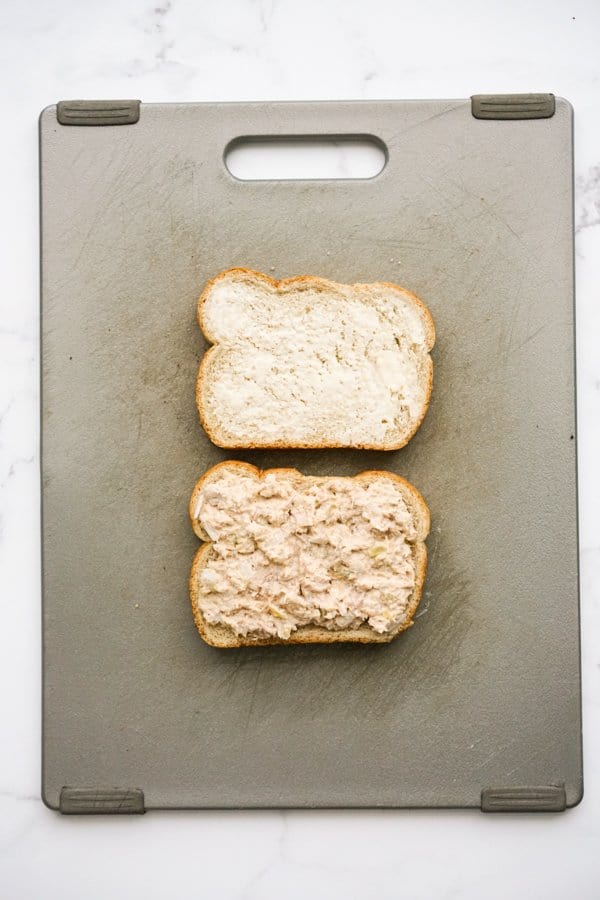 Place a slice of cheddar cheese on top of tuna topping.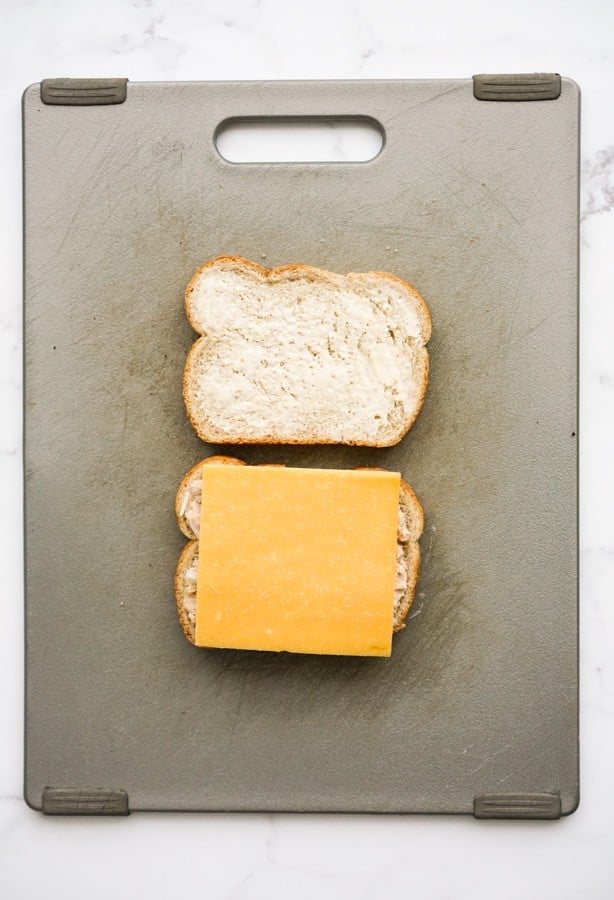 Make it into a sandwich by placing the other slice of bread (buttered side up) on top of the slice of cheese.
Both slices of bread should have the buttered side facing outward.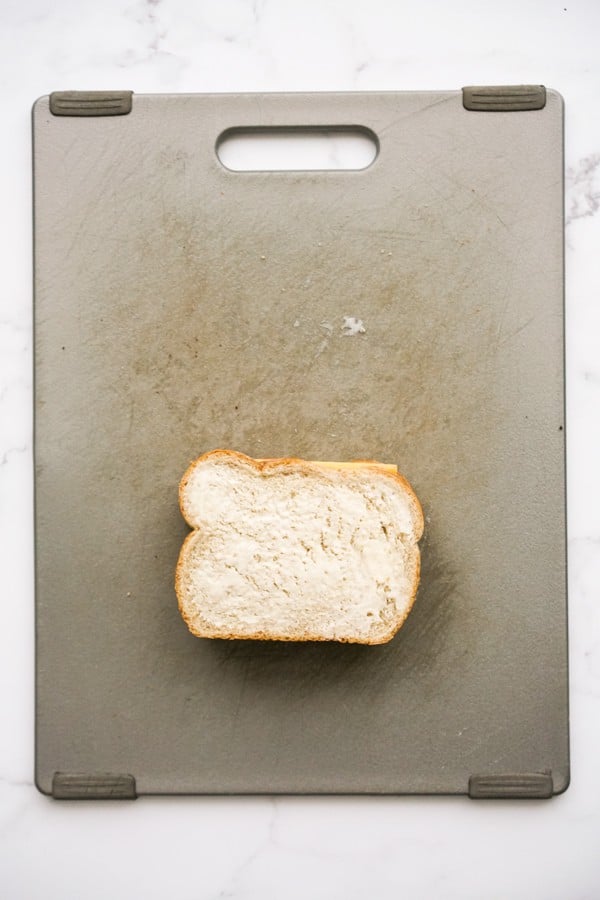 Step 3: Pan fry Tuna Melt
Heat a skillet (I always prefer using a non stick skillet if I have a choice) under medium low heat.
Then sear one side of the sandwich until it is golden brown, and flip to sear the other side.
We are searing it slowly under low heat so that the cheese will melt and become gooey, the tuna is warmed up, and the bread is crispy on the outside.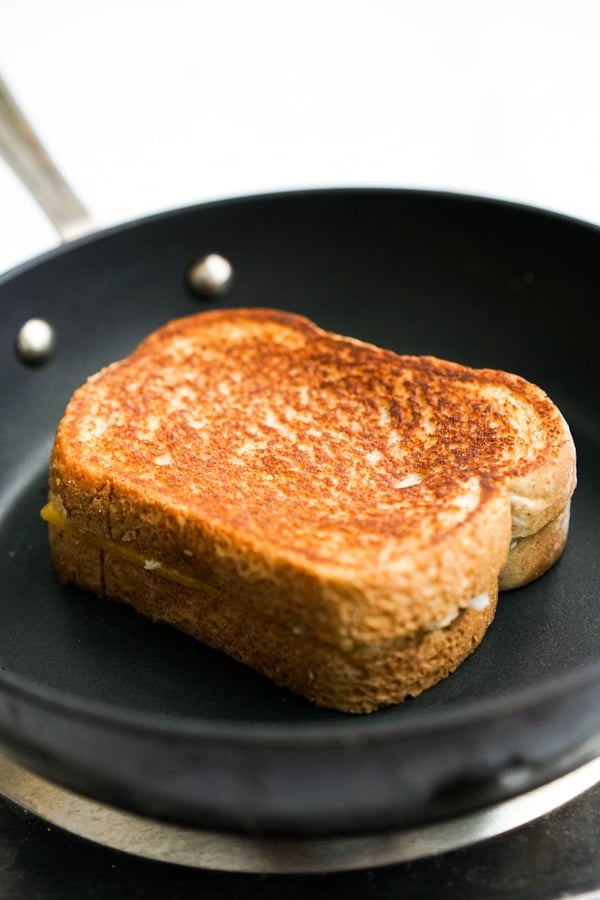 Remove from heat promptly, then slice and serve it while it is warm and crispy.
In some ways, this really is a Tuna Melt Grilled Cheese, as you get both the creamy tuna and melted cheese in every single bite.
SO VERY YUM.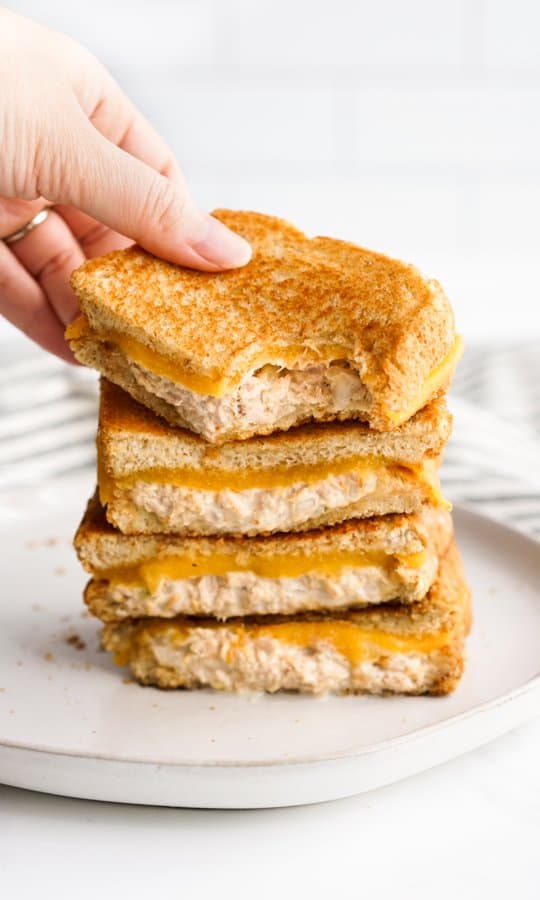 It really is a simple hearty sandwich that is perfect for lunch or a light dinner.
What to serve with Tuna Melt
One of my favorite things to eat with Tuna Melt is Tomato Soup.
You can also serve it with your favorite salads, with some chips, French fries, or by itself.
Tips and Tricks
Make sure to soften butter so that it is easier to spread
Heat skillet under medium low heat to avoid burning the toast. Lower the heat if needed if it looks like bread is turning golden brown quickly.
Zesty Tuna Melt tastes best when it is hot off the pan. If you want to make ahead, you can make the Tuna Salad ahead, but only assemble and sear it when you are ready to eat it.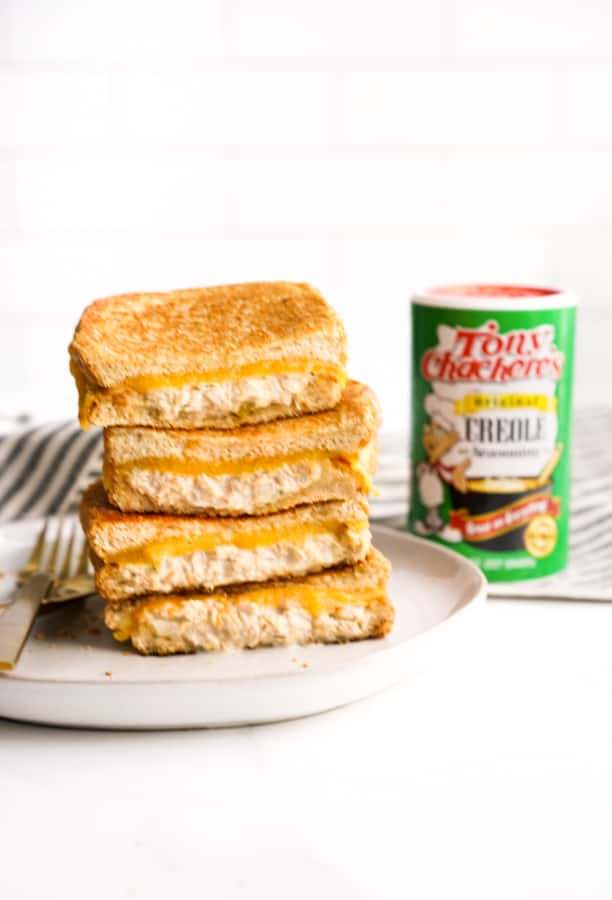 Turning Tuna Melt into a Warm Tuna Dip
If you have leftover tuna salad, here's a quick and yummy way to turn it into a dip and serve it with some chips and crackers!
Transfer tuna to an oven-safe bowl.
Add cheese (cheddar cheese, mozzarella, or even cream cheese) to the dip and bake it in the oven at 375℉ for 10-15 minutes, or until cheese is completely melted
Stir to mix everything together, top dip with more Original Creole Seasoning on top, and and serve with crackers.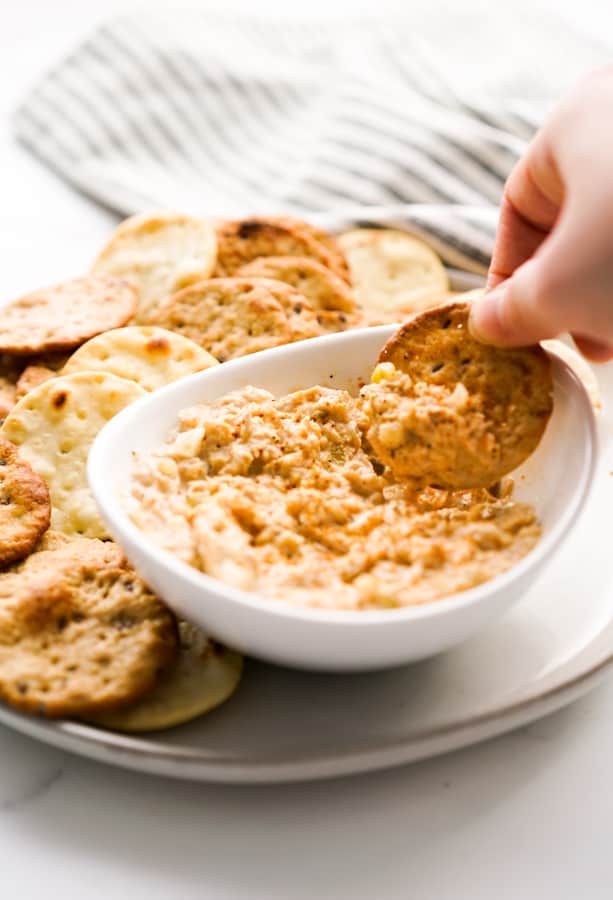 More Sandwiches!
All kinds of sandwich recipes!
DID YOU ENJOY THIS RECIPE? Please comment below and give us a 5-star rating! This will help others find this recipe on Google and Pinterest. We very much appreciate your help! 🤍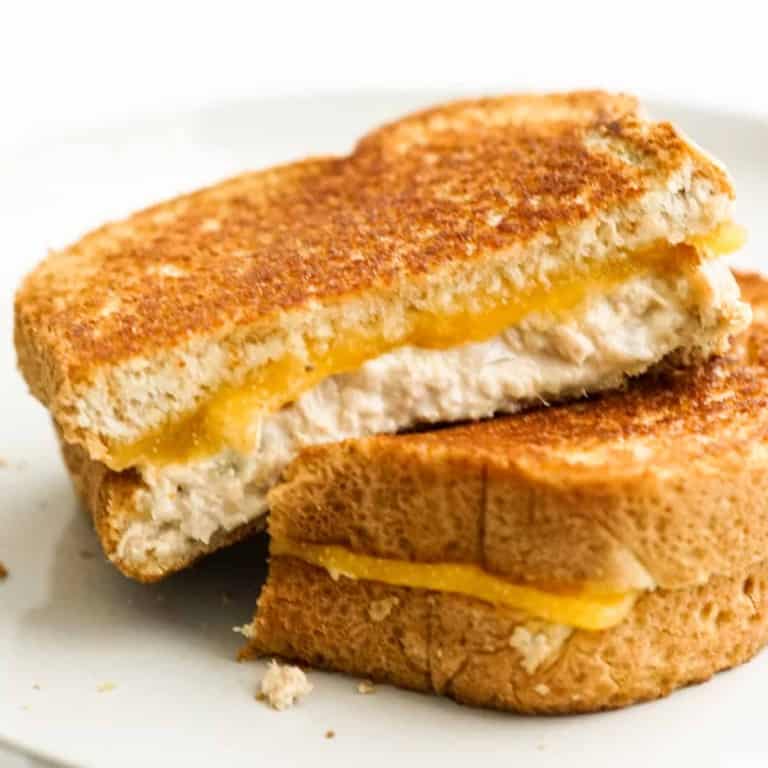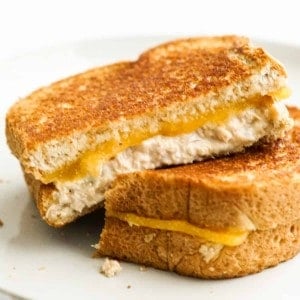 Zesty Tuna Melt
Tuna melt and grilled cheese combined! Tuna salad and melted cheddar cheese are sandwiched between two slices of buttery toast.
Print
Pin
Ingredients
8

oz

canned tuna

dry weight, drained

1/4

cup

mayonnaise

2

tbsp

white onion

finely chopped

2

tbsp

pickled relish

1

lemon

juiced

1/2

tsp

Tony Chachere's Original Creole Seasoning

or more to taste

8

slices

bread

3

tbsp

salted butter

softened

4

slices

cheddar cheese
Instructions
In a bowl, combine tuna (drained),mayonnaise, white onions, pickled relish, lemon juice, and Tony Chachere's CreoleSeasoning. Mix to combine.

Spread one side of each slice of bread with butter.

Place a few tablespoons of tuna mixture on the non-buttered side of a piece of bread. Evenly spread mixture on the bread.Top mixture with a slice of cheese, and another slice of bread (buttered side up).

Repeat Step 3 until a total of four sets of sandwiches are made.

Heat skillet under medium low heat. Once skillet is heated, gently bring one of the sandwiches to skillet. Sear sandwich on one side until the bottoms are golden brown (1-2 minute), then gently flip to sear the other side for another minute or so. Once both sides are golden brown and cheese has melted, remove sandwich promptly.

Repeat Step 5 to cook the other three sandwiches.

Slice sandwiches into halves. Serve and enjoy!
Notes
How to Make Warm Tuna Dip: Transfer tuna salad to an oven-safe bowl, add cheese (cheddar, mozzarella, or even cream cheese), bake at 375℉ for 10-15 minutes or until cheese melts. Stir and sprinkle more Creole Seasoning on the top of dip. Serve with crackers and enjoy!
Nutrition
Calories:
465
kcal
|
Carbohydrates:
33
g
|
Protein:
21
g
|
Fat:
28
g
|
Saturated Fat:
11
g
|
Polyunsaturated Fat:
8
g
|
Monounsaturated Fat:
6
g
|
Trans Fat:
1
g
|
Cholesterol:
66
mg
|
Sodium:
718
mg
|
Potassium:
249
mg
|
Fiber:
3
g
|
Sugar:
6
g
|
Vitamin A:
677
IU
|
Vitamin C:
15
mg
|
Calcium:
213
mg
|
Iron:
3
mg