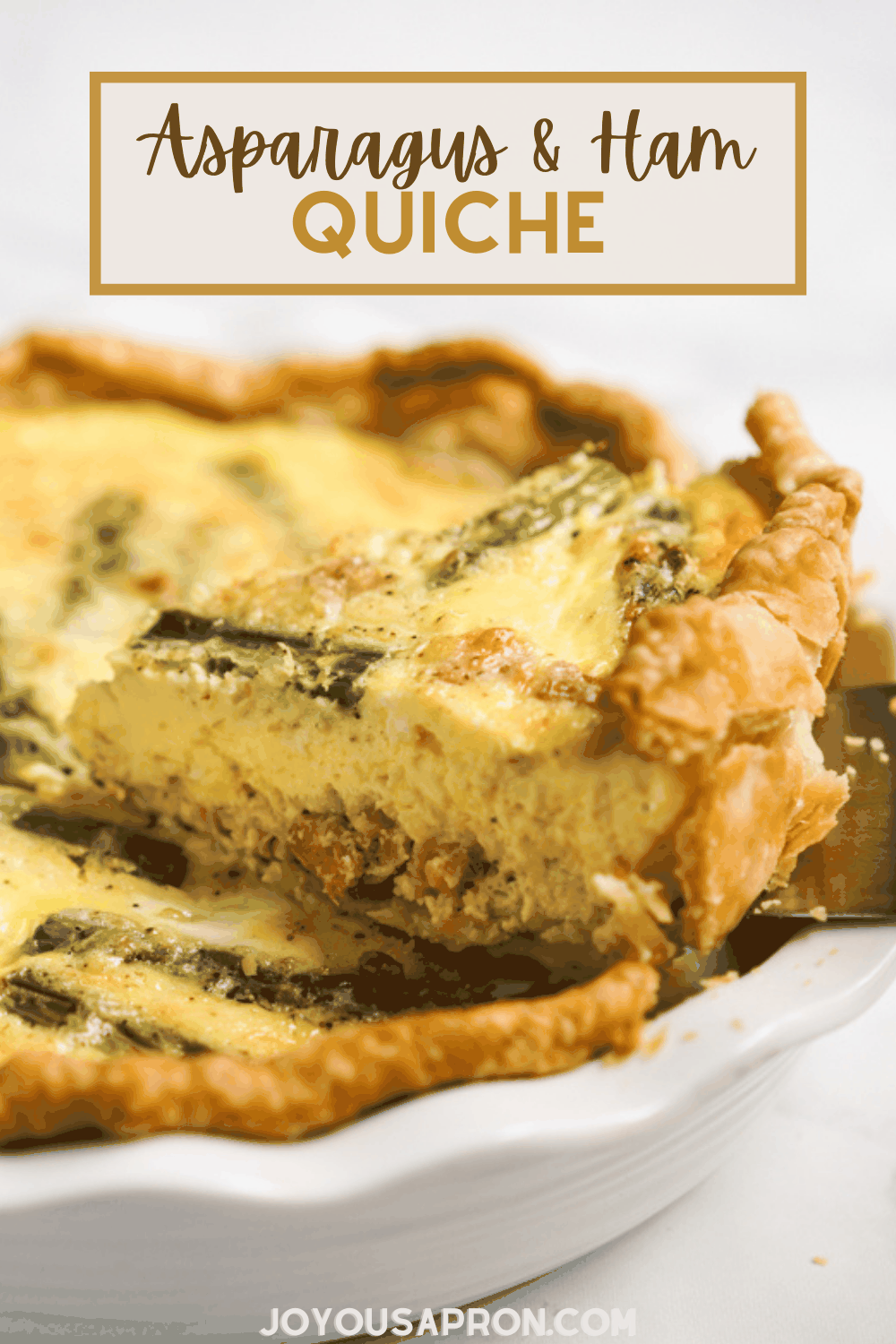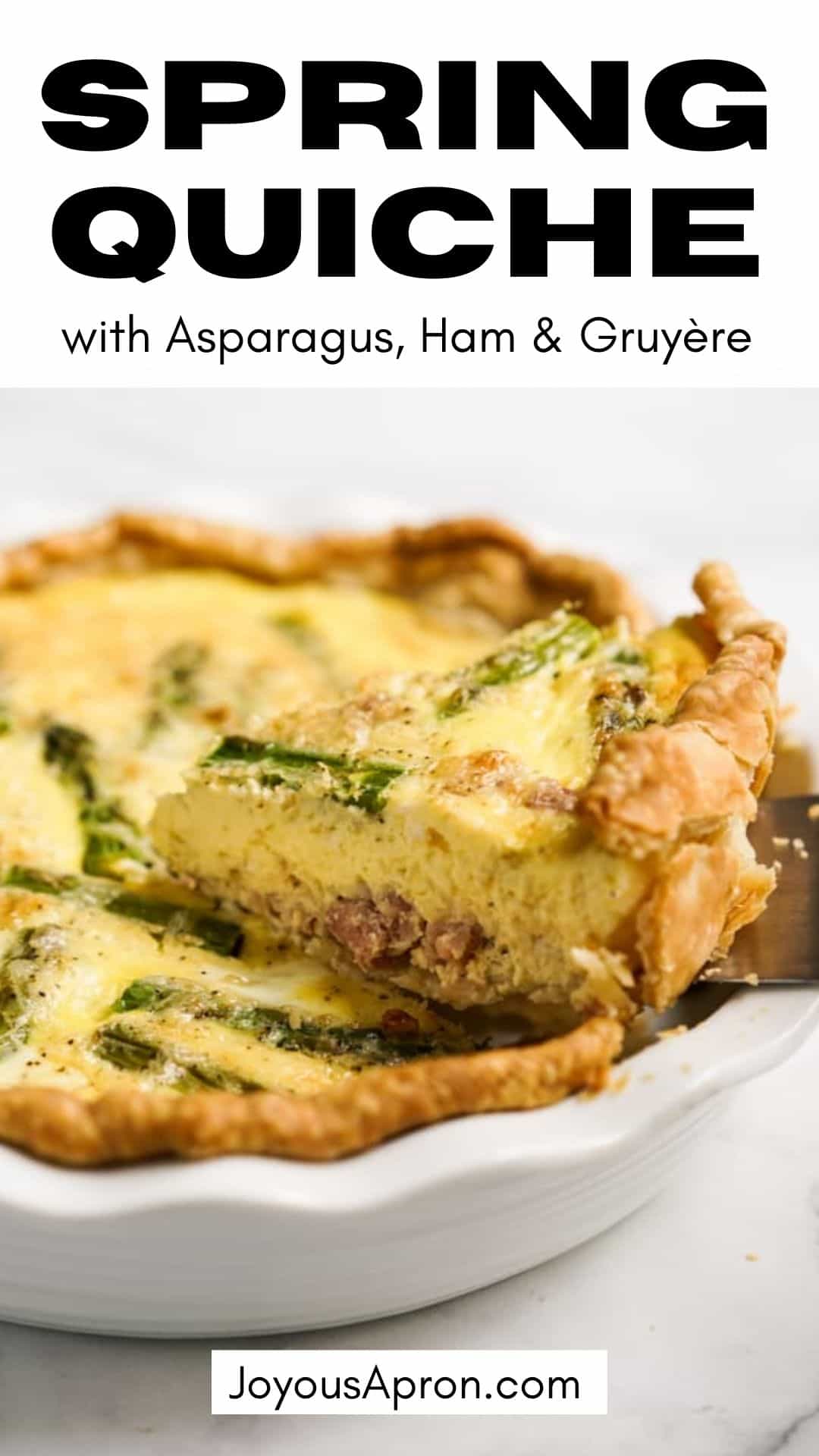 This post may contain Amazon or other affiliate links. As an Amazon Associate I earn from qualifying purchases at no additional cost to you.
Okay. Let's talk about this Asparagus and Ham Quiche. I can go on and on about this perfect Spring-time quiche filled with asparagus, ham and Gruyere cheese…
Flavorful, flaky, buttery, crunchy, custardy egg-y (is that a word?) goodness.
It is causing my Spring-loving self to get excited for tulips blooming, wearing sandals, and Easter weekend…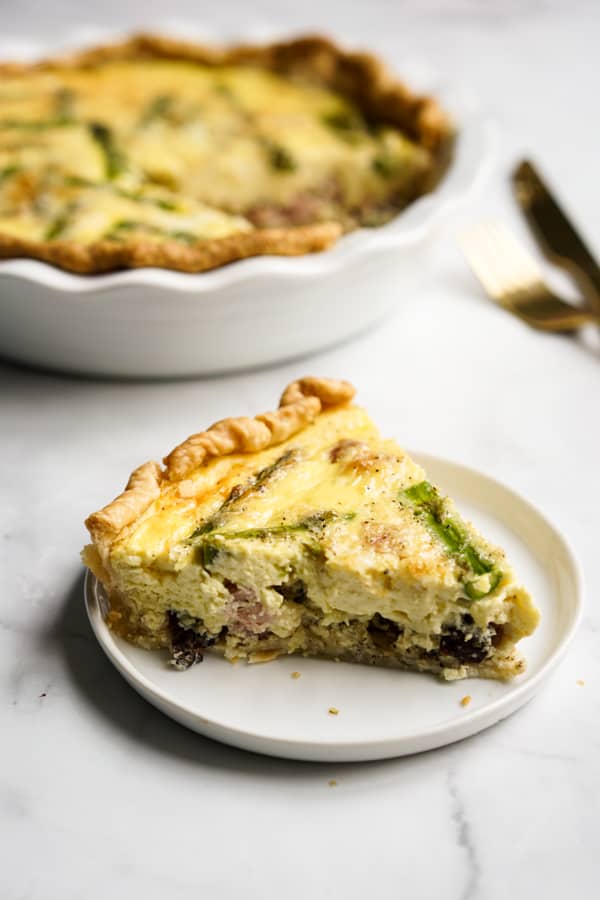 Speaking of Easter, this may just be what your Easter brunch menu needs!
Think about waking up to this flaky pastry and baked eggs filled with cheese, in-season asparagus paired with leftover Easter ham. I also make this whenever I have leftover Garlic Parmesan Asparagus lying around in the ridge.
Maybe paired with some mimosas and a cup of coffee.
Yum yum yum!
I know I know, there is a theme in my life: my dreams often involve breakfast/brunch, eating in bed, waking up to food, etc…
If you are a quiche fan, also check out my popular Bacon Spinach Quiche recipe loaded with caramelized onions. It is as glorious as this Asparagus and Ham Quiche goodness, but with a slight different twist.
We make a lot of of quiche around here because it is so easy to make! A quick 10 minute prep and send it into the oven while you get the rest of the meal ready.
It is also such a convenient dish to make ahead, it can be served warm or at room temperature, saves well as leftovers, and is easily heated in the microwave.
AND… quiches can be served as breakfast, lunch, or dinner.
Serve with a salad or soup for lunch or dinner, or with some fruits for breakfast…or by itself! It totally can fend for itself thank you very much.
I promise I have no agenda behind singing the glorious praises of quiche except that I heart it so dang much. 😉
I love a versatile, yummy dish and this is definitely a versatile, yummy dish that has been such a life saver for us on many busy days!
Let's Make It!
I seriously love how easy this asparagus quiche recipe is.
We start with an unbaked pie crust.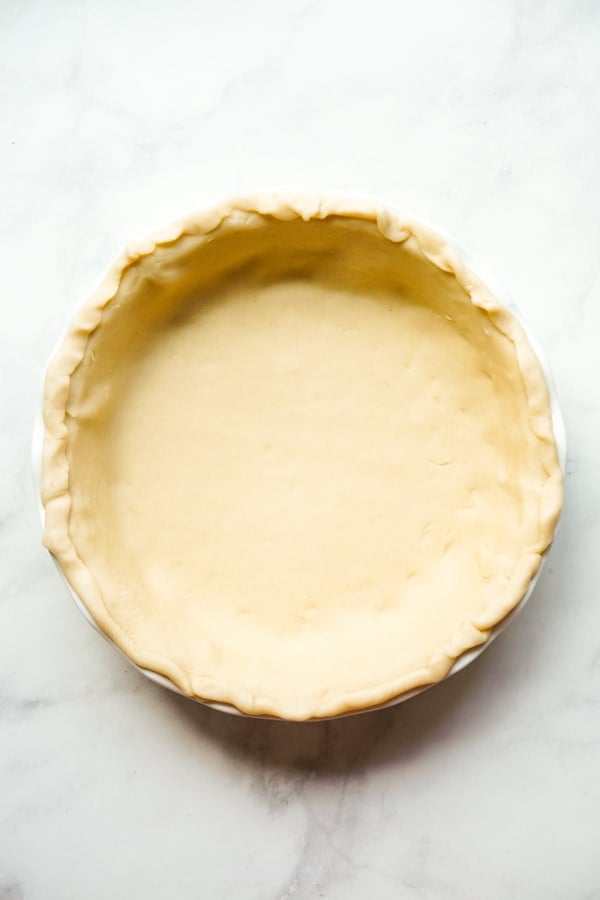 That's right. No shame in using those pre-made crusts!
Now if you are a bake-from-scratch kinda person and want to make your own pie crust, this is one of my go-to crust recipes! It's quick enough to make yet produces a wonderful crust.
But to be honest, I also love using Pillsbury unbaked crust just as much. And I sure love the convenience of it a whole lot!
In fact, I use a ready-made pie crust way more often than I make it from scratch whenever I make quiches. I find the Pillsbury brand crust work extremely well especially for savory bakes.
Place the crust on a 9-inch pie pan, and then fold over the sides.
Here's what all that goes onto it:
Diced ham – perfect use of leftover holiday ham! For a ham recipe, check out my Pineapple Baked Ham!
Asparagus – get those veggies in there!
Gruyere or Swiss cheese – can't decide? Use both!
Egg mixture – whisk together eggs + half and half + garlic powder + salt and pepper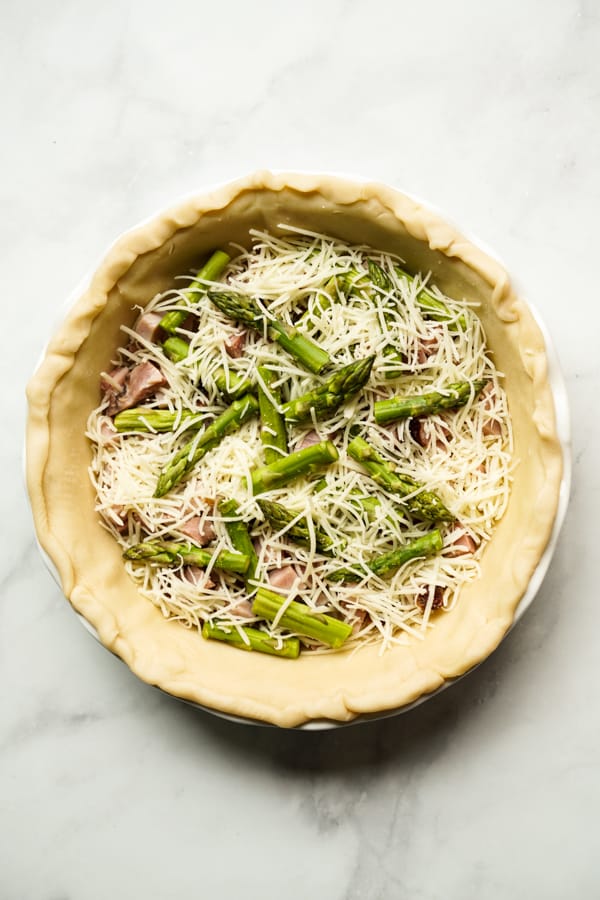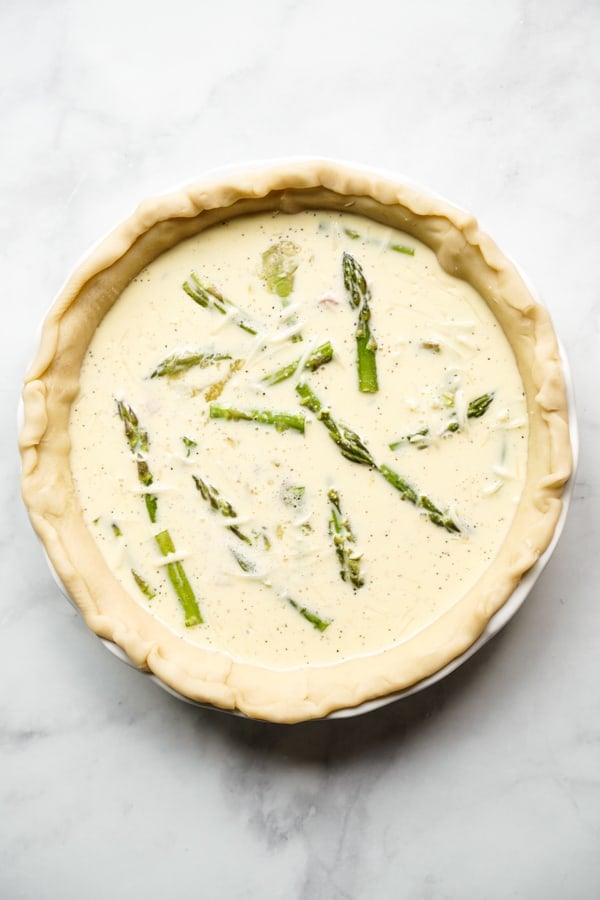 Add everything into the crust and then send it to the oven to bake for 40-45 minutes under 375℉ until the eggs are set.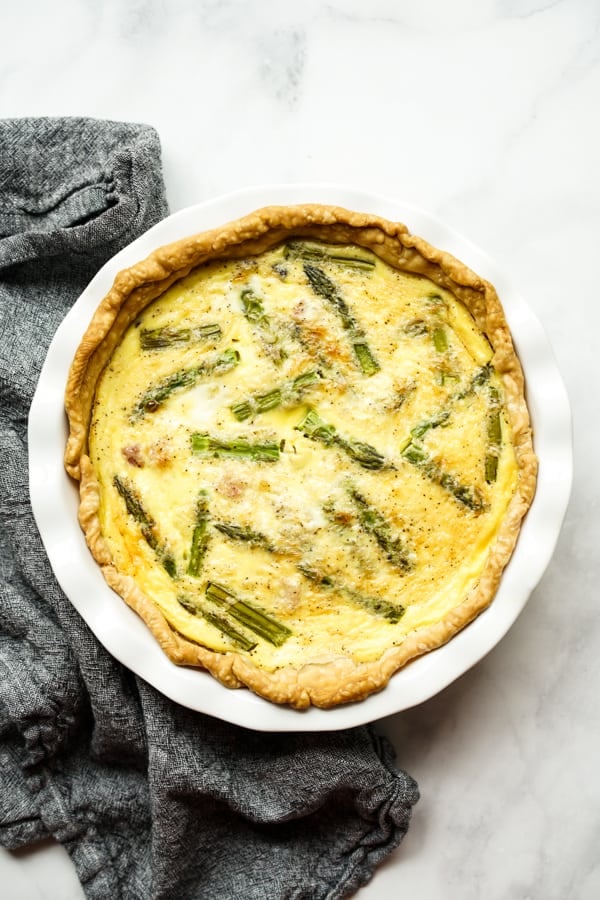 WELL HELLO THERE, Ham and Asparagus Quiche!
The tops of the quiche is slightly brown, the crust is flaky and buttery, the egg mixture is now custard-like and fluffy and cheesy…
The combination of asparagus with ham and gruyere (or Swiss) is pure perfection.
Gruyere and Swiss are sharper cheeses and they pair perfectly with asparagus, and it also helps creates a soft texture for the egg mixture and brings to it some yummy flavors.
Tips and Tricks
Use a toothpick to check for doneness in the quiche.
Sprinkle the top of the quiche with a little bit more cheese if you want a slightly brown top.
If the crust around the quiche is browning too much, wrap the crust area with aluminum foil halfway through baking.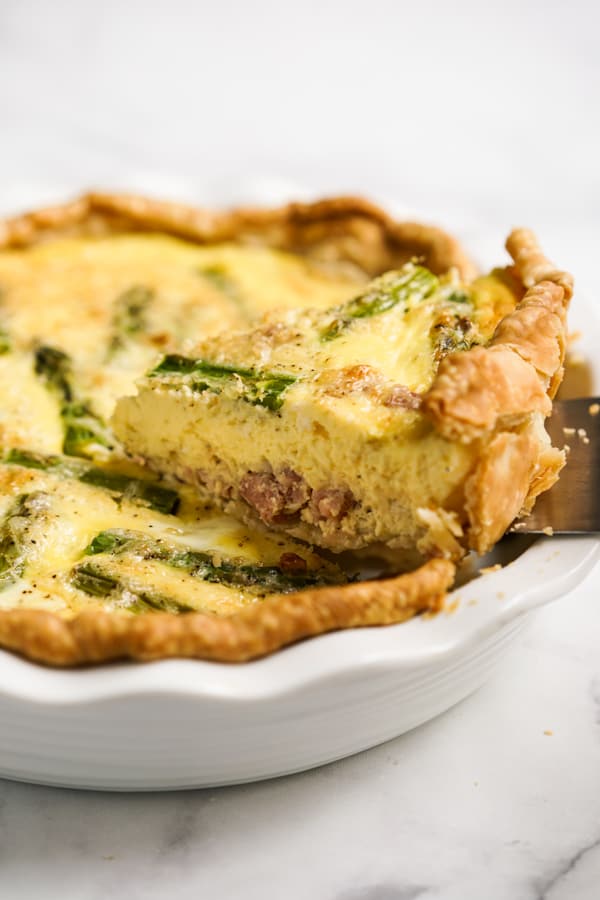 Variations
There are so many variations and alternate ingredients for this quiche recipe. Feel free to use other veggies, meats or cheese….in fact, it's a great way to use whatever you have in your fridge!
Veggies: spinach, bell peppers, tomatoes…
Meats: bacon, rotisserie chicken, corned beef, prosciutto…
Cheese: feta, cheddar, goat cheese, mozzarella…
How to store and reheat quiche
Store in refrigerator for 3-5 days in air tight container and microwave them when you are ready to eat. It tastes just as delicious!
Does it freeze well
I find that the texture of the egg changes after freezing so I would not recommend freezing quiche. It stores well in the refrigerator, just not the freezer.
What to serve with quiche
Quiche can be served in so many ways. Here are some of my favorite pairings with quiche:
Fruits or Fruit Salad
Green Salad
French baguette or a slice of toast or any bread
Soups
Breakfast potatoes (this Cheesy Bacon Potato Casserole is one of our favorites!)
And if you really want to be adventurous, add salsa or hot sauce to it! I totally dig salsa on eggs.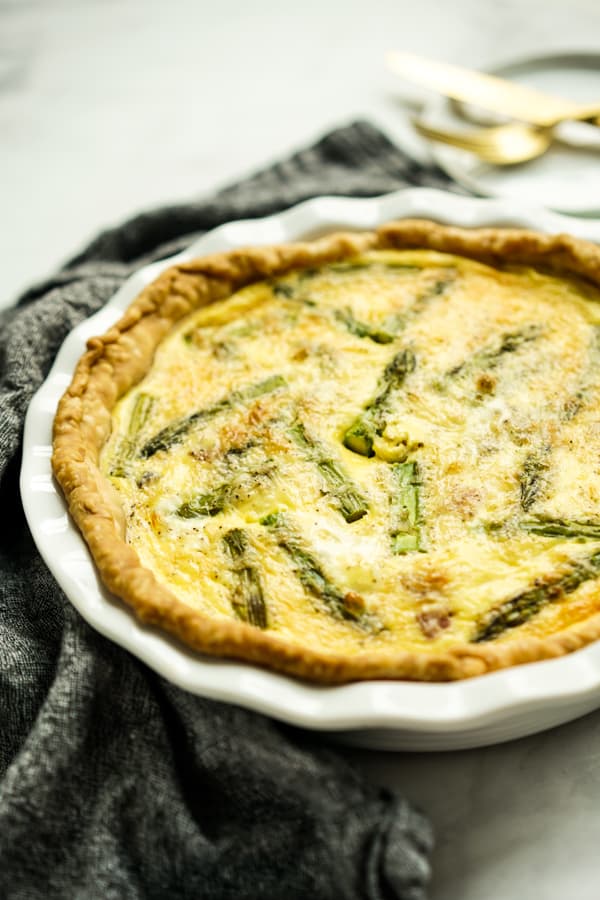 Other Quiche and Frittata Recipes
Other Savory Brunch Recipe
DID YOU ENJOY THIS RECIPE? Please comment below and give us a 5-star rating! This will help others find this recipe on Google and Pinterest. We very much appreciate your help! 🤍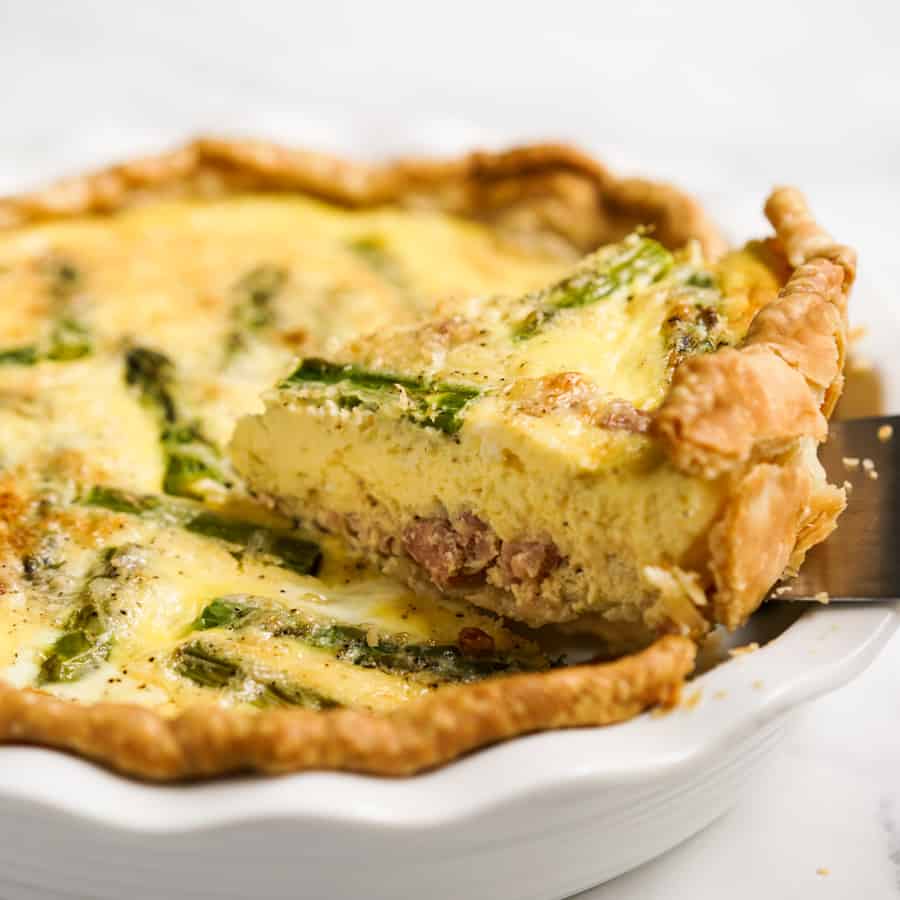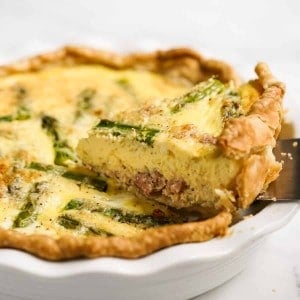 Asparagus and Ham Quiche
Flaky pie crust loaded with asparagus, ham, gruyere cheese and egg mixture, baked to perfection! Great for breakfast, brunch, lunch and dinner!
Print
Pin
Ingredients
Instructions
Whisk together eggs, half and half, garlic powder, salt and black pepper in a large mixing bowl.

Place defrosted pie crust on pie pan. Fold sides over and press them. Add ham, asparagus, and cheese. Then pour egg mixture into the pan.

Bake for 40-45 minutes, or until the egg is completely set.

Remove from oven and let it cool for 10 minutes. Serve and enjoy!
Nutrition
Calories:
388
kcal
|
Carbohydrates:
18
g
|
Protein:
20
g
|
Fat:
26
g
|
Saturated Fat:
12
g
|
Trans Fat:
1
g
|
Cholesterol:
213
mg
|
Sodium:
770
mg
|
Potassium:
272
mg
|
Fiber:
1
g
|
Sugar:
1
g
|
Vitamin A:
638
IU
|
Vitamin C:
1
mg
|
Calcium:
221
mg
|
Iron:
2
mg