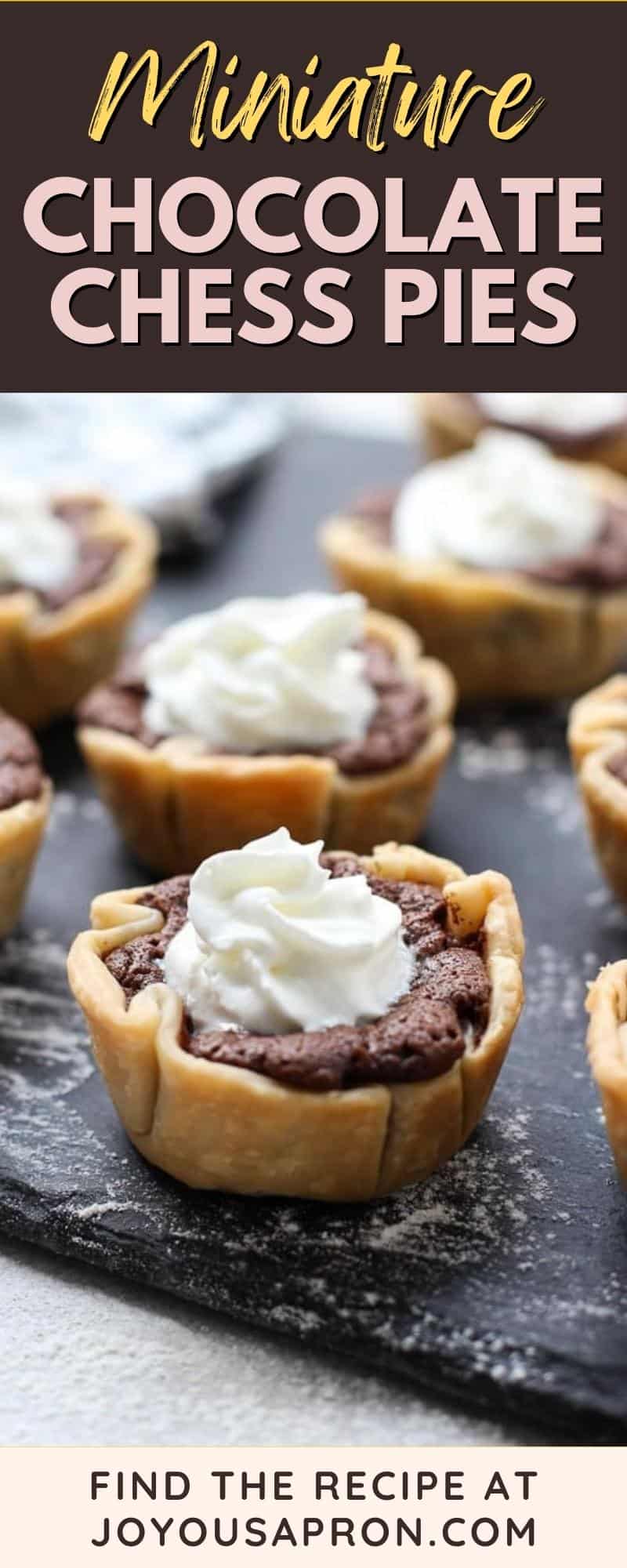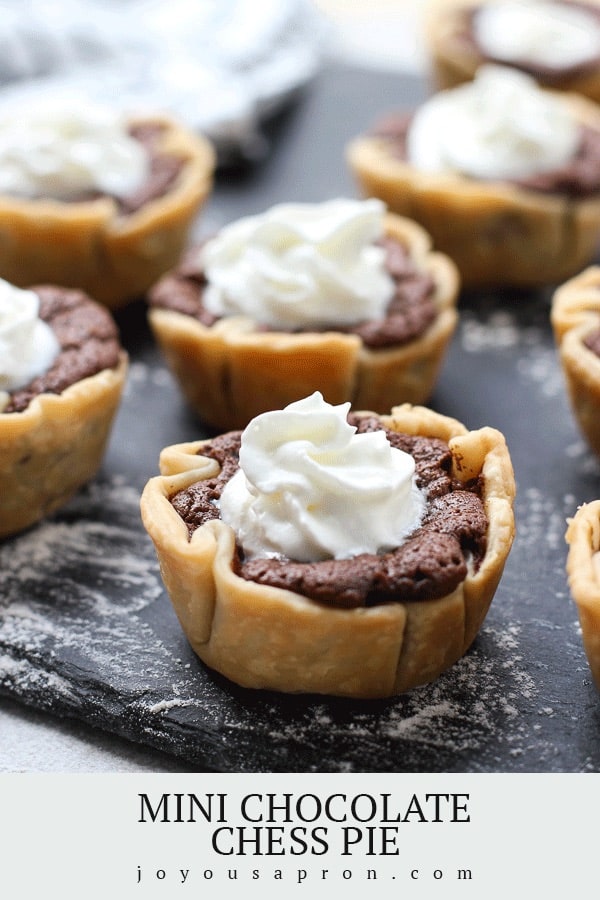 My Mini Chocolate Chess Pie will be the most decadently, dangerously delicious little thing you will ever put into your mouth. You have been officially warned.
Chocolate Chess Pie is a popular dessert in Southern part of the U.S. Today, we are going to make mini versions of this good-old southern pie. To say I am excited is an understatement.
Chocolate desserts might not be the best thing for the waistline, but it is good for the soul. It's a good solution to a bad day, and has the uncanny ability to make me smile. I am certain heaven is drenched in chocolate.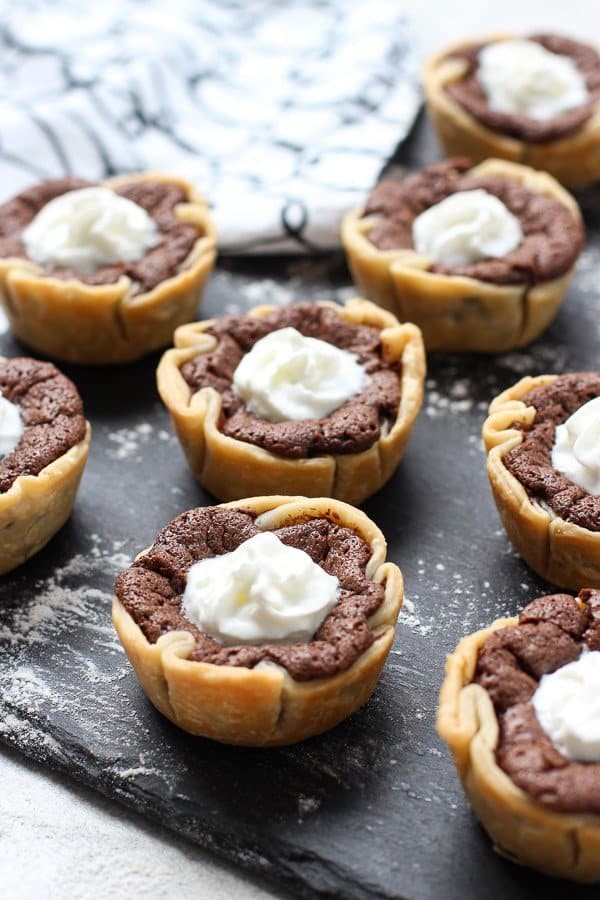 My love for Chocolate Chess Pie developed (and exploded like crazy) during my years living in Memphis, Tennessee. I am a homebody at heart, and my idea of a good Friday is coming home from work after a long day, get take out, decompress by watching tv, and end the night with Muddy's Bake Shop's Coco Chanel Chocolate Chess Pie.
Oh my goodness. Muddy's might be famous for their cupcakes, but they have the most amazing Chocolate Chess Pie.
It took me many years to make one that taste just as delicious as theirs, and after I succeeded, I started making mini ones recently because why not?
They are cute, fun, just as delicious, and from a practical standpoint…portion control.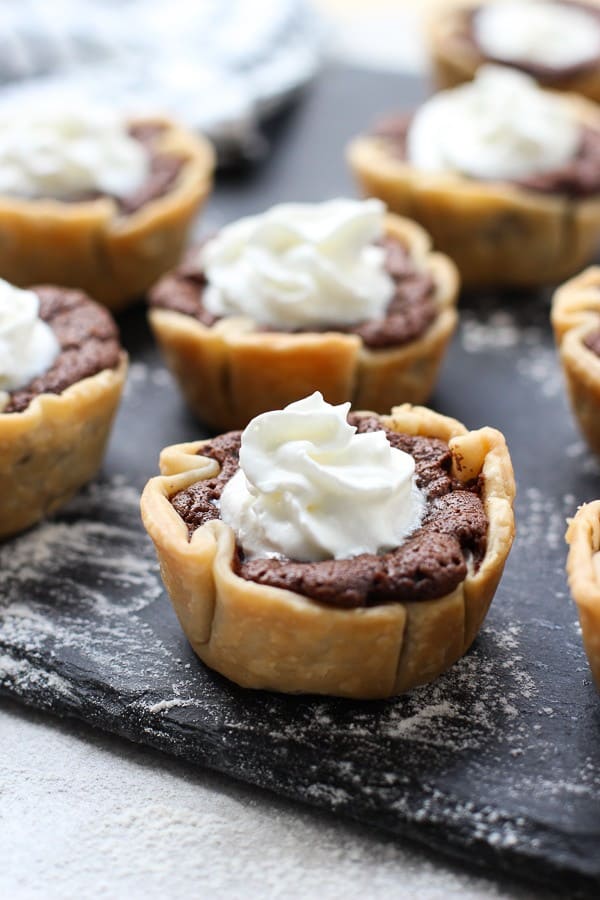 How to make Mini Chocolate Chess Pie
For the pie crust, you can make your own, or use a store-bought one. For this recipe I am using the classic Pillsbury pie crust. One box, with two round crusts in it, is plenty enough to make a dozen little pies (one muffin pan).
Use a 4 inch cookie cutter to cut out circles…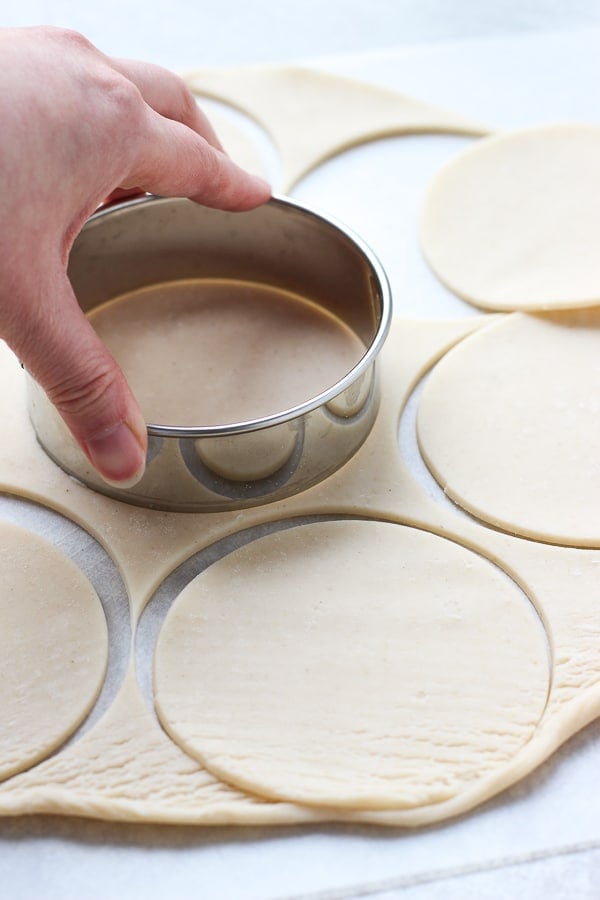 Then roll circles out to ~5 inches in diameter. Alternatively, you can use your palms or fingers to press and flatten it out.
The rolled-out mini pie crust might be bigger than what the muffin cups looks to fit, but that is okay. Fold the sides of the mini crusts all around and gently push the crusts into the cups if needed – and it doesn't have to be perfect. A little bit of imperfection gives the pies a bit more character. I also think it's neat when they look slightly different from one another.
The secret in these little pies is the fabulous melted dark chocolate, in addition to cocoa powder, in the filling. Melted dark chocolate. Yum. It intensifies the chocolate flavors in the filling, bringing the yummy factor up ten notches. I think my stomach just made a hungry sound.
Mix wet ingredients together – melted butter, melted dark chocolate, vanilla extract, evaporated milk and eggs. And then mix the dry ingredients together – sugar, unsweetened cocoa powder and sugar. Add dry ingredients to wet ingredients and mix it up well. Then put your nose to the bowl and take a deep breath. The filling smells so…darn…good.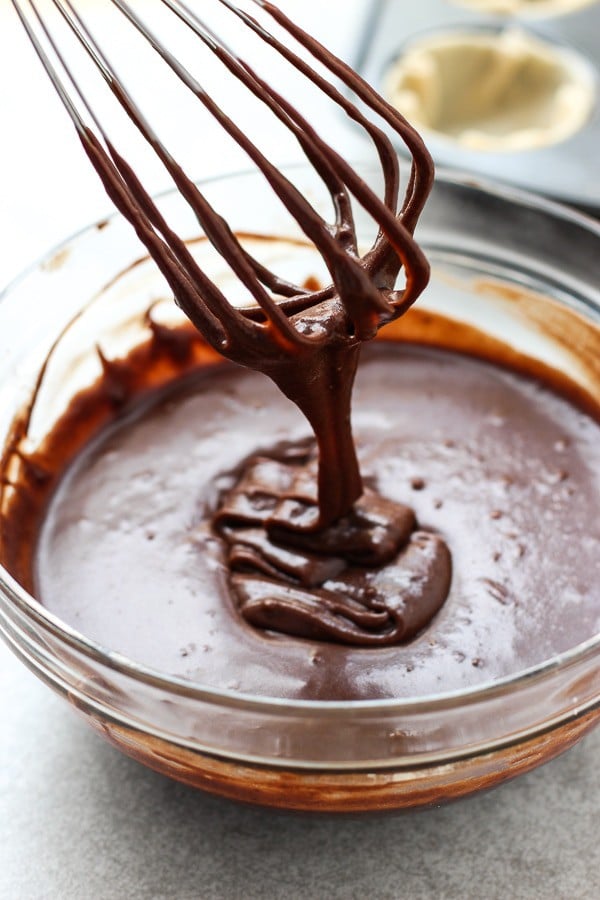 I always make my husband smell it and he would say he doesn't smell anything. One of the things I learned from being married is that we all have different levels of ability to smell things. So if you are like my husband, hang tight, even if you can't smell it, I promise you the best is yet to come.
After all the smelling, or not smelling 🙂 , fill up the mini pies with the chocolate filling.
Bake on 350 degrees F for 25 minutes. Let it cool in the muffin tin for about 15 minutes, and gently lift these pretty little pies out.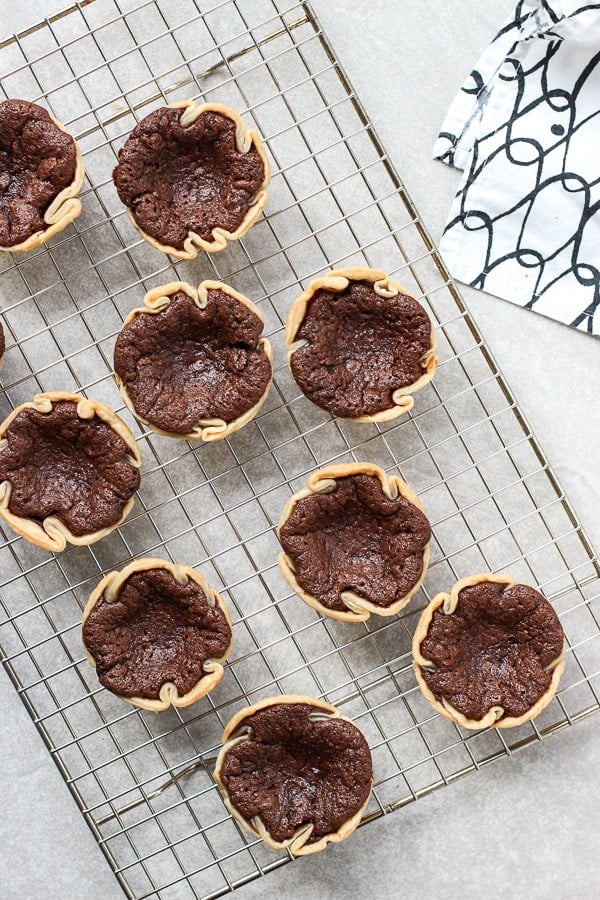 They are beautiful to look at, but even better when you put it into your mouth. Warm, gooey, melt-in-your-mouth rich chocolate filling wrapped around with a thin layer of flaky crust.
I keep leftovers in the fridge and heat it up in the microwave for about 15-20 seconds to warm up the chocolaty goodness when I want to serve them again. It taste just as good as it is fresh off the oven.
Don't forget to top these little cuties with some whipped cream.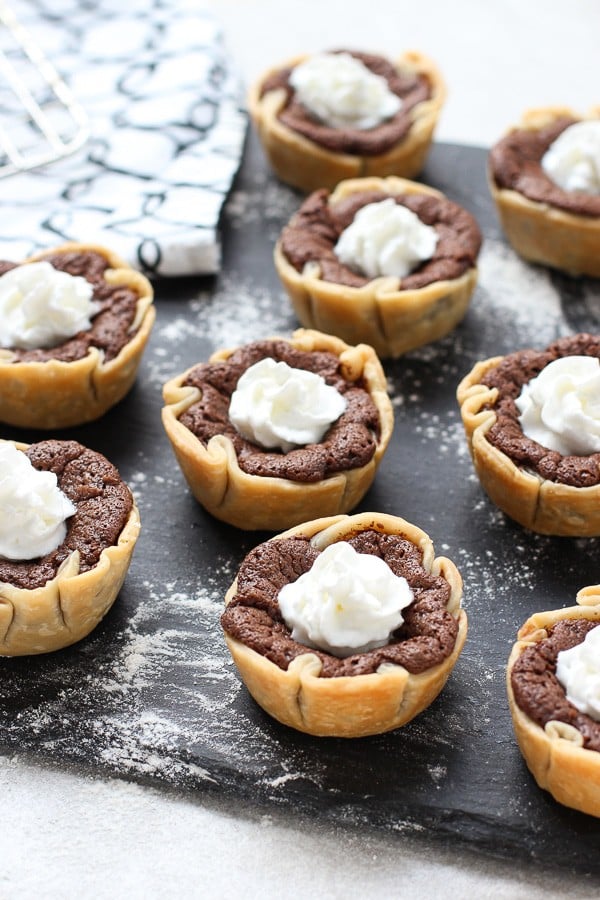 I'm telling you – you need this in your life. Try it out, enjoy it, and then share the goodness with someone!
DID YOU ENJOY THIS RECIPE? Please comment below and give us a 5-star rating! This will help others find this recipe on Google and Pinterest. We very much appreciate your help! 🤍
More Chocolate Goodness on the blog!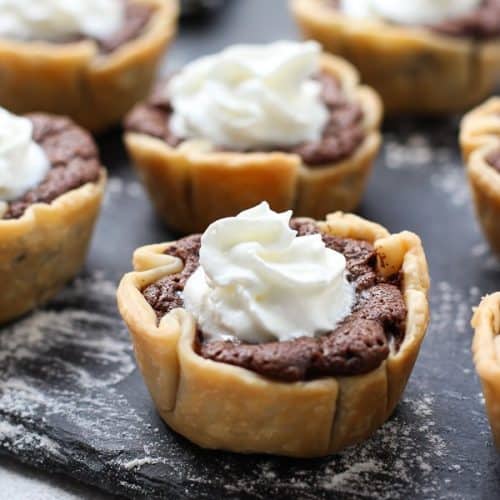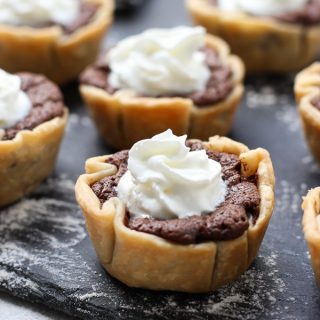 Mini Chocolate Chess Pie
A decadent chocolate dessert! Warm, gooey, melt-in-your-mouth rich chocolate filling wrapped around a thin layer of flaky crust. It's also the perfect treat for parties, showers, holidays, or any day!
Print
Pin
Ingredients
2/3

cup

unsalted butter

2

oz

dark chocolate

60%-70%

1/2

cup

evaporated milk

1

large egg

1/2

tsp

vanilla extract

1

cup

sugar

3

tbsp

unsweetened cocoa powder

1 1/2

tbsp

flour

2

pre-made unbaked pie crusts

1/2

cup

whipped cream
Instructions
Make sure pie crust is completely defrosted if it was frozen. Using a 4-inch cookie cutter, cut out circles.

Using a rolling pin, roll each small pie crust out to ~5 inches in diameter. Or, use fingers/palms to press and flatten dough. This is to slightly thin out dough and to fit the dough into muffin tin.

Insert small pie crusts into muffin cups. Fold the sides of the crusts and fit crusts into each muffin cup .

Bring unsalted butter and dark chocolate to a bowl. Melt unsalted butter and dark chocolate together by microwaving them at 50% power at 30 seconds intervals. Every 30 seconds, bring bowl out and stir – repeat until all the chocolate is melted. Do not short cut this to avoid burning chocolate.

Add evaporated milk, vanilla extract, and egg. If mixture is too warm, wait to let it cool before adding eggs (to avoid making scramble eggs! 🙂 )

Mix dry ingredients together – sugar, flour, unsweetened cocoa powder

Combine dry ingredients into wet ingredients. Mix well

Add filling into each muffin cup.

Bake for 25 minutes. Let it cool for 15 minutes. Remove pies.

Serve with whipped cream and enjoy!
Nutrition
Calories:
345
kcal
|
Carbohydrates:
35
g
|
Protein:
4
g
|
Fat:
22
g
|
Saturated Fat:
11
g
|
Polyunsaturated Fat:
1
g
|
Monounsaturated Fat:
7
g
|
Trans Fat:
1
g
|
Cholesterol:
46
mg
|
Sodium:
135
mg
|
Potassium:
126
mg
|
Fiber:
2
g
|
Sugar:
19
g
|
Vitamin A:
380
IU
|
Vitamin C:
1
mg
|
Calcium:
46
mg
|
Iron:
2
mg
This post was originally published on December 14, 2017 and updated on February 25, 2019.