This post may contain Amazon or other affiliate links. As an Amazon Associate I earn from qualifying purchases at no additional cost to you.
I grew up eating this Chinese Braised Pork Belly dish, where lean pork belly and potatoes are braised in this delicious soy based savory sweet five spice sauce, and served over white or brown rice.
This is comfort food for me.
This is a sponsored post written by me on behalf of Idaho® Potato Commission. All opinions and texts are mine.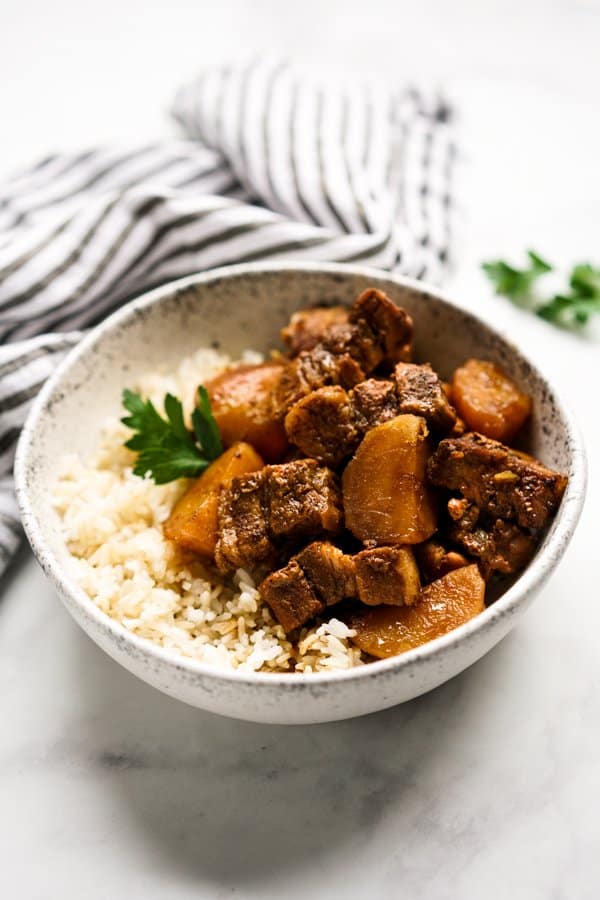 There are many variations of Chinese Braised Pork Belly dishes all over Asia, and this is the version my grandmother would make when I was little.
I would consider this the Southeast Asian (Singapore, Malaysia etc.) take on the Chinese Braised Pork Belly.
I've seen pork belly braised in soy sauce with hard boiled eggs and other ingredients, but Braised Pork Belly with potatoes is the braised pork belly dish I knew and love growing up.
The potatoes are my favorite part of this dish. And Red Idaho® potatoes are perfect for this!
They maintain their firmness well enough, and are soaked and cooked for about an hour in this sweet, savory, crazy flavorful spiced sauce.
And trust me when I say it is even better as leftovers days after. Because it would have absorbed the juices even more.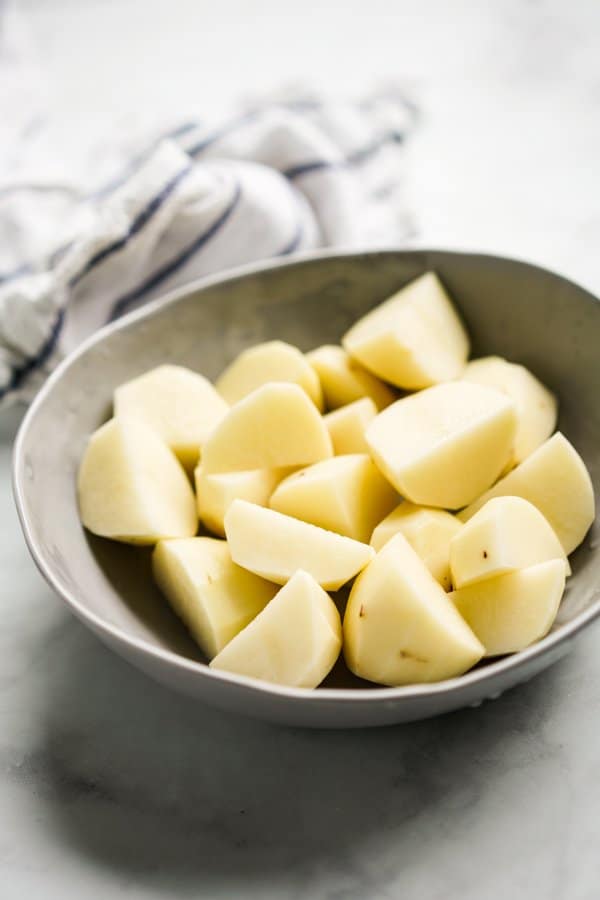 In fact, prepare to come face to face with the most flavorful potatoes you'll ever taste.
And then of course there's the pork belly. I personally prefer the leaner cuts of pork belly. Sliced into thick 1-inch slices and cooked low and slow, the meat from the pork belly is tender and soaked in that delicious sauce.
Rice is the way to go with Chinese Braised Pork Belly because it soaks up the juices and its plain nature complements the saltiness of the dish very well.
Ingredients
This dish may sound and look exotic, but it is actually really easy to make, requires only a few ingredients, and you can find the ingredients in Asian grocery stores or even some regular grocery stores.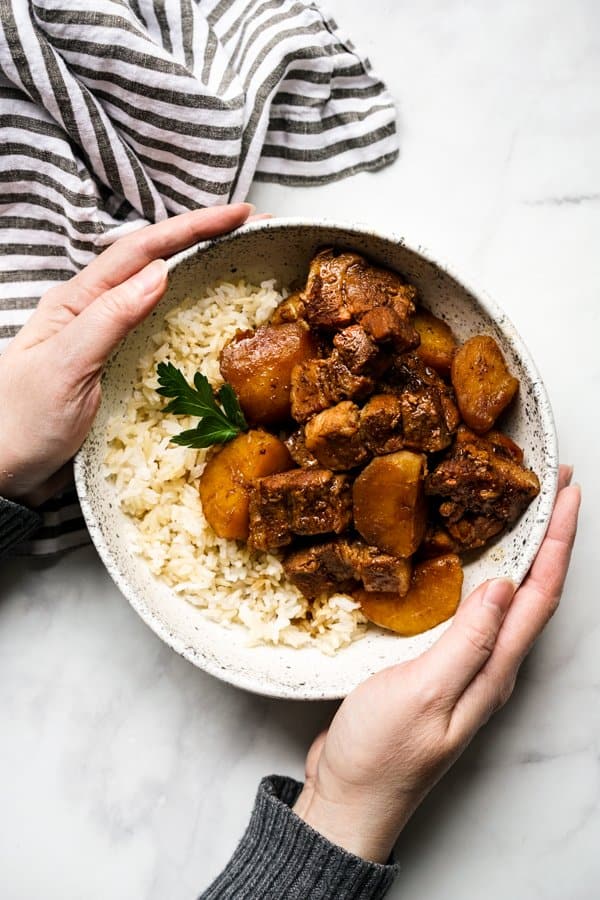 In addition to lean pork belly and red Idaho® potatoes, you will need these for the sauce:
soy sauce – this is the regular soy sauce that is commonly used everywhere
dark soy sauce – taste different from soy sauce. Avoid substituting with soy sauce because dark soy sauce gives an added dimension of taste and that darker color to the dish.
five spice powder – sometimes called Chinese five spice. It has a distinct smell and taste. Important spice to make this dish what it is. A little goes a long way!
rice wine – highly recommend getting the Chinese Shaohsing rice wine if possible
brown sugar
garlic cloves
water
(Check out the affiliate links for each of these ingredients if you want to see pictures of the products)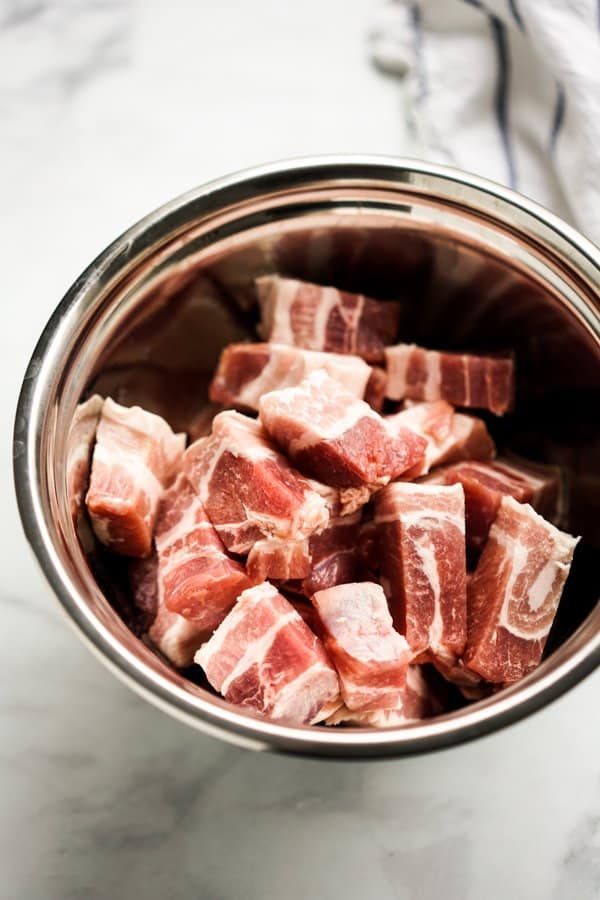 How to make it
To make this delicious dish, you will need a pot or a Dutch oven.
Start by searing sliced pork belly on both sides, and then add everything else into the pot – all the sauce ingredients and potatoes.
Bring it to a boil and cover and slow cook for 50 minutes.
It really is as simple as that!
The hardest thing is for the house to filled up with the aroma of the soy sauces and five spice…while you wait for it to cook so you can eat it!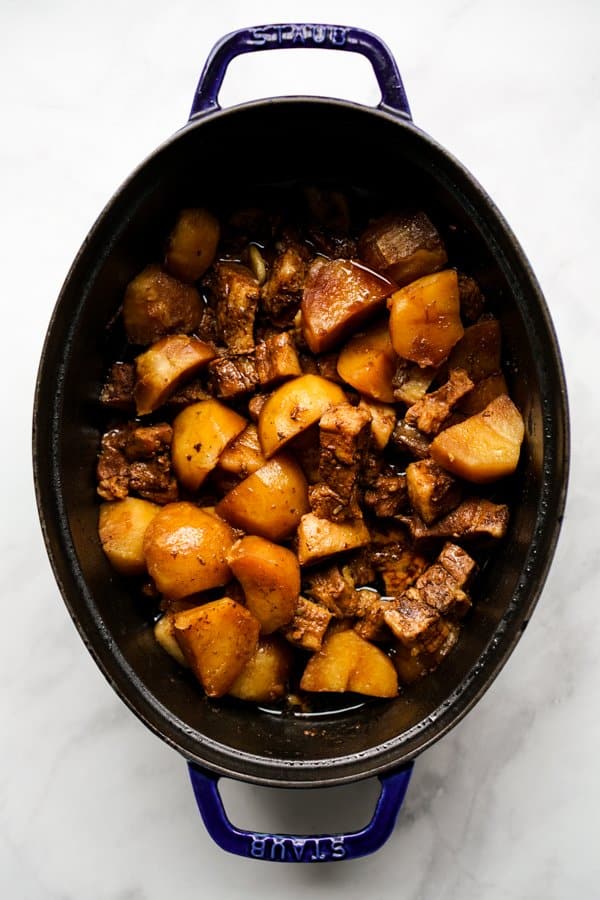 Tips and Tricks
A couple of things to note:
When adding water to the pot/Dutch oven, add enough to submerge most of the items, but it doesn't have to be completely submerged.
Depending on the pot/Dutch oven, you may or may not need to add more water. When I make this in my Dutch oven, I only need 1 ¾ cups of water. Every appliance and stove top are different, so adjust the water accordingly! Note that water will evaporate as it cooks, so check every now and then to make sure the pot isn't completely dry, and add more water while it cooks cook as needed. The final dish should not be soup-y, but should still have a little bit of sauce.
Food can be so nostalgic, and this yummy dish definitely takes me back every time I eat it, or even when I just smell the aroma.
I love that I'm able to share a little something from the side of the world I grew up in with you!
Grab a chopstick (or fork, or spoon, or whatever!), and dig in! ❤️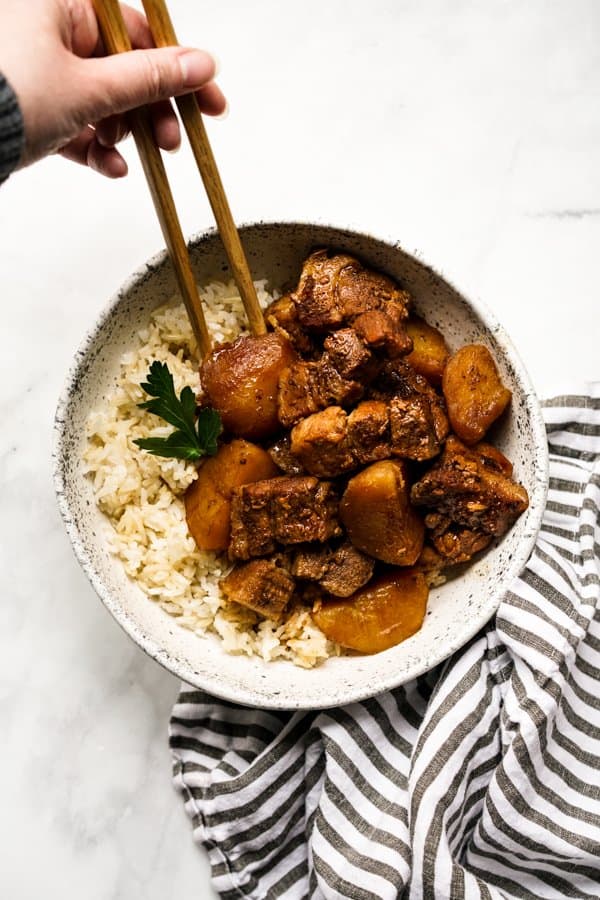 If you make this recipe, comment below and let me know what you think! Also, don't forget to take a picture and tag me on Instagram, because I WANNA SEE!!
More Classic Chinese Recipes: