Slow Cooker Asian Shredded Pork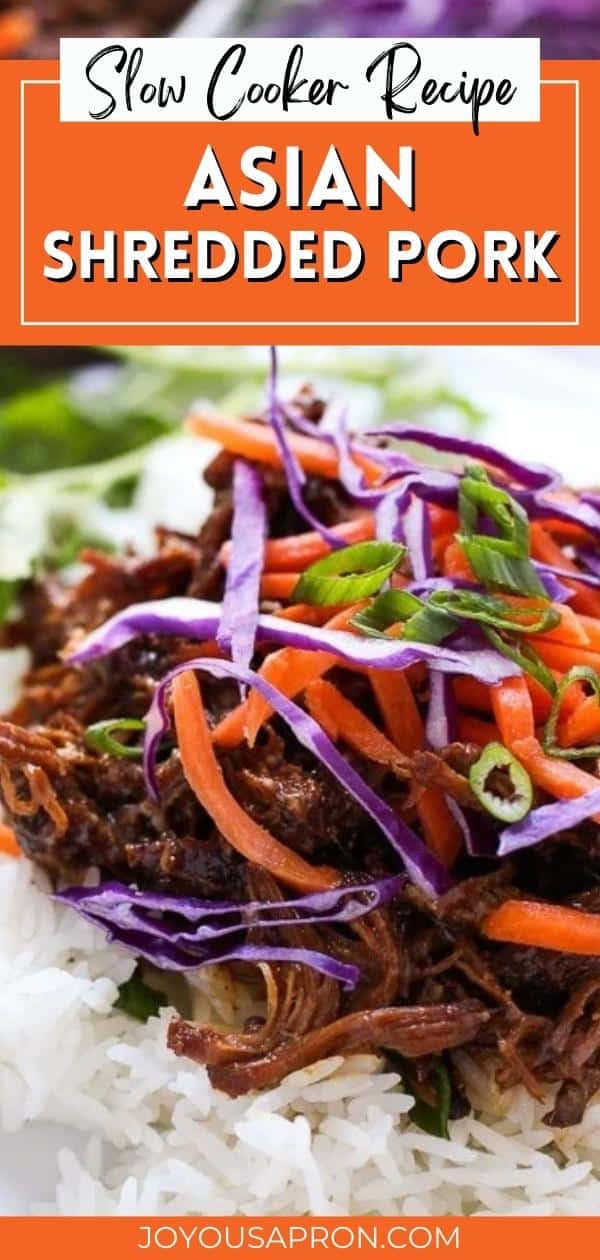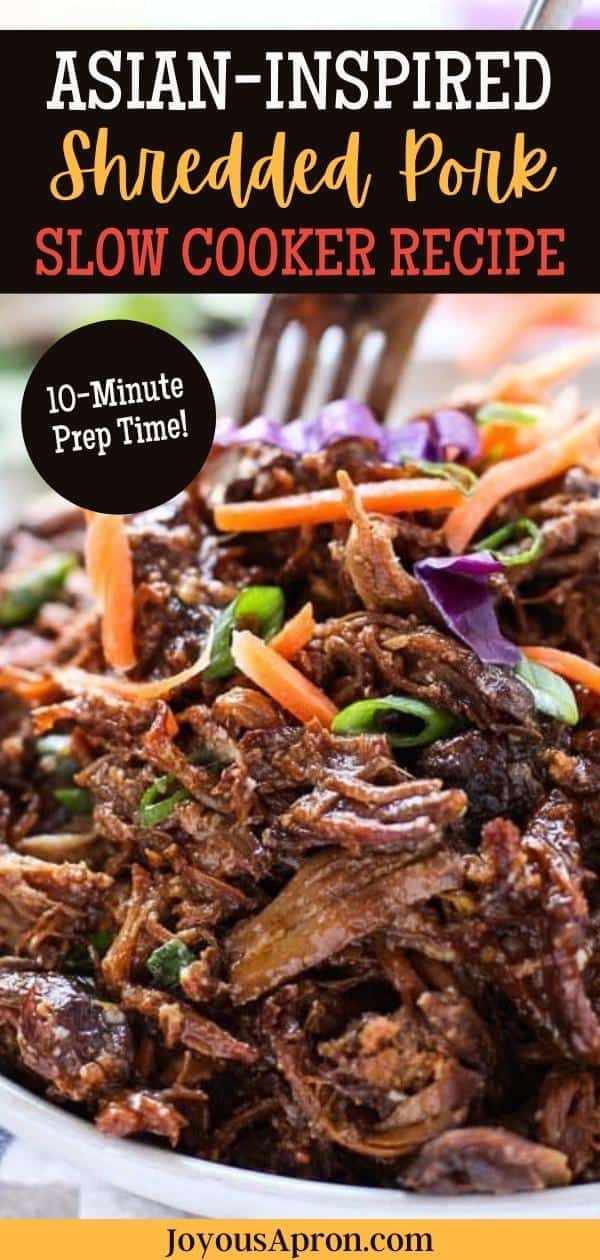 Gosh, I love this Asian Shredded Pork recipe. Tender pulled pork soaked in crazy flavorful Asian-inspired spices. 10-minute prep and the slow cooker does all the work. Lots of leftovers, a.k.a. no cooking for a few days.
Whether you throw it over a bed of rice, or make a yummy Asian-inspired taco out of it, this is a super easy, highly flavorful meal that is a gem for any busy person trying to make a home cook meal!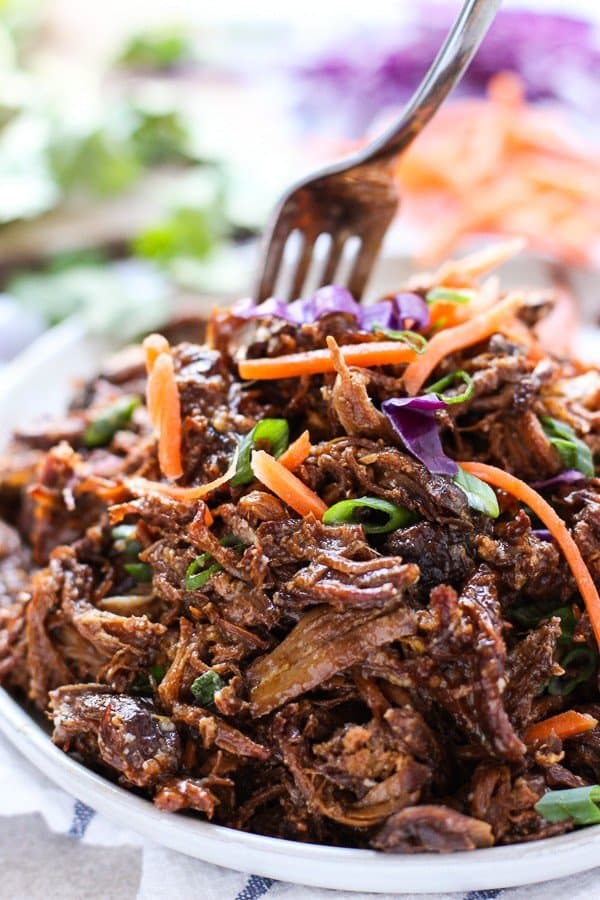 What meat to use for Slow Cooker Asian Shredded Pork?
The beauty of this Asian Pulled Pork meal is that we let the slow cooker do ALL the hard work.
And when I say ALL the hard work, I mean it.
The awesome thing about slow cookers is that they can handle a pretty tough slice of meat, which also typically means, a fairly cheap slice of meat.
Use pork shoulders or pork butt, and the slow cooker will break down the fibers of the meat during the long and slow cooking process.
The end result is a piece of meat that is tender, melt-in-your-mouth, and easily-broken-apart.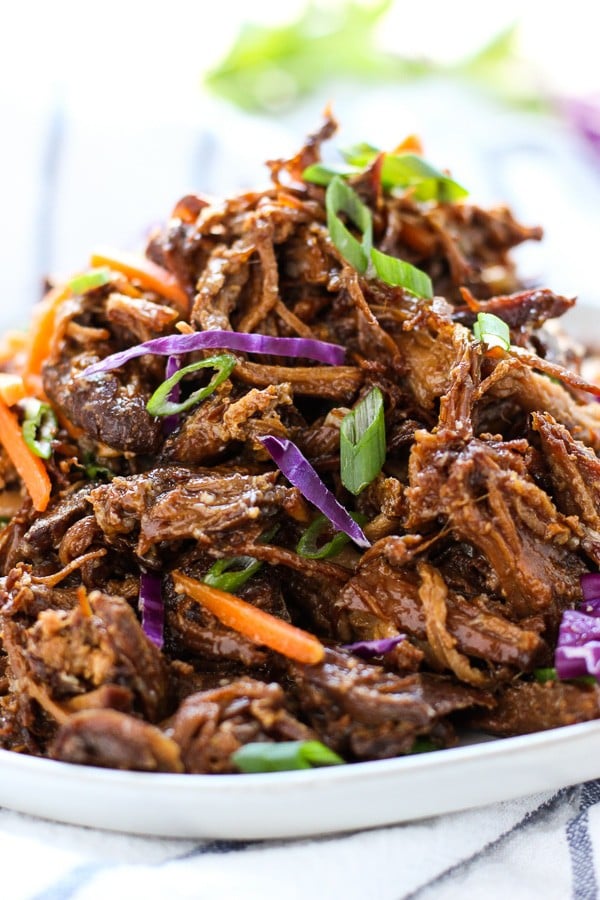 Other Ingredients
Flavor is huge for me in my foods and cooking, and while the slow cooker is breaking apart the fibers of the meat, we will go ahead and let some yummy sauces and spices combine and permeate into the meat for many, many hours.
Because WHY NOT.
This recipe calls for fairly common Asian spices, and they can be found in the Asian aisle in your local grocery store. If not, see the affiliated links attached.
The sauces and spices used to make this delicious Asian Shredded Pork recipe are:
honey
brown sugar
few cloves of fresh garlic – avoid using garlic powder!
How to make Asian Pulled Pork
This is a dump everything into a slow cooker kinda meal…and I love it!
To make Asian Pulled Pork, add the piece(s) of meat, along with all the sauces and spices, into the crock pot.
Let it cook on high for 4-5 hours.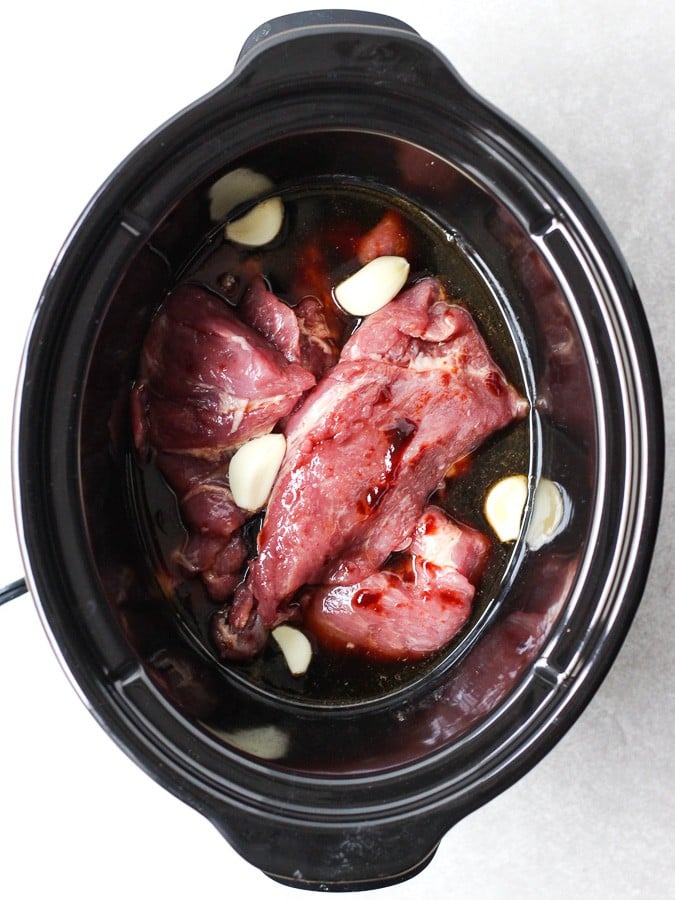 After the 4-5 hours of cook time. Shred the meat, and let it cook for another 30 minutes so that the pulled pork is well soaked with the sauce.
And truly that is it.
You got yourself some (or a lot of!) flavorful, tender, delicious Asian Shredded Pork.
Slow cooker meals are total life savers. There is something lovely about coming home after a long day and having dinner ready to be consumed.
How to serve Slow Cooker Asian Shredded Pork
Slow Cooker Asian Shredded Pork can be served in so many ways!
On a bed of white or brown rice, or check out my Easy Mixed Vegetable Rice recipe
Wrapped inside a tortilla
Over noodles
A side for instant ramen noodles
Between two slices of bread or bun
The possibilities are endless!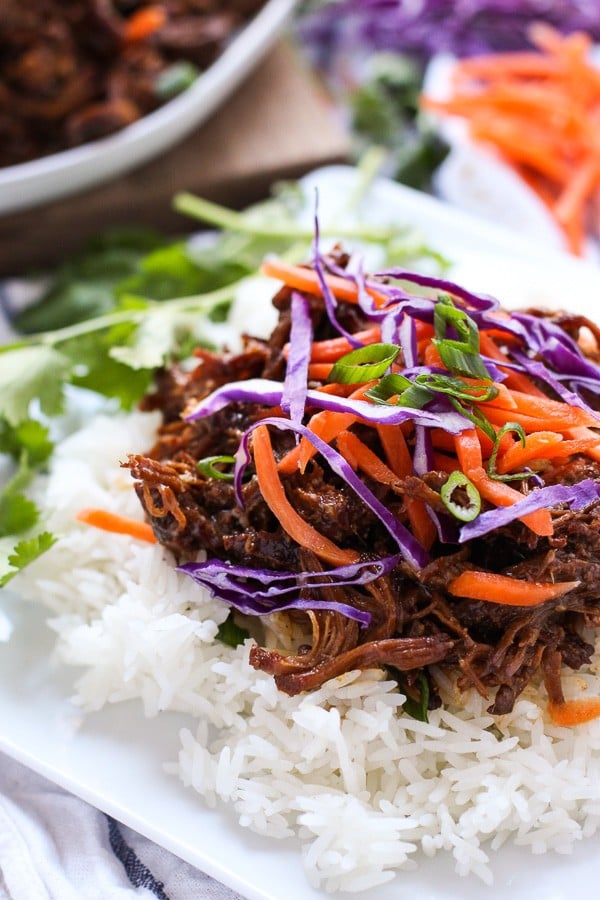 However you serve it, don't forget to add garnishes.
Garnishes are fun, and no-cooking is required. They can add lots of textures and flavors, and turn a simple dish into a more complex one, without having to do much work!
Garnish with all or some of the below (all are no cook and super easy!):
Sliced green onions
Shredded cabbage
Shredded carrots
Chopped cilantro
Sliced pineapple
Cucumber
Lettuce
Again…the possibilities are endless!
ENJOY!!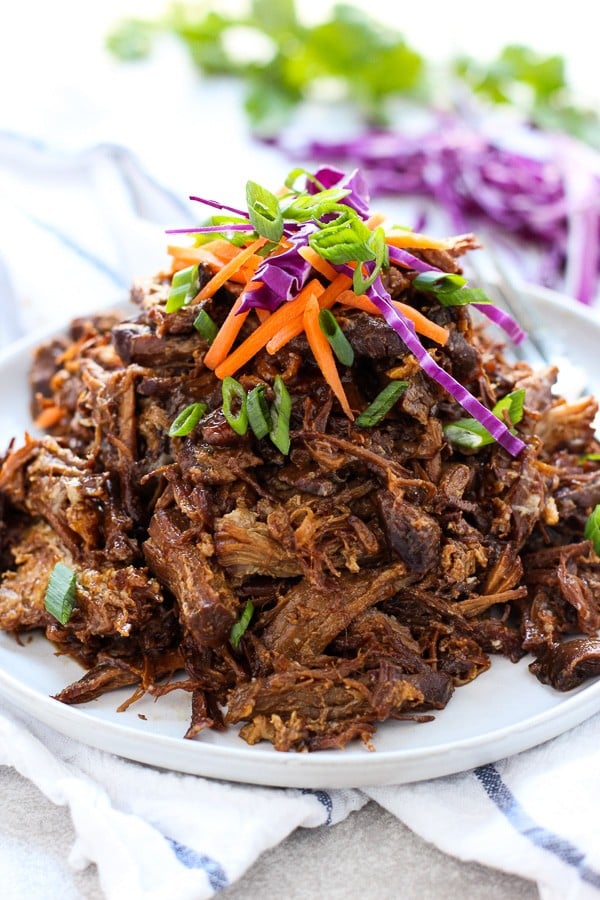 Another yummy Asian-Inspired meals!
Other Slow Cooker Recipes
If you make this recipe PLEASE let me know how it goes in the comment box below, and share pictures of your creations on instagram by tagging #joyousapron! And while you are there, don't forget to follow me!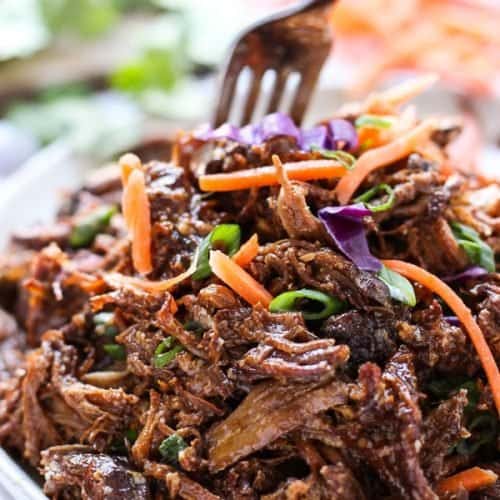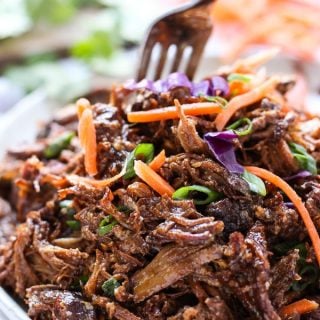 Slow Cooker Asian Shredded Pork
This shredded pork recipe is cooked in a slow cooker and infused with lots of delicious Asian-inspired flavors. Serve with rice, noodles or tacos. Only 10 minute active time – perfect for busy weeknights!
Print
Pin
Ingredients
2 – 2.5lbs

lbs

pork shoulder

or pork butt

1/3

cup

soy sauce

1/4

cup

honey

2

tbsp

brown sugar

1

tbsp

sesame oil

1

tbsp

rice wine

1

tbsp

hoisin sauce

4-5

cloves

garlic
Instructions
Optional: Remove fat from the pork shoulders or pork butt. Bring meat to slow cooker.

In a small ramekin, combine soy sauce, honey, brown sugar, sesame oil, rice wine, and hoisin sauce. Pour into slow cooker. Add garlic cloves.

Toss meat around to coat all its surfaces with the sauce, but it does not have to be completely submerged in the sauce.

Cook on high for 4-5 hours. Discard garlic cloves. Then use a fork to shred the pork (it should come apart easily) and then cook on high for another 30 minutes.

Serve with rice, noodles or taco. And don't forget to add garnishes! Enjoy!
Nutrition
Calories:
406
kcal
|
Carbohydrates:
18
g
|
Protein:
42
g
|
Fat:
17
g
|
Saturated Fat:
5
g
|
Cholesterol:
139
mg
|
Sodium:
923
mg
|
Potassium:
759
mg
|
Fiber:
1
g
|
Sugar:
16
g
|
Vitamin A:
13
IU
|
Vitamin C:
2
mg
|
Calcium:
40
mg
|
Iron:
3
mg