Garlic Soy Chicken and Veggie Rice Bowl
It's Monday and I am totally in the mood for this Garlic Soy Chicken and Veggie Rice Bowl. Calling it Garlic Soy is a little understated because there's also ginger, five spice powder, brown sugar, and other flavors in the chicken.
It's also filled with lots of fresh veggies with little prep, and full of crunch and flavor. Little prep = best way to make food in the summer!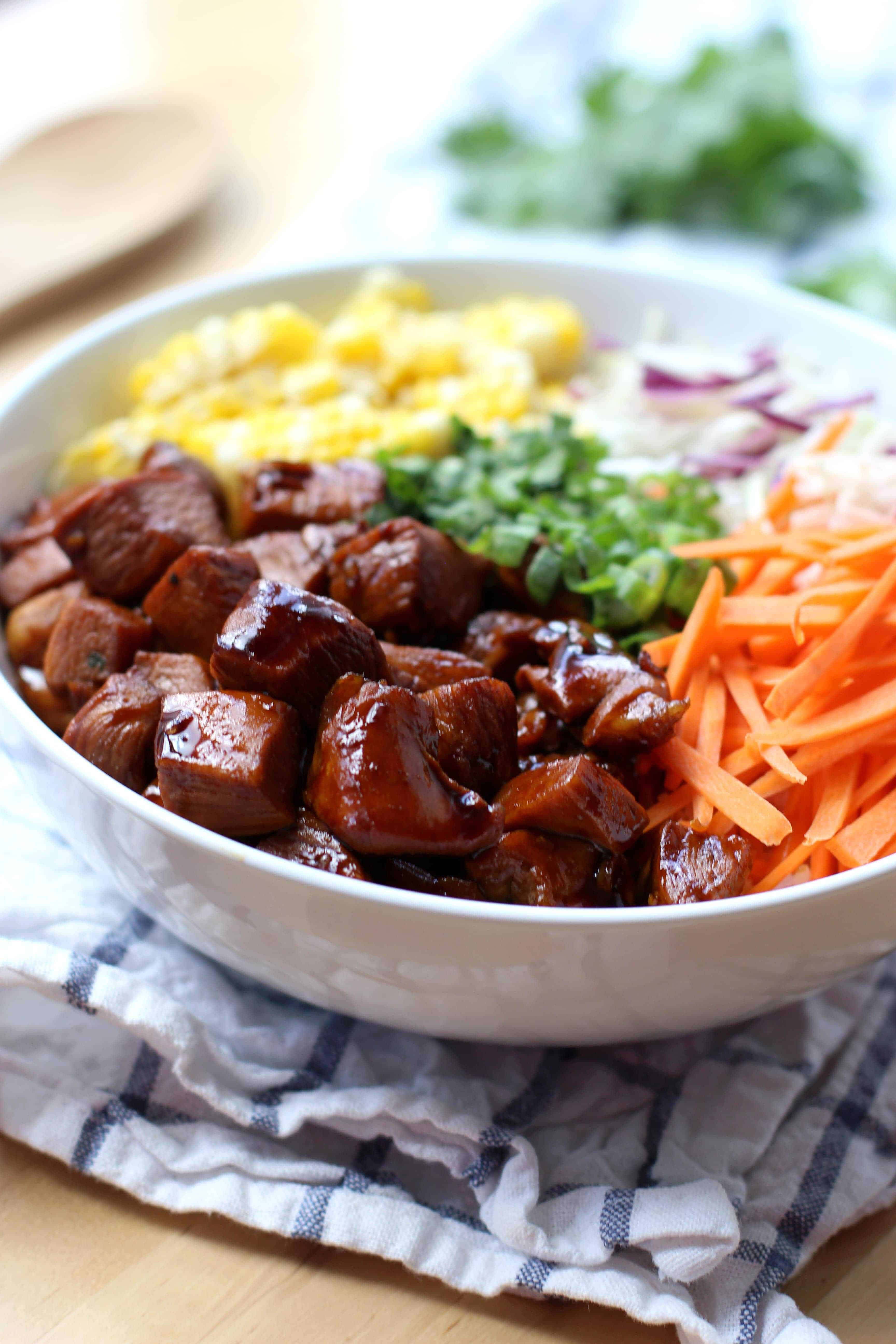 I played tourist in my own city (fun, fun, FUN) because a friend was visiting last week. Because of that I ate out way more than usual. I absolutely loved it because I got to explore yummy foods and got inspired by all that I ate.
And lucky me, there's no better place to do that than in Austin, Texas – the city where foodies and spectacular foods unite.
However, eating out also means consuming greaser food, foods with higher salt and sugar content. In short, I've been feasting on a ton of yummy-but-less-healthy things, so I'm ready to go light this week. And yes, light AND delicious. Delicious is non-negotiable around here 🙂 .
I will be making my Berry Banana Chia Smoothie in the morning, feeding on Bruschetta for lunch, and having this light and delicious Garlic Soy Chicken and Veggie Rice Bowl for dinner all week.
Honestly, I'm super excited.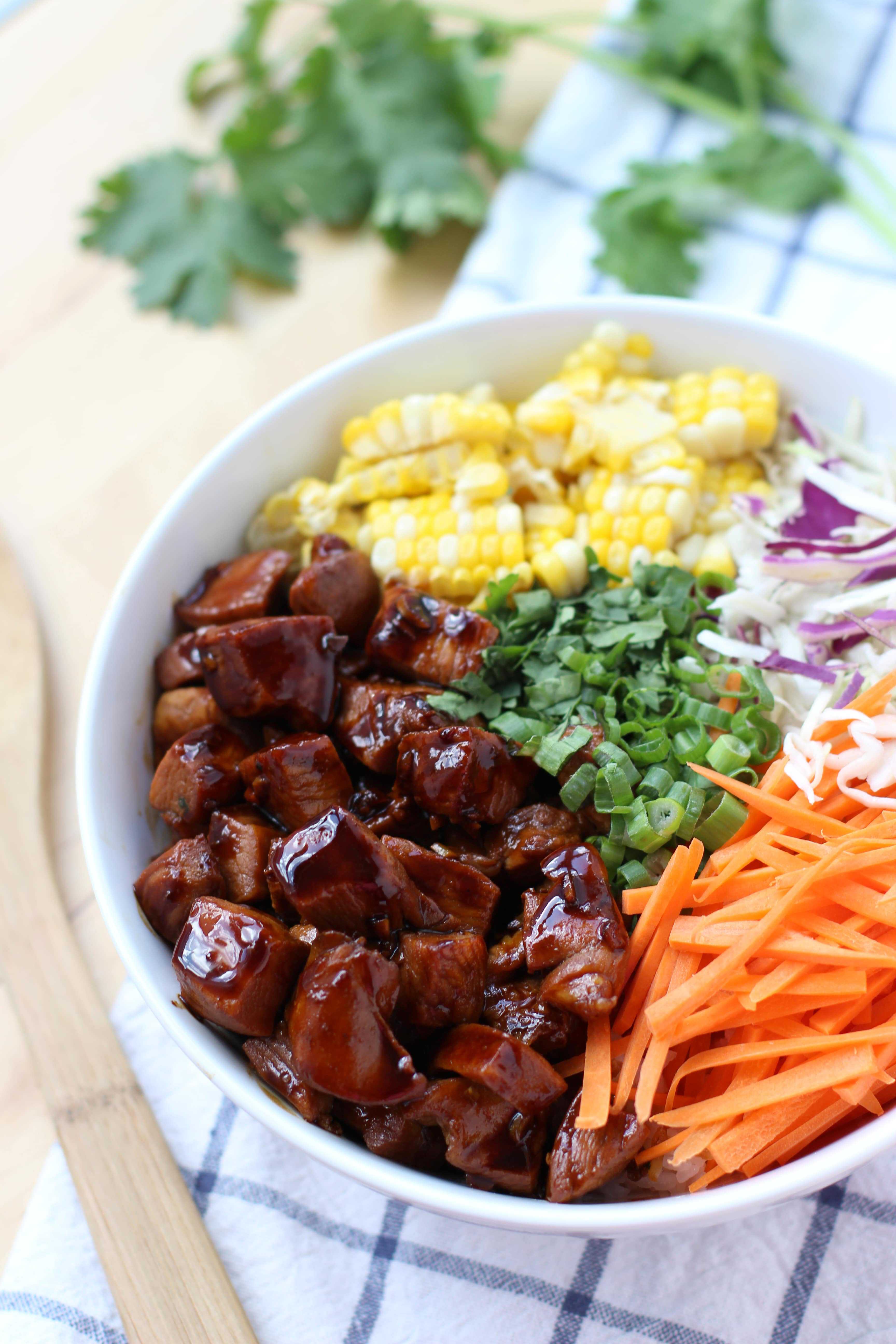 Let's Make Garlic Soy Chicken and Veggie
All that being said, let's talk a little bit more about this Garlic Soy Chicken And Veggie Rice Bowl, because it deserves to be bragged about big time.
For the veggies, I use shredded carrots, shredded cabbage, green onions, cilantro, and corn. You can use other veggies, but these truly go together SO WELL. Everything is served raw except the corn. In other words, EASY PREP.
I like fresh corn so I steam/boil fresh corn and cut out the kernels. Also, it's summer, and fresh corn is in-season and da bomb during the summer.
You can definitely use frozen or canned corn by just microwaving it, should you choose to further simplify this recipe. 😉
I cook/cut up all the veggies first before making the chicken, because with the veggies all ready to go, once the chicken is cooked, I can immediately serve them over rice, and the chicken stays nice and warm.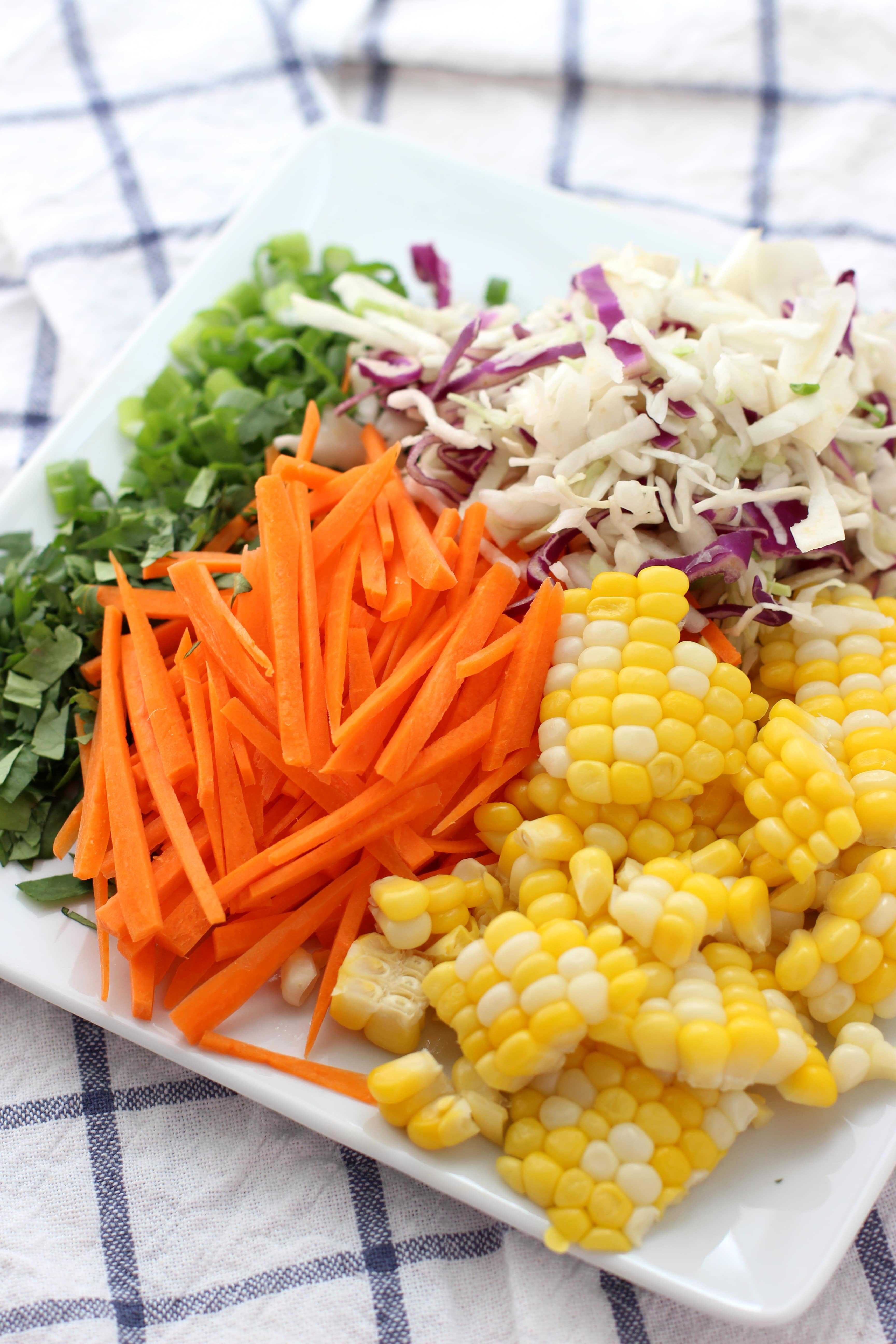 The chicken is savory sweet with a sticky, sticky glaze that is so good you will want to lick it off your bowl!
Start by combining the sauce in a small bowl. Bring together (regular) soy sauce, dark sauce soy, minced garlic, ginger powder, five spice powder, brown sugar, corn starch (to thicken sauce), a few dashes of white pepper (or black pepper), and some water.
Five spice powder gives the chicken this umami flavor you taste in many Chinese dishes. You can find it online here. If it's too much trouble, feel free to omit it. It does bring the taste of the dish to a new dimension, but it will also still be yummy without it.
Once the sauce is ready, grab a skillet and add vegetable oil. Bring to medium high heat. Once skillet is heated up, add defrosted chicken cubes (be sure to pat dry!).
Sear chicken on all sides for a few minutes. Once it is almost cooked (does not have to be completely cooked at this point), add the sauce to skillet. Cook until the sauce thickens and chicken is thoroughly cooked.
The way the sticky sauce clings on to the chicken is the magic that keeps on happening.
Fill a bowl with cooked white or brown rice, add veggies and cooked chicken with sticky sauce. Be sure to drizzle your bowl with any remaining sauce on the skillet, because trust me, you don't want to let that sauce go to waste. I might have licked it up to reduce waste.
Healthy, simple, and absolutely DELISH.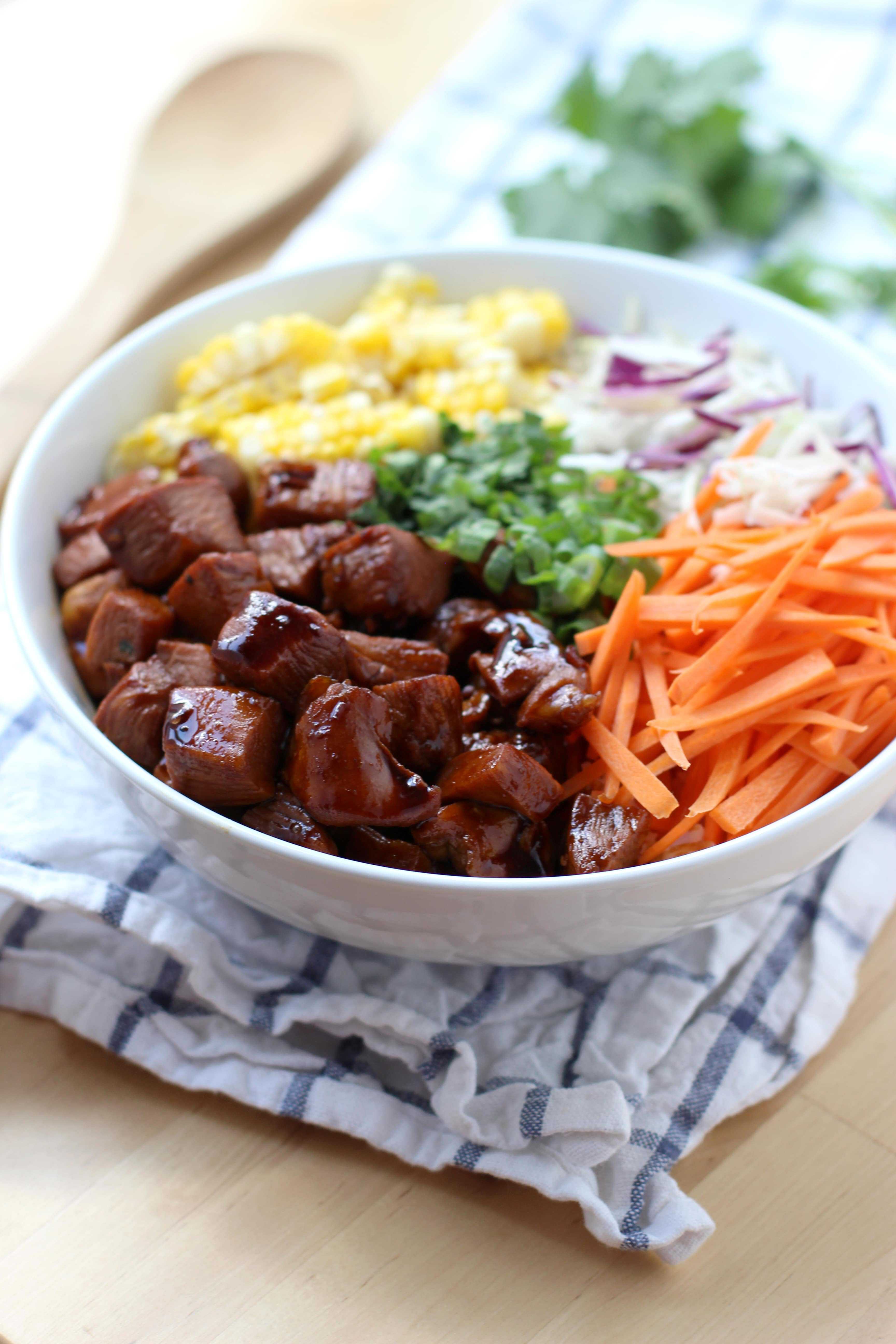 Nom nom nom!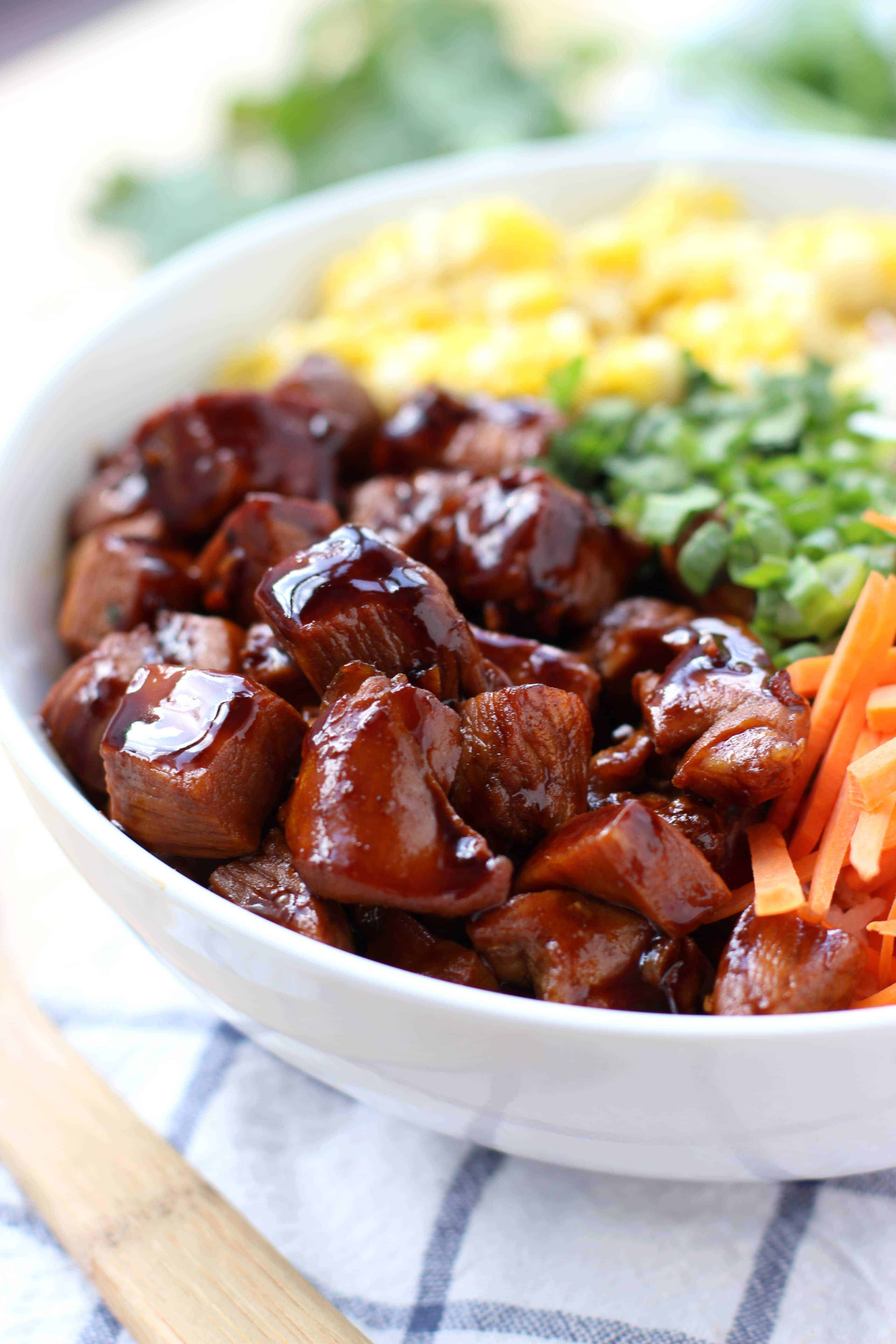 I like to mix everything (chicken, veggies, rice) up when I eat it. It's like a crunchy, savory, sweet bowl of goodness, bursting with yummy flavors and a wide variety of textures.
Not overly heavy, but just enough to make you full, satisfied, and a happy person. 🙂
Trust me when I say – you need this in your life!
Other Asian-inspired dishes
Check out some of our other favorites on the blog!
DID YOU ENJOY THIS RECIPE? Please comment below and give us a 5-star rating! This will help others find this recipe on Google and Pinterest. We very much appreciate your help! 🤍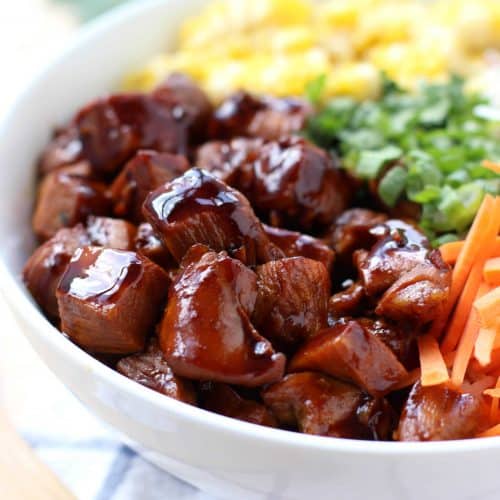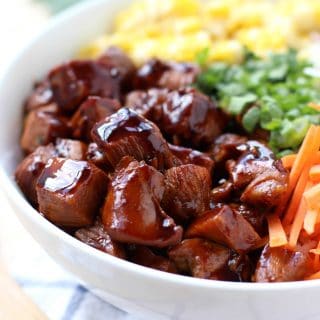 Garlic Soy Chicken and Veggie Rice Bowl
A rice bowl topped with diced white meat chicken, sautéed in a sticky, sweet and savory soy-based sauce. Combined with crunchy veggies, scallions, and cilantro. Healthy, easy and full of great flavors and textures!
Print
Pin
Ingredients
Garlic Soy Chicken
1

lbs

chicken breast

diced

2

tbsp

soy sauce

1

tbsp

dark soy sauce

1/2

tbsp

minced garlic

1/2

tsp

ginger powder

2

tbsp

brown sugar

1-2

dash

five spice powder

1/2

tsp

corn starch

1-2

dash

white or black pepper

1/4

cup

water

1

tbsp

vegetable oil
Veggie
1

cup

shredded cabbage

1

cup

shredded carrots

1

fresh corn

1/4

cup

chopped cilantro

1/4

cup

green onions
Instructions
Prepare 3 cups of cooked rice in any way you like – use Minute rice for convenience, cook rice in rice cooker, etc.

Steam or boil corn. If boiling corn, bring water to a boil and place corn in boiling water and cook for 9-10 minutes. If steaming, steam corn for 12-16 minutes (time needed will vary). Cut kernels off of corn, and set aside.

Prepare and cut up (if needed) the other vegetables – shredded carrots, shredded cabbage, green onions and cilantro. Set aside.

Prepare sauce for chicken by combining soy sauce, dark soy sauce, minced garlic, ginger powder, brown sugar, five spice powder, corn starch, white or black pepper, and water. Mix well and set aside.

Pat dry defrosted chicken breast and cut into cubes.

In a medium to large skillet, add vegetable oil and heat up under medium heat heat. Once skillet is heated up, add chicken breast. Sauté for a few minutes until chicken is almost cooked.

Add sauce to skillet and mix well. Cook for a few minutes or until chicken is done and sauce thickens slightly. Remove from heat.

Fill bowls with cooked rice, veggies, and cooked chicken and sauce.
Nutrition
Calories:
478
kcal
|
Carbohydrates:
66
g
|
Protein:
40
g
|
Fat:
5
g
|
Saturated Fat:
1
g
|
Polyunsaturated Fat:
1
g
|
Monounsaturated Fat:
1
g
|
Trans Fat:
1
g
|
Cholesterol:
97
mg
|
Sodium:
1226
mg
|
Potassium:
965
mg
|
Fiber:
4
g
|
Sugar:
13
g
|
Vitamin A:
7427
IU
|
Vitamin C:
17
mg
|
Calcium:
71
mg
|
Iron:
2
mg