This post may contain Amazon or other affiliate links. As an Amazon Associate I earn from qualifying purchases at no additional cost to you.
Sweet potato breakfast hash combined with kielbasa sausage is a low carb, quick meal made under 30 minutes…and an absolute delight!
This one-skillet meal is light yet filled with incredible flavors and textures.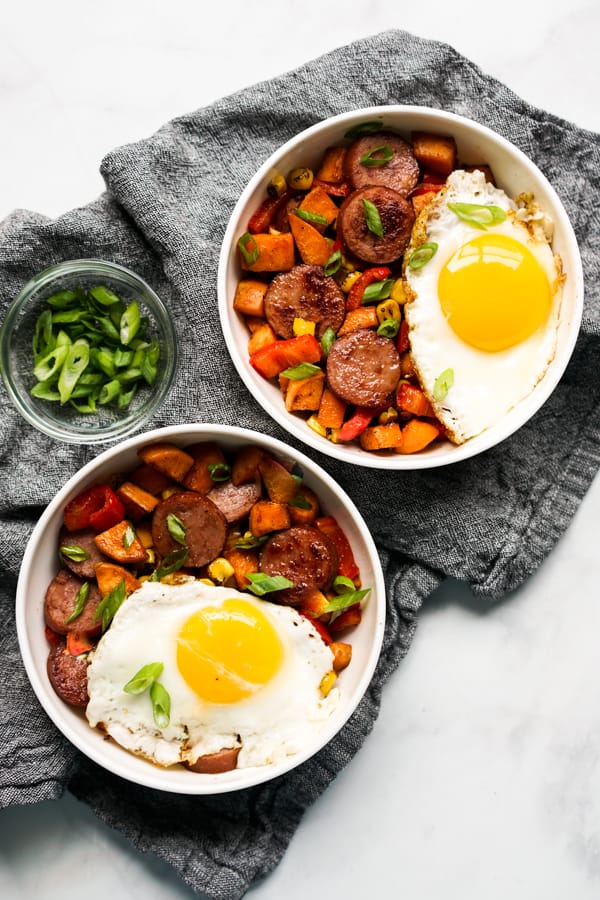 Key Ingredients
The ingredients in this dish could not come together more beautifully:
Sweet potatoes
Kielbasa sausage (or any kind of sausage!)
Red bell peppers
Roasted corn
Green onions
Egg
When I want a quick and hearty breakfast or even lunch/dinner, I have turn to this solid and delicious dish many times…and this baby has never failed me.
And yes, I have a love for sweet potatoes. Fierce, strong, 'love-at-first-bite' kind of love. I mean, it tastes deliciously good AND it is healthy. How can you beat that?
From this 4-ingredient easy Brown Sugar Pecan Roasted Sweet Potatoes, to Turkey Sweet Potato Chili, to the edgier Spicy Roasted Sweet Potatoes, to the classic Sweet Potato Casserole.
Oh yeah. Me and sweet potatoes are tight.
It's also worth noting that sweet potatoes have lots of Vitamin A (a TON of it), Vitamin C, potassium, dietary fiber, and all kinds of other good stuff. Talk about bringing on the yum AND the nutrients!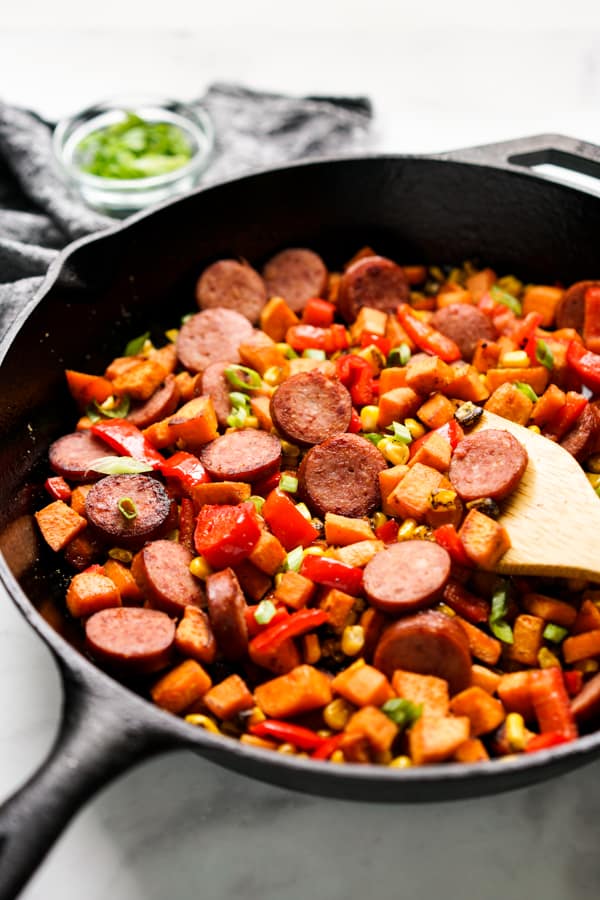 One of my favorite things about this dish is how well the flavors and textures compliment each other. You get a little bit of sweetness from sweet potatoes, bell peppers and corn. Each of their sweetness tastes a little different, but blends together so well.
And there are multiple layers of textures as well. The sweet potatoes are soft, the charred bell peppers and corn are crunchy and light.
At last, but certainly not least, the kielbasa provides the savory punch, and of course, brings us the much needed protein.
And that egg…
That sunny side up egg just seals the deal. You can, however cook it a different way if runny yoke ain't your thing. Or omit it completely if it's too much trouble.
Let's Make Sweet Potato Breakfast Hash
To make this dish, start by dicing the sweet potatoes into ~1/2 inch cubes. Then thinly slice bell peppers then cut it into 1-2 inch long pieces. I use frozen corn for this because I'm lazy and that is easier. You can also cut out the kernels from fresh corn.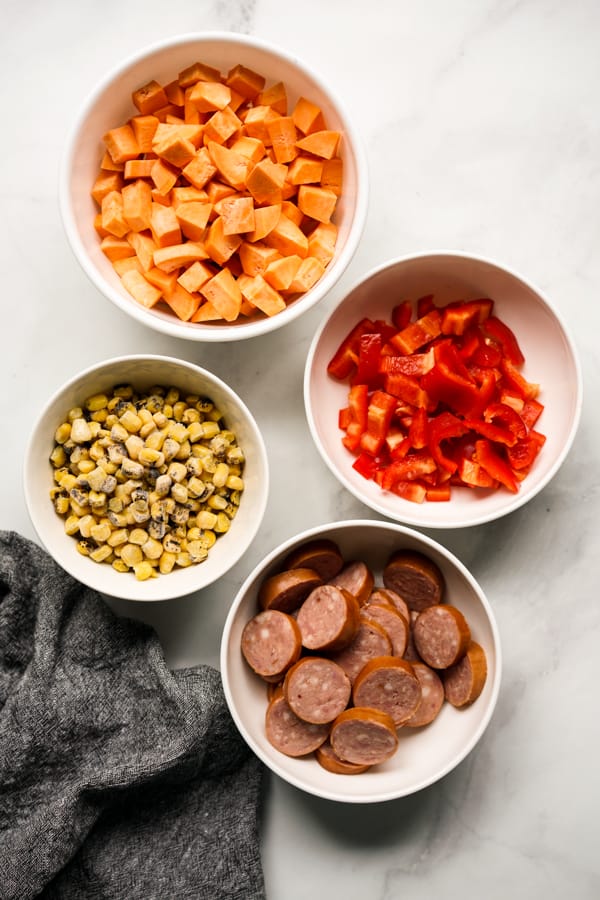 Then slice the kielbasa. You can use another kind of sausage if you prefer.
I use my 12-inch cast iron skillet for this, the recommended measurements for the ingredients will fit a 12-inch skillet perfectly.
If you don't have a cast iron skillet, you can definitely use a regular large skillet. Cast iron retains heat very well, so if you are using a skillet, you may need to increase the cook time by a couple of minutes based on how well your skillet heats up and stay heated up.
And if you are not using a non-stick skillet, you will probably need more coooking oil.
Grease the skillet with extra virgin olive oil, then add kielbasa and cook for 2-3 minutes. The kielbasa I used is pre-cooked, so we are just warming it up at this point. When done, remove kielbasa and add more olive oil if necessary, add sweet potatoes and fry it for 9-11 minutes, or until tender when pierced with a fork. Use a spatula to stir it every couple of minutes.
Next, add peppers, cook for 1-2 minutes, then add corn. Sprinkle with salt, pepper, garlic powder and onion powder to taste.
The truth is, kielbasa and vegetables actually have so much flavor, and they don't really need that much help from the other spices, but it does enhance and further bring out the flavors of the dish.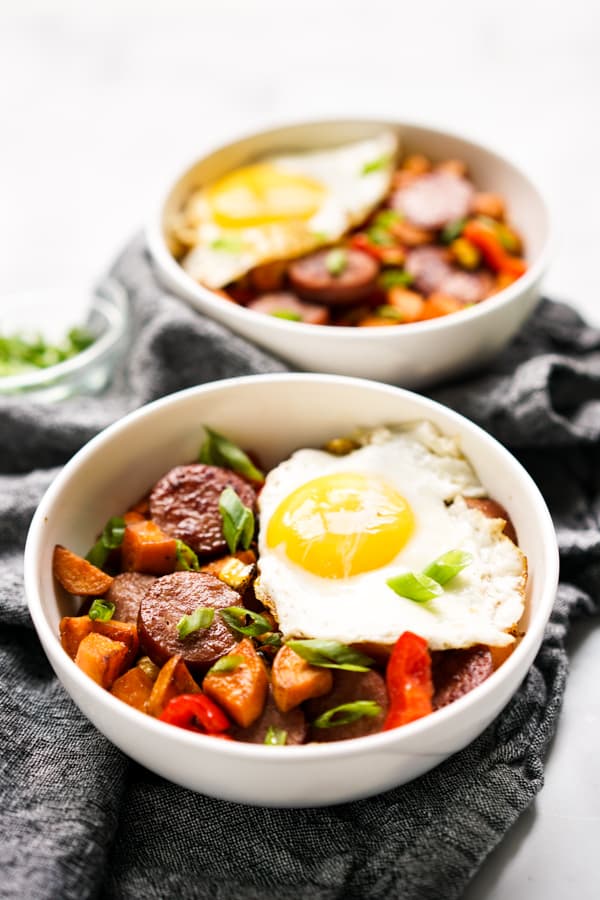 If you want to add an egg to your Sweet Potato Breakfast Hash, remove hash from the skillet and then fry the eggs. Then top each bowl of hash with an egg!
Last but not least, garnish with chopped scallions. This is completely optional.
And there you go! Super simple and so delicious! Sweet Potatoes and Kielbasa Breakfast Hash.
Breakfast. Breakfast for Dinner. Quick Lunch. So many options!
Tips and Tricks
A few things to note!
Cut sweet potatoes in fairly small (~1/2 inch) cubes and keep them around the same size so that they cook quickly and evenly.
Add more olive oil at any point if food is stuck to the skillet.
If doubling the recipe, you may have to cook in two batches or increase the cook time as the skillet will be more crowded and items will take longer to cook.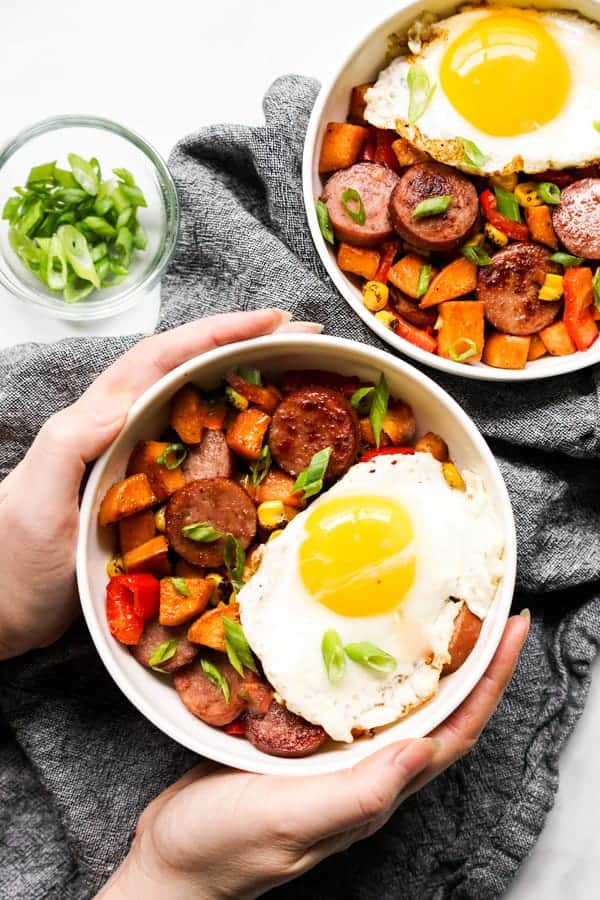 So Versatile!
One of the many things I love about this dish is that it is so versatile.
This can easily be turned into a vegetarian meal by omitting the kielbasa.
Or, use other vegetables such as:
Spinach
Kale
Carrots
Potatoes
Top with avocados!
I love having these as leftovers as well. In fact, I would pack the leftovers in containers for my husband to bring to work for lunch during the week. Throw everything into a container – easy peasy!
It is a nice, hot lunch, but at the same time, easy to microwave, and not too heavy a meal.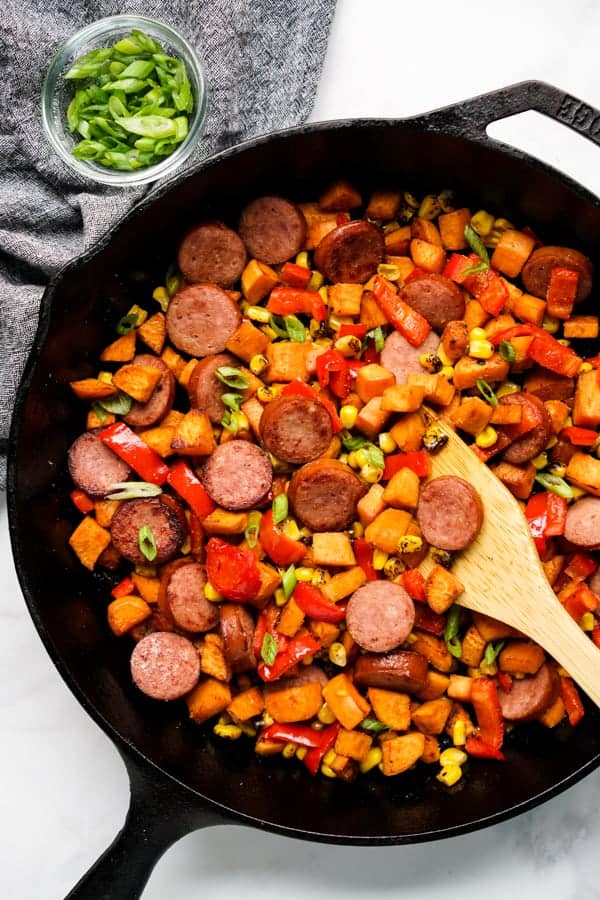 So there you go! Lots of healthy, yummy goodness in this one! And so easy!
I don't know about you, but when I have a lighter, healthier meal like this one, I like to end it with a nice decadent dessert, like No-Bake Oreo Truffles or some S'mores Ice Cream…
It really is my favorite way to eat. Something light for the entree, and a decadent dessert to seal the deal, and then I go to bed a happy girl. 🙂
I hope you enjoy this as much as we did!
Other Sweet Potato Recipes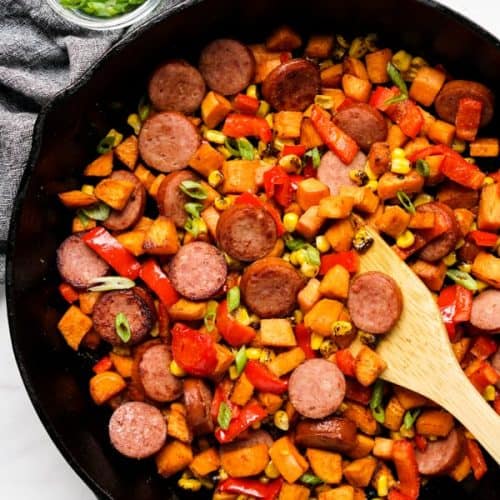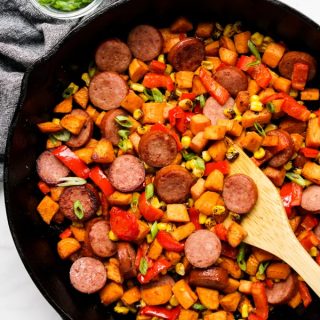 Sweet Potato and Kielbasa Hash
A easy, 25-minute one-pot meal. Sweet potatoes and kielbasa, cooked with crunchy corn kernels and sweet bell peppers. Simple and oh-so-yummy!
Print
Pin
Ingredients
12-14

oz

sweet potatoes

cubed (2-3 small/medium sweet potatoes)

1

red bell peppers

sliced

1

cup

frozen corn

7-10

oz

kielbasa

1-3

tsp

extra virgin olive oil

salt

to taste

pepper

to taste

1/2

tsp

garlic powder

1/2

tsp

onion powder

1

tbsp

green onions (sliced)

optional
Instructions
Cut sweet potatoes in 1/2-inch cubes (try to keep them around the same size); slice bell peppers into long strips then cut them into 1-2 inch long strips; slice kielbasa.

Heat olive oil on a cast iron or regular skillet under medium/medium low heat. When oil is heated, add kielbasa and cook for 2-3 minutes. Stir occasionally. Remove kielbasa from skillet.

Add more olive oil to skillet if skillet is no longer greasy. Add sweet potatoes and cook for 9-11 minutes, or until sweet potatoes are tender when pierced with a fork. Stir occasionally to ensure all sides are cooked.

Add bell peppers to skillet, stir and cook for 2 minutes.

Add corn to skillet, stir and cook for 1 minute. Add salt and pepper to taste, garlic powder, and onion powder.

Add kielbasa back to the skillet, stir and cook for another minute.

Remove from heat. Garnish with chopped green onions. Serve and enjoy!
Nutrition
Calories:
397
kcal
|
Carbohydrates:
40
g
|
Protein:
13
g
|
Fat:
21
g
|
Saturated Fat:
7
g
|
Cholesterol:
46
mg
|
Sodium:
841
mg
|
Potassium:
784
mg
|
Fiber:
6
g
|
Sugar:
6
g
|
Vitamin A:
17350
IU
|
Vitamin C:
58
mg
|
Calcium:
42
mg
|
Iron:
2
mg