Fried Avocado Tacos with Mango Lime Slaw
OMG. I am slightly obsessed.
I have a deep-seated love for anything avocados and I do not hide my fond affections for them. I also will not hide my love for this new found way of eating avocados. Flavoring them, breading them, frying them, wrapping them up in a warm corn tortilla and topping it up with yummy mango lime slaw with plenty of fresh cilantro.
The truth is, every now and then, I need a good meatless meal. I love my meat, but I don't love it as much as say, my husband 🙂 , who is a dictionary definition of a meat lover. I need occasional breaks from it, and this…THIS…takes me to that happy spot.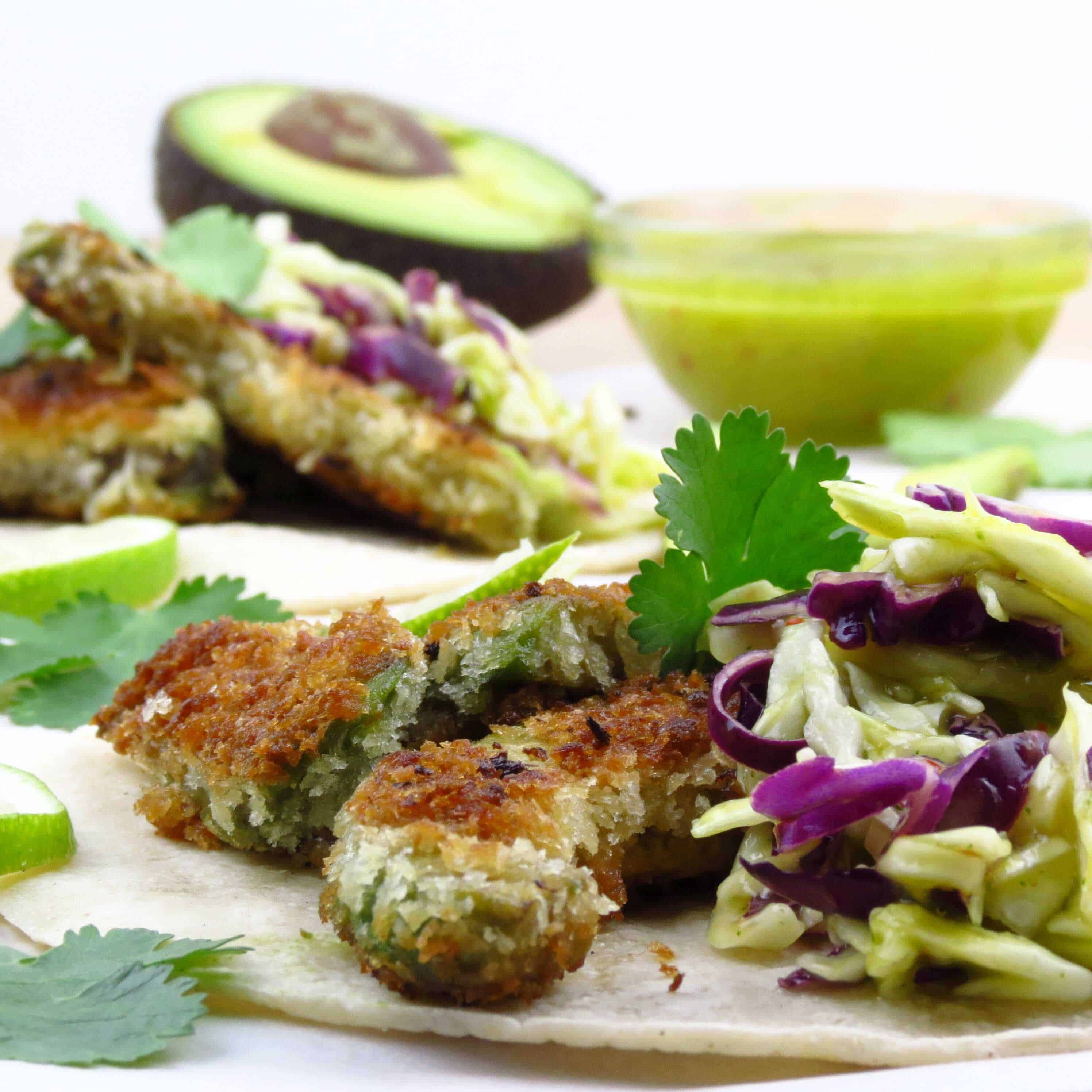 It is so good I wish you could TASTE your screen.
This is the perfect light lunch or dinner. For yourself, for the family, a gathering with a bunch girlfriends. The combo of the crispy avocados, crunchy slaw, and soft corn tortillas is just out of this world. And that sauce. THAT sauce. Mango-y, lime-y, cilantro-y… DON'T even get me started!
The Fried Avocados
By itself, avocados have a soft, beautiful texture and a very mild flavor. For this recipe, we are going to generously season the avocados with garlic powder and salt (add pepper if you want to – I didn't care for how pepper overtook the rest of the flavors, so I decided to omit it), then dip it into egg wash and panko breadcrumbs.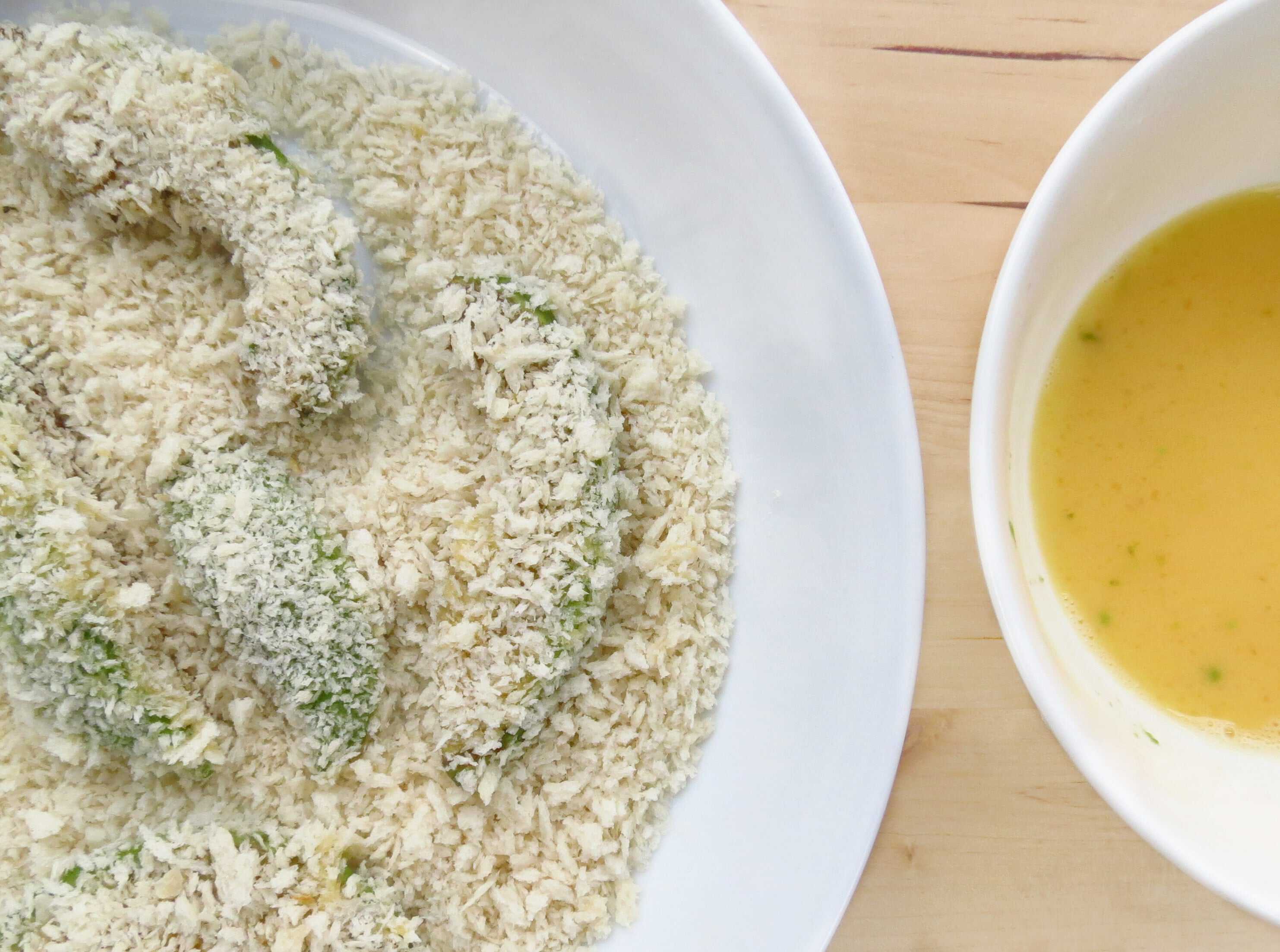 Heat up vegetable oil, and fry those avocados up until they turn golden brown. The process goes fast, especially if your oil is boiling hot when you add your avocados. The result is a nice crunch to the avocados we know and love. Crispy on the outside, soft and warm and all avocado-y (it is now a word) on the inside.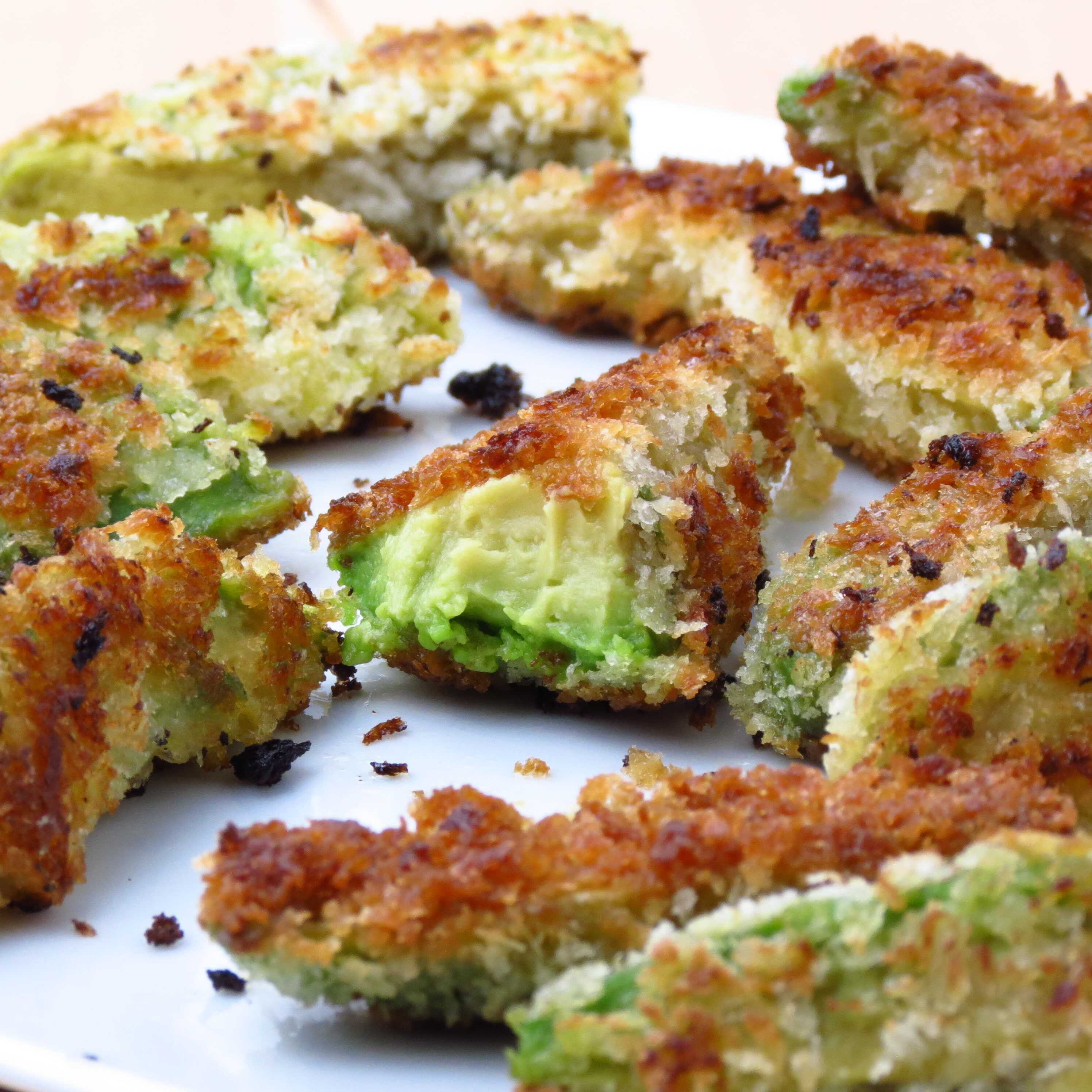 When picking out avocados, pick slightly firm avocados for this recipe. The soft, overly ripe ones are difficult to handle, and somehow they taste "off" after frying. Do consume fried avocados immediately after making them. Flavor and texture will change after refrigerating and reheating.
The Sauce
THIS, my friends, is the pure gem behind this recipe.
Mango is probably my favorite fruit. It's so hard for me to pick favorites when it comes to food, but I love my mangoes. I want to incorporate a fruity component to this taco, to add to the slaw, and to lighten the fried breading on the avocado. Of course I thought of mangoes. Thus this sauce is birthed.
Five ingredients. Fresh mangoes (use frozen if you cannot find fresh), lime juice, cilantro, honey, and red pepper flakes. Blend it up in a blender. I want to keep it simple, but yet full of big flavors.
Viola.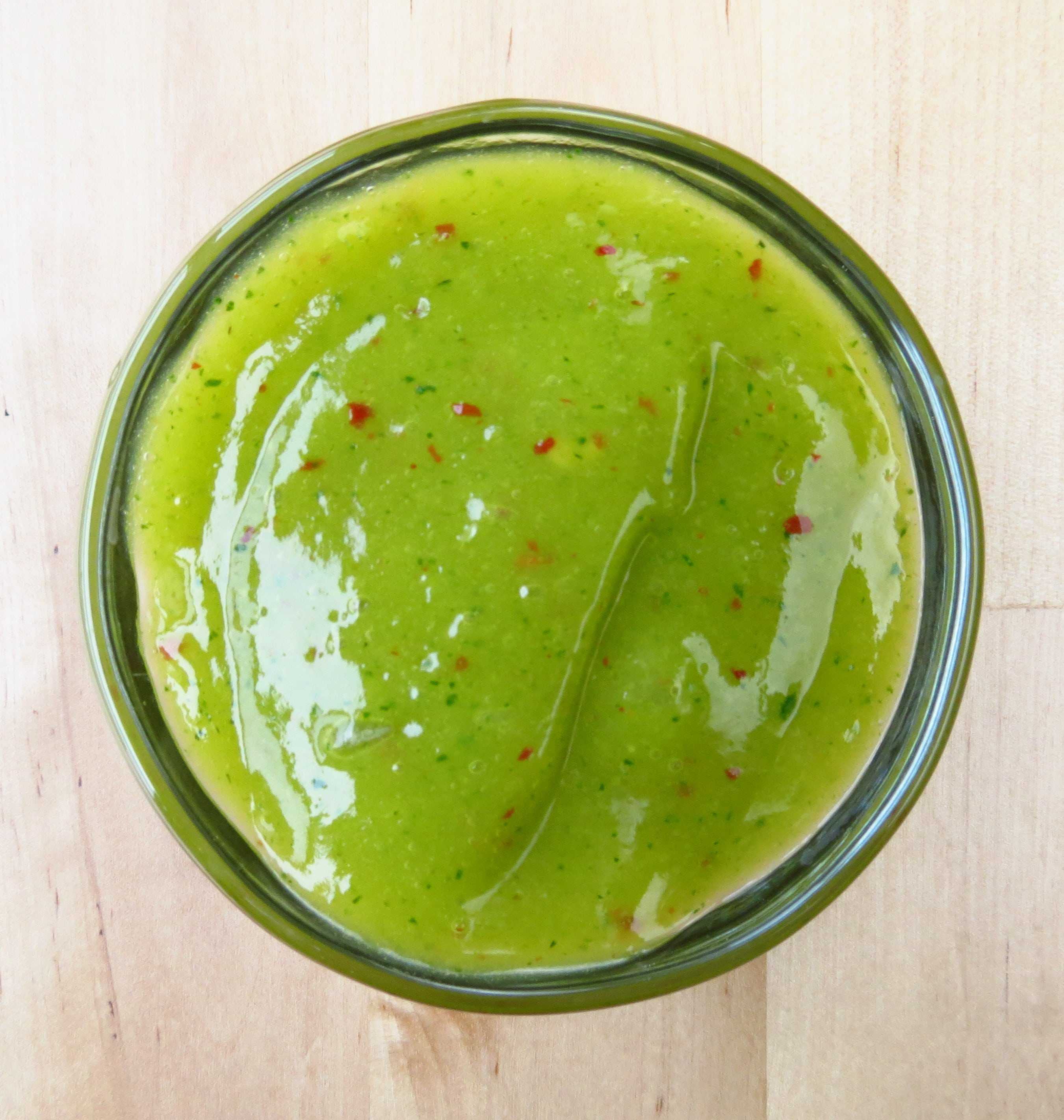 The Mango Lime Slaw
The sauce you just made? Pour them all over this beautiful bowl of fresh, shredded cabbage. Bringing this citrusy, sweet and sour goodness with a slight kick to the crunchy slaw. We call it the Mango Lime Slaw. Sometimes we just call it delicious.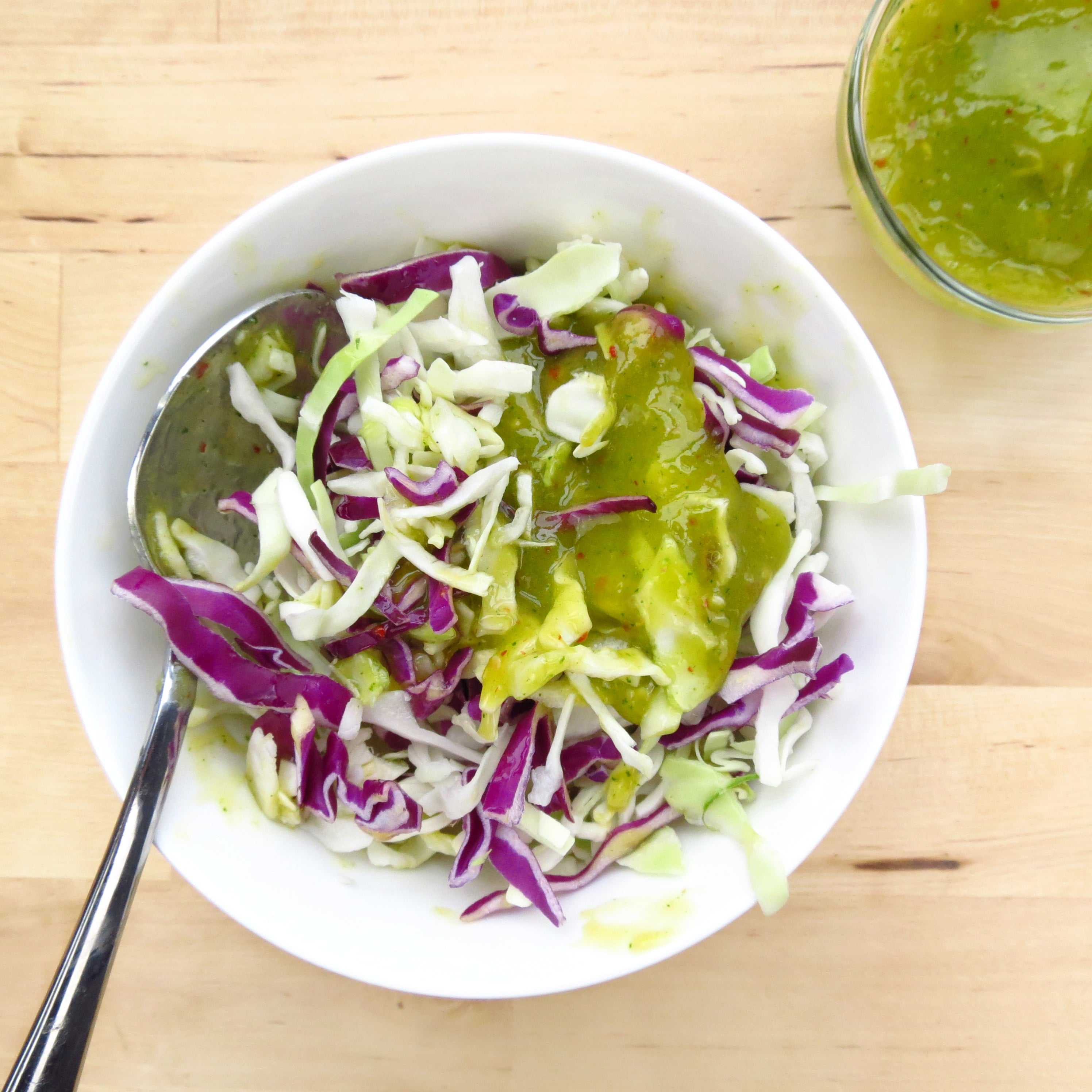 The Taco
This is it. The time has come.
Combine the ingredients and watch the beautiful concoction come alive. The avocado is crunchy on the outside, soft and warm on the inside, with hints of garlic and salt. The mango lime slaw provides a sweet and sour tint to the crispy breading. Not to mention the natural crunch shredded cabbage brings. Then garnish with fresh cilantro. Oh cilantro – I have sooo much love for you.
Last, and definitely not least, top the fried avocados with the rest of the sauce. So many flavors and textures. So good!!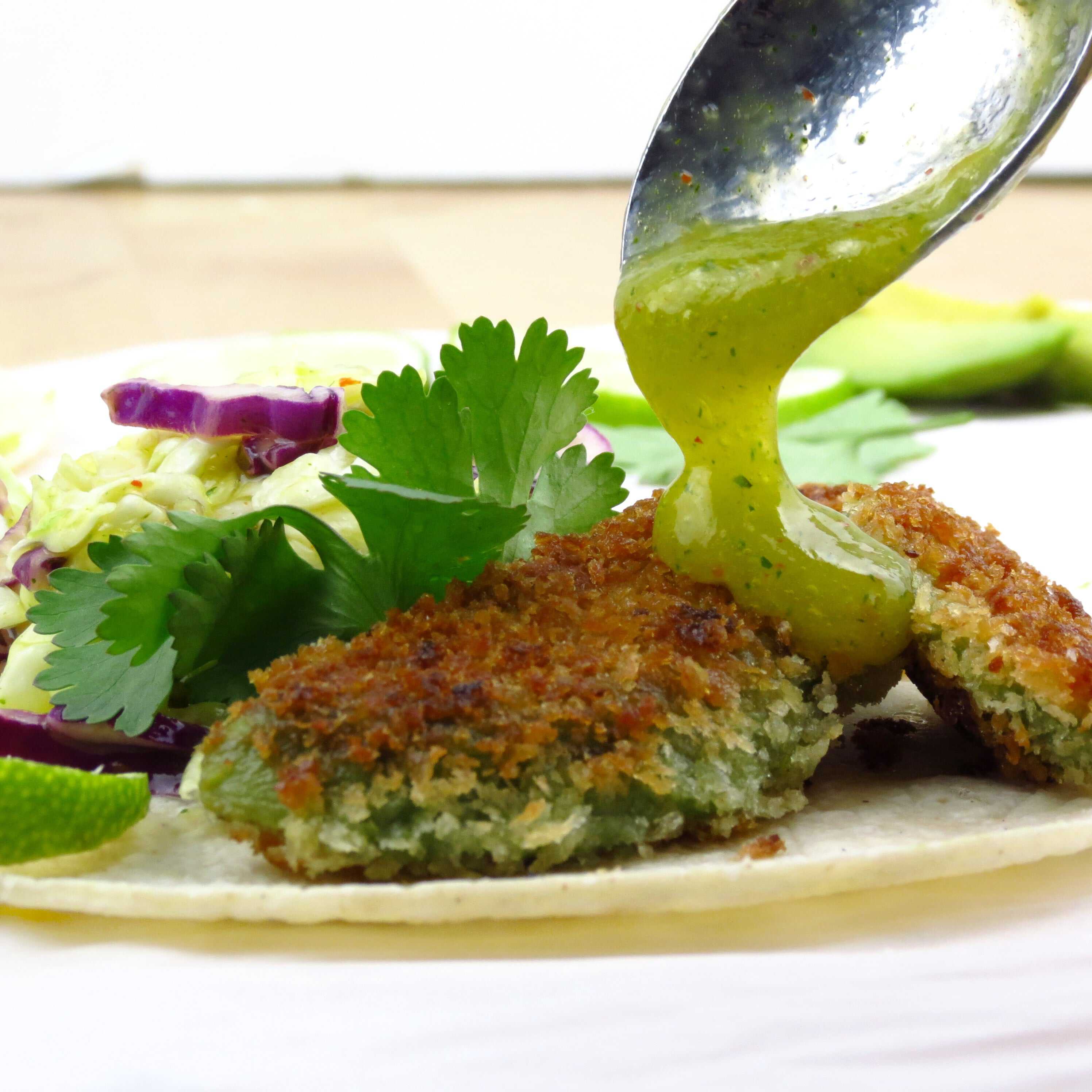 This, my friends, is an avocado dream come true.
It is the perfect light lunch or dinner. This vegetarian meal will please vegetarians and non-vegetarians alike. I like my meat, but boy, I LOVE THIS.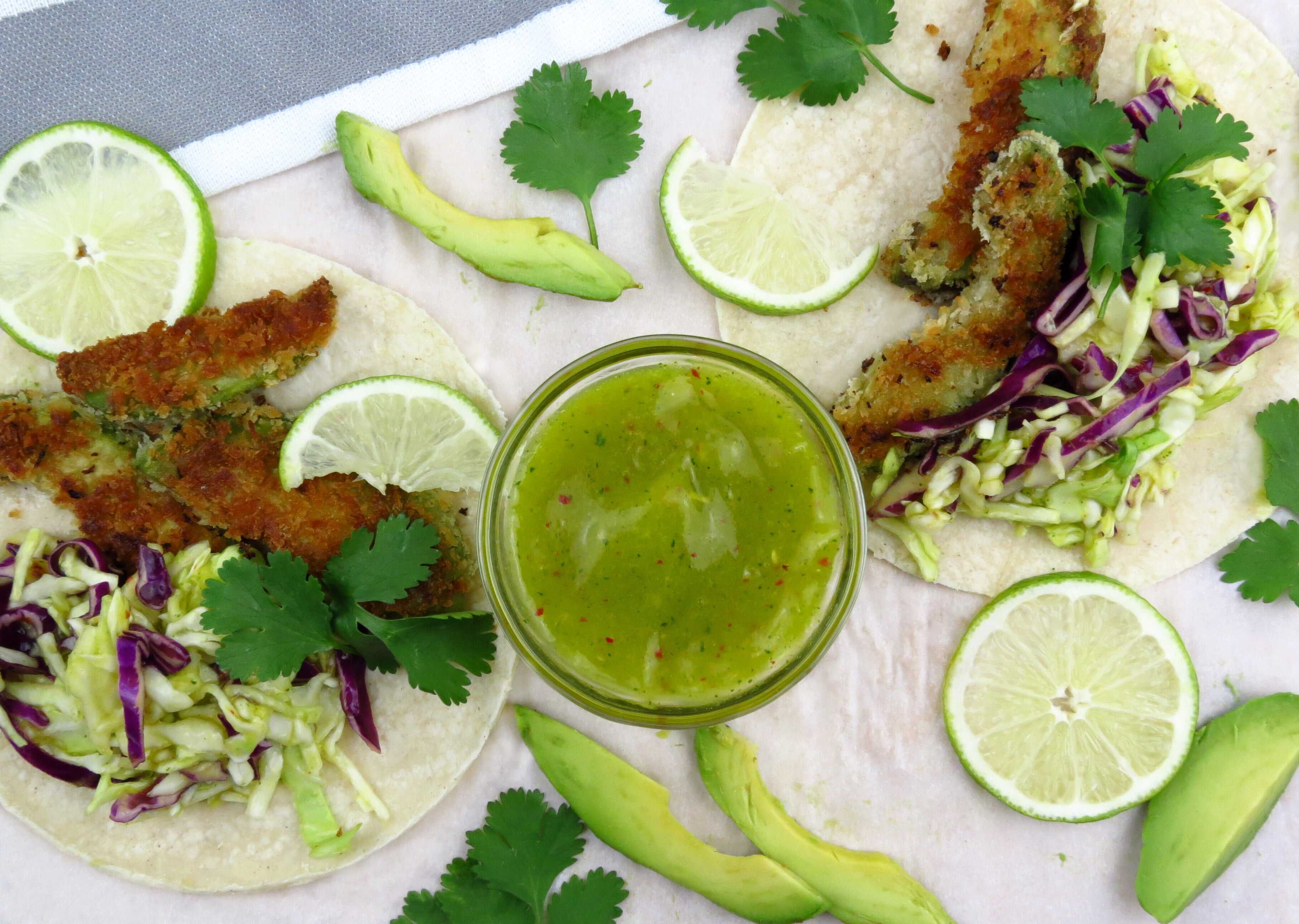 Some sides that will go spectacularly well with this dish:
Want more avocado goodness? (p/s: In case you miss the very obvious memo, we love our avocados here) Check out my all time favorite, absolutely fabulous Homemade Chunky Guacamole recipe.
Enjoy!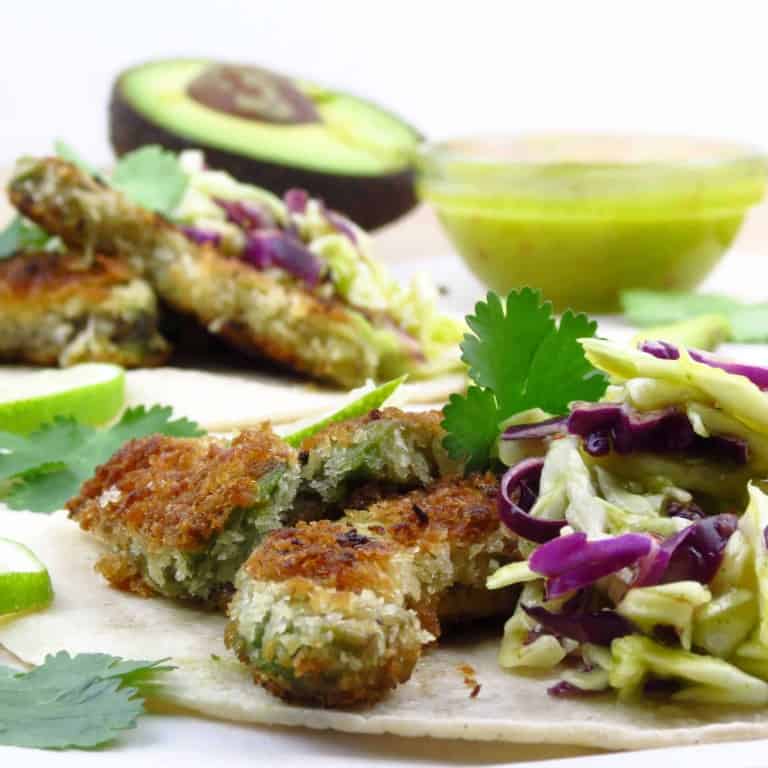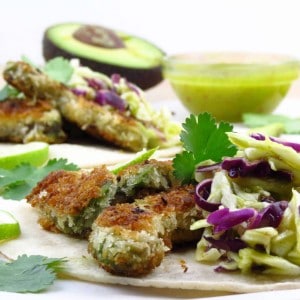 Fried Avocado Tacos with Mango Lime Slaw
Crispy avocados topped with crunchy mango lime slaw and cilantro, wrapped in a soft corn tortilla. So good!
Print
Pin
Ingredients
Fried Avocados
3

avocados

1 - 1 1/2

cup

panko breadcrumbs

1

egg

1

tsp

garlic powder

1

tsp

salt

2

tsp

vegetable oil
Sauce
1

ripe mango

about 2 cups

8-10

fresh cilantro leaves

or to taste

2

tbsp

fresh lime juice

1/2 - 1

tbsp

honey

depends on how sweet your mangoes are

1/4

tsp

red pepper flakes
Mango Lime Slaw
4

oz

shredded cabbage

salt

to taste
Tacos
8-10

small corn tortillas
Instructions
Start by preparing the sauce and slaw. In a blender, add the 5 ingredients under "sauce" and blend. Then pour 1/3-1/2 cup of sauce to shredded cabbage and mix well. Add salt to taste. Save the rest of the sauce for later.

Slice avocados, and sprinkle garlic powder and salt generously on both sides of the avocados.

Prepare a bowl of panko breading and another bowl of whisked egg. Dip avocados into egg mixture and then evenly coat them with panko breading.

Heat up vegetable oil in pan. Once oil is bubbly, add breaded avocados. Cook both sides of avocados until they turn golden brown.

Warm corn tortillas in microwave for about 20 seconds (do 5 tortillas at a time). Add additional time if needed. You can also warm tortilla using a pan (no oil necessary).

Add fried avocados and slaw to corn tortilla. Garnish with fresh cilantro. Spoon sauce onto fried avocados.

Consume immediately and enjoy!
Notes
I start by preparing the sauce and slaw, and then the avocados. This way, once the avocados are fried, I can combine and serve immediately to prevent the avocados from turning cold and soggy.
Nutrition
Calories:
606
kcal
|
Carbohydrates:
80
g
|
Protein:
13
g
|
Fat:
29
g
|
Saturated Fat:
5
g
|
Polyunsaturated Fat:
6
g
|
Monounsaturated Fat:
17
g
|
Trans Fat:
1
g
|
Cholesterol:
41
mg
|
Sodium:
916
mg
|
Potassium:
1097
mg
|
Fiber:
17
g
|
Sugar:
18
g
|
Vitamin A:
1179
IU
|
Vitamin C:
48
mg
|
Calcium:
158
mg
|
Iron:
4
mg