These Avocado Tacos are healthy, delicious and makes for a yummy meatless meal! Avocados are breaded and pan-fried, combined with black beans and a delicious tangy mango slaw with distinct lime flavors, and wrapped in a warm tortilla.
If you love avocados and you love tacos, this is for you!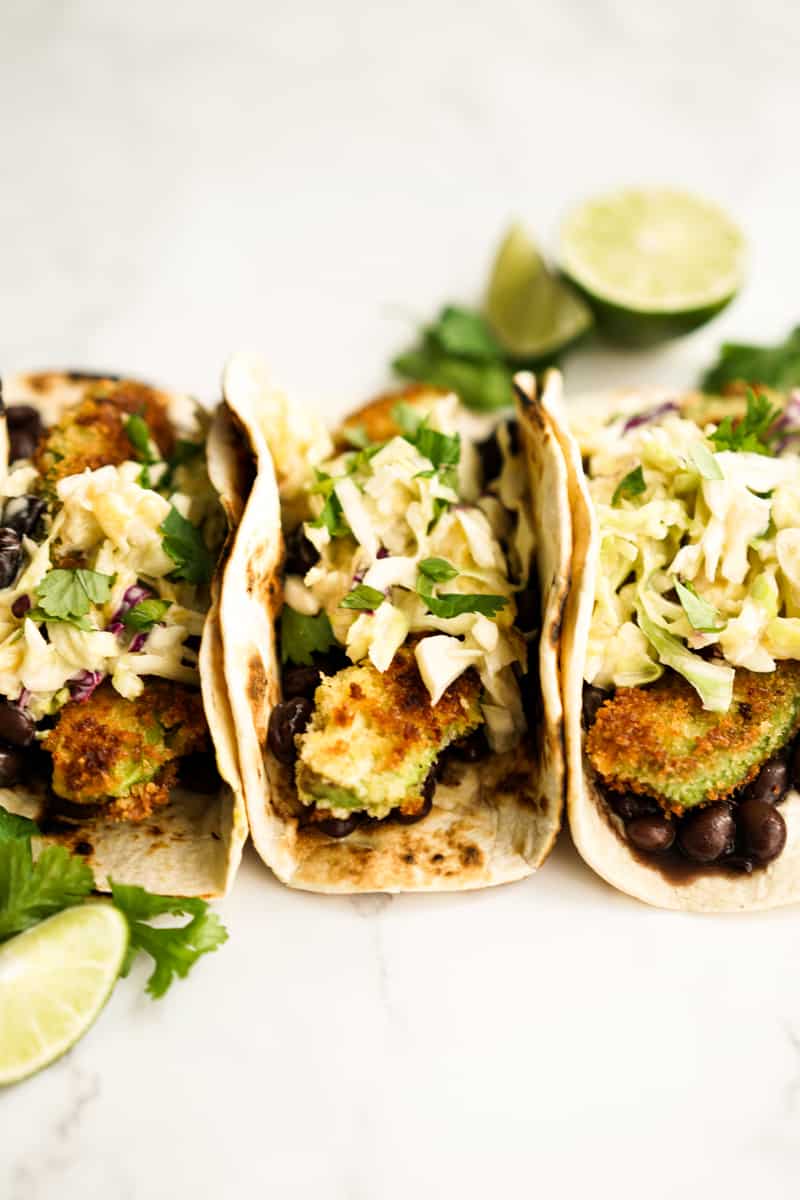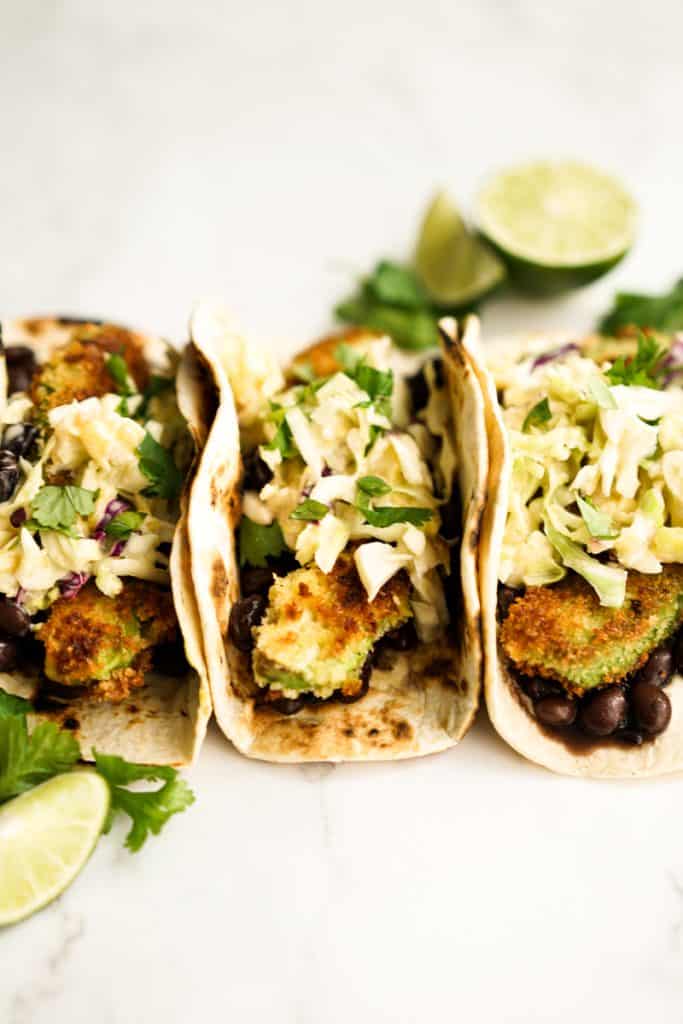 Love tacos? Don't forget to also check out some of the other yummy taco recipes on the blog, such as Grilled Steak Tacos, Fish Tacos with Mango Peach Salsa and BBQ Chicken Tacos.
Healthy and Easy Avocado Taco Recipe
Avocado Tacos make the perfect light lunch or dinner. For yourself, for the family, a gathering with a bunch girlfriends.
The combo of the crispy avocados, crunchy slaw that is loaded with bites of sweet mango, savory black beans, a touch of citrus from the lime, and warm tortillas is simple and yet so tasty. Lots of yummy flavors and textures coming together in every bite.
What you need to know about these Avocado Tacos:
Healthy – this is a healthy meatless dish loaded with lots of veggies. If you want to take a break from eating heavy meals, this is a yummy way to do it!
Easy to make – avocado tacos call for pantry-friendly ingredients and is ready under 30 minutes!
Amazing flavor and textures – I love the combination sweet, savory and tangy flavors, along with creamy and crunchy textures.
Vegetarian friendly – fried avocado tacos are great for those meatless evenings or when you have company who may not eat meat. While there's no meat in it, it is still filling, satisfying and loaded with protein.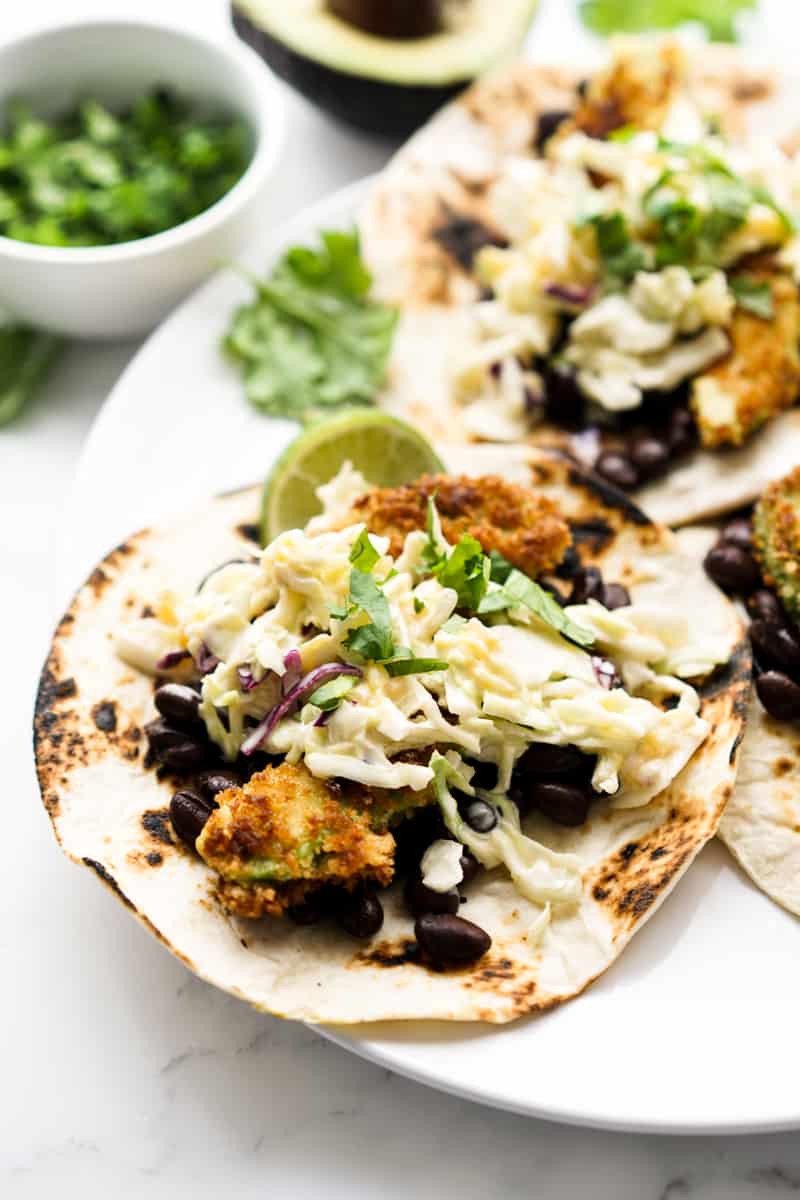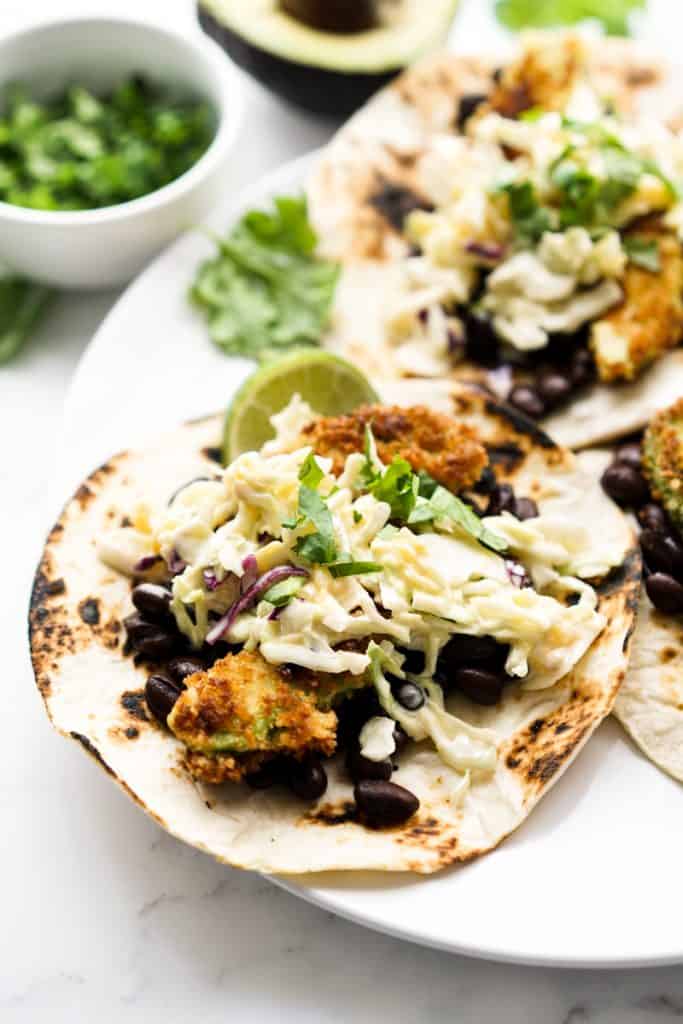 Ingredients
Avocado tacos call for fresh and pantry-friendly ingredients:
For the Fried Avocados
avocados – 2 large avocados or 3 smaller ones. Slice into strips.
panko breadcrumbs – used to bread the avocados
garlic powder
salt
vegetable oil – or any neutral oil, such as canola oil or olive oil
For the Mango Slaw
mango – sliced into strips or diced into small pieces
shredded cabbage – you can use pre-shredded slaw as well
mayonnaise
lime juice – freshly squeezed from lime(s)
salt
Other
tortillas – either flour or corn works well
black beans – I typically get a can of black beans for this. Avoid no-salt black beans as avocado tacos will be a lot less flavorful using those
cilantro
How to Make Avocado Tacos
It's time to make some yummy avocado tacos! It is so simple to put together, and will make you look like an artistic culinary pro 😉
The Fried Avocados
By itself, avocados have a soft, beautiful texture and a very mild flavor.
We are going to first sprinkle some salt onto the sliced avocados, then dip it into egg mixture followed by panko breadcrumbs mixture (garlic powder and salt).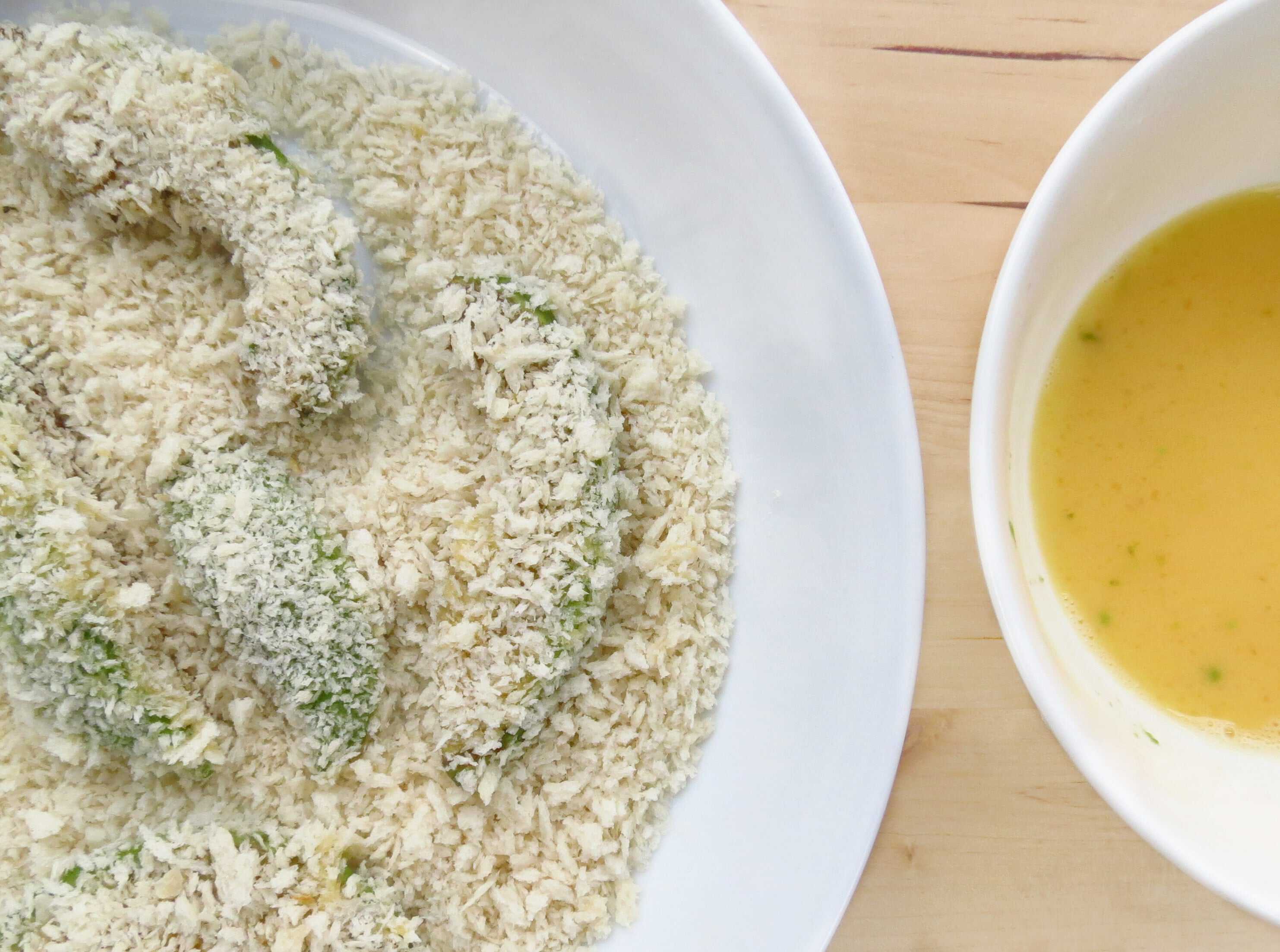 Heat a skillet with vegetable oil, and fry those avocados until they turn slightly golden brown.
The process goes fast, especially if the oil is boiling hot when you add your avocados.
The result is a nice crunch to the avocados we know and love.
Crispy on the outside, soft and warm and all avocado-y (it is now a word) on the inside.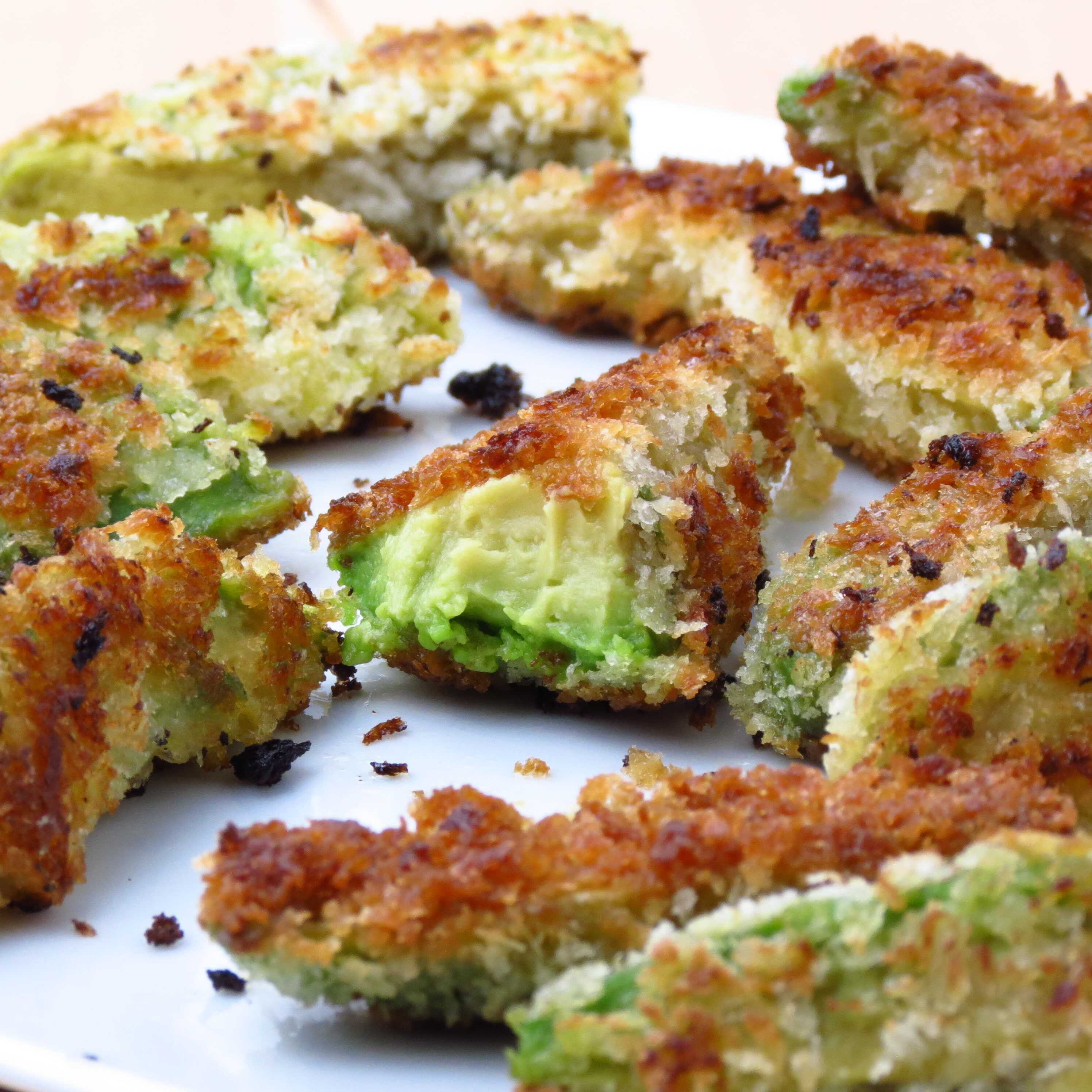 When picking out avocados, pick slightly firm avocados to make Avocado Tacos. The soft, overly ripe ones are difficult to handle, and somehow they taste "off" after frying.
Mango Slaw
I love a good slaw on these avocado tacos. It provides a nice crunch to contrast the creamy avocados, and also bring a nice tangy, sweet and creamy flavor to the dish.
To make the slaw, simply combine sliced mangoes, shredded cabbage (or a shredded slaw mix), mayo, salt, and lime juice.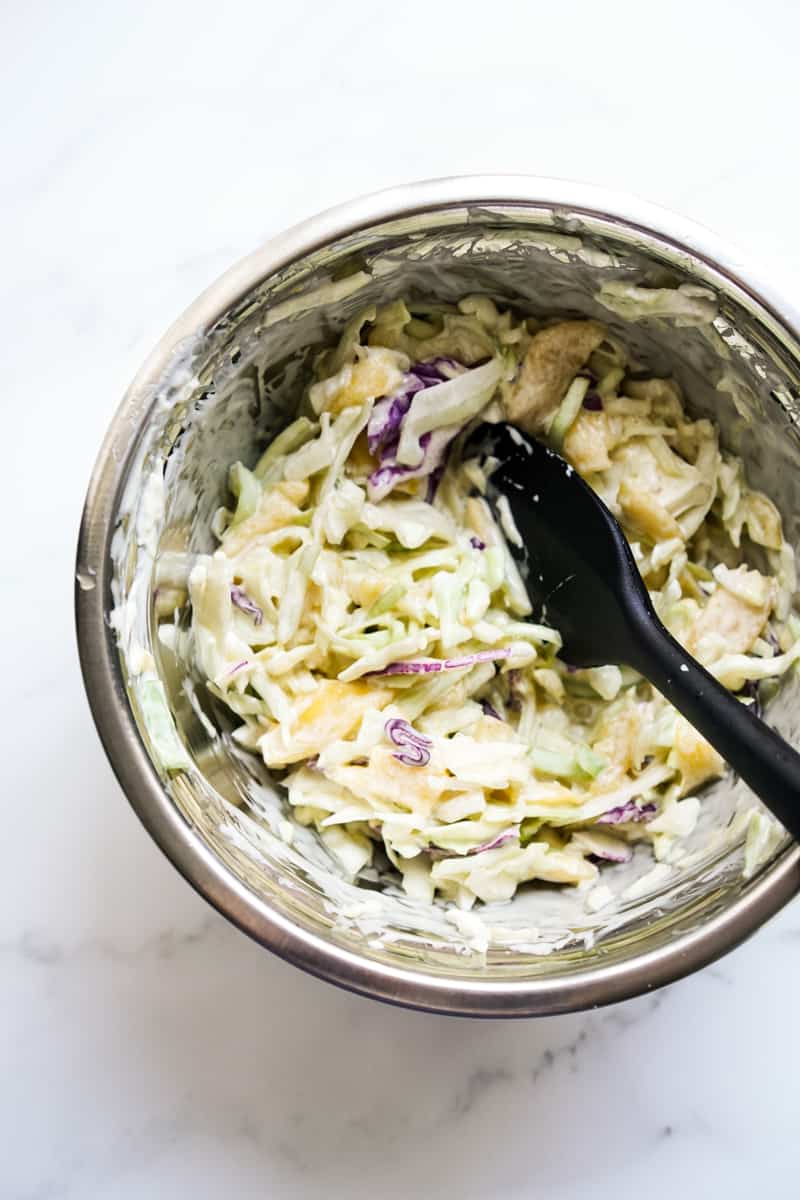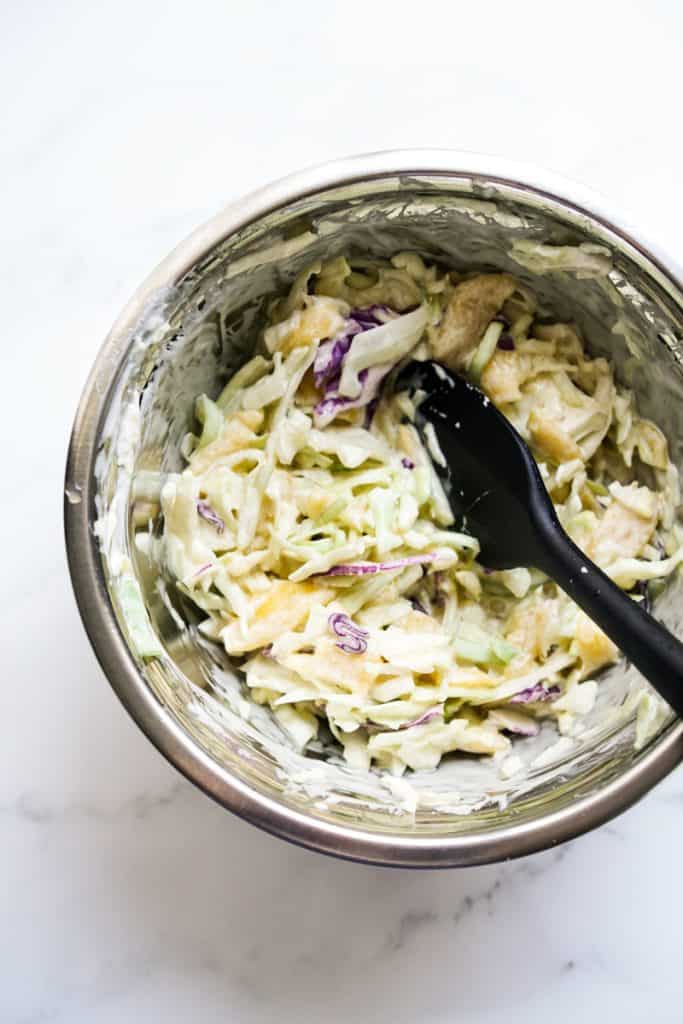 The Taco
This is it. The time has come. The time to make all your avocado taco dreams come true.
Combine the ingredients and watch the beautiful concoction come alive.
Load your tortilla with black beans, two to three slices of avocados and then top it with that creamy slaw.
The avocado is crunchy on the outside, soft and warm on the inside, with hints of garlic and salt. The mango slaw provides a sweet and sour tint to the crispy breading. Not to mention the natural crunch shredded cabbage brings.
Then garnish with fresh cilantro. Oh cilantro – I have sooo much love for you.
Fried avocado tacos, you guys!! So good!!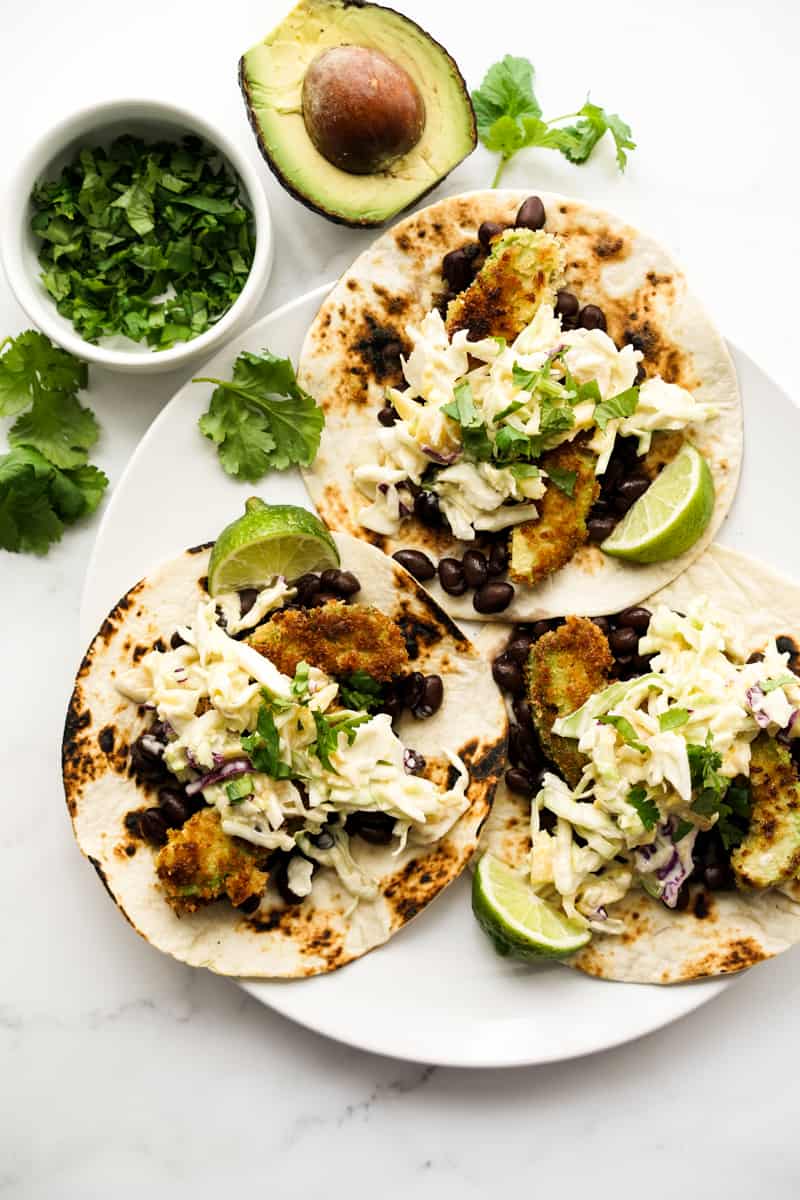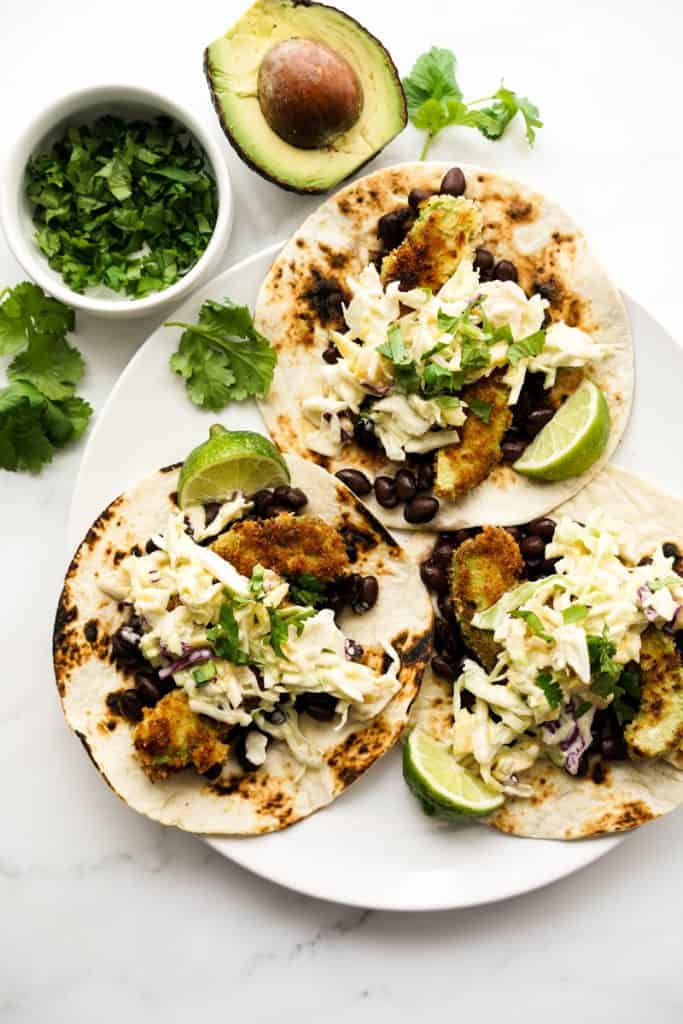 This, my friends, is an avocado dream come true.
It is the perfect light lunch or dinner. This vegetarian meal will please vegetarians and non-vegetarians alike. I like my meat, but boy, I LOVE THIS.
P/S: Do consume fried avocado tacos immediately after making them. Flavor and texture will change after refrigerating and reheating.
How to serve it
Pairing Avocado Taco with some yummy sides and toppings will take it from good to amazing! Here are some sides and toppings that will go spectacularly well with this dish:
Salsa – as topping or serve with chips on the side
Velveeta Rotel Queso – as topping or serve with chips on the side
Enjoy!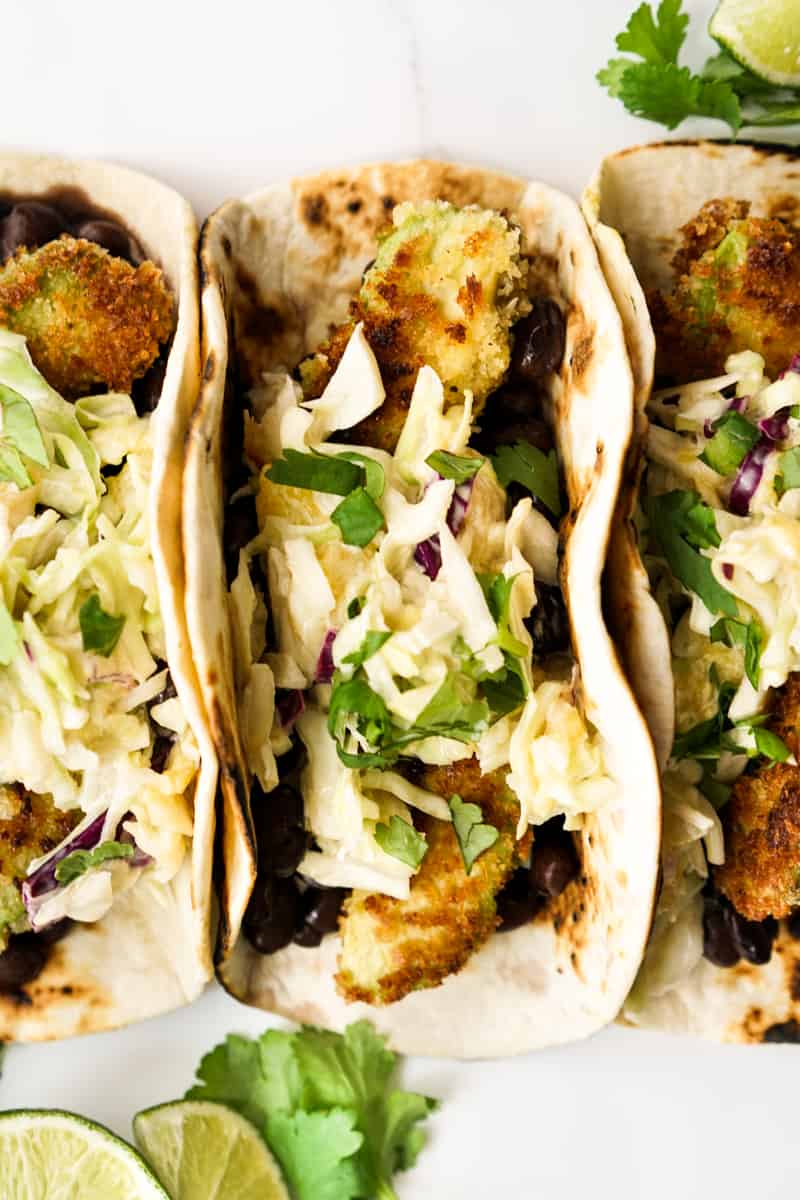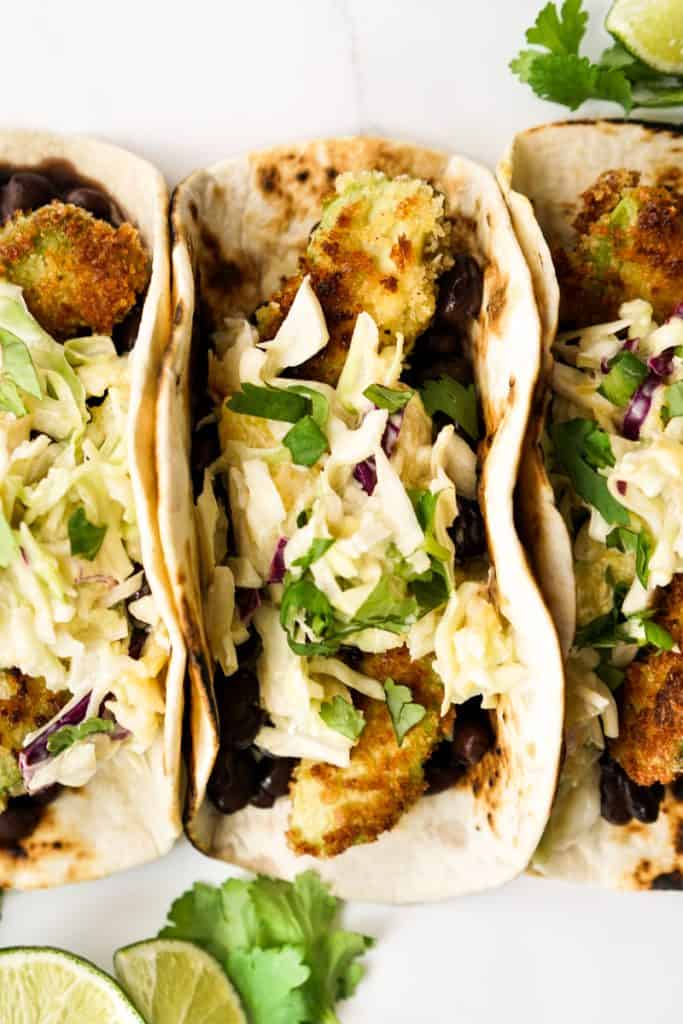 Frequently Asked Questions
Can I omit mangoes? Or can I use a different fruit?
Yes! You can omit mangoes. If you do that, I suggest adding half a teaspoon of granulated to give your slaw a touch of sweetness. You can use other fruits as well such as apples, peaches, or pineapple.
Does this keep well? How to reheat?
Avocado Tacos taste best fresh and I highly recommend consuming them immediately.
Avocados are soft and hard to flip when frying – what should I do differently?
First, you'll want to avoid using overripe avocados. Second, make sure your skillet it heated with a thin layer of oil in it before adding avocados to it. Searing avocado in oil that is not hot will make your avocados mushy.
DID YOU ENJOY THIS RECIPE? Please comment below and give us a 5-star rating! This will help others find this recipe on Google and Pinterest. We very much appreciate your help! 🤍
More Healthy Meals: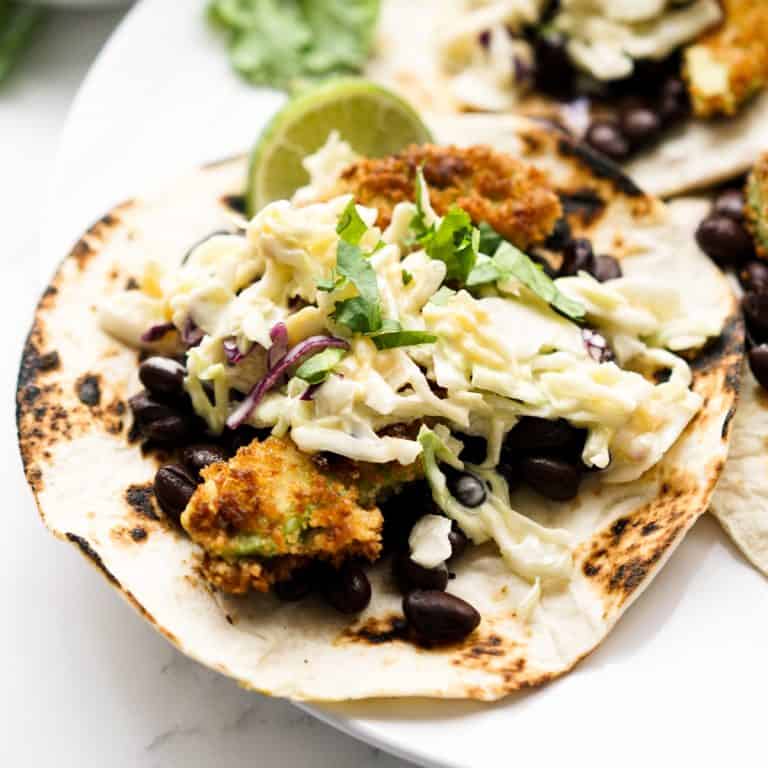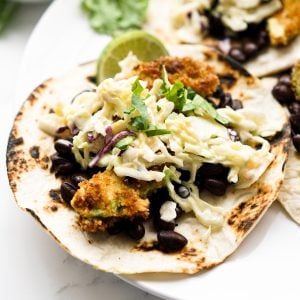 Fried Avocado Tacos
A delicious avocado taco recipe! Crispy avocados topped with black beans, crunchy mango slaw and cilantro, wrapped in a soft tortilla. So good!
Print
Pin
Ingredients
Fried Avocados
3

avocados

1 – 1 1/2

cup

panko breadcrumbs

1

egg

1

tsp

garlic powder

2

tsp

salt

1

tbsp

vegetable oil

adjust accordingly
Mango Slaw
1

cup

ripe mango

sliced

2

tbsp

fresh lime juice

4

oz

shredded cabbage

1/4

cup

mayonnaise

1/4

tsp

salt
Tacos
8-9

tortillas

15

oz

black beans

drained

1/4

cup

cilantro

chopped
Instructions
Combine all slaw ingredients in a medium mixing bowl. Mix well and set in refrigerator to cool.

Slice avocados, and ~1 tsp of salt on both sides of the avocados.

Prepare a bowl of panko breadcrumbs + garlic powder + salt, mix to combine. Prepare another bowl of whisked egg. Dip avocado slices into egg mixture and then evenly coat them with panko breadcrumb mixture.

Heat up vegetable oil in skillet (make sure it covers a large portion of the surface of the skillet). Once oil is heated and bubbly (wait until oil it hot!), add breaded avocados. Cook both sides of avocados until they turn golden brown.

Warm tortillas 1) in microwave for about 20 seconds (do 5 tortillas at a time), or 2) directly stovetop if using a gas stove for a few seconds each side until it warms, or 3) using a skillet, a few seconds on each side (no oil necessary).

Drain black beans. Add a tablespoon of black beans to a warm tortilla, add 2-3 slices of fried avocados, then top with slaw. Garnish with fresh cilantro. Repeat and fill the other tortillas.

Consume immediately and enjoy!
Nutrition
Calories:
445
kcal
|
Carbohydrates:
52
g
|
Protein:
12
g
|
Fat:
22
g
|
Saturated Fat:
4
g
|
Polyunsaturated Fat:
7
g
|
Monounsaturated Fat:
10
g
|
Trans Fat:
0.03
g
|
Cholesterol:
23
mg
|
Sodium:
1073
mg
|
Potassium:
708
mg
|
Fiber:
12
g
|
Sugar:
6
g
|
Vitamin A:
420
IU
|
Vitamin C:
21
mg
|
Calcium:
115
mg
|
Iron:
4
mg