This post may contain Amazon or other affiliate links. As an Amazon Associate I earn from qualifying purchases at no additional cost to you.
A yummy Savory Breakfast Bowl is what I would love to wake up to every single morning. Roasted Idaho® potatoes, roasted tomatoes, sliced avocados, sunny side up egg, arugula, and drizzles of sriracha to top it all off. A breakfast bowl of dreams…
I partnered with Idaho® Potato Commission to bring you this yummy recipe. All opinions, as always, are my own!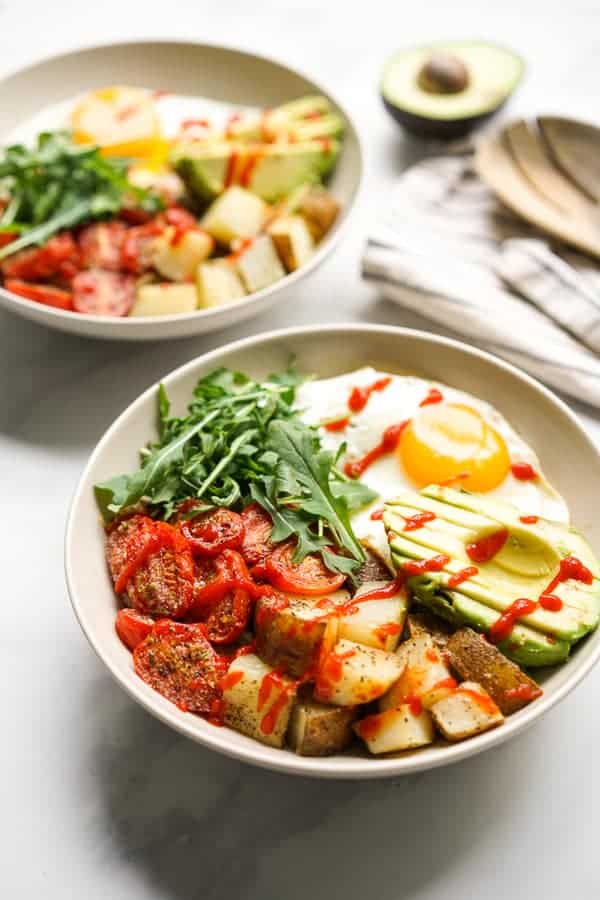 Can you believe we are in the middle of January already? January started off with a blur because post-holidays tend to do that to me. Then I blink and here we are, smack in the middle of the month.
Before we know it, it will be Valentine's Day!
Speaking of Valentine's Day, isn't this Savory Breakfast Bowl the most perfect Valentine's Day breakfast in bed?
It's easy to eat in bed, it's the perfect thing to wake up to…SUCH A FUN AND YUMMY TREAT!
But please don't limit this Savory Breakfast Bowl goodness to just Valentine's Day. It is so yummy it seriously needs to happen way more frequently than that. Trust me.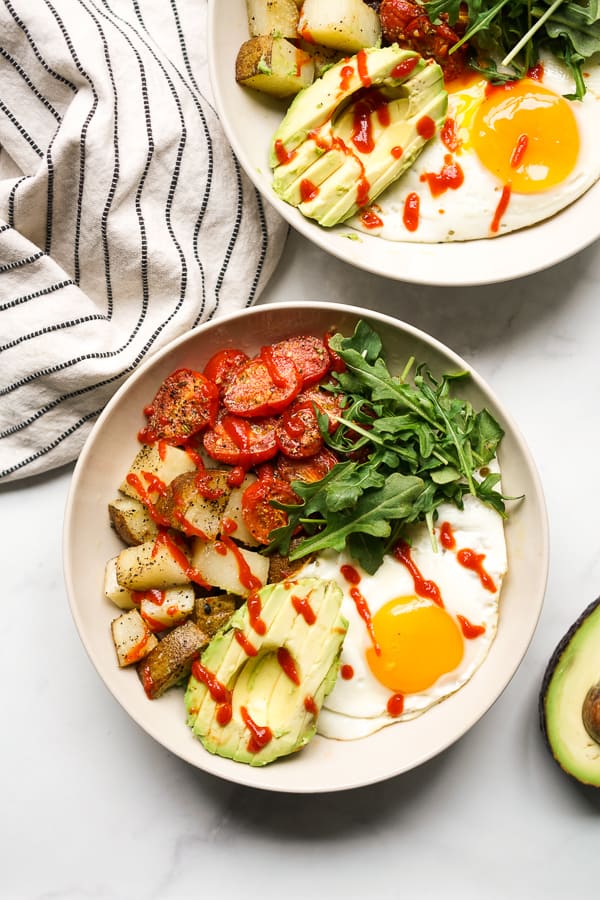 Why Savory Breakfast Bowl?
I am a fan of my food in bowls. There's just something about putting everything into one bowl and being able to easily consume it in the dining room, on the couch, in the bedroom, on-the-go…everywhere!
I have bombarded the blog with so many bowl recipes (absolutely no regrets!) and some of my favorite include Crispy Shrimp Bowl, Simple Thai Noodle Bowl, Chicken and Brussels Sprouts, and Creamy Sun-dried Tomato Pasta with Chicken, where everything is piled into one bowl and you just eat your heart out from that bowl.
Ah – just thinking about it makes my bowl-loving heart so happy.
So naturally, it's about time I make breakfast (you should know about my deep love for breakfast and brunch) in a bowl. Naturally. 😉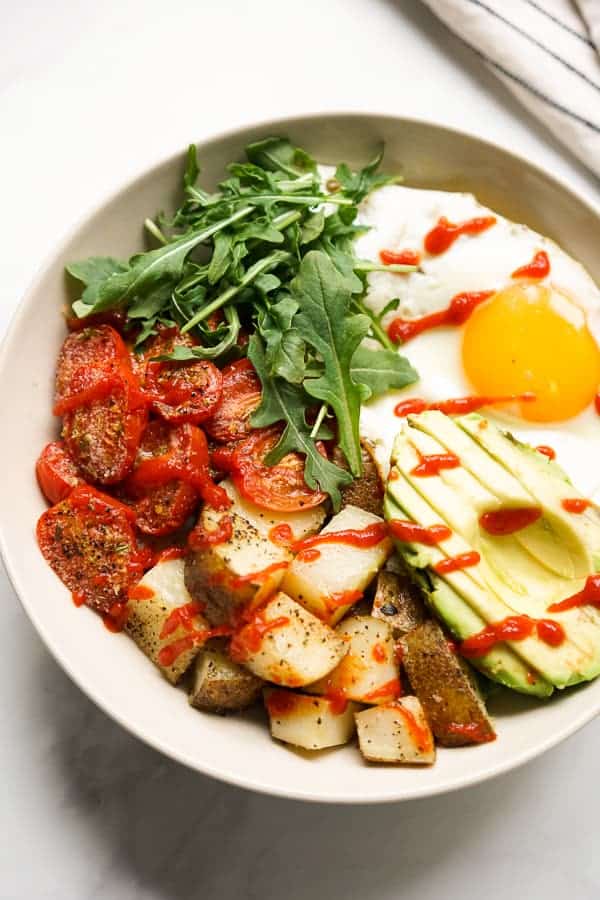 I love this Savory Breakfast Bowl for many reasons, and here are some arguments why it's pretty awesome:
At the risk of repeating myself: everything in one bowl makes life so easy – and fun!
It's so delicious! We seasoned the potatoes and tomatoes, and added lots of flavor and textures to the dish!
Healthy! This vegetarian breakfast is pretty good for you!
Keeps you full.
Mix and match bowl ingredients to your heart's content.
Great as meal prep. Double or triple the recipe, make it once and have breakfasts for multiple days!
Easy peasy! 30 minutes only and breakfast is served!
Savory Breakfast Bowl Ingredients
I like to keep the main ingredients to about five or six. I find that if I use more than that it gets complicated to make, and less than that it feels like something is missing.
Here are the five main ingredients in this delicious bowl:
Russet Idaho® potatoes
Cherry tomatoes or roma tomatoes
Avocados
Eggs
Arugula
The potatoes and tomatoes are seasoned then roasted on a baking sheet lined with aluminum foil. Separate them by using two sets of aluminum foil. I recommend doing this because the potatoes may take longer to cook so you can pull out the tomatoes easily.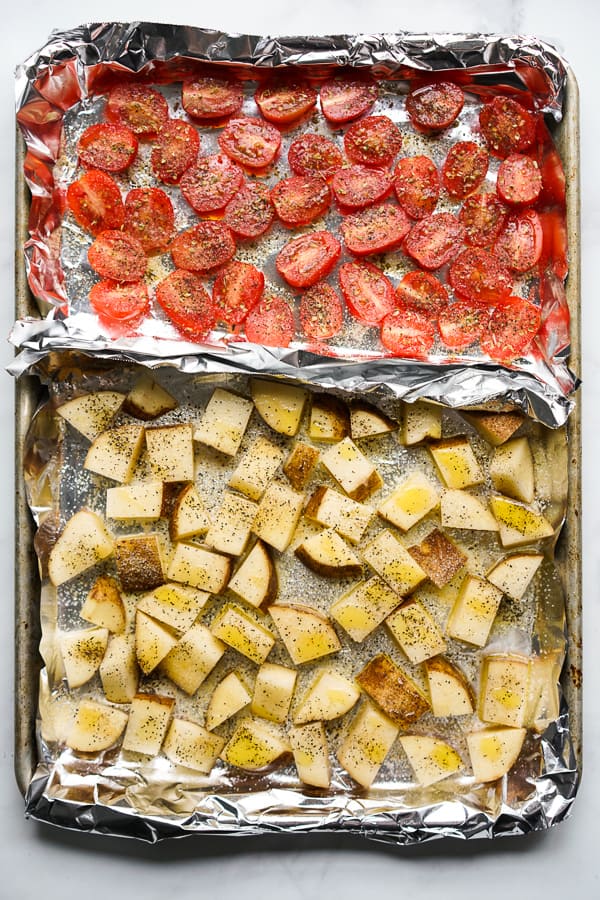 Or just roast them on separate bakings sheets. That would work as well.
After the bowls are assembled, don't forget to drizzle with sriracha because that adds another element of flavor and spice as well.
Variations
And of course you can mix different variations of these ingredients to your heart's content – use spinach or romain instead of arugula, boil or poach the egg instead of frying them, drizzle with salsa instead of sriracha etc.
The world is your oyster!
Tips and Tricks
Use aluminum foil to line the baking sheet for easier cleanup! When I do this, unless there is a spill, I don't even need to wash the baking sheet!
No need to peel the potatoes, just make sure to clean them well! This will save time and the potatoes skins are good for you!
Avoid cutting potatoes into large cubes because the larger they are the longer it will take to bake. Try to cut them into 1-inch cubes.
When the potatoes and tomatoes are baking in the oven, save time by frying the egg and prepping the other ingredients, so that when the potatoes and tomatoes are done, your bowl is ready to be assembled.
Friends, I hope you give this a try! We love kicking our day off with this delicious breakfast bowl and I think you will too!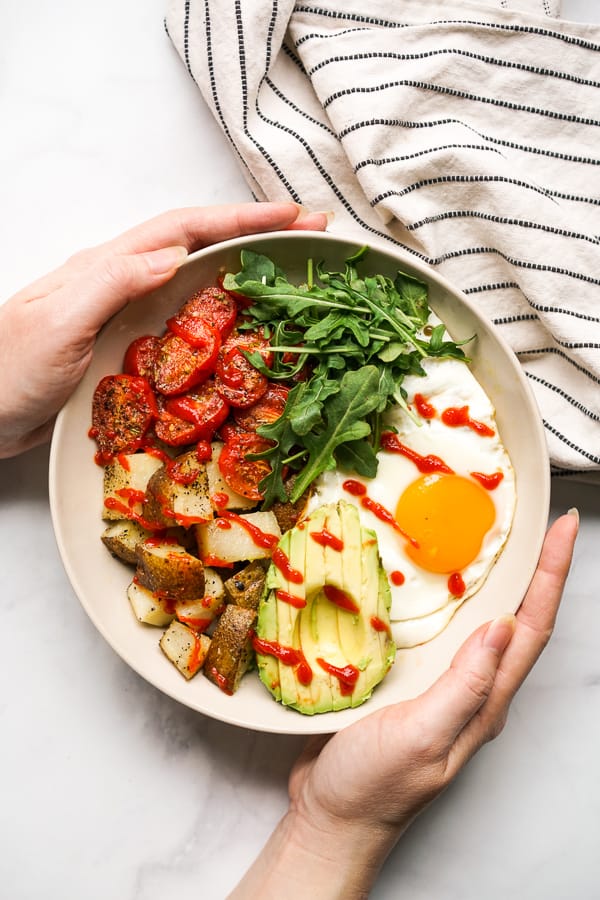 If you make this recipe, comment below and let me know what you think! Also, don't forget to take a picture and tag me on Instagram, because I WANNA SEE!!
Other Breakfast Recipes!