Spam Fried Rice is a Hawaiian and Korean American dish where fried rice is perfectly seasoned, and combined with spam, veggies and eggs. Hawaiian style cuisine includes spam in many of its dishes and it brings a lot of beautiful flavors to them. If you do not like spam, substitute spam with ham.
In our home, we make spam fried rice whenever we want to clean out the fridge and put together a quick meal. It is a quick and delicious way to get dinner onto the dinner table in under 20 minutes!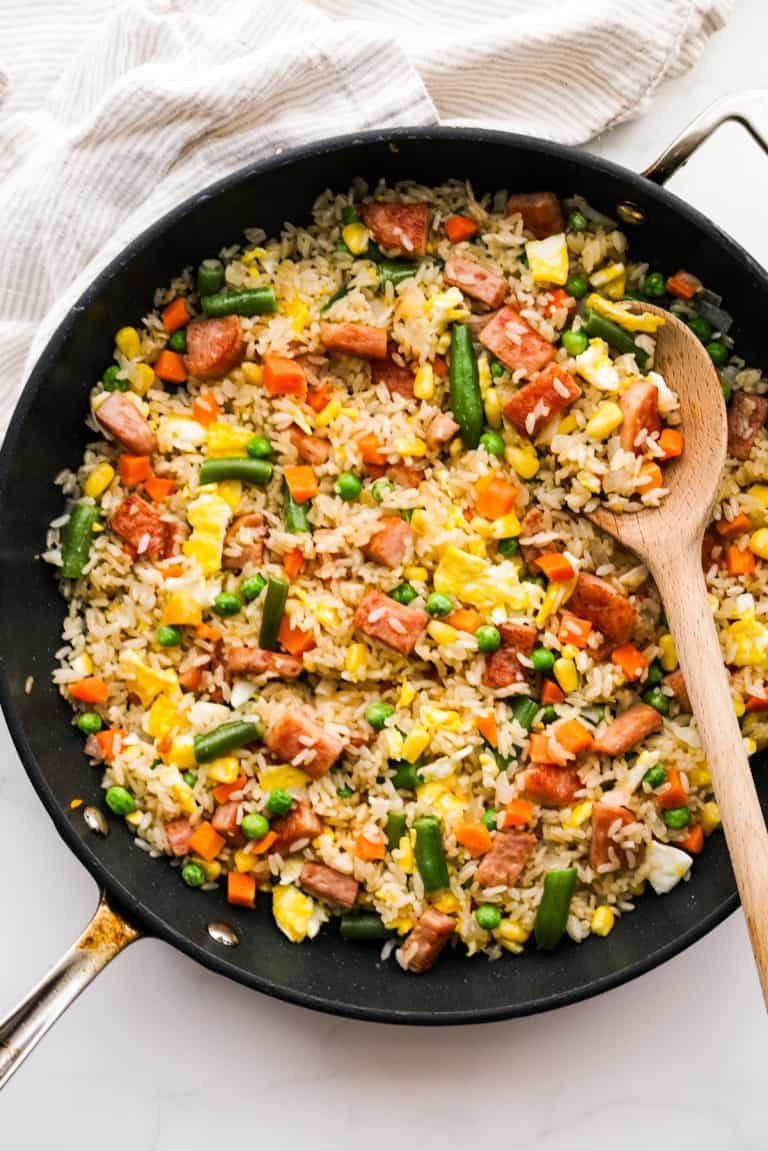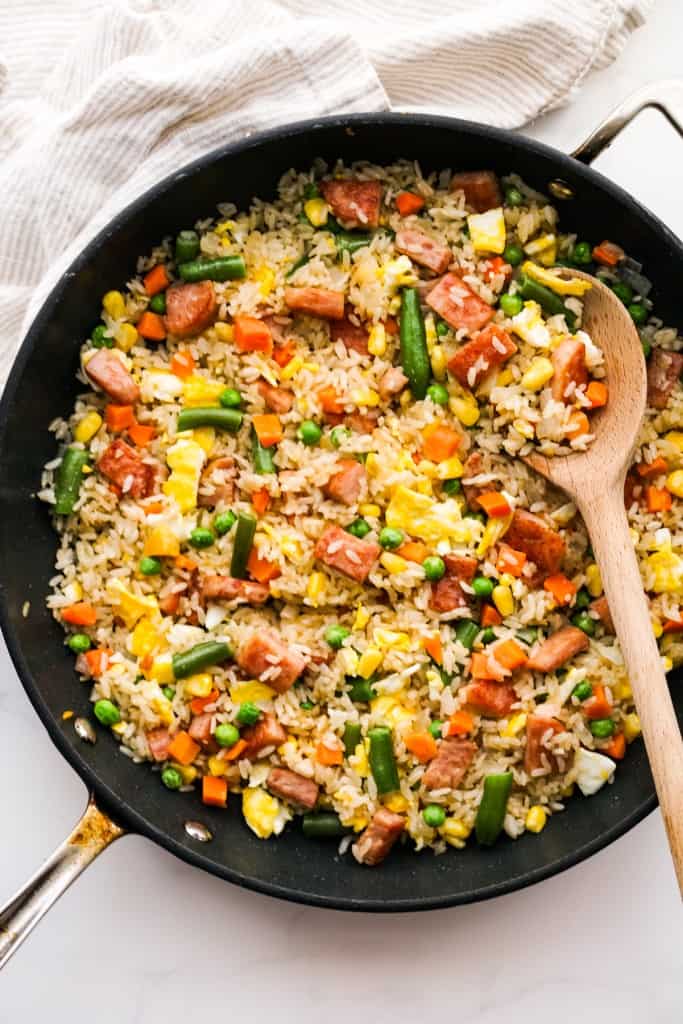 Check out other Hawaiian and Korean inspired dishes on our blog such as Potato Mac Salad, Spicy Baked Korean Chicken Wings and Korean BBQ Beef.
Let's talk about Spam
I first had Spam Fried Rice in a Hawaiian restaurant in San Francisco and fell in love with its amazing flavors immediately.
Spam can be a controversial ingredient here in mainland United States, but it sure is a popular ingredient in Hawaiian cuisine. Another popular spam dish, for example, is spam musubi. Just like lots of ingredients, there are different variations and qualities when it comes to spam.
Spam is a brand of a preserved meat sold in a can, however, if you venture to Asian grocery stores, you will find a variety of brands of 'spam', or the label says 'luncheon meats'. And truly, some are better than others. And lots of them are better than the traditional 'spam'.
For some of us (like me) who grew up in Asia, spam is actually a pretty nostalgic ingredient. We ate it as kids between sandwiches, by itself, pan-fried and served with rice, etc. Even though we didn't call it spam (the 'spam' brand wasn't sold in Asia back then), it was the same product, just with a different name.
If you are not sold on spam, simply use ham to substitute for spam. It is similar in a lot of ways.
My Spam fried rice recipe is truly exceptional because just like my other fried rice recipe on the blog such as Steak Fried Rice, Chicken Fried Rice and Pineapple Fried Rice, the rice is truly flavorful and its flavor is not just one-dimensional – we actually season our rice with more than just soy sauce!
Combining with the flavors from spam, veggies and pieces of scrambled eggs, this spam fried rice is loaded with incredible textures and flavors.
Truly the BEST and easiest spam fried rice.
Ingredients
Here are the ingredients you will need to make spam fried rice: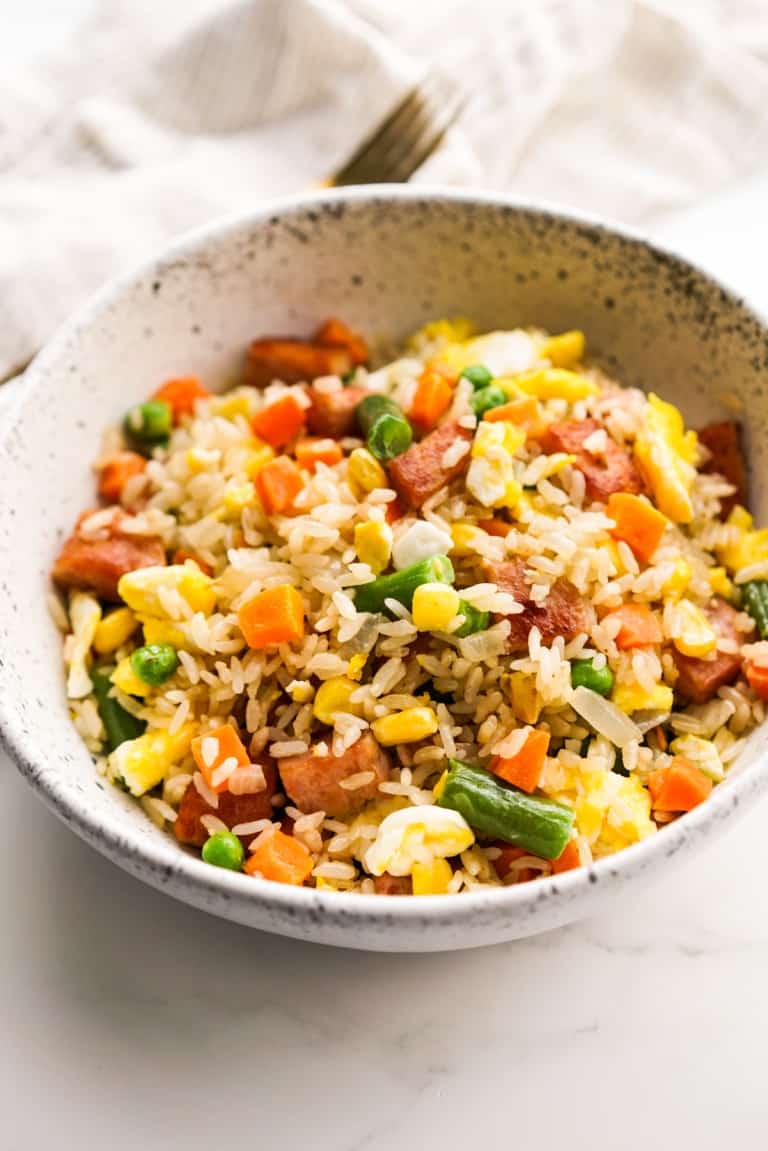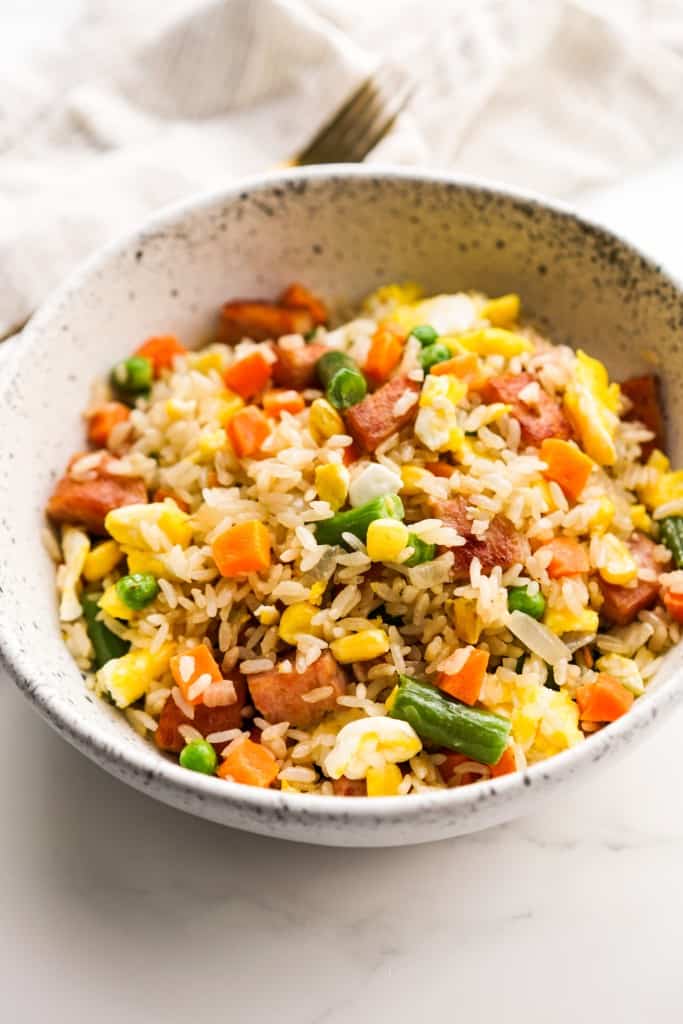 spam – spam is technically a brand of luncheon meats that has been colloquially called by its brand name. You can use other brands as well (typically found in Asian grocery stores) – my favorite is the Mai Ling brand.
cooked rice – at least a-day-old cooked rice works the best because it is dryer and is no longer wet and sticky.
sweet onions – use fresh diced onions, not onion powder. Yellow or white onions can be used as well
garlic – to make good spam fried rice, fresh garlic must be used, not garlic powder. It makes a big difference!
frozen mixed vegetable – I used this for easy, and it typically consists of green beans, peas, carrots and corn. You can substitute with other fresh veggies as well. This recipe is a good way to use leftover veggies or produce in the fridge.
chicken bouillon powder – similar to my Chicken Fried Rice recipe, chicken bouillon is the key ingredient to really season and bring flavors to the rice. Do not skip this for the BEST tasting spam fried rice! This is my favorite brand of chicken bouillon powder for stir frying Asian dishes. Chicken bouillon cubes can be used as well.
soy sauce – use light-sodium soy sauce for a less salty spam fried rice if preferred.
salted butter – this really bumps up the flavor profile of our fried rice as well. Salted butter brings a lot better flavors to the rice than unsalted butter…for obvious reasons 😉
eggs – we will be scrambling the eggs to bring some fluffy texture and extra protein to this dish. Scrambled eggs are classic ingredients you can almost always find in any fried rice recipe.
How to make spam fried rice
Next, we are going to walk through step-by-step instructions and photographs to show how we make the best spam fried rice ever!
Kitchen Tools Needed
All you need is a large skillet, preferably non-stick for the ease of cooking, and to avoid using a ton of cooking oil. If you have a wok you can definitely use that, although it is not necessary.
Step 1: Scramble Egg
The first thing I typically do is whisk up the eggs, and scramble them on the skillet.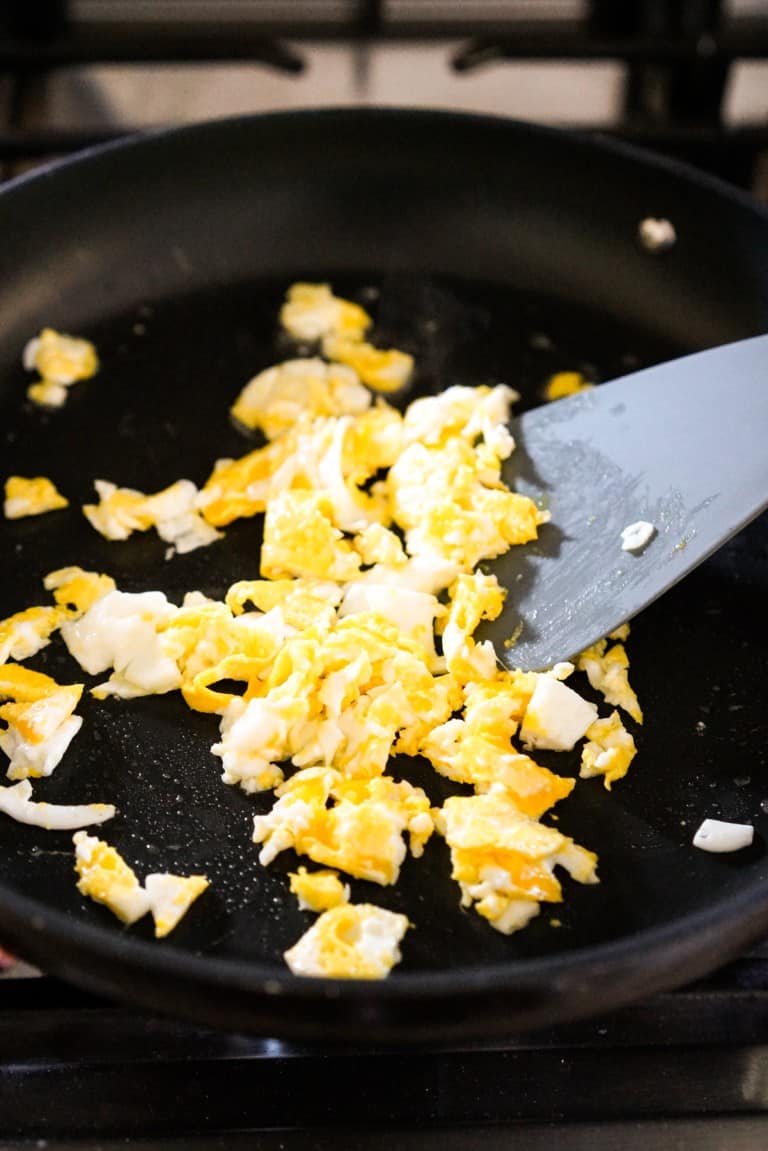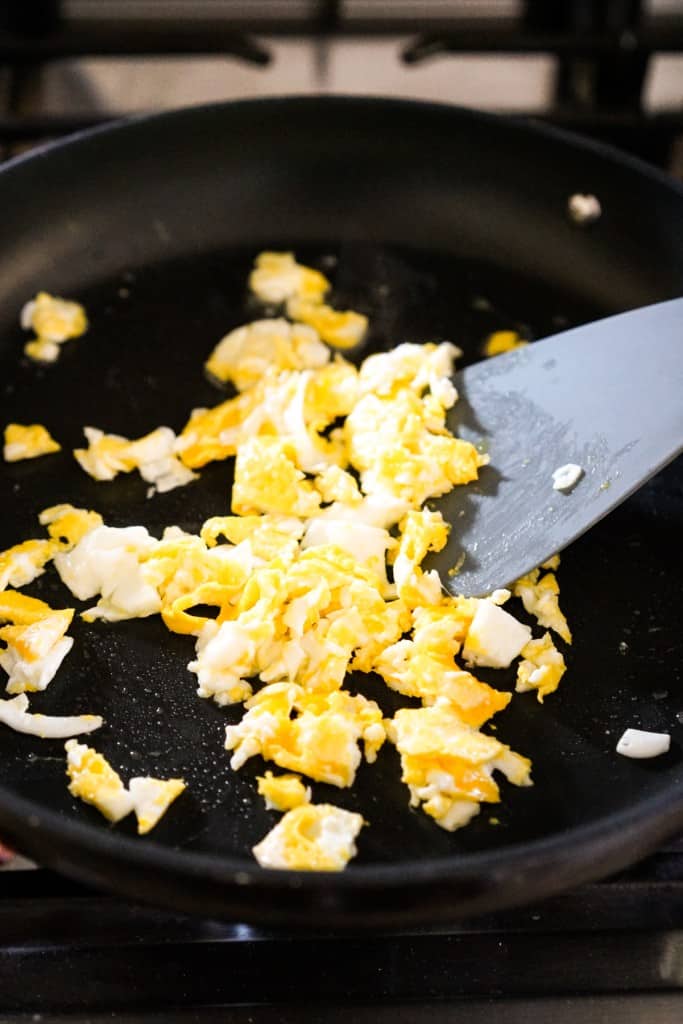 Once it is done, remove promptly and set aside.
Step 2: Stir fry the rice, spam and veggies
Heat skillet to medium high heat and add vegetable oil.
Once vegetable oil is hot, add diced onions and stir fry until soften. Then add garlic and spam, and stir fry for 10-20 second or until fragrant – avoid burning garlic.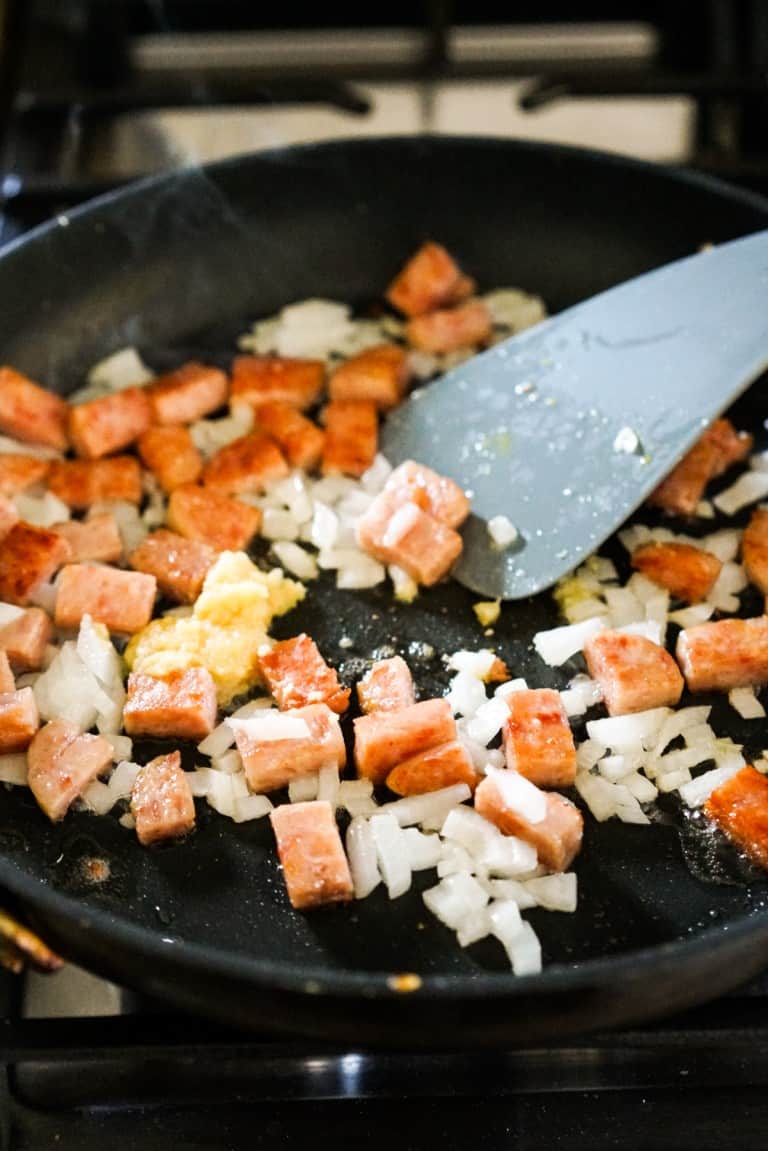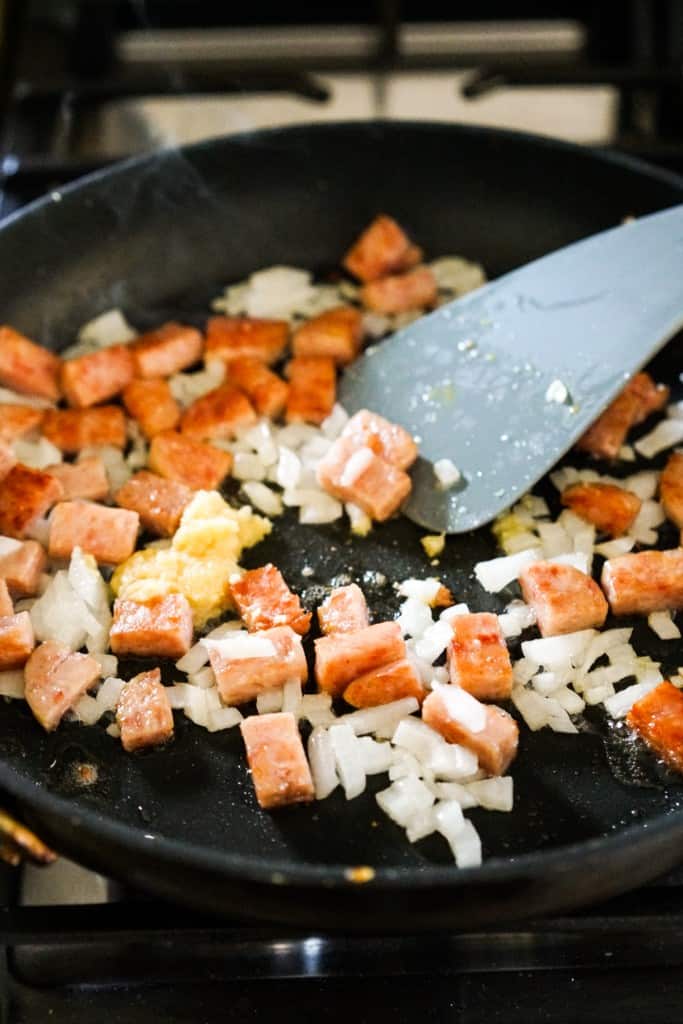 Add rice into the skillet immediately after, and combine everything.
Stir continuously and break apart rice if there are clumps. Do this for about 1 minute to make sure the rice is cooked. I like my rice slightly charred so I will sometimes cook it longer.
Add chicken bouillon powder and soy sauce to season the rice. Stir to combine.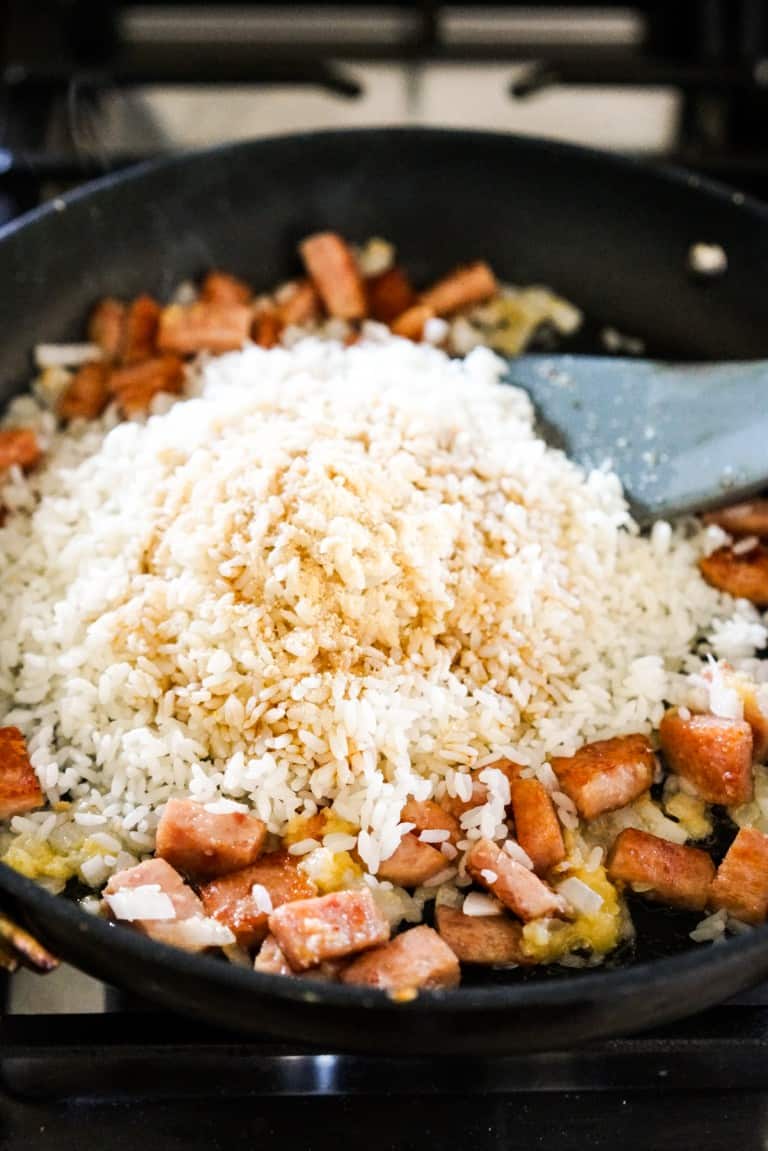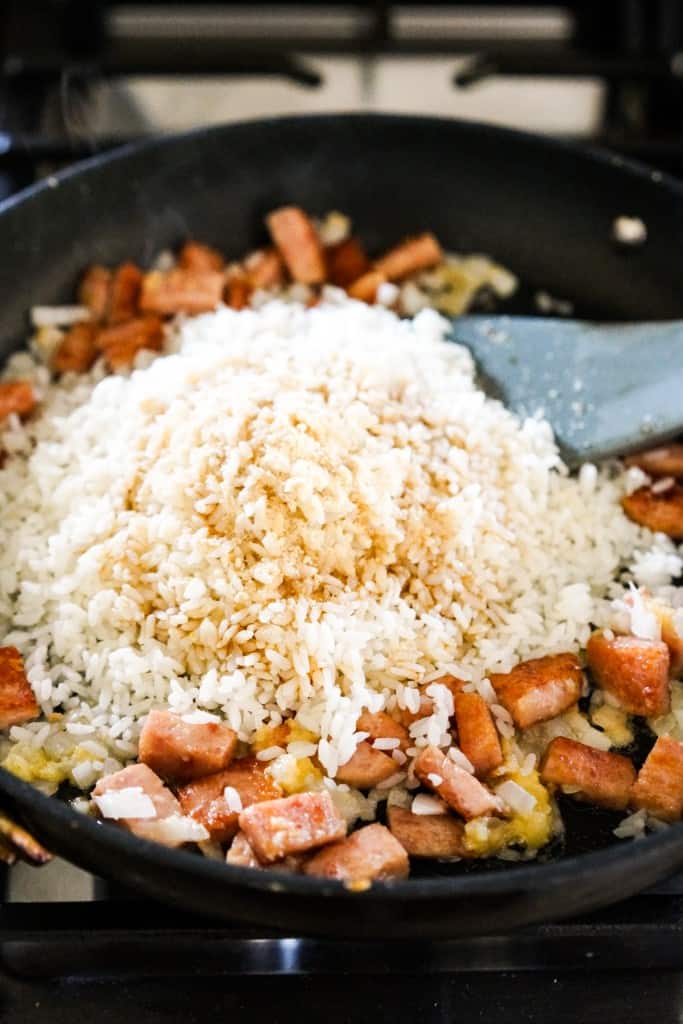 Then add frozen mixed vegetables.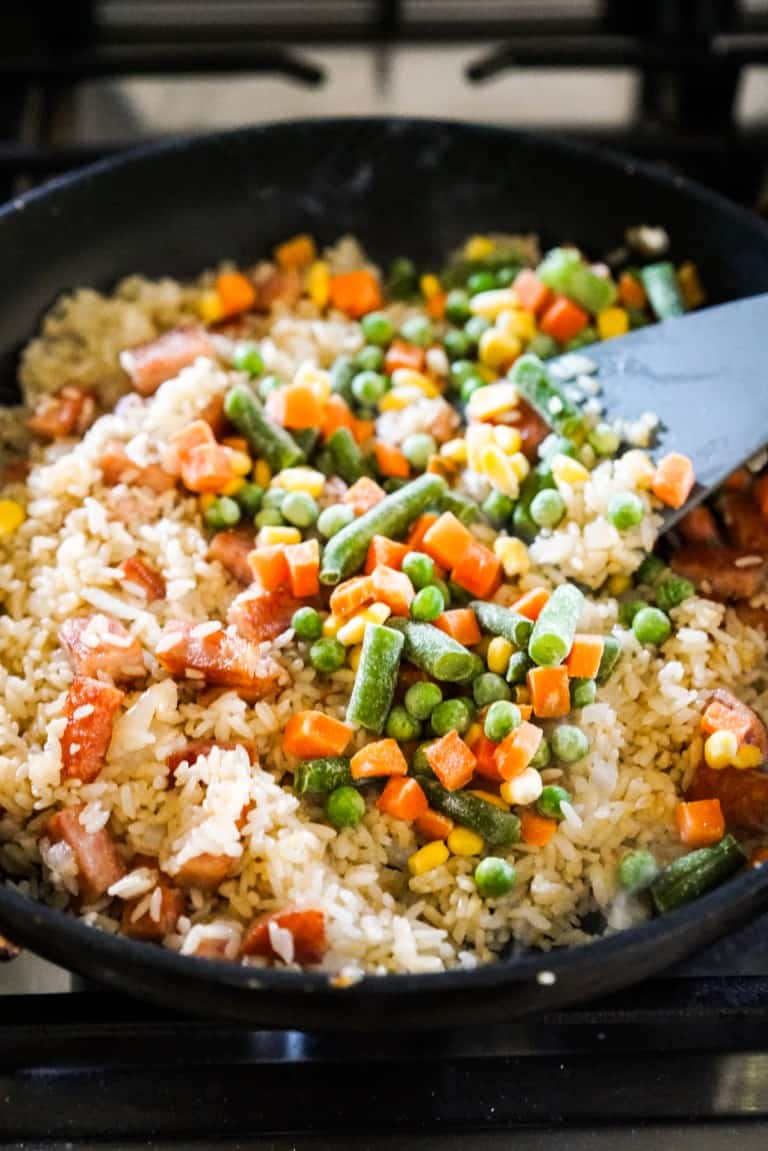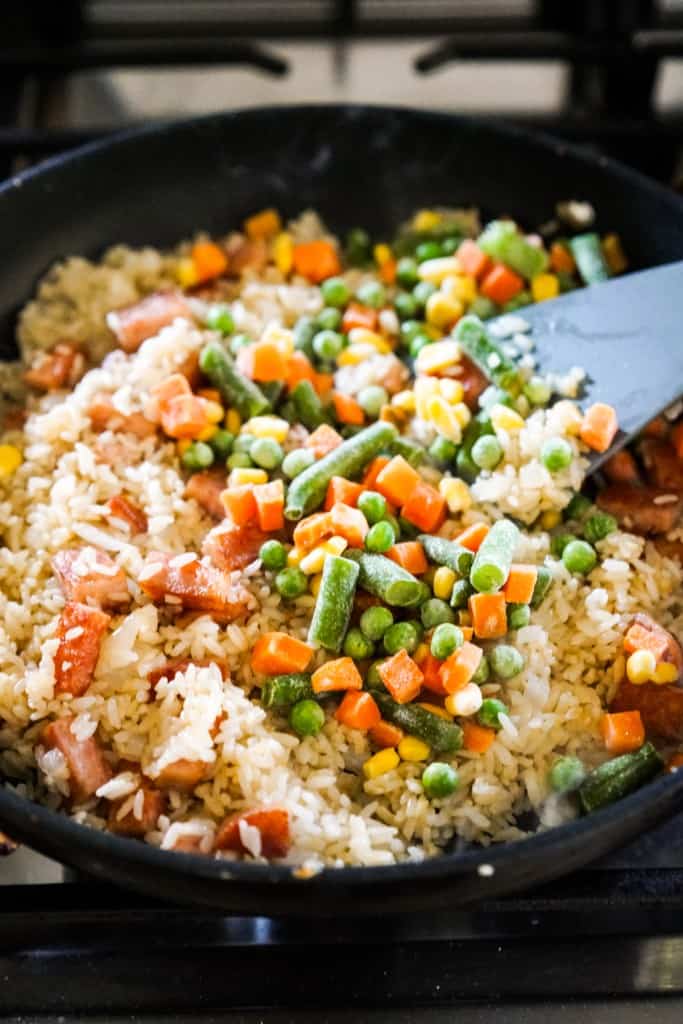 Add the scrambled eggs that was set aside back into the spam fried rice.
Last, and definitely not least, add a knob of butter to the rice.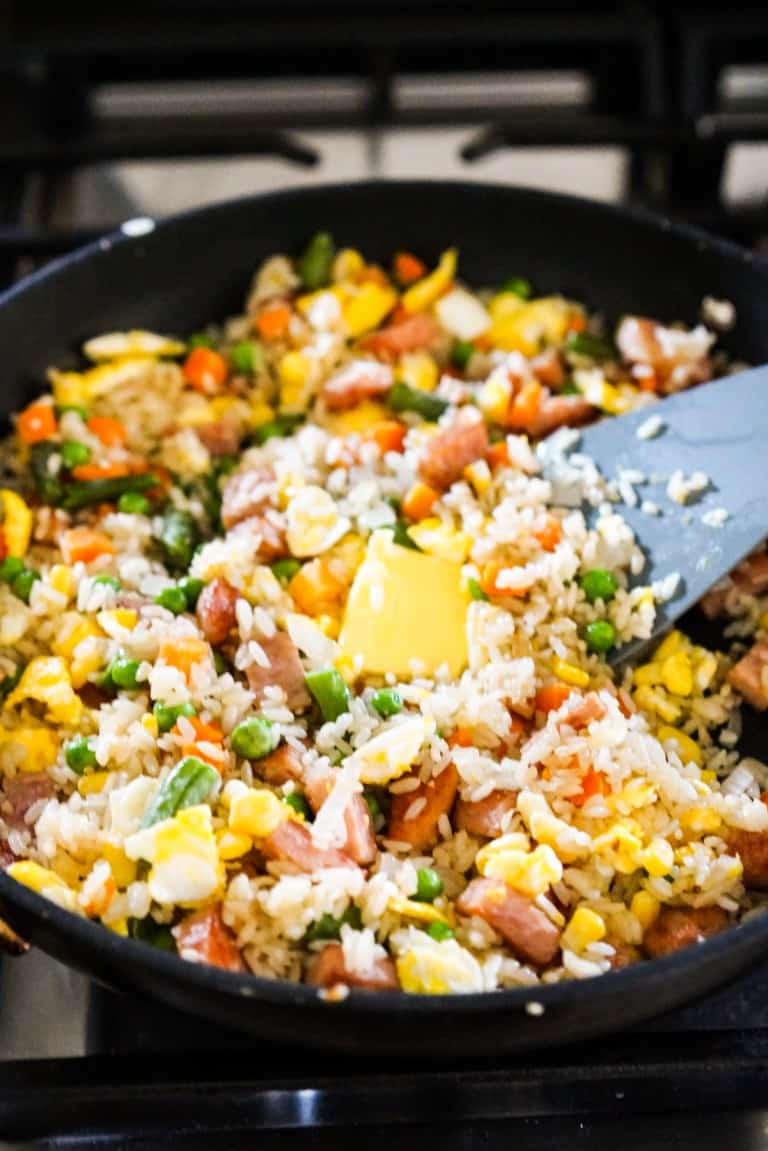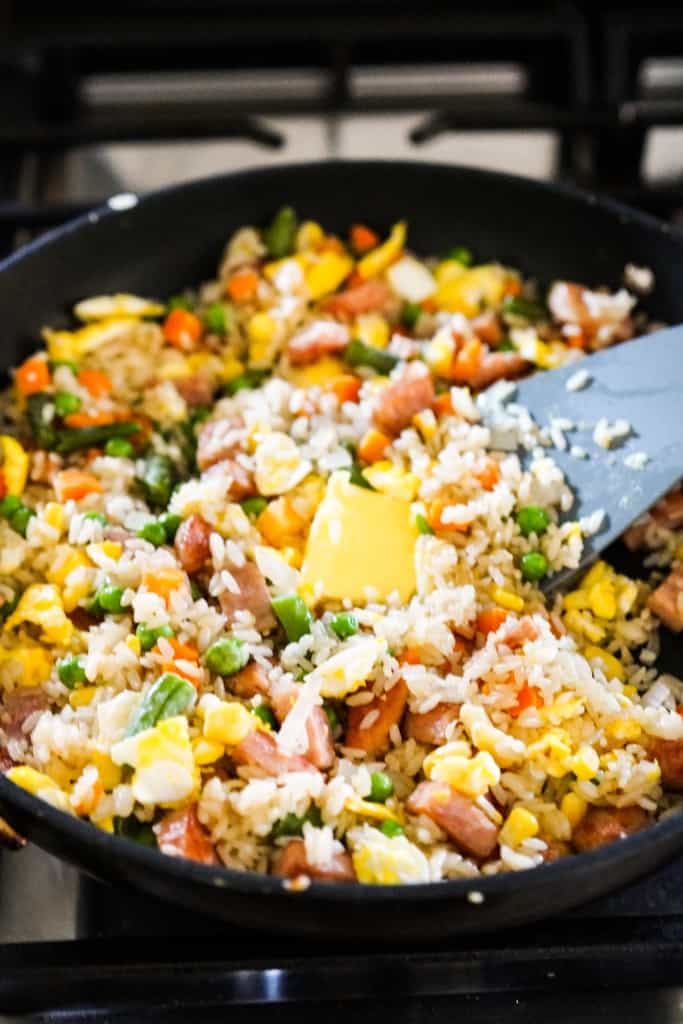 Butter will melt away as you stir it into the rice.
Once spam fried rice is done, remove from heat promptly and serve!
The product is an incredibly flavorful, perfectly season fried rice loaded with juicy savory spam, bites of carrots, peas, corn and green beans along with fluffy scrambled egg pieces.
This classic Hawaiian dish is getting more and more popular on this side of the United States. Have you tried it yet? Or, will you try it? 🙂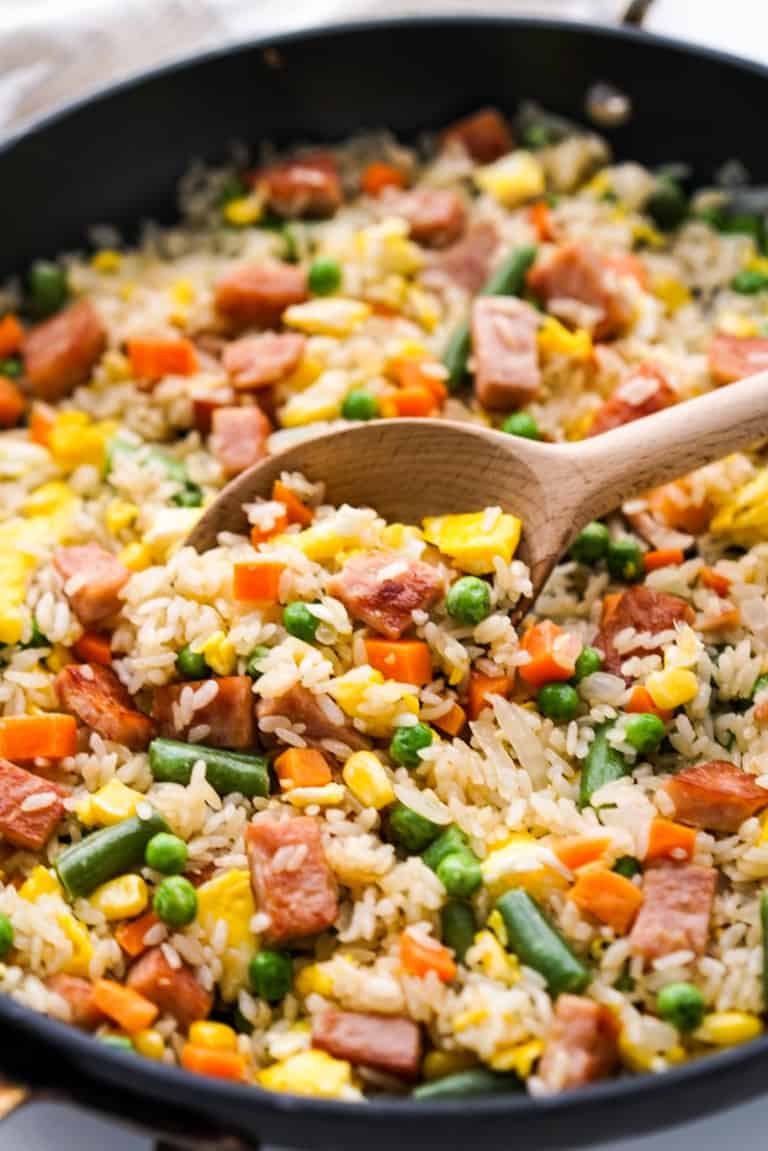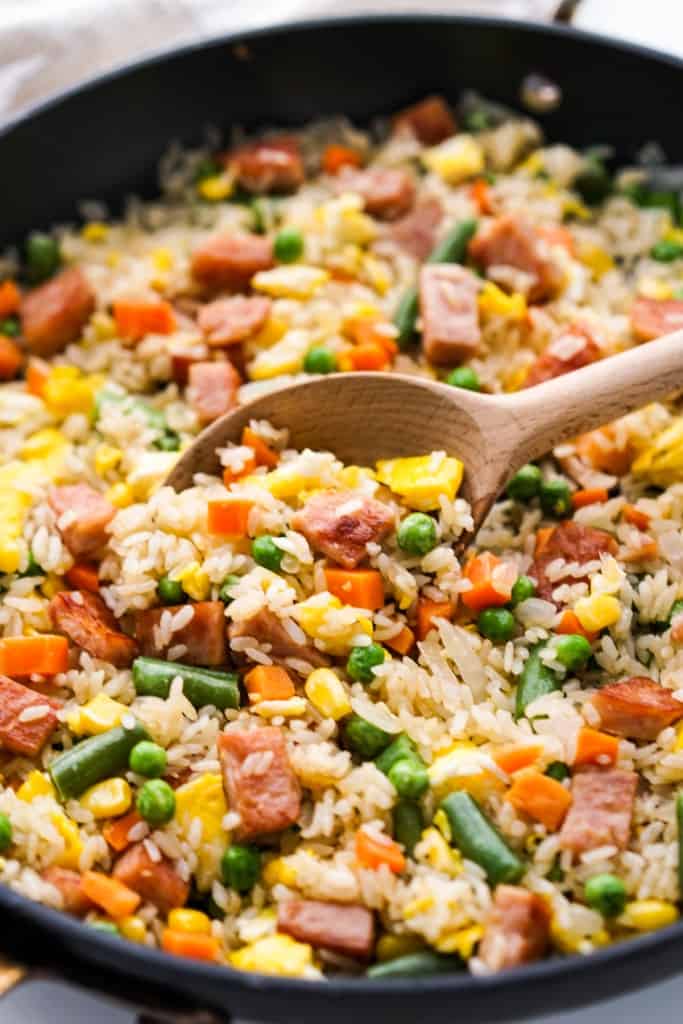 Variations and Substitutions
There are so many ways to make spam fried rice. You can use different ingredients in addition or in substitution of the ones I suggested:
Don't like spam? Simply replace with cubes or small slices of ham.
Instead of frozen mixed vegetables, you can use fresh vegetables (any kind!), or clean out the vegetables in your fridge and make this fried rice with them. If vegetables are already cooked, simply follow my recipe instructions as shown. If vegetables are not cooked and need extra time to soften, cook them separately after scrambling the eggs. Set them aside after cooking and reincorporate them into the spam fried rice when you would incorporate the frozen mixed vegetables.
Add more protein! Feel free to add chicken, tofu, beef, shrimp etc to spam fried rice. If protein is not cooked, cook them right after searing the onion and before adding spam.
Add Kimchi. Kimchi spam fried rice is a dish that is enjoyed by many. Adding kimchi will give your spam fried rice a nice spicy kick. You can add it at the end or cook kimchi with it. Add kimchi after adding mixed vegetables since it is also already cooked.
Garnish with strips of seaweed, green onions, cilantro or fried onions.
Stir Fry Tips
A few tips to note when stir frying spam fried rice. These notes are applicable for stir frying any Asian dishes:
Use a large skillet so that it's easier to stir ingredient around and cook each ingredient evenly.
Make sure skillet is heated and fairly hot (medium high to high heat) when stir frying. High heat is important to cook the items quickly and maintain its crispness (especially veggies).
Since it is cooked quickly, the process goes fast. Lay ingredients out next to the stove before stir frying, and keep stirring continuously to make sure everything cooks evenly. Unlike baking or slow cooking, it requires your attention the whole time.
Avoid overcooking. The process goes fast and everything will cook quickly. Once spam fried rice is done, remove from heat promptly.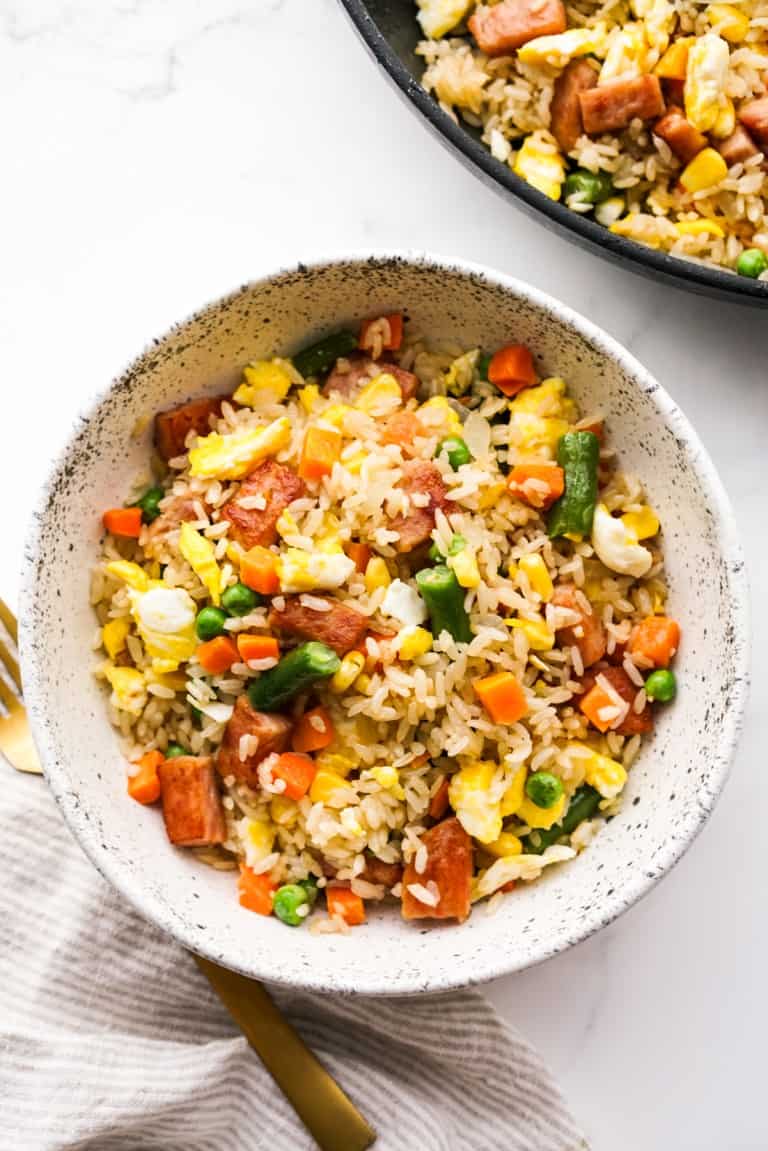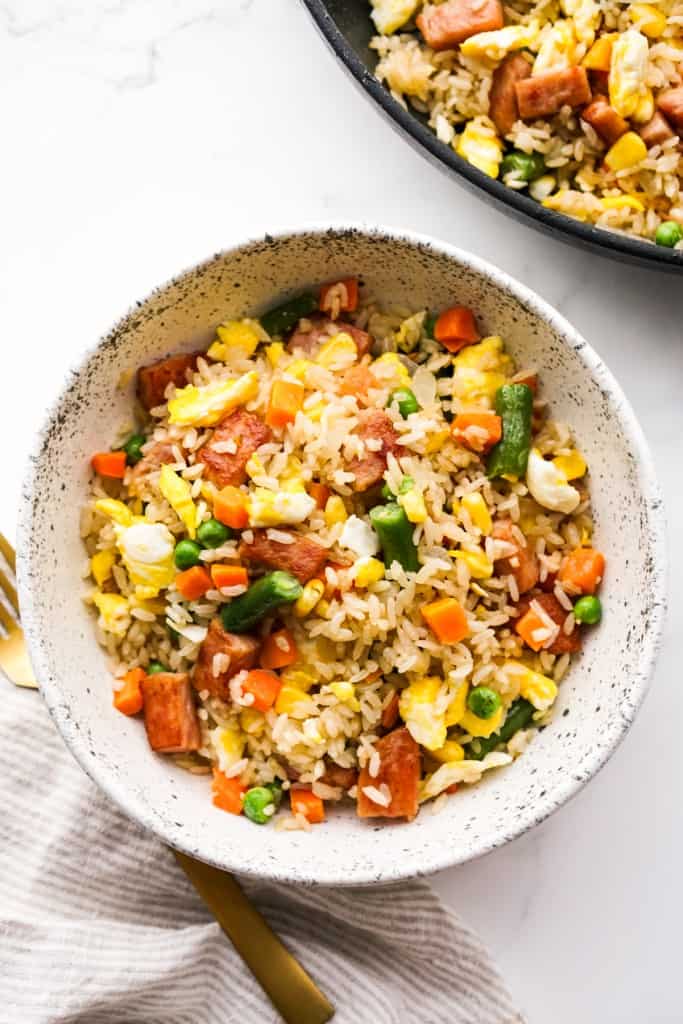 Frequently Asked Questions
Do I have to use day-old rice?
You technically don't have to but it is best to use day-old rice because they are dryer and spam fried rice will turn out less soggy. If in a pinch, feel free to use whatever cooked rice you have, but just know that it'll be soggier if it has not been refrigerated and is at least a day old.
I really don't like spam…what can I use to make this?
Ham works great!
Can I use garlic powder and onion powder instead?
I wouldn't recommend it because your spam fried rice will turn out so much less flavorful.
Can you freeze spam fried rice?
Yes! They freeze just fine. Freeze in air tight container and consume within 3 months.
Can I make this ahead of time?
Yes you can. Simply reheat in the microwave when ready to eat.
If I want to double the servings, do I have to cook in two batches?
If your skillet or wok is big enough to hold everything you do not have to, but if it's not big enough to hold everything and give you the ability to stir things around easily in the skillet, you'll want to cook the rice in two batches. You can double the egg and scramble it all together at the beginning.
DID YOU ENJOY THIS RECIPE? Please comment below and give us a 5-star rating! This will help others find this recipe on Google and Pinterest. We very much appreciate your help! 🤍
More Rice Recipes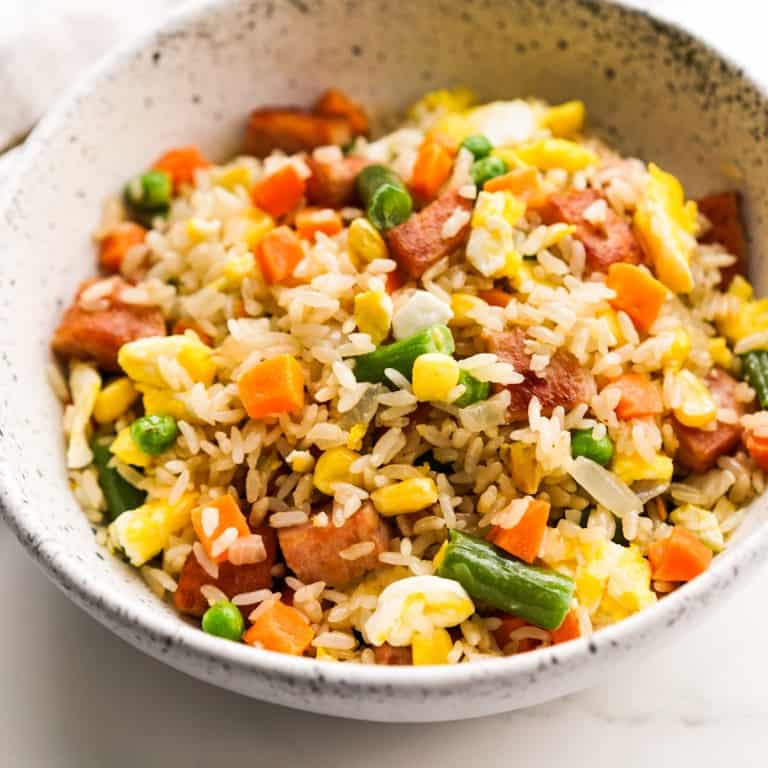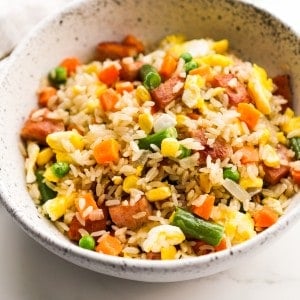 Spam Fried Rice
Hawaiian inspired easy Spam Fried Rice recipe ready under 20 minutes! Tossed in flavorful seasoning, fried rice is combined with spam, mixed vegetables and eggs.
Print
Pin
Ingredients
2

large eggs

2

cups

cooked rice

at least 1 day-old preferred

1/4

cup

sweet onions

diced

3-5

cloves

garlic

minced

1

cup

spam

diced

1

cup

frozen mixed vegetables

1

tsp

chicken bouillon powder

1

tbsp

soy sauce

1

tbsp

salted butter
Instructions
Whisk eggs in a bowl. Heat a large skillet or wok with vegetable oil. Once oil is heated, add eggs to skillet. Scramble and break eggs into small pieces. Once eggs are fully cooked, removed and set aside.

Heat skillet on medium high/high heat. Add vegetable oil. Once oil is heated, add diced onions. Stir continuously until onions are soft and slightly translucent.

Add spam and garlic. Stir fry for ~1 minutes, but avoid burning garlic.

Add cooked rice to skillet, stir to combine. Break rice apart if they are in clumps. Cook for 1-2 minutes. Stir continuously.

Add mixed vegetables. Stir to combine.

Add scrambled eggs back into the skillet. Stir to combine.

Add butter and fold it into the spam fried rice while it melts.

Remove from heat. Serve and enjoy!
Notes
Cooked rice that is at least a day old works best because they are dryer.
To double the recipe, you'll want to cook spam fried rice in two batches unless you have a big wok or skillet.
Nutrition
Calories:
514
kcal
|
Carbohydrates:
44
g
|
Protein:
20
g
|
Fat:
28
g
|
Saturated Fat:
11
g
|
Polyunsaturated Fat:
3
g
|
Monounsaturated Fat:
13
g
|
Trans Fat:
0.2
g
|
Cholesterol:
175
mg
|
Sodium:
1709
mg
|
Potassium:
572
mg
|
Fiber:
3
g
|
Sugar:
1
g
|
Vitamin A:
3356
IU
|
Vitamin C:
8
mg
|
Calcium:
54
mg
|
Iron:
2
mg