This post may contain Amazon or other affiliate links. As an Amazon Associate I earn from qualifying purchases at no additional cost to you.
Here's the secret behind making the easiest and tastiest chicken enchilada… cook it in an Instant Pot! This chicken enchilada dish is juicy, tender, flavorful, everything my enchilada-loving-heart could ever hope for…made incredibly easy!
It is hard to make enchiladas the traditional way after this!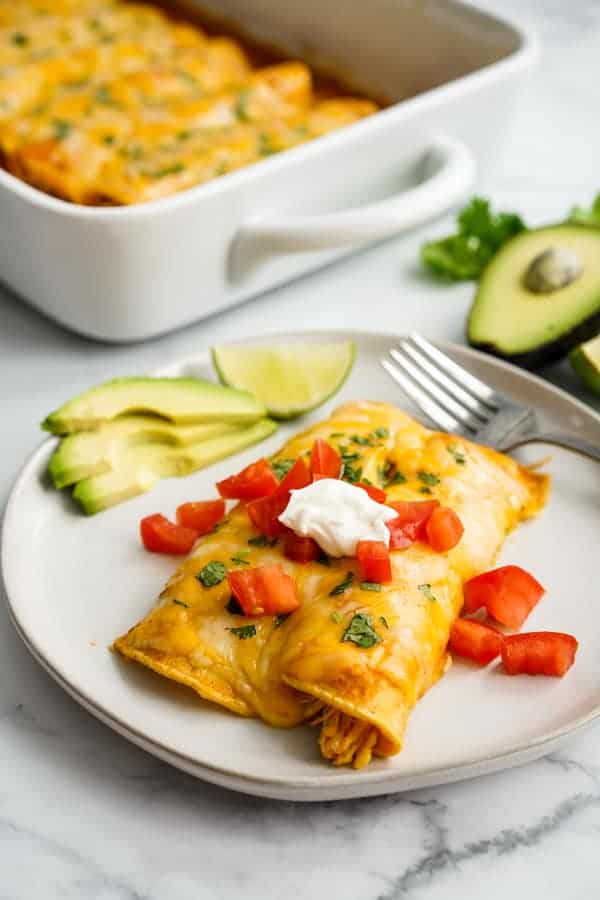 BUT if you don't own an Instant Pot, or just really want to do it the old fashion way – I've got you covered as well! Stove top, non-Instant-Pot, slow cooker methods are all available for your convenience!
Regardless of the cooking methods, here's what you can expect: chicken packed with lots of delicious Mexican seasonings and spices, wrapped in a gooey cheesy soft corn tortilla, smothered with flavor-packed red enchilada sauce.
And yes, we are using canned red sauce. If you have a homemade sauce that you love, go for it! But if not, I have found that there are some ridiculously delicious red sauces out there that will make your enchilada-making efforts more doable, way less intimidating, and just as tasty!
Use your favorite sauce, and here is mine if you are interested! I use a medium version of this on this recipe, but I have also used mild or hot and they work just as well!
Need an even easier method? Hop on over to my Chicken Enchilada Casserole recipe post! Pile it all up in a casserole and call it a day!
Personally, this recipe is the more flavorful and delicious one of the two (there is just more ingredients and seasoning in this), but if you need something even easier, Chicken Enchilada Casserole is definitely a quick and yummy way to scratch that enchilada itch!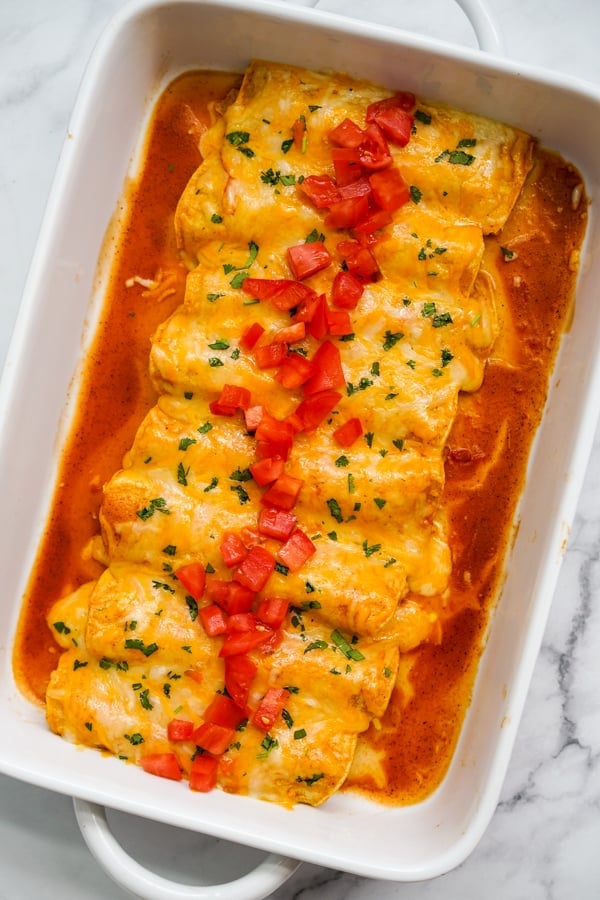 My Chicken Enchilada (Short) Story
When I am at a Mexican restaurant, chicken enchilada is almost always my order!
It all began when I moved to Texas over four years ago and we constantly frequent Mexican restaurants because it's Texas, and let's face it, they are everywhere!
After eating them at so many places (and since we are in Austin, foodie capitol of the state, these places sure know how to rock an enchilada), I started developing a taste for enchiladas. I knew what I like, I knew what I didn't like.
I love the ones where the chicken is seasoned and flavorful, the ones where the sauces are flavored with enough seasoning yet are perfectly balanced. The ones with just enough cheese, but yet not too much that it drowns out the spices.
And then I started creating them at home because I love food and I love a challenge…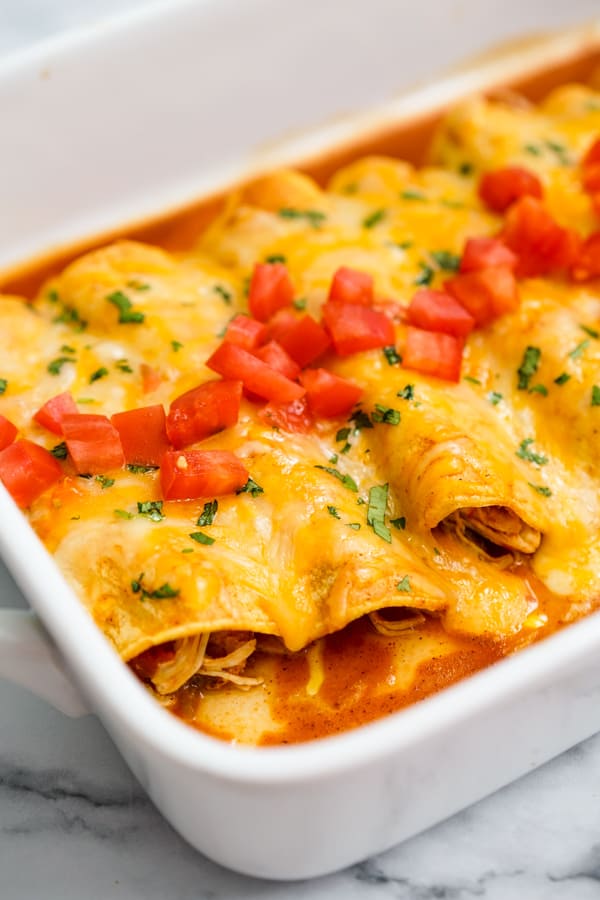 So this is the recipe that we have perfected over the years. I only recently made them in the Instant Pot because I figured it would be easier.
Much to my delight, not only has it been easier, the pressure cooking marries the flavors together seamlessly and the flavors absorb fully into the chicken. The chicken is also much more tender and easier to shred.
After seeing the Instant Pot magic, I knew you need it as well!
How to make Chicken Enchilada in the Instant Pot
There are three key components in this recipe:
Cook chicken in the Instant Pot
Assemble chicken enchilada in casserole and bake
Eat your heart out (definitely the most fun part!)
Cook Chicken in the Instant Pot
The beauty of this Instant Pot cooking method is that you can dump everything in the pot and go about your day until it finishes cooking!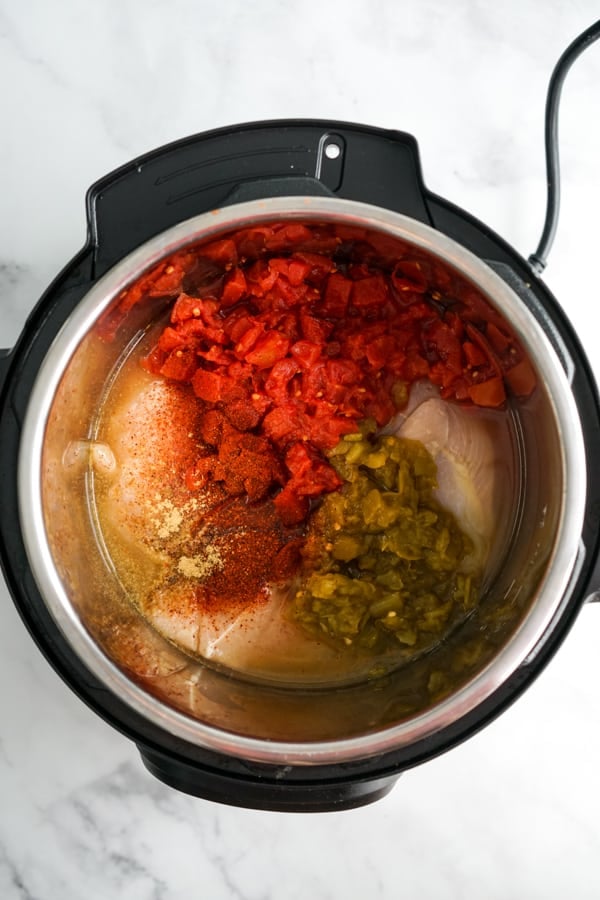 When it is done, simple use a pair of tongs to shred chicken. You will find that it comes apart easily! I didn't even need to transfer the chicken out of the pot to shred it.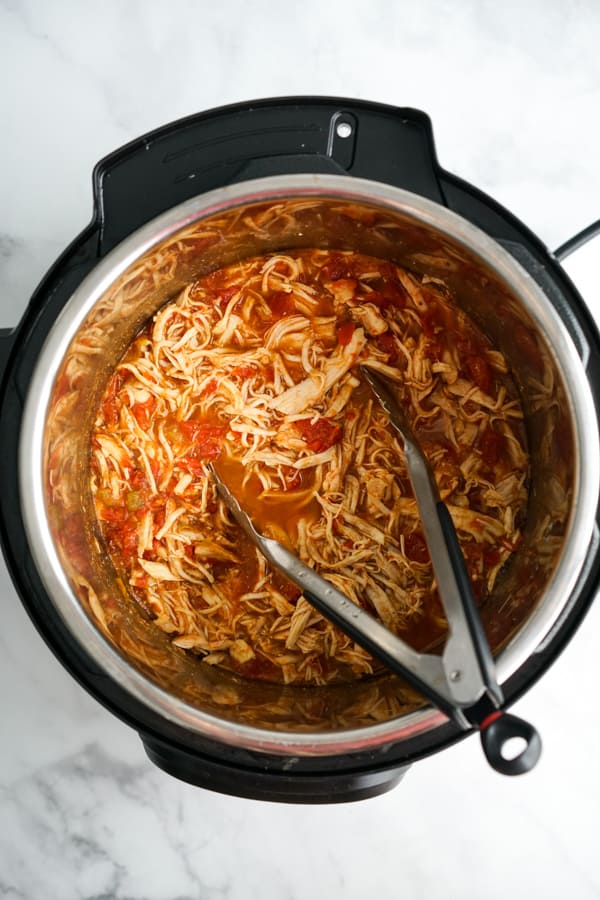 Assemble Chicken Enchilada and Bake
Next, assembly party!
Here's what you need to assemble the chicken enchiladas:
Shredded chicken (from Instant Pot)
Corn tortillas
Red enchilada sauce
Shredded Colby jack cheese (or Monterey jack cheese, cheddar cheese, mozzarella cheese…)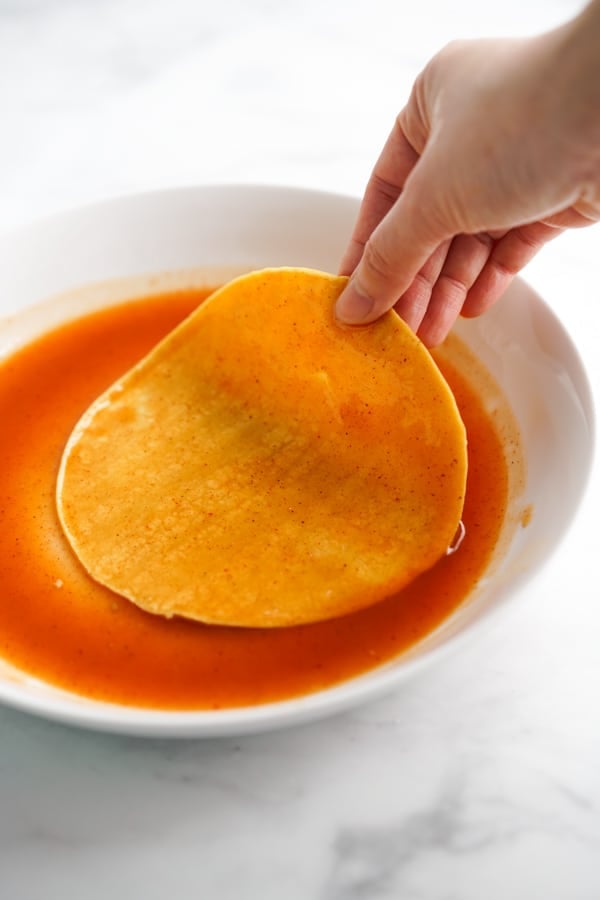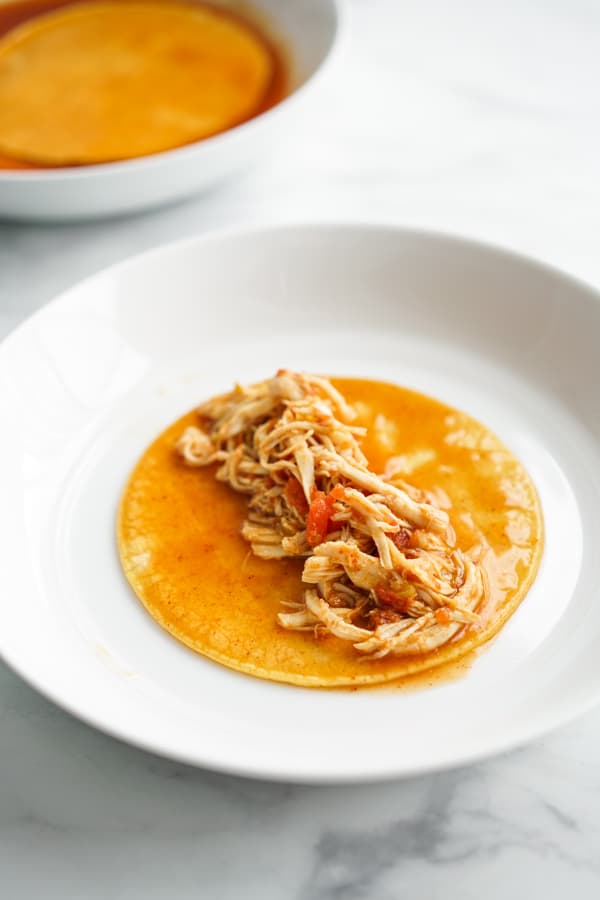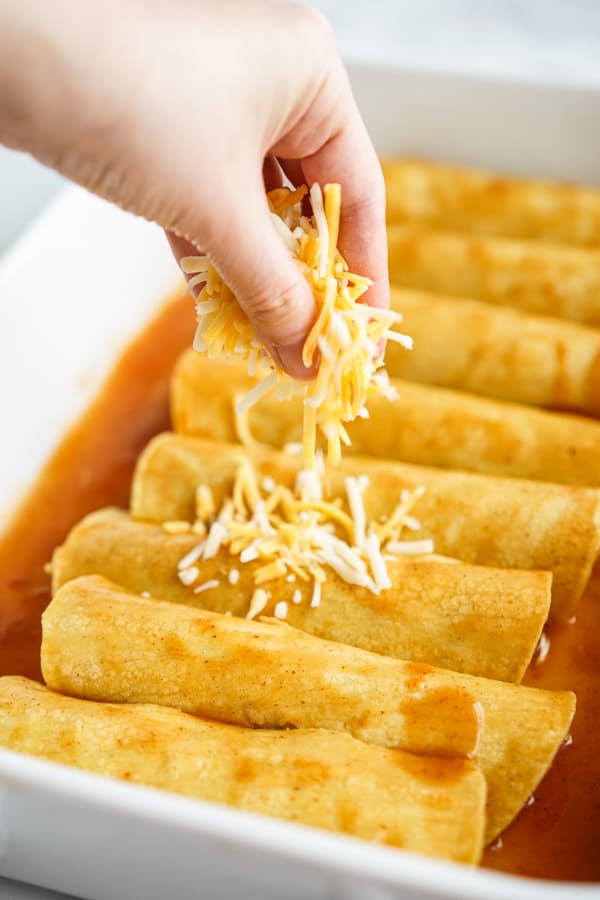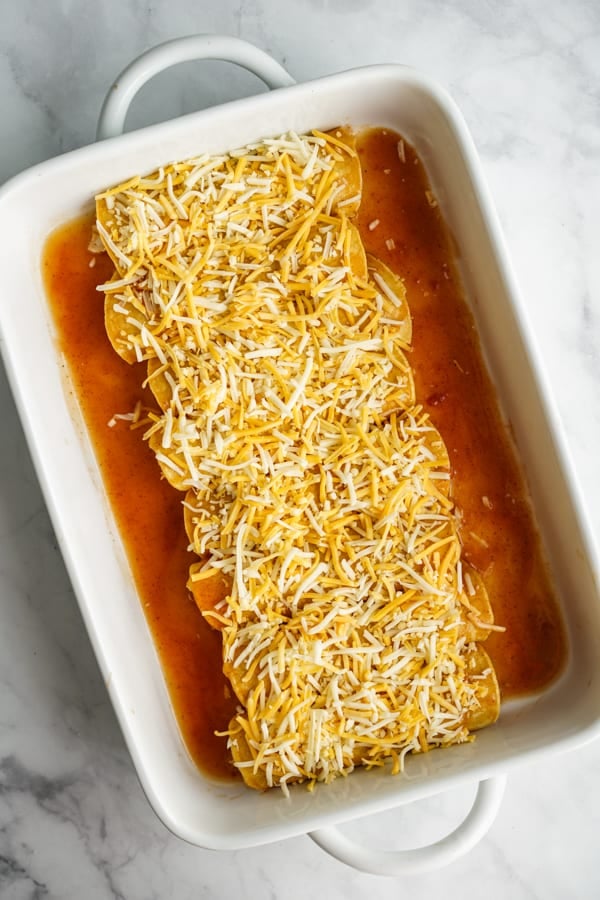 Finally, send casserole to oven and bake! Since chicken is already cooked, this baking step is to melt the cheese and to let the components (corn tortilla, cheese, sauce, chicken) combine together…kinda like letting the pieces merge together to create a beautiful and delicious whole dish. 🙂
Tips and Tricks
Make sure there is a thin layer of enchilada sauce at the bottom of the casserole dish so that the tortillas get soaked in the sauce, and not dry out when baking.
When adding the chicken to corn tortillas, spoon some sauce along with it, but not too much. Too much sauce will cause the corn tortilla to all apart, and too little will leave it dry. So it's a bit of a balance. There should be some leftover sauce in the Instant Pot at the end.
If the corn tortillas break slightly when putting together the enchiladas, it's okay! Some breakage typically happens, and you can conceal it when you pile on the cheese and bake it.
Also. Don't forget to garnish! Use all or some, or add your own! They add so much flavors and textures to the chicken enchilada.
Sour cream
Cilantro
Tomatoes
Avocado
Lime
Lettuce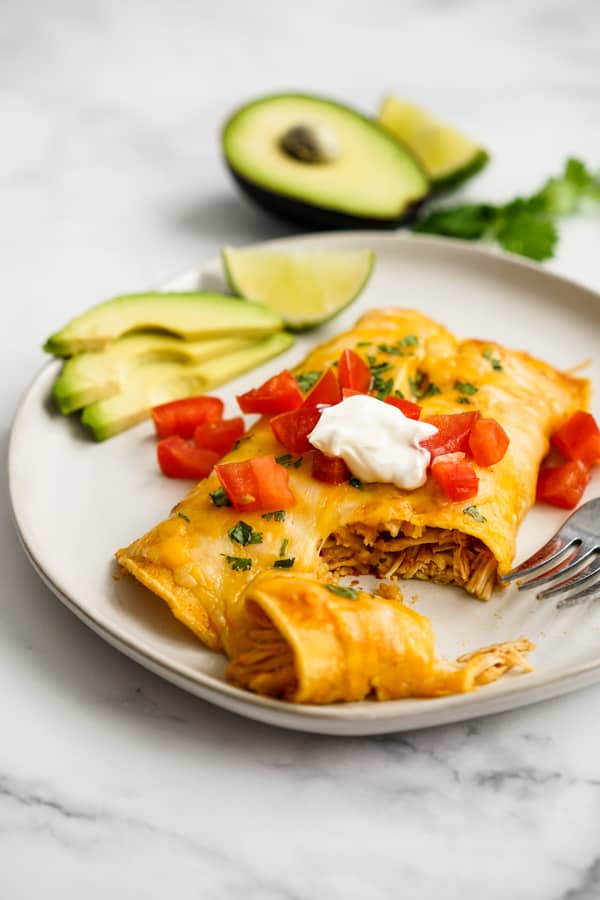 Stove Top and Slow Cooker Methods
Yes you can cook the chicken on the stove top or slow cooker as well. And you will be using the same ingredients!
I recommend using the slow cooker to stove top if you have a choice. The slow cooker cooks the chicken nice and slow (duh) therefore producing a more tender piece of meat and making it easier to shred. It also absorbs the flavors well.
To cook chicken in the slow cooker, simply add the ingredients (that would be added to Instant Pot) along with chicken and cook on high for 4 hours, or low for 8 hours. Shred when done.
To cook chicken on the stove top, bring all ingredients (that would be added to Instant Pot) except chicken to boil on stove top, then add raw chicken. Lower heat to medium low, simmer until chicken is fully cooked, or reaches 165 degrees F. Shred chicken when done.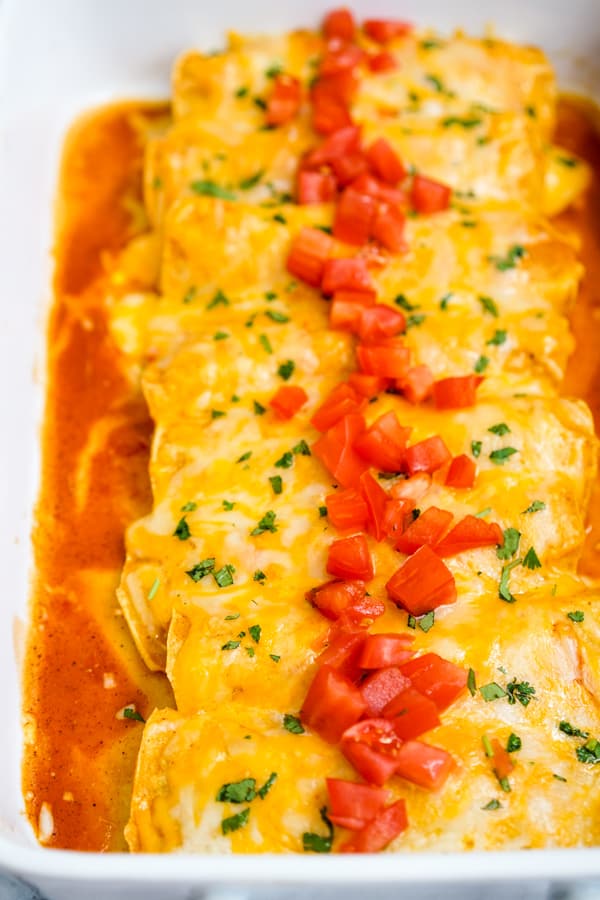 And there you go…Chicken Enchilada cooked in an Instant Pot. A.k.a. sasiest chicken enchilada ever!
Cheesy, gooey, flavorful goodness. My heart just skipped a beat looking at it.
That is how much I love this. I LOVE THIS SO DANG MUCH.
If you make this recipe, comment below and let me know what you think! Also, don't forget to take a picture and tag me on Instagram, because I WANNA SEE!!
Serve with these!
Other Mexican/ Tex Mex Recipes