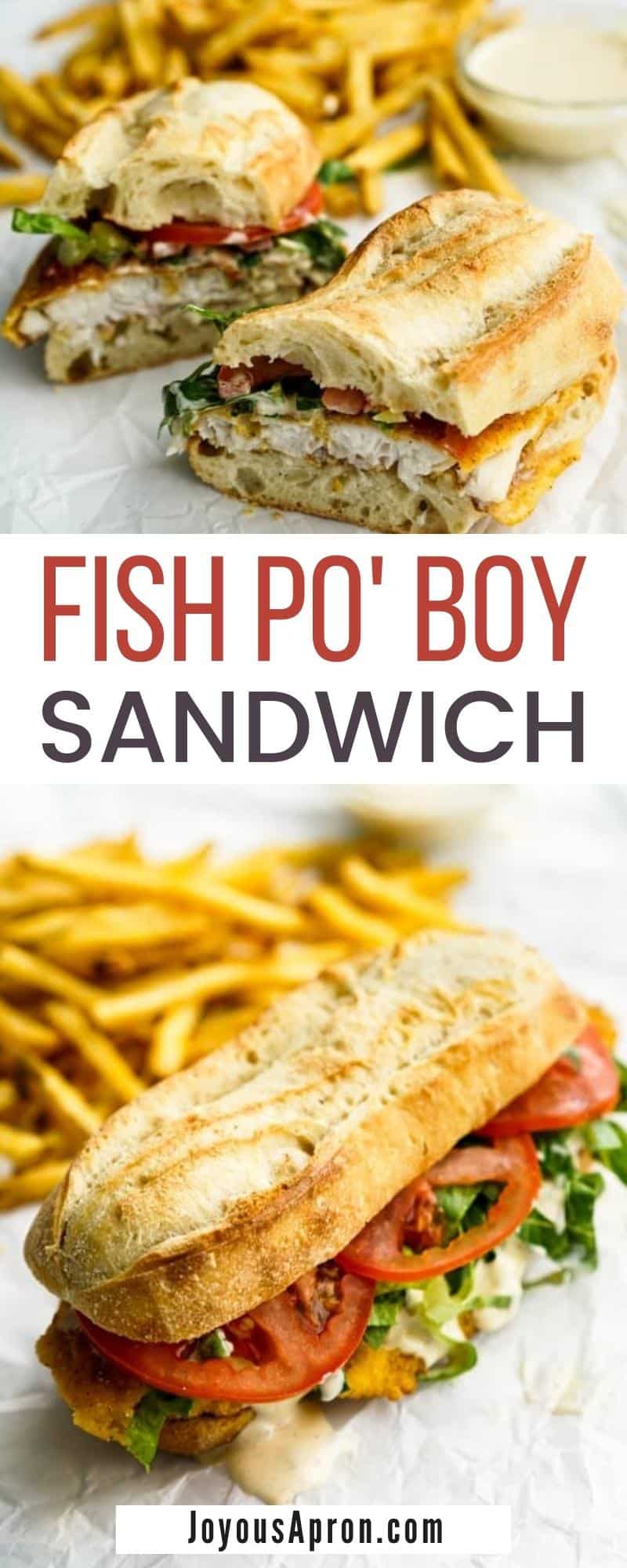 Fish Po' Boy is a famous New Orleans sandwich where crispy battered fried catfish is sandwich between crusty French bread, loaded with lettuce, tomatoes and an irresistible remoulade.
This post is sponsored by my friends at Tony Chachere's! I have used their products for years and love them, and am excited to share this yummy recipe with you! All opinions, as usual, are my own.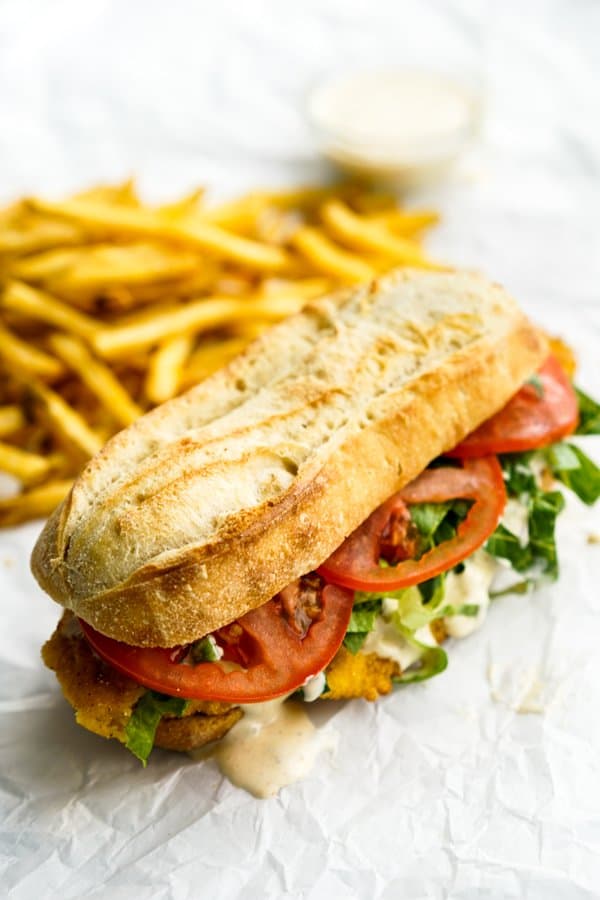 Crunchy, juicy, creamy, savory, tangy, a little spicy….this delicious concoction is a party in your mouth!
But let's be real, we are just big Cajun/Creole food fans. It's not just Fish Po Boys that we go gaga over.
We love traditional, old-school Cajun meals such as Blackened Shrimp Pasta, and also more modern, Cajun-inspired dishes like Baked Cajun Fries with Cheese Sauce, and Spicy Roasted Sweet Potatoes with lots of Cajun flavors that we love to serve as a side during the holidays .
There's something about big, bright flavors of Cajun dishes that always makes my tastebuds happy.
What is Po' Boy?
Okay let's talk about Fish Po' Boy…
It's incredible. Crispy battered fish with crusty baguette with fresh crunchy veggies drizzled with creamy, flavor-packed sauce truly takes the meaning of sandwich to a whole new level.
Po' Boy is really just another word for sandwich and it originates in Louisiana, and is widely known today as part of New Orleans' famous cuisine.
A mouth-watering, highly addictive, incredibly unique sandwich.
It is often loaded with breaded protein/meat of some sort, from shrimp to oyster to roast beef to crawfish to (in this case) catfish.
And there's almost always remoulade involved…creamy, flavorful-bursting remoulade loaded with cajun flavors.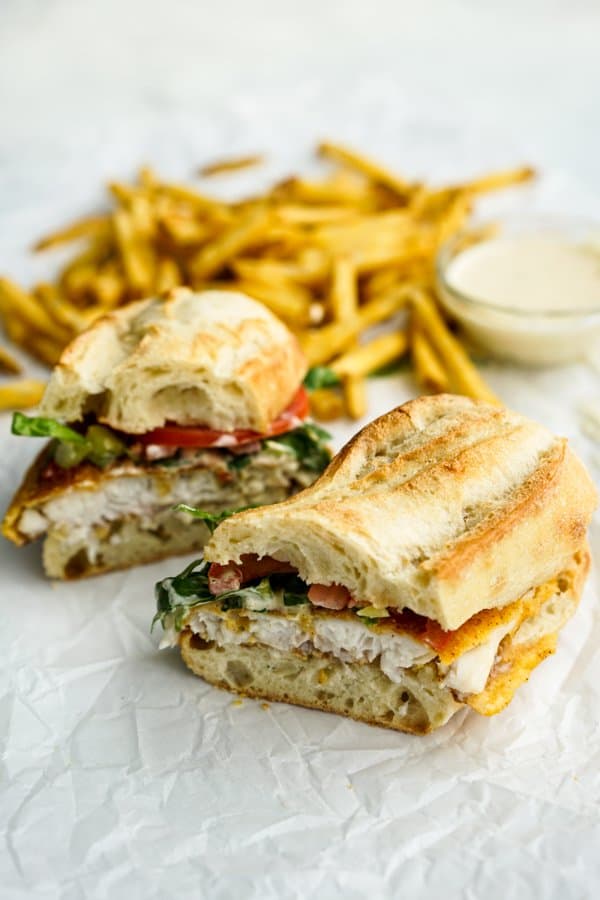 Remoulade is definitely a must in my books and in my humble opinion, a very important part of this dish. Let's just say I won't enjoy Fish Po' Boy half as much if I didn't have that remoulade in there.
And you better believe this Fish Po' Boy has the best homemade remoulade ever!
Ingredients and how to make it
I will not be doing this Fish Po' Boy justice without giving another shoutout to Tony Chachere's seasonings and spices.
They are my go-to seasonings for many Cajun dishes. All of their products are high quality, tasty, and makes making truly delicious Cajun food at home a reality (and much easier!).
And this Fish Po' Boy is no different…we are using two of their yummy seasonings:
Original Creole Seasoning – this is their signature spice and we always keep a bottle in our pantry. This is used to make the remoulade and is also the number one reason why this remoulade taste so good.
Seasoned Fish Fry Mix – used to bread the catfish and it is so flavorful, just the right amount of lightness, and easy to use!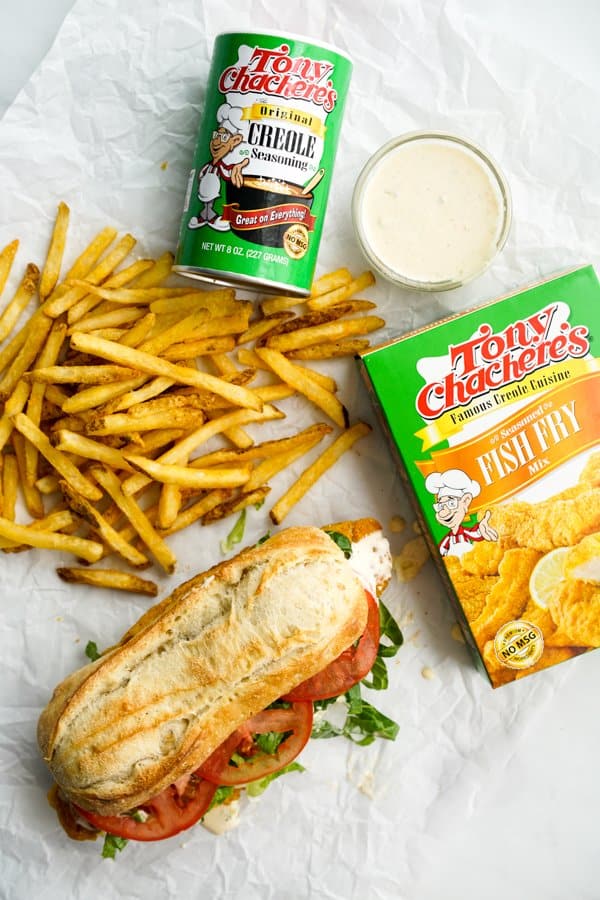 There are two basic components to this dish:
Make the Fish Po' Boy sandwich
Make the remoulade
To make the breaded fish, thanks to Tony Chachere's Seasoned Fish Fry Mix, you only need four simple ingredients:
Tony Chachere's Seasoned Fish Fry Mix
Milk
Egg
Vegetable oil (or another type of cooking oil)
Whisk milk and egg together, then dip catfish into milk and egg mixture, and then coat it multiple times on both sides in the Fish Fry Mix.
Make sure cooking oil in the skillet is hot and then fry the catfish until it is no longer translucent and can be broken apart easily. If you have a meat thermometer, the internal temperature for cooked catfish should be at least 145℉.
As for the remoulade, mix together the following ingredients and you are all set!
Mayonnaise
Lemon juice
Dijon mustard
Sweet pickled relish
Crushed or minced garlic (use fresh!)
Tony Chachere's Original Creole Seasoning (highly important ingredient!)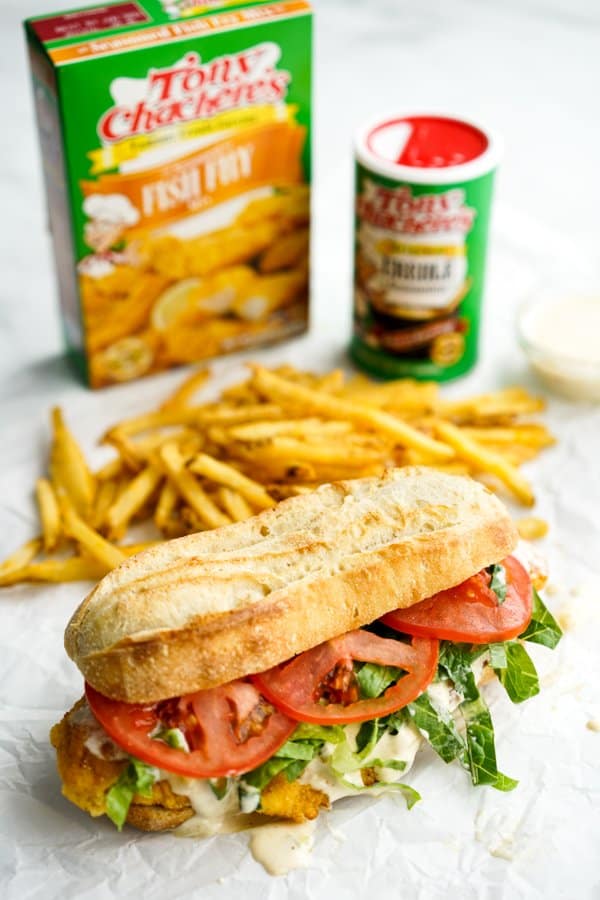 Once catfish is fried and remoulade is made, we move onto the second (yes second) most fun part of this whole process: assemble the sandwich.
Call me a crazy lady but I love layering the sandwich and watching everything come together.
Fill the French baguette with fried catfish, shredded lettuce, tomatoes and of course, that creamy remoulade.
In fact, drench it with remoulade.
Serve it as a side and dip your sandwich in it.
Sip it if you must.
It's like tartar sauce on crack because it has amazing Cajun seasonings and spices in it.
Then, last but not least, for the most fun part of it all: take a big bite and feast!
Tips and Tricks:
Make sure to defrost catfish completely and pat dry before breading and frying it.
Coat the catfish multiple times with Fish Fry Mix to get a nice layer of breading on the fish.
Cover the skillet with a thin layer of vegetable oil. If cooking a second batch of fish, add more oil if needed.
Make sure oil is hot before adding fish to it. Let fish cook on one side for a few minutes, then flip once the bottom is brown.
If you like your remoulade spicier, add more Tony Chachere's Original Creole Seasoning. The measurements I suggested makes for a mild remoulade. Do keep in mind that the seasoning has salt in it as well.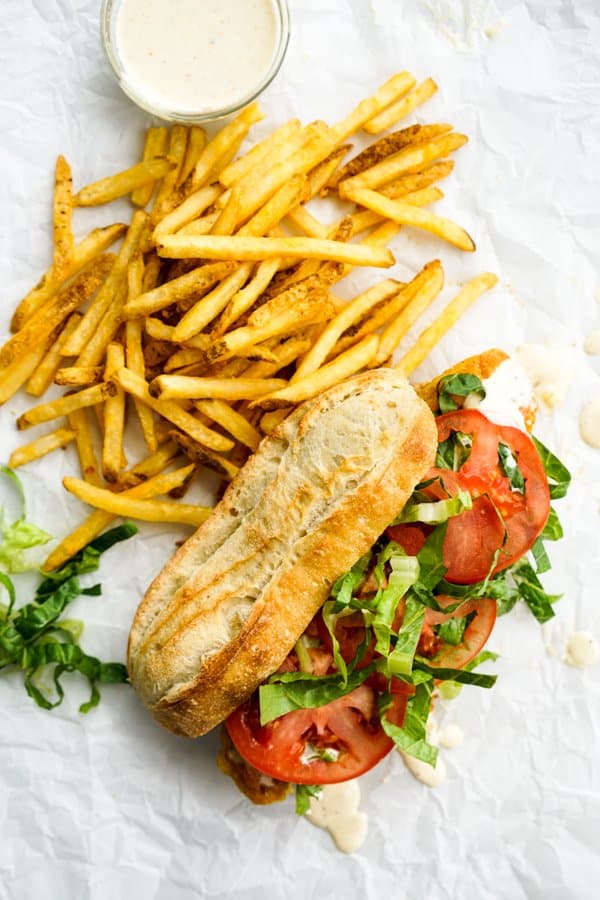 And may I (strongly, passionately) suggest something before I sign off?
Do yourself (your tastebuds, your stomach, your general emotional well being) a favor and serve this Fish Po' Boy with crispy French fries on the side.
Go all out and do it the right way.
Because life's too short to not serve French fries on the side along with your favorite sandwich.
That's all. Just thought I share. Thank you for listening. 😘
More Cajun/Creole Recipes
Some of our other favorites! Prepare for bold and delicious flavors!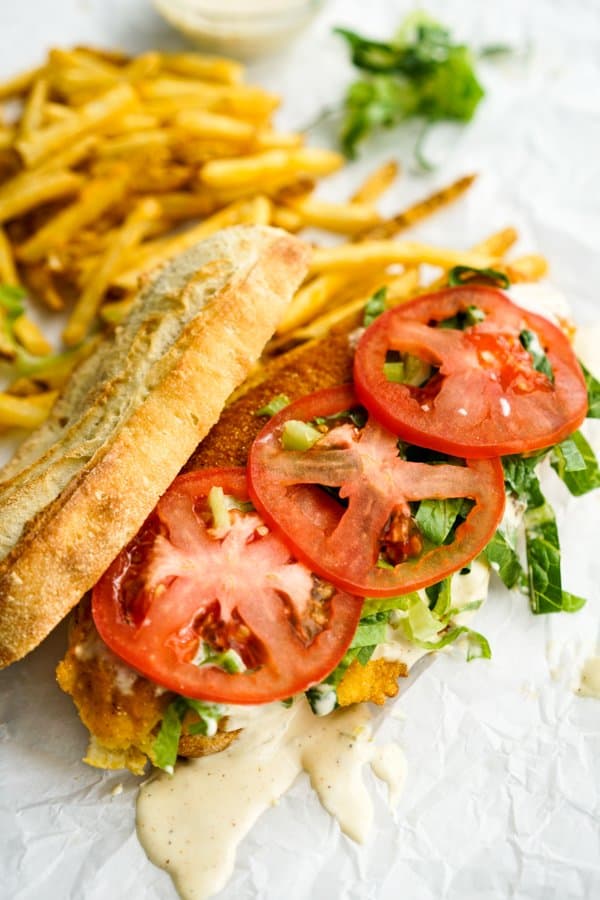 DID YOU ENJOY THIS RECIPE? Please comment below and give us a 5-star rating! This will help others find this recipe on Google and Pinterest. We very much appreciate your help! 🤍
More Fish Recipes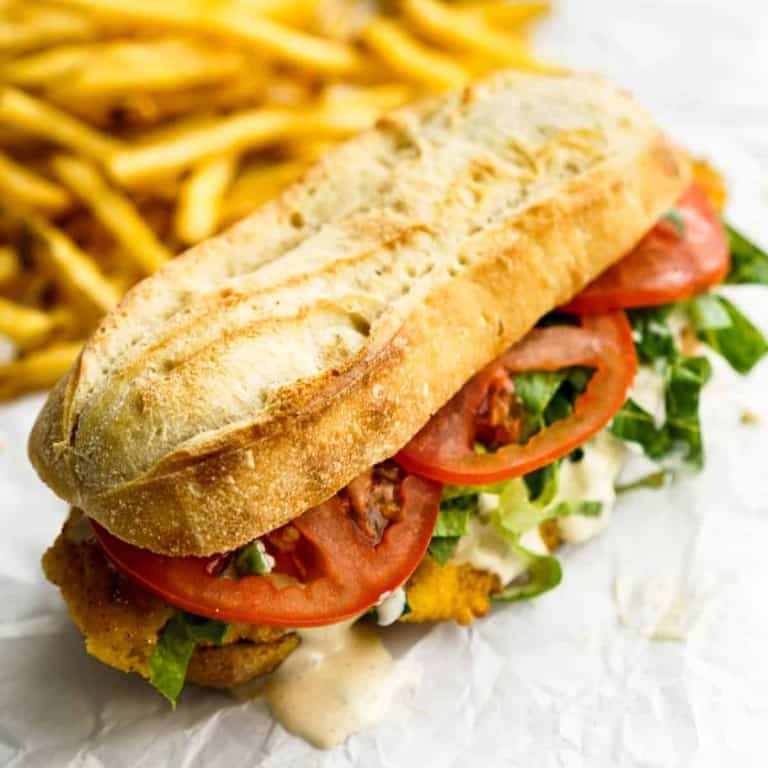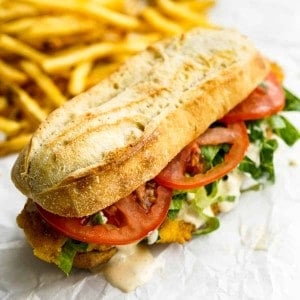 Fish Po' Boy
The classic New Orlean's sandwich recipe made easy! Crusty baguette loaded with fried breaded catfish, lettuce, tomatoes and an irresistible homemade remoulade. The perfect easy lunch or dinner!
Print
Pin
Ingredients
1.25 – 1.5

lbs

catfish

4 fillets

1

large egg

1/2

cup

milk

1

cup

Tony Chachere's Seasoned Fish Fry Mix

2-3

tbsp

vegetable oil

more if needed

4

French baguette/bread

~ 6-inch

2

cups

lettuce shredded

1-2 to

tomato

sliced
Remoulade
1/2

cup

mayonnaise

2

tbsp

lemon juice

1

tsp

Dijon mustard

2

tsp

sweet pickled relish

1

clove

garlic

crushed

1/2

tsp

Tony Chachere's Original Creole Seasoning

add more for spicier taste
Instructions
Prepare breading mixtures: In a bowl, whisk together egg and milk. Spread Tony Chachere's Seasoned Fish Fry Mix onto a plate.

Pat dry catfish fillet. Dip catfish into egg and milk mixture on both sides, then coat it with Seasoned Fish Fry on both sides at least two to three times.

Heat skillet on medium high heat with vegetable oil (See Note 1). Once oil is hot, add breaded catfish to sear. Do not overcrowd or overlap. Cook in two batches if needed. Turn fish and cook the other side. Once catfish reaches 145℉, remove from skillet and set aside.

Combine ingredients for remoulade in a small bowl. Mix well. (See Note 2)

Split French baguette/bread lengthwise, then add breaded catfish, tomatoes, pickles and lettuce. Drizzle with remoulade.

Serve and enjoy!
Notes
Note 1: Vegetable oil should cover the entire skillet so that breaded fish will be seared evenly. When cooking the second batch, add more oil if needed.
Note 2: Remoulade is mild if using the Creole Seasoning measurement suggested. Add more seasoning for spicer taste.
Nutrition
Calories:
874
kcal
|
Carbohydrates:
60
g
|
Protein:
60
g
|
Fat:
41
g
|
Saturated Fat:
13
g
|
Trans Fat:
1
g
|
Cholesterol:
237
mg
|
Sodium:
1499
mg
|
Potassium:
1388
mg
|
Fiber:
4
g
|
Sugar:
5
g
|
Vitamin A:
856
IU
|
Vitamin C:
11
mg
|
Calcium:
148
mg
|
Iron:
3
mg