Brown Sugar Pecan Roasted Sweet Potatoes
Ahhh Brown Sugar Pecan Roasted Sweet Potatoes. Who can resist a slightly sweet, slightly crunchy, straight-up delicious sweet potato dish?
Not I. Not I indeed.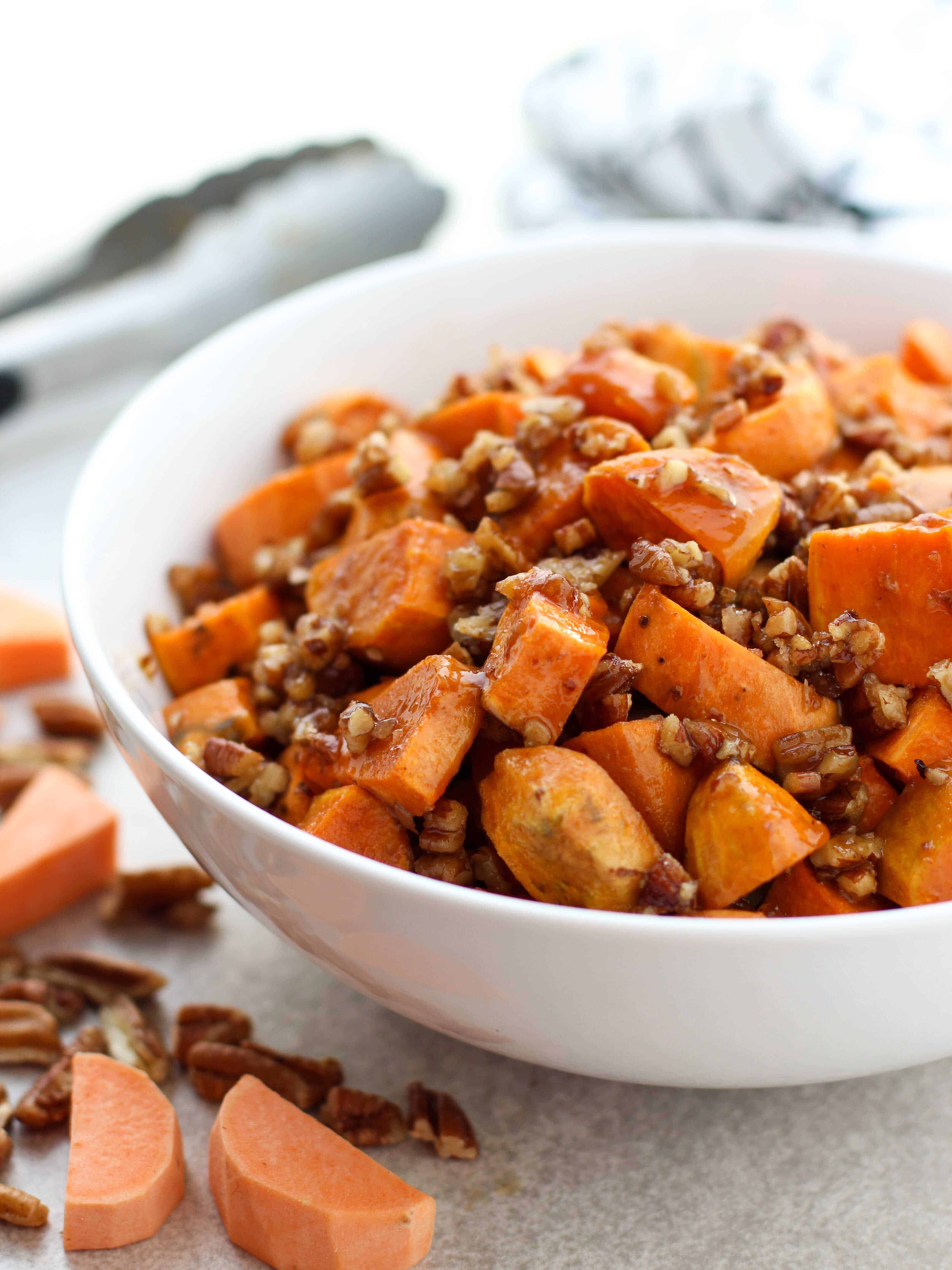 Why Brown Sugar Pecan Roasted Sweet Potatoes
Sweet potato screams foodie and healthy all at the same time. That is probably why it has become increasingly popular lately. But you know what is even better?
A scrumptiously delicious sweet potato dish that requires only four ingredients. FOUR. And yes, that includes the sweet potato itself. I call this the scrape-the-pantry dish. And I love scrape-the-pantry dishes.
The loveliness in this Brown Sugar Pecan Roasted Sweet Potatoes recipe lies in the fact that we added just enough flavors to enhance the taste and texture of the sweet potatoes, oven bake it, and then we simply let those sweet potatoes tell the story.
It is after all, the star of the dish.
In other words: Don't mess with the sweet potatoes. At least not too much anyway.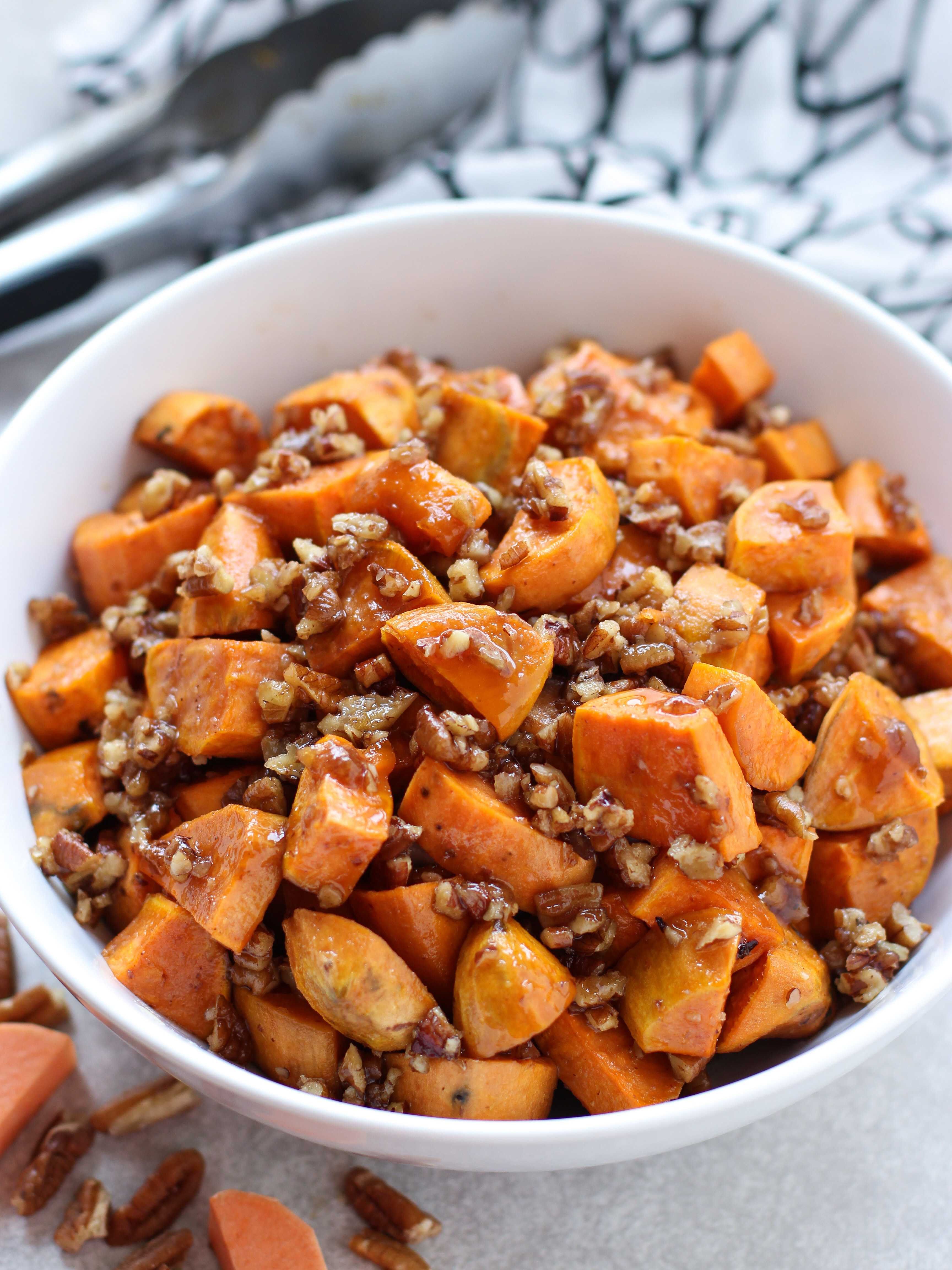 Ingredients
As I mentioned, one of the many things I love about this Brown Sugar Sweet Potatoes is that it takes only FOUR ingredients.
But it is so good you won't believe it takes only four ingredients.
Here's what you need:
Sweet potatoes – diced into small cubes
Brown Sugar – do not substitute with granulated sugar. Brown sugar is an important ingredient in this!
Butter – I like using salted butter for this.
Pecans – for the crunch!
How to make Brown Sugar Pecan Roasted Sweet Potatoes?
Making this dish is simple. First, cut up sweet potatoes into 1 to 2 inch cubes, or cube-like shapes, and throw them into a large mixing bowl.
Add chopped pecans and brown sugar to the sweet potatoes. Then, since it is, after all, the holidays, we melt butter and pour it onto the sweet potatoes.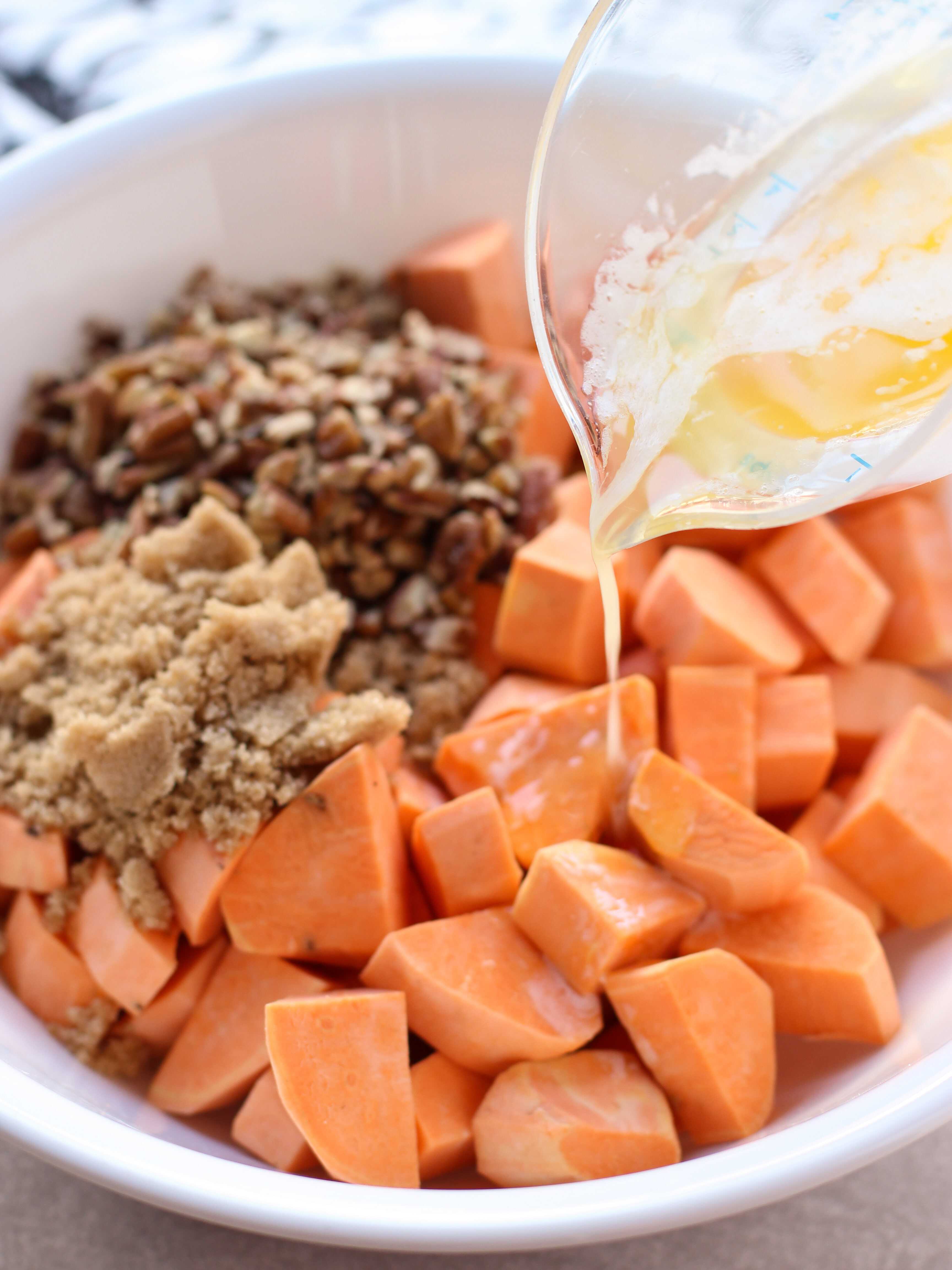 If you are not making this during the holidays, just pretend like it is the holidays after all.
It works for me all the time. 🙂
The real reason why butter is needed (besides the fact that butter is AMAZING) is that it acts as a glue.
It helps the rest of the stuff stick to the sweet potatoes. Therefore give it a good stir to evenly coat the sweet potatoes with butter.
Spread the sweet potatoes onto a baking sheet, and avoid overlapping them.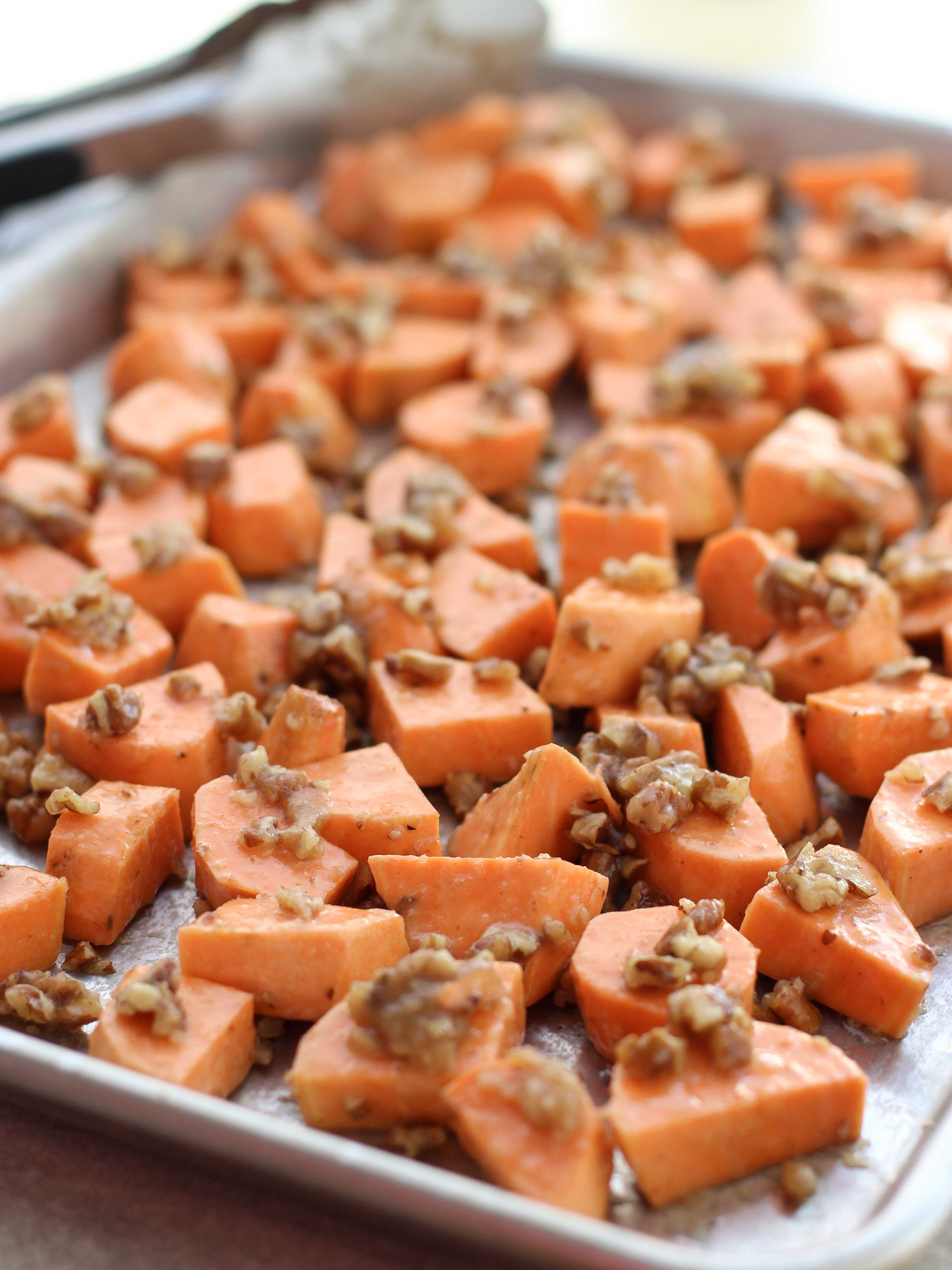 Bake in the oven at 350 degrees F for ~40 minutes.
The remove and behold the loveliness.
At this point your kitchen should also smell like brown sugar and butter goodness. And it is quite glorious I must say.
Tips and Tricks
A few things to note!
Make sure sweet potatoes are around the same size so that they cook evenly. The bigger pieces they are, the longer it will take to cook.
Potatoes should not overlap or be over crowded on the baking sheet if not potatoes wouldn't caramelized as well.
To make cleanup easier, you can place potatoes on a baking sheet lined with aluminum foil, and throw away the foil when you are done baking.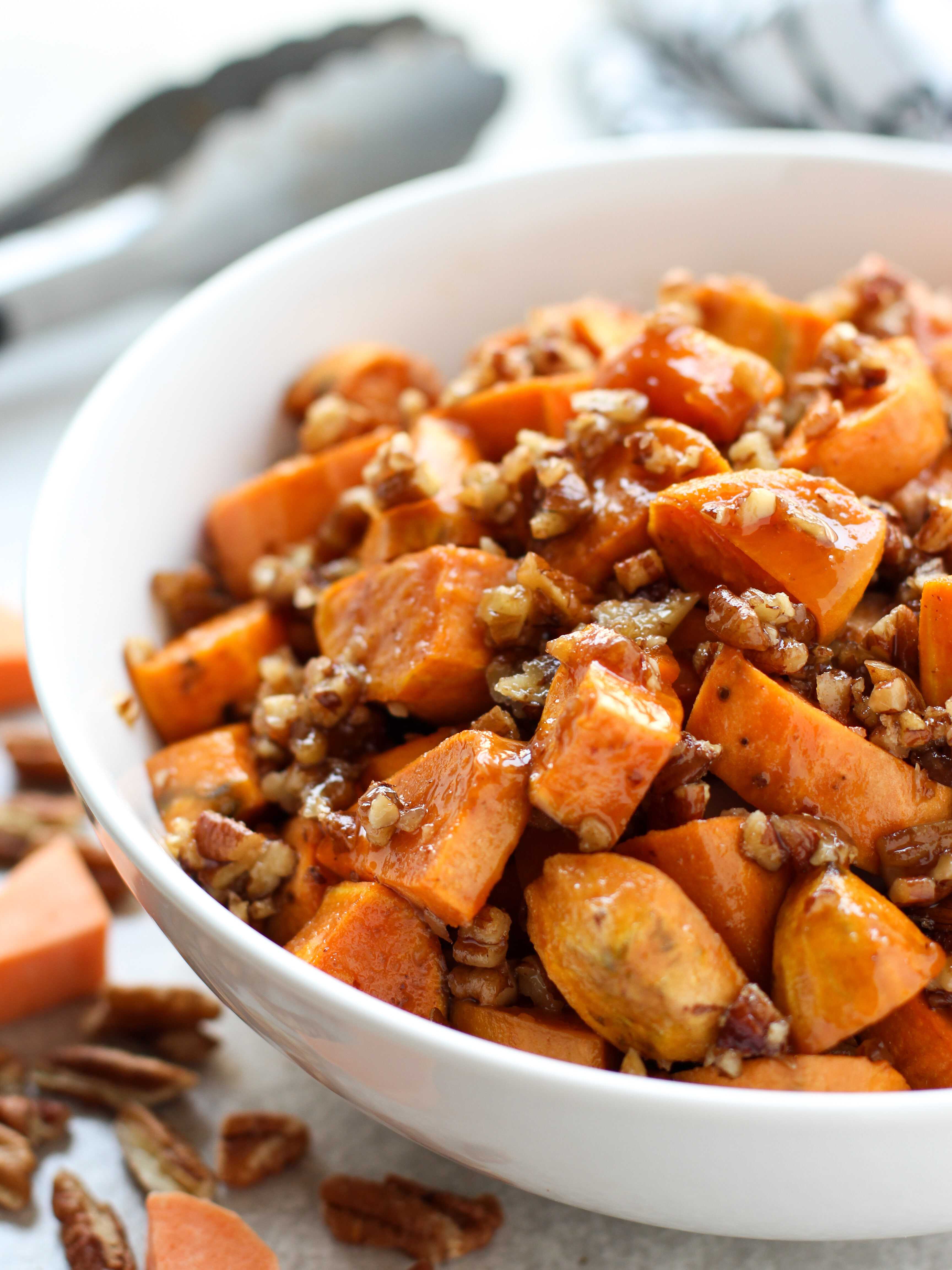 Look at the melted brown sugar and butter creating this sticky glaze and clinging on dearly to the sweet potatoes. The sticky goodness do stick to the baking sheet so don't forget to scrap it up while it is still warm!
One of my favorite parts of this is when you bite into it, you get the soft crunch of the toasted pecans.
With just four ingredients, you get sweet, salty, and a slightly crunchy texture wrapped around the sweet potatoes.
Irresistible!
How to serve it?
Brown Sugar Pecan Roasted Sweet Potatoes is a perfect, traditional side dish to ham, chicken, steak, pork… just about any kind of meat or protein.
It's also a fantastic side dish for a smaller, easy Thanksgiving and Christmas holiday dinner.
In addition, it also be served as a side to sandwiches, or added onto a bed of lettuce as a salad.
And if you must, it is totally acceptable to grab a fork and just eat it by itself. I may or may not have done this multiple times in the past…
So many options, and so delicious in every way!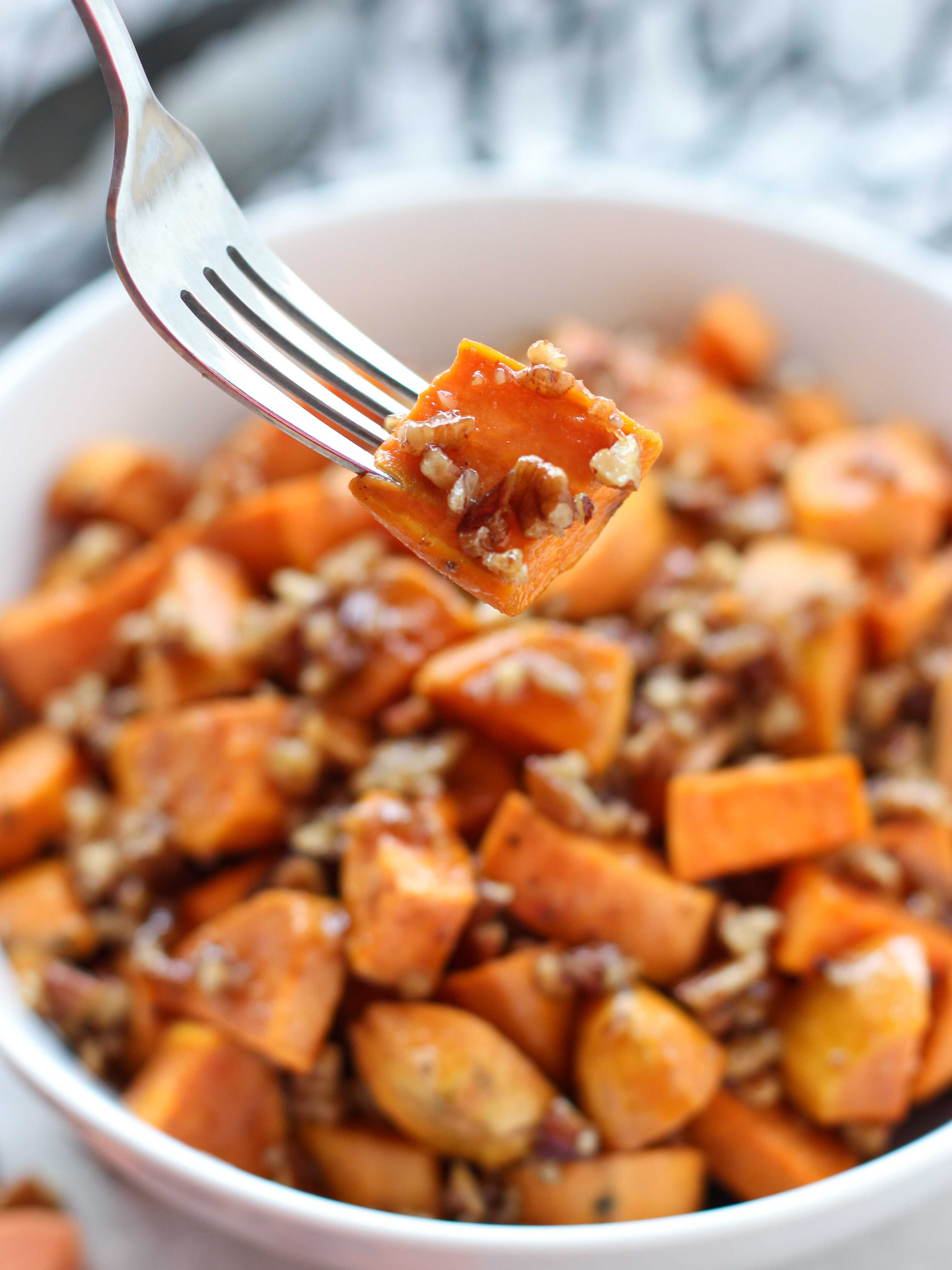 Other Sweet Potato Recipes!
Dedicated to my fellow sweet potato lovers!
Other Easy Holidays Recipes!
We love to bring you no-fuss, straight-forward dishes for the Thanksgiving and Christmas holidays. And this Brown Sugar Pecan Roasted Sweet Potatoes is definitely one of them.
Here are a few more easy holiday recipes that I think you will love!
DID YOU ENJOY THIS RECIPE? Please comment below and give us a 5-star rating! This will help others find this recipe on Google and Pinterest. We very much appreciate your help! 🤍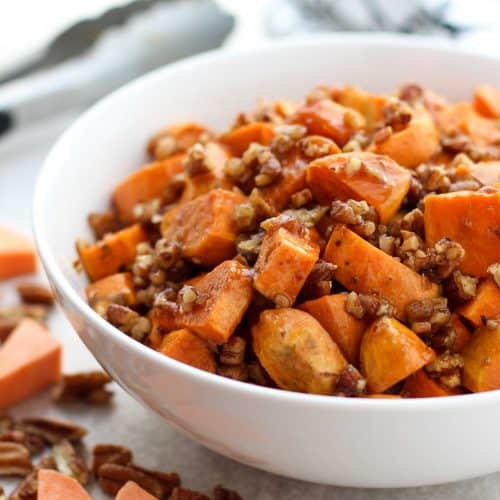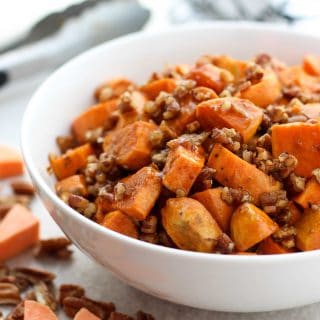 Brown Sugar Pecan Roasted Sweet Potatoes
Only 4 ingredients! This Brown Sugar Pecan Roasted Sweet Potatoes recipe is delicious and easy to make! Perfect side for the holidays or any day!
Print
Pin
Ingredients
2

large

sweet potatoes

~ 1.5 lbs

4-5

tbsp

salted butter

3

tbsp

brown sugar

1/2

cup

chopped pecans
Instructions
Pre-heat oven to 350 degrees F

Scrub sweet potatoes, peel, and dice into 1-2 inch cubes. Transfer potatoes to a large mixing bowl.

Melt salted butter and chop up pecans.

Add brown sugar, chopped pecans and melted butter to sweet potatoes. Mix well to evenly coat sweet potatoes.

Transfer sweet potatoes to a baking sheet, and spread them out. Do not overlap the sweet potatoes.

Bake for ~40 minutes, or until sweet potatoes are tender.
Nutrition
Calories:
250
kcal
|
Carbohydrates:
30
g
|
Protein:
3
g
|
Fat:
14
g
|
Saturated Fat:
5
g
|
Polyunsaturated Fat:
2
g
|
Monounsaturated Fat:
6
g
|
Trans Fat:
1
g
|
Cholesterol:
20
mg
|
Sodium:
131
mg
|
Potassium:
430
mg
|
Fiber:
4
g
|
Sugar:
11
g
|
Vitamin A:
16326
IU
|
Vitamin C:
3
mg
|
Calcium:
48
mg
|
Iron:
1
mg