Apple Stuffing with Celery Herbs and Onions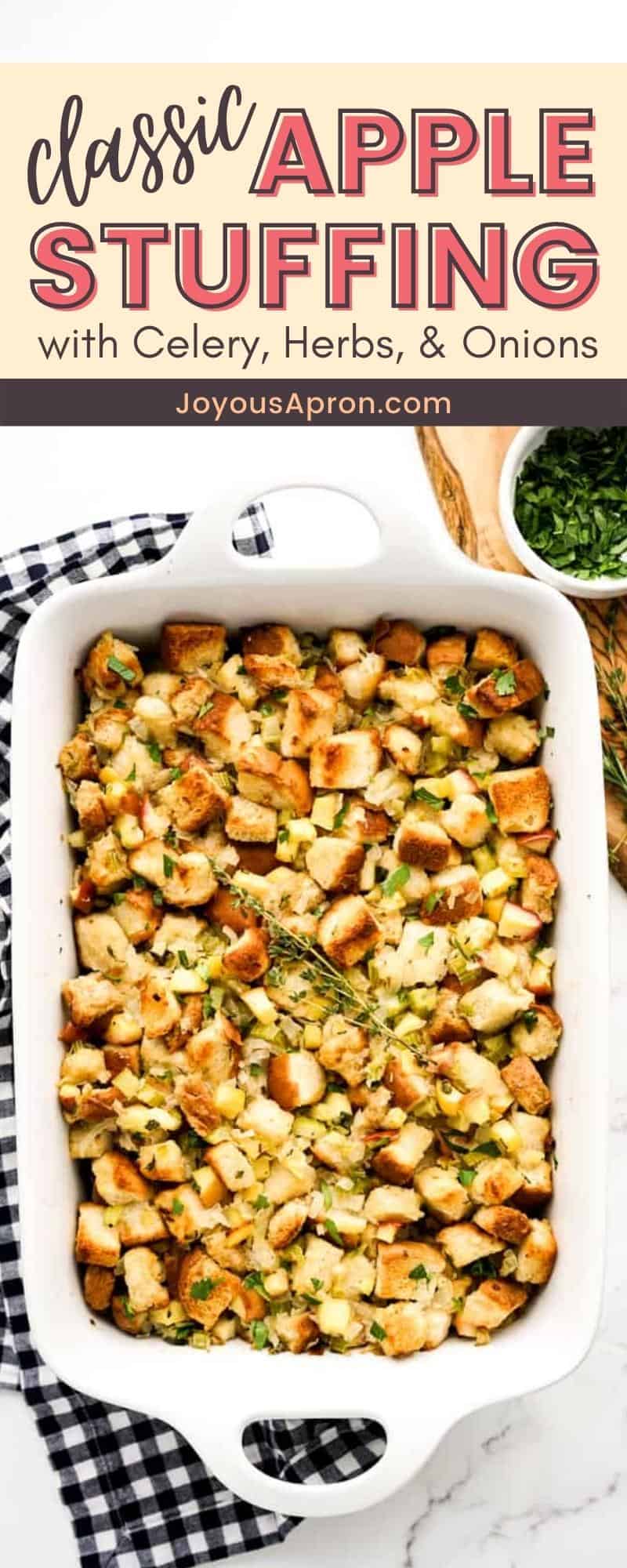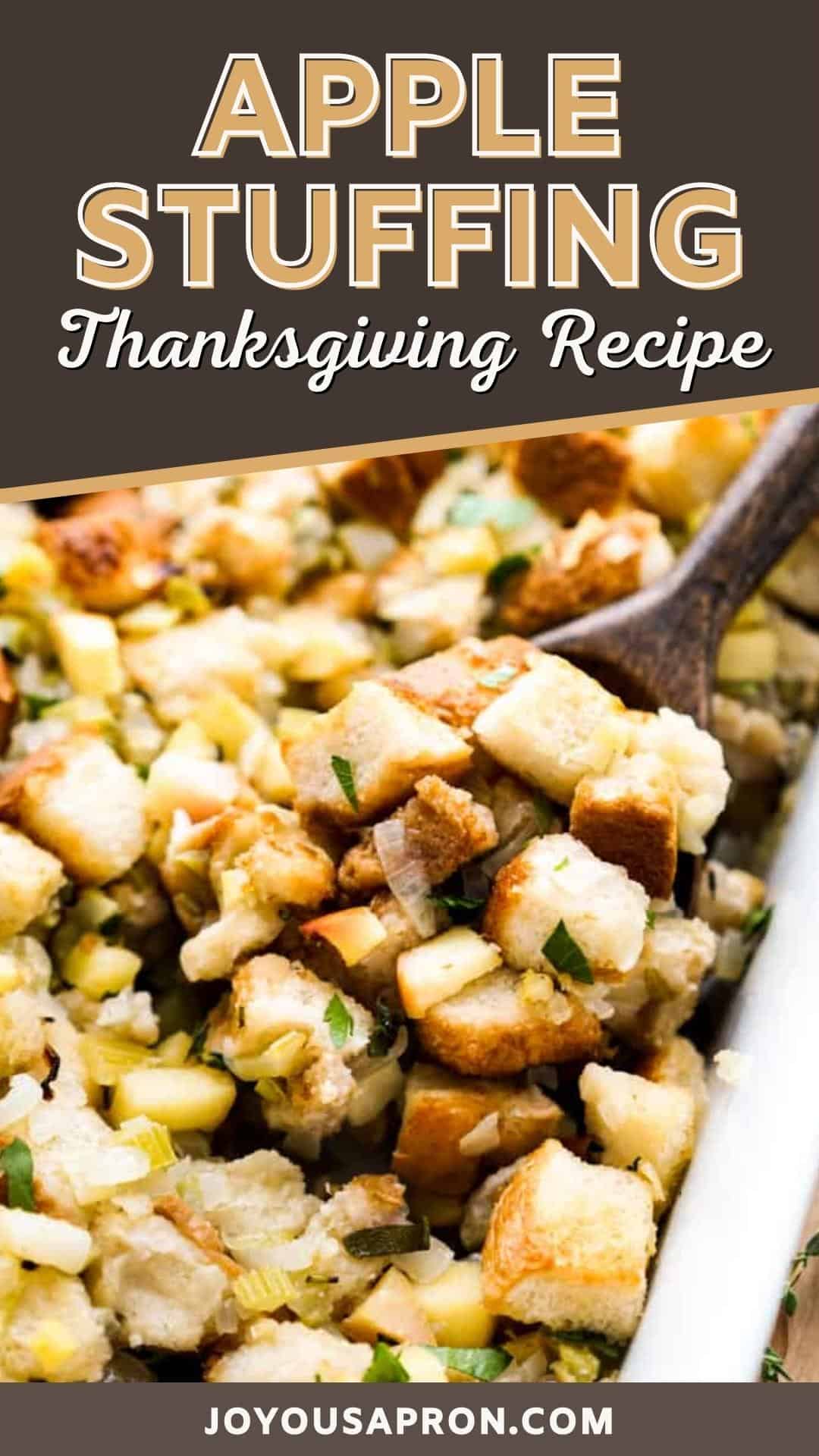 Apple Stuffing with celery, onions and herbs is always a big hit at our Thanksgiving table. This is a classic stuffing recipe filled with apple chunks to add a little crunch and juiciness to the buttery, toasted bread mixture tossed in celery, onions, thyme, rosemary and sage.
It's traditional stuffing with a slight twist, with incredible flavors and textures. It's the only stuffing recipe you'll ever need!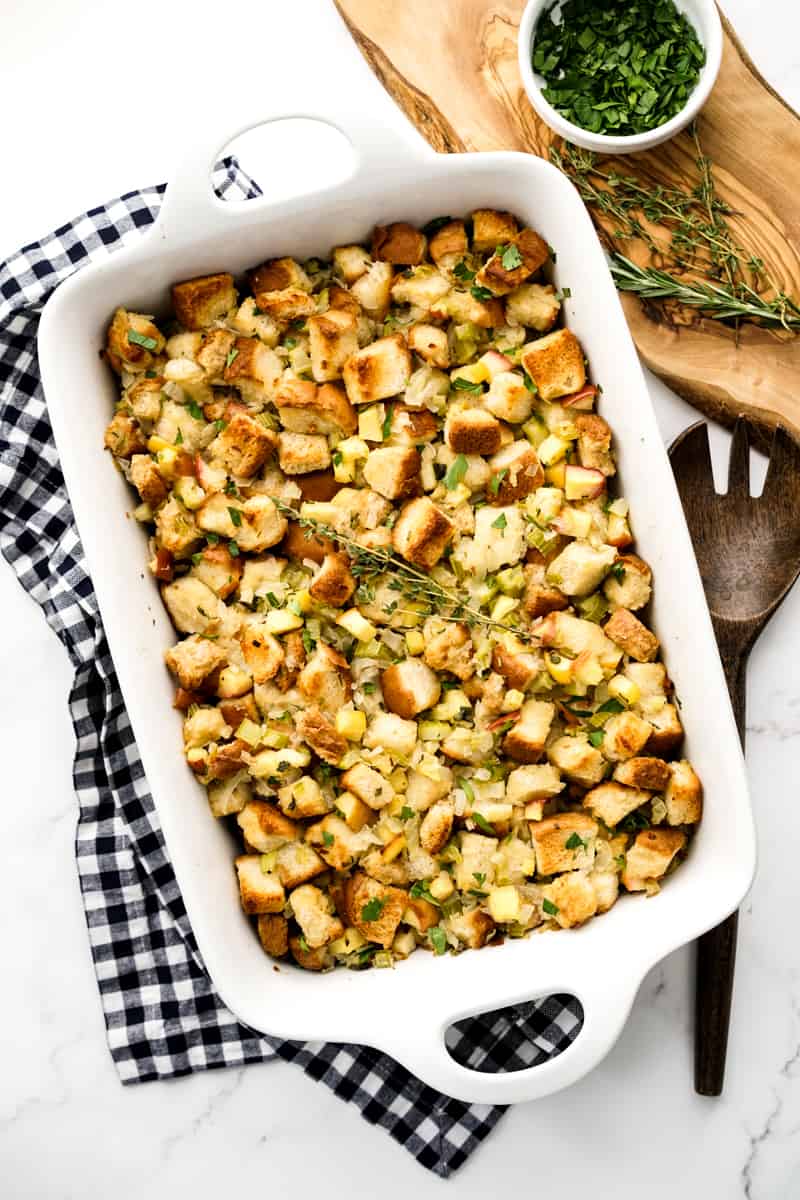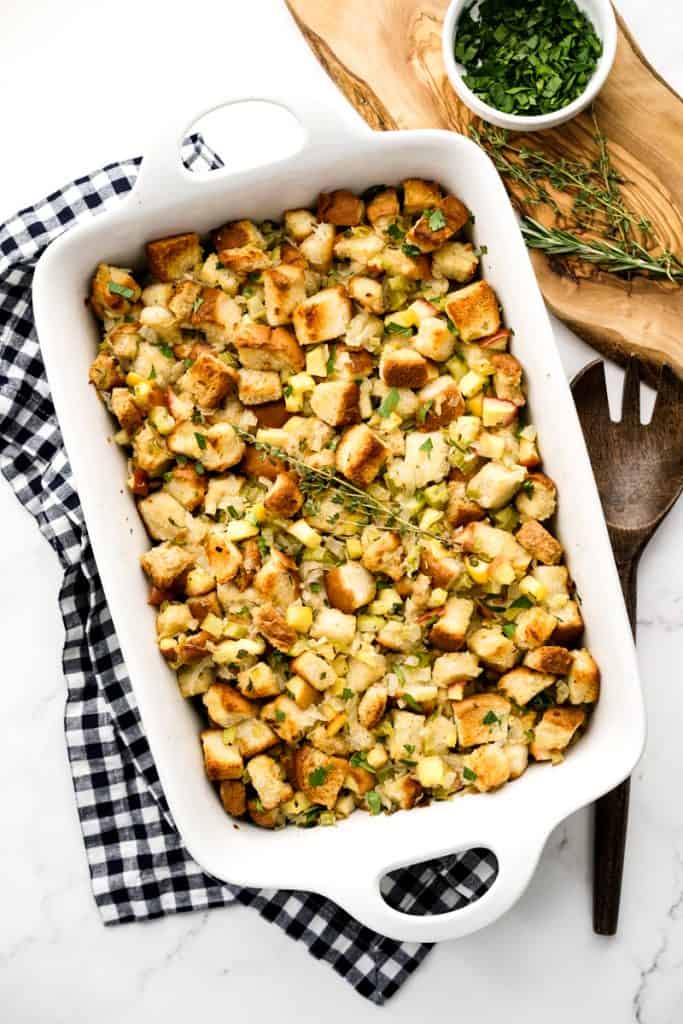 Preparing your Thanksgiving feast? We got you covered! Check out Herb Butter Turkey Breast, Homemade Cranberry Sauce, Gravy From Scratch, Mascarpone Mashed Potatoes, Sweet Potato Casserole with Pecans, and Pumpkin Pie to round up your menu!
Stuffing with apples celery onions
This Apple Stuffing recipe is made on a casserole dish but you can also stuff it inside your turkey as well.
Golden brown and crunchy on top, soft on the insides, our apple stuffing (or sometimes referred to as dressing in certain parts of the country), is filled with toasted bread infused with aromatics such as fresh thyme, rosemary, and parsley, and tossed with sautéed onions and celery.
It is buttery and flavorful and heavenly.
In addition to all that, what makes apple stuffing unique and delicious is the bites of juicy apples that deliveries a hint of sweetness.
Why you should make this apple stuffing recipe:
Classic stuffing recipe with a slight twist – apples are used to enhance the lovely stuffing, not overpower it or take over the classic dish.
Good quality ingredients – I recommend fresh herbs, real butter, and dry bread for the best tasting apple stuffing.
Minimal work for maximum flavors and taste – this apple stuffing recipe is for those who want shortcuts but do not have to sacrifice taste. I promise you the product tastes good, while trying to find ways to make your Thanksgiving preparation a lot easier!
Versatile – want to find ways to make this your own? Scroll to the bottom to see ingredient variations and substitutions, and ways tweak this recipe!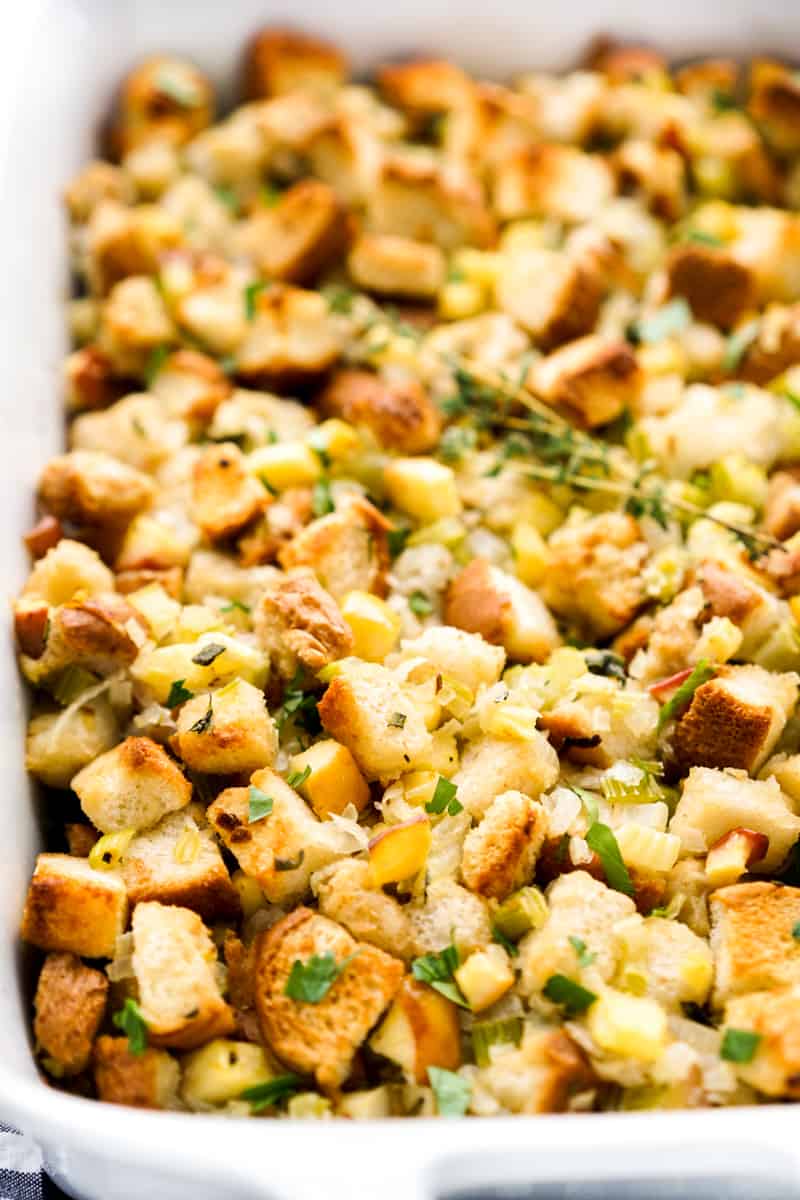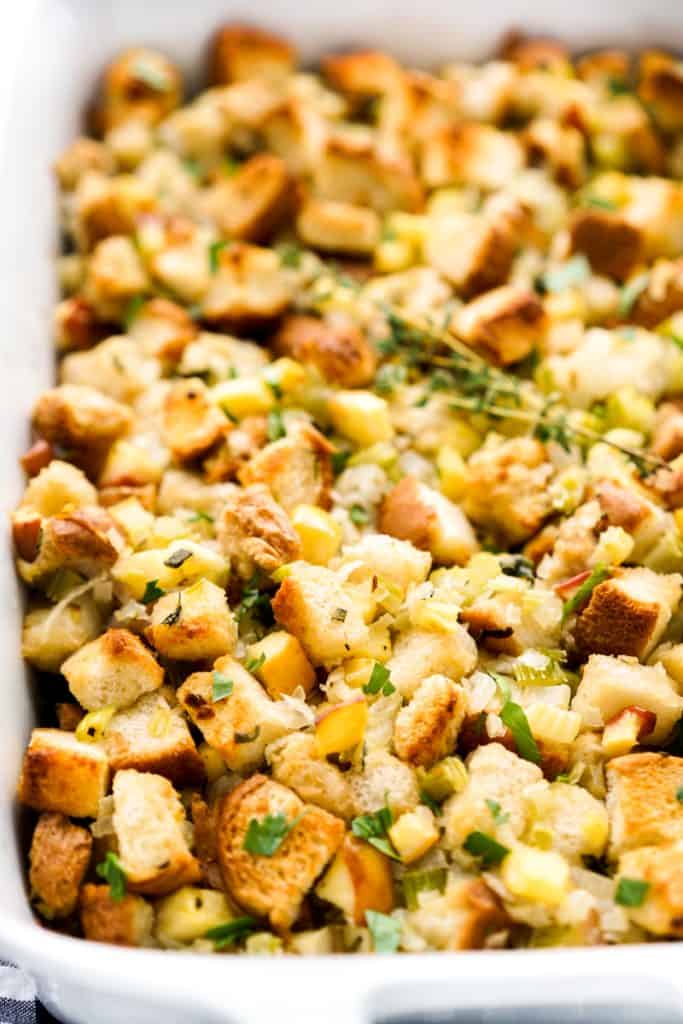 What you need + Ingredients
To make this apple celery herb stuffing, you will need:
Large skillet – non stick or stainless steel works just fine
9 "x 13" baking dish – all the toasted bread will have a hard time fitting into baking dish smaller than this
And here are the ingredients you will need for your apple stuffing:
Bread cubes – lots and lots of it! The dryer the bread the better. I still highly recommend toasting/drying the bread in the oven to dry it out even more. You can use French bread, whole wheat bread, sourdough, regular white bread, or even a mixture.
Apples – I like to use a sweet apple such as honey crisp. Avoid green apples because I find that the sour apples aren't as tasty in this. Cut them into small cubes so they cook easily.
Salted butter – use real butter and avoid substituting with margarine for best taste. Butter will help crisp up the bread on the top while giving your apple stuffing amazing flavors.
Onions – white, sweet or yellow onion. Chopped into small pieces
Celery – also chopped into small pieces
Garlic – use fresh garlic and mince into small pieces. Do not substitute with garlic powder – the flavors just aren't the same.
Fresh herbs – thyme, rosemary and sage. You can use dried herbs but the flavors will not be as rich with it. I highly recommend using fresh if you can.
Chicken broth – use good quality broth for best flavor. Free range organic chicken broth or chicken bone broth usually have richer flavors.
Salt
Parsley – as garnish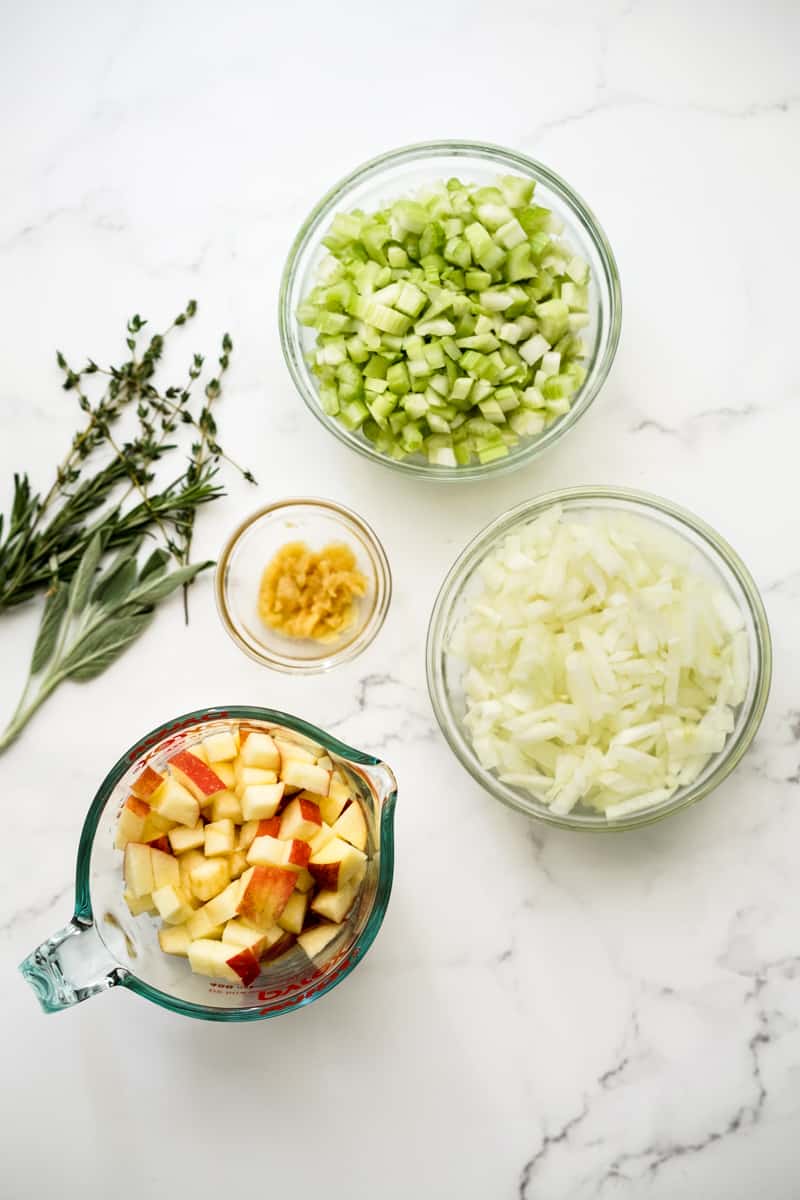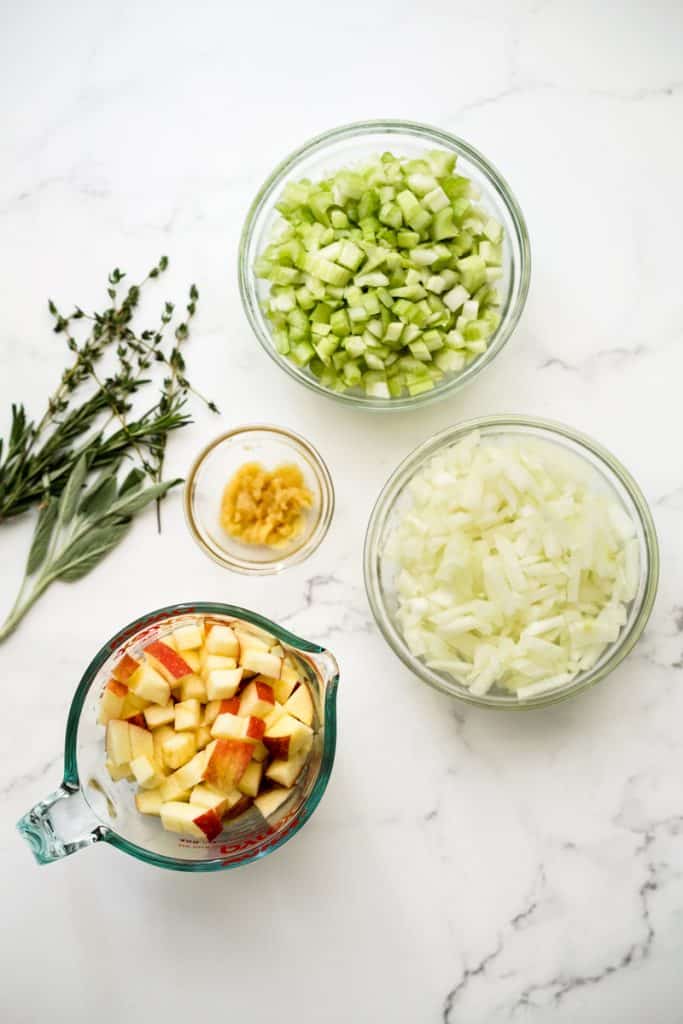 How to make Apple Stuffing
Step 1: Toast bread in oven
The first thing to do when making apple celery onion stuffing is to toast the bread cubes in the oven.
Even if you are using old/dry bread, I would still toast it but for a shorter time.
To toast bread cubes in the oven, lay them out without overlapping on a large baking sheet. You may need two baking sheet to comfortably fit all your bread.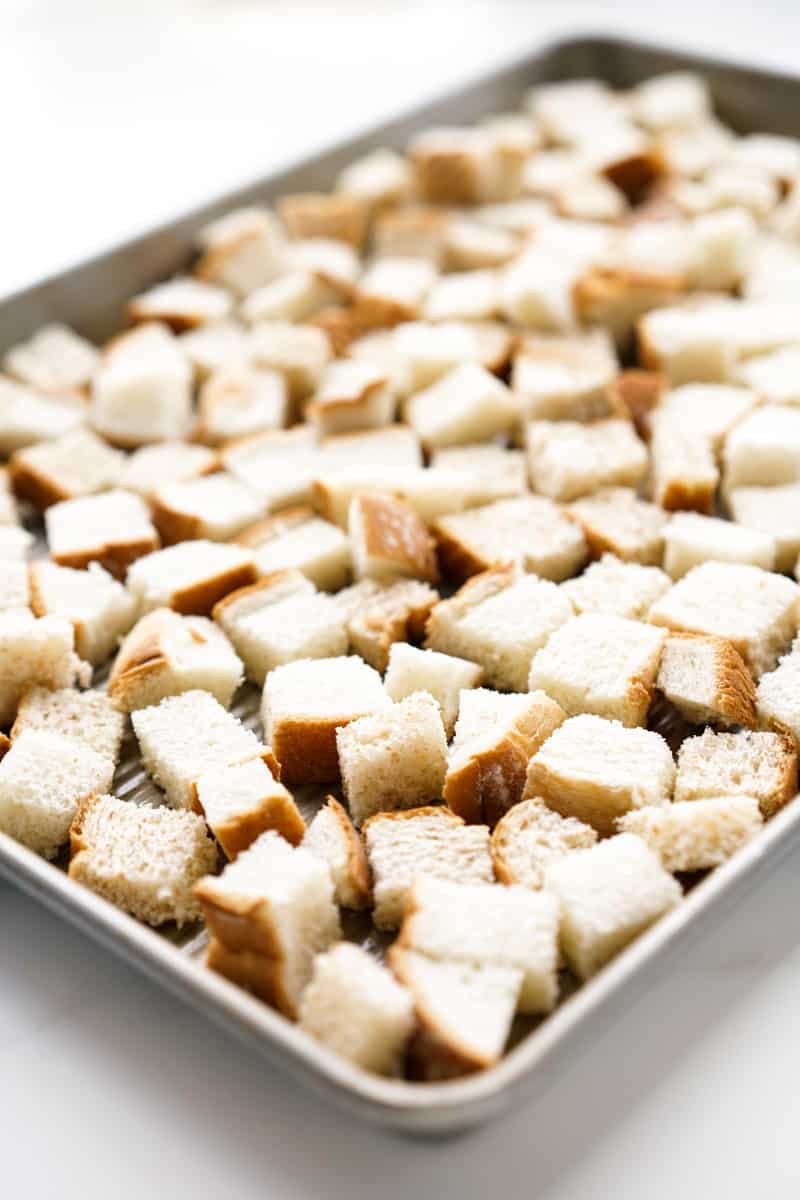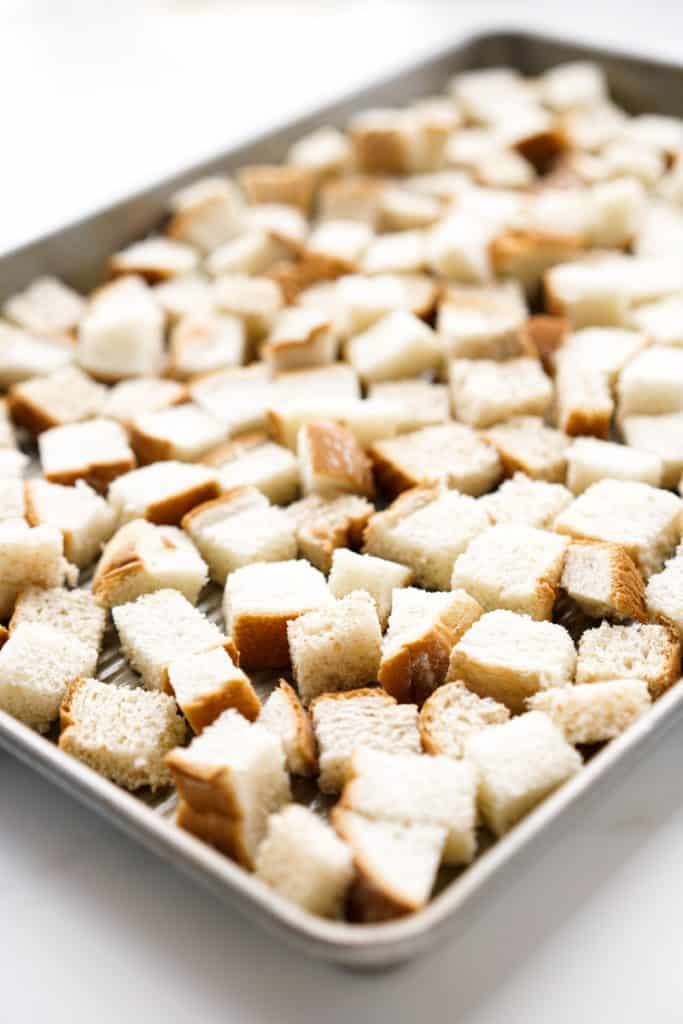 Toast bread cubes in the oven at 300℉ for 8-12 minutes. If bread cubes are already pretty dry, you may need less than 8 minutes in the oven.
When they are done, remove from oven. Bread cubes should be slightly golden brown on top and crunchy. Let bread cool completely.
You can toast and dry out bread cubes ahead of time and store them in an airtight container in room temperature for up to a few days.
Step 2: Saute apples, onions, celery, and herbs
Next step in making apple stuffing: saute apple, celery, onions and herbs in butter. Lots of butter…
It's Thanksgiving, and we are bringing on the butter…Butter will bring the most amazing flavors to this apple stuffing and also help toast the bread slightly.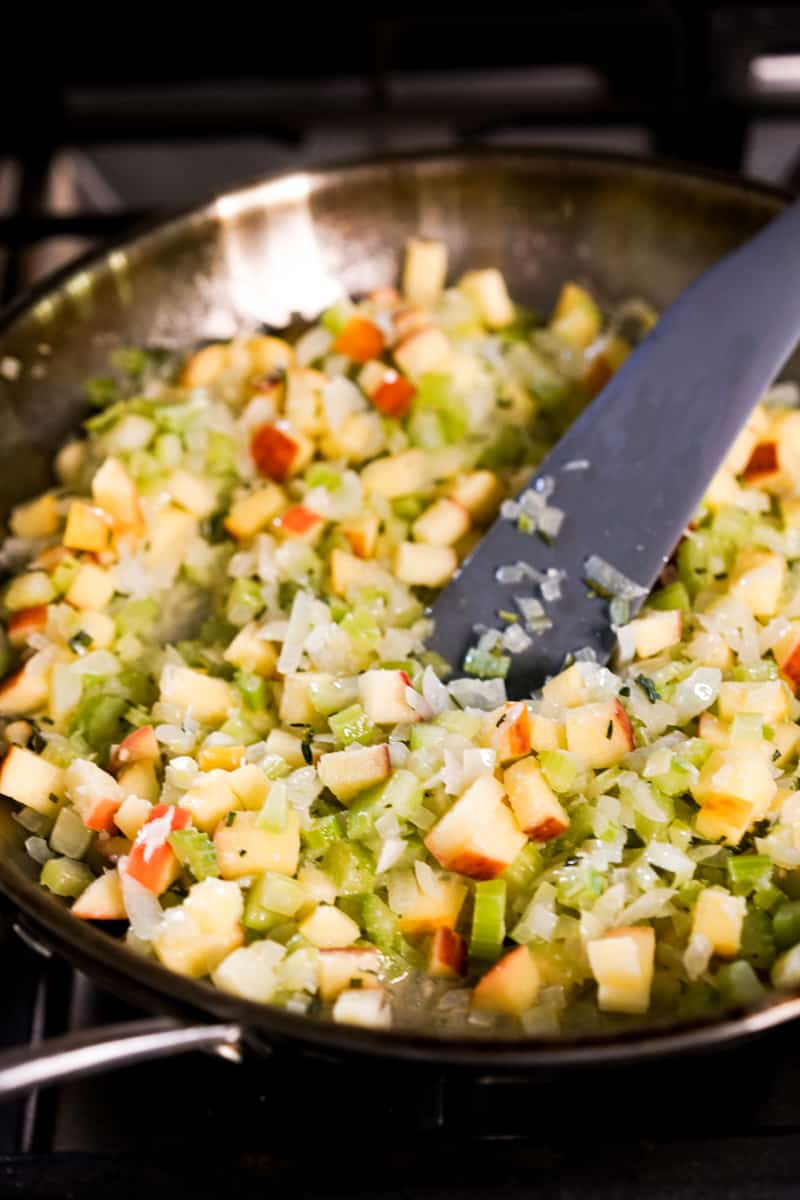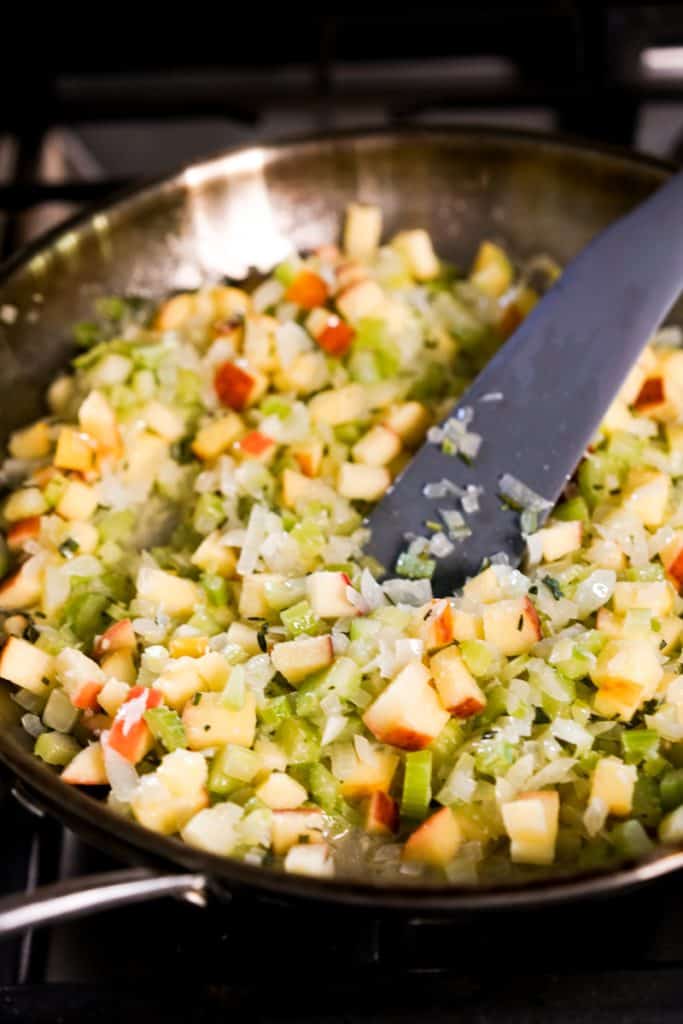 Step 3: Toss and season bread cubes
Toss the toasted bread cubes in the apple and herb butter mixture to give it all the yummy flavors.
At this point, your kitchen should smell pretty amazing. The fresh herbs would have released all its glorious flavors into the butter, and make your home smell like Thanksgiving.
Once bread cubes are tossed, drizzle some chicken stock all over it bread cubes and toss it once more.
We are adding a little bit of moisture to the bread so that our apple stuffing is not completely dry.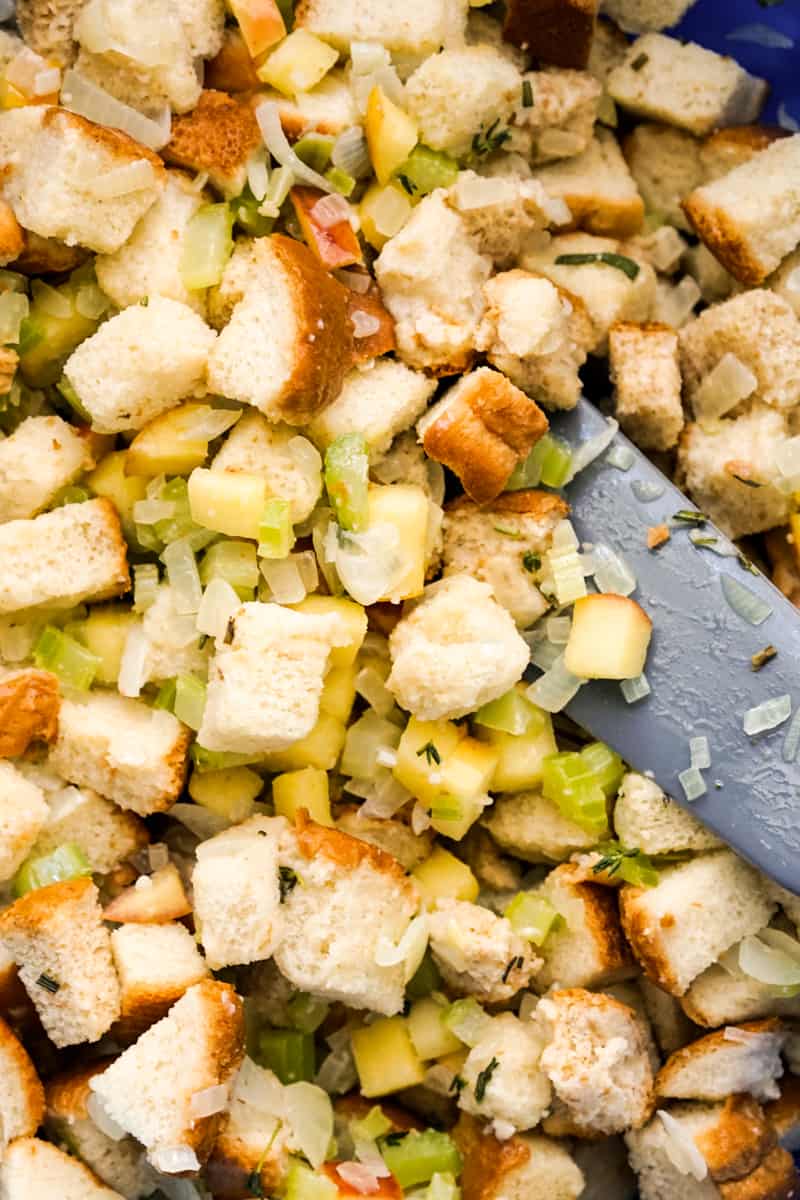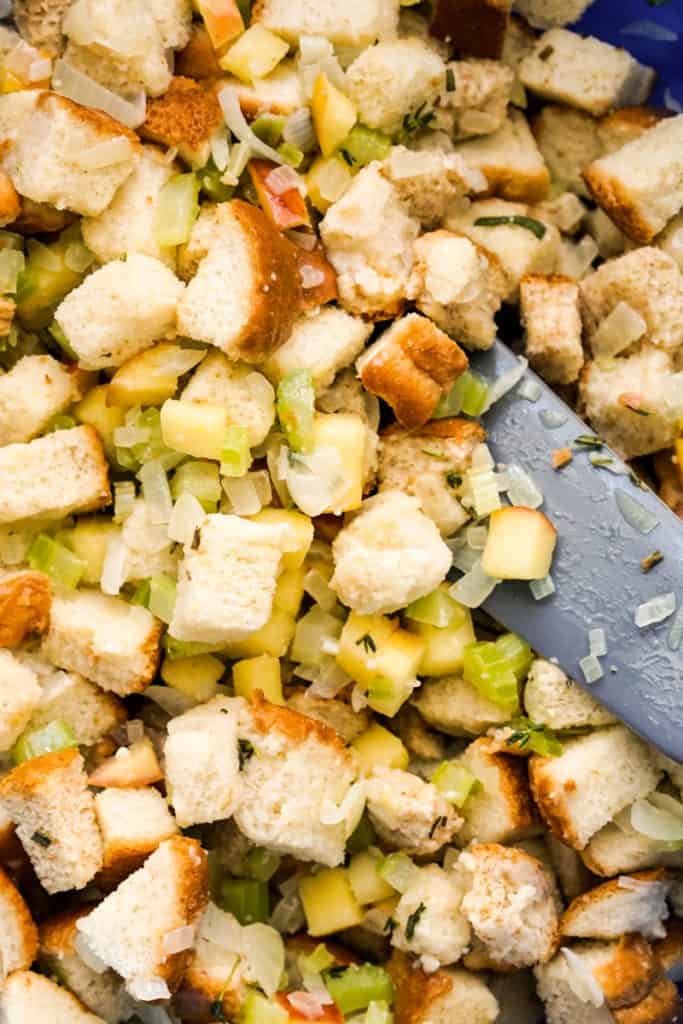 Step 4: Bake!
Grease a 9′ x 13′ rectangular baking dish and spread your apply stuffing mixture all over the baking dish.
Bake apple stuffing in the oven at 350℉ for 30-40 minutes, depending on how dry or wet you like your stuffing.
When it is done, I typically like to sprinkle some chopped fresh parsley on top as garnish.
There you have it, ladies and gentlemen! Apple Stuffing with Onions, Celery and Herbs.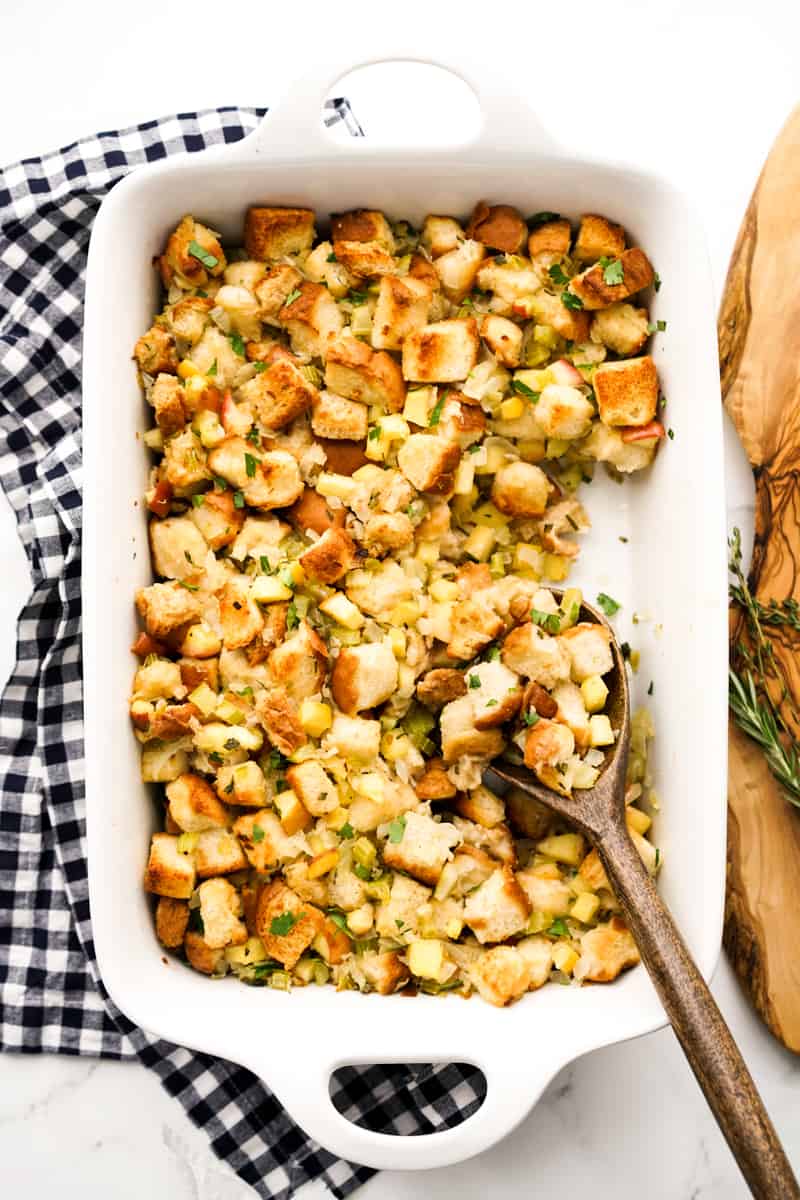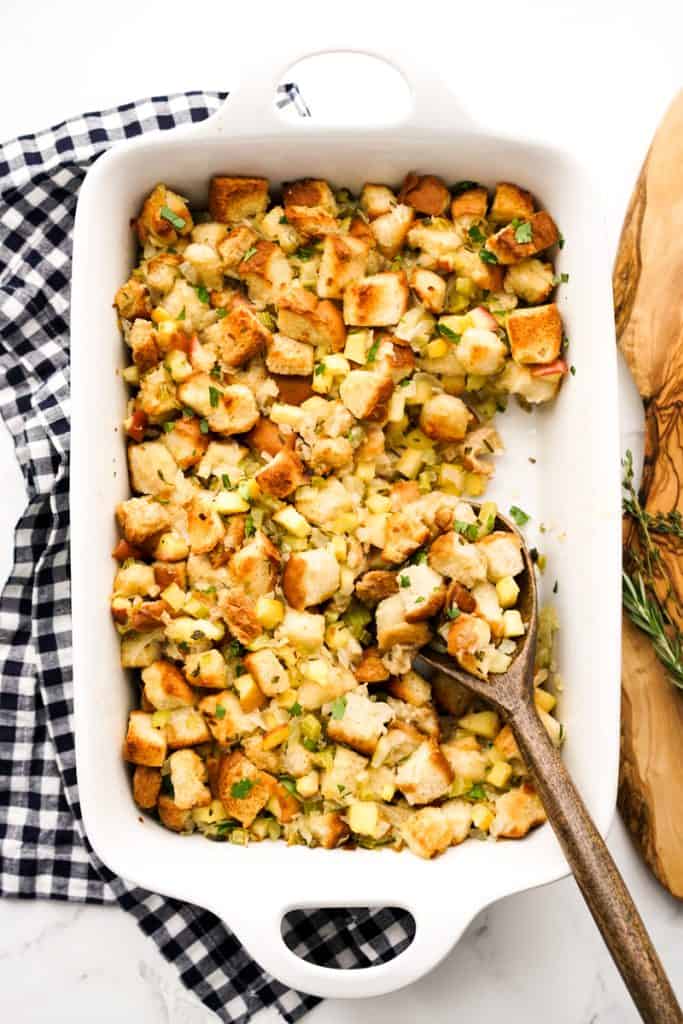 I love the buttery golden brown toasted bread that is crunchy on the edges and soft on the insides, infused with so much gorgeous flavors from the herbs, onions and celery.
And of course, those chunks of juicy apples dispersed throughout to give it a little bit of juiciness and sweetness.
I wasn't the biggest stuffing until I tried making stuffing from scratch. The store-bought boxes just doesn't compare to it.
Trust me, my friends. This apple stuffing is going to be your new favorite stuffing! ❤️
Variations and Substitutions
What I love about my apple stuffing recipe is how versatile it is. It's a classic straight forward stuffing recipe, but that doesn't mean you cannot jazz it up and make it unique!
Here are some delicious ingredients to add to this apple stuffing:
crumble sausage: pan sear it separately and toss your bread cubes with it, after tossing bread in the apple, onion and celery butter mixture.
herbs: feel free to use other herbs, such as oregano, parsley (inside the stuffing, not just as garnish). Or drop one of the herbs I suggested. I love complex flavor so my preference is to do all three, but you can just use two or even one.
dried fruits: raisins, dried cranberries, apricot we will really yummy in this apple stuffing
nuts: if you like to add some crunch to your stuffing, try adding some walnut, pecans or almonds.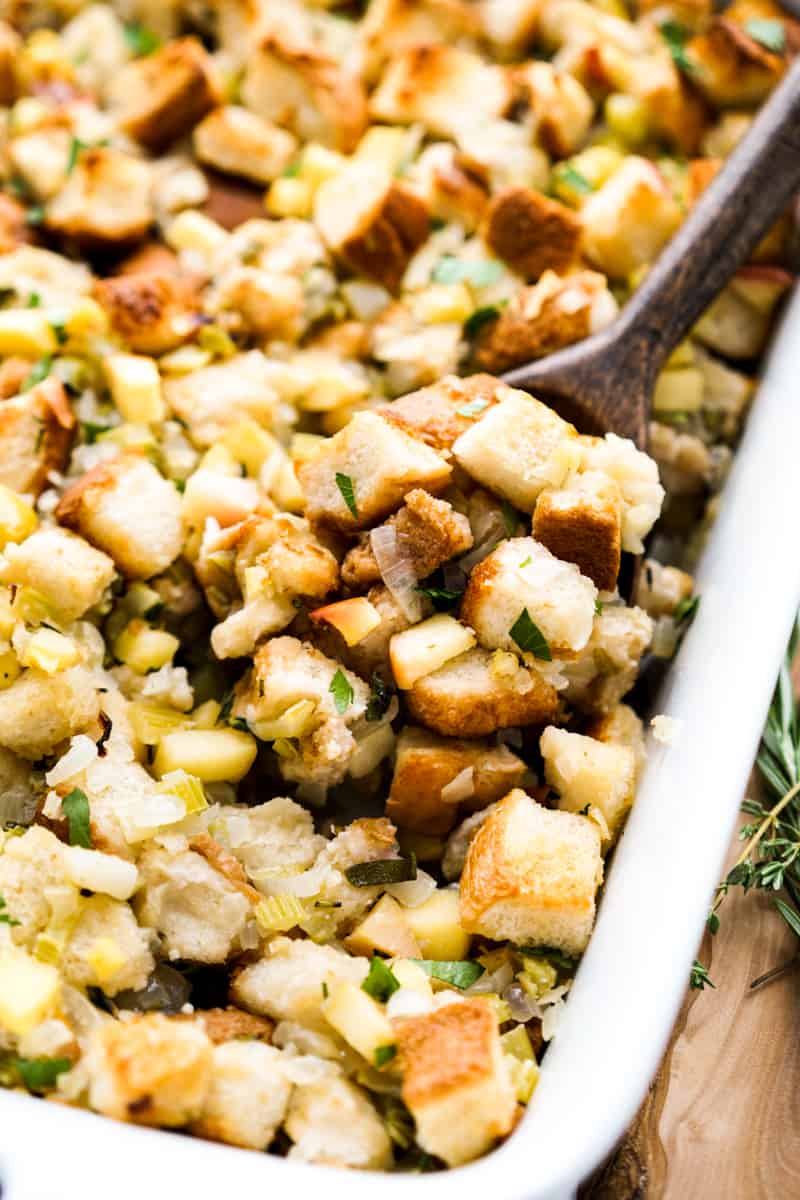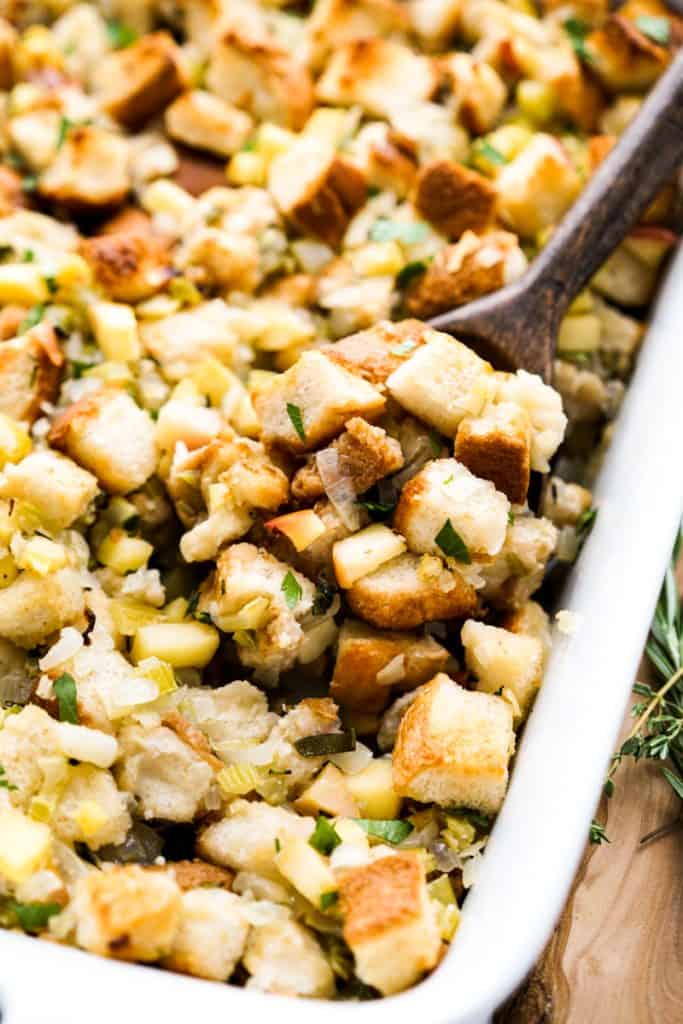 Make Ahead and Reheating Instructions
I make my apple stuffing ahead of time all the time for Thanksgiving. To make ahead, simply store stuffing in refrigerator covered for up to 6 days.
To reheat, bake it at 325℉ in the oven for 30 minutes. Cover at the 15-minute mark if the top is browning more than desire.
Frequently Asked Questions
How do I make this apple stuffing if I plan to stuff it into a turkey?
Follow the recipe exactly, but use only 1 cup of chicken stock instead of 1 1/2 cup. The toasted bread needs less moisture if it is inside the turkey. However, if you like a really wet stuffing, go ahead and leave it at 1 1/2 cups of chicken stock.
Can you make this ahead of time? How do I reheat this?
Absolutely! See reheating instructions above or in the recipe card.
I like my apple stuffing dryer/wetter. What should I do?
If you like your stuffing dryer, bake for longer in the oven (closer to the 40-minute mark, or even more).
If you like your stuffing wetter, bake for a shorter time (closer to the 30-minute mark, or less) and/or add another 1/2 cup of chicken broth to the stuffing mixture before baking.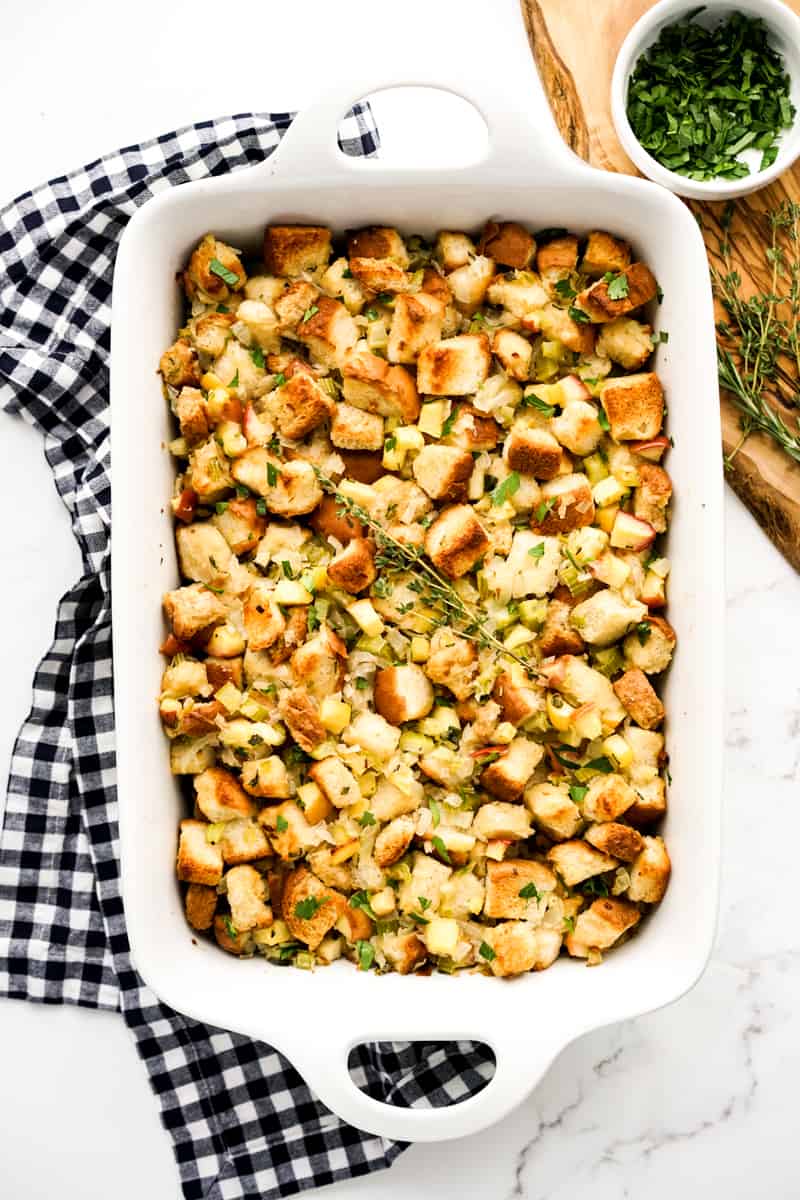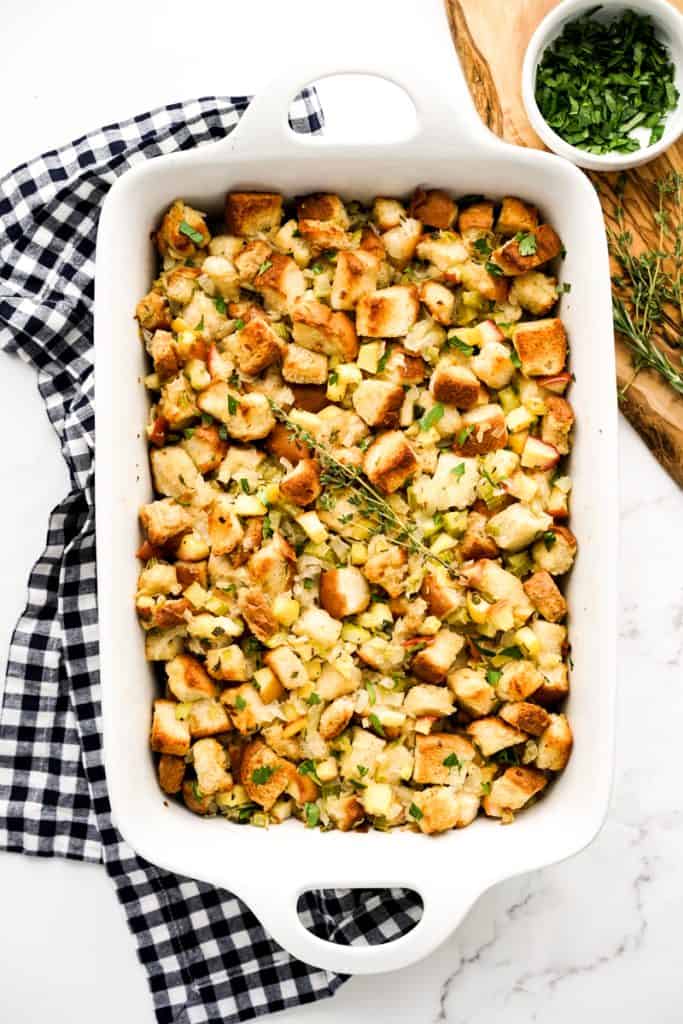 DID YOU ENJOY THIS RECIPE? Please comment below and give us a 5-star rating! This will help others find this recipe on Google and Pinterest. We very much appreciate your help! 🤍
More Thanksgiving/Holiday Side Dishes
Here are some of my other favorite sides for the holidays: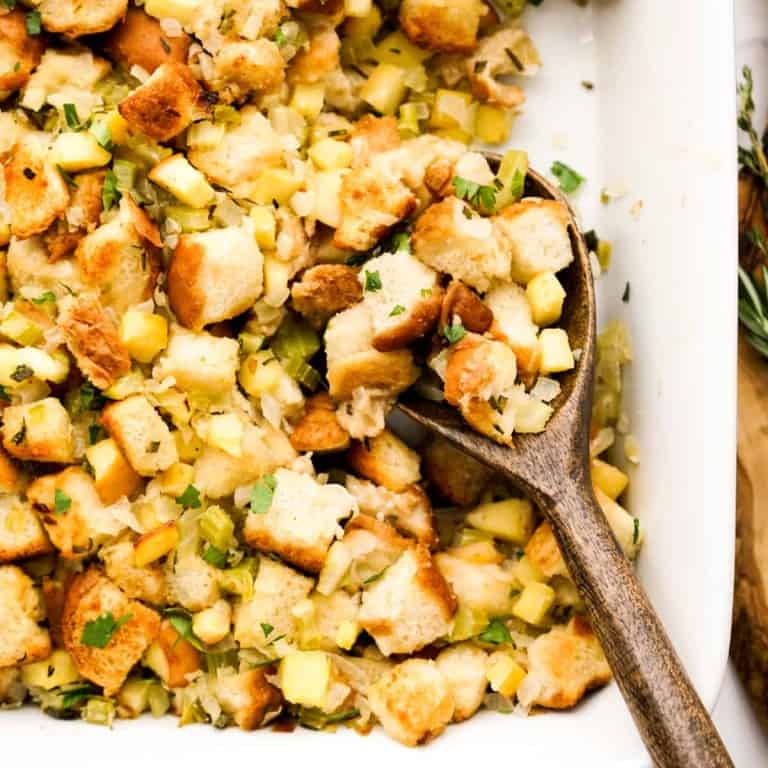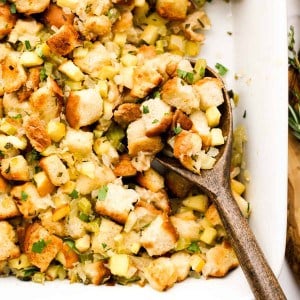 Apple Stuffing with Celery, Onions and Herbs
Crusty on the edges, soft on the insides, this classic stuffing recipe is tossed with apples, celery, and onions in a buttery herb dressing. Such a flavorful and delicious takes on the popular Thanksgiving and holiday side dish.
Print
Pin
Ingredients
16

cups

dry bread

cubed

6

tbsp

salted butter

2

cups

white onions

diced

2

cups

celery

diced

3-4

cloves

garlic

minced

2

cups

apples

diced

1-2

twig

fresh thyme

chopped

1-2

twig

fresh sage

chopped

1-2

twig

fresh rosemary

chopped

1 1/2

tsp

salt

1 1/2

cups

chicken broth

1

tbsp

fresh parsley

chopped

cooking oil spray
Instructions
Cube bread into small 1-inch cubes. Spread them out on one or two baking sheet without overlapping. Baked in the oven for 8-12 minutes. The dryer the bread, the less amount of bake time needed.

Remove bread from oven. Set aside and let it cool.

Bring a large skillet to medium high heat, melt butter. Add onions, celery, garlic, chopped thyme, sage and rosemary. Saute for 1-2 minutes, or until onions are soft. Add salt, then stir to combine. Add apples and saute for another 2-3 minutes. Remove from heat.

In a large bowl, toss bread cubes evenly in apple, onion, celery and herb butter mixture. Drizzle chicken broth all over bread and toss evenly to combine.

Grease a 9"x13" baking dish. Spread bread cubes out on the baking dish.

Bake in the oven for 30-40 minutes. For a dryer stuffing, bake closer to the 40-minute mark.

Remove from oven. Garnish with parsley. Serve and enjoy!
Notes
For stuffing into turkey: Follow instructions above but use only 1 cup of chicken stock.
Reheating Instructions: Bake at 325℉ in the oven for 30 minutes. Cover at the 15-minute mark if the top is browning more than desire.
Stuffing consistency:
For a softer/wetter stuffing, bake for only 30 minutes and/or use 2 cups of chicken stock.
For a dryer stuffing, bake for closer to 40 minutes.
Nutrition
Calories:
487
kcal
|
Carbohydrates:
83
g
|
Protein:
15
g
|
Fat:
10
g
|
Saturated Fat:
4
g
|
Polyunsaturated Fat:
2
g
|
Monounsaturated Fat:
2
g
|
Trans Fat:
0.2
g
|
Cholesterol:
12
mg
|
Sodium:
1136
mg
|
Potassium:
300
mg
|
Fiber:
6
g
|
Sugar:
9
g
|
Vitamin A:
223
IU
|
Vitamin C:
3
mg
|
Calcium:
212
mg
|
Iron:
5
mg