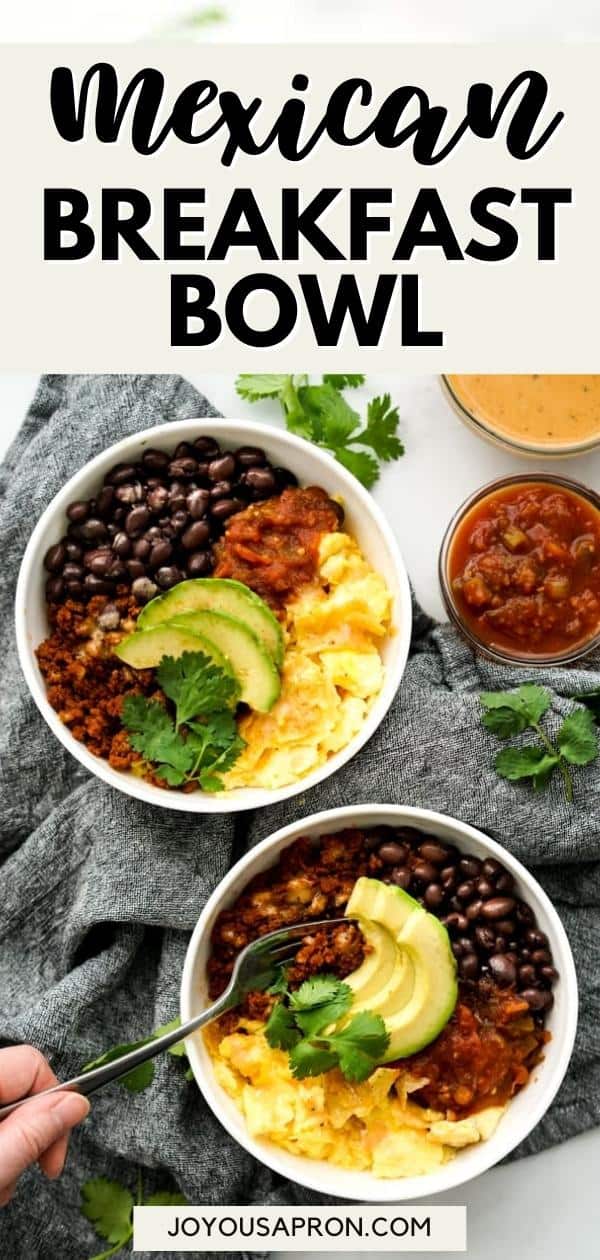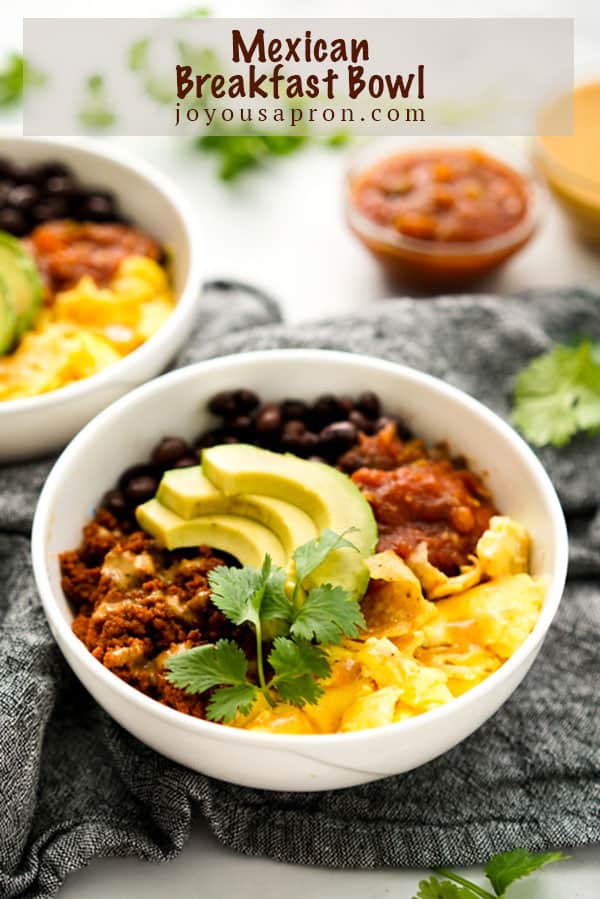 Currently in love this yummy breakfast bowl filled with Mexican inspired ingredients..scrambled egg with crispy tortilla chips, chorizo (Mexican ground sausage), black beans, avocado, salsa, and topped with chipotle ranch dressing and cilantro.
Mind-blowing flavors and incredible textures, nicely packaged in this lovely bowl. 💛
This is a sponsored post written by me on behalf of BRIANNAS Fine Salad Dressings. All opinions and texts are mine.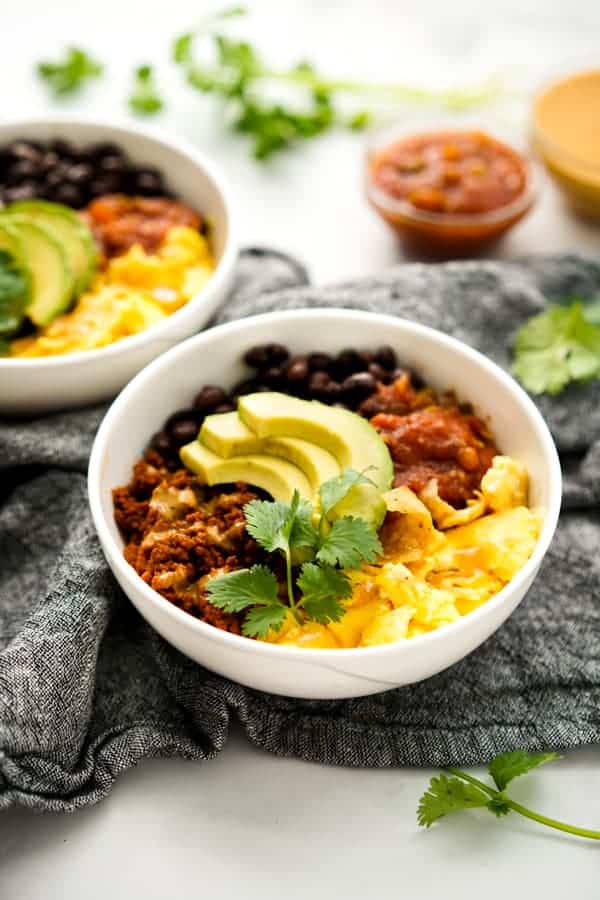 Mexican Breakfast Bowl for the Win!
Whether it is a breakfast, lunch or dinner, I simply love a good bowl. You can often find me making Savory Breakfast Bowl, Simple Thai Noodle Bowl, Orang Ginger Salmon Noodle Bowl, Chicken Burrito Bowl…You get the picture. I just love my bowls.
The idea of mixing and matching all my favorite ingredients into a bowl, and have your whole meal in that one bowl, is super appealing. You can easily transport them and eat them anywhere! In the dining room, on the couch, on the kitchen counter, outside on your porch…
I wanted to create a Mexican / Tex-Mex / Southwest theme breakfast bowl because living in Austin, Texas for the last few years have really opened my eyes to the gorgeous flavors of Mexican inspired ingredients and spices.
This recipe is inspired by all the Breakfast Tacos and Migas I have consumed and fallen in love with since I have lived here.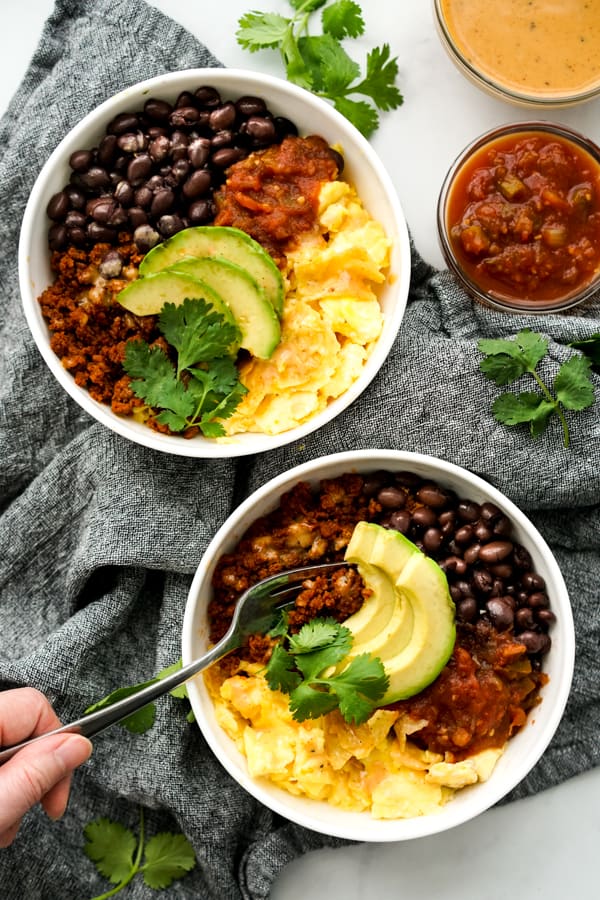 The end product is this: a bowl filled with classic breakfast comfort foods we all know and love, along with seasonings and ingredients that are inspired by Mexican cuisine. It is as cozy and delicious as it sounds, consisting of…
Scrambled eggs with tortilla chips (very similar to migas)
Chorizo (ground sausage that is slightly spicy)
Black Beans
Avocado
Salsa
Cilantro (garnish)
BRIANNAS Chipotle Ranch Dressing (garnish)
They all come together like a dream. And I cannot get enough of it!
I get my BRIANNAS dressings from HEB, my local grocery store. They are widely available all over the nation…locate them using the BRIANNAS' store locator!
Or even better, have them ship to directly your door from BRIANNAS online store HERE!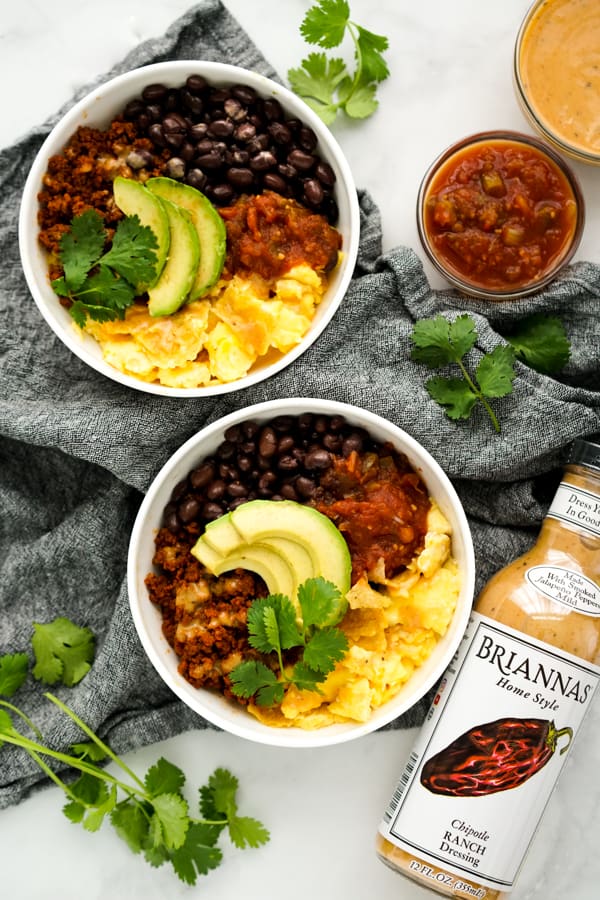 Let's Make It!
There are multiple components to this bowl, and each of them are fairly straight forward:
Scrambled eggs (with tortilla chips)
Chorizo
Other toppings: black beans, salsa, avocado etc
Scrambled Eggs with Tortilla Chips
Let's begin with the eggs we are scrambling along with tortilla chips. This is a strip down version of migas, where we scramble the eggs and add crushed tortilla chips right before the eggs are fully cooked.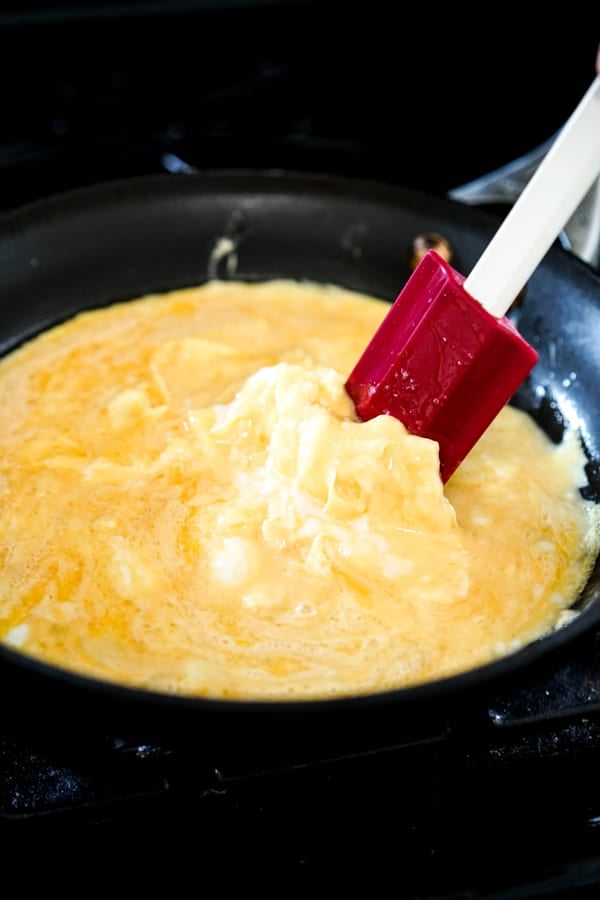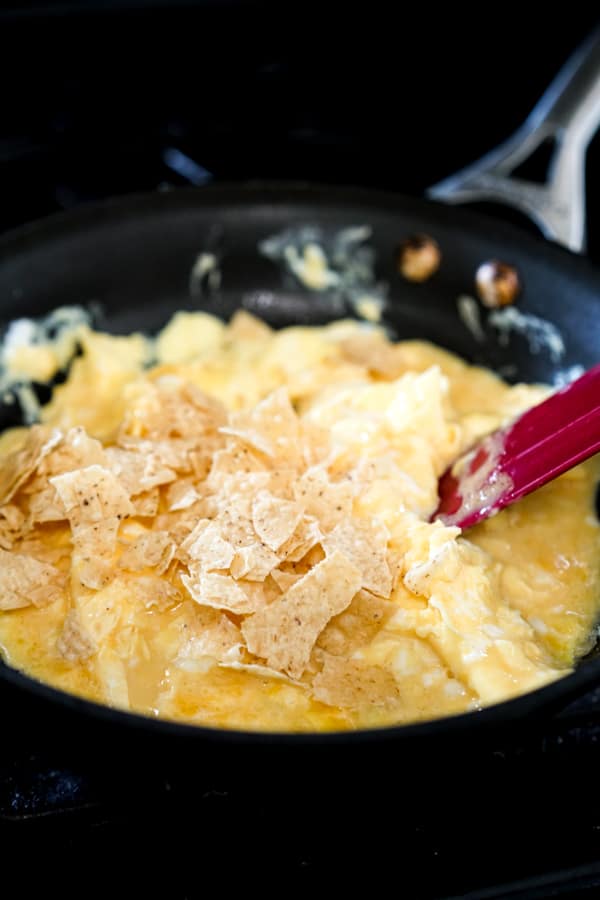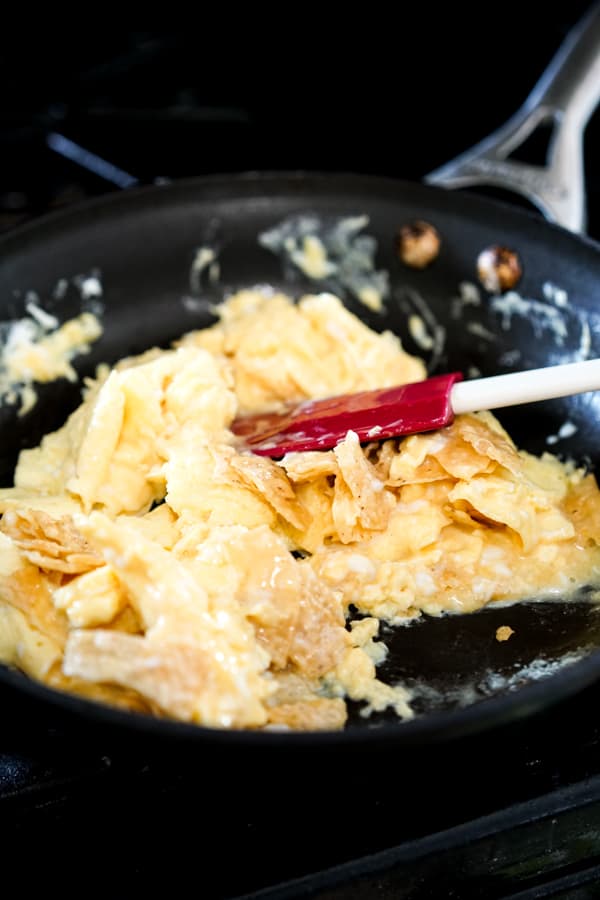 A few tips and tricks to bear in mind:
Grease skillet well before adding whisked eggs.
Cook the eggs slowly under low heat.
When the eggs are partially cooked, start stirring.
Do not overcook! Remove from heat promptly when eggs are done.
Chorizo (Mexican Ground Sausage)
Chorizo is a type of pork sausage that originated from Spain. There are different versions of it today, but I am using one commonly found in Mexican cuisine.
It is boldly flavored, and I'm adding a little bit of BRIANNAS Chipotle Ranch dressing because it adds delicious chipotle flavors (which I love) to it and also makes it slightly creamier too.
And let's be honestly here, I am also finding an excuse to add more of that yummy dressing because it is so dang good.
Just panfry chorizo on a skillet and add some Chipotle Ranch Dressing and you are good to go! Easy peasy!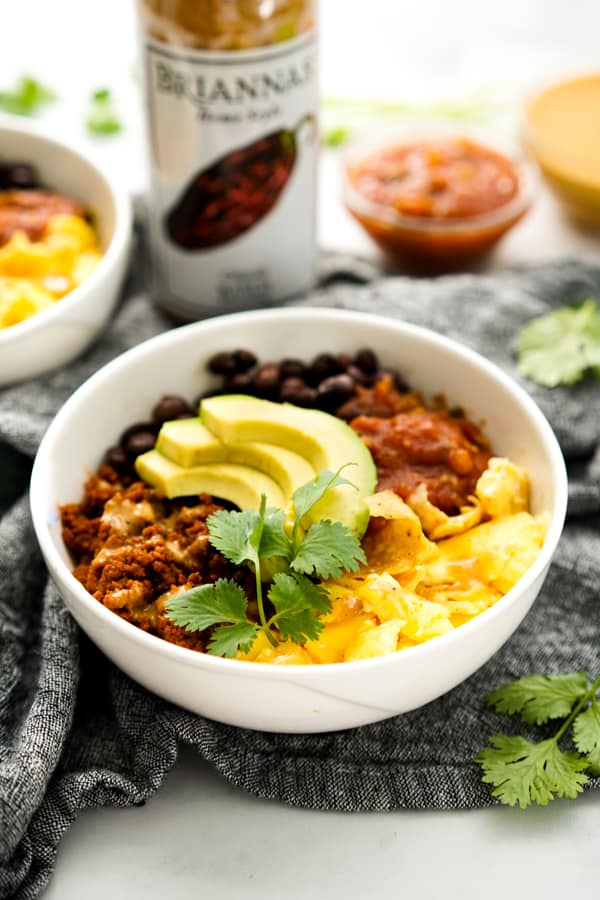 Assembling everything together
And now we are going to put everything together…
Combine the eggs, chorizo, black beans (from canned), avocado and salsa into a bowl.
And add some cilantro and drizzle more Chipotle Ranch Dressing to the top!
And with that, you get yourself a yummy Mexican inspired Breakfast Bowl!
Variations and substitutions
If you are one of those people who love to branch out, here are other ways you can make this Mexican Breakfast Bowl.
You can also add these ingredients and spices:
Pico de Gallo
Sour Cream
Other veggies: spinach, tomatoes etc
Other meats: breakfast sausage, bacon, ham etc
Eggs cooked a different way: fried, poached etc
Make it just like the recipe instructed, or get creative and make it your own!
But most importantly, enjoy each and every bite. ❤️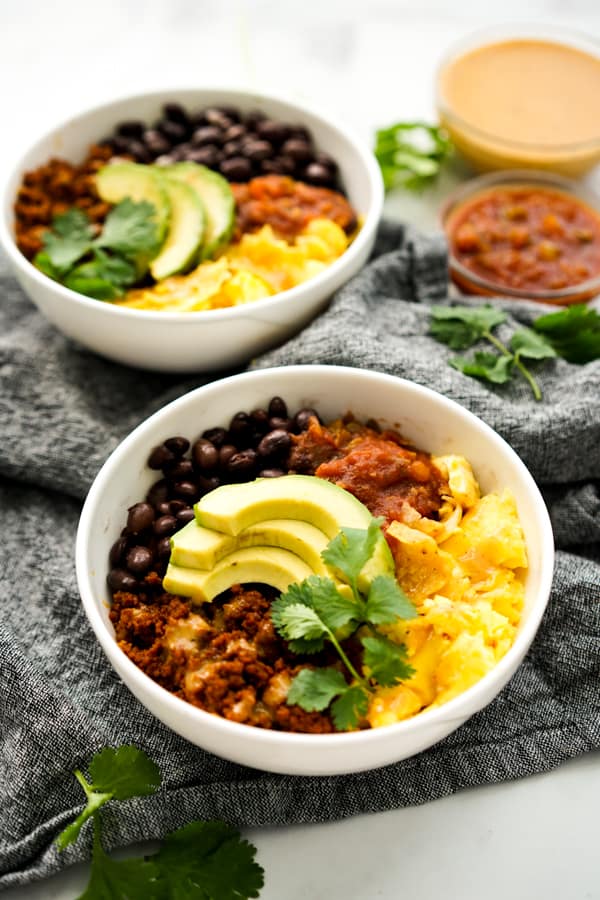 DID YOU ENJOY THIS RECIPE? Please comment below and give us a 5-star rating! This will help others find this recipe on Google and Pinterest. We very much appreciate your help! 🤍
Other Mexican Recipes
We love Mexican inspired flavors! Here are other yummy recipes you might enjoy!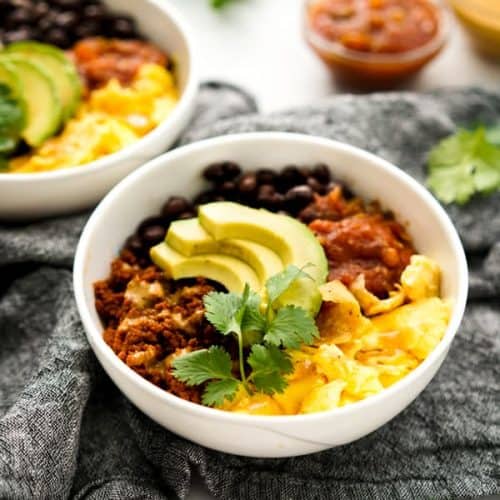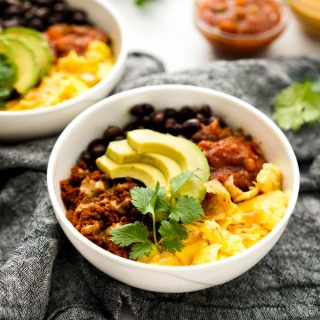 Mexican Breakfast Bowl
Easy and yummy Mexican breakfast bowl recipe with chorizo, scrambled eggs with tortilla, black beans and salsa. Healthy-ish and flavorful!
Print
Pin
Ingredients
1

tbsp

butter

6

large eggs

1/2

cup

tortilla chips

crushed

1/2

lbs

ground chorizo

2

tsp

BRIANNAS Chipotle Ranch Dressing

1

cup

black beans

3/4

cup

salsa

1

avocado
Garnish
1/4

cup

BRIANNAS Chipotle Ranch Dressing

1

tbsp

cilantro

chopped
Instructions
Scrambled Eggs with Tortilla Chips
Whisk eggs in a bowl. Add butter to skillet and heat skillet under medium low heat. Once butter is melted (do not brown or burn), add eggs.

Let eggs sit on the skillet until it is a little cooked at the bottom (not fully cooked). Use a spatula to stir eggs around (start with the sides and move to the center) until it is almost cooked.

Add crushed tortilla chips and continue stirring until eggs are fully cooked. Remove eggs promptly.
Chorizo
Add chorizo to the skillet and cook until it is almost done. Add 2 tsp Chipotle Ranch Dressing. Stir to combine. Remove chorizo promptly.
Assemble
Assemble bowls with scrambled eggs, chorizo, black beans, salsa, and avocado. Add more Chipotle Ranch Dressing and cilantro.
Notes
Tips for preparing scrambled eggs:
Grease skillet well before adding whisked eggs.
Cook the eggs slowly under low heat.
When the eggs are partially cooked, start stirring.
Do not overcook! Remove from heat promptly when eggs are done.
Nutrition
Calories:
778
kcal
|
Carbohydrates:
43
g
|
Protein:
32
g
|
Fat:
54
g
|
Saturated Fat:
15
g
|
Cholesterol:
385
mg
|
Sodium:
1453
mg
|
Potassium:
876
mg
|
Fiber:
12
g
|
Sugar:
5
g
|
Vitamin A:
1408
IU
|
Vitamin C:
8
mg
|
Calcium:
126
mg
|
Iron:
4
mg