Bacon Cheeseburger Sliders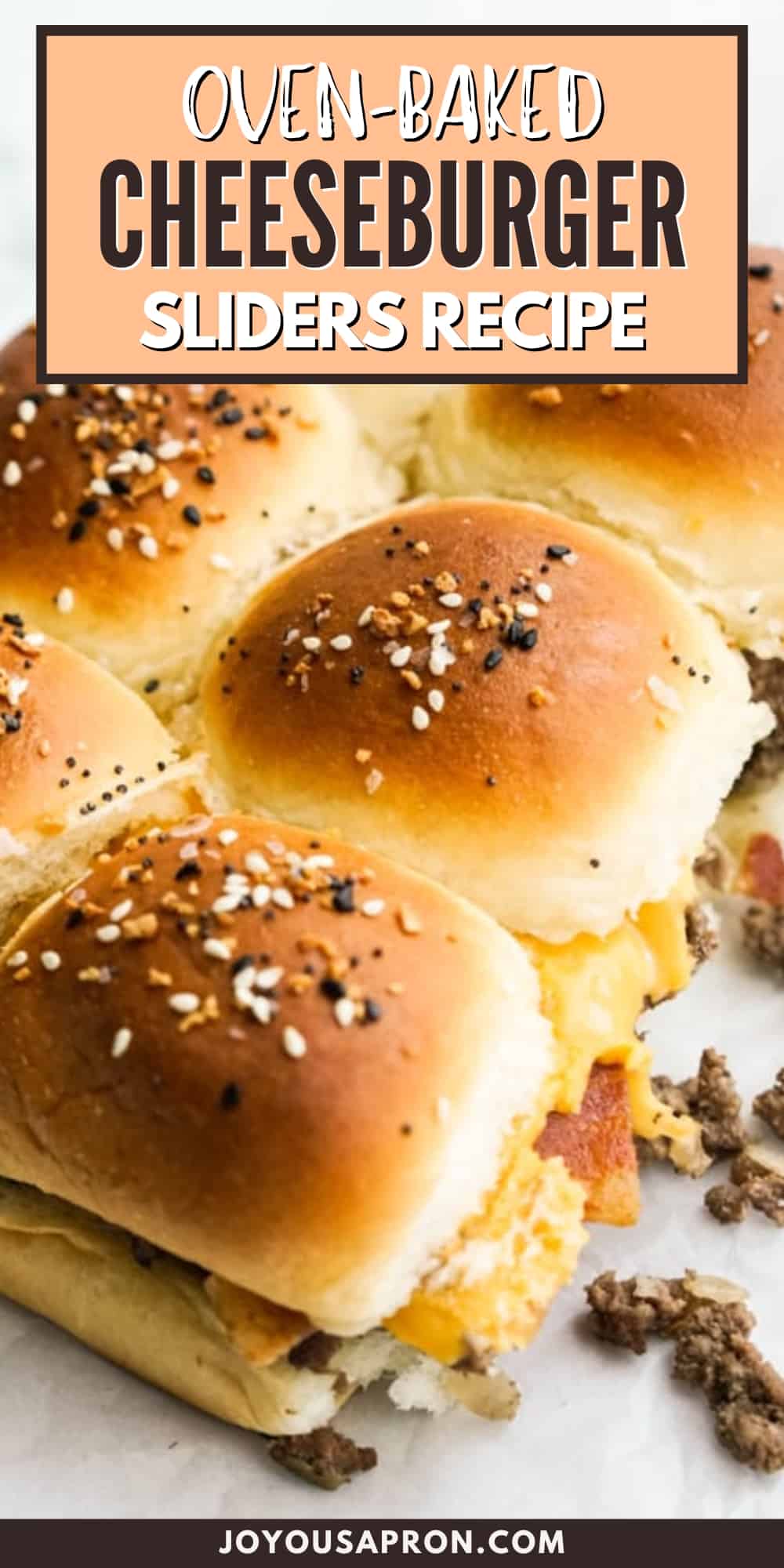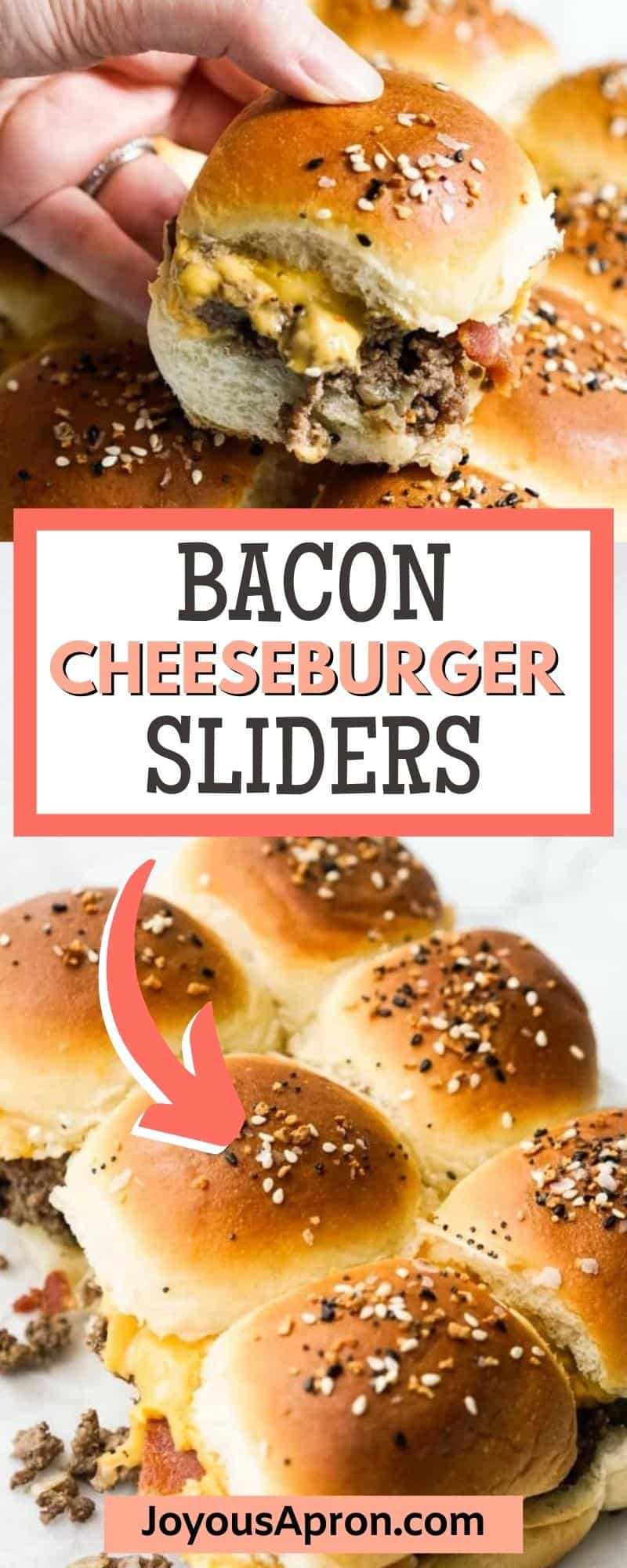 These Bacon Cheeseburger Sliders in Hawaiian rolls are basically mini oven baked burgers made with seasoned ground beef, bacon and lots of cheese. We then brush the top of the Hawaiian rolls with lots of butter and sprinkle with Everything Bagel seasoning. SO YUM!
Caution: these Bacon Cheeseburger Sliders are dangerously delicious…and it is very hard to stop at one!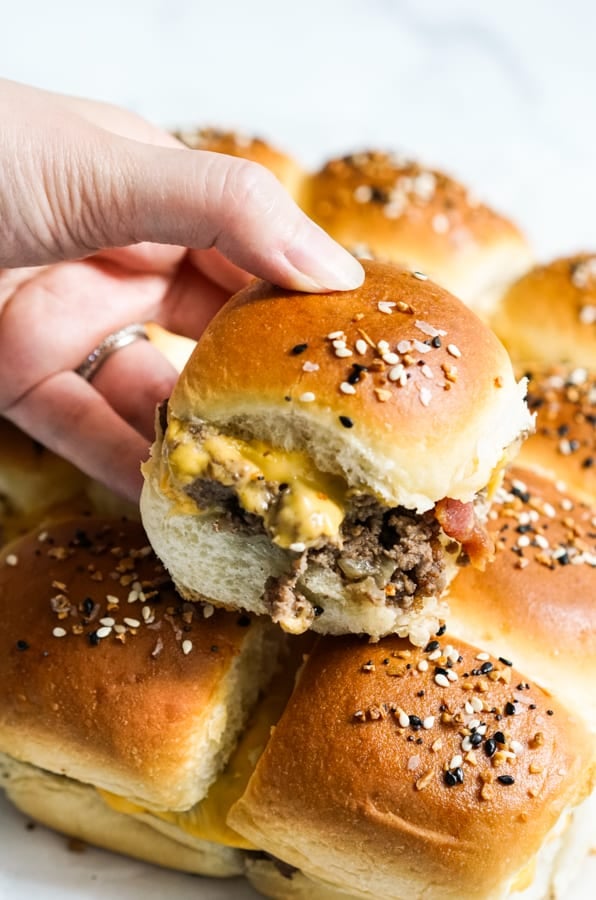 Bacon Cheeseburger Sliders with Hawaiian Rolls
There's something magical about Hawaiian rolls. These buns are moist, soft, and a hint of sweetness that takes a simple savory burger or sandwich to the next level.
You can make Bacon Cheeseburger Sliders with any rolls, but I highly recommend them with Hawaiian rolls. GAME CHANGER.
Yes, I passionately believe that Hawaiian rolls makes the best Bacon Cheeseburger Sliders.
Just imagine this…perfectly seasoned ground beef, crispy bacon, melted American cheese are sandwiched between two slices of savory sweet, soft and fluffy Hawaiian rolls. It all just melts in your mouth.
Or better yet, don't just imagine… gather up the ingredients make this easy, crowd-pleasing, delicious Bacon Cheeseburger Sliders today!
I promise you, it's totally worth every minute of your effort.
They are basically mini, Hawaiian rolls version of my popular Homemade Burger recipe.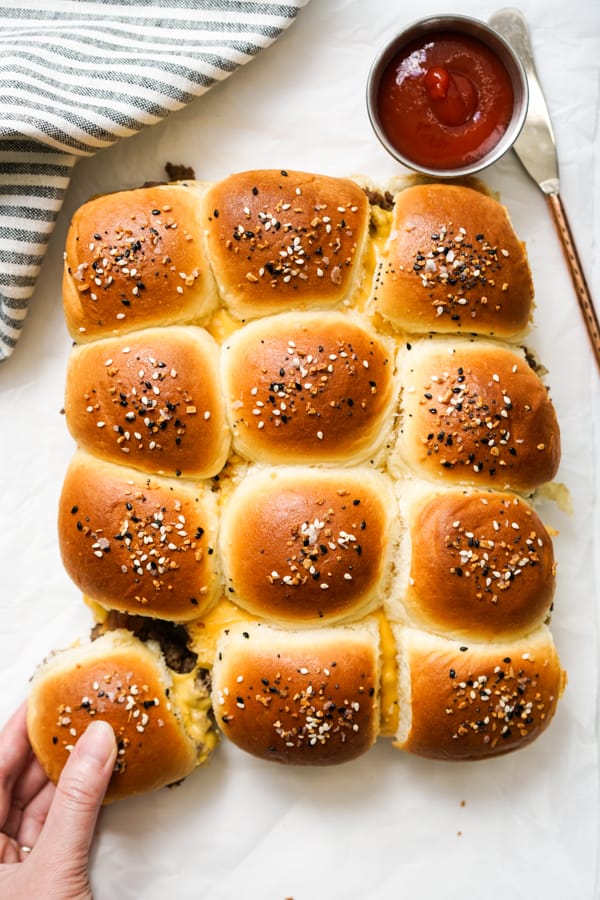 Ingredients
Here's what you will need to make Bacon Cheeseburger Sliders:
lean ground beef – I like to use less than 10% fat ground beef
bacon
American cheese – you can use other cheeses, but I like to use American cheese on this because it melts the best. Get the deluxe kind for a better quality American cheese (it is really the only kind of American cheese I like to use).
white onions – or sweet onions, or yellow onions. Diced into small tiny pieces. It's in here to bring about some yummy flavors
garlic powder – for seasoning ground beef
onion powder – for seasoning ground beef
salt
black pepper
liquid smoke – added to the ground beef to give it that smoky flavor since we are not grilling these Bacon Cheeseburger Sliders.
salted butter
Everything but the Bagel seasoning – it's basically the seasoning that is on an everything bagel. It's primarily sesame seeds, garlic pieces and coarse sea salt.
How to Make Bacon Cheeseburger Sliders in the oven
One of the 957 reasons I love this Bacon Cheeseburger Sliders recipe is because you can make a lot of food, in a short time, for a lot of people!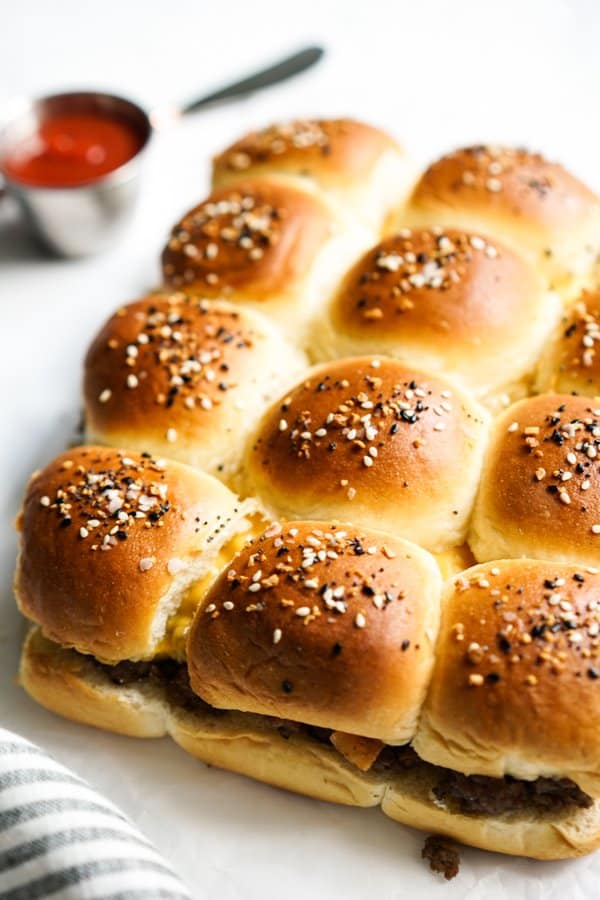 If you have a ton of people coming over and you need to make something to feed a crowd, Bacon Cheeseburger Sliders make the perfect party food that will feed a crowd. It is always so well loved by adults and kids alike.
And now I'm going to show you how easy it is!
There are basically three key parts to making this:
Step 1 : Cook ground beef and bacon
Or get ready cooked bacon and just cook the ground beef 😉
If you are cooking the bacon, the easier, most fuss-free way, in my opinion, is to make it in the oven.
Line a baking sheet with aluminum foil for minimal cleanup later, then place strips of baking on the foil, without overlapping.
Bake at 425℉ for 12-16 minutes, or until it reaches desired crispiness, then cut into into small pieces. Cook time will vary depending on the thickness and leanness of the bacon.
As for the beef, add it to a skillet and pan fry, also adding spices such as garlic powder, onions powder, liquid smoke, salt and black pepper to season them.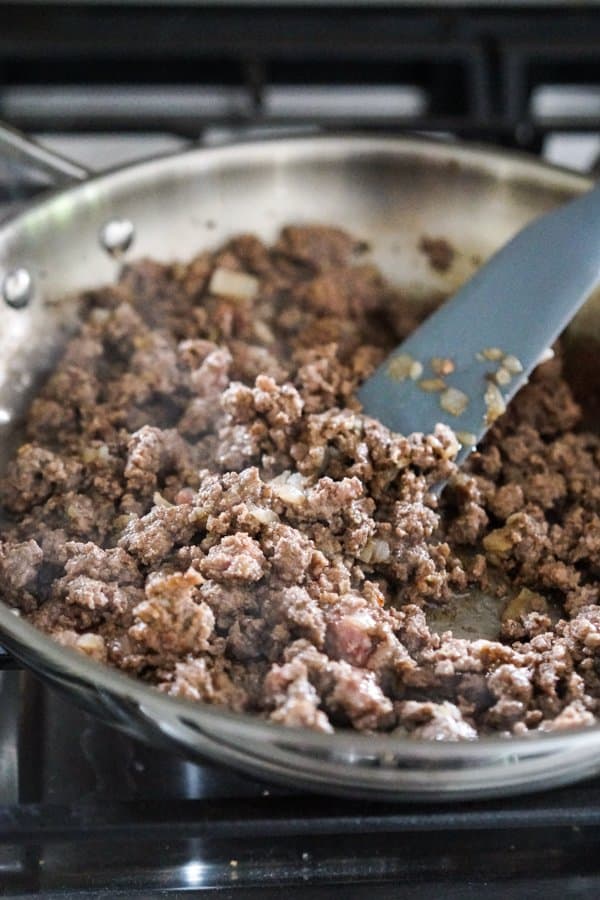 We won't be forming beef into patties but simply placing them onto the Hawaiian rolls later.
I've contemplated making patties but decided it's really not necessary.
Once ground beef is done, let's work on assembling these yummy Bacon Cheeseburger Sliders!
Step 2: Assembling Sliders
I like to use a 9″x13″ rectangular baking dish to bake my Bacon Cheeseburger Sliders in the oven. It gives us plenty of room for a 12 piece roll.
I keep the roll stuck to each other but slit it into half lengthwise.
Grease baking dish and then place the bottom rolls onto the dish.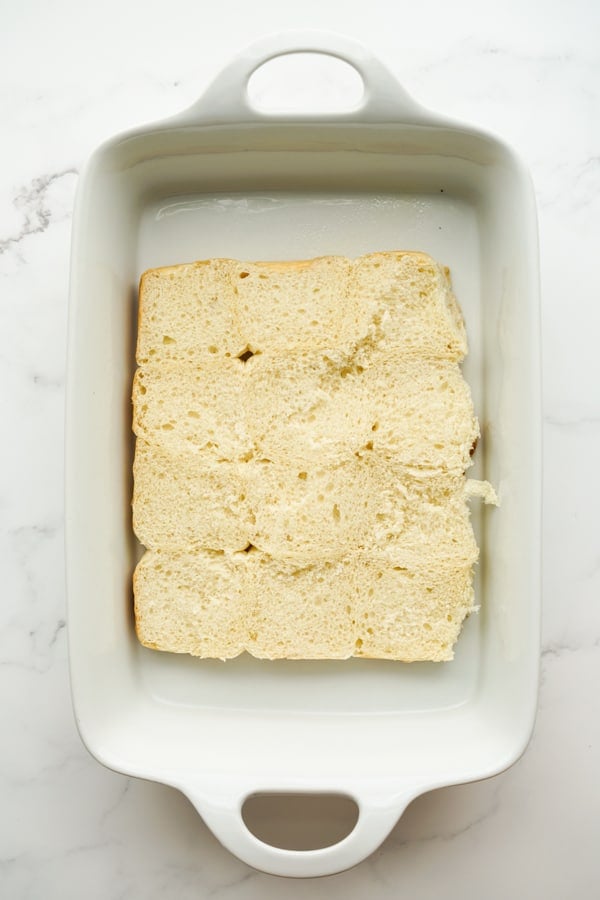 And then layer it up: beef, bacon…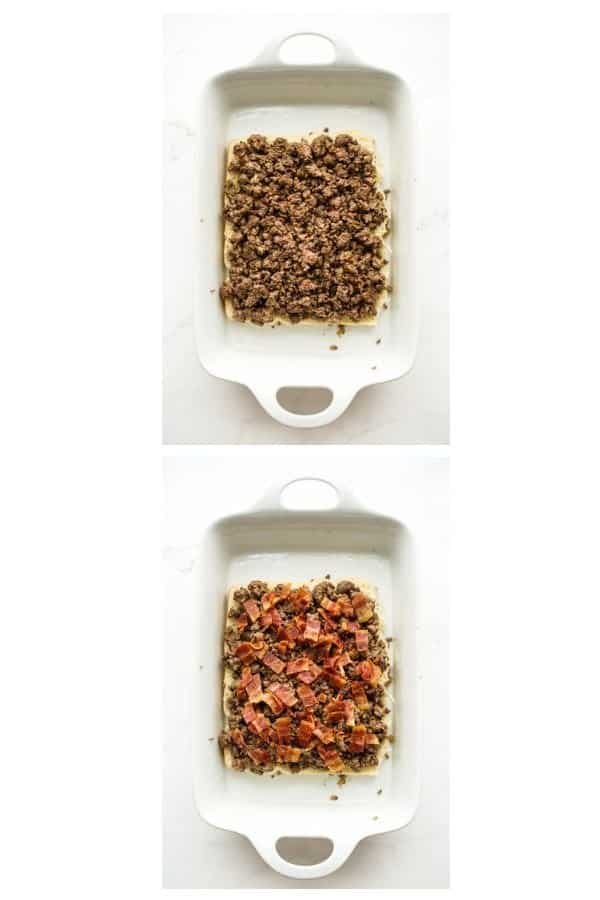 Followed by cheese and the top of the Hawaiian buns.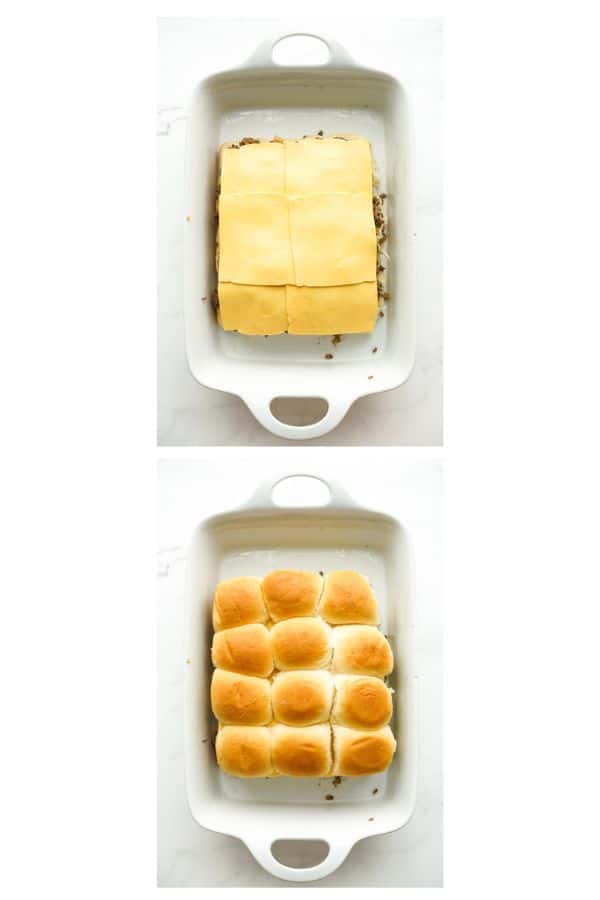 I like to double-layer the cheese because 1) I love cheese, 2) it acts as a glue to keep the ground beef and buns in place, 3) it really does taste really good with more cheese
But we are not done yet…
Brush the top of the buns with butter and sprinkle with Everything but the Bagel seasoning. This step actually gives an extra layer of flavor to the Bacon Cheeseburger Slider, it's not just to make it look pretty.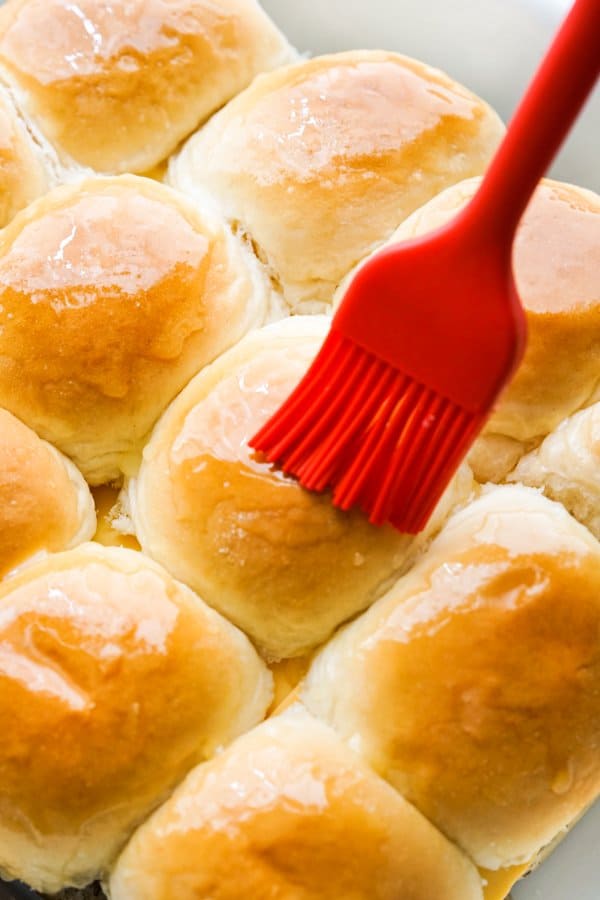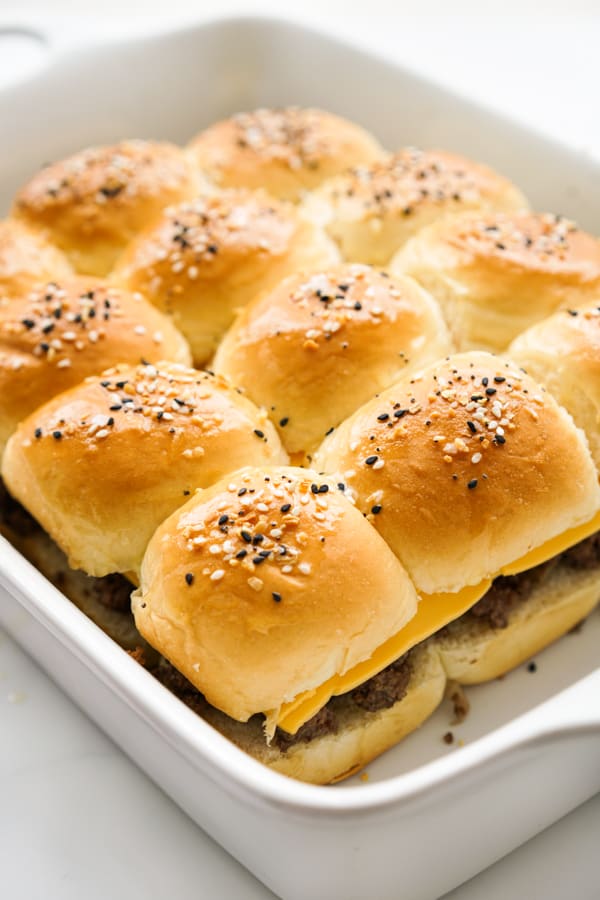 Bake Bacon Cheeseburger Sliders in the oven for 10 minutes at 350℉.
When it is done, the Hawaiian rolls will be golden brown on the top, slightly crunchy on the outside, soft and fluffy on the inside.
Sandwiched between them are delicious melted cheese and seasoned beef…and its flavors have since merged and come together like magic.
You also get bites of sesame seeds and garlic pieces in every single bite.
Omg so yum!
It's the perfect party food, game day food, easy dinner, lunch, snack…we make Bacon Cheeseburger Sliders all the time and absolutely love it!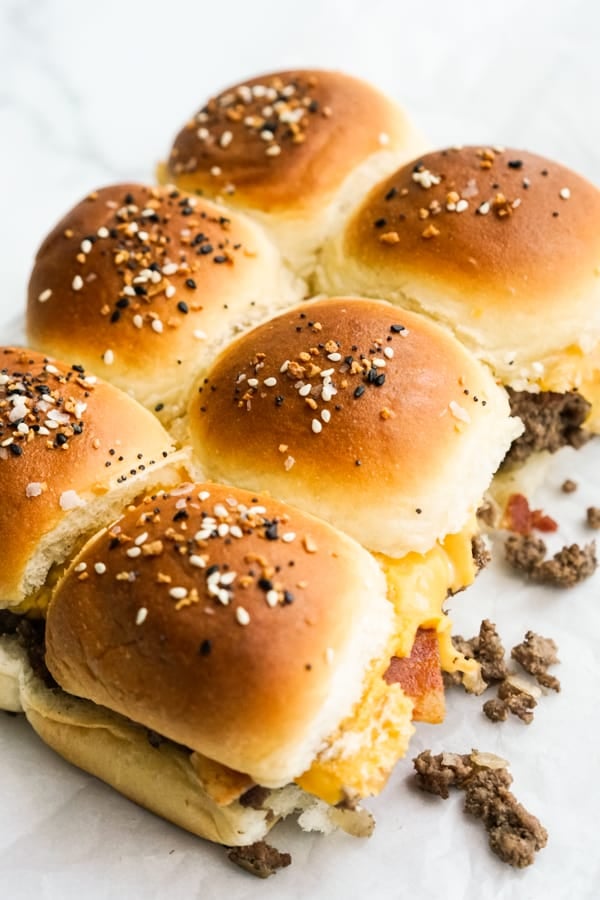 Variation and Substitution
I want to share a very basic Bacon Cheeseburger Slider recipe. If you are feeling adventurous, there are many ways to go beyond the basics and jazz this up!
Here are some yummy ingredients you can add to the sliders:
To add after baking:
lettuce

tomatoes

avocados

pickles
To add before baking:
sautéed mushrooms
caramelized onions (p/s: my personal favorite)
Instead of using ground beef, feel free to use ground chicken, pork, bison or lamb.
While I think Hawaiian rolls are superior to all rolls for Bacon Cheeseburger Sliders, you can also definitely use other types of rolls such as dinner rolls, brioche etc. 😉
What to serve with sliders
Bacon Cheeseburger Sliders really can stand alone and get the party started. But they are also great served with one or two of these sides: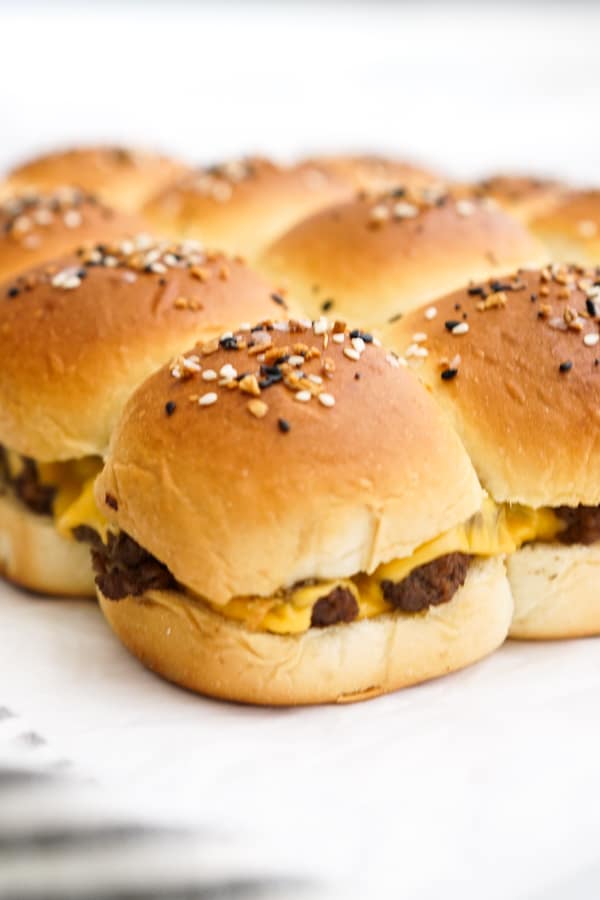 Make Ahead and Storage
If you choose to make Bacon Cheeseburger Sliders ahead before a party, make the ground beef and bacon ahead of time and store in refrigerator for up to 3 days, but only assemble and bake the sliders right before you are ready to serve.
Once assemble, the Hawaiian rolls tend to become soggy, so it is best to serve immediately after it is assembled and baked.
DID YOU ENJOY THIS RECIPE? Please comment below and give us a 5-star rating! This will help others find this recipe on Google and Pinterest. We very much appreciate your help! 🤍
More delicious sandwiches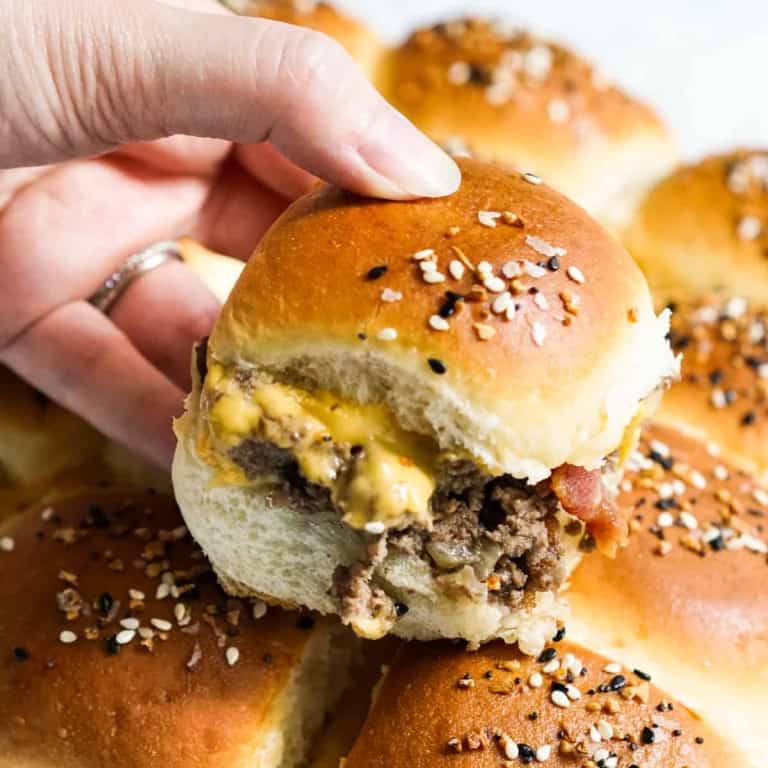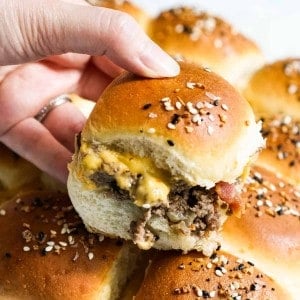 Bacon Cheeseburger Sliders
Easy and yummy Bacon Cheeseburger Sliders in Hawaiian rolls! These oven baked mini burgers are loaded with seasoned ground beef and melted American cheese. Perfect for game day and parties.
Print
Pin
Ingredients
5-7

strips

bacon

1

tsp

vegetable oil

1

lbs

ground beef

1/2

cup

white onions

diced

1

tsp

garlic powder

1

tsp

onion powder

1

tsp

salt

1/2

tsp

black pepper

6-8

slices

American cheese

1

tbsp

salted butter

1

tsp

Everything Bagel seasoning

12

Hawaiian rolls
Instructions
Pre-heat oven to 400°F. Place bacon on a baking sheet lined with aluminum foil – do not overlap bacon. Bake for 12-17 minutes, or until bacon reaches desired crispiness. Remove from oven. Cut bacon into small pieces.

While waiting for bacon to cook, heat skillet with vegetable oil. Sear diced onions until it is fragrant (1-2 minutes). Then add ground beef, stirring continuously and breaking it up into small pieces.

Add garlic powder, onions powder, salt, black pepper and liquid smoke. Continue to cook until beef is no longer pink. Remove from heat.

Grease a 9"x13" baking dish. Slice the 12-piece Hawaiian rolls into half lengthwise. Avoid breaking rolls apart from each other.

Place the bottom of the Hawaiian rolls onto baking dish. Then add ground beef, bacon pieces, cheese (double layer them), and the top of the Hawaiian rolls.

Brush the top of the Hawaiian rolls with melted butter. Then sprinkle with Everything Bagel seasoning (see Note 1).

Bake sliders for 10 minutes in the oven.
Notes
Note 1: Instead of Everything Bagel seasoning, you can add herbs, sesame seeds or other seasonings to the top of the buns. Note: there is salt in Everything Bagel seasoning. If you are using a seasoning or herbs without salt, you can add 1/2 tsp of salt when searing the ground beef to make up for the saltiness if you'd like.
Nutrition
Calories:
278
kcal
|
Carbohydrates:
16
g
|
Protein:
13
g
|
Fat:
18
g
|
Saturated Fat:
8
g
|
Polyunsaturated Fat:
1
g
|
Monounsaturated Fat:
6
g
|
Trans Fat:
1
g
|
Cholesterol:
56
mg
|
Sodium:
569
mg
|
Potassium:
150
mg
|
Fiber:
0.2
g
|
Sugar:
4
g
|
Vitamin A:
132
IU
|
Vitamin C:
1
mg
|
Calcium:
120
mg
|
Iron:
1
mg