Blueberry Mango Smoothie with Peanut Butter and Honey
This healthy and delicious Blueberry Mango Smoothie is my go-to healthy breakfast smoothie recipe! It's a blend of frozen blueberries, frozen mangoes, bananas, almond milk, peanut butter, honey and some spinach (and you won't taste it!).
I typically make this at least once or twice a week in the mornings. Not only is it delicious, it actually keeps me full until lunch time!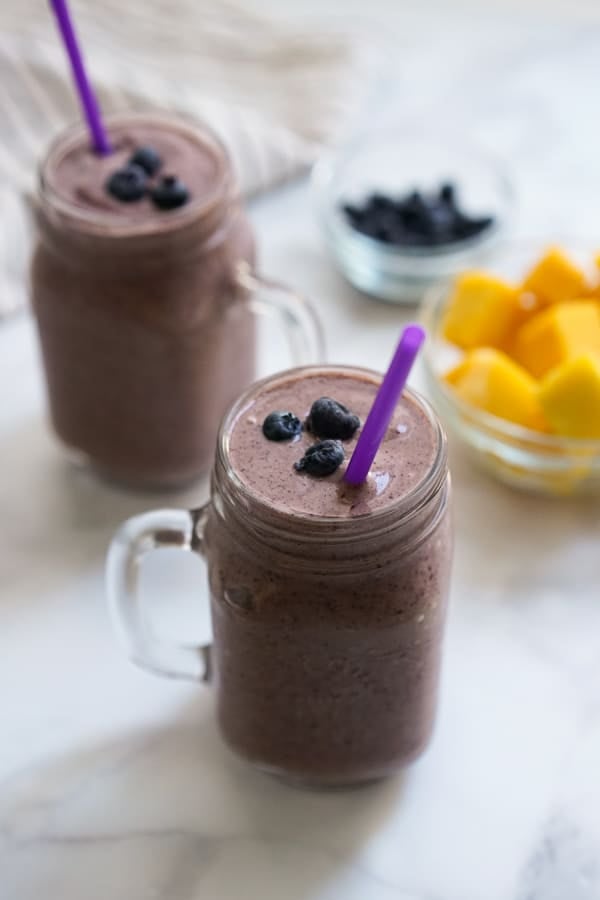 Why Blueberry Mango Smoothie
One of my favorite places to frequent in Austin is JuiceLand. Well, maybe that's an understatement because my relationship with JuiceLand is probably better categorized as a one way street obsession.
I would go there everyday if I could afford to. 😉
My go-to order at JuiceLand is this drink called Honey Beary. It's a delicious blend of blueberries, peanut butter, banana, honey, almond milk, and other yum things of which I'm not 100% sure what they are.
But whatever it is, it is so so good.
This recipe is my effort to recreate this JuiceLand goodness in my home.
I've added more ingredients I love to it – i.e. frozen mango, spinach etc, and couldn't guess for sure everything single ingredient they incorporated into their version of Honey Beary.
While this is not a direct replica of Honey Beary, this Blueberry Mango Smoothie would not be grazing the internet today without my discovery of Honey Beary. So it is definitely inspired by it and if I may say, I think it tastes pretty similar.
But most importantly, definitely just as delicious. 🙂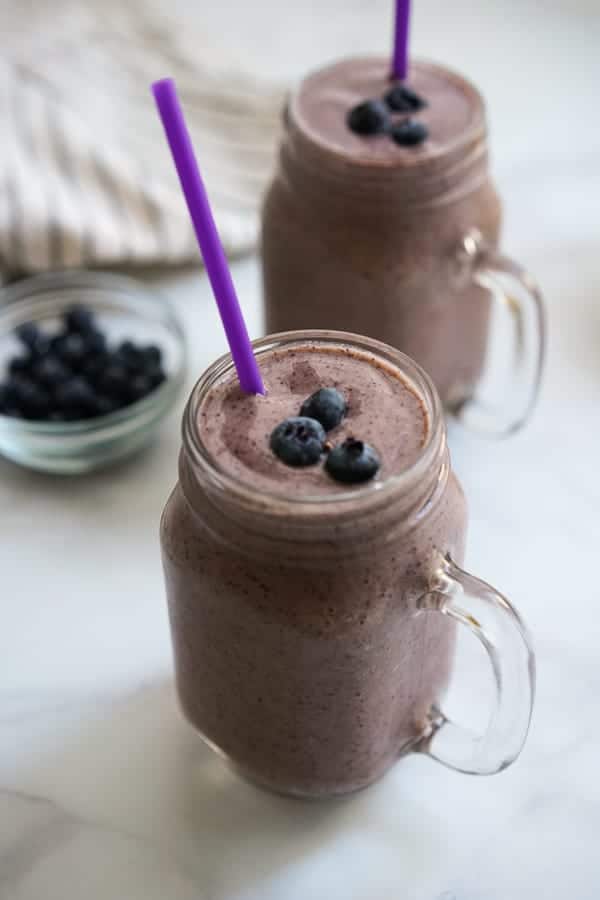 Tips for making Blueberry Mango Smoothie
Smoothies are super simple to make. Dump everything in the blender, blend it up, and breakfast is served!
There's really not much to it, but here are a couple of tips to make the process even easier! And yes, you are welcome! 🙂
Add liquid and non-frozen fruits to the blender first so that it is easier on the blades.
Measurements for the frozen fruits are estimates and depending on how big the chunks of fruits are, consistency of the smoothie may vary. Therefore add more almond milk to the mixture if needed to thin out the smoothie or add more frozen fruits to thicken it as needed.
Variations
Here are the main ingredients in this Blueberry Mango Smoothie smoothie:
Frozen Blueberries
Frozen Mangoes
Bananas
Almond Milk
Peanut Butter
Honey
Spinach (You won't taste it! It's a great way to add more veggies to our diets!)
There are many ways to make different variations of this smoothie, and here are other ingredients you can add or use in a place of:
Acai or blackberries instead of blueberries
Maple syrup instead of honey
Dates instead of or in addition to honey
Frozen peaches instead of or in addition to frozen mangoes
Other milk products instead of almond milk (I personally prefer almond milk instead of dairy milk for this smoothie because I think it tastes better)
Other nut butter instead of peanut butter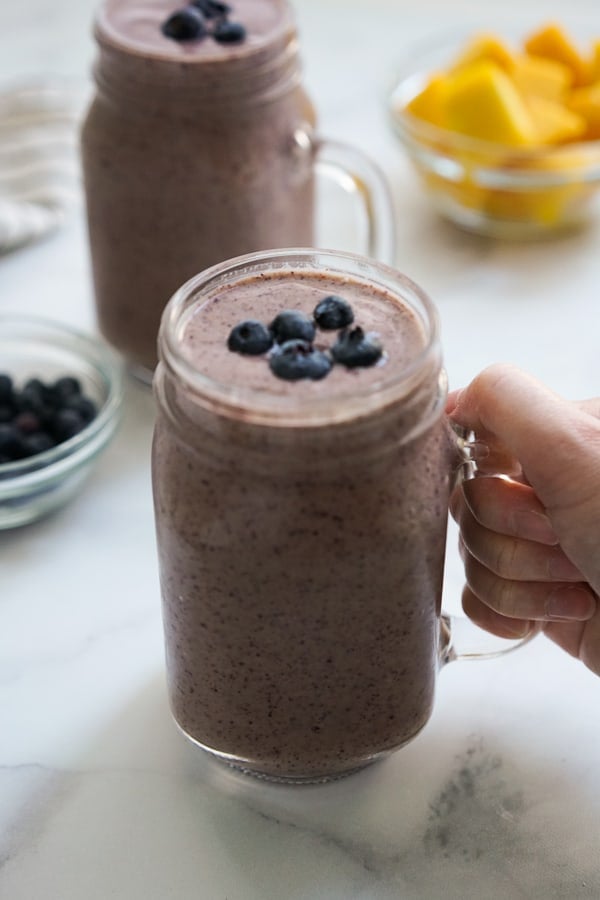 Can you make ahead?
Yes you can and store in the fridge for up to 12 hours. I find that if you store it for longer than that, the taste changes slightly. Just a personal preference here.
I honestly don't love make-ahead smoothies because you will lose the icy textures, but it is totally doable if needed.
Let's make it happen!
When I first started making smoothies for breakfasts in the morning, it was out of wanting to lower my carb intake and eat healthier.
After a while, I discovered that there are ways to make smoothies taste super yummy, and I started liking it…a lot. So much so I would actually crave for a good smoothie for breakfast.
All that to say, if you haven't had a smoothie you love, give this a try! It's a good one, and I think it will change your mind! 🙂
DID YOU ENJOY THIS RECIPE? Please comment below and give us a 5-star rating! This will help others find this recipe on Google and Pinterest. We very much appreciate your help! 🤍
Other Smoothie Recipes!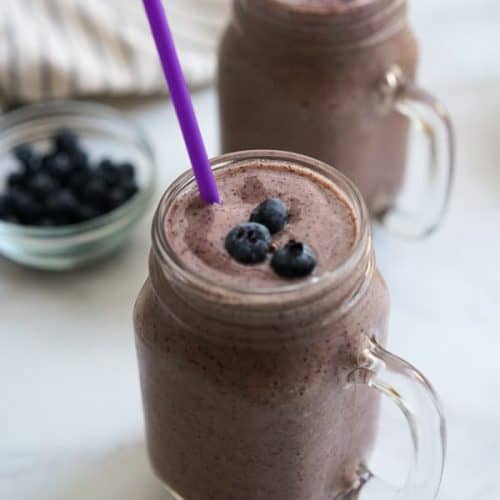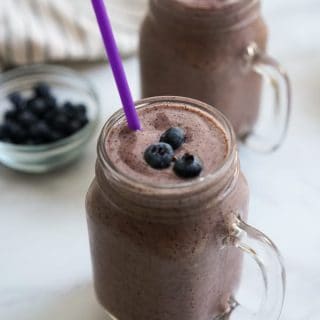 Blueberry Mango Smoothie
A healthy and delicious breakfast smoothie! A blend of frozen blueberries, frozen mangoes, banana, almond milk, peanut butter, honey and spinach.
Print
Pin
Ingredients
1

cup

fresh spinach

2

cups

almond milk

more if needed

2

bananas

2

tbsp

peanut butter

2

tbsp

honey

or to taste

2

cups

frozen mangoes

1

cup

frozen blueberries
Instructions
Bring all the ingredient into blender. Tip: add non-frozen items first to make it easier on the blades. Blend until smooth.

Add more almond milk to thin out smoothie or more frozen fruits to thicken smoothie as needed.

Pour into two glasses and enjoy!
Nutrition
Calories:
443
kcal
|
Carbohydrates:
84
g
|
Protein:
9
g
|
Fat:
12
g
|
Saturated Fat:
2
g
|
Sodium:
415
mg
|
Potassium:
944
mg
|
Fiber:
10
g
|
Sugar:
63
g
|
Vitamin A:
3307
IU
|
Vitamin C:
82
mg
|
Calcium:
346
mg
|
Iron:
1
mg