This post may contain Amazon or other affiliate links. As an Amazon Associate I earn from qualifying purchases at no additional cost to you.
My heart belongs to these BBQ Chicken Tacos. Chicken marinated in BBQ sauce, juicy on the inside, and slightly crusty on the outside. Wrapped in a soft flour tortilla, and topped with roasted corn, cilantro and pickled onions. Every single bite makes me giddy happy.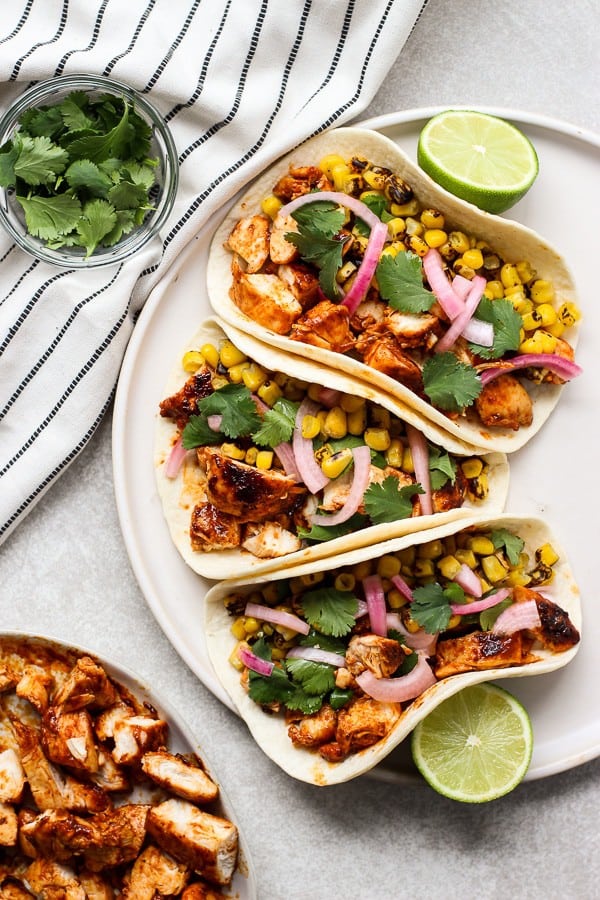 Is it a temporary thing? Is it a forever love? Could the warmer weather have affected the affections of my heart?
All I know is this. We have been feeding on these deliciousness that is BBQ Chicken Tacos a whole lot. For dinner. For lunches (yay leftovers). As snacks when we are hungry. No joke. Tacos are totally snack-friendly. It HITS THE SPOT. Every. Single. Time.
There's something unique about the combination of flavors – the savory sweet bbq sauce, the crunchy corn, the pickled onions soaked in vinegar with a hint of sweetness, that warm and soft tortilla. Put them together and BAM! MAGIC happens.
P/S on the bbq sauce: Pick your fave. There are many to choose from, but you know what you love. Some like it sweeter, some like it saltier. You and your favorite is how this is going to work best.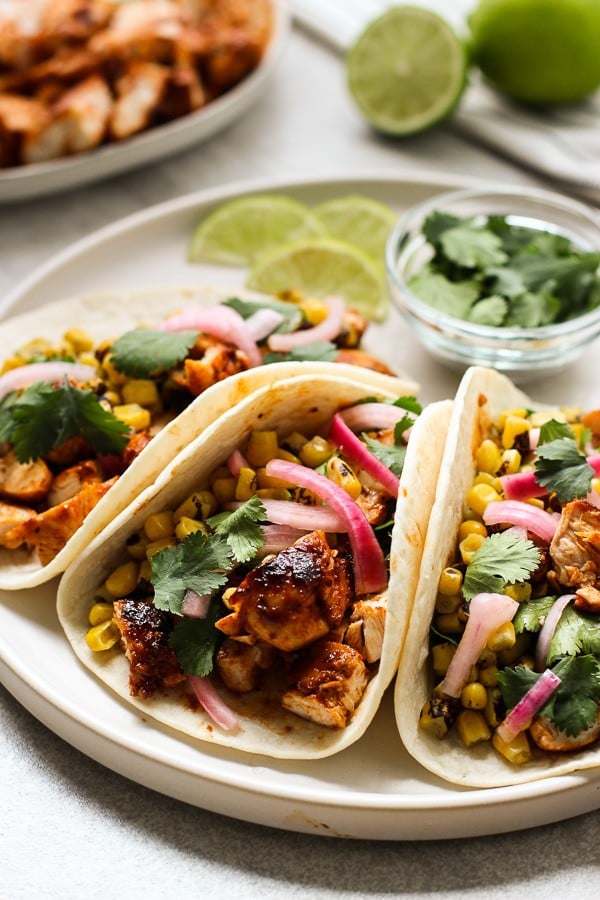 How to make BBQ Chicken Tacos
Making these yummies is a simple task. I like to think it is divided into three components:
Marinate and sauté the chicken
Pickle the onions
Chop/prep/assemble
The marinating and pickling takes a little bit of time, but it is all passive time. Just start the marinating and pickling business an hour or so before you get crazy hungry, and you should be all set.
You can also marinate and pickle hours before actually making your meal. The longer you marinate and pickle, the more flavorful the chicken and red onions will be.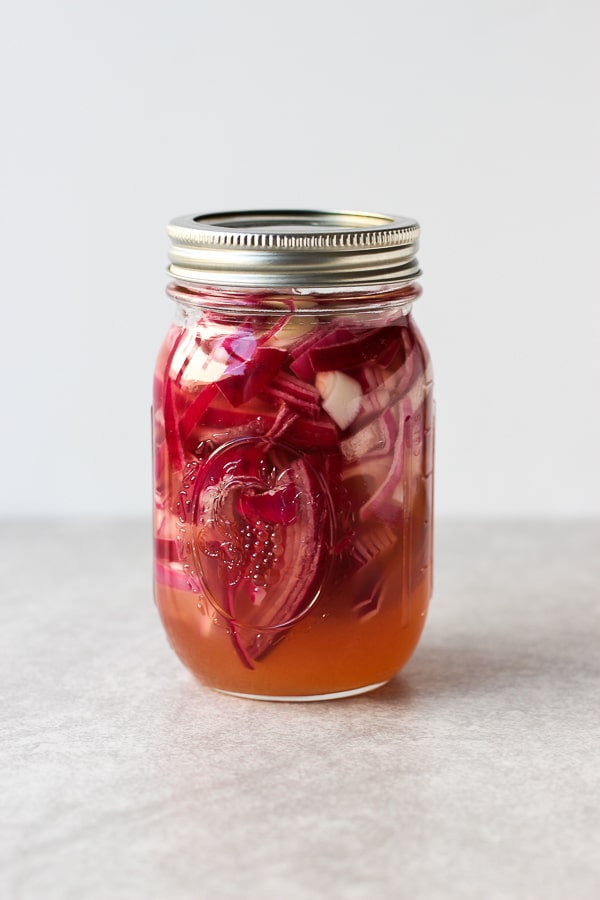 BBQ Chicken Tacos Pro-tip
I like to think of this as all the things that will make your BBQ Chicken Tacos taste amazing! I take notes when I recipe test and give you all the oops's that I made so that you don't have to make the same oops. And yes – you are welcome!
Oops #1: Not marinating the chicken. Do not do what I did and please marinate that chicken. For just 30-45 minutes, or longer if you have time. Marinating gives the chicken more flavor on the inside!
Oops #2: Throwing chicken with lots of marinate onto the hot skillet. To avoid splattering, try to get chicken somewhat dry before adding them into the hot skillet. Or use a splatter guard.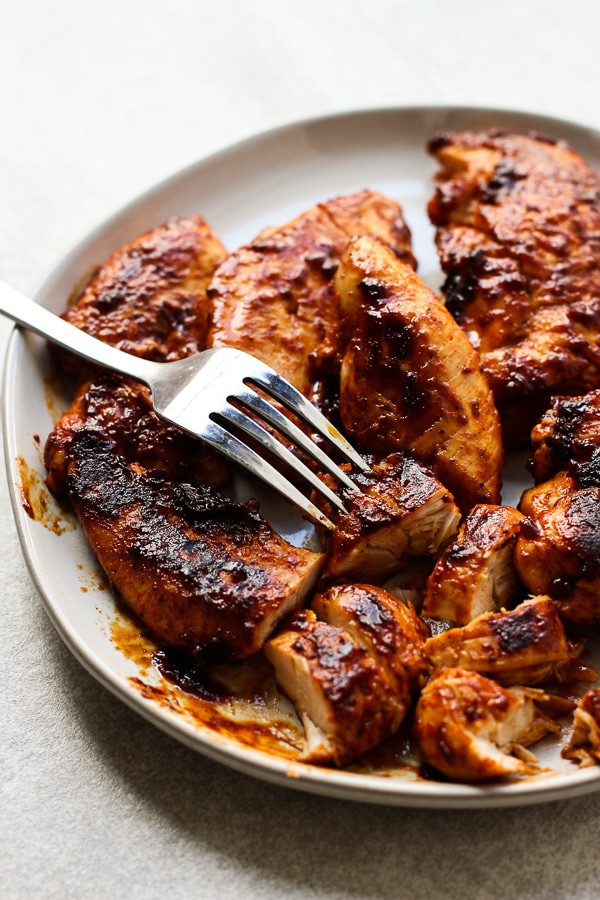 Can the BBQ chicken be made on the grill?
OH YES!!! And it will taste amazing!
There is something magical about smoky grilled meats.
So why did I say pan-fry in this recipe?
Because 1) it still tastes amazing pan-fried, and 2) I want to make this more accessible because let's be real here, it's a lot more work to fire up a grill during a busy weeknight than cooking chicken on the stove.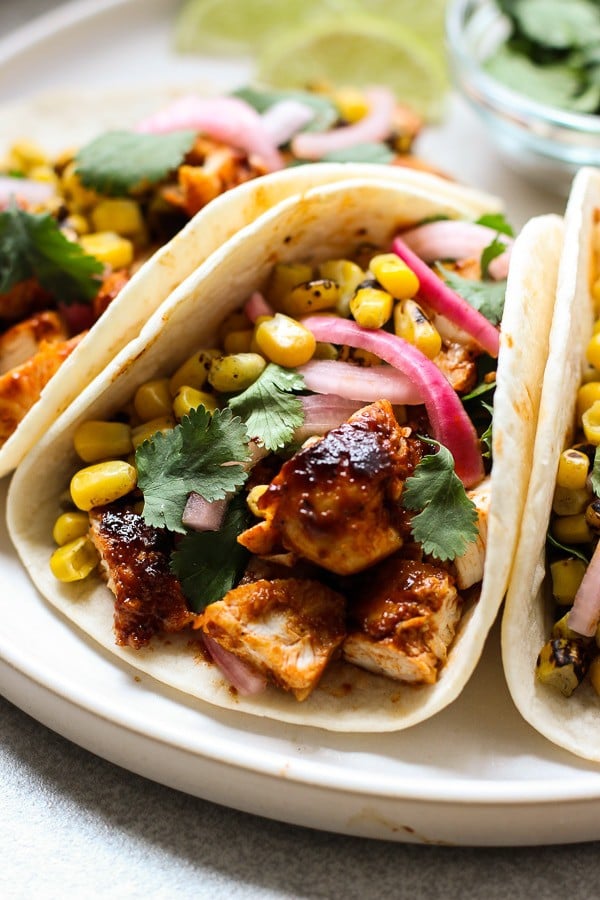 This BBQ Chicken Tacos recipe is warm weather meal 101. It's the perfect dinner for any day. Simple, without compromising yumminess.
If you make this, comment below and let me know how it goes! And remember to take a picture of it and tag me on instagram!
Let's taco about these other yummy taco recipes
*Disclaimer: This post contains affiliate link(s). I will earn a small commission if you purchase item(s) via these links at no additional cost to you.