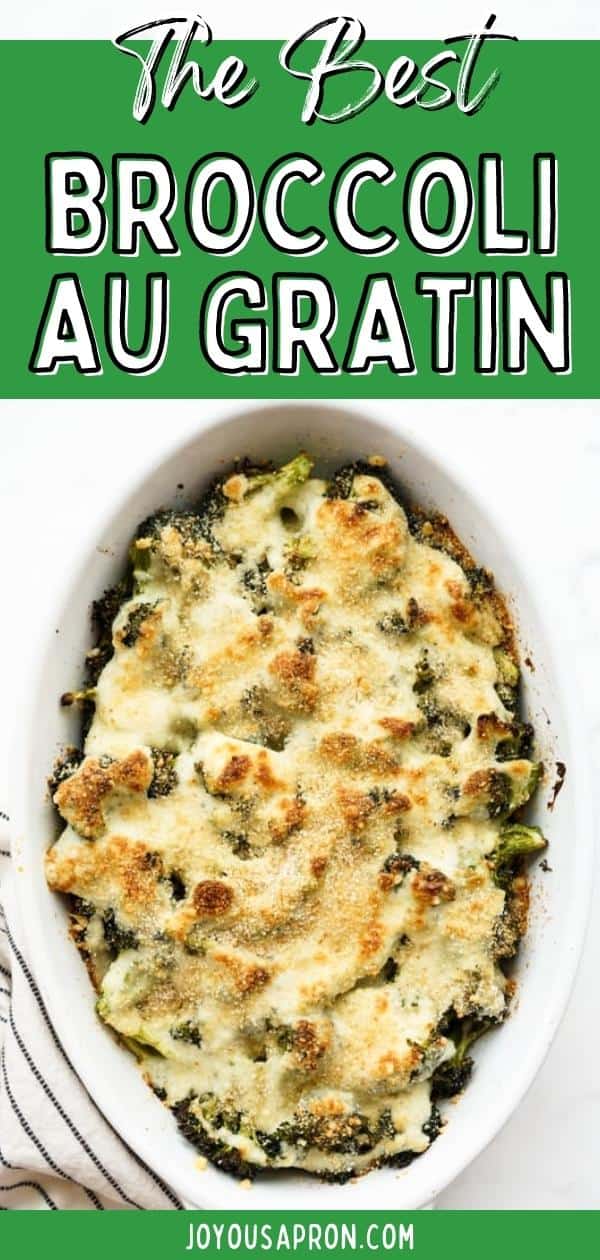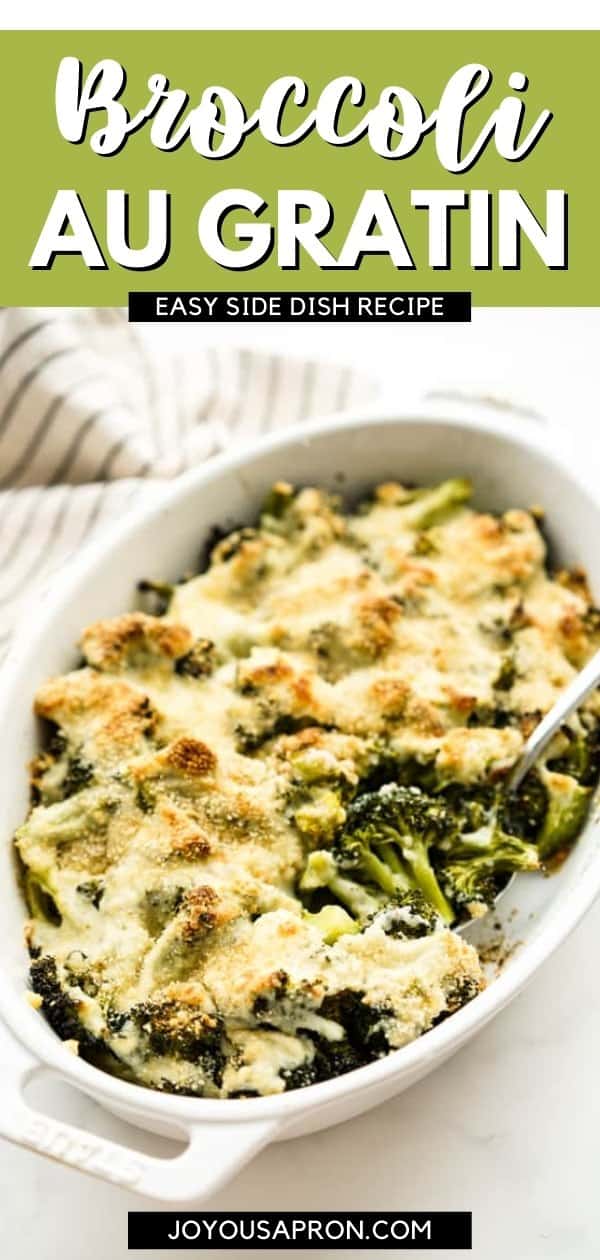 The Best Broccoli au Gratin recipe! Broccoli is tossed in garlic for lots of amazing flavors, oven roasted (not steamed or boiled!) and topped with creamy béchamel cheese sauce along with breadcrumbs and parmesan cheese.
This cheesy broccoli casserole dish is perfect for the Thanksgiving and Christmas holidays…or as a side to dinner any day! Trust me – even non veggie eaters will LOVE this Broccoli au Gratin!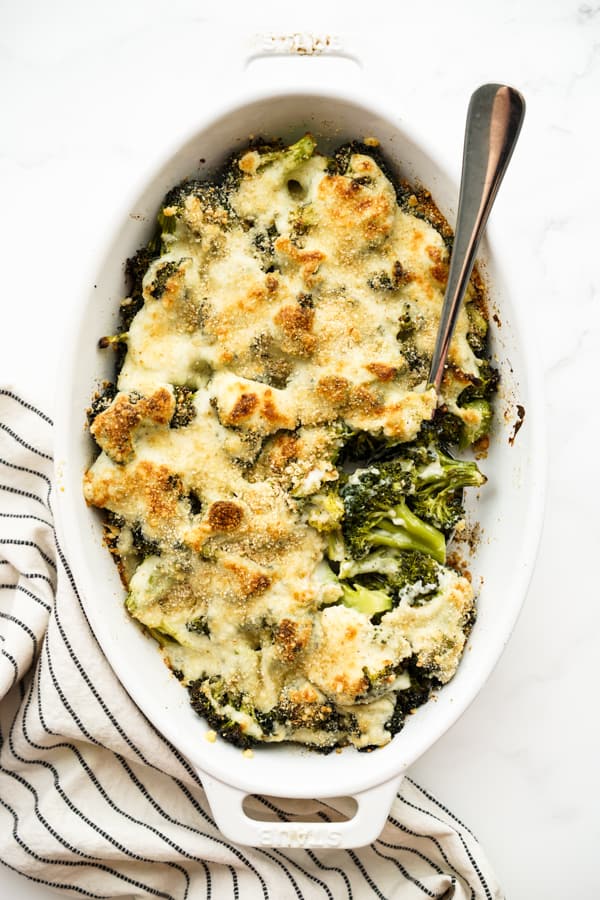 Looking for more vegetable dishes? Don't forget to also check out my Garlic Parmesan Asparagus, Garlic Sautéed Spinach, Roasted Lemon Garlic Broccoli, Caramelized Onions Sautéed Green Beans, and Roasted Zucchini with Garlic Parmesan. We are all about making simple vegetables taste AMAZING.
What is au Gratin?
Au Gratin is a French culinary technique where a dish is baked and topped with cheese and breadcrumbs, then broiled briefly so that it is golden brown and bubbly on top. It can be made with potatoes, cauliflower, tomatoes, and of course, broccoli.
But let's be real here, you can pretty much baked anything with that cheese sauce and it's gonna taste amazing. 😉
Broccoli au Gratin is such a yummy vegetable side dish that serves well with protein dishes such as ham, beef, chicken, or pork. Being rich and creamy in nature, it also makes a delicious and impressive holiday or entertaining veggie dish.
And this, my friends, is the BEST Broccoli au Gratin recipe.
I don't use the word 'best' lightly. This is a great recipe because we season and roast the broccoli (no boiling or steaming so that broccoli is not soggy!), and then we are topping it with a creamy cheese sauce that is flavorful but not overly heavy.
This Broccoli au Gratin is flavorful, has great textures, and broccoli is not drowning in cheese sauce. In fact, the cheese sauce is there to highlight the broccoli.
I'm not gonna lie, my secret (or not so secret) goal is that non-broccoli lovers will fall in love with this broccoli au gratin recipe.
I truly believe it is possible…because it is THAT good!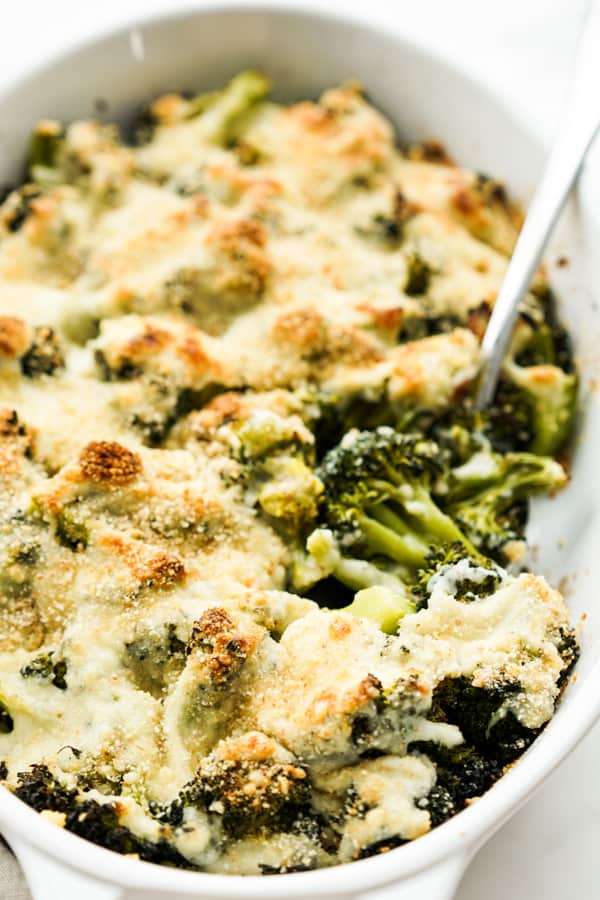 Broccoli au Gratin Ingredients
To make Broccoli au Gratin, gather up these ingredients!
broccoli florets – I use fresh but you can use frozen. If using frozen, bring it to a defrost and pat dry before tossing in seasoning to oven bake.
minced garlic – fresh garlic is always the best. In a pinch, garlic powder works as well but it will never be as good as fresh!
Salted butter
All-purpose flour
Milk – 2% or higher is preferred
Breadcrumbs – used as topping
Parmesan cheese – used as topping. Grated parmesan cheese is preferred, not shredded
Salt and black pepper
Cooking oil
Let's Make this Cheesy Broccoli Casserole!
Step 1: Season and Oven Bake Broccoli
If you purchased a large broccoli head, cut it into small florets before tossing it in cooking oil, garlic, salt and black pepper.
Bake them on a baking sheet lined with parchment paper (for easy cleanup) at 350℉ for 15 minutes.
When done baking, transfer roasted broccoli to a greased 12′ oval gratin dish, or a 8'x8′ (or 9×9′) square casserole dish.
At this point broccoli shouldn't be fully cooked, but cooked partially, and will be baked in the oven again later to finish cooking.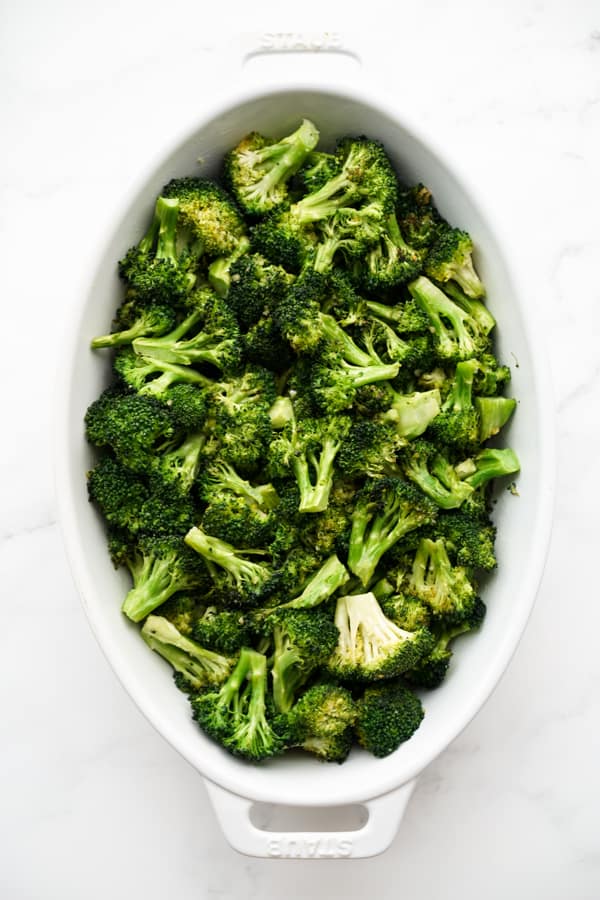 Step 2: Make Béchamel Sauce
Next, we are going to make the creamy white bechamel sauce that will be going on top of the Broccoli au Gratin.
In a pot under medium heat, bring together butter and flour, then add milk.
Bring to boil, and whisk continuously using a whisk until there are no more flour clumps in the sauce. AT this point sauce should also thicken slightly.
Remove from heat promptly, avoid over cooking and over thickening sauce.
If sauce is thicker than desire, at more milk to thin it out.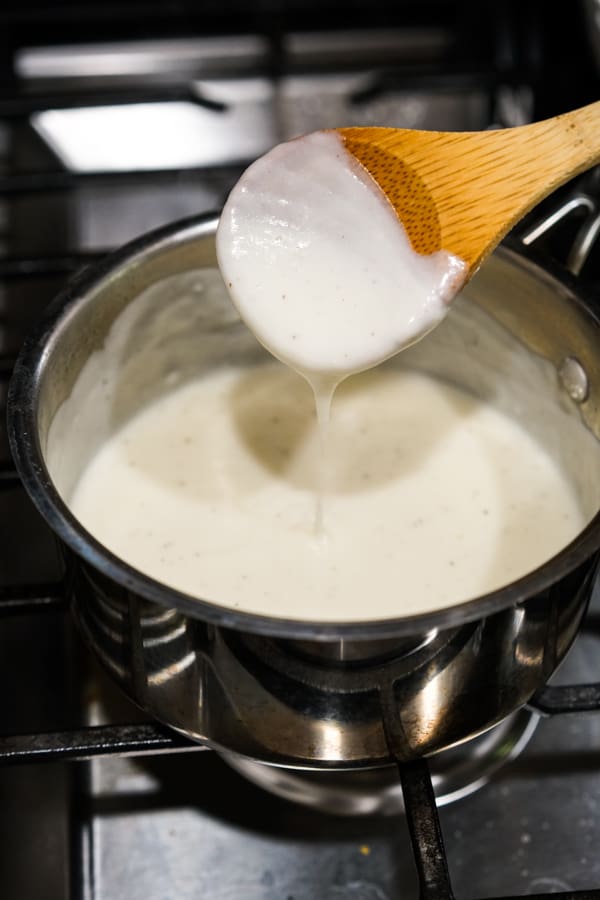 Step 3: Assemble and bake
Once sauce is ready, pour it over the top of the broccoli casserole.
I go pretty light on the sauce (it just coated the top of the broccoli) because I don't want to overpower my Broccoli au Gratin dish with too much cream. If you'd like a creamier, richer sauce, double the sauce recipe.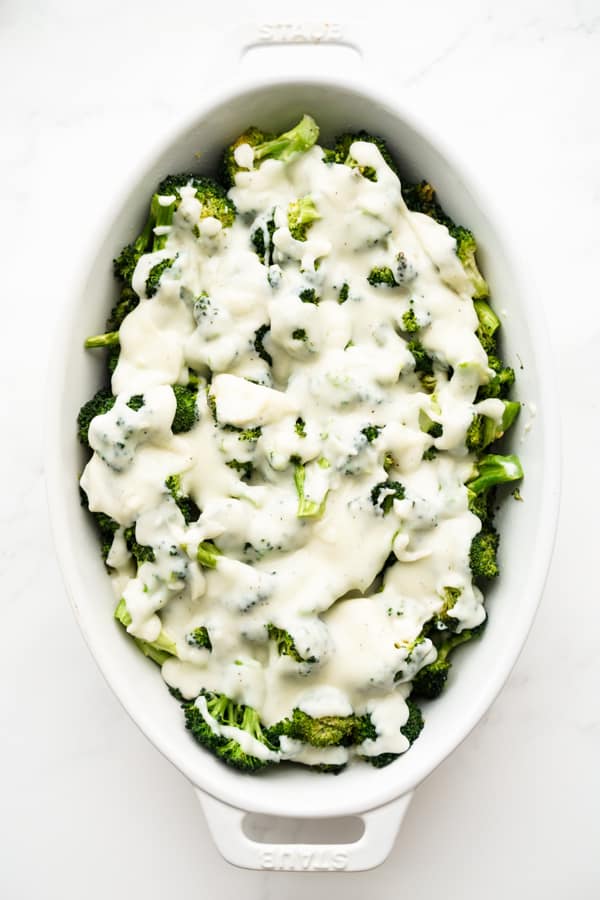 Then top it with breadcrumbs and parmesan cheese.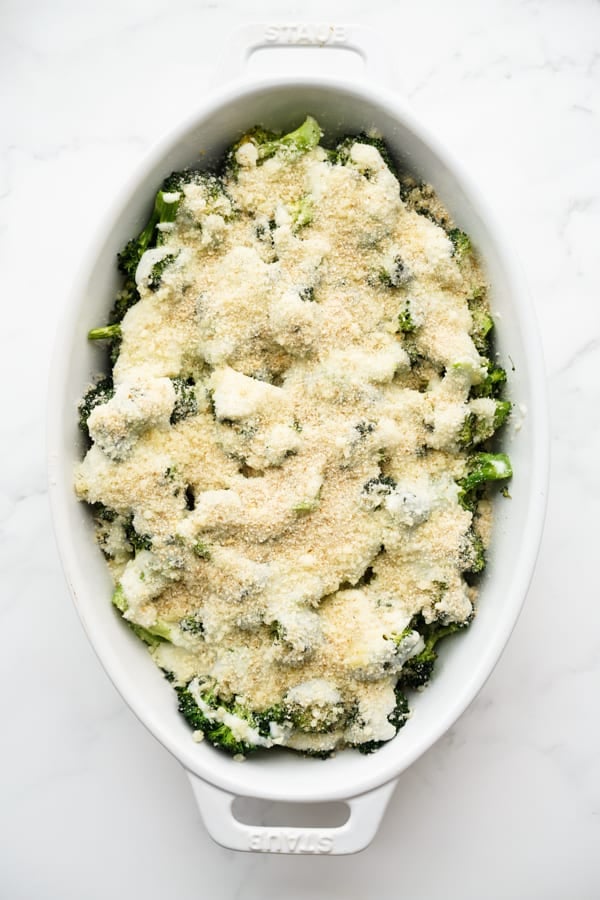 Lastly, send it to the oven to bake!
This time we are baking it at 425℉ for 20 minutes, and then broiling it for 3 minutes until the top is slightly crusty and golden brown.
TA-DA!!! Check out the ooey gooey goodness….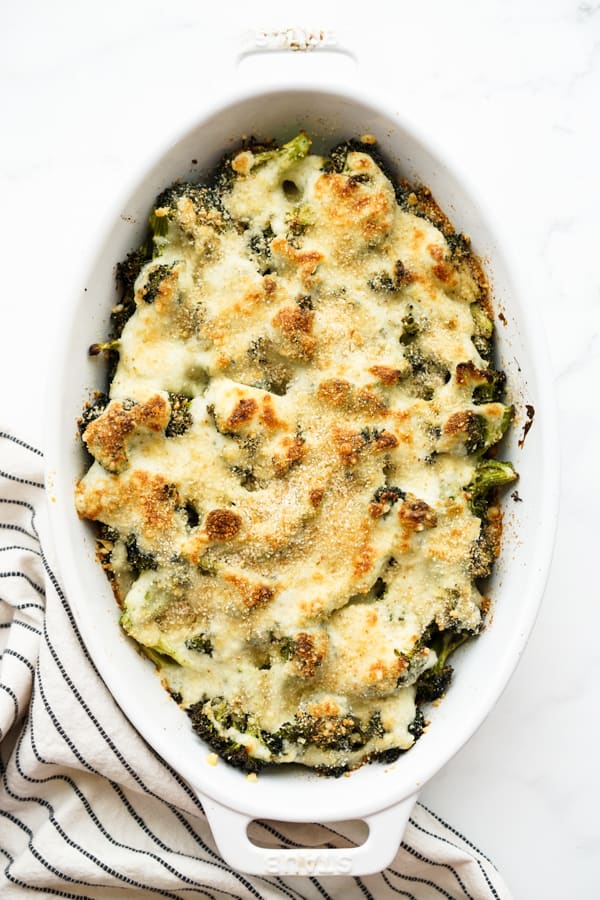 Broccoli is still slightly crunchy on the outside, but soft on the inside, and perfectly seasoned with garlic. It is then coated with a light creamy bechamel sauce and topped with a crusty golden brown parmesan breadcrumbs topping.
Whether you like broccoli or not, this Broccoli au Gratin dish is about to rock your world!
It's filled with amazing flavors and textures, and makes eating broccoli FUN!
Make Ahead and Freezing
To make ahead Broccoli au Gratin, you can:
Bake broccoli, make sauce, assemble au gratin, cover and store in the refrigerator to bake later. Bring to a room temperature 1 hour ahead of time, then bake using recipe instructions, or until broccoli is heated throughout. Remember to broil it at the end.
Fully bake Broccoli au Gratin, cover and store in refrigerator. Bring to a room temperature 1 hour ahead of time. To reheat, cover with aluminum foil and bake broccoli casserole at 400℉ for 20 minutes, or until broccoli is heated throughout.
Instead of refrigerating the assembled or fully baked Broccoli au Gratin, you can sealed and freeze as well for up to 1 month. Make sure to bring it to the refrigerator a day ahead of time and then following the make ahead steps above to heat and serve it.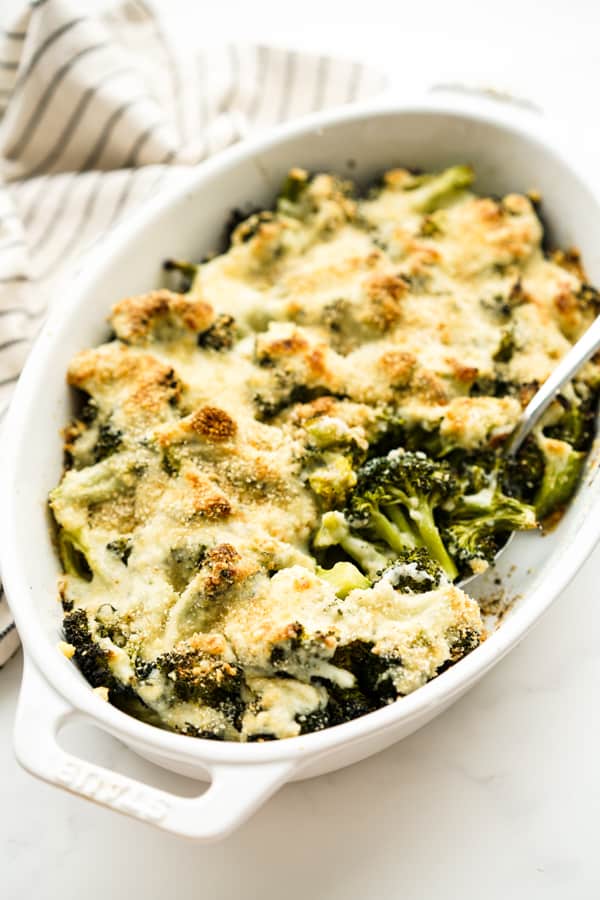 Frequently Asked Questions
I don't have an oval dish – what should I use?
Use a square casserole dish instead. Either 9′ x 9′ or 8′ x 8′ should work just fine!
Can I use frozen broccoli instead of fresh?
Yes! If using frozen broccoli, bring it to defrost and pat dry to remove moisture before seasoning and baking it. Personally, I prefer fresh because there's less moisture in it.
I like my Broccoli au Gratin creamier and richer. What should I do?
Double the cheese sauce/ bechamel sauce! Everything else should stay the same. By doing this you'll have broccoli soaked in sauce, versus just being topped with sauce 🙂
Why is my sauce so thick and paste-y?
It's probably overcooked. Remove pot from heat promptly once sauce starts thickening. To thin it out, add 1 tbsp of milk at a time until it reaches your desired consistency.
What to serve with it
Broccoli au Gratin makes a delicious vegetable side dish, especially for holidays or dinner parties. I love serving this cheesy broccoli casserole with some of these delicious protein dishes:
DID YOU ENJOY THIS RECIPE? Please comment below and give us a 5-star rating! This will help others find this recipe on Google and Pinterest. We very much appreciate your help! 🤍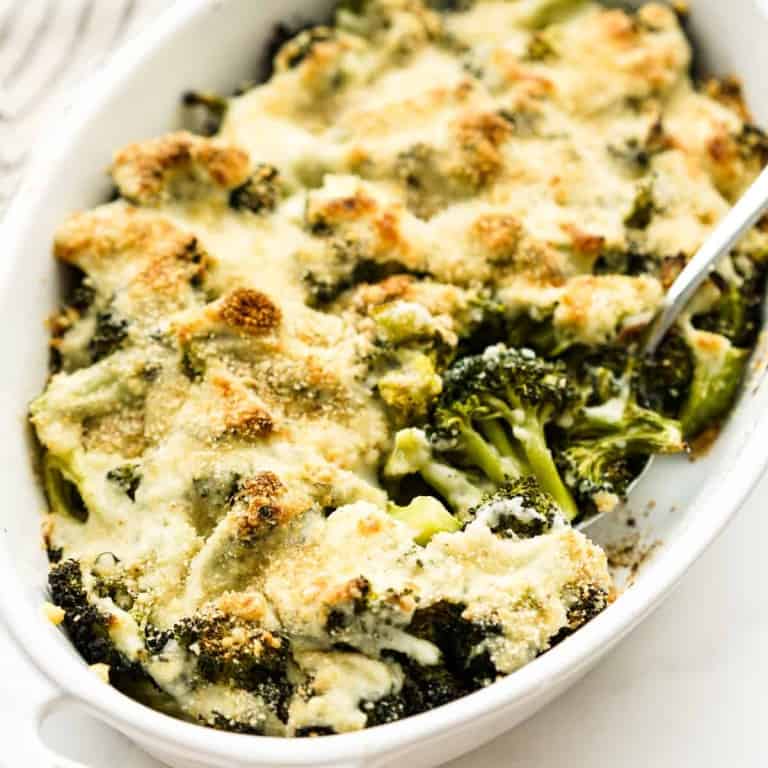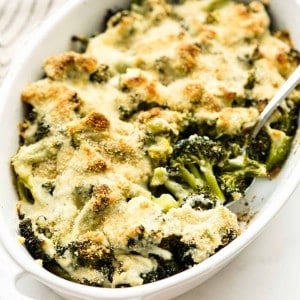 Broccoli au Gratin
Creamy and delicious Broccoli au Gratin recipe! Roasted seasoned broccoli is topped with a creamy bechamel sauce and a golden brown parmesan and breadcrumbs topping. It's the perfect vegetable side dish for the holidays and dinner parties.
Print
Pin
Ingredients
1.5

lbs

broccoli florets

2

tbsp

olive oil

1/2

tsp

salt

for roasting brocolli

3

cloves

garlic

minced

2

tbsp

salted butter

2

tbsp

all purpose flour

1

cup

2% milk

1/2

tsp

salt

for sauce

1/4

tsp

black pepper

2

tbsp

breadcrumbs

1/2

cup

parmesan cheese

grated
Instructions
In a large bowl, toss broccoli florets in olive oil, 1/2 tsp salt and minced garlic.

Spread broccoli on a greased baking sheet (line with aluminum foil for easy cleanup). They can be crowded together but not overlapped on top of each other.

Bake for 15 minutes. Remove and transfer broccoli into a 12' oval baking dish (or 9' x 9' square baking dish).

Bring a small pot to medium low heat on the stovetop. Add butter and flour. Mix to combine. Then add milk.

Bring to a boil and whisk continuously until flour clumps disappear. When sauce thicken slightly, add 1/2 tsp salt and 1/4 tsp black pepper. Stir to combine, then remove pot from heat.

Pour sauce and spread all over broccoli in the casserole, then top with breadcrumbs and parmesan cheese.

Bake Broccoli au Gratin in the oven for 20 minutes, then broil for 3 minutes, or until the top is slightly golden brown. Remove from oven.
Notes
For a creamier and richer Broccoli au Gratin, double the sauce recipe.
Avoid overcooking sauce if not it will be too thick. Remove from heat once it starts to thicken. To thin sauce, add a few tbsp of milk at a time until it reaches desired consistency.
Nutrition
Calories:
143
kcal
|
Carbohydrates:
11
g
|
Protein:
6
g
|
Fat:
9
g
|
Saturated Fat:
4
g
|
Polyunsaturated Fat:
1
g
|
Monounsaturated Fat:
4
g
|
Trans Fat:
0.1
g
|
Cholesterol:
14
mg
|
Sodium:
474
mg
|
Potassium:
329
mg
|
Fiber:
2
g
|
Sugar:
3
g
|
Vitamin A:
697
IU
|
Vitamin C:
76
mg
|
Calcium:
158
mg
|
Iron:
1
mg