This post may contain Amazon or other affiliate links. As an Amazon Associate I earn from qualifying purchases at no additional cost to you.
Strawberry Banana Nutella Crepes. These four words give me ALL THE FEELS.
Breakfast? Light Dessert? Snack? You make it whatever you want it to be! Crepes sound sophisticated and complicated, but today we are making the crepe dreams come true with just a good old non-stick skillet. Nothing fancy, actually super easy and totally doable, and it will be everything your crepe-loving heart could ever hope for…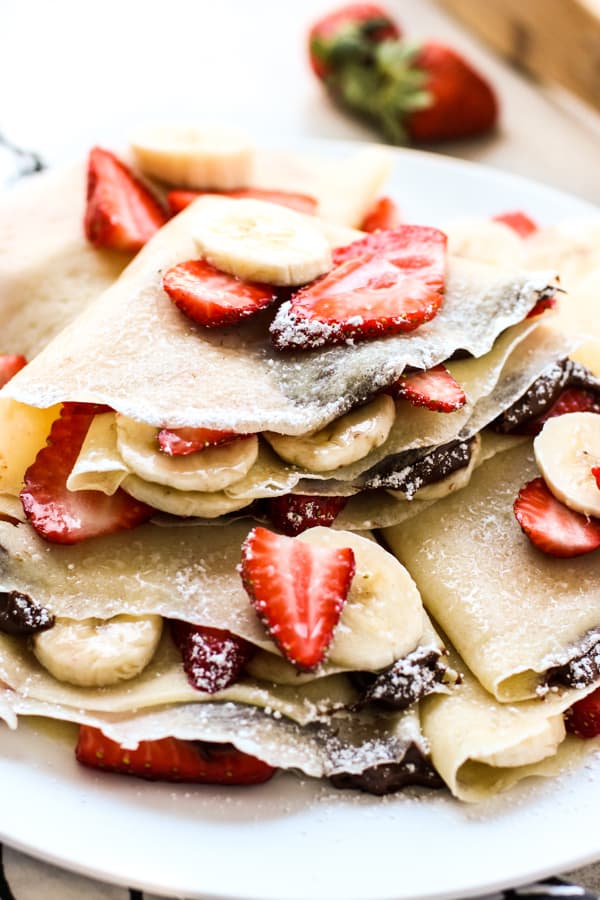 Give me a choice between pancakes or waffles and I'll probably pick crepes.
Nothing against pancakes or waffles. In fact, I love them so dang much and especially love these light and fluffy, best ever Chocolate Chip Pancakes.
But crepes. CREPES. Crepes stole my heart once I took a bite into them.
I cannot really put a finger on  it, but it is just a classy, elegant, versatile food. I've been having lots of leftover crepes from testing and photographing for breakfast, and then I top them with a scope of ice cream and BAM, I got myself the best dessert ever.
Crepes are often associated with French cuisine, but are also widely consumed all over the world today. Simply put, they are very thin American pancakes, and can be filled with different sweet and savory toppings. They are popular as breakfast food, but also as desserts.
Another recent food trend is crepe cakes, which are cakes made out of alternating layers of crepes and cream, and they can be a variety of flavors. Crepe cakes are a pure dream for any crepe lover. I love crepe cakes with all my heart, and stomach.
I would love to make and write about crepe cakes someday. For now, let's start with a simpler, more attainable (and super delicious) crepe recipe.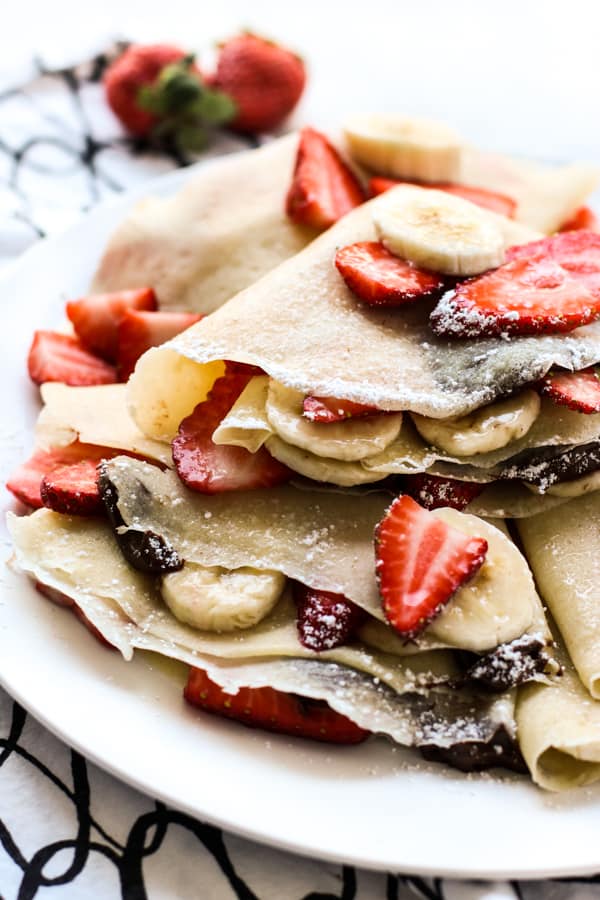 How to make crepes
The crepe batter is made out of
Flour
Milk
Eggs
a little bit of sugar
Melted butter. Yes, butter is mixed into the crepe mixture. I use a non-stick skillet and still grease it with vegetable oil before cooking the first crepe, but I usually don't add more vegetable oil to grease the pan after the first one because of the butter in the batter.
There are fancy crepe pans out there to make the perfectly even, thin crepes. Here's a crepe maker that Amazon sells (affiliate link attached). It is, however, very doable to use a large skillet to make crepes, especially a non-stick skillet. Start with heating up some oil on the pan, then using a ladle, add batter (~1/4 cup) to the center of the skillet. Very quickly after that, lift the skillet and make circular motions.
I made this very quick video to show you because I do think this is the hardest part in the whole crepe-making process, but very attainable after a few tries.
You want to try to spread the crepe as wide of a circle as possible, to create a thin layer. After making the first crepe, I typically switch off the heat, spoon another scope of batter to skillet, move it in circular motion, then switch the heat back on again so that it cooks.
You want the pan fairly hot when you put the batter in, but a pan that is too hot will prevent the the batter from spreading out, that is why I switch off the heat and switch it back on again.
Flip the crepes once they are no longer transparent. Use a flexible spatula/turner for flipping. From my experience, a turner that is has a large surface and is flexible is the most "crepe-flipping friendly". 😉 See the affiliate link attached above for the one I use.
The great thing about crepes is that they keep very well as leftovers. I usually make a bunch and store them in the fridge. When eating the leftovers, I heat them up in the microwave for 15-20 seconds for every two or three crepes, and then fill it with whatever I want.
There are so many toppings to fill the crepes and so many ways to fold it. Here, I fill mine with strawberries, bananas and Nutella on one half (one side) of the crepe.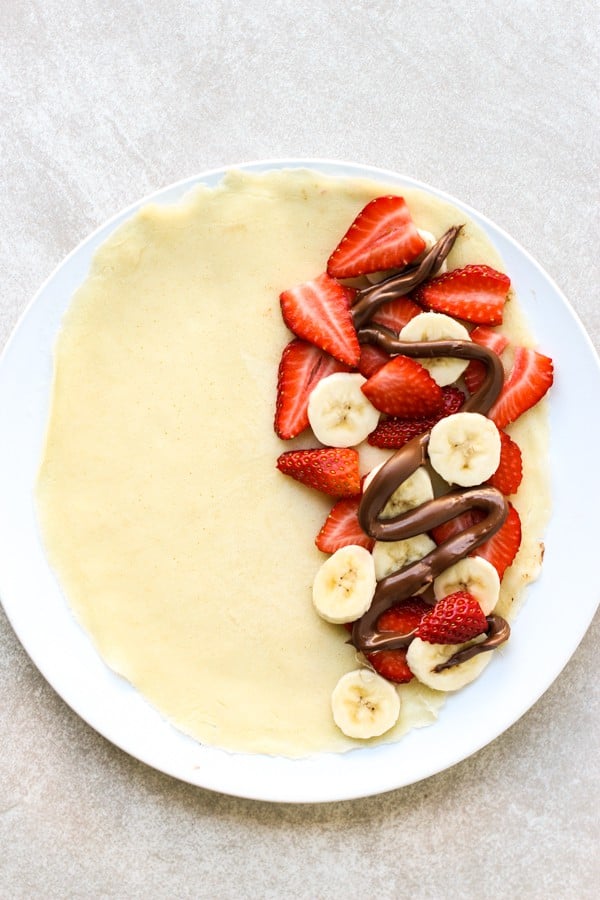 Then I fold the crepe in half, and then into quarters.
Lastly, top off the crepes with some powdered sugar to give it that snow cap look.
Crepe toppings
In addition to strawberry, nutella and bananas, here are a few other ideas for yummy ingredients to add to the crepes. Feel free to mix and match to you liking!
Almond butter or peanut butter
Honey
Melted Butter + brown sugar
Chocolate sauce
Other berries
Want to take it to the next level? When I feel like turning this Strawberry Banana Nutella Crepe into a dessert, I add a scope of vanilla ice cream and/or whipped cream to it.
Not saying you cannot have it with ice cream for breakfast. After all, we are adults, and there're no rules as to when you can have ice cream. 😉 
Pro tip: If you are adventurous, try a scope of green tea ice cream on this beauty. It's delicious.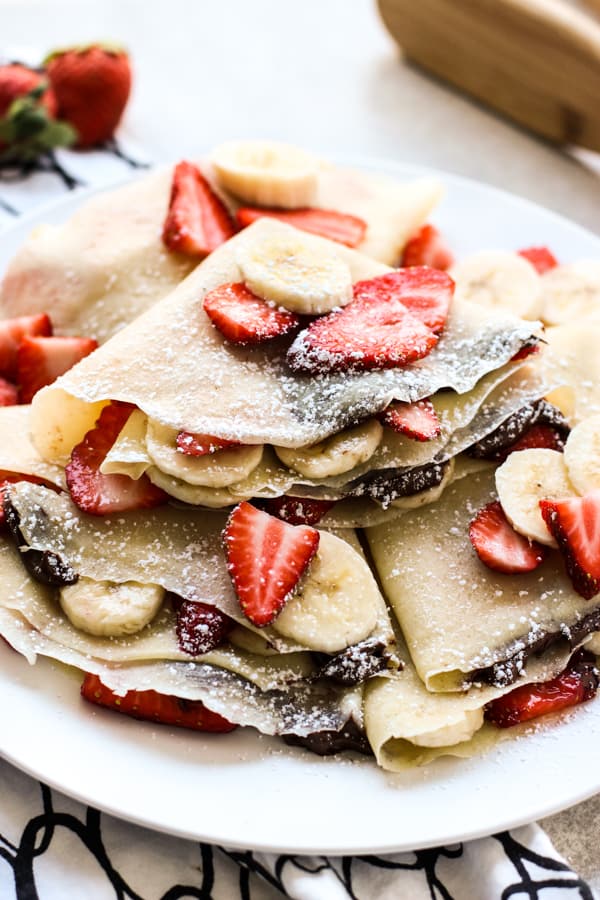 One thing is for sure: life is certainly way better with some crepes in it! ❤️💛
Other sweet breakfast ideas
If you make this recipe, comment below and let me know what you think! Also, don't forget to take a picture and tag me on Instagram, because I WANNA SEE!!
This post was first published on May 14, 2018 and updated on February 21, 2019.