These delicious Spinach Pinwheels are made with spinach, cream cheese, shredded cheese, caramelized onions and garlic, rolled in a flaky puff pastry.
They take about 35 minutes to make, and are the perfect cheesy bite-size appetizer and finger food for parties and potlucks.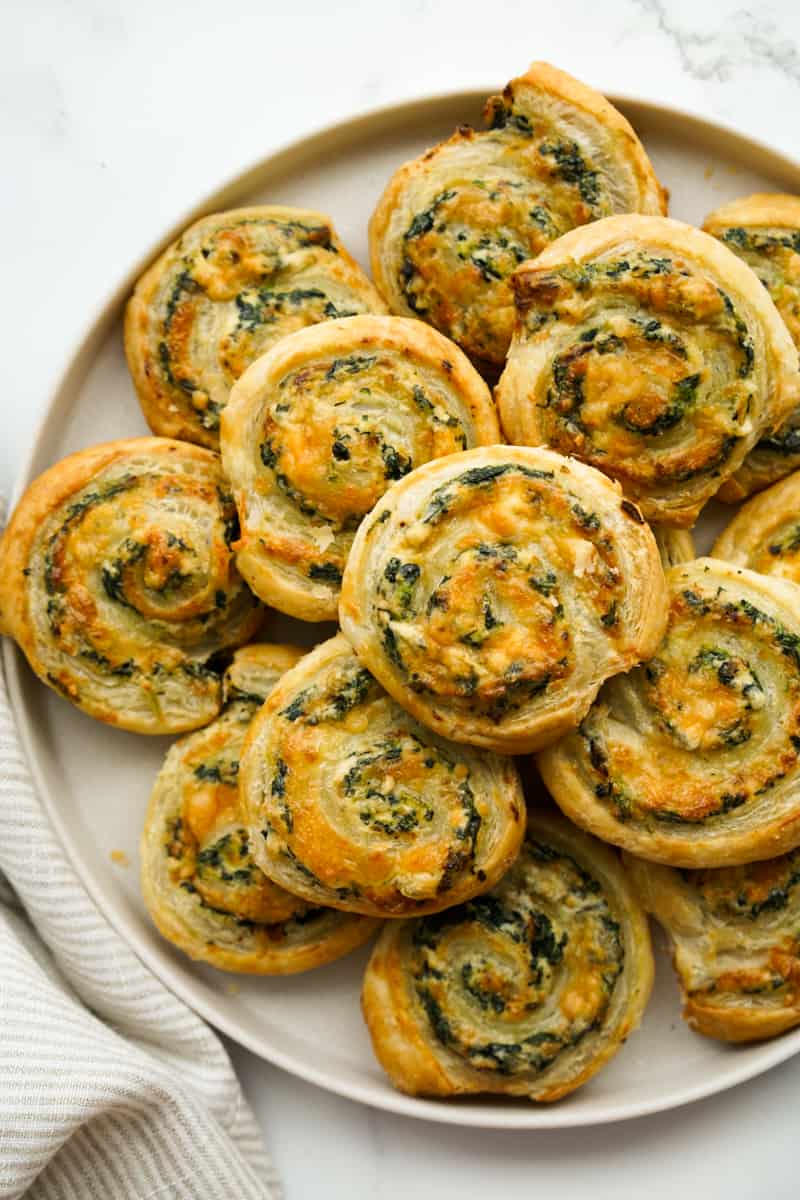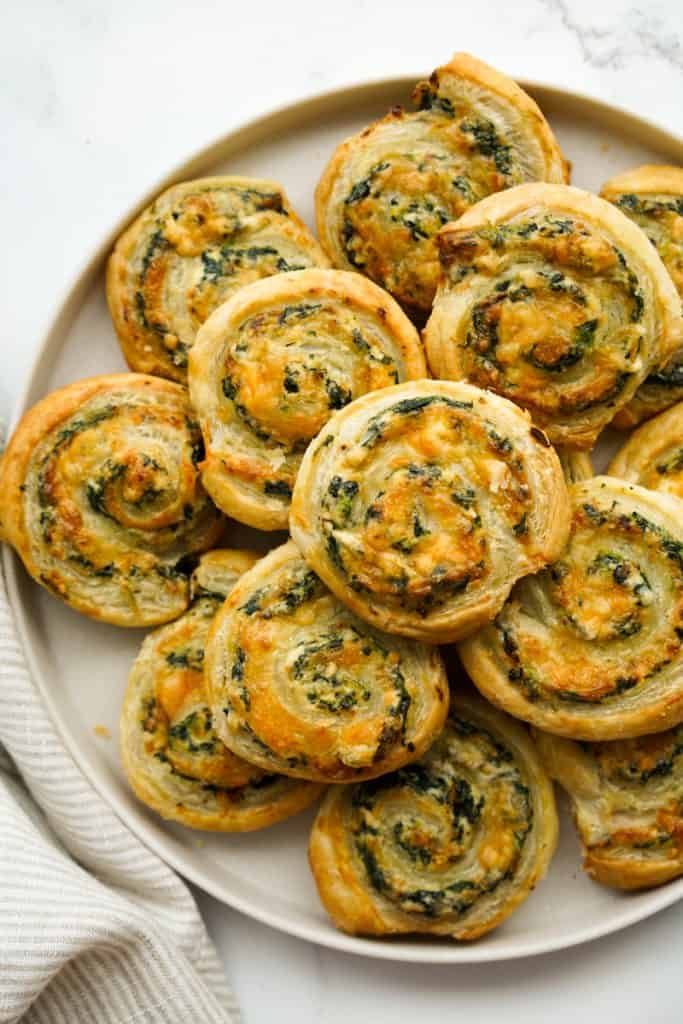 Love party foods and finger foods? Here are some of my other favorites: Everything Bagel Pigs in the Blanket, Ham and Cheese Crescent Roll Ups, Bacon Deviled Eggs, Shredded Chicken Nachos, and Baked Garlic Parmesan Chicken Wings.
Cheesy Spinach Puff Pastry Pinwheels
It's really hard to go wrong when you pair puff pastry with pretty much anything. And these cheesy spinach pinwheels made with puff pastry are no exception.
There's something about the combination of flaky puff pastry and creamy cheese. Not to mention, our cream cheese filling is also seasoned with garlic and caramelized onion. Along with a touch of spinach, you are in for a treat! Oo-la-la!
Spinach pinwheels are great as snacks, for parties and gatherings, whether for game day, the holidays, or any occasions.
Whenever I make these cream cheese spinach pinwheels, they disappear lightning fast.
That's because when spinach pinwheels are served warm and fresh out of the oven, they are buttery, creamy and flavorful, and simply melts in your mouth. So delicious you just cannot stop at one.
Seriously, I need a lot of self-control around these dangerously delicious spinach puff pastry pinwheels. I can seriously eat a dozen of them in one setting if somebody doesn't stop me!
Ingredients
Spinach pinwheels are made with a short list of ingredients, and these ingredients can be found very easily. Nothing obscure or fancy! Even though they look kinda impressive for how easy they are.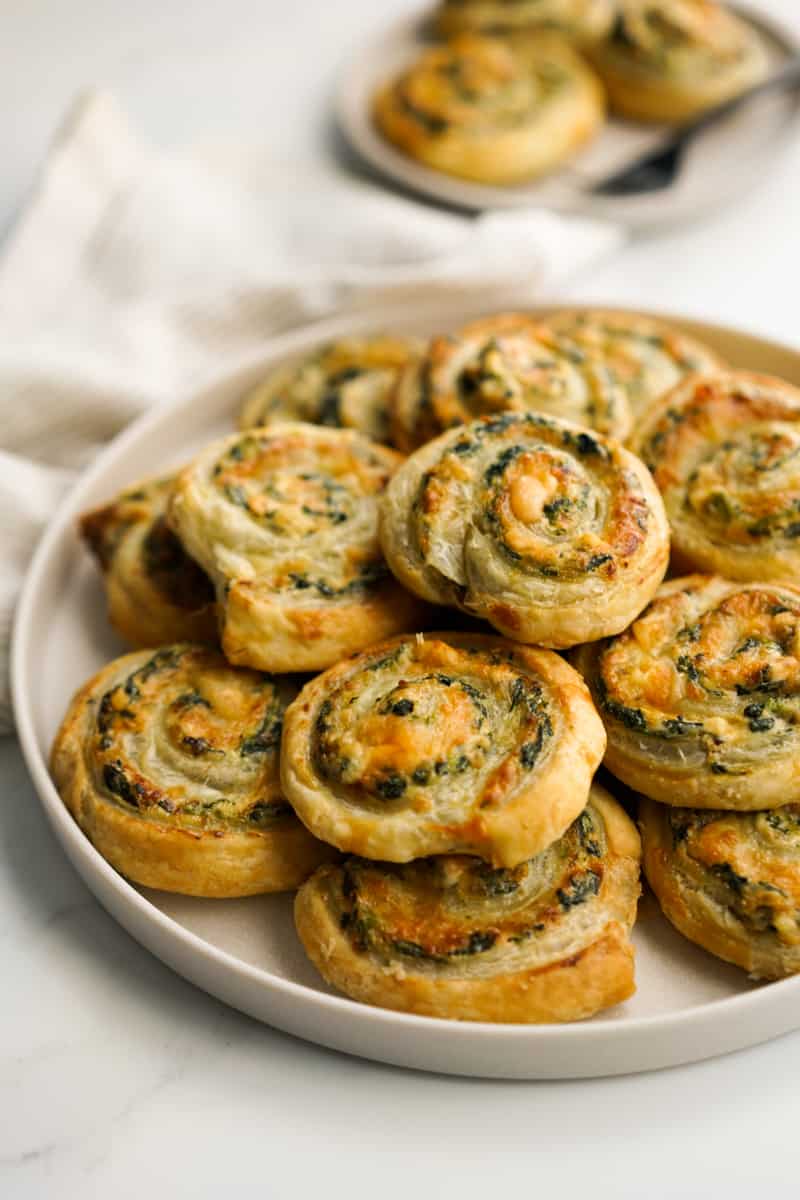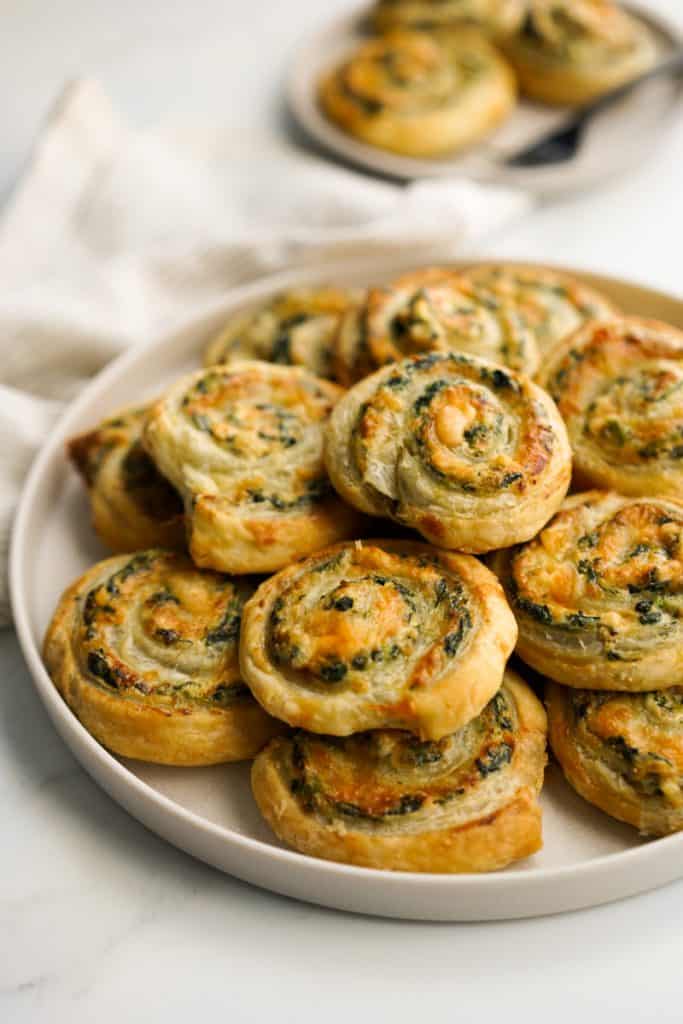 These are the ingredients you will need to make spinach pinwheels:
puff pastry sheets – I get the Pepperidge Farm puff pastry sheets which comes two in a pack, and they are square in shape. They are unbaked, but the dough is already formed and put together. They come frozen, and I would recommend leave them in the refrigerator overnight before the day you want to make your spinach pinwheels so they thaw out.
cream cheese – you'll want to soften your cream cheese beforehand, so leave them out in room temperature for a few hours. You can also defrost them in the microwave
frozen spinach – I prefer to use frozen instead of fresh because they are already soft and cut into small pieces. When using frozen spinach, it is important to remove as much of the moisture as possible before adding them to cream cheese mixture
onions – we will be caramelizing the onions and I whole heartedly believe that caramelized onions is the ingredient that truly elevate these spinach puff pastry pinwheels.
shredded cheese – cheddar, mozzarella, Colby jack or a blend works great! Use cheese that melts easily, and avoid hard cheeses. Melted cheese also acts as a glue to hold the pinwheels together
garlic powder – added to the cream cheese mixture for some additional flavors
salted butter – used to caramelize the onions
salt – also used when caramelizing onions
egg – used as an egg wash to give a nice sheen to the top of our puff pastry spinach pinwheels
How to Make It
Let's make these cheesy spinach pinwheels! You will see how EASY they come together. All you need is 35 minutes or less!
Step 1: Caramelize Onions
I am obsessed with caramelized onions and this is a necessary step because it truly makes this spinach pinwheel unique and so tasty.
If you share my obsession with caramelized onions, don't forget to also check out my Caramelized Onion Dip and Caramelized Onions Sautéed Green Beans. Two recipes I make over and over again.
We will be sautéing the caramelized onions on a skillet with salted butter. I pan fry the onions under medium heat until they are golden brown. Then sprinkle with some salt to open up the flavors.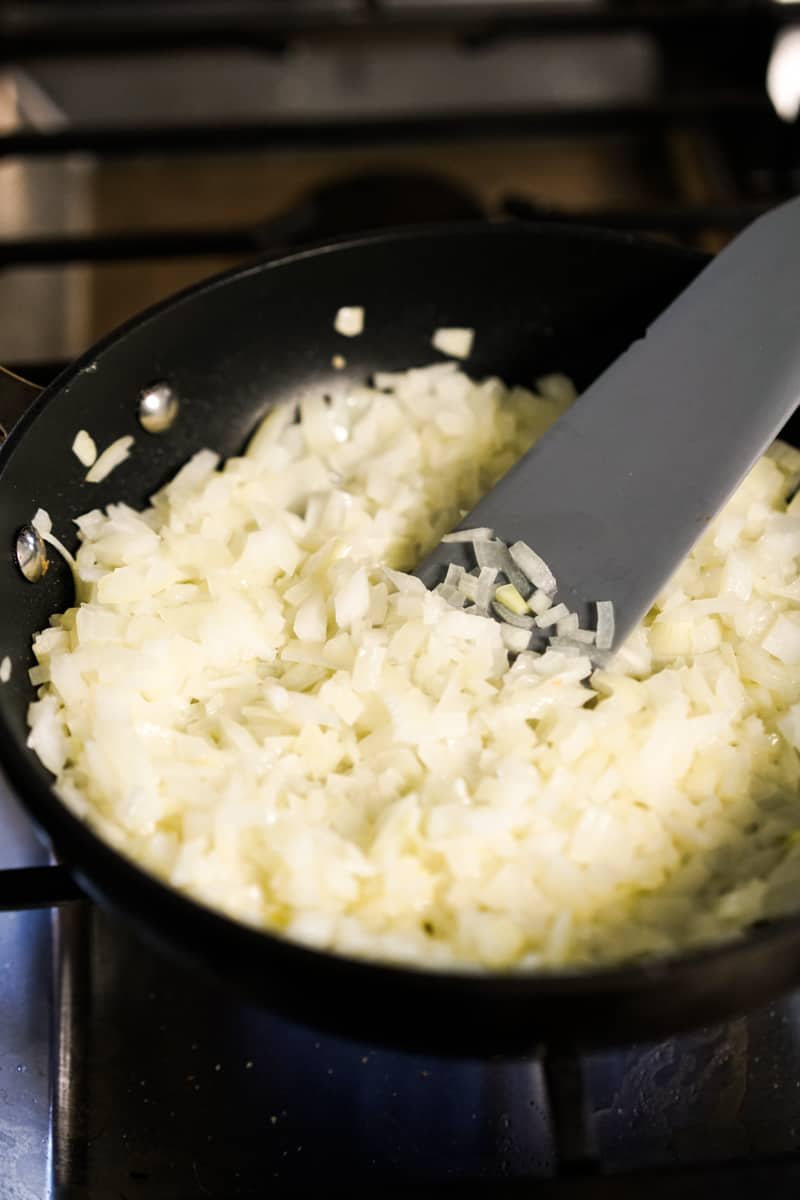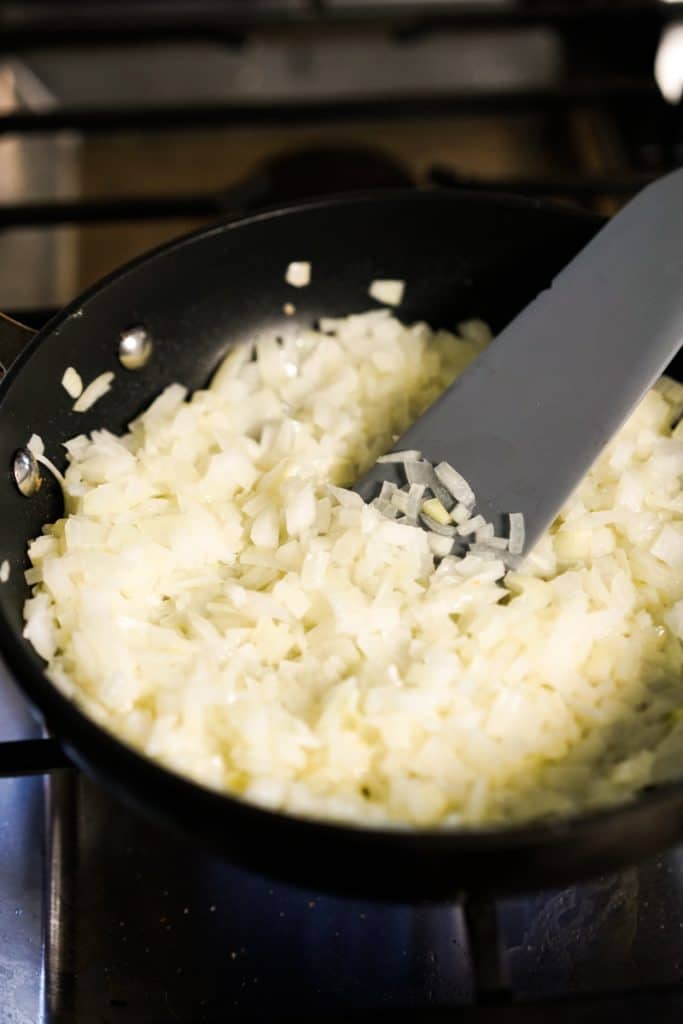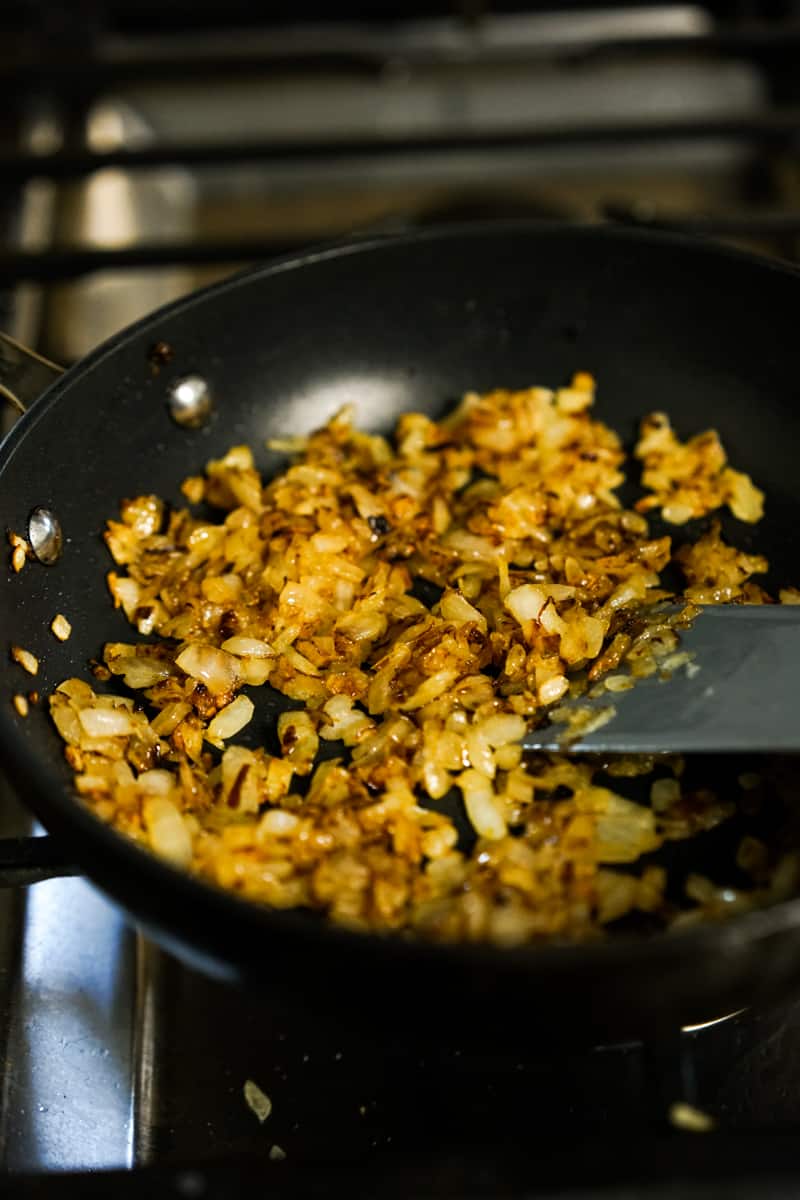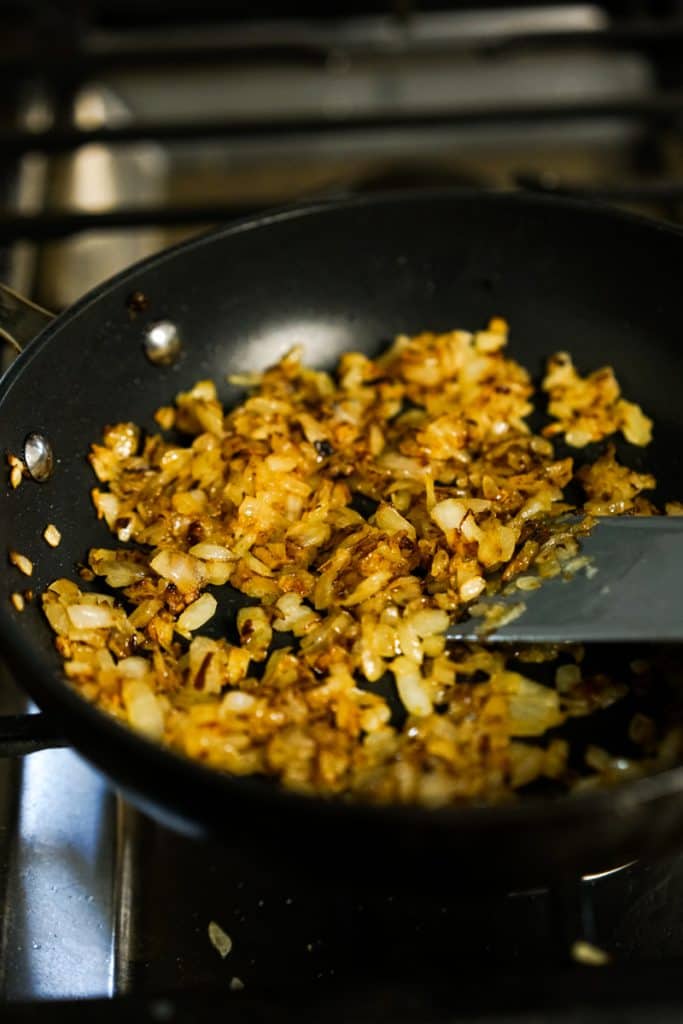 Onions will take at least a few minutes to soften and turn golden brown. Once they are golden brown, remove skillet from heat and set aside.
Step 2: Prepare Spinach Cream Cheese Mixture
The cream cheese mixture for our spinach pinwheels is a combination of softened cream cheese, the caramelized onions we just prepared, frozen spinach (that is thawed and dried), and garlic powder. Just mix them all together in a large mixing bowl.
When using frozen spinach, it is important to bring it to a complete defrost and then use paper towels to absorb as much access moisture as you can.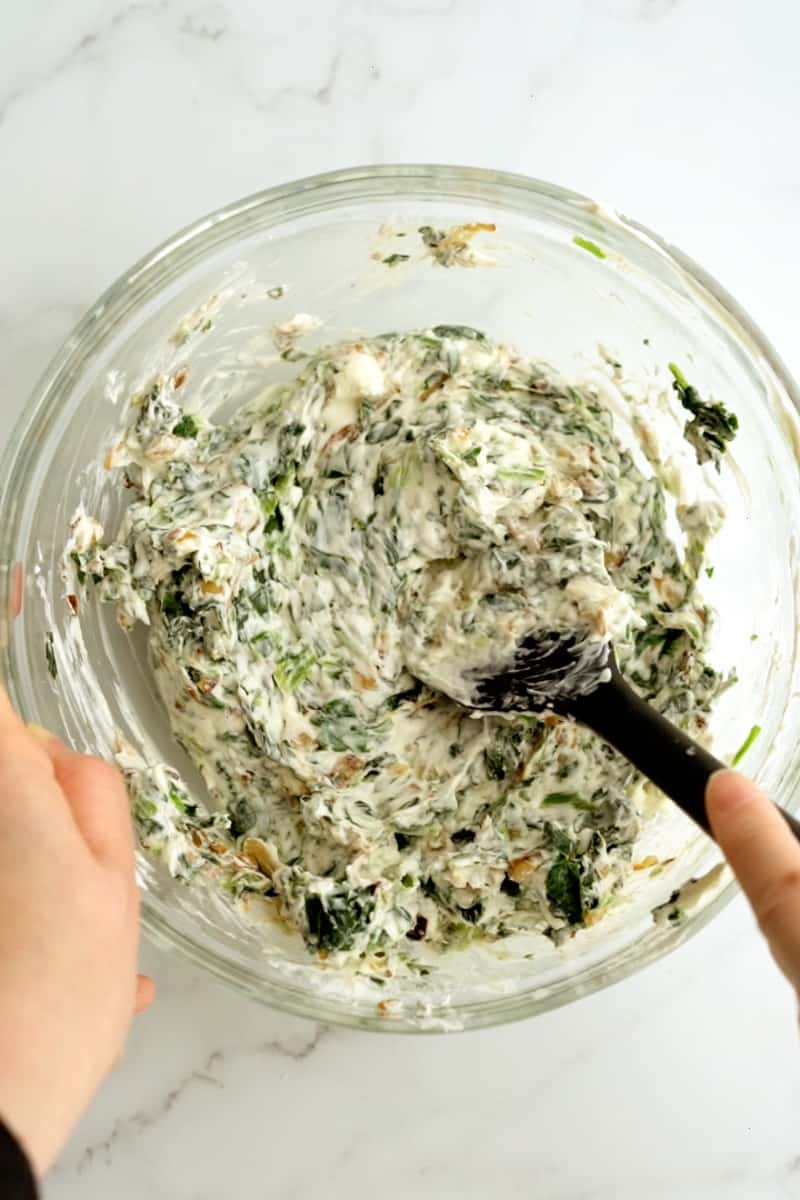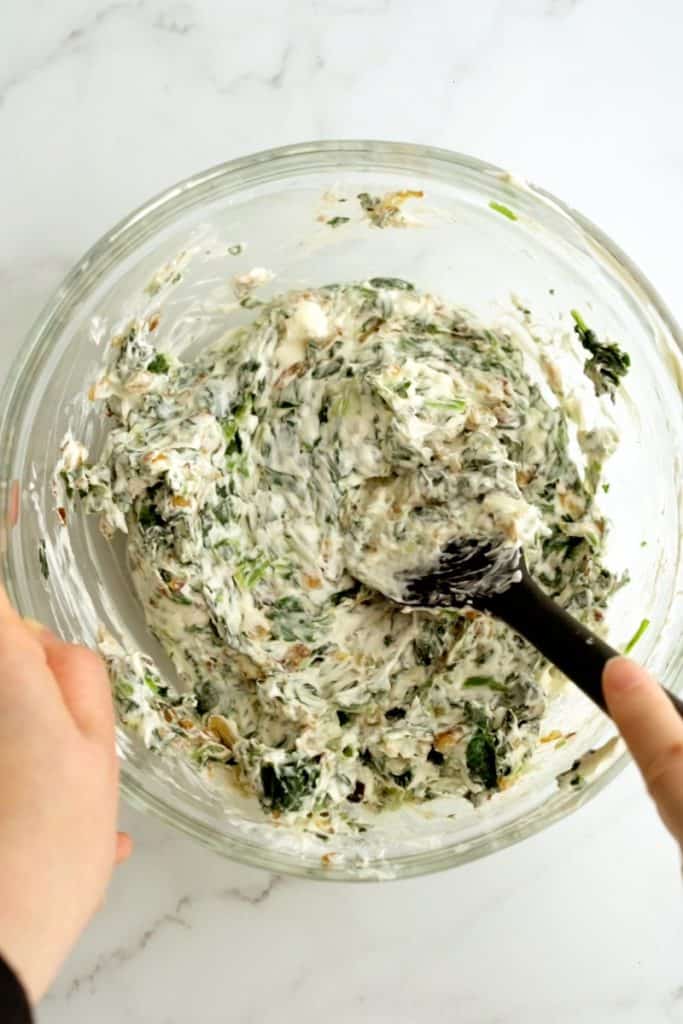 Step 3: Assemble spinach puff pastry pinwheels
Once spinach cream cheese mixture is ready, we are going to assemble it with puff pastry sheets and create those cute little spinach pinwheels.
There should be enough cream cheese mixture to work with two sheets of puff pastry sheet.
Here's how you assemble it:
1. Unfold puff pastry sheet into a square
2. Place half of the mixture onto puff pastry sheet, then spread it out evenly, making sure the top part of the puff pastry is covered with cream cheese mixture because it will act as a glue to hold your pinwheel tube together when you roll them up (more on that in step 5)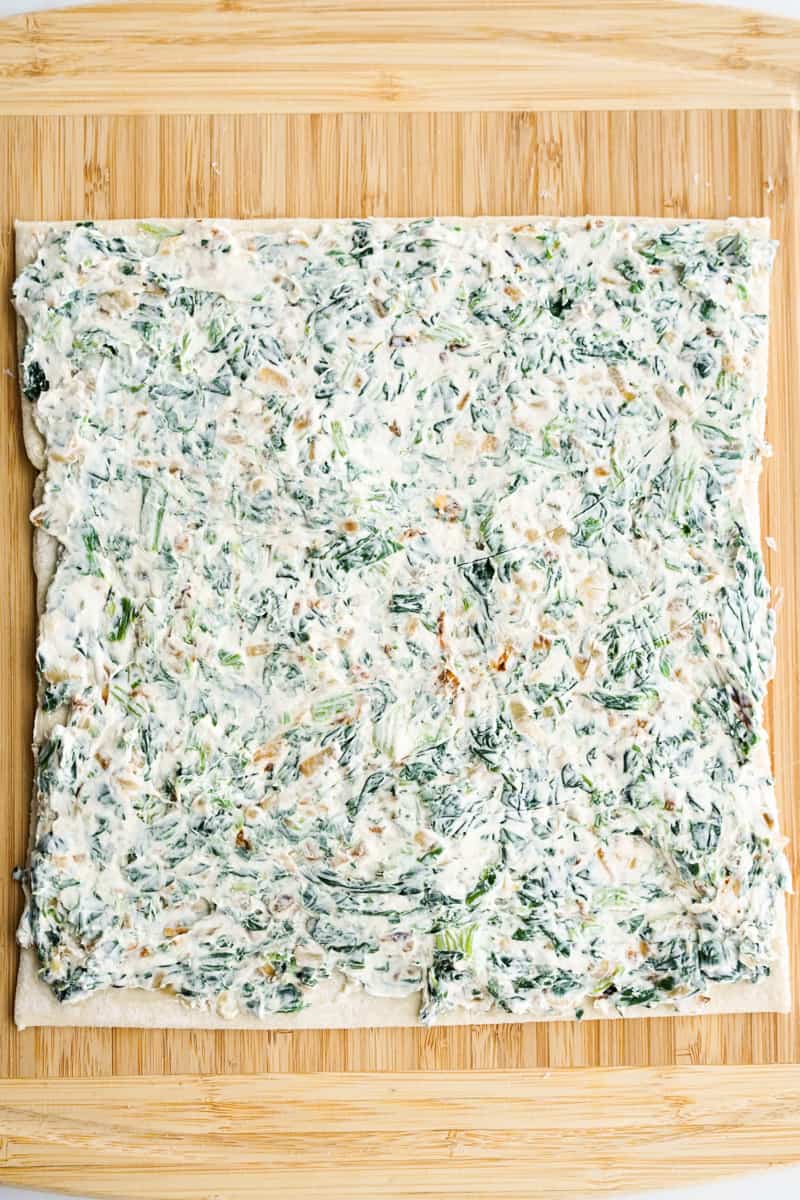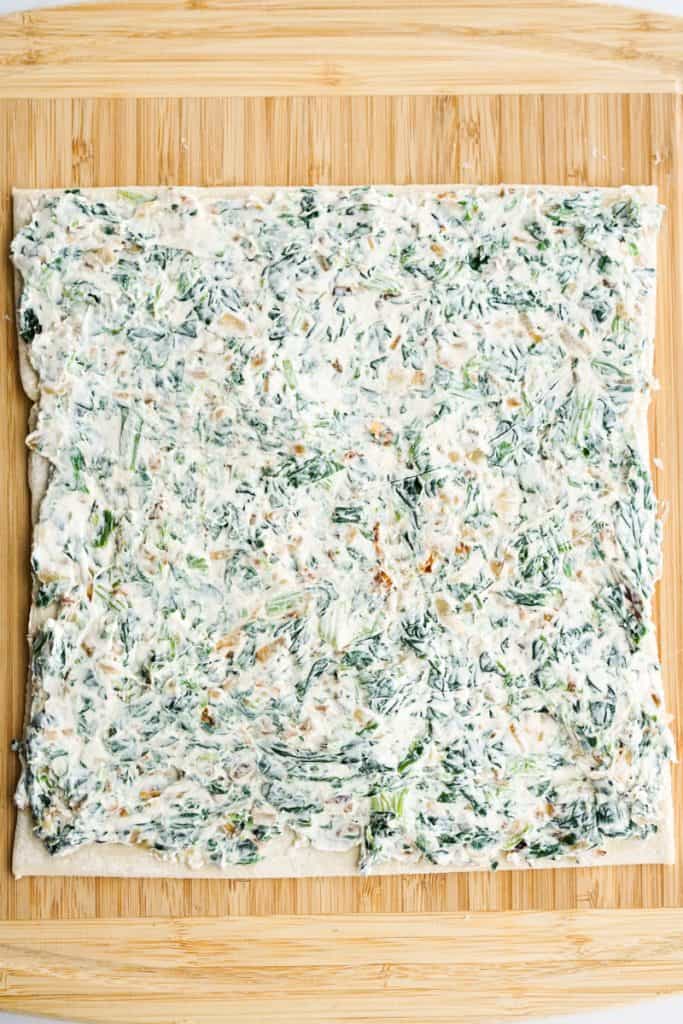 3. Top cream cheese mixture with shredded cheese. I'm using a blend of mozzarella, Colby jack and cheddar.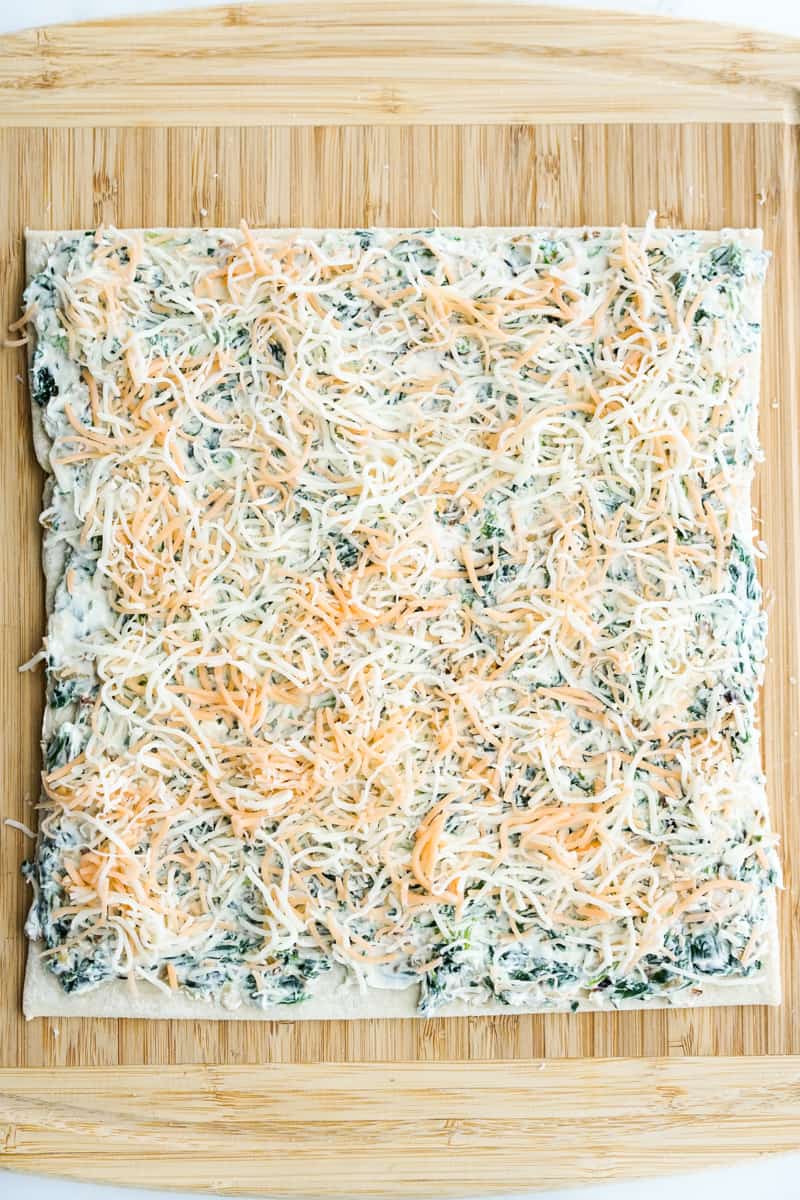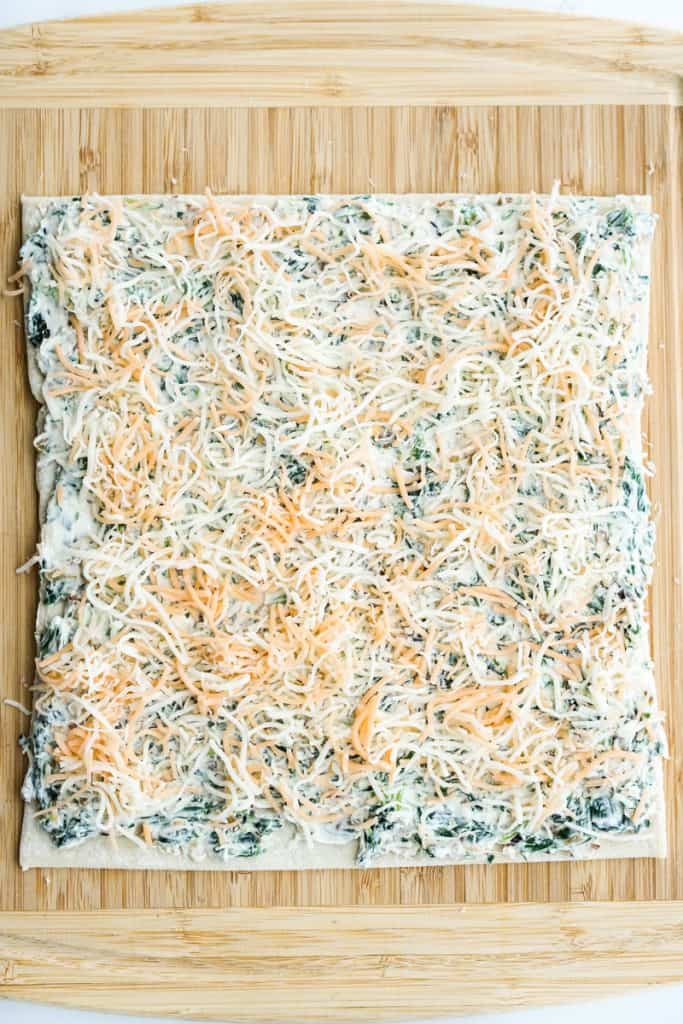 4. Then roll up the puff pastry sheet by folding over the bottom of the sheet and rolling it until a tube is form.
5. Seal the tube by press the opening of the puff pastry down. This is prevent the tube from coming apart.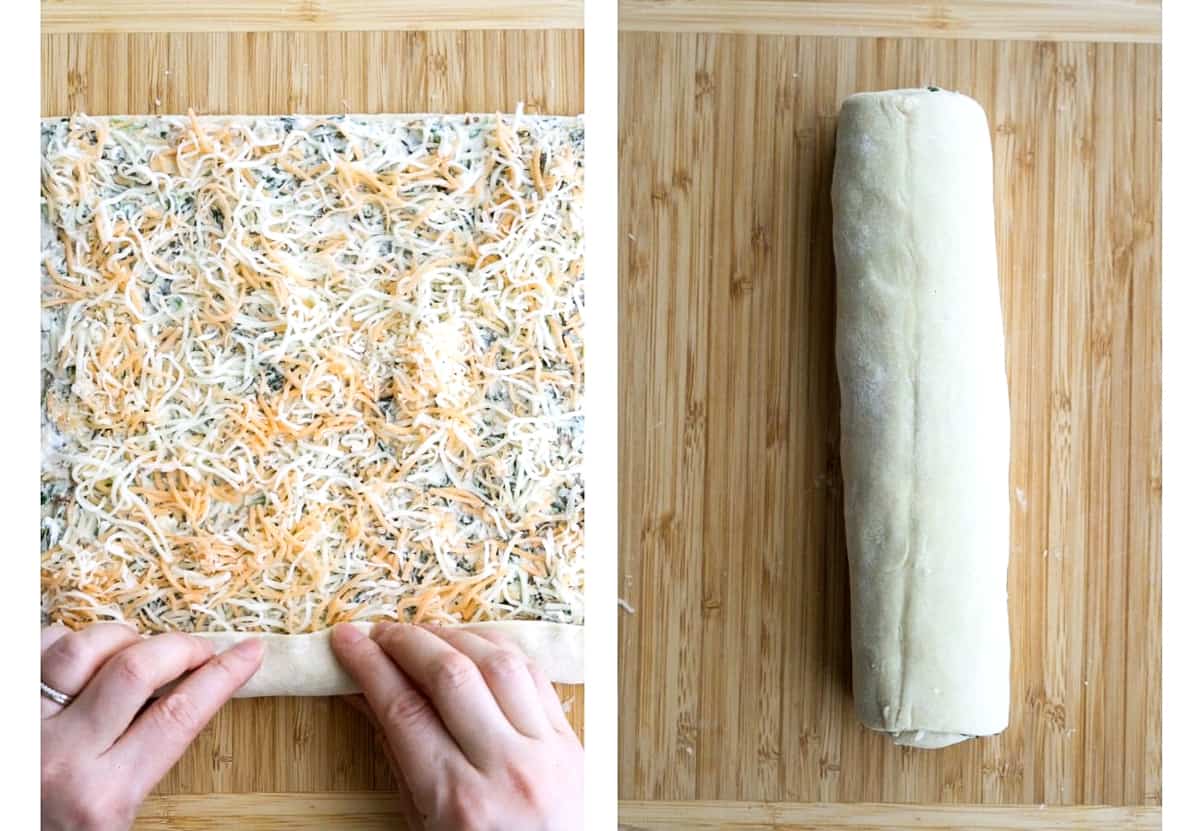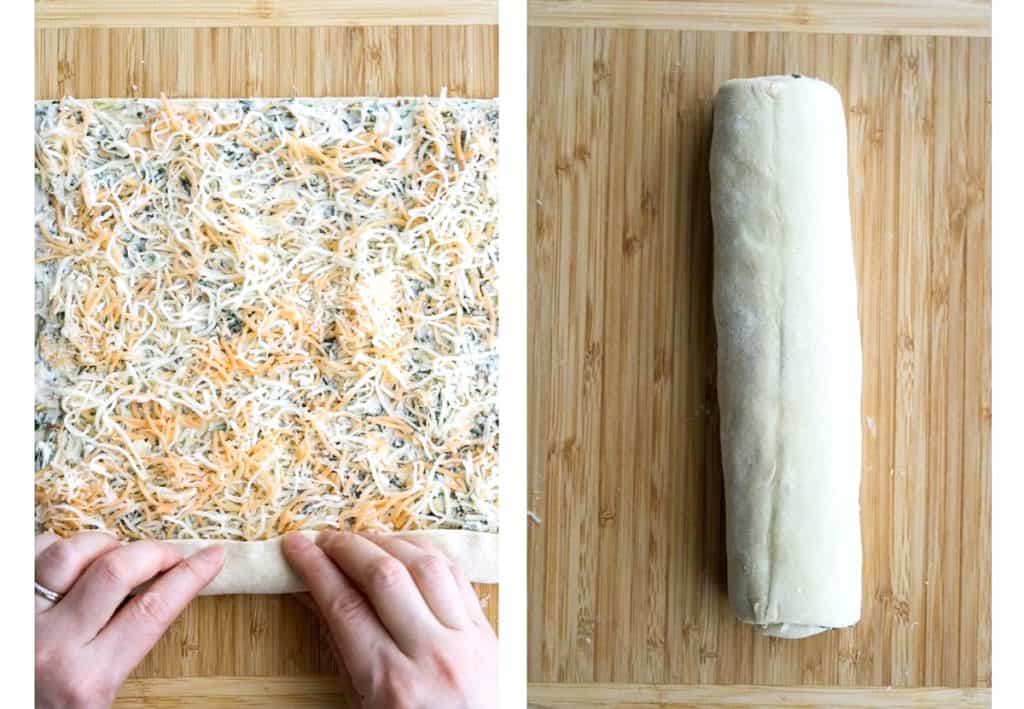 6. Slice tube into 12 equal pieces to form 12 spinach pinwheels (Pro tip: serrated knife will work best!), and place them on a baking sheet lined with parchment paper for easy removal and cleanup. Keep them at least 2 inches apart from each other. If you are not using parchment paper, you will need to grease the baking sheet.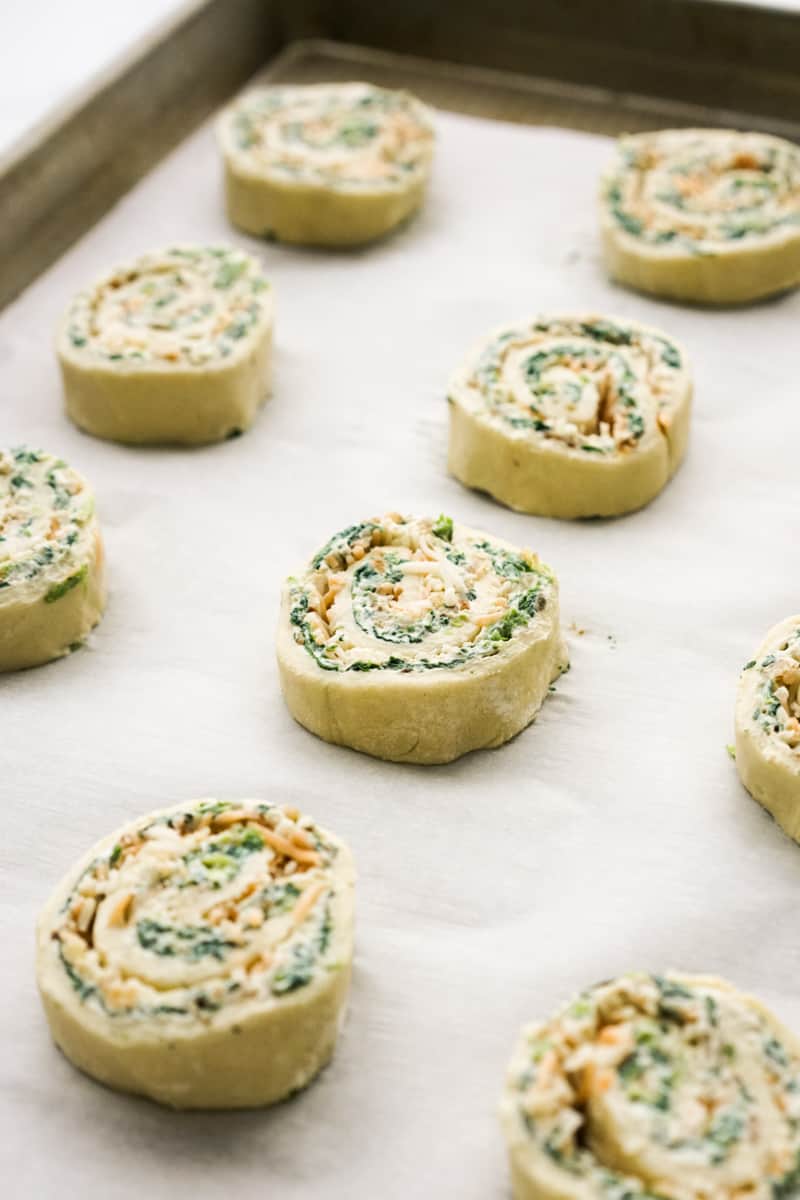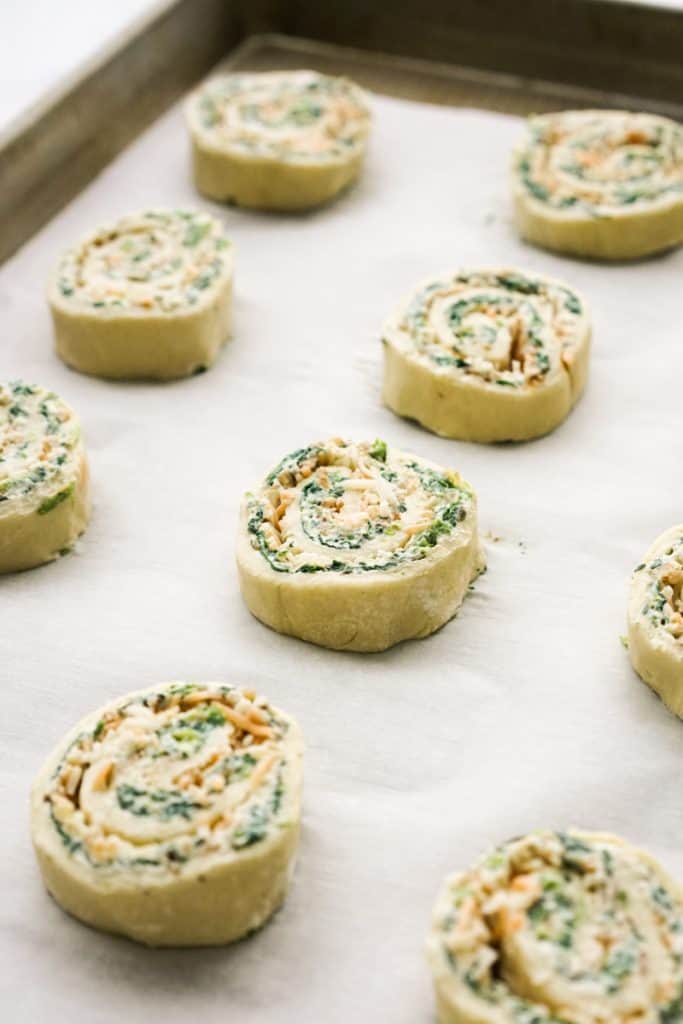 7. Brush the top of spinach pinwheels with egg wash.
P/S: Don't forget there's still another puff pastry sheet and more cream cheese filling and cheese. Repeat Step 1-7 and work on the next batch!
You should get a whopping total of 24 spinach pinwheels.
It may sound like a lot, but you'll be surprise how quickly two dozen spinach pinwheels can disappear because they are so darn delicious.
Step 4: Bake!
Bake your spinach pinwheels for 15 minutes at 425℉. Do not overlap the baking sheet on top of each other when baking, and do not overcrowd pinwheels (2 inches apart!). If you do not have a double oven, you will need to bake your spinach pinwheels twice.
When they done, remove them from the oven and let them cool for a few minutes.
Puff pastry spinach pinwheels should be flaky, buttery, and golden brown, cheesy, and filled with the incredible spinach cream cheese filling that is seasoned perfectly with garlic and caramelized onions.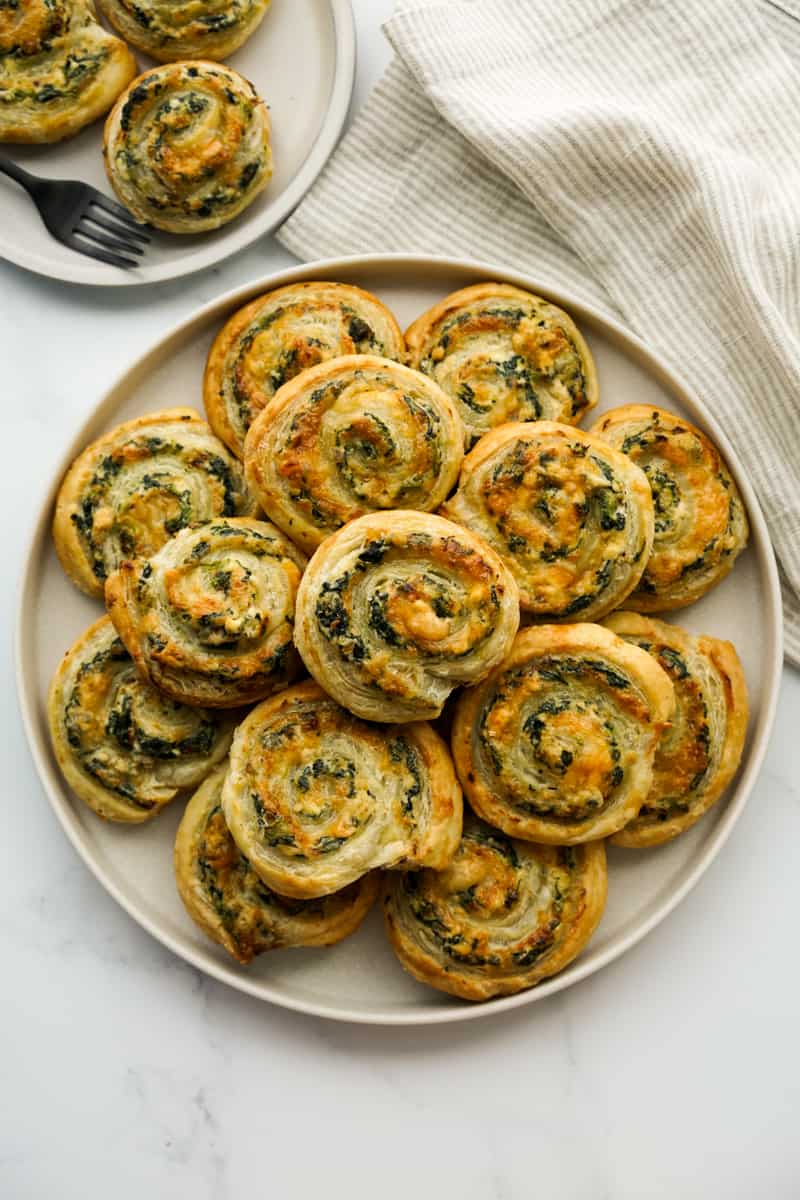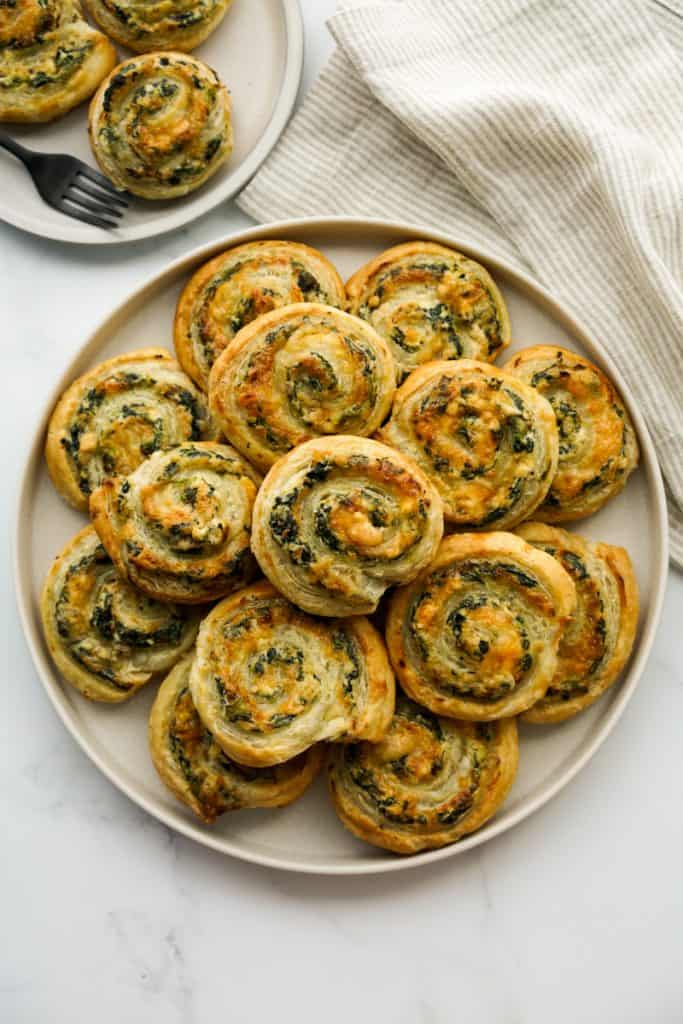 Don't let these little cute looking things fool you. They are DANGEROUS. DANGEROUSLY delicious.
Storage and Reheating
To store spinach pinwheels, make sure they are completely, cool and they store in an airtight container or bag. Store them in the refrigerator for up to 5 days.
Reheating them in the toaster oven or oven yields the best product, as it will bring back the flaky texture in the puff pastry. Spinach pinwheels will not go back to its flaky texture if you microwave them.
I do not recommend freezing baked spinach pinwheels because the texture does change slightly and won't be as crispy as it was. If you do want to freeze, freeze the rolled up pinwheels before baking them. Then bring them to a complete defrost and bake them using the same instructions as laid out in this recipe.
Frequently Asked Questions
Can I use fresh spinach instead of frozen spinach?
Yes you can but I would chop them into small pieces before adding them to the mixture. ~2-3 cups of packed chopped fresh spinach works well for this recipe. I personally prefer frozen spinach for this because they are already soft and they roll into the pinwheels more easily. Make sure to remove as much moisture as you can if using frozen spinach.
Can I freeze them?
I do not recommend freezing them after they are baked – their texture just don't stay the same. You can freeze the pinwheels pre-bake in an airtight container or bag. Bring them to a defrost, and bake them using the same instructions.
Can I omit the caramelized onions?
If you don't like them or cannot eat them, then yes, but they do bring about A LOT of amazing flavors and I personally think they make these spinach pinwheels crazy tasty! So in other words, I highly recommend them! 🙂
DID YOU ENJOY THIS RECIPE? Please comment below and give us a 5-star rating! This will help others find this recipe on Google and Pinterest. We very much appreciate your help! 🤍
More Appetizer Recipes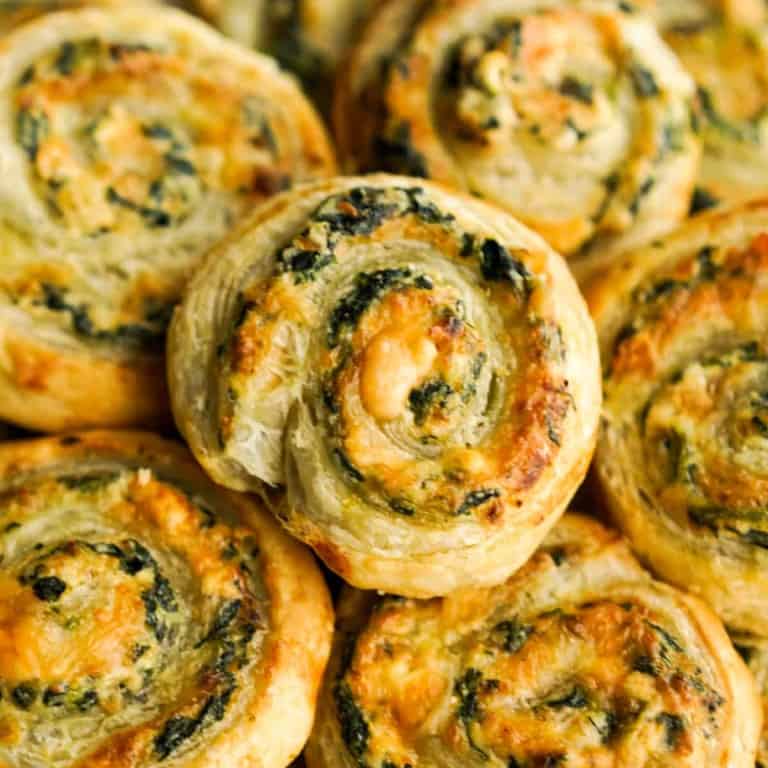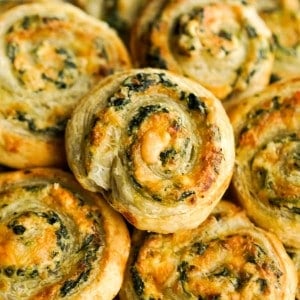 Spinach Pinwheels
Oven baked buttery puff pastry appetizers rolled with a cheesy cream cheese spinach mixture with caramelized onions. The perfect snack and finger food for parties, holidays, game days and more!
Print
Pin
Ingredients
2

tbsp

salted butter

1

sweet onion

diced

1/2

tsp

salt

8

oz

cream cheese

softened

8

oz

frozen spinach

1

tsp

garlic powder

2

sheets

puff pastry

1

cup

cheese (mozzarella, Colby jack, or cheddar)

shredded

1

egg

beaten
Instructions
Melt butter in a skillet over medium heat, then add onions. Sear onions until they are softened and golden brown (this will take a few minutes). Set aside.

Thaw frozen spinach by submerging in warm water until they are no longer frozen. Then drain water and use paper towel to pat dry spinach. Try to remove as much moisture from spinach as possible.

In a large bowl, mix to combine cream cheese, spinach, caramelized onions, and garlic powder.

Spread out one of the puff pastry sheets, then spread half the cream cheese spinach mixture evenly all over puff pastry sheet. Make sure mixture is spread to the edges, especially the top edge of the puff pastry sheet.

Sprinkle with half of the shredded cheese all over the top of cream cheese spinach mixture.

Roll over the bottom of the puff pastry sheet and keep rolling until a tube is formed.

Seal the tube close by pressing down on the seams of the puff pastry sheet

Using a serrated knife, slice tube into 12 pieces of pinwheels.

Place pinwheels at least 2 inches apart on baking sheet lined with parchment paper or greased baking sheet. Brush the top with egg wash.

Repeat step 4-9 using the other puff pastry sheet.

Bake in the oven for 15 minutes. Bake in two batches if needed, do not overcrowd spinach pinwheels on baking sheet or overlap baking sheets in the oven when baking .

Remove pinwheels from oven and let them cool for a few minutes. Serve and enjoy!
Nutrition
Calories:
181
kcal
|
Carbohydrates:
11
g
|
Protein:
4
g
|
Fat:
14
g
|
Saturated Fat:
5
g
|
Polyunsaturated Fat:
1
g
|
Monounsaturated Fat:
6
g
|
Trans Fat:
0.04
g
|
Cholesterol:
23
mg
|
Sodium:
175
mg
|
Potassium:
81
mg
|
Fiber:
1
g
|
Sugar:
1
g
|
Vitamin A:
1311
IU
|
Vitamin C:
1
mg
|
Calcium:
63
mg
|
Iron:
1
mg