This post may contain Amazon or other affiliate links. As an Amazon Associate I earn from qualifying purchases at no additional cost to you.
This Crispy Shrimp Bowl. THIS…is our new favorite way to indulge in a fun and delicious dinner! Pan-fried crispy panko-breaded shrimp is combined with avocados, fresh crunchy veggies, then drizzled with Thai sweet chili sauce, which is actually sweet and not spicy. Served with white or brown rice!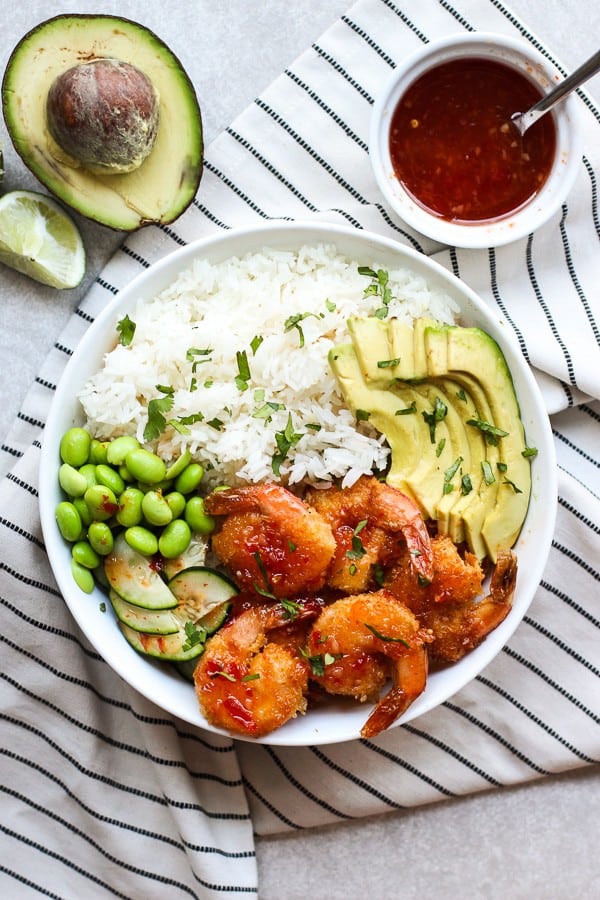 Let's discuss an important life topic here. Is it just me or is there something inherently fun and exciting about foods in bowls?
Think about ALL THE THINGS you can put into a bowl.
Pasta in a bowl. A bowl of soup. Rice bowl. Noodle bowl. Salad bowls. Smoothie bowl. A bowl of cereal. A bowl of popcorn.
And then there's the possibility of mixing and matching ALL THE THINGS. I want some starch, and then some protein, and then some veggies. And don't even get me started on sauces and garnishes. They are my lifeline. Put 'em all in a BOWL, mix or don't mix them, and they will still look 101% Instagram and Pinterest worthy because bowls are photogenic like that.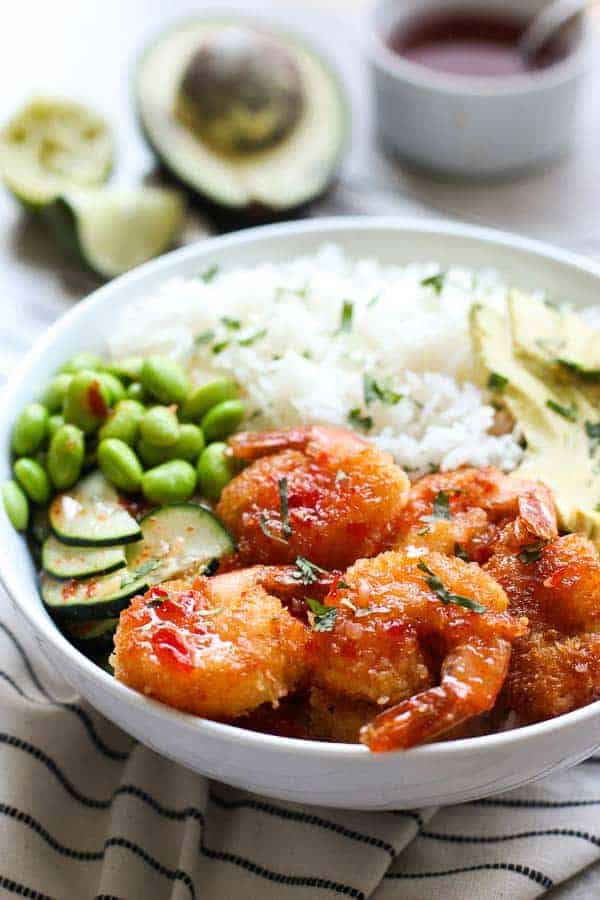 And then of course. There are those days when you want to throw food etiquette out the window, turn your nose up on proper table manners, and just eat on your couch with a bowl in your hand, just like you would holding a cup of warm drink. Munching your dinner away while you watch TV. Let's be real and honest here – plates will not live up to that like a bowl would.
Have I convinced you in regards to this whole food in a bowl situation?
After note-worthy food bowl adventures such as this, this and this. We now have a new favorite – Crispy Shrimp Bowl. My love for food bowls continues…
What kind of shrimp to use for Crispy Shrimp Bowl?
Make sure you use raw shrimp (not cooked) for this recipe. I like to use tail-on, medium to large shrimp because it the "tail-on" gives me something to hold on to when I lower the shrimp into the hot oil.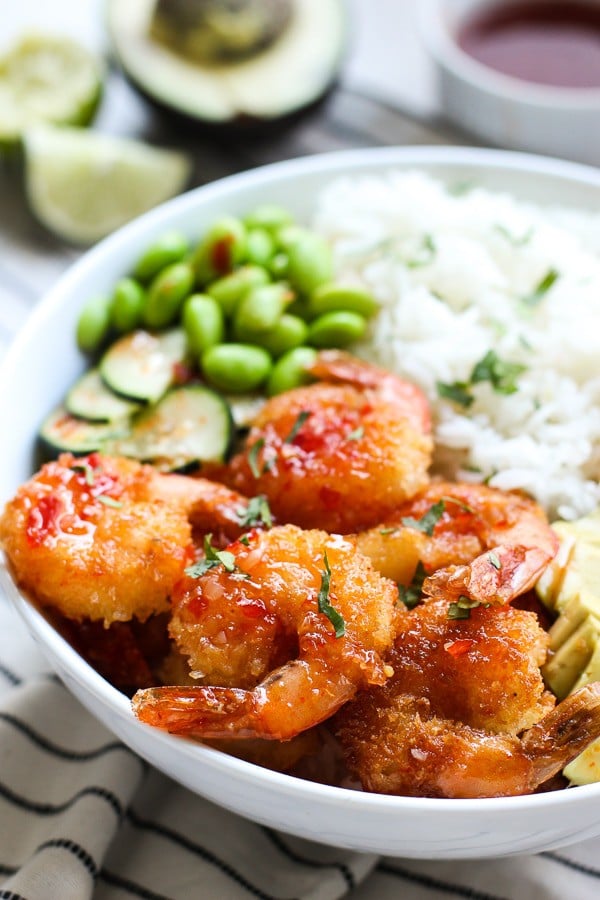 How to make Crispy Panko Fried Shrimp?
There's nothing like crunchy shrimp that is crispy on the outside and juicy on the inside. Breading shrimp is a super simple task, and because shrimp takes only a few minutes to cook, the process is super quick and easy!
You will need three bowls for this. For the first bowl, crack an egg into it and beat up egg. Fill the second bowl with panko breadcrumbs, and fill the third bowl with flour, salt and pepper.
Defrost shrimp completely by bringing them out from the freezer to thaw to for a few hours. Avoid defrosting shrimp in the microwave because it can very easily cook the shrimp. Then pat dry shrimp to remove as much moisture as possible.
Dip into the flour mixture first, then the egg mixture, and then the panko mixture.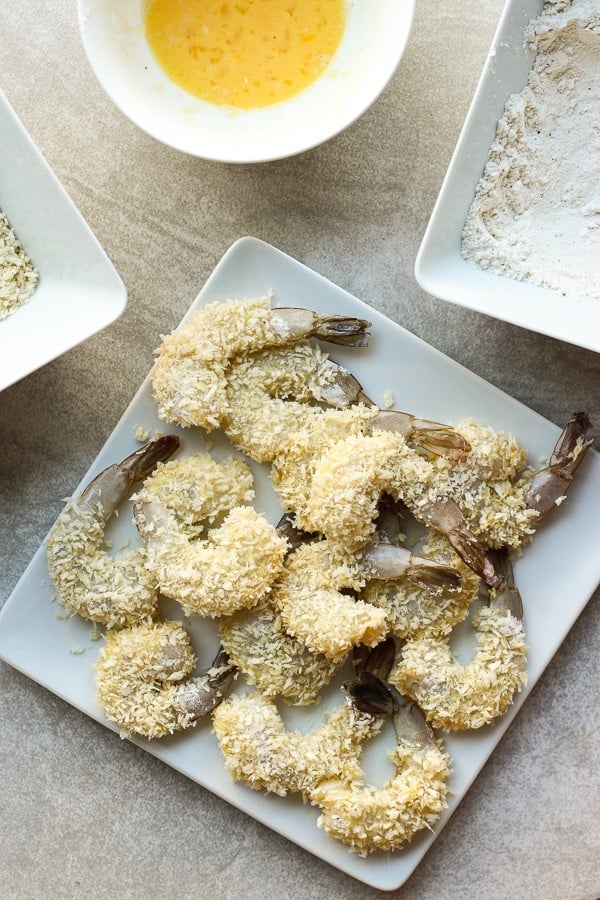 Heat up skillet (preferably non-stick) with half an inch of vegetable or canola oil on the surface of the skillet. Once oil is heated up, add shrimp to the skillet. If the oil is hot enough, when shrimp touches the oil, oil should bubble.
Shrimp doesn't take more than a few minutes to cook. Once one side is cooked, flip shrimp, and cook the other side. When both sides are golden brown, remove from skillet. I like to bring it to a plate line with paper towel to remove access oil.
Avoid overcooking shrimp!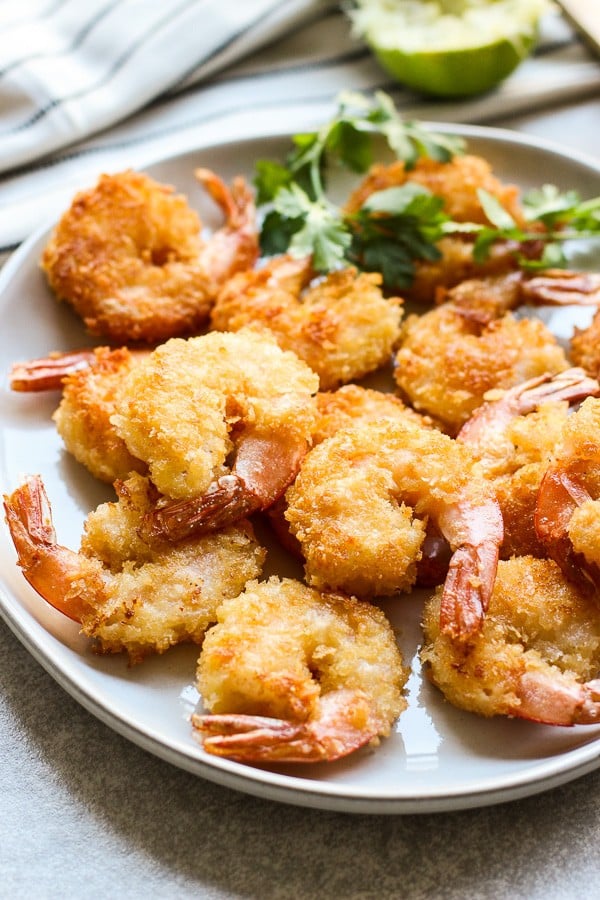 How long to keep raw shrimp in the fridge?
Raw shrimp can only be kept in the refrigerator for 2-3 days. If needed freeze the shrimp until you need to cook it.
How long can you store leftovers from Crispy Shrimp Bowl?
Refrigerate leftover cooked shrimp and consume shrimp within 3-4 days. The other parts of the bowl – rice and vegetable, will probably last longer in the refrigerator.
To keep the crispiness, heat up shrimp in a toaster oven or oven.
Other yummies in the bowl
I love my Crispy Shrimp Bowl with lots of crunchy veggies, avocado and a legit sauce made out of lime juice + Thai Sweet Chili Sauce, which by the way, is not spicy, but sweet! You know I love sauces on my bowls and this is no exception, the sauce is an important part of this dish – don't skip it!
You can add any other veggies to this bowl, although I highly recommend avocados because the combination of avocado + crispy shrimp is one that needs to be experienced widely because omg it is so good.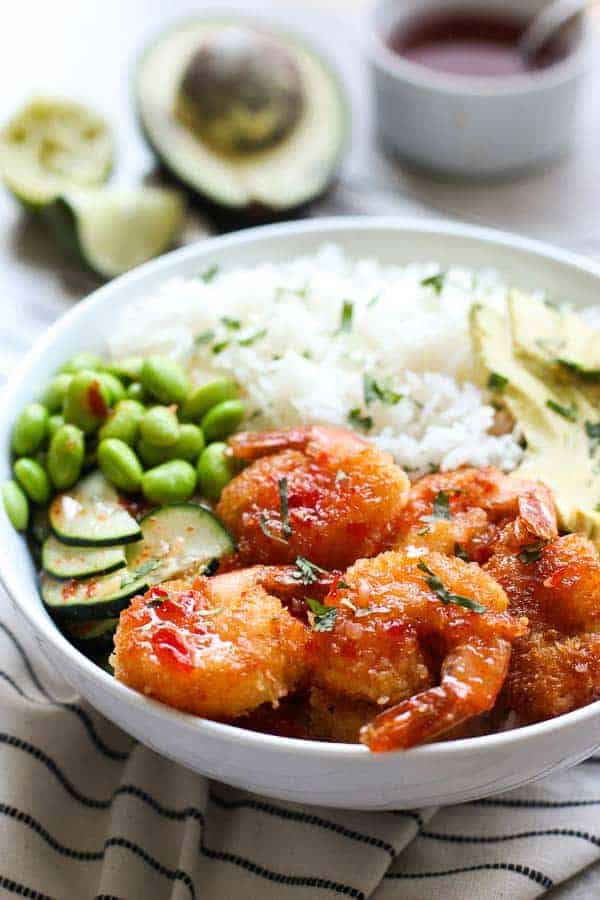 I also like to use just no-cook veggies for this because…hello convenience! I need convenience in my life and this is a convenient yet delicious-eating kinda bowl, says me. 😉
So all that to say. I nuke shelled edamame in the microwave for ~20 seconds and added them. I also added sliced cucumbers, sliced avocados, and chopped cilantro to my Crunchy Shrimp Bowl, but here are other yummy veggie ideas to add to the bowl!
Shredded Carrots
Shredded Lettuce
Corn
Shredded Cabbage
Bell Peppers
Other Bowl Recipes on the blog!
Other Shrimp Recipes
*This post contains affiliate links. I will receive a small commission if you purchase item(s) via some of the links at no additional cost to you.