It's officially the holiday season! Time to whip up fun holiday appetizers like this festive Cranberry Baked Brie topped with crunchy pecans to bring on the Christmas cheer.
Something about melted brie and sweet cranberry jelly makes them a perfect match in foodie heaven.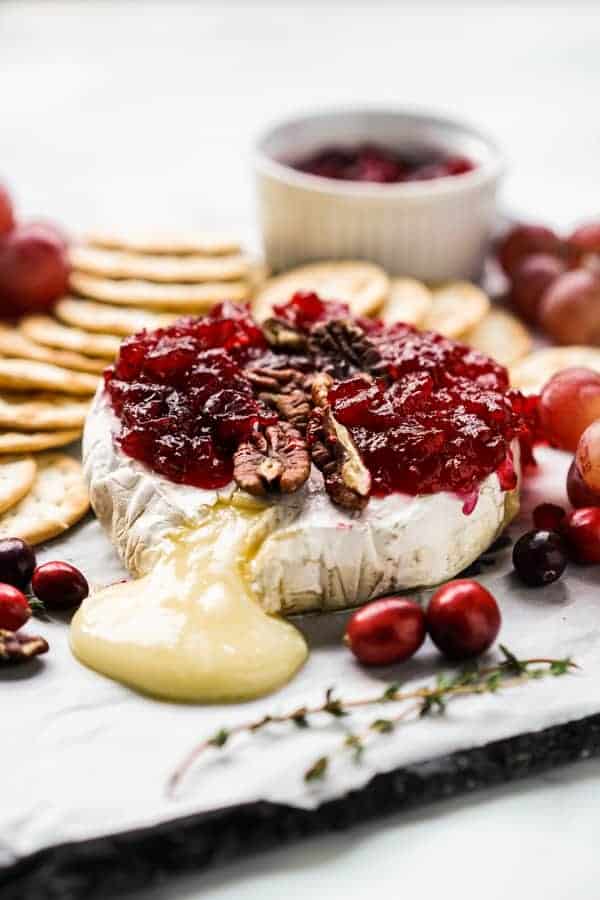 Scoop them up with a crispy cracker and all is right in the world again.
Perhaps the most exciting part about this appetizer is that it is stupid easy to make.
And if you should to use cranberry sauce from a can your work (and life) just got much easier.
Although I would highly recommend making this hassle free Homemade Cranberry Sauce that I swear by and make every single year. It is definitely much better than the canned ones.
But if you really don't want to, use those canned ones with pride and without shame.
Sometimes life's too busy/crazy (especially during the holiday season) and I get it.
Canned cranberry sauce gets the job done as well, and once you melt that brie and experience a taste of that cheesy goodness, you may just forget that you are no making your cranberry sauce from scratch.
This is an easy and yummy appetizer and finger food option for your Christmas and New Year Eve parties.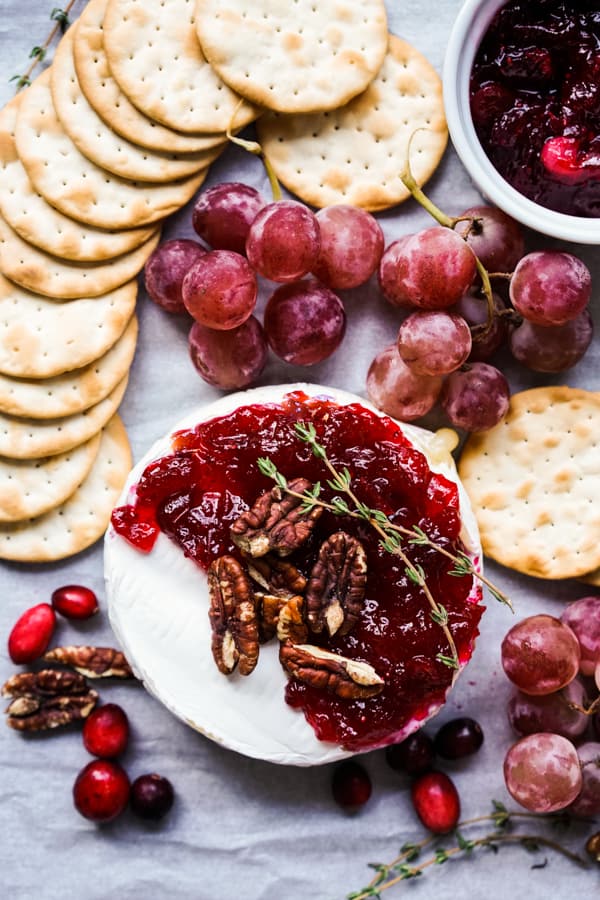 Little effort, so dang tasty, and looks like you put in more work than you really did.
Win. Win. Win. 🙌🏼
Let's Make It
This is one of those appetizers that just looks impressive. Something about the vibrant colors and melted cheese just takes it to the next level.
So let's make this bad boy!
How to Bake Brie
The first thing you'll need to do is to bake the brie. Simply buy a round block of brie and place it on a baking dish lined with parchment paper.
This round block of brie is about 8 oz so if you use a larger block of brie you would want to increase the cook time.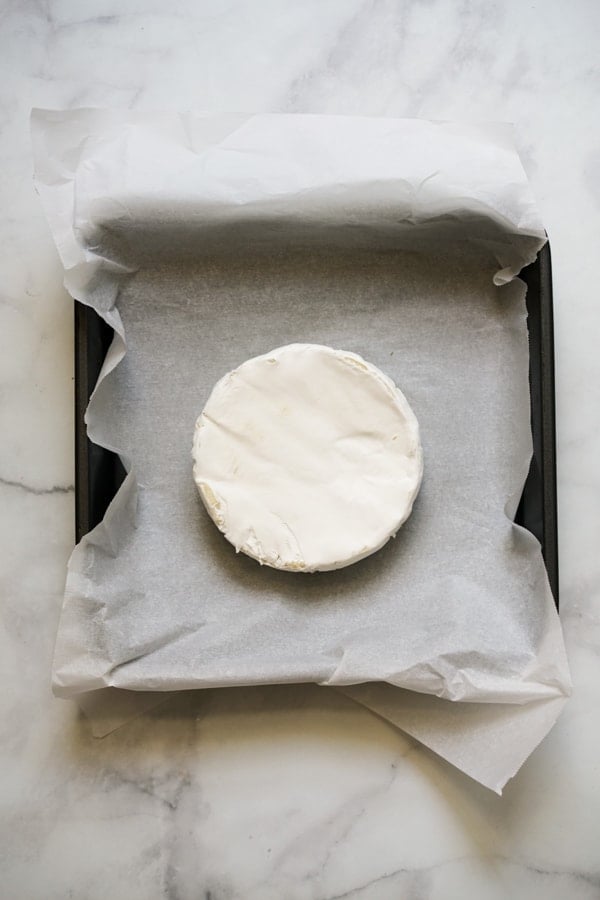 Here's what you need to know to make your life even easier than it already is.
Line it with parchment paper so that you can lift the baked brie out of the dish once it is done and place it on your serving platter.
It is super hard to remove the brie without the parchment paper. When the brie is baked, it is filled with liquid-y melted cheese and you want to avoid poking it and moving it around too much. Once the rind on the brie cheese is cut open, it gets pretty messy.
All that to say, the parchment paper method has worked the best for me.
Bake brie for 15 minutes at 350℉.
And when it is done top with this super easy, 4-ingredient Homemade Cranberry Sauce or store-bough cranberry sauce.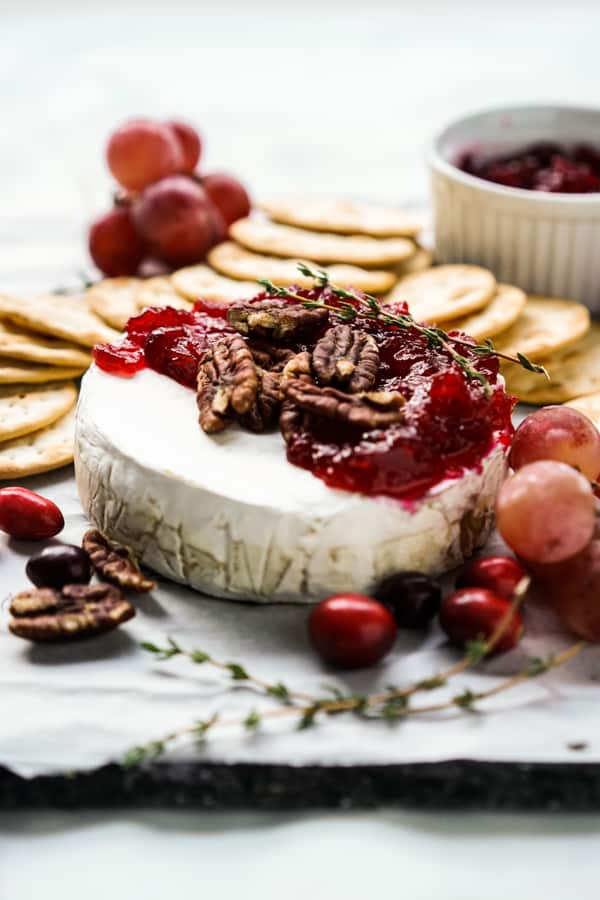 Other ways to serve Baked Brie
Besides cranberry sauce, I like to serve with some of these other items as well:
Crackers
Nuts: pecans, almonds, cashew etc
Other fruits: grapes, apples, etc
Dried fruits: apricot, cranberries, etc
Other jams: fig jam, grape jelly etc
Honey
They add to both the look and taste of this lovely appetizer.
Another fun thing to add to the platter is fresh herbs. You won't necessarily be eating these herbs but it always adds a nice touch to give it a rustic look.
Think of it as an opportunity to decorate your platter.
And most importantly: have fun with it!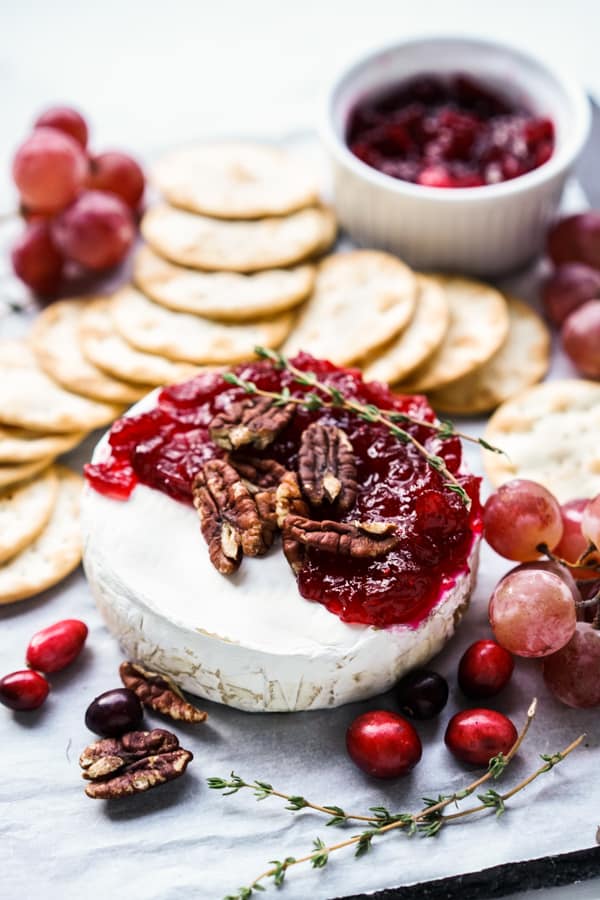 Tips and tricks
A couple of things to note:
Serve immediately after removing from the oven. Cheese does harden after 15-20 minutes out of the oven. While it is still yummy and definitely edible even when harden, cheese will not ooze out when it hardens.
If cheese hardens before it's time to serve, you can also microwave it for 15-20 seconds to melt the cheese.
There's really not much to this.
Bake brie. Top with cranberry sauce. Decorate your platter so it is tasty and looks good.
Straight-forward. Prettiest little appetizer. And pure deliciousness. ❤️
Other Fun Holiday Appetizers
Here are some of my other favorite party foods for Christmas and New Year parties and get-togethers: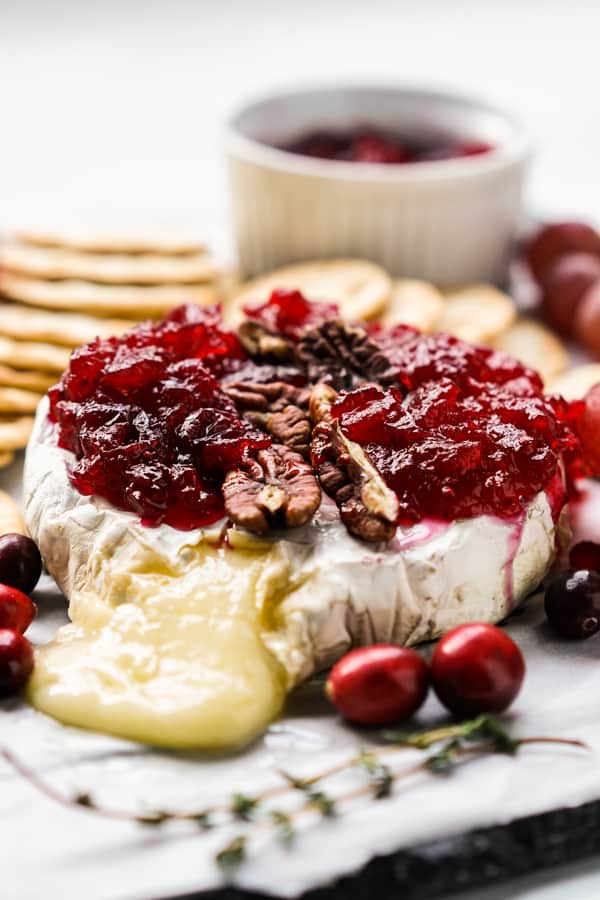 DID YOU ENJOY THIS RECIPE? Please comment below and give us a 5-star rating! This will help others find this recipe on Google and Pinterest. We very much appreciate your help! 🤍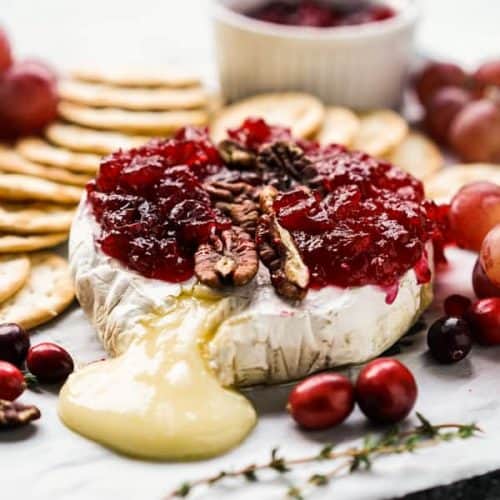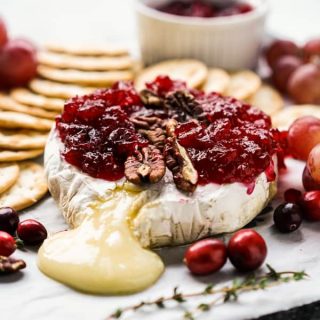 Cranberry Baked Brie
A festive and easy holiday appetizer! Baked brie cheese topped with cranberry sauce and pecans. Serve with crackers and fruits.
Print
Pin
Ingredients
8

oz

round brie cheese

1/2

cup

cranberry sauce

25

crackers

1

cup

pecans

fruits

optional
Instructions
Place brie on a parchment paper and place parchment paper on a baking dish. Bake brie for 15 minutes.

Remove and let brie sit for 1-2 minutes, then transfer parchment paper and brie to a serving platter.

Top with cranberry sauce and pecans. Serve with crackers and fruits (optional). Enjoy!
Nutrition
Calories:
253
kcal
|
Carbohydrates:
15
g
|
Protein:
8
g
|
Fat:
19
g
|
Saturated Fat:
6
g
|
Cholesterol:
28
mg
|
Sodium:
266
mg
|
Potassium:
110
mg
|
Fiber:
2
g
|
Sugar:
8
g
|
Vitamin A:
182
IU
|
Vitamin C:
1
mg
|
Calcium:
75
mg
|
Iron:
1
mg