This post may contain Amazon or other affiliate links. As an Amazon Associate I earn from qualifying purchases at no additional cost to you.
It is absolutely wonderful to wake up to this Overnight Apple French Toast Casserole Bake. Moist on the inside, slightly crispy on the outside, combined with yummy apples, and topped with a cinnamon crumb topping.
Hello, breakfast of my dreams!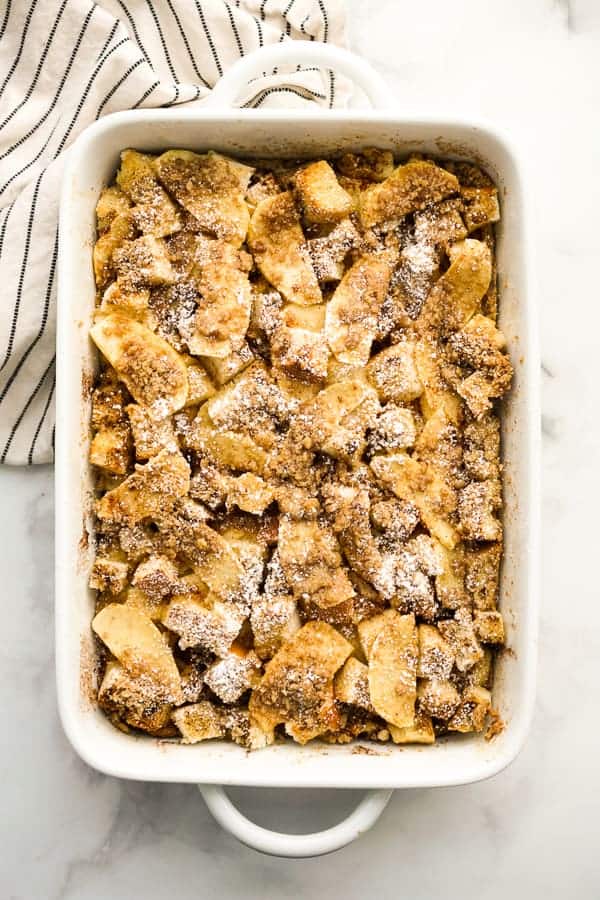 I love French Toast Casseroles. They are so easy to make, you can prep them ahead of time and keep it in the refrigerator overnight and bake them in the morning when you are ready to brunch your heart out.
I shared this Berry French Toast Casserole recipe a few years ago and it is still one of my most popular posts on the blog.
So here is a twist to your beloved classic. This recipe not only incorporate apples instead of berries, but we are topping it with a buttery, crumbly streusel topping.
Oh yes, we got slightly fancy. 😉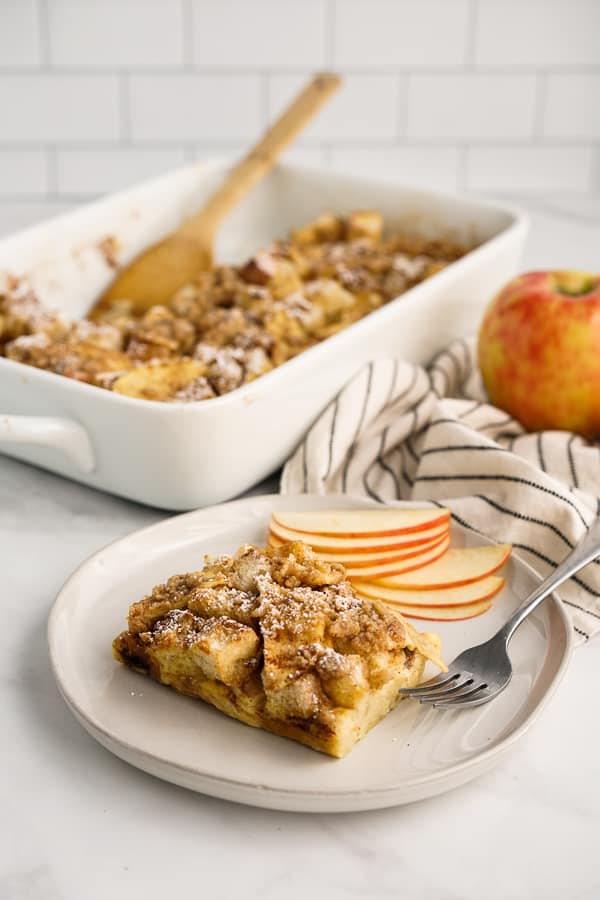 Let's Make Apple French Toast Casserole!
Brunch is one of my favorite things about the weekends.
I love to slowly get up in the morning, enjoy the relaxing pace of the weekend, and savor the meal that is breakfast and brunch.
When brunch can be made ahead of time, life is even better.
I typically make this Apple French Toast Casserole the night before, let it sit overnight, and then bake it in the morning.
When it sits overnight or for a couple of hours, the egg mixture soaks into the bread thus making it moist and flavorful.
All you need to do the night before is to assemble bread, egg mixture, sliced apples into a 9″ x 13″ casserole dish.
Make the crumb topping separately and let it sit in the refrigerator overnight too, but do not add it to the casserole until you are ready to bake it.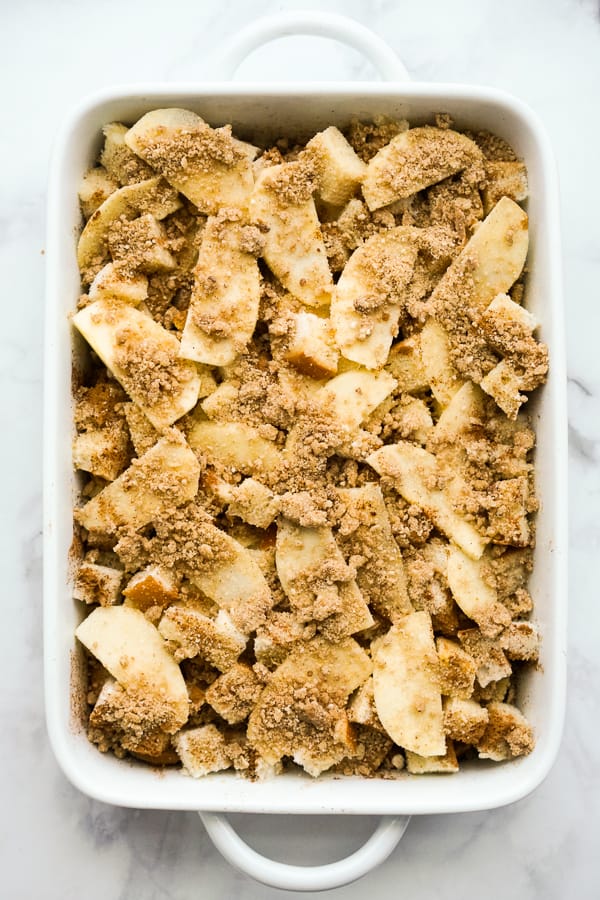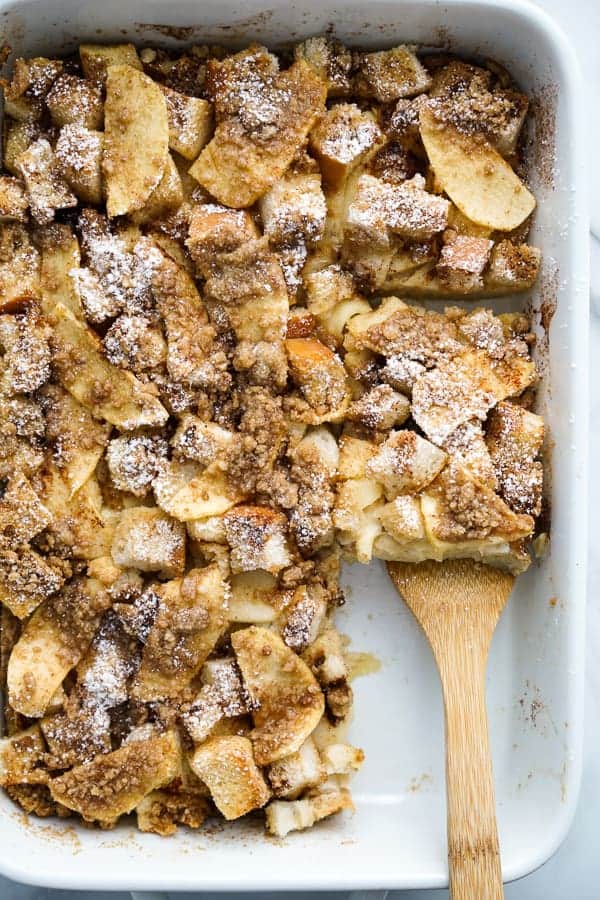 When done, sprinkle some powdered sugar on it for that "snow top" look, and then drizzle it with maple syrup because you know you love that maple syrup! 🙂
Tips and Tricks
Soaking bread in egg mixture overnight or for a few hours help produce a moist flavorful french toast!
Use dry, a-few-day-old bread so that egg mixture can soak into the bread more effectively.
Remember to grease casserole dish before adding items to it to french toast from sticking to it
Use Honey Crispy apples or other "baking-friendly" apples for this recipe.
Slice the apples thinly so that it cooks well in the oven.
How to store leftover Apple French Toast Casserole
Keep in the refrigerator in an airtight container for a few days. Store maple syrup separately. When ready to serve, heat in microwave and serve with maple syrup.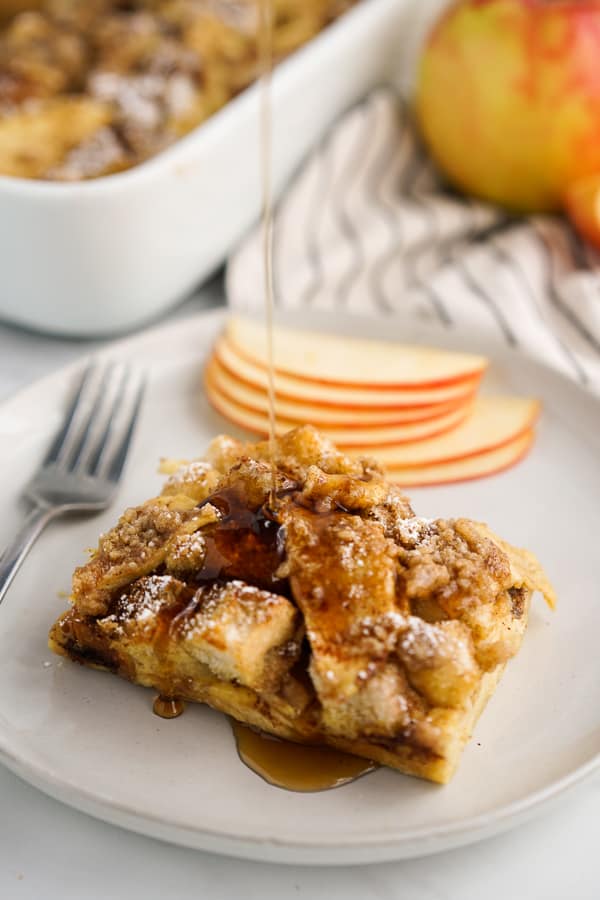 Leftover Apple French Toast Casserole is seriously the gift that keeps on giving. We make this for breakfast during the weekends, and then eat it throughout the week.
It's just as lovely to wake up on weekdays and to heat up a warm, filling, delicious breakfast.
That warm and moist bread, juicy apples, crumbly topping, soaked in maple syrup.
Omg so darn delicious!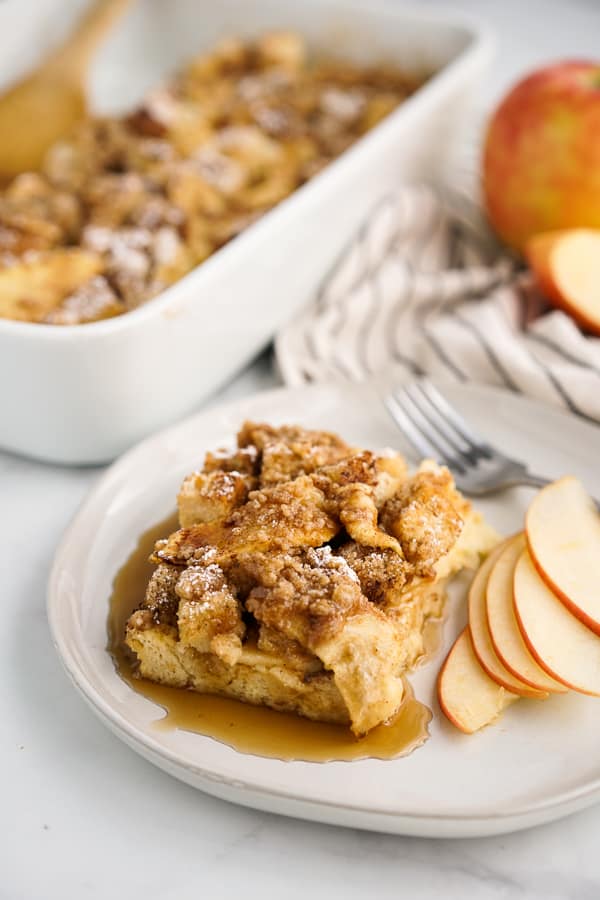 If you want to be extra: serve with some bacon or breakfast sausage on the side, accompanied by a warm (or iced) coffee.
Is that not the breakfast of dreams or what!
Enjoy the loveliness that is this Apple French Toast Casserole!
If you make this recipe, comment below and let me know what you think! Also, don't forget to take a picture and tag me on Instagram, because I WANNA SEE!!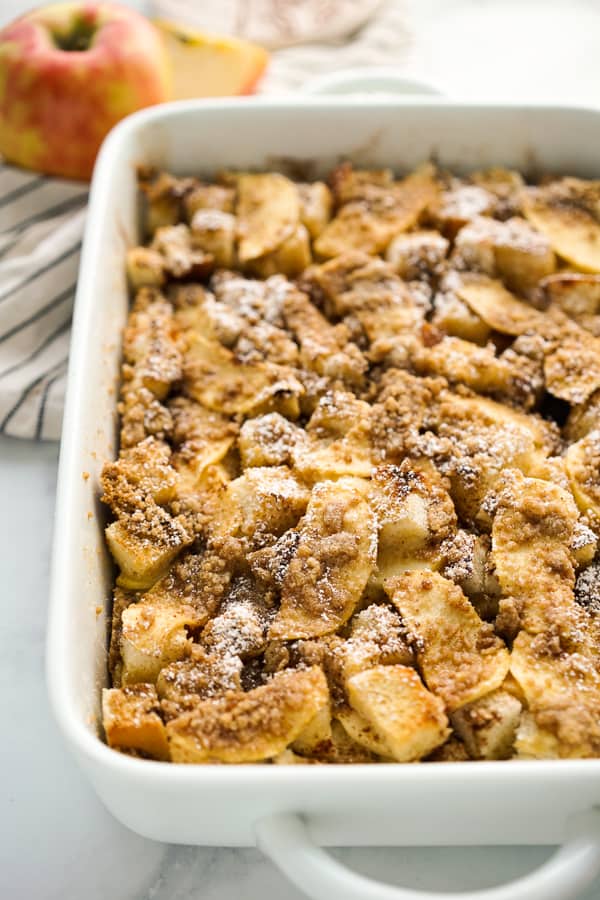 Other Breakfast Casserole Recipes
Other Breakfast Favorites